Hey there, tattoo lovers and trendsetters! Are you on the hunt for the perfect forearm sleeve tattoo idea? Look no further, as we've gathered some incredible and intricate forearm half-sleeve tattoo designs for you to explore and choose the one that truly resonates with you!
Forearm tattoos have been a staple in the world of ink for ages, and with each passing year, the ideas become even more captivating and distinctive. A forearm sleeve tattoo, also known as a half-sleeve, artfully graces half of your arm, offering a more subtle alternative to the full-sleeve option.
So, let's dive into the exciting realm of forearm sleeve tattoos and discover the design that will soon become an extension of your unique personality!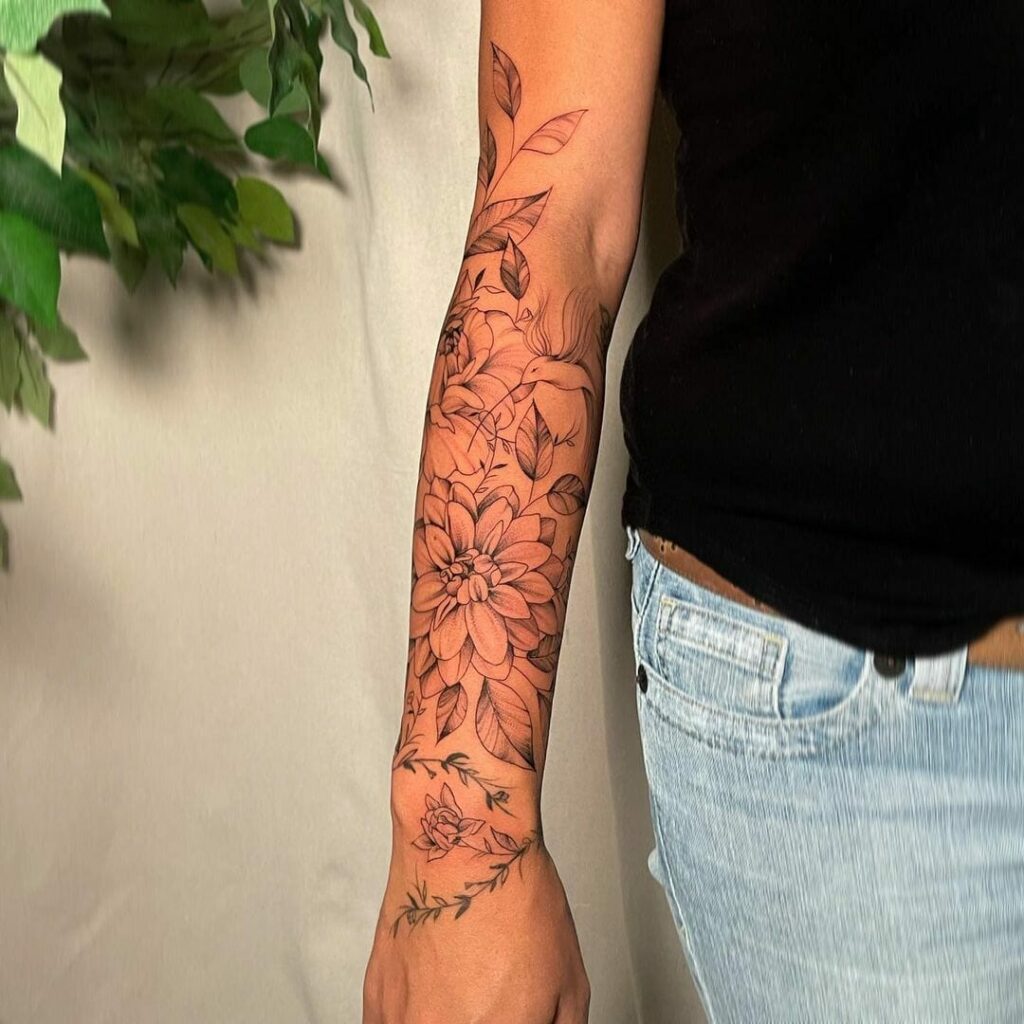 How Much Would A Forearm Sleeve Tattoo Cost?

Forearm tattoos are an excellent way to showcase your personality and style. The cost of a forearm tattoo varies depending on the complexity of the design, the size, and the amount of color used. A fully colored forearm tattoo will be more expensive than a simple outline or black and white tattoo. Forearm tattoos are generally more affordable than full-sleeve tattoos, but a full forearm sleeve tattoo can still cost anywhere from $200 to $1200.
If you're interested in getting a forearm sleeve tattoo, there are plenty of options to choose from. Some popular designs for men include Japanese dragons, Celtic knots, and tribal patterns. Women often opt for floral designs, mandalas, and delicate script. Whatever your style, there's sure to be a forearm sleeve tattoo that suits you perfectly!
Floral Outer Forearm Sleeve Tattoo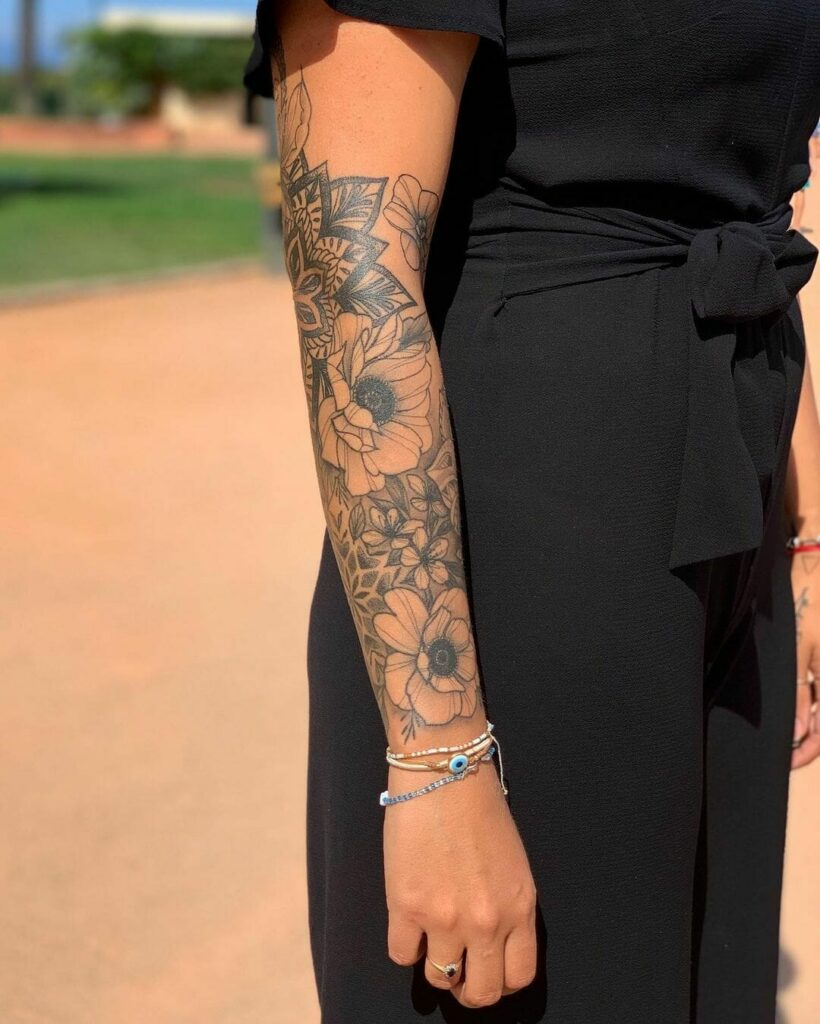 Flower tattoos are timeless and always popular choices. An intricate tattoo featuring a variety of wildflowers covering the entire outer forearm can make a beautiful statement. This design showcases not only small and large flowers, but also tribal floral patterns, all seamlessly blended together into a stunning work of art on your skin. The result is a captivating and eye-catching tattoo that is sure to draw admiration from others.
Compass And Rose Forearm Sleeve Tattoo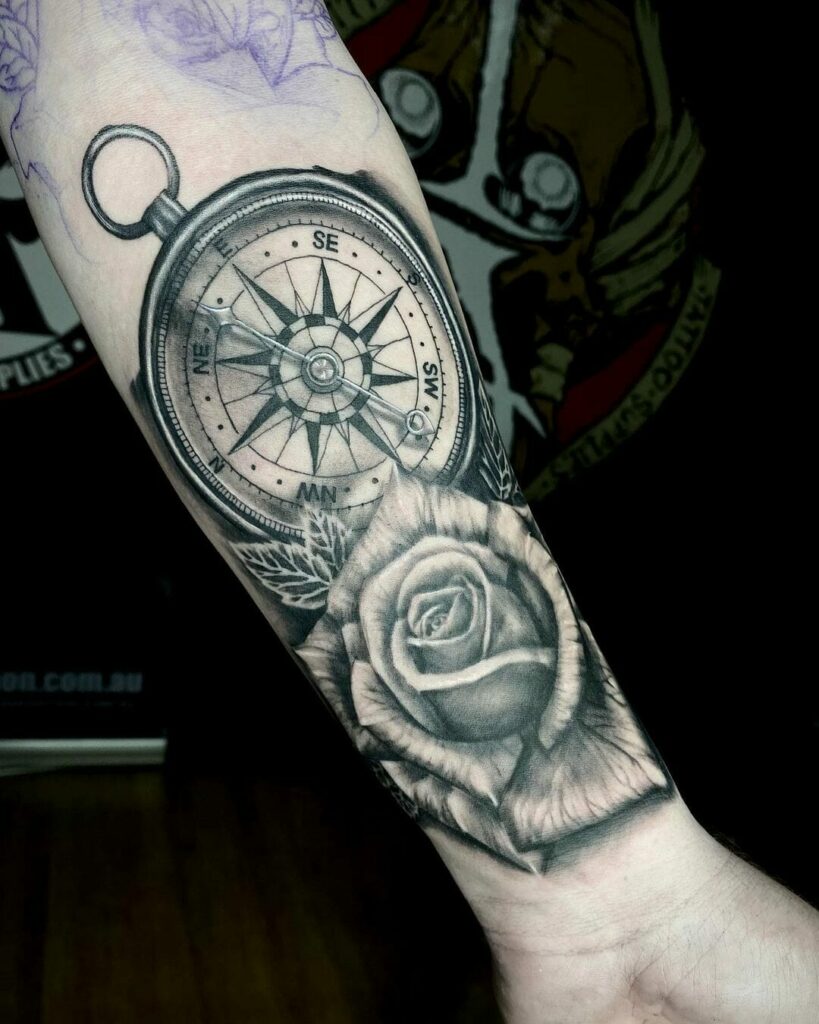 Compass tattoos are both stylish and symbolic, representing spiritual direction and awakening. This tattoo can also represent a sense of being lost or found, making it a popular choice. In this particular design, the compass takes up a large portion of the forearm, with a beautiful rose situated at its base. The size of both the compass and the rose makes them stand out, creating a spectacular effect. The use of black ink in the design creates a bold and striking look, giving the tattoo a tough, badass vibe.
Mystical Clock Forearm Sleeve Tattoo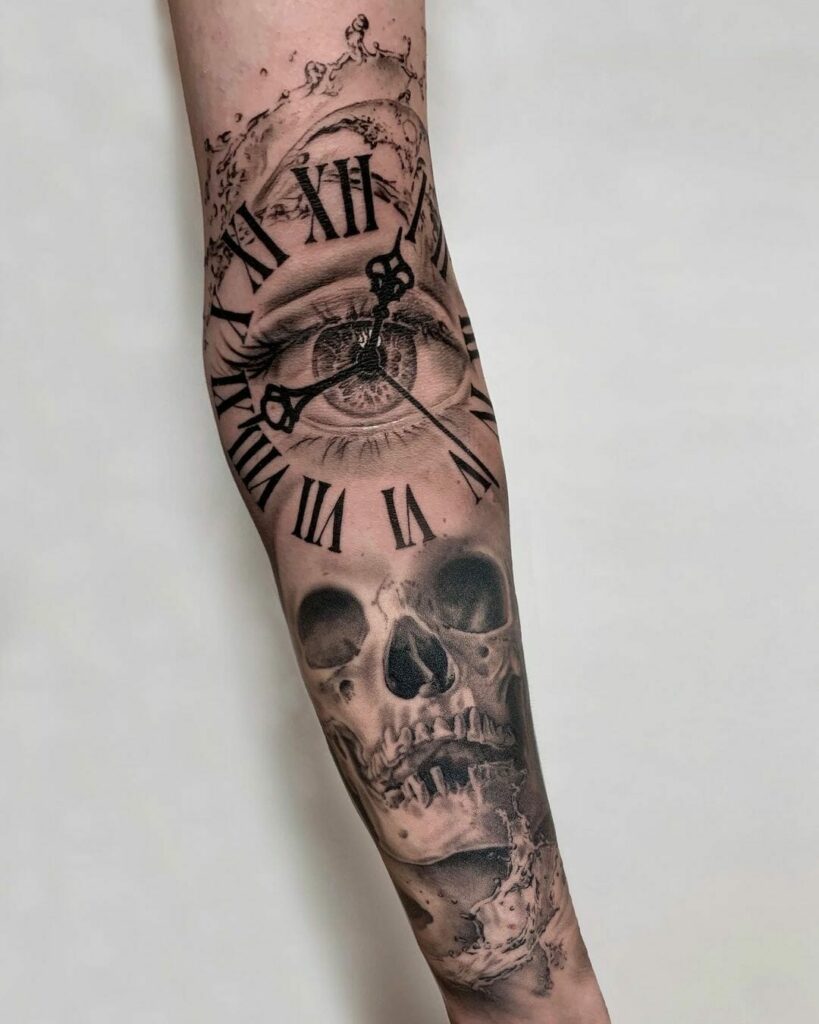 This forearm tattoo is a great choice for those looking for a design that's both intriguing and visually striking. With a combination of a skull, clock, and eye, this tattoo creates a unique and abstract aesthetic. While it may not hold a specific meaning, this design is perfect for those who appreciate the artistry and creativity of tattooing.
The tattoo artist has skillfully rendered each element to appear strikingly realistic, despite the use of only one ink color. The monochrome effect creates a mysterious and enigmatic vibe that is sure to turn heads. This half-sleeve tattoo is a bold statement piece that will cover your entire forearm and add a touch of edge to your style.
Geometric Outer Forearm Tattoo Sleeve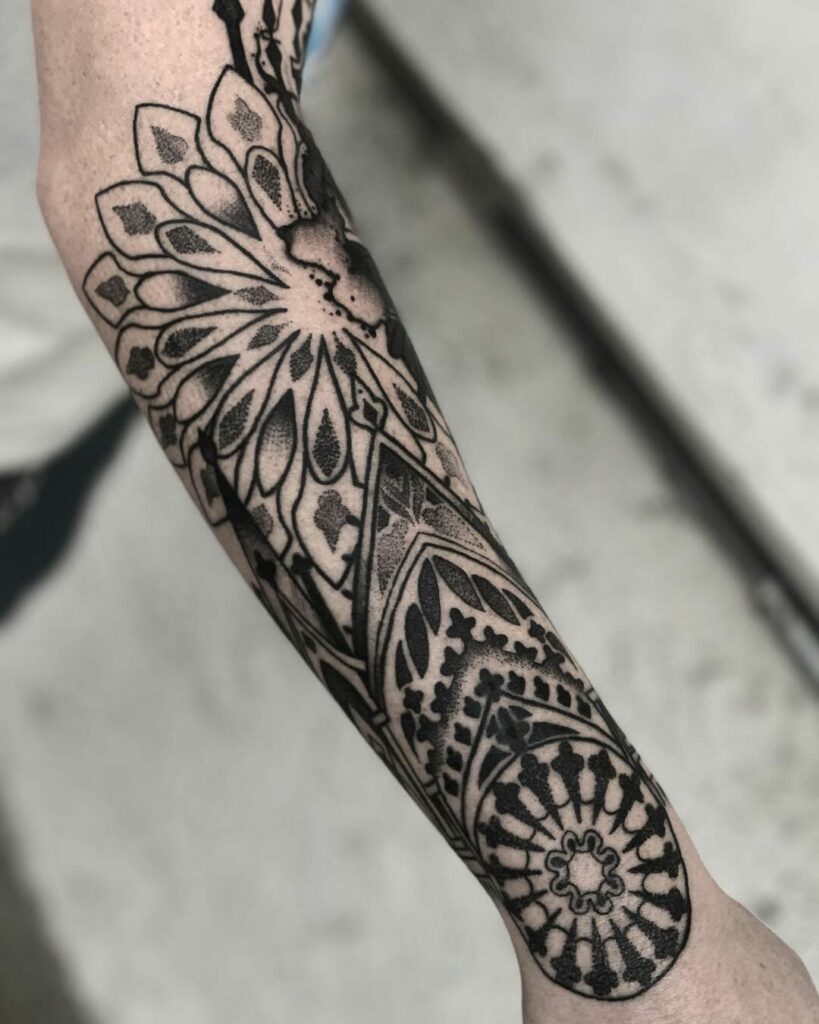 Geometric and tribal patterns come together beautifully in this striking black ink outer forearm tattoo. Clean, clear shapes are artfully combined with traditional tribal motifs, resulting in a stunning design that is both modern and timeless. The boldness of the black ink adds to the impact of the tattoo, making it a true statement piece that is sure to turn heads.
Abstract Skull And Wolf Forearm Sleeve Tattoo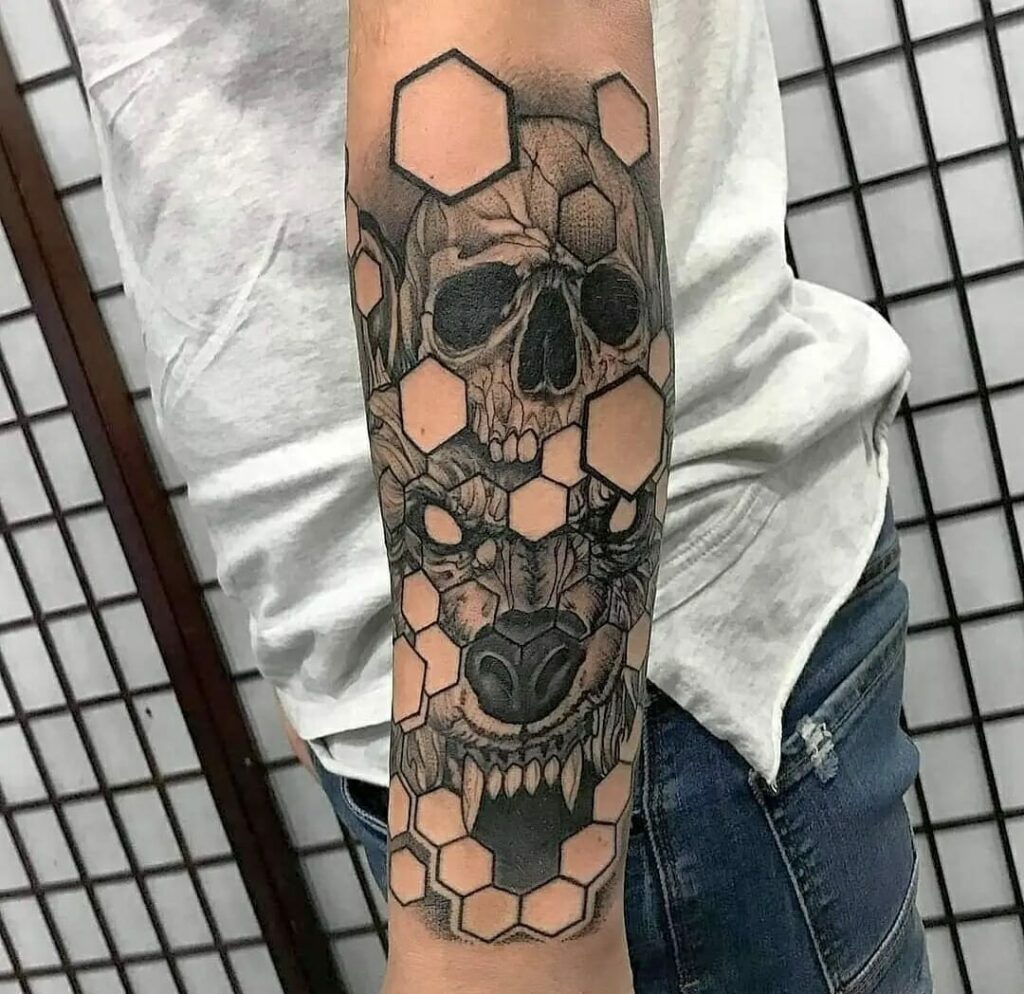 Skull tattoos have always been popular and can be a great way to express one's style. This tattoo design takes it to the next level with the inclusion of a ferocious wolf. The wolf's expression, in contrast to the skull's emotionless face, makes for a striking image. The use of honeycomb-like shapes in this outer forearm tattoo adds an extra level of complexity and depth to the design, making it even more impressive. If you're looking for a badass forearm tattoo, this combination of skull, wolf, and geometric patterns is definitely one to consider.
Owl Inner Forearm Sleeve Tattoo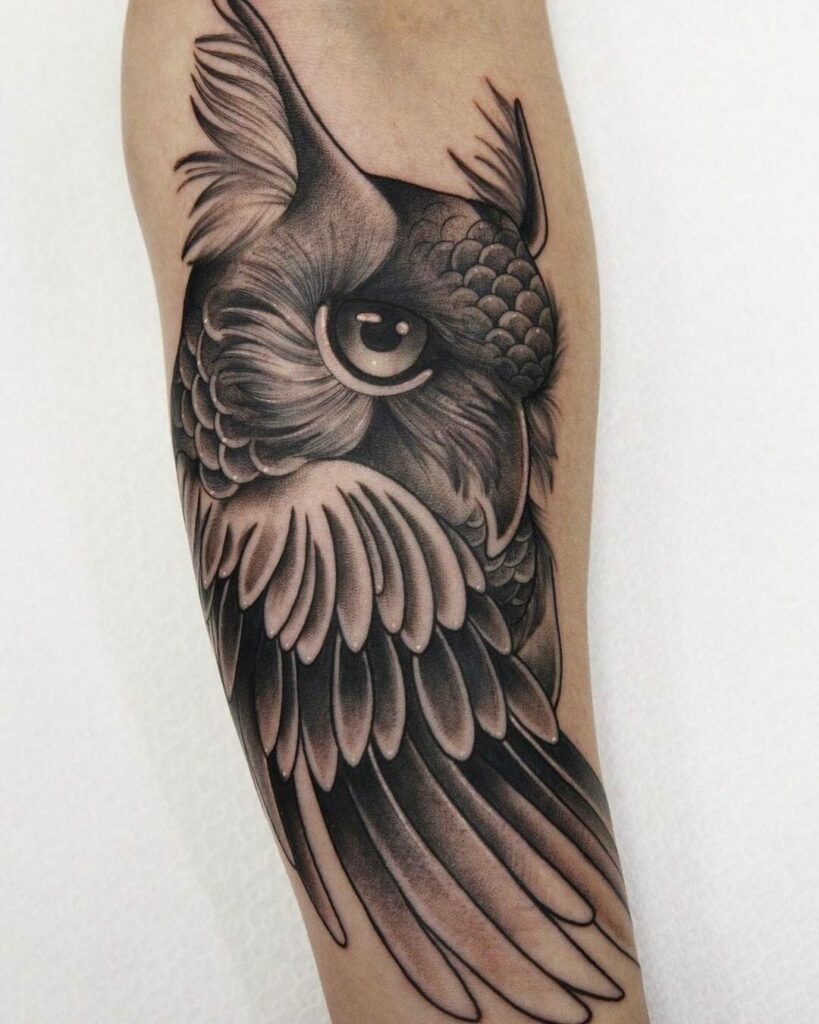 Owl tattoos are always popular and this one is no exception. The intricate details on this dark and amazing owl forearm tattoo will make you stand out from the crowd. The placement of the tattoo on the inner forearm is perfect and complements the shape of the owl perfectly. The attention to detail in the owl's eyes and feathers is stunning and will leave you in awe of the artistry.
Black And White Tiger Forearm Sleeve Tattoo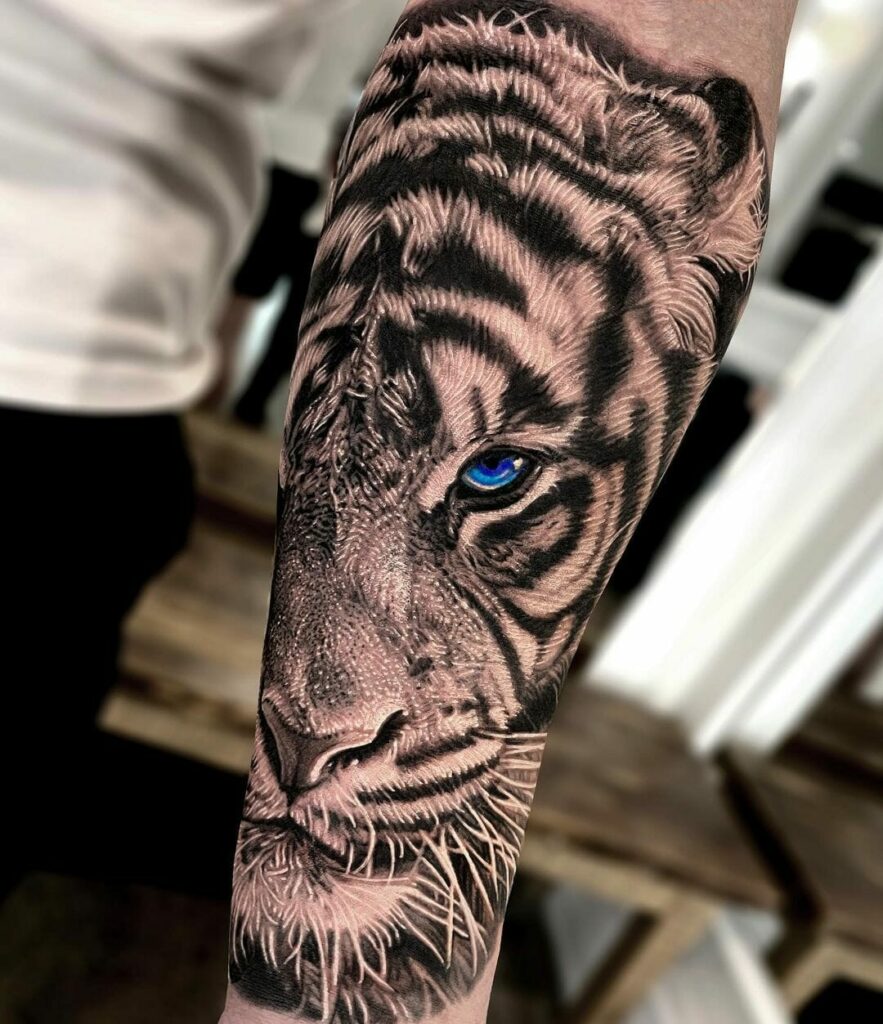 Tigers are an embodiment of power and beauty, making them a popular tattoo design for many. A forearm tattoo featuring half of a tiger's face is an excellent option for those who want to showcase their love for these majestic animals. The intricate details of the tiger's fur and sharp blue eyes make the design more captivating. The use of monochromatic ink is creating a dramatic effect that is sure to make the design stand out. This forearm tattoo is perfect for those who want to show their strength and wild side.
Majestic Lion Forearm Sleeve Tattoo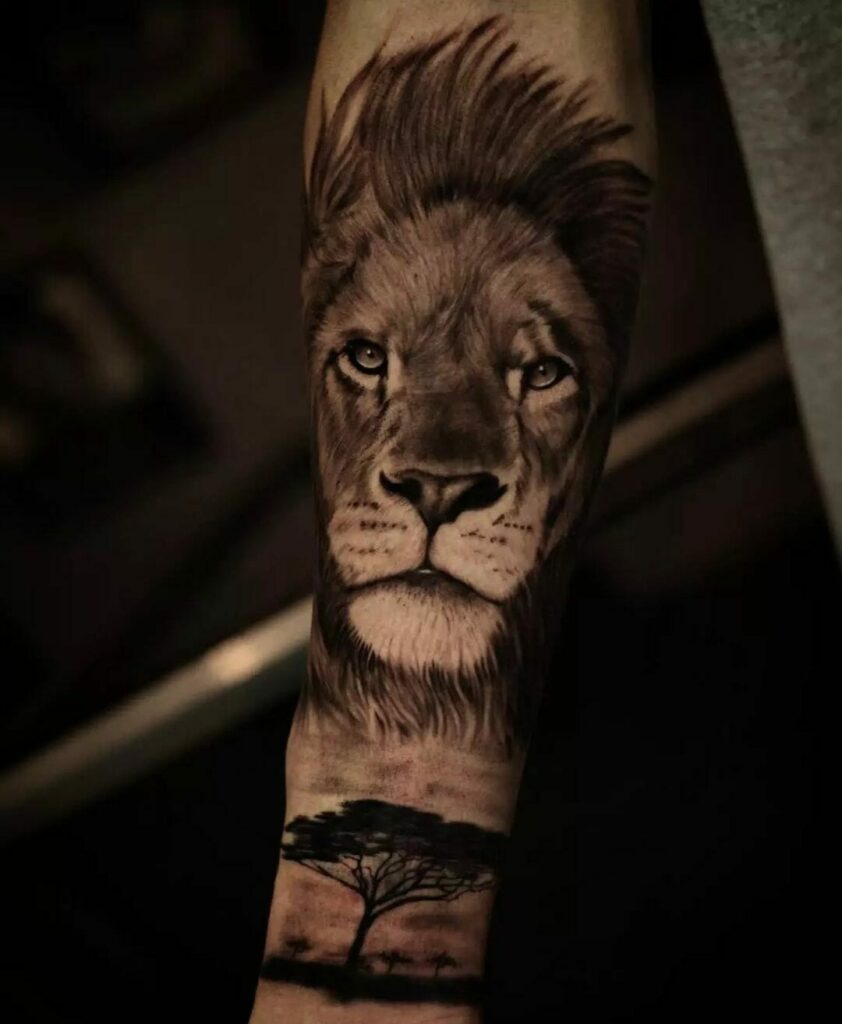 The lion is a majestic and powerful animal that symbolizes strength and royalty. If you feel like a king or queen in your own life, then a realistic and highly detailed lion portrait tattoo will be the perfect body art for you. This lion tattoo design is incredibly lifelike, featuring intricate detailing and shading that brings the lion to life. In addition, there are trees depicted below the face of the lion, adding an extra dimension to the design. With the lion bearing a peaceful expression on its face and the silhouette of the trees below, this tattoo design is a unique and beautiful way to represent a sense of serenity and strength.
Unique Tribal Forearm Sleeve Tattoo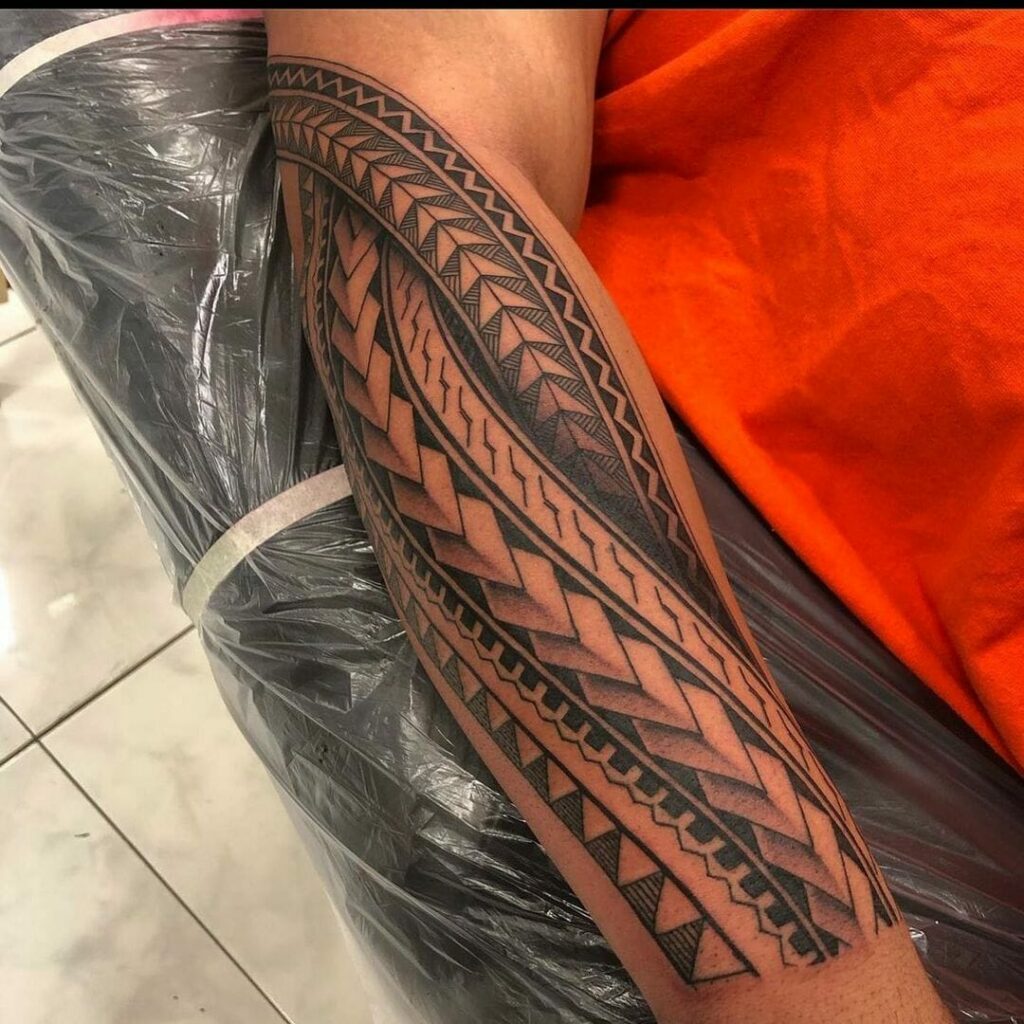 The uniqueness of this tribal tattoo lies in its shape and placement. This dark tattoo is covering the inner and outer forearm in an exceptionally aesthetic way. Each pattern in the tattoo is pairing well with the other. The twisted way in which the two strips of motifs has been depicted, with the subtle interplay of dark and light shades, is bringing out a depth in this forearm tattoo design.
Religious Japanese Forearm Sleeve Tattoo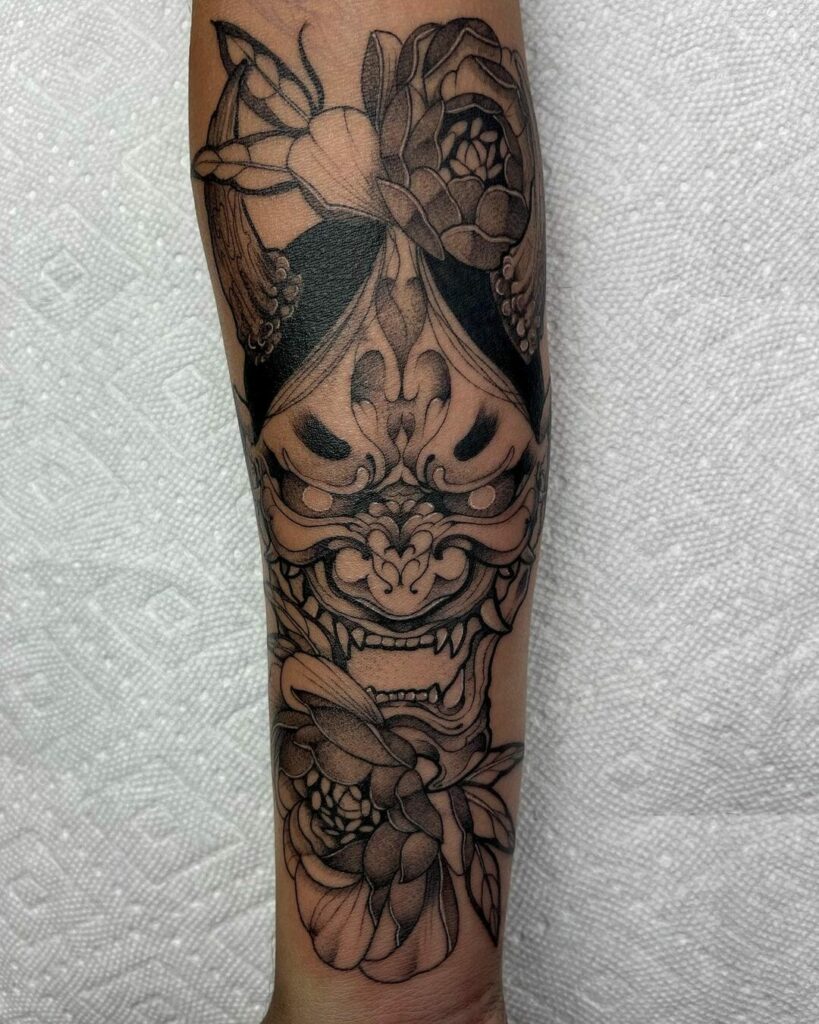 The art of tattooing has always been a popular way for people to express themselves. If you are looking for a tattoo that is not only visually appealing but also holds cultural significance, then a Japanese Oni mask tattoo may be perfect for you. This particular tattoo design is meant to provide protection in Japanese culture and is considered a religious symbol. The flowers surrounding the mask add a beautiful contrast to the fierce expression of the mask, making it an ideal design for both men and women.
Forearm tattoos are quite visible, so it is essential to pick a design that truly represents your personality. These forearm sleeve tattoo ideas for men and women are not only badass but also hold a deeper meaning. From tribal patterns to skull designs and animal portraits, there is something for everyone. Choose a design that you can proudly flaunt as a part of your true self.
feature image from Pinterest
Last reviewed and updated on May 15, 2023