Hey there! Are you a fan of animal tattoos? If so, then you're in for a treat! Today, we'll be taking a closer look at some incredible tiger tattoo ideas that are sure to inspire you.
Tigers are known for their power, strength, and grace, and have been a popular choice for tattoos for years. As apex predators, they are both feared and respected, making them a symbol of both beauty and danger. Animal tattoos have been around for a long time, with popular designs including snakes, lions, and birds. The tiger, however, has a special place in many cultures, such as Korean and Chinese culture. If you're someone who likes tattoos with deep meaning, then a tiger tattoo might be perfect for you. We've put together a list of some of the best tiger tattoos for both men and women, so take a look and see if any of them inspire your next tattoo idea.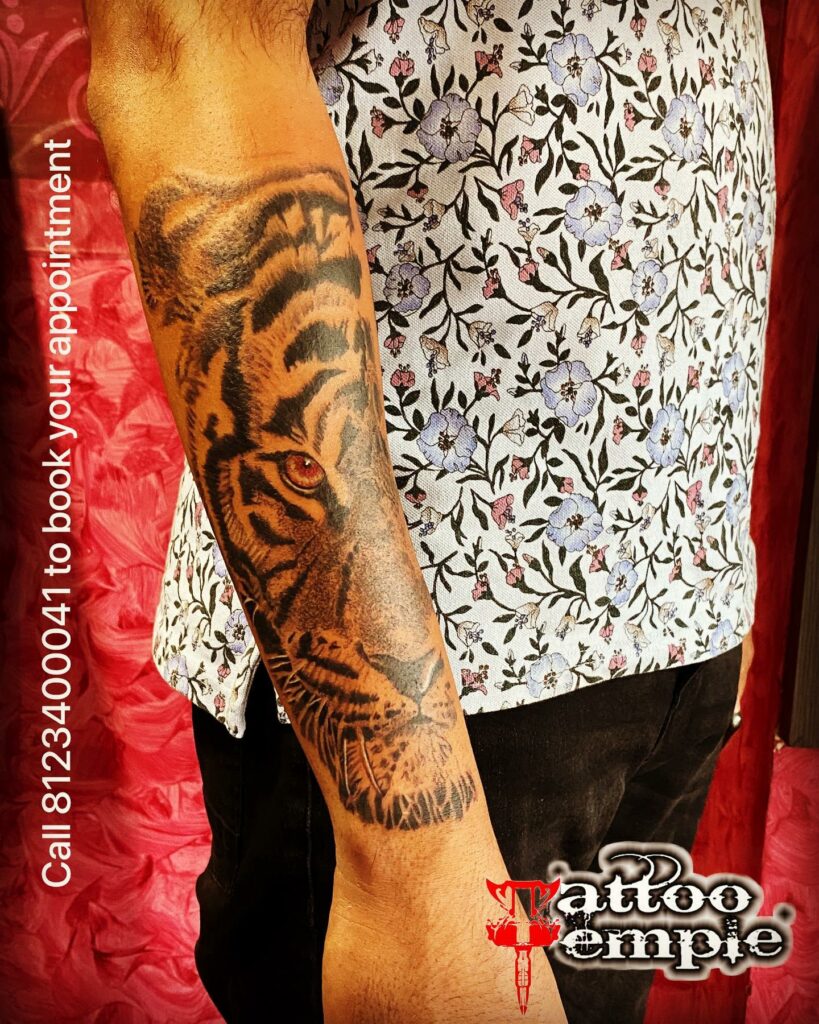 Blue Tiger Tattoo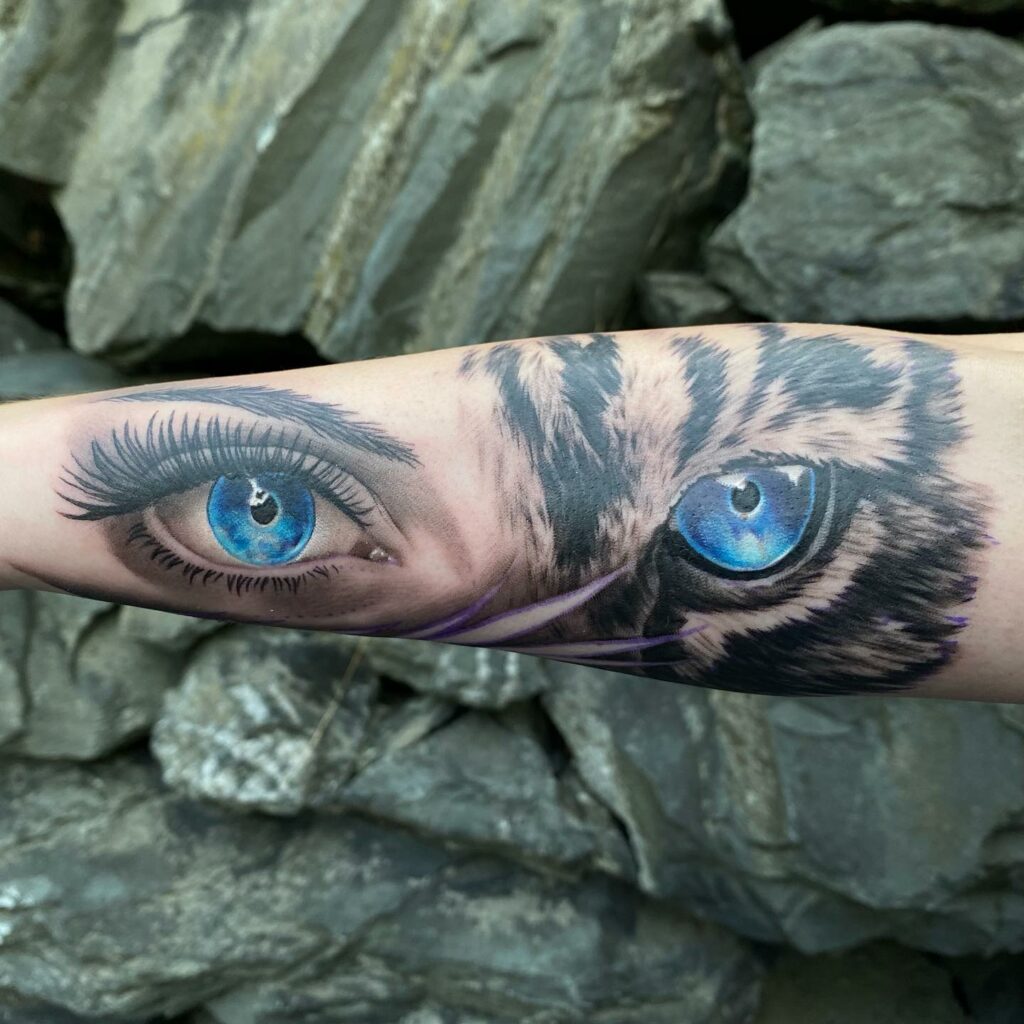 Step into the world of tattoos and allow us to introduce you to one of the most stunning designs, the blue tiger tattoo. The artwork features an incredible display of both human and tiger eyes painted in a bright shade of blue. The idea behind this design is to showcase the inherent animalistic instinct within humans, which represents strength and determination. The artist has skillfully captured the essence of the design, with the black stripes forming the fur of the majestic tiger. If you are considering getting a blue tiger tattoo, know that it's a popular choice, often placed on forearms, thighs, and even the chest. Allow this design to remind you of your inner strength and prowess, empowering you to conquer anything that comes your way.
Angry Tiger Tattoo For Men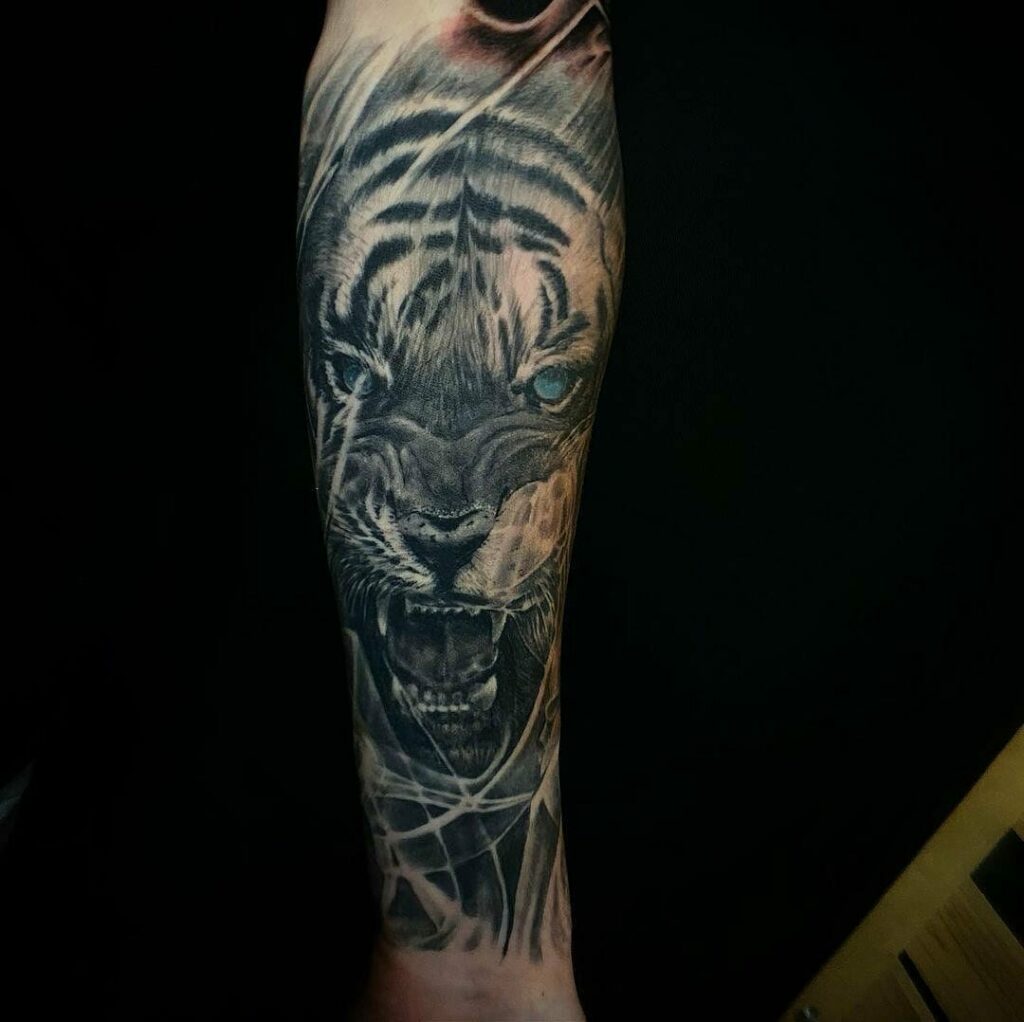 Tigers have always been a fascinating subject in Chinese mythology, where they are revered as protectors against malevolent spirits and bad omens. This particular tattoo is a stunning representation of the primal instinct and fierce nature of a tiger. The piercing blue eyes and sharp teeth give it a commanding and powerful look, evoking a sense of determination and strength. If you're looking for a bold and striking tattoo, this design is definitely worth considering. It is impeccably executed on the forearm, with no room for errors, by an artist who has carefully captured the intricate details of the tiger's snarling face. Notably, the artist has emphasized the tiger's nose wrinkles with precise strokes of black ink, creating a realistic and awe-inspiring effect.
Half Tiger Tattoos For Men
Indulge in the majestic beauty of the animal kingdom with this stunning tiger tattoo design. The intricacies of the design are sure to leave you in awe. The artist has brilliantly captured the essence of the tiger's ferocious nature, with a focus on its penetrating gaze. With just one eye in focus, the tiger is depicted as though it's hiding in the shadows, waiting to pounce on its prey. This type of tattoo represents the hunger and drive that is present in all living beings. The intricate design of this tiger tattoo can be placed on any part of the body, such as the thigh, neck or even as a full sleeve tattoo.
Tiger Eyes Tattoo
Tigers are a majestic creature that have been a popular subject of tattoo designs for many years. This particular tattoo showcases the power and intensity of the tiger's gaze, with only the eyes being visible. The artist has used a beautiful blend of green and yellow shades to bring out the ferocity of the tiger. This design is a great choice for forearm tattoos, but can also be customized to include bolder colors like red or orange, depending on your preference. Regardless of the color choice, this tattoo will look stunning on both men and women. If you're a fan of tigers, then this is the perfect design for you.
Tiger Face Tattoo Ideas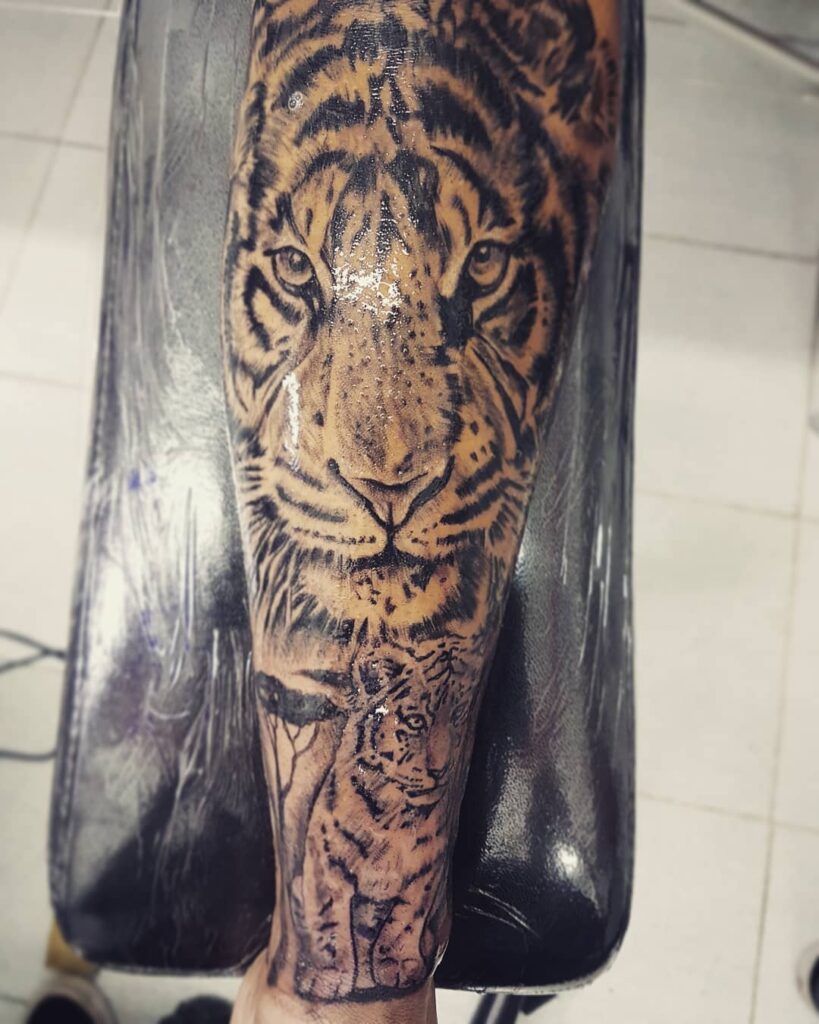 If you're looking for a tiger tattoo that emanates tranquility, this next design might be for you. The artist has created a stunning image of a tiger, with all the facial features intricately captured. What makes this tattoo unique is the addition of a cub just below the tiger's chin. It's details like these that can add a creative twist to your tiger tattoo. The artist has chosen to use black ink, but you could always personalize it with your favorite color or size. This design would look great as a forearm tattoo, or you could place it on your thigh or chest as well.
Roaring Tiger Tattoo
Tiger tattoos are a classic choice for those looking for a powerful and symbolic tattoo. This particular design features a roaring tiger, extending from the forearm up to the chest, making for a dramatic and eye-catching appearance. The tattoo represents dominance, royalty, and protection, as tigers are often seen as protective symbols in many cultures. The addition of the chain in the design could symbolize the inherent desire for freedom that is present in all creatures. If you are drawn to these ideas, then this tiger tattoo could be the perfect choice for you. It's a bold and striking design that will leave a lasting impression.
Japanese Tiger Forearm Tattoo
In Japanese culture, tigers are revered as symbols of protection, strength, and courage, with countless tales in folklore dedicated to their magnificent power. They are also associated with autumn and the wind, and known as Byakko in Japanese, a white tiger with sharp teeth. This regal animal is also used to pay tribute to the warriors who gave their lives for Japan. Japanese tattoos are a popular choice in the Western world because of the deep meanings behind them, and the Japanese tiger tattoo is no exception. This vibrant tattoo design is a perfect example, with its brilliant array of colors that beautifully highlight the majestic tiger. If you are looking for a colorful and meaningful tattoo, this Japanese tiger tattoo may inspire you.
Tiger Tattoo With Flaming Eyes
This captivating picture showcases the power and beauty of the magnificent tiger. The roaring face of the tiger, complemented with the striking green flames emanating from its eyes, creates an awe-inspiring sight. Flaming tattoos, while not for everyone, have a dedicated following. These types of tattoos can be customized using a variety of colors, with green often representing the tiger's primal instinct of hunting. The forearm, shoulder blade, and thigh are popular locations for this type of body art, offering ample space for the intricate details of the design without causing too much discomfort.
Colorful Tiger Tattoos
If you're looking for a colorful tiger tattoo, then this design can serve as an excellent reference for you. The tattoo artist has skillfully used a combination of colors to bring out the unique personality of the tiger. Each color used represents a different aspect of the tiger's nature, such as the red color signifies its ferociousness, while the blue color symbolizes its independence. You can also customize the colors to match your personality and preferences. However, it's essential to ensure that the colors complement the design to convey the right meaning. This tiger face tattoo design is not only attractive but also has a deep-rooted significance that you can wear proudly on your skin.
Small Tiger Tattoo
Butterflies have long been a popular choice among women for their graceful and delicate nature. When combined with a tiger face tattoo, they can represent both beauty and strength. Take a look at the image above to see a great example of this unique combination. One side of the butterfly's wing is covered in beautiful features, while the other side showcases the fierce face of a tiger. This creates a striking contrast between the two creatures that's sure to turn heads.
If you're considering a forearm tattoo, a tiger design is an excellent choice for its strong and powerful look. However, it's important to choose the right artist for the job, as these intricate designs require precision and patience to execute properly. When selecting a design, keep in mind that colors can be used to represent different aspects of the tiger's nature. For example, bright red can symbolize the animalistic instinct of this fierce predator, while blue can represent freedom and independence. Don't be afraid to customize your tattoo design with your favorite colors, but make sure they match the overall theme and meaning of the tattoo.
feature image from Pinterest – Want your tattoo to look brighter? Try "Tattoo Balm"