Looking for some inspiration for your next tattoo with your best friend? Look no further! We've got you covered with some of the most creative and unique best friend tattoo ideas that you won't find anywhere else.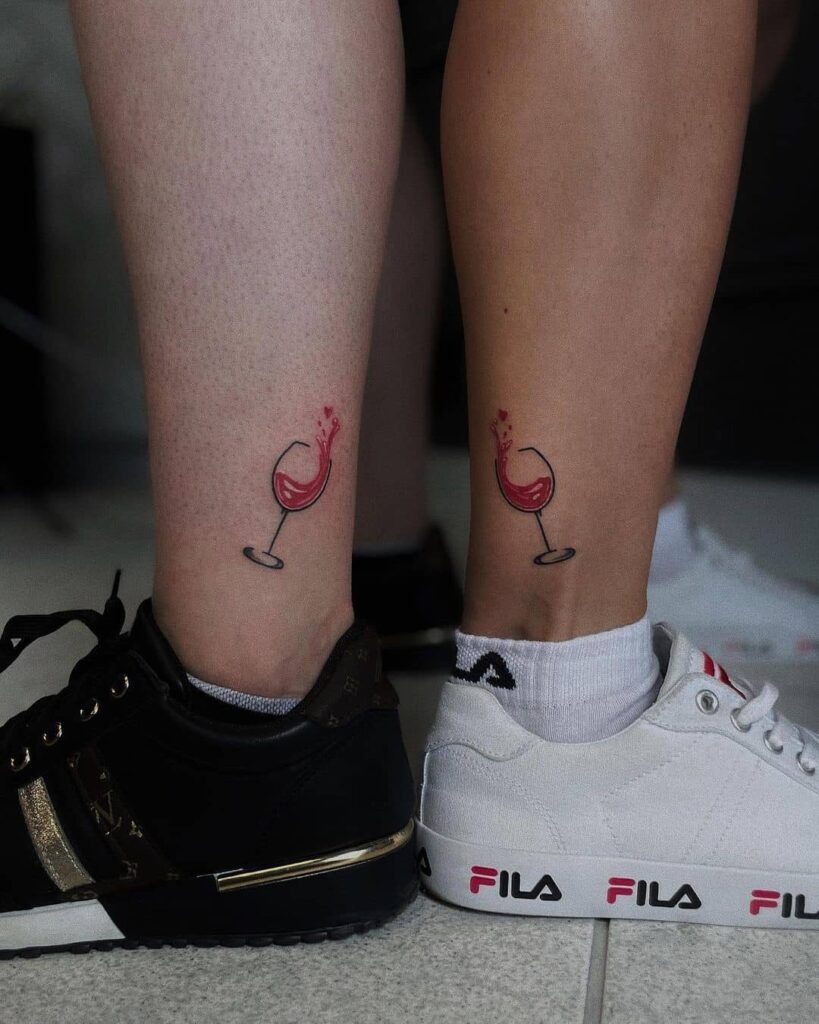 A friend is someone who has a relationship of friendship with you and friendship is always between two or more individuals who show true understanding and affection towards each other.
Does a question always arise that what do best friends mean? So there are a few things that best friends will always do for you despite various differences between you and them.
A friend will always enjoy standing by your side in all positive situations and never abandon you in negative situations. He or she is the one you are the most comfortable with all the time. Friends are those who are always honest about themselves and also about you thus gaining an undefeatable trust in each other. Friends are all about encouragement and positivity that is they always will encourage you to take a path that is really good for you and at the same time will help you get out of wrong paths. The most important of all is that a friend will always accept you for who you really are which means you don't need to develop special characteristics for making best friends.
Now a friend tattoo is something that will represent all the above-mentioned characteristics. There are multiple tattoos ideas and variations with significant meaning available for best friends like the owl tattoo, compass tattoo, or the cute symbols tattoo but they are also the most common ones. So here are a few of the most creative best friend tattoo ideas that you will not find commonly.
Friends Stay Together For Ever Tattoo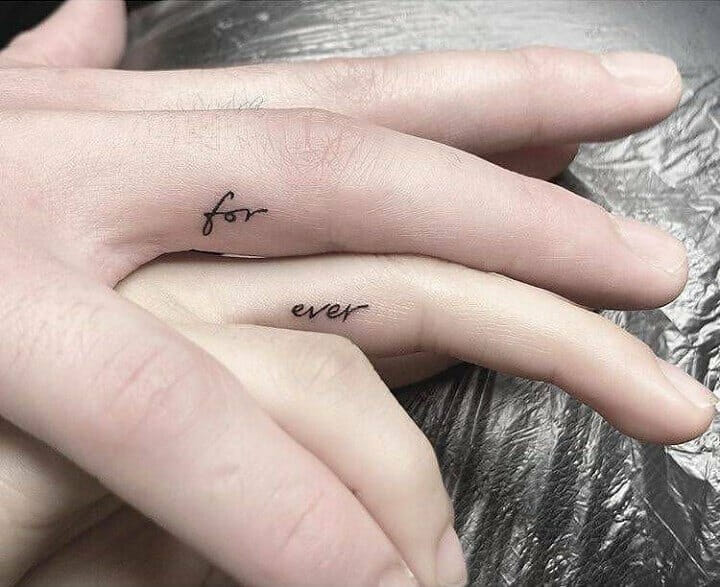 One of the most important characteristics of a best friend is that they will always be there for each other no matter what. And if you're looking for a tattoo that represents forever togetherness, then this best friend tattoo is perfect for you. The tattoo features the word "forever" cut into two halves "for" and "ever", with each syllable tattooed on one of each person's fingers. This simple yet meaningful tattoo is made using an easy-to-read font and a single color. It's also low pain and looks great on your wrist or ankle.
Matching Flower Tattoo For Best Friends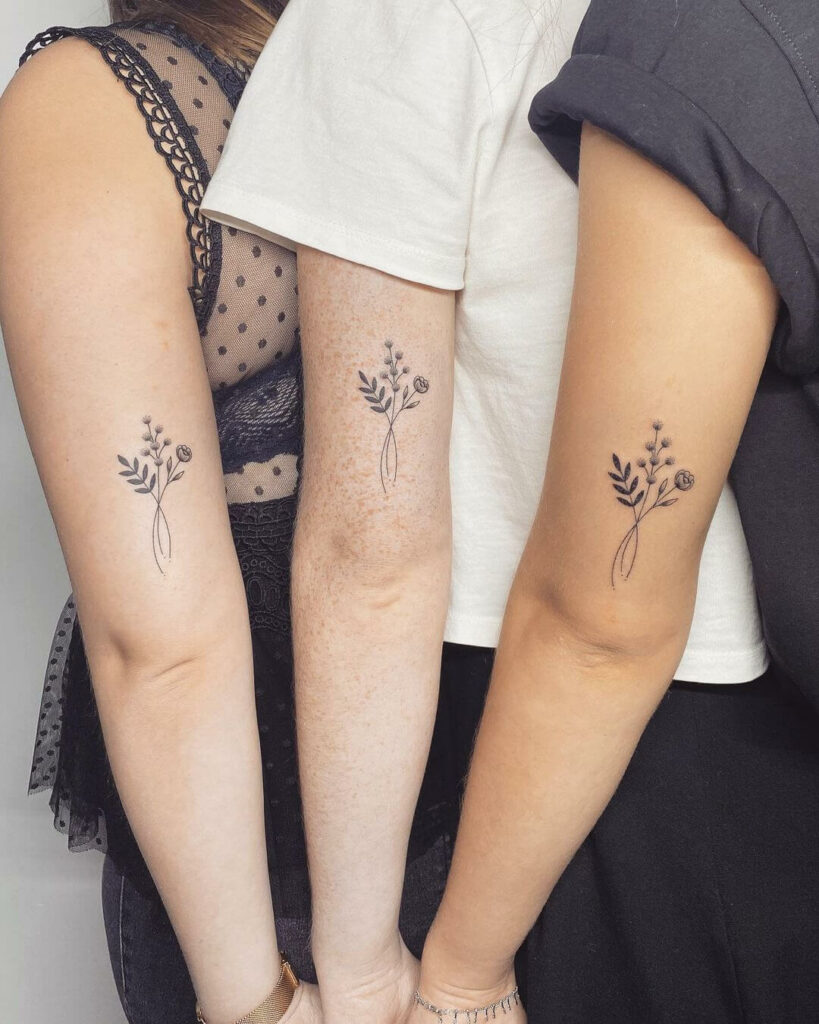 Best friends don't always come in pairs – sometimes there are three or more! If you're looking for matching 3 best friend tattoo ideas that aren't birds or butterflies, then this simple flower tattoo is perfect for you. This matching tattoo features three different varieties of flowers made using precise yet simple linework and shading. The exact same tattoo is made on all of your friends so that you can match perfectly with each other. This tattoo looks best when kept simple, so get it inked using plain black ink on your forearm, wrist, or just above your elbow. 
Minimalistic Matching Tattoos For Besties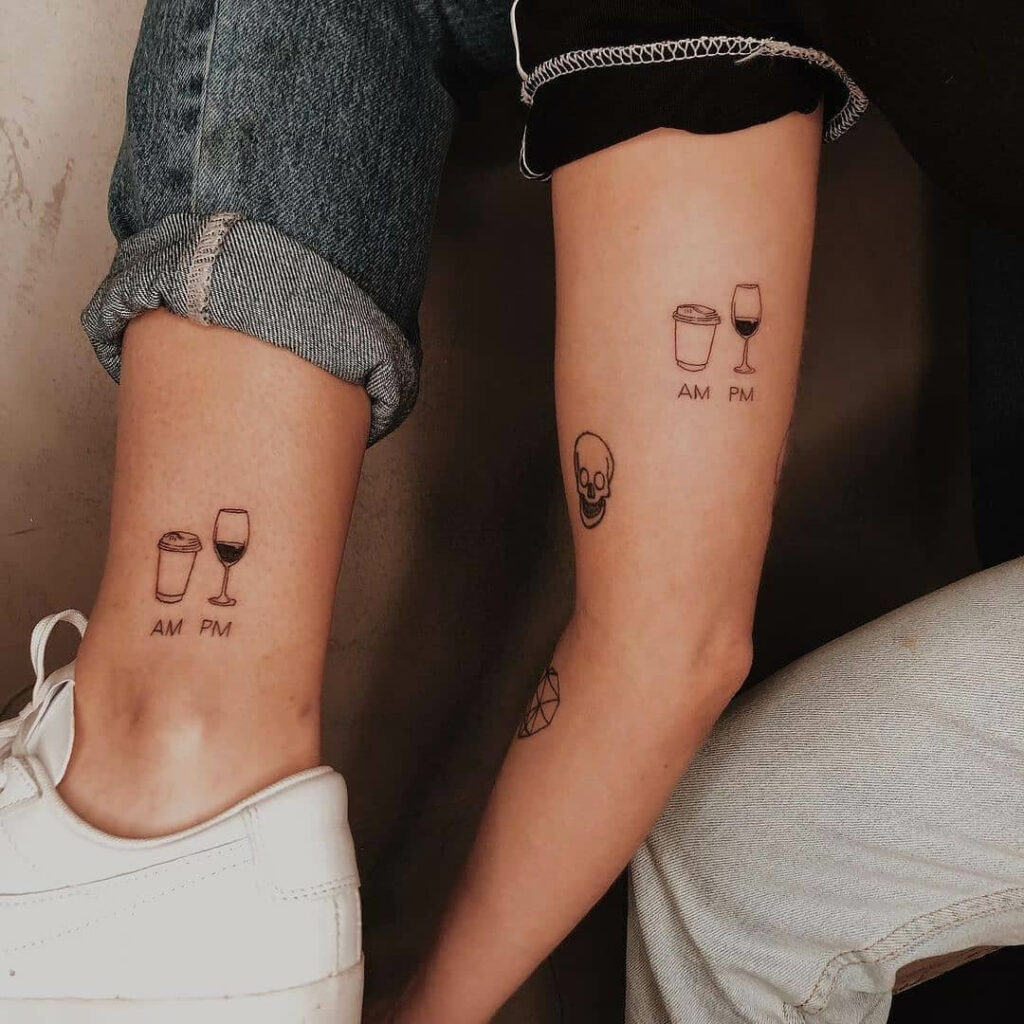 Matching wine glass tattoos are iconic, but they're also very common these days. If you're looking for a creative and meaningful twist on the classic BFF tattoo, then this coffee and wine glass matching tattoo with AM and PM written just below is perfect for you. This tattoo represents a cute best friend who is available 24/7 – from the first cup of coffee in the morning to the last glass of wine at night. It's a perfect choice for girls and looks great when done using black permanent ink. The best spots for this tattoo are your ankle, upper arm, wrist, fingers, or just above your elbow.
Friendship Writing On A Scroll Tattoo
When you search for friendship tattoos, most of the results will be matching tattoos like the sun and moon or the pinky promise. But one of the best ways to represent your best friend is by getting a matching quote tattoo that tells your story in a single line. This tattoo features an eye-catching font and is designed to look like a magical scroll. The artwork is super detailed and intricate, so it's best to get this friendship tattoo done by a talented tattooist. Since this best friend tattoo quotes edition is vertically longer, it's best to stick with your arms or legs for placement.
Friendship Quote Mark Tattoo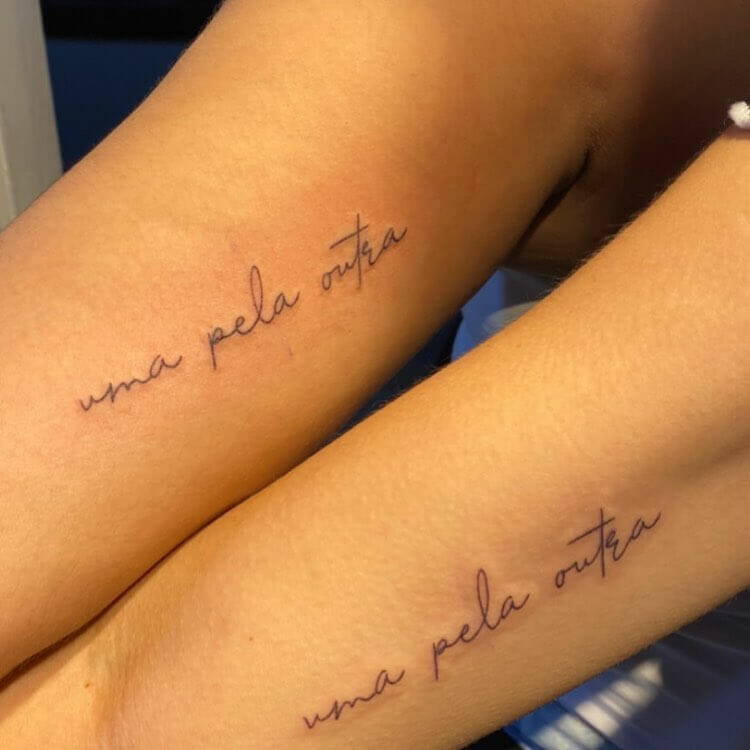 One of the best types of BFF tattoos is a friendship quote tattoo. You can get a quote tattooed on your body and your best friend can get the same quote, making it a perfect example of matching quote tattoos. If you're looking for best friend tattoo ideas, a small quote tattoo like this one would be an excellent choice. The meaning of the quote in this tattoo represents everlasting love between the two friends. This tattoo is a very simple design and takes limited time to make. But it's important to make sure that the font is well-maintained throughout the tattoo for ultimate accuracy. It can also be a great idea to include small friend symbols that represent friend love, like a flower, sun, or moon.
Timon And Pumba Friendship Tattoo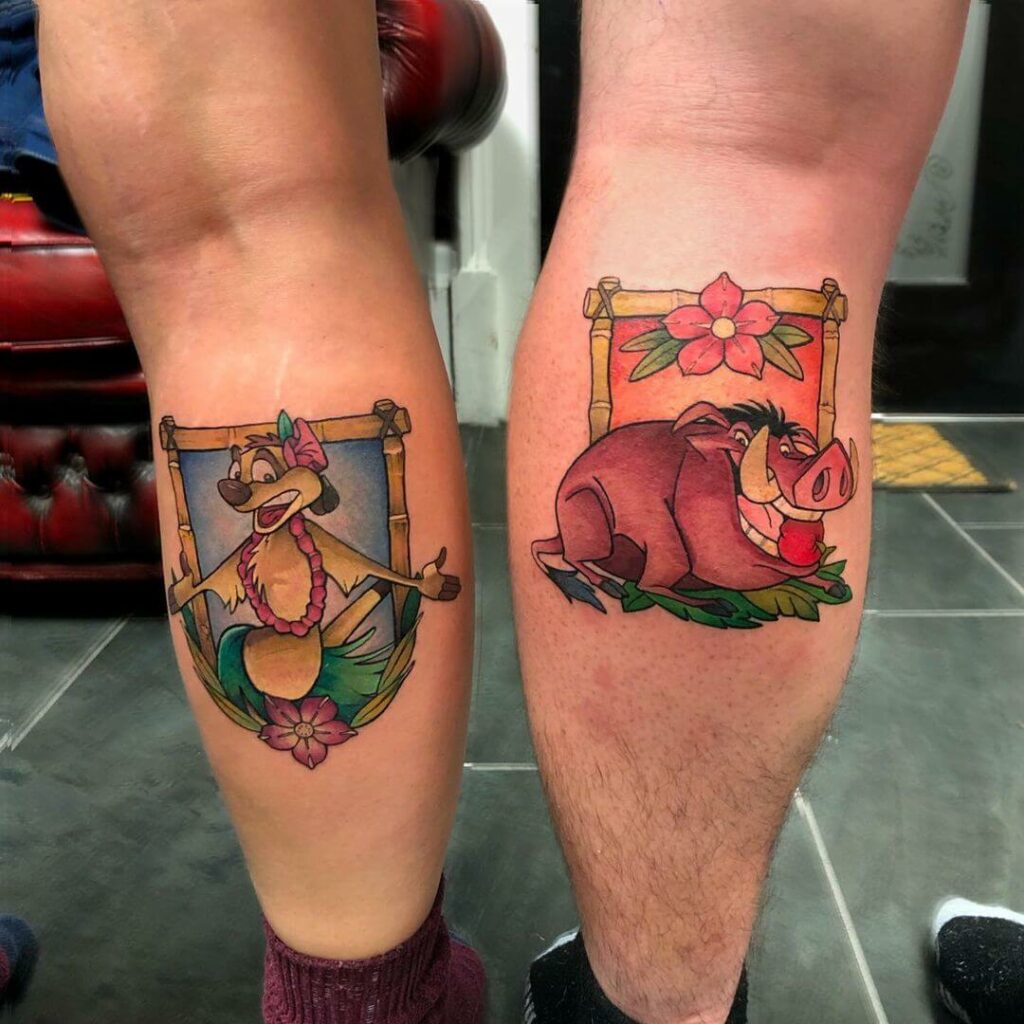 It's not always necessary to get matching tattoos to represent friendship. One of the best ways is to get popular TV character tattoos that are known for their friendship. One of the first TV characters that come to mind is Timon and Pumba – an epic friend duo of all time. If your friendship is as pure and devoted as Timon and Pumba's, then your search for friendship tattoos is over. Here, one person gets a Timon tattoo and the other gets a Pumba tattoo either on their calves or forearms. These tattoos are beautiful, colorful, funny, and precisely made. Both tattoos also have a flower which expresses love.
Cute Friendship Expression Cartoon Tattoo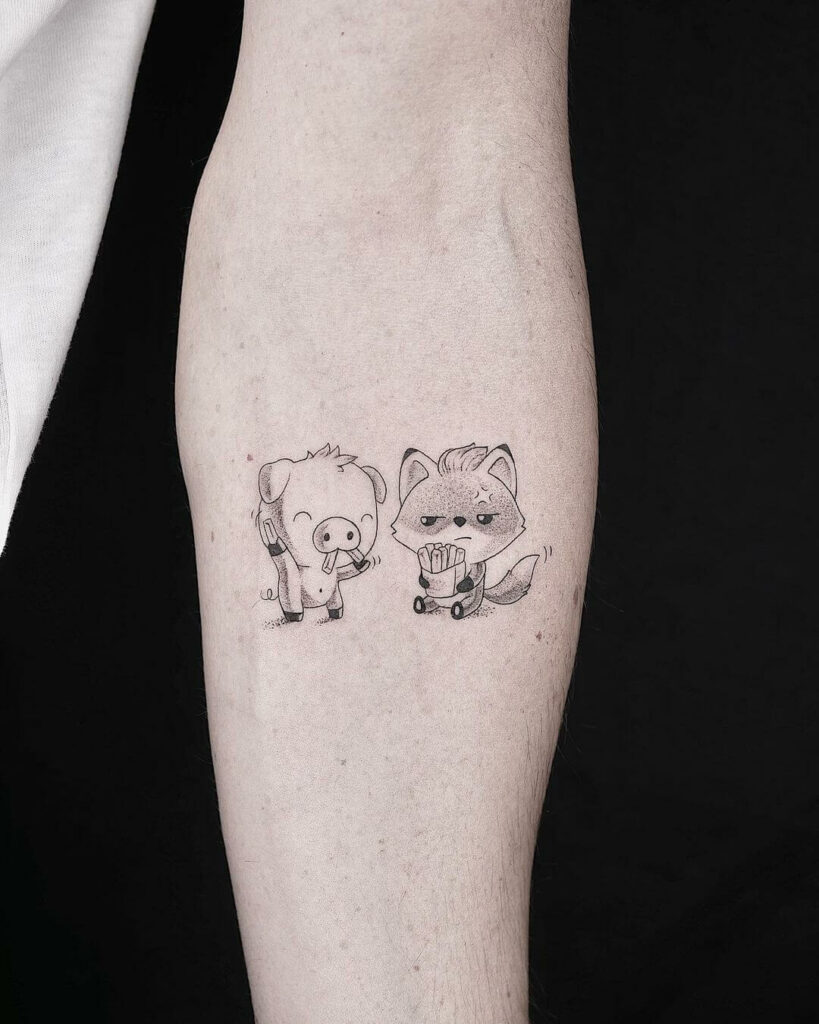 If you're interested in cute and funny tattoos that can represent some pure truth and expression about friendship, then this is something you'll love. There are a few moments in life that even true friendship does not change – like sharing fries. This friendship tattoo shows the cute but funny expressions of the friend who needs to share fries and the one who enjoys them. The tattoo has been made using black fine lines, shading, and dotwork and is also very small in size. For this very reason, this tattoo will not require much time and the best spots for this tattoo would be forearms or wrists.
Friends TV Show Thin Line Tattoo
No friendship tattoo list can be complete without a Friends TV show tattoo. It's one of the most iconic shows that actually shows the reality of true friends, which includes not only happiness but all kinds of emotions. If you're one of the mad fans of the TV show and you wish to get a good but simple-looking friend's tattoo, go for something like this. This tattoo shows four of the show characters peeking inside the room through the door, all made using a simple black line drawing technique. This tattoo requires very little space and time to be made and is best placed on your bicep, tricep, or forearm.
Simple Friends Sitting Together Tattoo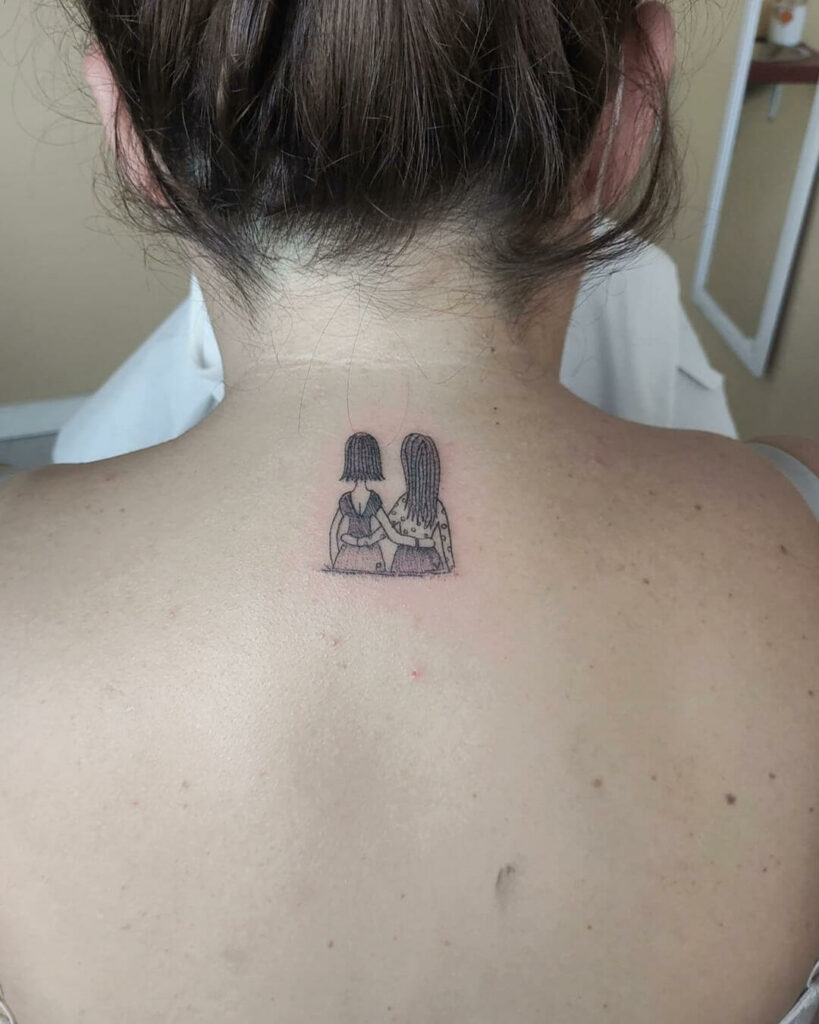 Most people tend to stick around with one of their childhood besties. The good and cute best friend moments spent together in your childhood are something to never forget. So if you're planning for BFF tattoos, what's better than getting a childhood memory tattooed on your body? This cute best friend tattoo is one of the best BFF tattoos that shows two girls sitting together with their arms around each other's back, spending some quality time with each other. There are multiple variations of this tattoo – a person of the opposite sex or elements like a swing or a moon can also be added. The best place to get this tattoo would be the back of your neck or your forearm.
Fine Line Best Friend Infinity Tattoo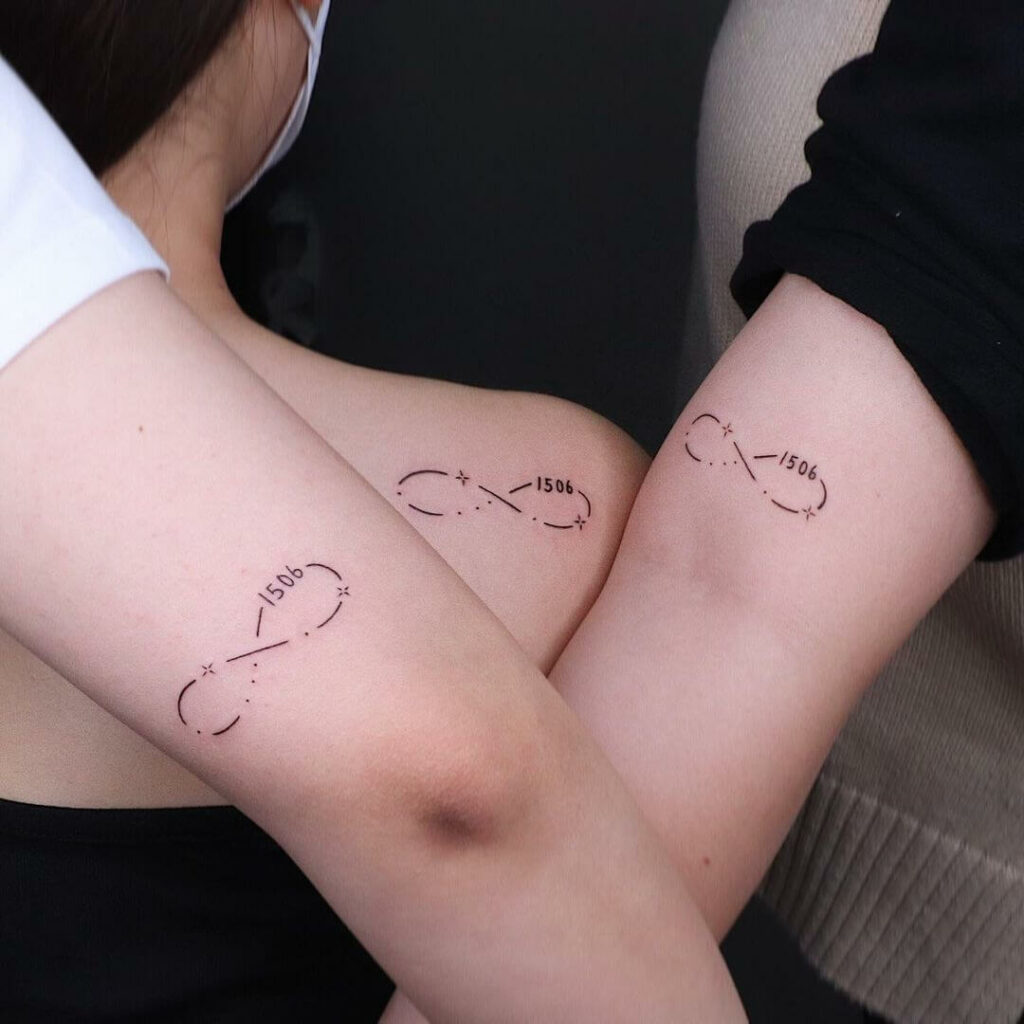 The infinity symbol has a good meaning of a never-ending or limitless loop and this is something that perfectly represents friendship. So if you're thinking about matching tattoos or a best friend symbol tattoo for you and your cute best friend or friends, this friend symbol matching tattoo is waiting for your skin. This tattoo is of an infinity symbol completed using simple linework, dots, stars, and the angel number 1506 – all of which mean something about friendship. This matching tattoo is one of the most popular friend tattoo designs and is best suited on your wrist, shoulder, or tricep.
To Infinity And Beyond Best Friend Tattoo
Best Friend Tattoo Designs
Avocado Best Friend Tattoo
Three Best Friend Tattoo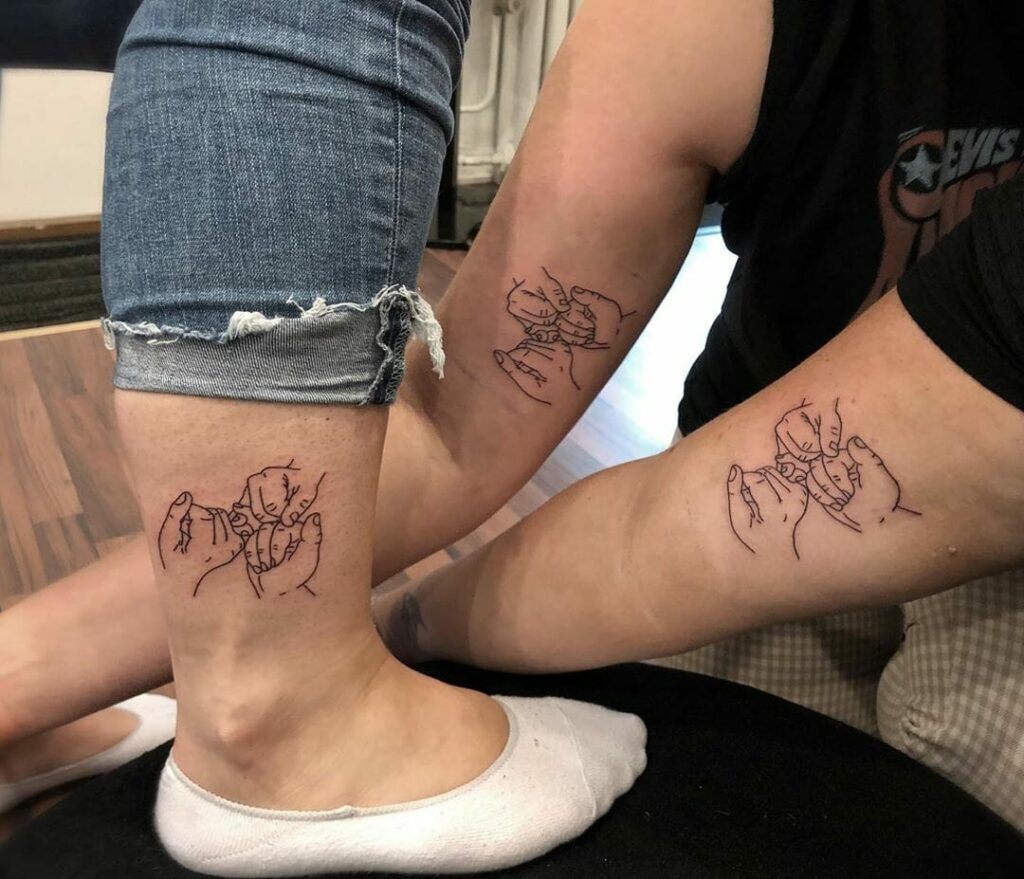 Conclusion
In conclusion, best friend tattoos are a great way to show your love and appreciation for your best friend. There are many different types of best friend tattoos that you can choose from, and the best thing about these tattoos is that they are unique and personal to each individual. When it comes to getting a tattoo, it's important to consider the placement and cost of the tattoo. You can expect to pay anywhere from $50 to $300 per hour for a tattoo. It's also important to take care of your new tattoo by following proper aftercare instructions provided by your tattoo artist.
Feature image from Pinterest