Are you thinking of getting your first tattoo and want it to be stylish and edgy? The front hip tattoos might just be the perfect fit for you! These tattoos are not only drool-worthy but also super chic. However, getting a tattoo is a decision that shouldn't be taken lightly. It's important to choose the right design that you'll love for years to come.
Hip tattoos offer a lot of versatility. You can either show them off or keep them hidden, depending on your mood and style. There are many design options to choose from when it comes to getting a hip tattoo. You can opt for a small and delicate design or go for something larger on your side thigh. Both options are equally sexy and attractive.
Although hip tattoos are known to be painful, they're definitely worth it! You can choose from a variety of designs like flowers, animals, Roman numerals, or even a fierce lion tattoo. With so many choices, it can be challenging to pick just one! So, in this article, we've compiled some of the most popular hip tattoo ideas for you to consider. Get ready to rock your new tattoo and flaunt your style with confidence!
Symmetric Floral Tattoo On Both Hips
Hip tattoos are a popular choice among those looking for a seductive and chic design. While getting inked on the hip might be painful, the result is worth it. Whether you want a design on one hip or both, there are plenty of options to choose from. This particular thin line tattoo is both cute and fun, with added elements to make it even more interesting. The beauty of this type of tattoo is that it can be subtle and delicate, yet still have a bold impact. It's a great choice for those looking to add a touch of femininity to their look. Consider getting a naval piercing to complement the design and complete the look.
Scorpion Front Hip Tattoo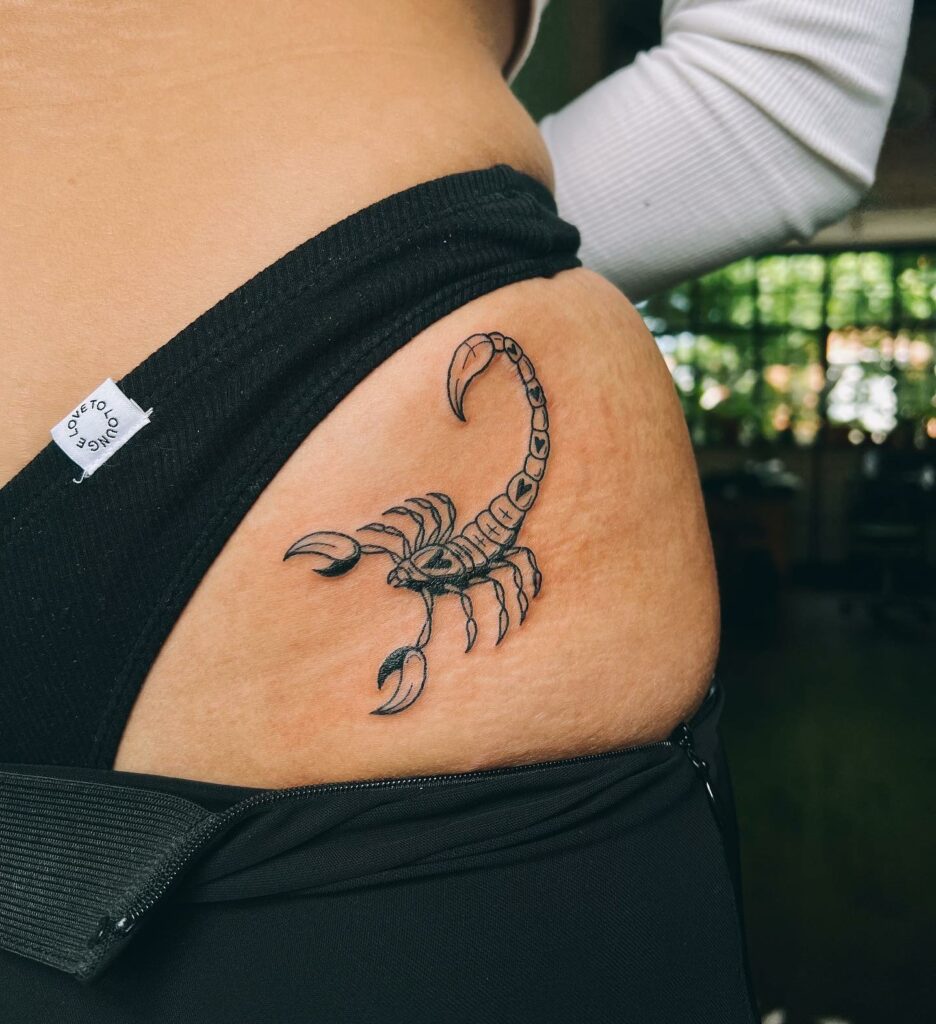 Scorpions have been popular tattoo designs for many years, especially when it comes to hip tattoos. Scorpions can represent a range of symbolic meanings, including danger and unpredictability. These arachnids are known to be deadly and should be treated with respect and caution. A scorpion tattoo is perfect for someone who is bold and daring. It can be either a small tattoo or a larger hip tattoo that will look great on your skin. With a small front hip tattoo, you can show off your scorpion tattoo subtly. The scorpion tattoo can be done in a vector outline or a 3D image to create a unique and beautiful design. Trust us, this will be one of the best hip tattoos you'll ever get!
Minimalist Snake Tattoo On The Front Hip
This design, featuring a serpent in black ink, is a perfect choice for those seeking a tattoo that represents fertility, temptation, and power. Snake tattoos are a great way to combine feminine attributes with boldness, making them a popular choice among women. If you're looking for a minimalist design, this tattoo is a great option. But if you're after something bigger, consider incorporating some flowers alongside the snake to make your tattoo truly unique. Either way, this design is sure to turn heads and make a statement.
Small Cute Dragon Front Hip Tattoo
Animal designs are a popular choice, especially for thigh tattoos. If you want a design that's both small and majestic, this one might be the perfect fit. It features a subtle yet elegant outline of a dragon flying downward with its wings spread out. Despite dragons being known for their fierce nature, this tattoo is quite cute and requires only a few strokes to complete. You can add solid or gradient colors or a shadowy effect around the outline to give it a three-dimensional look. Plus, an elongated version of this tattoo could also work as a thigh tattoo!
Lilies On The Front Hip Tattoo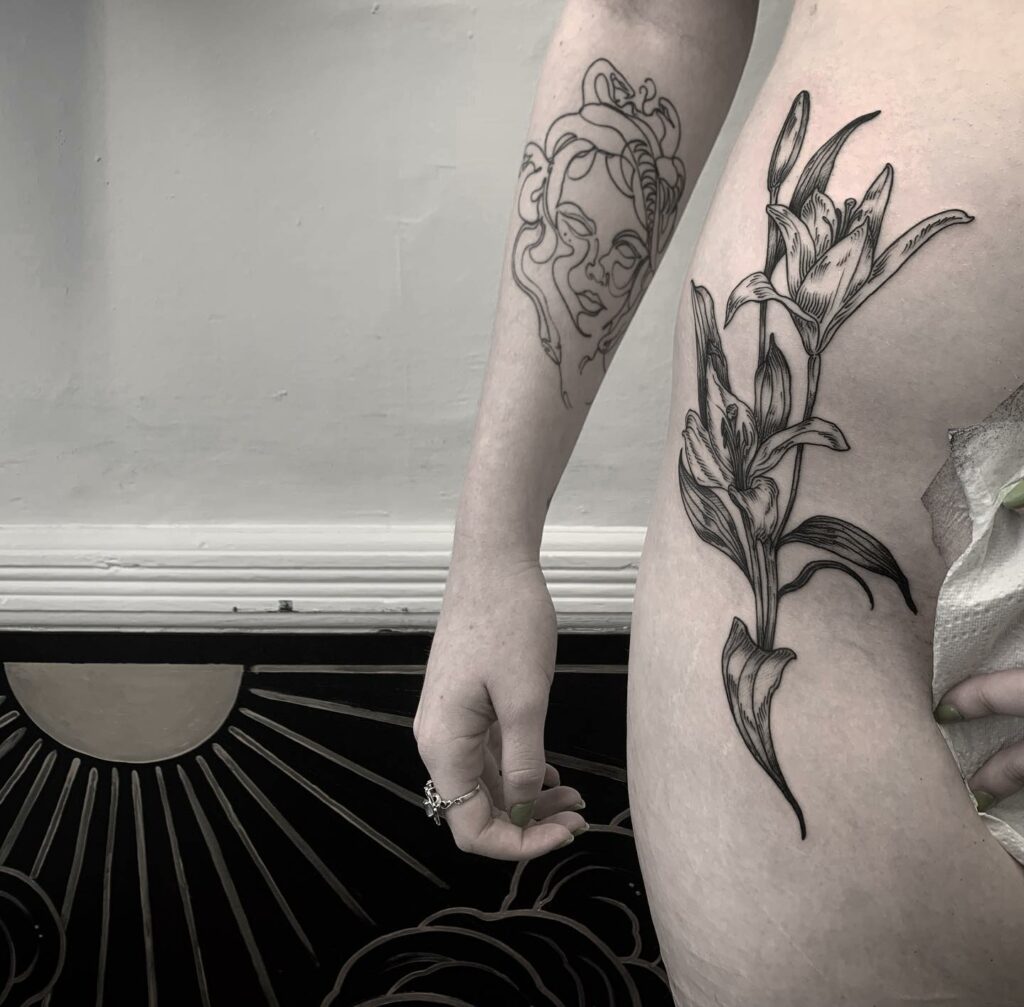 This ink design features beautiful lilies clinging to a stem and is an excellent choice for those who appreciate floral tattoos.
What sets this design apart are the intricate strokes used to create a three-dimensional, shadowy effect on the petals and leaves. It takes a skilled artist to create such detail, making this tattoo a true work of art.
Not only is this tattoo beautiful, but it also embodies a sense of femininity, sexiness, and boldness all at once. When placed on your front hip, the design will extend from your stomach to your thighs, creating an eye-catching display that is sure to turn heads. And, when paired with a shorter top, this design will peek out, adding an extra element of intrigue to your outfit.
Overall, this front hip tattoo is a fantastic choice for anyone looking to channel their femininity in a powerful and appropriate way.
Nightingale Hip Tattoo
This design features a bird that symbolizes beauty and melody, but also has darker connotations due to its association with mysticism and nocturnality. In literature and folklore, nightingales have been interpreted in many different ways, adding an extra layer of intrigue to this tattoo idea.
The nightingale hip tattoo is a perfect choice if you want to add some mystique to your body art. The design is intricate and beautifully crafted, making it a true work of art. It will also perfectly accentuate your hips, bringing out your feminine side. Whether you believe in the bird's symbolism or simply appreciate its beauty, this tattoo is sure to turn heads and leave an impression. So why not add a touch of mystery to your body art with a nightingale hip tattoo?
Two Butterflies On The Front Hip Tattoo
Butterfly tattoos are a timeless and versatile choice for women looking for a beautiful hip or thigh tattoo. Not only do they symbolize transformation, luck, and freedom, but they also have different meanings in various cultures. For example, in Russian culture, butterflies represent women or grandmothers, while in Greek culture, they are associated with the soul. If you want to showcase your love, consider the Chinese belief that two butterflies flying together represent love. This black ink design of two butterflies flying together is a great choice for your hip tattoo, and you can opt for either black and white or colorful butterflies, depending on your preferences. Get ready to show off your beautiful, meaningful, and feminine tattoo.
Seahorse Small Hip Tattoo
The seahorse is a fascinating creature that holds various meanings across different cultures. In Celtic culture, it symbolizes traits like courage, power, and good luck. It's also associated with qualities such as calmness, wisdom, and creativity, making it a popular choice for tattoo enthusiasts.
While seahorse tattoos are not typically seen as hip tattoos, they can still make for a unique and meaningful design. A small seahorse tattoo on the hip can serve as a symbol of your inner strength, creativity, and wisdom. You can opt for a minimalist design that sits perfectly on your hip or choose to expand it, covering your hip and thigh entirely. However, keep in mind that getting a tattoo can be a painful experience, so it's essential to be patient and stay committed to the process. With a seahorse tattoo, you can wear your values and beliefs with pride and grace.
Simple Little Rose Hip Tattoo
Looking for a small and elegant tattoo that will make a statement? Look no further than this rose design! Whether you're a fan of flowers or just looking for a minimalistic design for your hip bone, this tattoo is sure to impress. With its sleek appearance and feminine style, it's perfect for any woman looking to add some ink to her skin.
But don't let the simplicity of this tattoo fool you – it's packed with meaning. Roses have been a symbol of love, beauty, and passion for centuries, and this tattoo is no different. Whether you want to express your own love and beauty or simply appreciate the timeless elegance of this flower, this tattoo is a great choice.
And the best part? Once you get this hip tattoo, you can express it in whatever way you like. Whether you want to keep it simple and black and white or add a pop of color, the choice is yours. So why not make this rose design your first tattoo and add some beauty to your hip?
Minimalist Mushroom Hip Tattoo
Looking for a hip tattoo that is both minimalist and elegant? Consider a mushroom tattoo! This dainty design is perfect for those who prefer small tattoos, and it will accentuate the curve of your hip bones with its curved lines. Despite its simplicity, this tattoo is mesmerizing to look at and will definitely turn heads.
You can opt for either black ink or add some color to the design. If you want to add a touch of variation, consider incorporating flowers into the tattoo. Since it's so tiny, you can easily cover it up if you ever change your mind.
Keep in mind that getting a tattoo on the inner hip area can be more painful than on other spots. If you're looking for something slightly bigger, the thighs might be a better option. However, with ample thought and consideration, your hip tattoo will have a special story to tell. Give this mushroom tattoo a try and enjoy its minimalist charm on your body!
feature image from Pinterest – Want your tattoo to look brighter? Try "Tattoo Balm"
Last reviewed and updated on March 31, 2023