For those of you bold enough to consider adorning your canvas with a stunning back-piece, look no further! We've curated an exceptional collection of full-back tattoo ideas that are sure to inspire and captivate.
Often regarded as the pinnacle of tattoo artistry, a full-back tattoo embodies elegance and unapologetic self-expression. While many tattoo aficionados appreciate the craft, it takes true courage to commit to an expansive back tattoo. Often referred to as a "mural," these intricate masterpieces have been gracing the backs of daring individuals since the early '90s.
Back tattoos make a powerful statement, conveying deep emotions or convictions, thanks to the ample space provided by our upper backs. This expansive, flat canvas allows tattoo artists to unleash their creativity, resulting in eye-catching, complex designs that captivate onlookers. Known for their bold and sensual appeal, back tattoos hold a special allure for both men and women. If you're on the fence about taking the plunge, we encourage you to embrace your daring side and explore the captivating world of full-back tattoos. Join us as we showcase some of the most breathtaking designs for both men and women.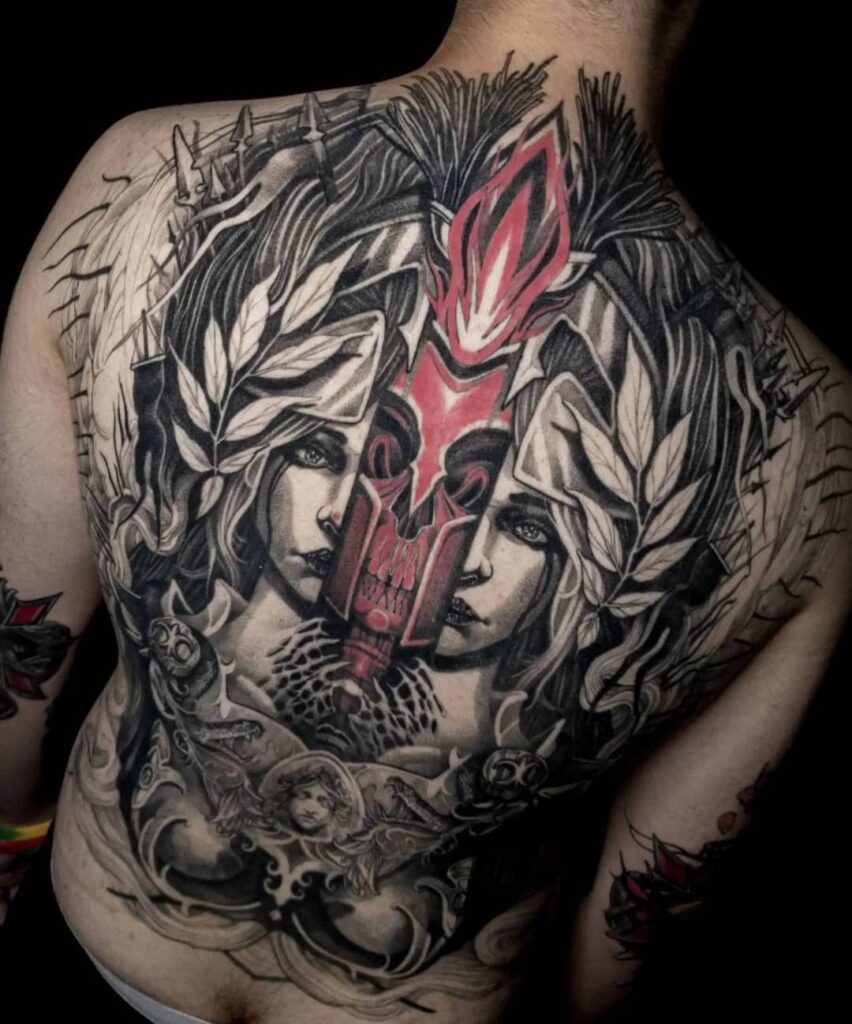 Amazing Black And White Hyper-Realistic Upper Back Tattoo Design
Imagine a breathtaking back tattoo, masterfully crafted in shades of black and grey, that brings the concept of hyper-realism to life. If you're a devoted fan of Hollywood star Tom Hardy, this is the tattoo for you. The design ingeniously captures the essence of the roles he has portrayed on-screen, weaving together a tapestry of characters alongside other notable movie artists.
The tattoo's intricate details and stunning execution make it appear as though you're looking at a high-resolution photograph or even a remarkable 3D piece of body art. Each character is skillfully depicted, drawing inspiration from memorable movie stills.
The background of the tattoo evokes a vintage English vibe, complete with Derby hats, adding a layer of depth and charm to the piece. While this design may not boast the vibrant colors found in some other back tattoos, the striking contrast of black and grey tones creates a captivating visual appeal that will undoubtedly turn heads.
Stunning Black and Grey Full-Back God Tattoo Design
If you have a passion for Roman Catholic history, this full-back tattoo art could be the perfect choice for you. This striking design resembles a mural you might find gracing the ceiling of a historic museum. The centerpiece of this tattoo is the legendary moment when Saint Michael the Archangel triumphs over the Devil, showcasing a powerful scene from the Army of God.
The meticulous attention to detail in this tattoo is truly breathtaking, capturing every aspect of the scene with precision. At the heart of the design, you'll find the archangel St. Michael, shield in hand, taking center stage. His wings majestically extend across the shoulders, creating an awe-inspiring effect that's sure to stand out from the crowd.
A back tattoo of this caliber is a bold statement piece that not only showcases your appreciation for history but also your commitment to artistic excellence.
Awesome Japanese Full Back Tattoos For Men
Diving into the rich history of full-back tattoos, we find ourselves transported to ancient Japan, where these intricate designs held both spiritual and decorative significance. The traditional tattoo featured here showcases an exquisite Japanese art piece, primarily focused on a stunning dragon. The artist's skillful approach sets this design apart from the usual backpieces, as it extends beyond the upper back to the lower back and even the arms.
The dragon's face has a captivating, animated quality, complete with horns atop its head. The background is meticulously detailed, highlighting the dragon's scales that stretch throughout the entire piece. This impressive back tattoo is a bold and daring choice, paying homage to the time-honored art of traditional Japanese tattooing.
Amazing Full Back Skinart Tattoo For Women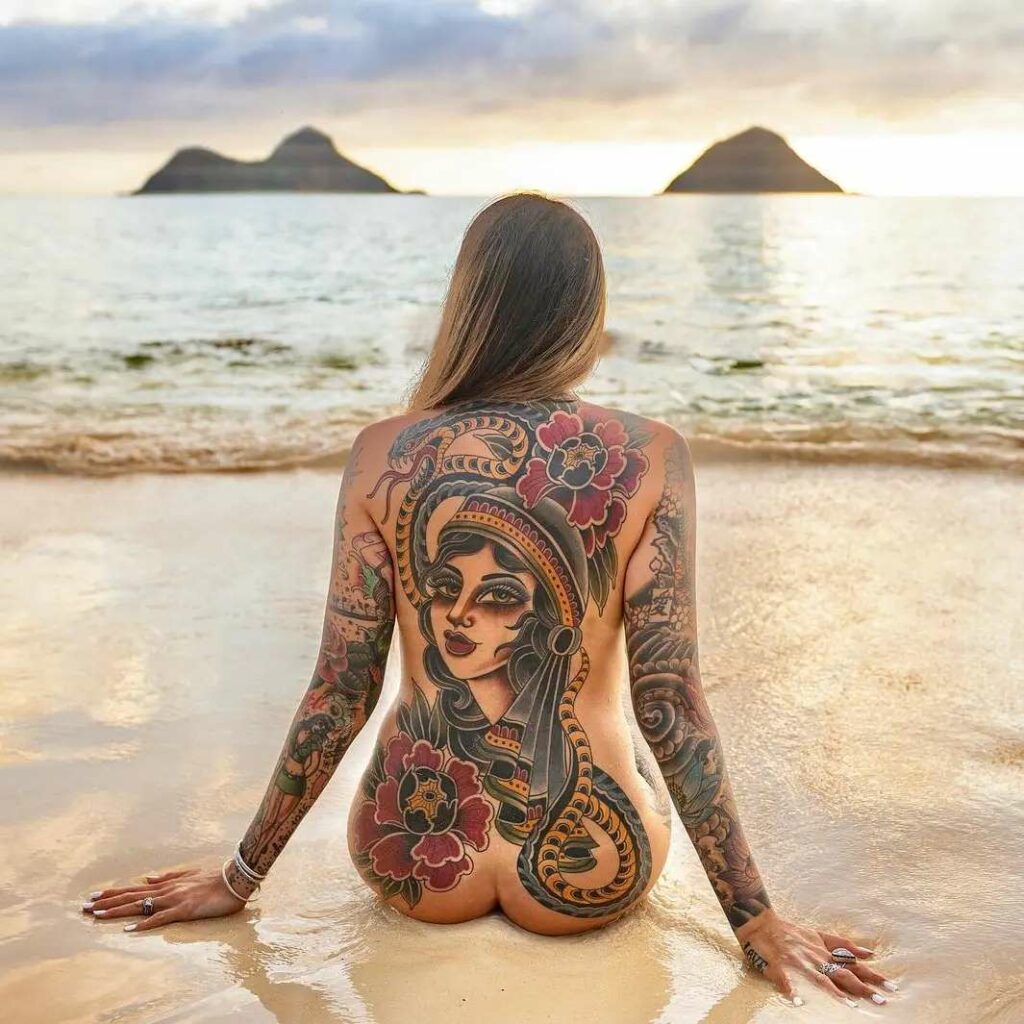 Feast your eyes on this mesmerizing full-back tattoo, which spans both the upper and lower back to create a stunning masterpiece. At the center of the design, you'll find a beautifully rendered woman's face, encircled by an array of vibrant flowers. Each intricate detail, from her eyes and lips to her eyelids and mouth, is crafted with an unconventional flair.
Adding a twist of intrigue to this otherwise uplifting and wholesome composition, the tattoo artist has skillfully entwined a snake around the woman's head. This unexpected element gives the backpiece an edgy, badass vibe that's sure to captivate anyone who lays eyes on it.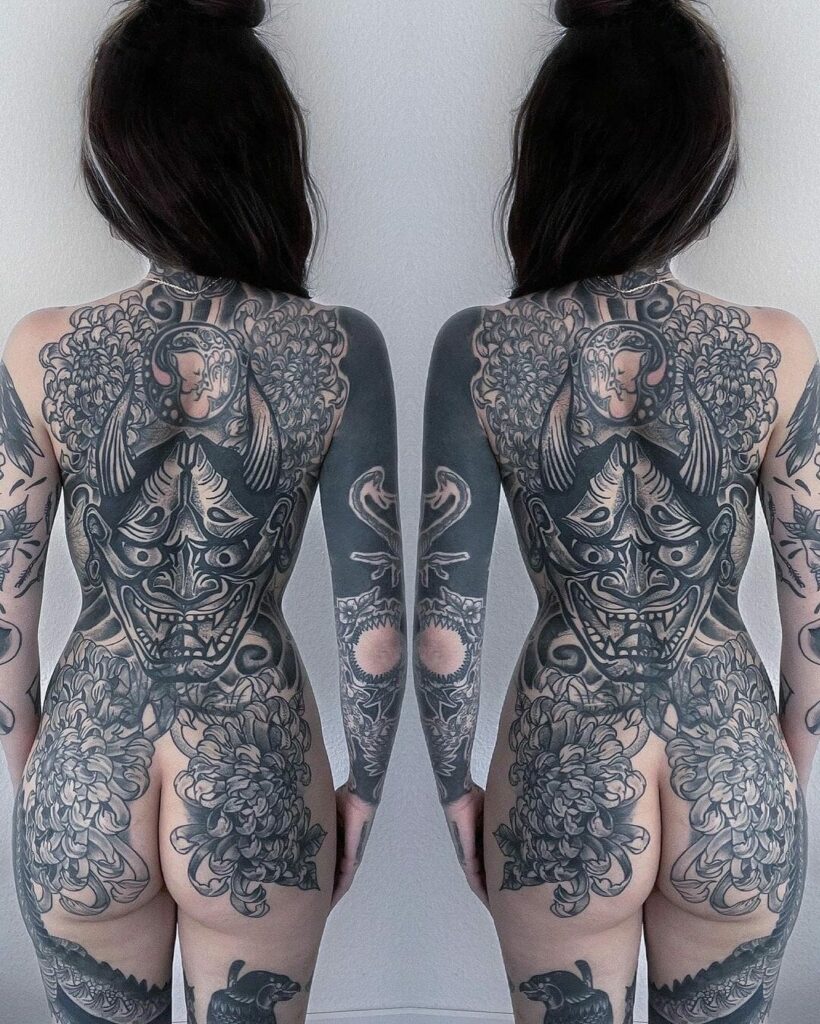 Are you drawn to the powerful symbolism of the wolf? If so, you've come to the right place! A wolf-themed back tattoo is a bold and striking way to make a statement and showcase your fierce nature. This particular design sets itself apart from others with its use of striking black ink, capturing the essence of your inner strength and resilience.
At the heart of this tattoo, you'll find the captivating face of a wolf adorned with majestic horns. Surrounding this central image, a lush array of flowers extend across the back, reaching towards the arms and lower abdomen. This impressive backpiece serves as a testament to your fearless spirit and indomitable character.
So, don't just browse through articles about wolf tattoos – embrace your inner wolf and make your mark with this awe-inspiring design!
Amazing Dark Full Back Piece Tattoo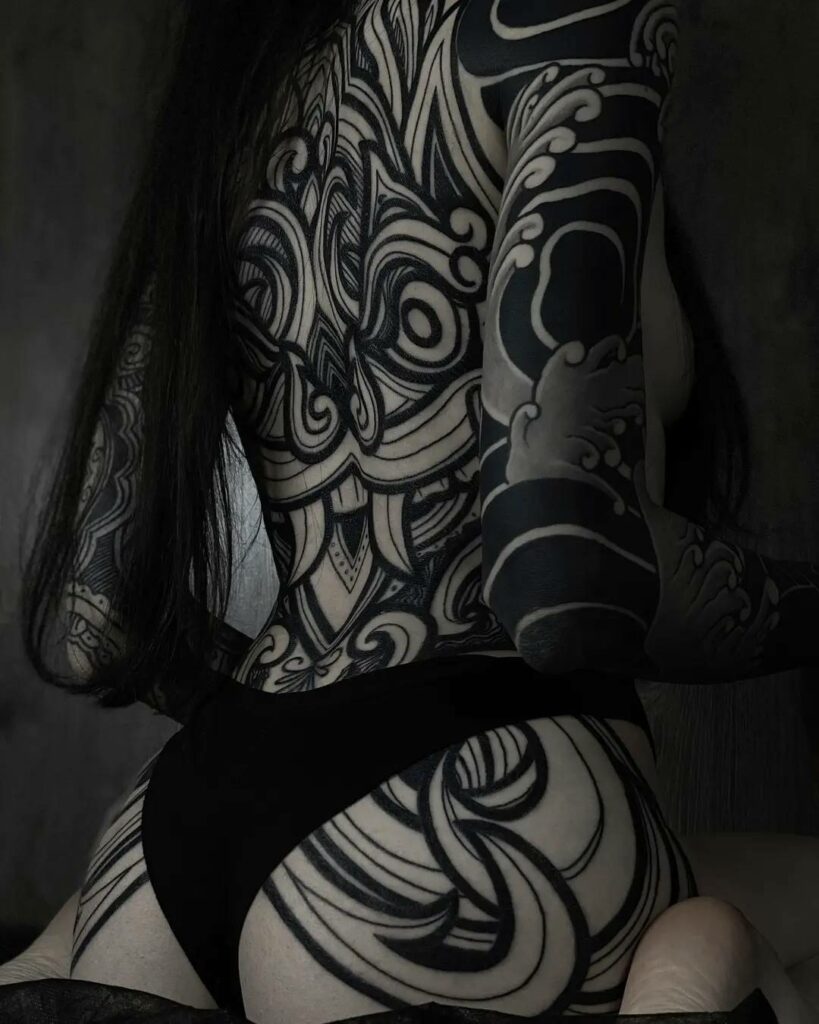 Upon first glance, this full-back tattoo might appear as a geometric masterpiece, but upon closer inspection, you'll discover the striking face of a dragon woven into the design. Covering the entire upper and lower back, as well as the arms, this bold and eye-catching tattoo comes to life when viewed from afar. Crafted using a single, black continuous line, the dragon's features span across the spine and waist.
The dragon's head is ingeniously designed using an array of shapes and patterns, transforming your body into a living canvas. Prominent pointed and angled triangles adorn the shoulders and waistline, contributing to the overall aesthetic. While this back piece may not be as intricately detailed as others, it certainly exudes a powerful and edgy vibe that's sure to turn heads.
Awesome Badass Dragon Full Back Tattoos For Men
Embracing a traditional Chinese dragon tattoo could be the bold move that sets you apart in the tattoo community. This particular dragon tattoo is meticulously crafted, almost lifelike, thanks to the vibrant colors and attention to detail. The artist expertly utilizes the available space, stretching the design across the lower and upper back, as well as the arm region. A full-body Chinese tattoo like this is a testament to the hours of dedication and skill involved in its creation.
The striking red color at the center, surrounded by the rich blue hue, gives this tattoo a lively and captivating appearance. While the pain endured by the person wearing this tattoo may be hard to fathom, there's a sense of honor and pride associated with such a remarkable dragon back tattoo.
If you're an enthusiast of intricate back tattoos, don't hesitate – go ahead and get inked with your own unique design!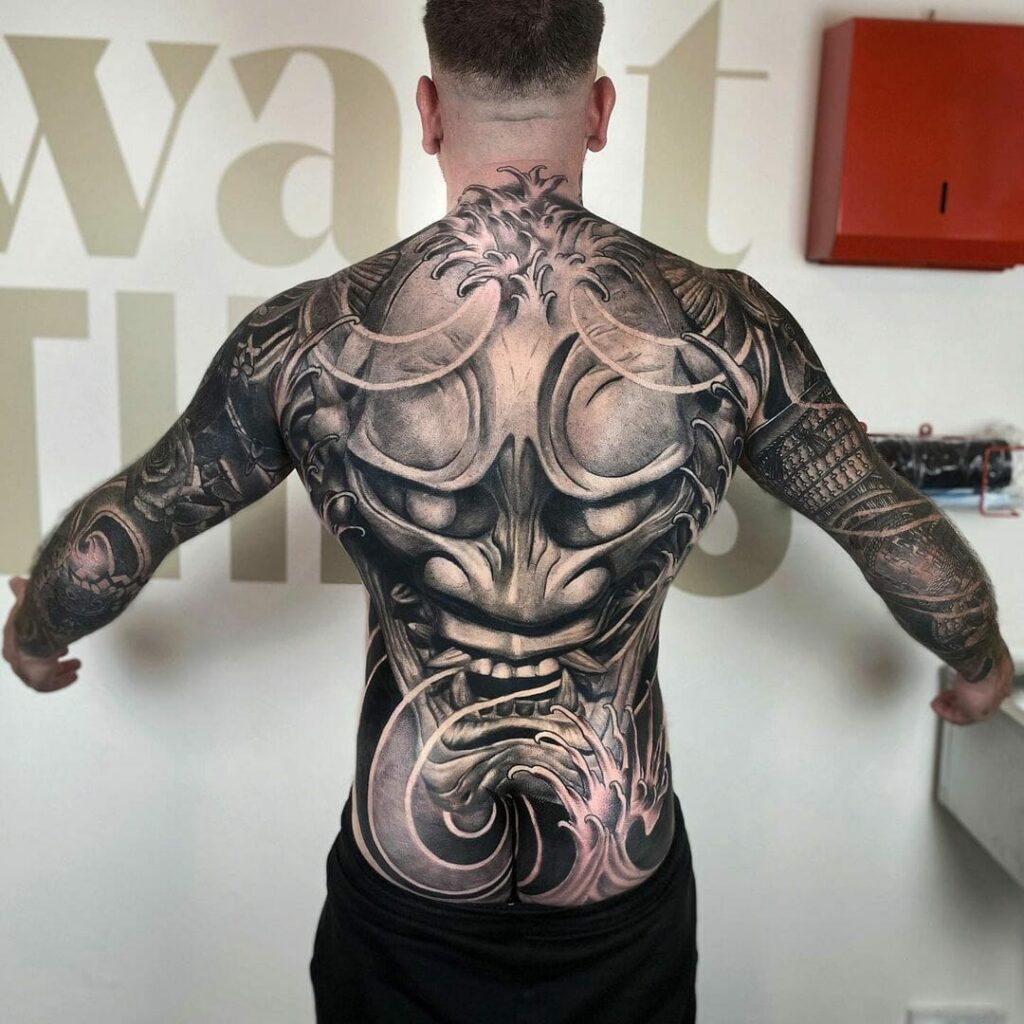 Attention all tattoo enthusiasts on the hunt for edgy, dark art forms – look no further! This striking back-piece, extending across your entire upper back and hands, is sure to captivate. The bold black lines that define the tattoo convey a fearless aura. The dragon's face is masterfully crafted, showcasing its sharp canines as it appears to open its mouth, creating an atmosphere of turbulence and intrigue. The sense of dread surrounding the dragon is further accentuated in the lower back portion of the tattoo.
The patterns extending down the arms seamlessly blend with the rest of the design, resulting in a visually stunning piece. Your search for the perfect dark tattoo is finally over – go ahead and get inked with this unforgettable design!
Incredible Lion Back Piece Tattoo
For tattoo aficionados seeking a truly bold statement, look no further than a majestic lion back-piece. Rich in detail and artistry, this impressive design allows you to carry your spirit animal with you wherever you go. Crafted entirely in black ink, this tattoo showcases the meticulous effort and dedication of a skilled artist. The fur surrounding the lion's head is expertly inked, creating the illusion of the mighty beast emerging from the underbrush.
Leaves are intricately woven between the lines and along the edges of the tattoo, transforming your body into a living canvas. To set this design apart, the lion's eyes are accented with a striking blue hue. Minimalist color schemes often add a unique allure to back tattoos, enhancing the impact of highlighted features.
This lion back-piece is the ultimate way to silence any doubters and make a lasting impression. So why wait? Go ahead and get inked with this remarkable design!
Amazing Floral Back Tattoos For Women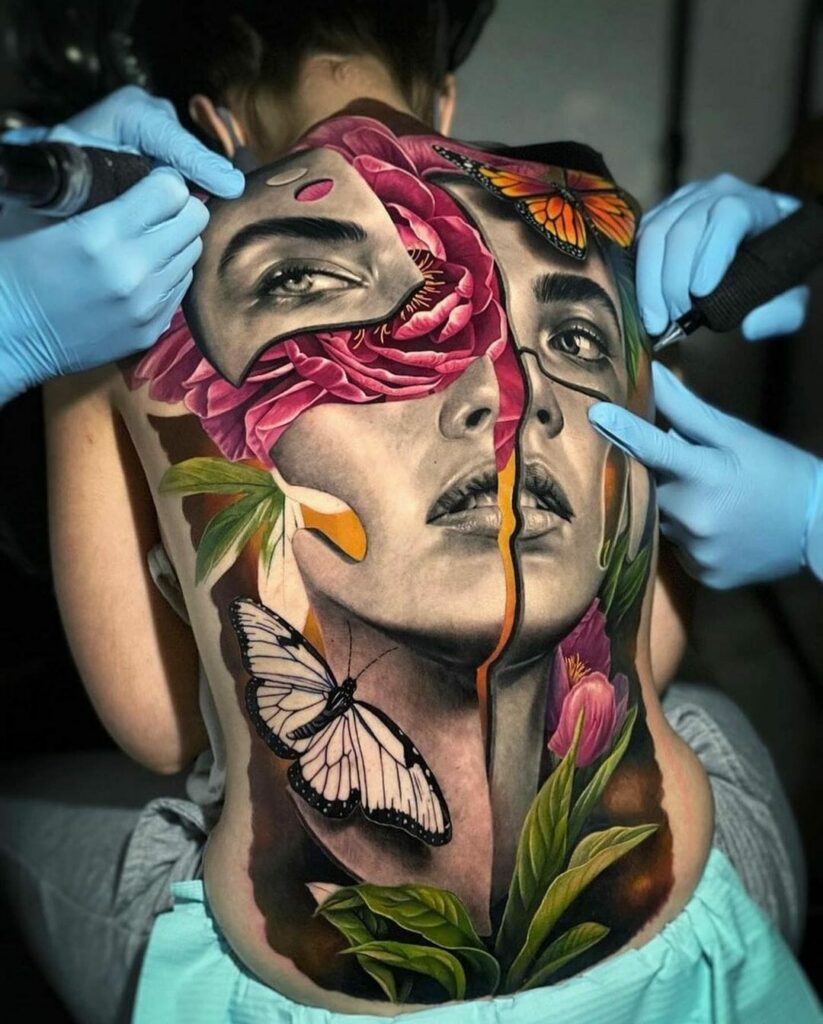 For those on the hunt for a stunning and visually captivating back tattoo, look no further. This exceptional design features a beautifully detailed portrait of a woman at its center, surrounded by elegant flowers and delicate butterflies. The artist has masterfully employed shades of green, fluorescent red, and pink against a contrasting black background, creating a truly eye-catching piece.
The intricacy and precision of the woman's face in this full-back tattoo are a testament to the talent and dedication of both the tattoo artist and the person wearing the design. Though it's clear that the process required hours of patience and focus, not to mention the inevitable discomfort, the breathtaking result is undoubtedly worth it.
So why not embrace the opportunity to turn your back into a work of art with this extraordinary tattoo design?
Amazing Lord Ganesh Tattoo Full Back Design
This masterpiece has been created using black ink only and the amount of time and skill it took to draw this is beyond belief. Having this tattoo will surely set you apart from the rest in the tattoo community.
Lord Ganesh, a revered Hindu God, is known as the remover of obstacles and the bringer of good fortune according to Hindu scriptures. His unique elephant head is a distinguishing feature and makes him one of the most popular gods worshipped by millions around the world. He is also considered a patron of art and science, with many worshipping him for power and intellect. A Lord Ganesh tattoo is a great way to show your devotion to the deity and seek his blessings.
Along with the incredible artwork, the tattoo also features a message written in Hindi on the top, adding to its authenticity. This back-piece is an exceptional example of hyper-realistic tattoo design that captures the hearts of devotees of the Hindu God.
Amazing Life-Like Abstract Art Tattoo Design
For the art enthusiasts and lovers of surrealism, this back tattoo design will be the perfect choice. Inspired by Salvador Dali's Persistence of Memory, this tattoo features a giant pocket watch held in one hand, along with other objects such as a staircase, a rose tattoo, and a small hand holding fingers. As with all abstract and surreal art, the symbolic references are open to interpretation based on the viewer's perspective.
This tattoo is an excellent option for those who appreciate art and its deeper meaning. A unique and intellectual back piece that will set you apart from the crowd.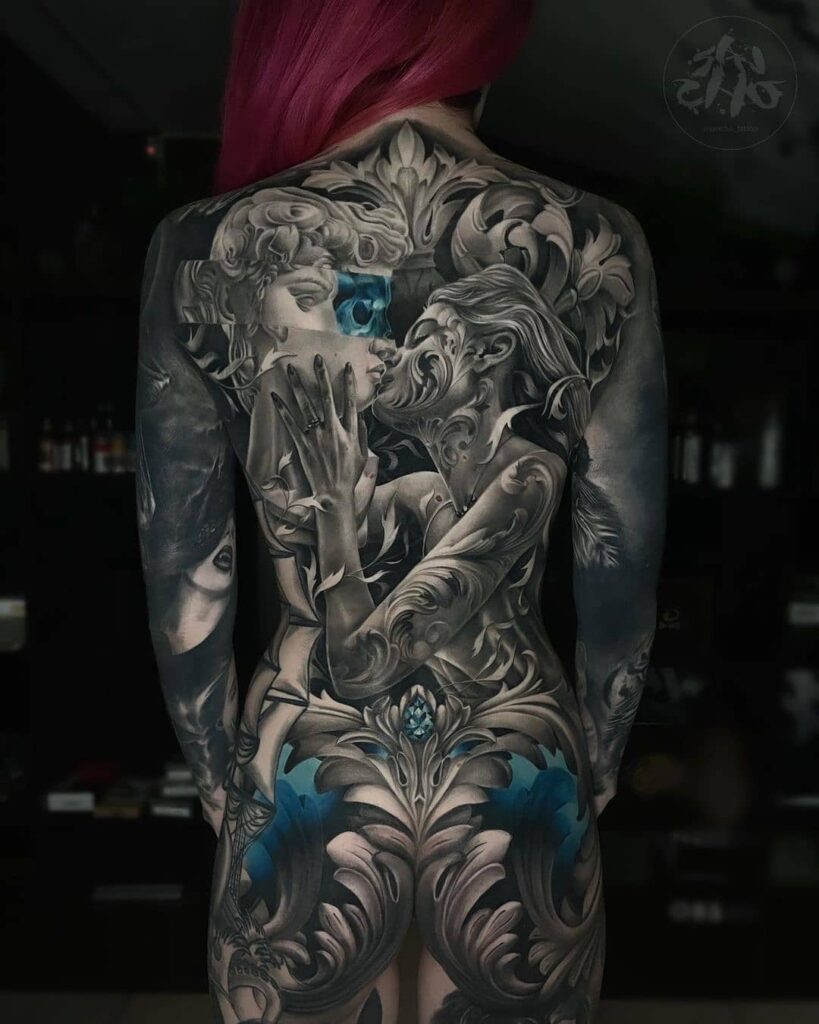 Reminiscent of Renaissance sculptures, the tattoo features a boy on the left who bears a striking resemblance to Michelangelo's David, and a girl on the right created by the artist's imagination. The off-white texture on the black background makes it look like the girl is kissing the carved marble statue of David, and the blue colour adds to the regal effect. This tattoo extends from the upper back to the lower back and even onto the arms, making it a truly immersive art piece.
While this type of tattoo is subjective, the fine balance of reality and imagination incorporated in this design is what makes it so captivating. It's no surprise that many tattoo enthusiasts are drawn to the open-ended nature of this art form. So why not add this classic, artistic tattoo to your collection?
feature image from Pinterest – Want your tattoo to look brighter? Try "Tattoo Balm"
Last reviewed and updated on April 28, 2023