Greetings, tattoo aficionados! If you're on the hunt for some bold, edgy gangster tattoo font inspiration, you're in the right place. Join us as we explore an array of striking fonts that capture the essence of the gangster tattoo style.
Originally, gangster tattoos served as markers of loyalty and affiliation with a specific gang. Nowadays, their appeal has expanded beyond those roots, with many individuals drawn to the edgy, powerful aesthetic these designs evoke.
Gangster tattoo fonts can be incorporated into a tattoo on any part of the body, adding an unmistakable air of coolness and intrigue. While once associated with danger and notoriety, these tattoos now appeal to a broader audience who appreciate the stylistic flair they bring to the table. One of the standout features of lettering tattoos is their capacity for personalization, allowing for unique expressions of individuality.
If you're ready to dive into the world of gangster tattoo lettering, we've got you covered. Our carefully curated list of fonts will help you find the perfect design for your next ink session. So, without further ado, let's explore some of the most exceptional gangster tattoo fonts out there!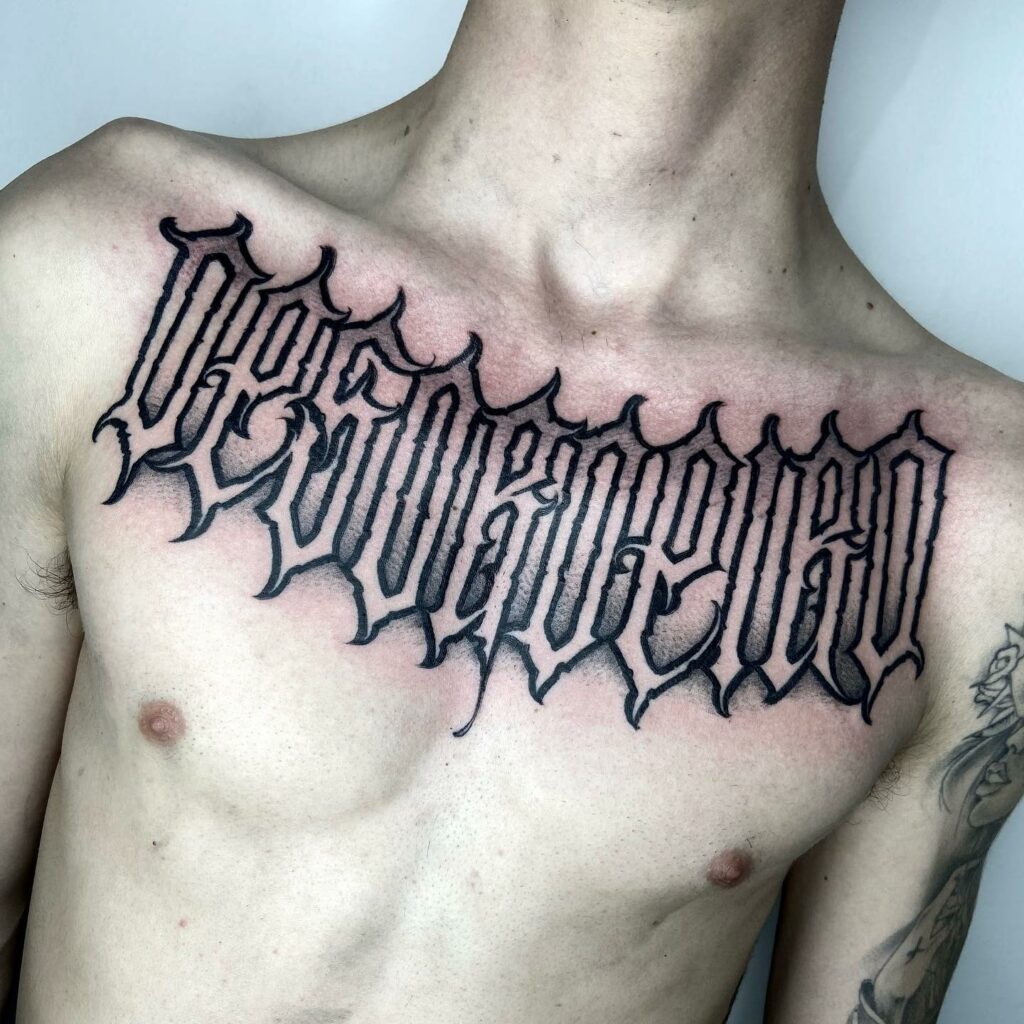 Hong Kong Gangster Cursive Tattoo Fonts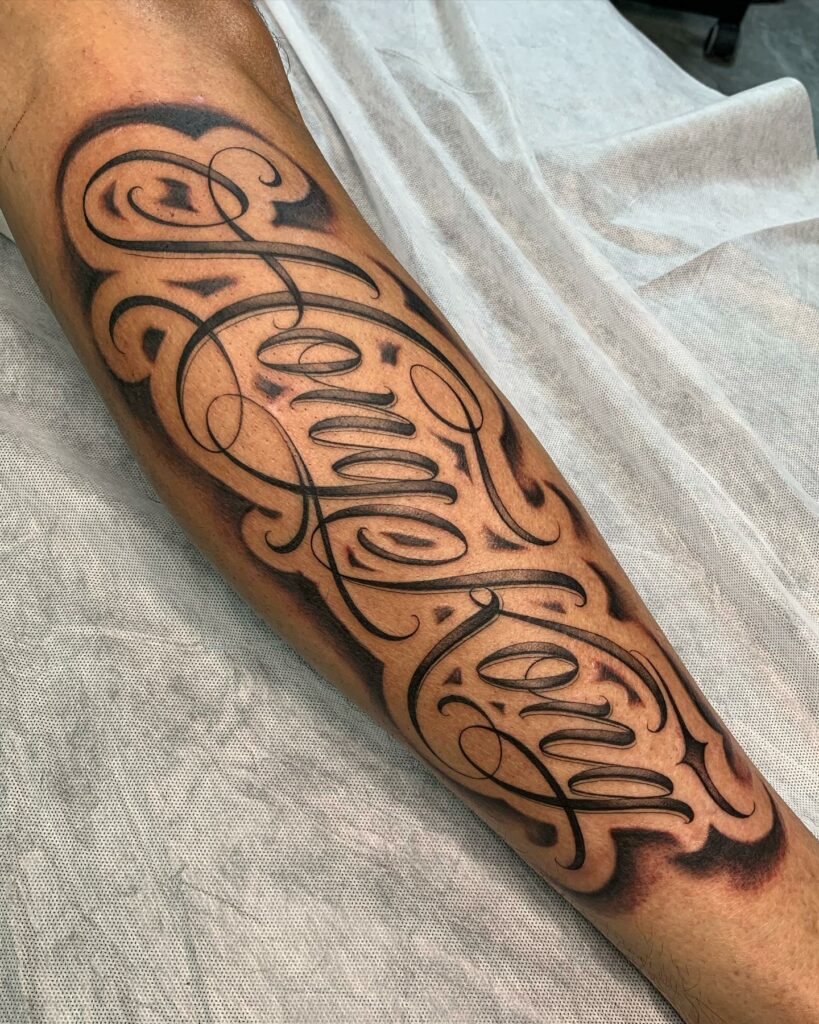 Gangster font tattoos offer a distinctive and powerful aesthetic, capturing the essence of bold lettering, script fonts, symbols, and styles that reflect strength, personal sentiment, creativity, and individuality. Harkening back to the '90s, these tattoos were all the rage among bikers and the hip-hop community.
For those seeking tattoo fonts that embody the spirit and symbolism of gangster tattoos, consider a design that showcases this iconic style. This striking black-inked tattoo features bold, cursive lettering, intricate detailing, and a smoky background shading that illuminates the text. Feel free to customize this forearm tattoo to your liking, whether it be as a back piece or an impressive sleeve tattoo. Embrace the rich history and dynamic flair of gangster font tattoos as you make a powerful statement with your body art.
Elegant Gangster Calligraphy Tattoo Fonts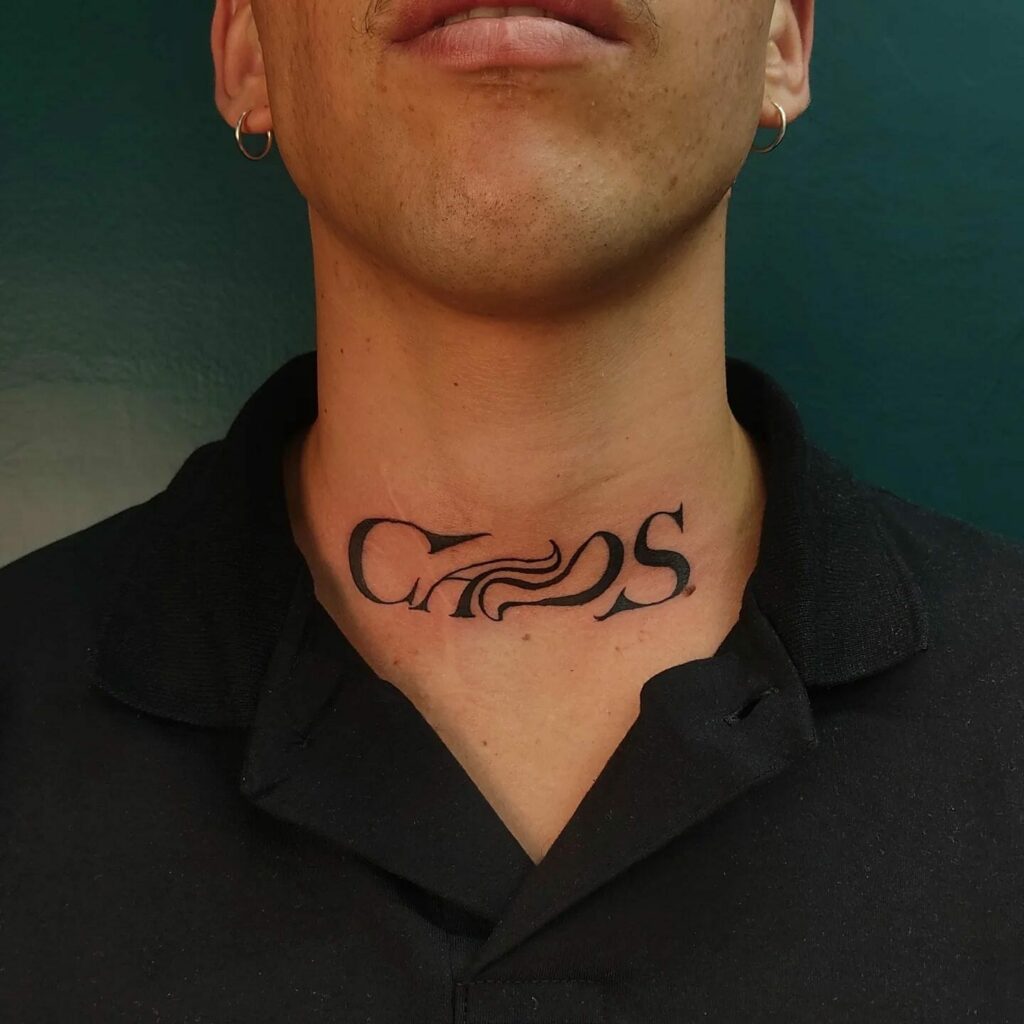 Tattoos are as diverse as the reasons people choose to get them: commemorating special moments, celebrating beauty, and expressing individuality, to name a few. Each tattoo carries a unique meaning, and lettering tattoos can be particularly profound and personal. The chosen word or font adds depth and significance to the overall design, much like the artistry of this elegant tattoo.
Take, for instance, this captivating "CAOS" tattoo, showcasing a stunning calligraphy-inspired font. The realistic bends and curves of the letters are expertly crafted, reminiscent of intricate page work. The A and O, in particular, seem to form wave-like shapes, adding a touch of grandeur to the piece. This versatile style could even be adapted for custom logo designs.
Feel free to personalize this neck tattoo to suit your preferences, whether it's relocating it to your back, arm, or another area of your choosing. Let your imagination run wild as you explore the world of lettering tattoos and all the expressive possibilities they offer.
Detailed Gangster Tattoo Lettering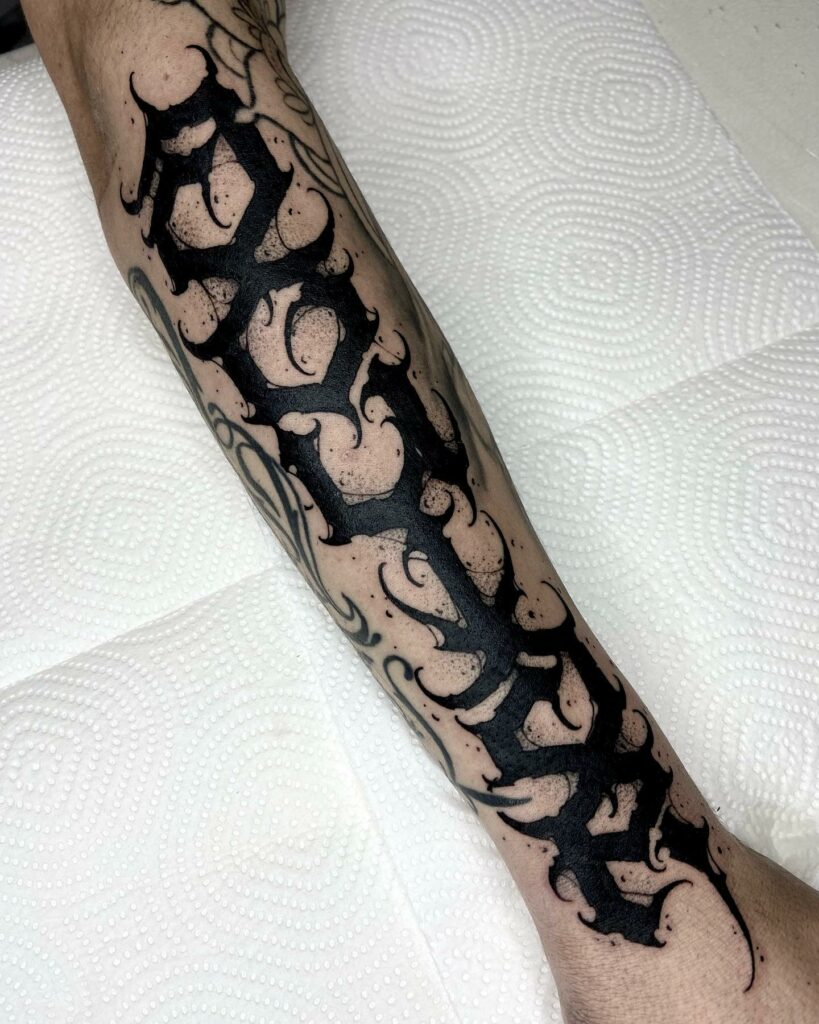 If you're on the hunt for an edgy and striking gangster tattoo font, look no further than this fantastic design. Renowned among bikers, hip-hop enthusiasts, and trendsetters alike, gangster tattoo fonts have an undeniable appeal. With its bold black ink and freehand craftsmanship, this particular design is sure to turn heads. The featured word "AGUIAR," Spanish for eagle, adds an extra layer of intrigue.
The bold, distinctive style of this font offers incredible versatility. As a quintessential gangster tattoo, it allows you to personalize it with any word of your choosing. Beyond tattoos, this attention-grabbing font can be adapted for custom logo designs, tattoo studio branding, shirt designs, and more. Consider this captivating design for a sleeve or back tattoo, and let your creativity soar with the possibilities.
Face Gangster Stencil Tattoo Fonts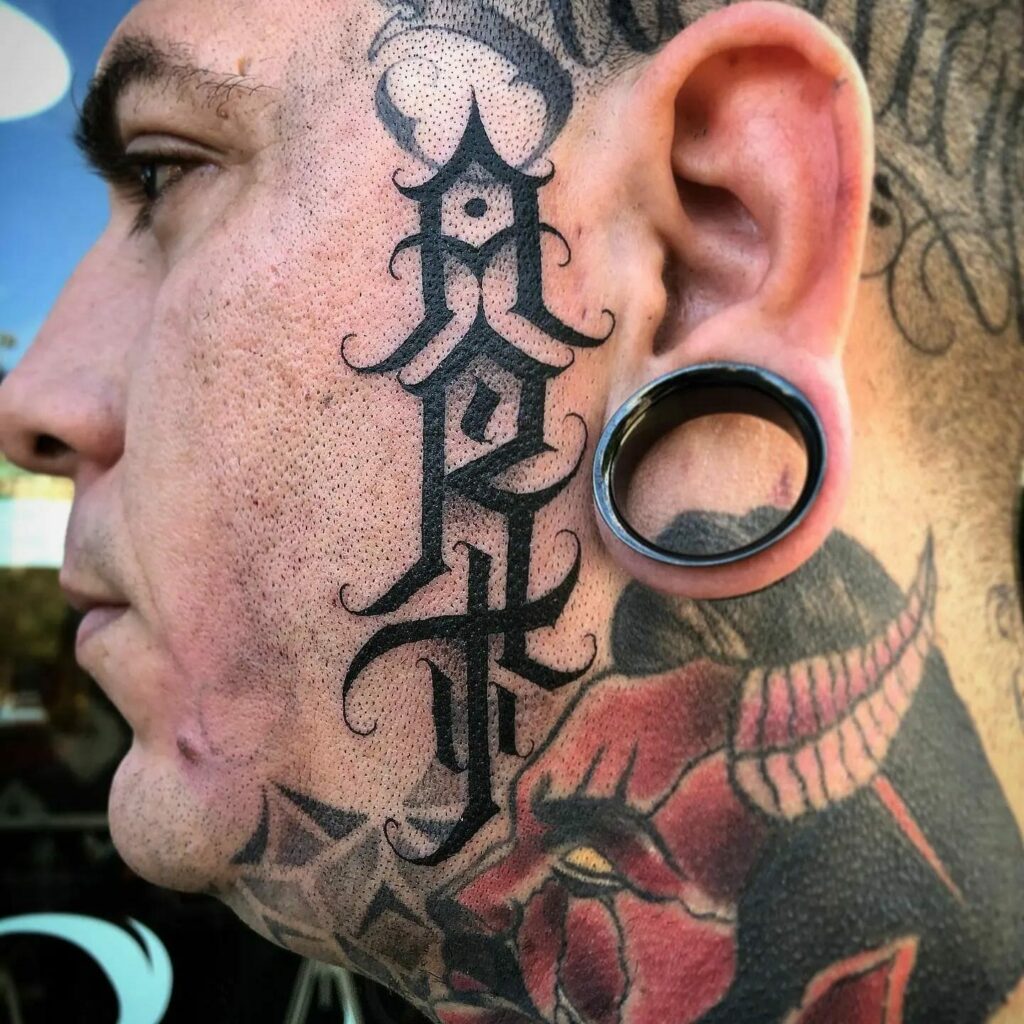 Delve into the captivating world of ancient history with this striking gangster font tattoo design. Steeped in tradition and style, gangster fonts have long been a popular choice for tattoos. One particular design that stands out features the bold, edgy block letters spelling "ART." With crisp lines and artistic streaks, this tattoo showcases an ancient aesthetic while highlighting the calligraphic form's elegant strokes.
The beauty of gangster tattoo fonts lies in their ability to convey personal emotions or etch a meaningful message. Feel free to tailor this design to suit your preferences, making it truly your own. Although showcased as a face tattoo, the versatile stencil gangster tattoo font could also grace your back, arm, or leg with equal flair. Embrace the fusion of history and modernity with this stunning tattoo design.
Freehand Gangster Tattoo Font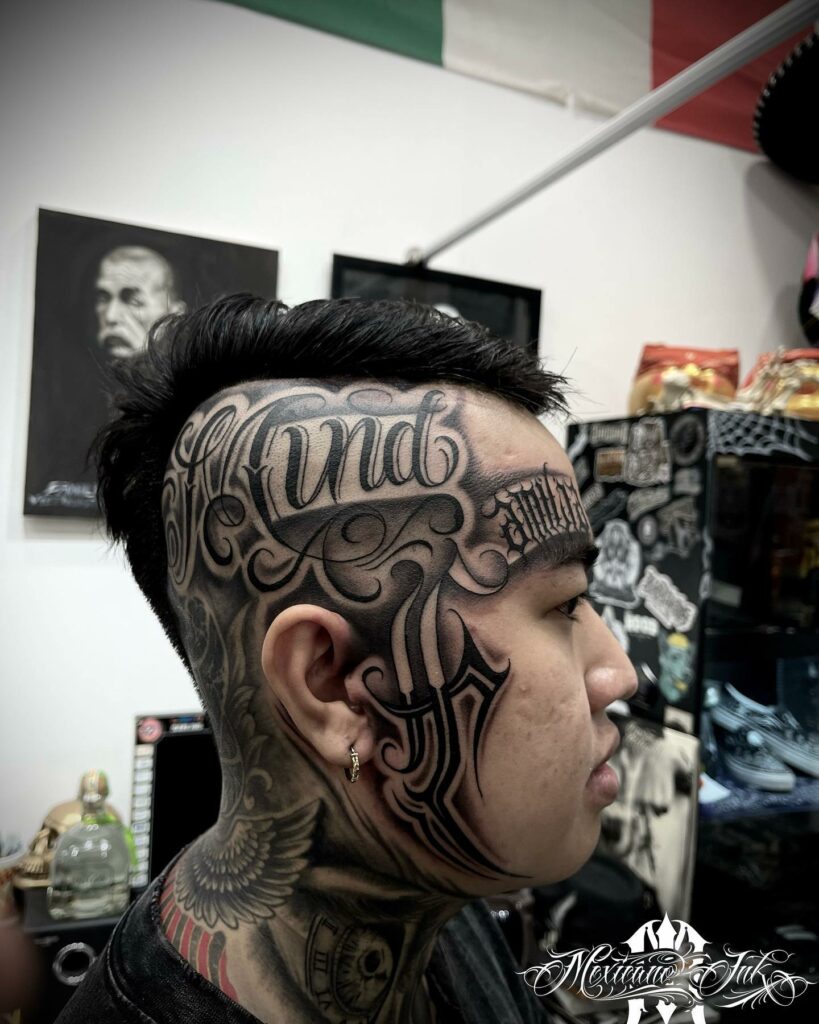 Gangster tattoo fonts have become a popular choice among different cultures, including hip hop, riders, gothic, and emo. These black-inked detailed works of art look super cool and edgy on anyone, regardless of their skin color and style. This tattoo idea is perfect for those seeking a combination of edgy and classy. The words "Mind and Familia" are inscribed in this tattoo, making it an extraordinary design with a deep meaning of appreciating the two most important things in life – the mind and family.
The tattoo artist skillfully crafted this detailed tattoo with freehand designs. This tattoo can be placed on any part of the body, and it will look great with any style. Moreover, you can customize this tattoo by changing the words to anything you want, making it perfect for expressing your love for family. So, why not give this tattoo a try and showcase your love for your mind and family in a unique and stylish way!
Elaborate Gangster Tattoo Fonts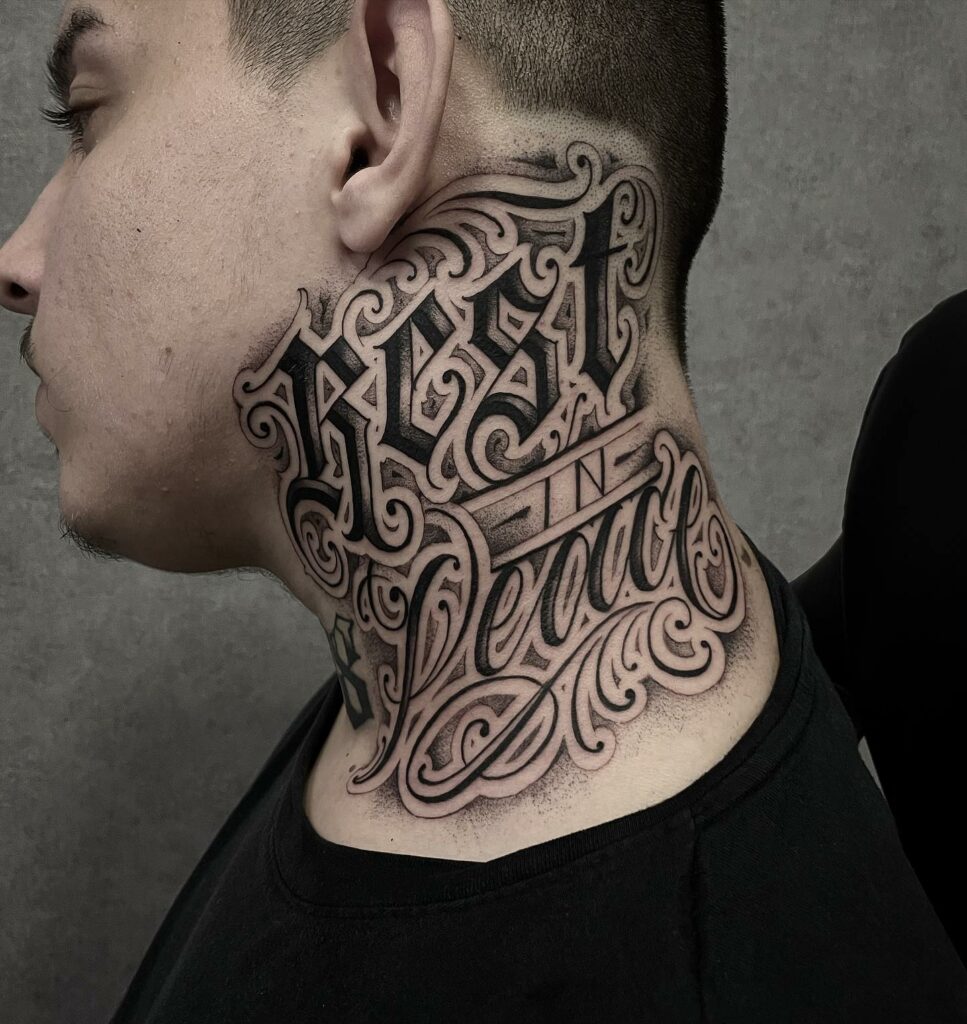 The world of tattooing is constantly evolving, with new and exciting designs popping up every day on social media platforms like Instagram. But we guarantee that you have never seen a tattoo design as cool and unique as this one! The black ink used in this tattoo is rich and detailed, making the lettering of the phrase 'Rest in Peace' truly stand out. This tattoo is a beautiful way to honor the memory of someone special who has passed away.
The attention to detail in this tattoo is truly remarkable, with stunning smokey and shadow work that creates a beautiful, almost ethereal effect. The dot artwork is also particularly striking, adding depth and texture to the design. Whether you're looking for a quick and easy black tattoo or a more detailed piece of art, this tattoo is sure to impress. You can place it on your back, chest, or neck, depending on your preference. Get ready to turn heads with this stunning and meaningful tattoo design!
Cursive Gangster Lettering Tattoo Style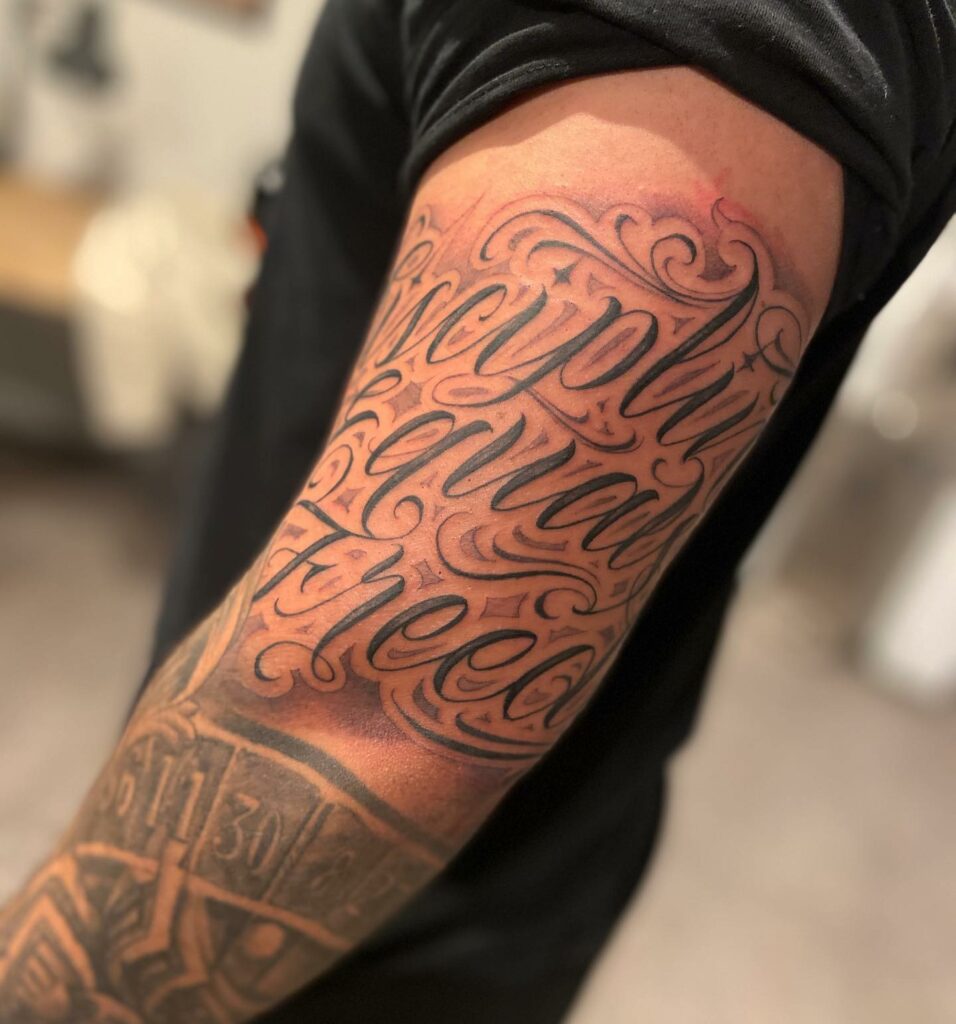 Tattoo art has evolved to encompass a broad spectrum of styles that offer a wealth of design options. Whether you prefer minimalist or intricate artistry, lettering tattoos can deliver the message you want to convey in style. Calligraphy tattoos, in particular, are renowned for their elegance and spiritual significance.
The Chicano typeface is an excellent example of how traditional tattoo designs can inspire contemporary lettering styles. The fluid curves and waves of the letters make for a stunning design that blends well with the crimson background of this tattoo. Using black ink accents to create contrast, this piece is a perfect example of the creative possibilities of lettering tattoos. It's an expression of individuality and a great way to showcase one's personality.
Chest Gangster Tattoo Fonts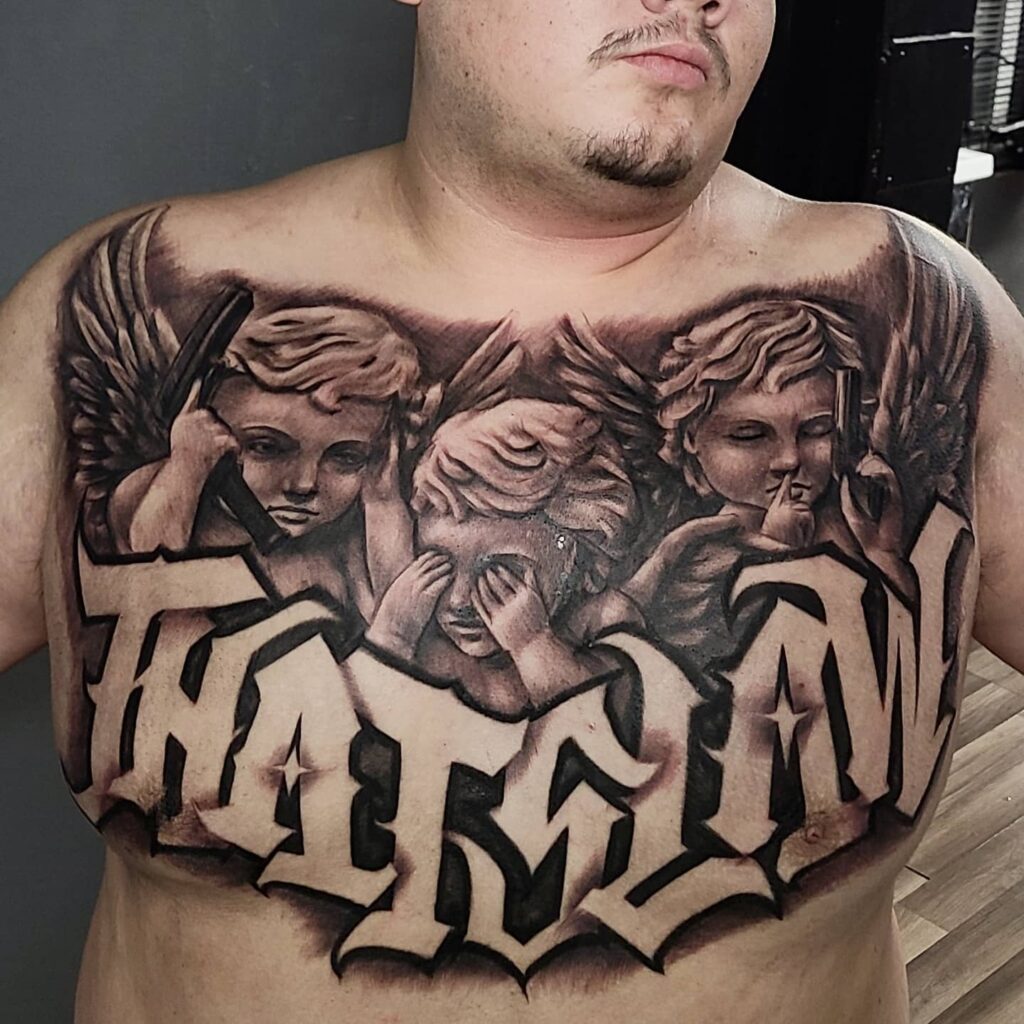 Tattoo lettering is an art that requires the right font to make an impact. One of the most popular tattoo styles is the Chicano, which is showcased in this image. This gangster tattoo font is loved for its ability to blend history with grace, but other popular gangster tattoo fonts like Aight, Lordish, and Anemouth also exist. If you're looking for a gothic/blackletter style font that moves your letters, you'll love this titling font. You can customize your gangster tattoo style with decorative swashes and strong lettering to make it more vibrant and expressive.
This daring tattoo features three cupids bound to firearms sketched on the chest. It's a clever twist on Gandhi's three monkeys that can be open to interpretation by viewers. The phrase "THATS LAW" is intricately detailed in a striking gangster tattoo font that's sure to catch the eye. The fine craftsmanship of this design adds to its visual impact, making it a great choice for those who aren't afraid to be bold.
Unique Gangster Tattoo Styles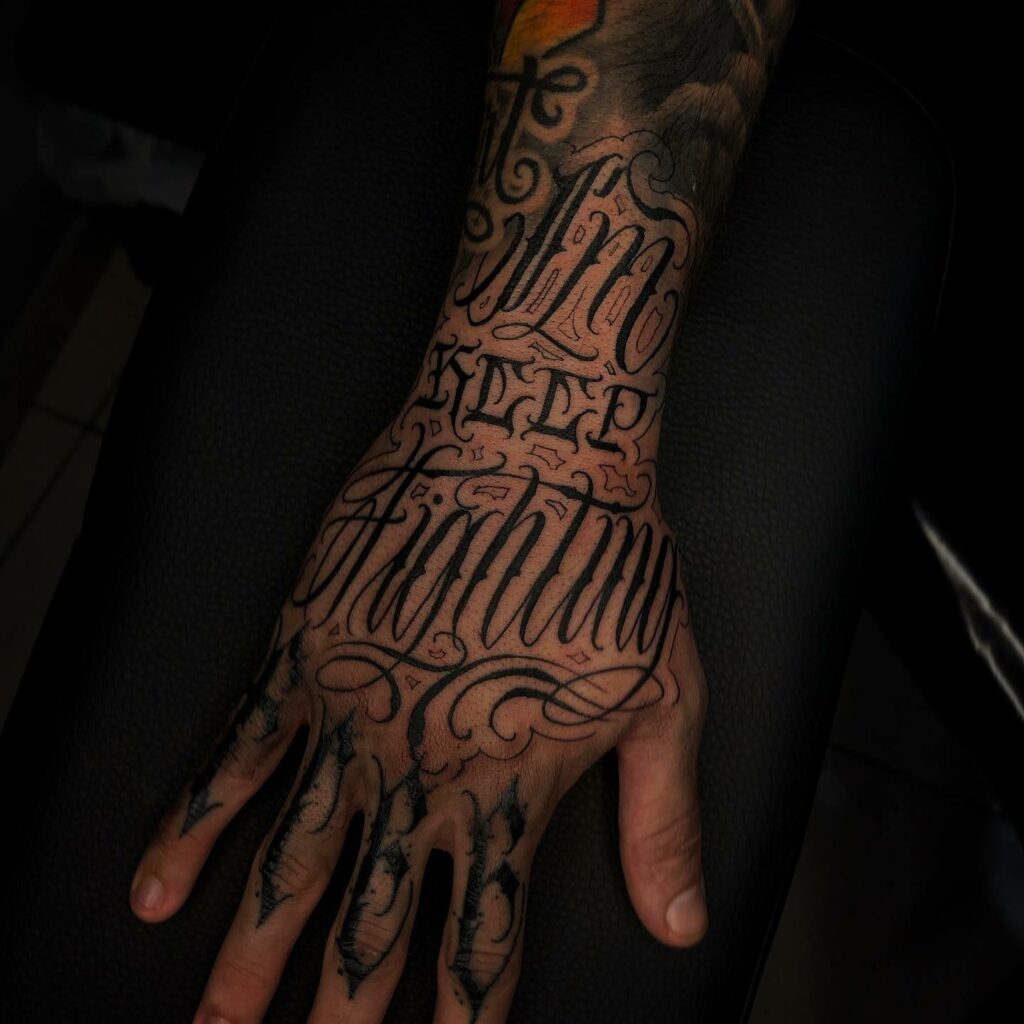 Gangster tattoos have a rich history of being used to display loyalty to a specific organization or communicate one's beliefs. The placement of these tattoos on the hands, arms, wrists, and chest allowed them to be easily seen and recognized. While traditional gangster tattoos were typically large and colorful, modern designs have become increasingly popular. Whether done in black ink or a range of vibrant colors, the designs often convey a powerful message about the struggles and perils of life. This Chicano font tattoo reads "Keep Fighting," a poignant reminder to never give up in the face of adversity. It's a strong message and a stunning piece of art that will resonate with anyone who has faced challenges and overcome them.
Block Like Lettering Tattoo Design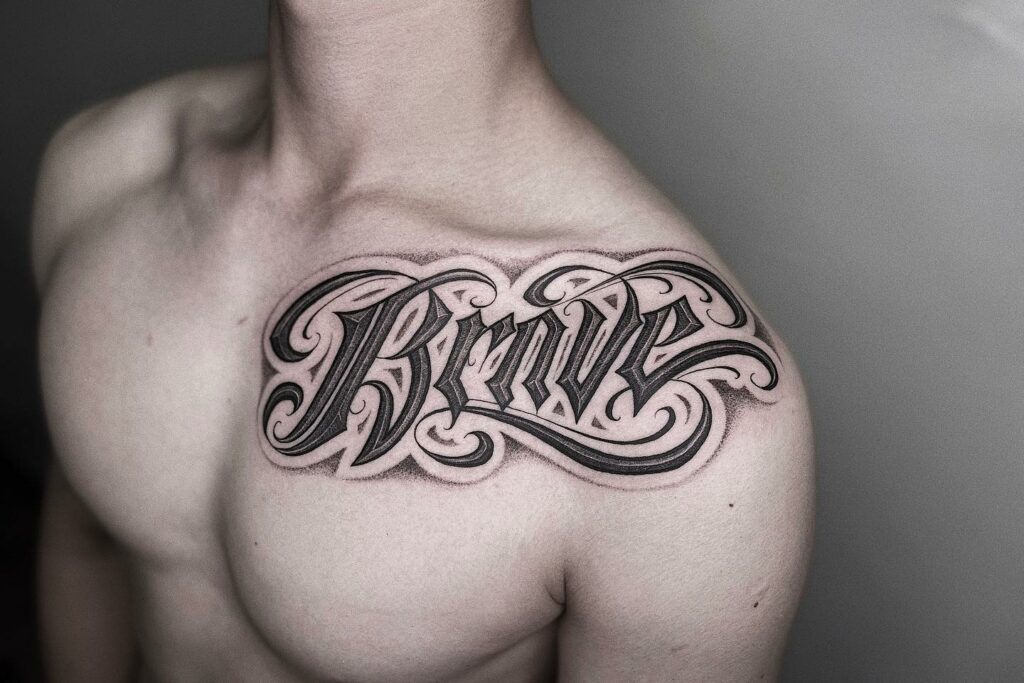 When it comes to gangster tattoo styles, block letters are the way to go if you want a design that is both eye-catching and easy to read. This type of tattoo not only looks stunning, but its balanced shape and bold color scheme give it a commanding presence.
Whether you want a meaningful quote or a simple number or name, block lettering can be used to create a unique and personalized tattoo design. If you're looking to make a statement with your ink, this gangster tattoo font is a great choice.
Gangster tattoo fonts are known for their strong and edgy appearance. The fonts we mentioned earlier are some of the most impressive gangster tattoo ideas that you can try. Even if you're not affiliated with any gang, you can still appreciate the classic lettering of gangster tattoos. So, why not try out this bold and beautiful tattoo style for yourself?
feature image from Pinterest – Want your tattoo to look brighter? Try "Tattoo Balm"