Do you wish to have one of the fabulous geisha tattoo sketch designs? If yes, then here you can obtain superb geisha tattoo sketch ideas.
Those who are fond of Japanese traditions and culture will adore the geisha tattoo sketches.
Usually, a geisha tattoo is showcased by a Japanese geisha woman wearing a vibrant kimono. Being part of the Japanese geisha culture, geisha are most frequently used in appealing artworks like tattoos.
It is also regarded as a prominent part of Japanese tattoos. A geisha tattoo symbolizes a beautiful Japanese woman with a rich history. Essentially, a geisha girl is an educated young lady famous for entertaining men. The geisha tattoo design represents the Japanese culture and the elegant look of the ancient geisha girl. You can choose to have a colorful geisha tattoo on your shoulder, waist, legs, or other body parts. A typical geisha tattoo not just showcases the sensual and beautiful woman but also shows her qualities like smartness and good manners. The Japanese geisha tattoo ideas will help you if you are new to the meaning of a geisha tattoo.
Colorful Geisha Tattoo Sketch With Flowers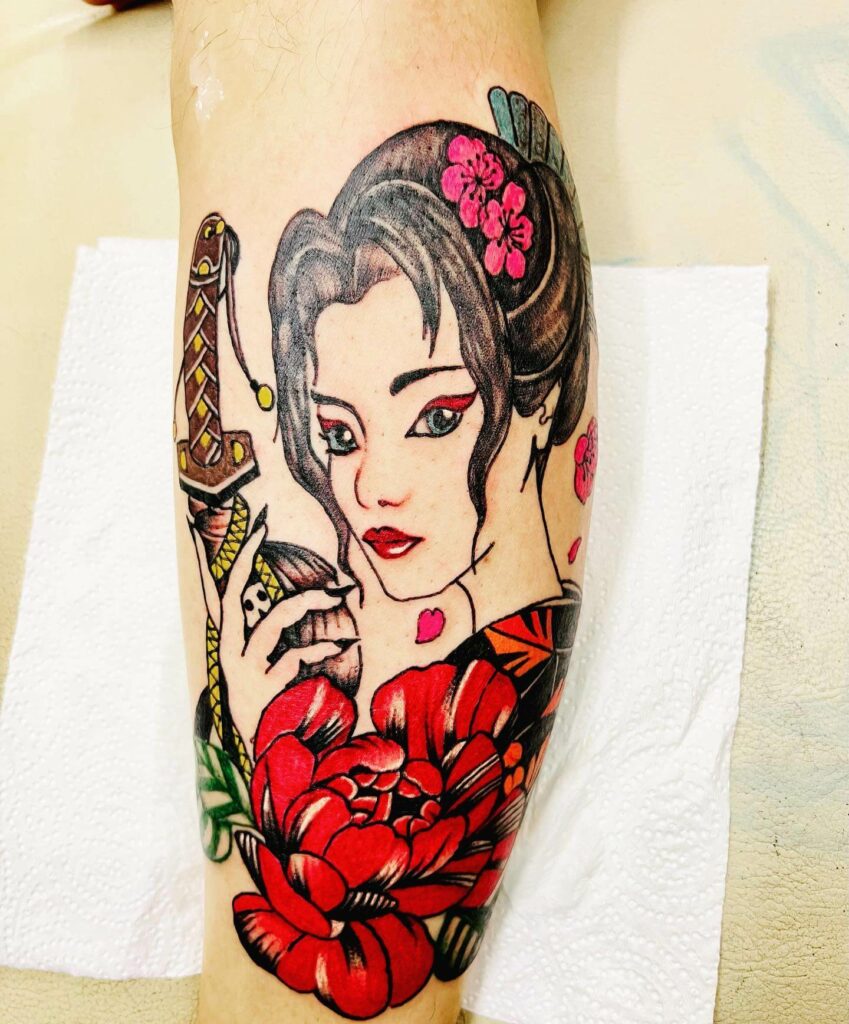 If you are on the hunt for a multicolored geisha tattoo with a cute sketch of a geisha girl, then this geisha tattoo design is a perfect option for you. Representing real geisha in charming colors, this tattoo shows the geisha woman holding an instrument in her hand. The design of this colorful traditional geisha tattoo also shows a huge red rose right below the face of the girl.
Owing to the captivating and elegant look, this tattoo idea is one of the most stunning tattoo ideas representing Japanese culture. It not only flaunts the beauty of the geisha woman but also shows her immense power and talents.
Inked Geisha Tattoo Sketch With Kimono
For those interested in having a charming geisha tattoo with flowers incorporated into their body, this geisha tattoo design can be considered. Although prepared using dark ink, its appearance resembles a colorful geisha tattoo because there are colorful flowers throughout the tattoo design. The significant part of this tattoo shows a beautiful Japanese woman holding kimono and showing her back. The innocent face makes sure this is one of the cutest geisha tattoo designs.
Usually, this tattoo idea is not for male clients because a huge number of women are seen tattooing this sketch on their bodies.
Beautiful Blossom Geisha Tattoo Sketch
This image shows a geisha holding a traditional Japanese umbrella and a fan, staring mesmerizingly into the distance.
In addition to the beautiful Japanese dress and kimono, the geisha tattoo is also characterized by an attractive hairstyle. This geisha tattoo design represents a cute sketch of a geisha woman with a beautiful hairstyle and eyes closed. Moreover, just like most geisha tattoos, this one also shows Japanese culture's beauty. The pink flower series ensures it is one of the most adorable geisha Japanese tattoo designs. This Japanese geisha tattoo also shows three flowers stuck in hair.
If you want a geisha girl tattoo in dark black ink on your shoulder, arms, or back, then this simple geisha tattoo sketch is recommended. Although it is a traditional geisha tattoo, the inclusion of pink flowers at the bottom makes it look appealing.
Beautiful Japanese Geisha Tattoo Sketch On Arm
Sporting a creative calligraphy art, this geisha tattoo design is one of the unique ones in the market. It is a Japanese geisha tattoo with a fine line design throughout the sketch. The design shows a bold yet eye-catching geisha girl with sparkling eyes and long hair.
Flowers are stuck in the hair, and this makes this geisha tattoo appear more fascinating. The addition of the flower design in the Japanese dress worn by the geisha woman in this sketch provides it with a unique style. The aspects like long beautiful hair, cute face, and fabulous dress make this tattoo stand out from other geisha tattoo designs.
Traditional Colorful Geisha Tattoo Sketch With Kimono
This geisha tattoo design shows stunning red-colored flowers throughout the dress worn by the geisha girl. Representing Japanese history, this geisha tattoo depicts a Japanese woman holding a kimono. The use of black, grey, red, green, and yellow colors throughout the Japanese geisha tattoo makes it look unique. Moreover, the inclusion of red flowers, red waistband, and colorful kimono shows that this traditional geisha tattoo is full of vibrant colors and therefore appears eye-catching.
The tattoo blends a traditional look with a modern touch of the ideas derived from the latest geisha tattoo designs. So, it is one of those tattoo ideas that shows the beauty of ancient Japanese tradition.
Beautiful Inked Geisha Tattoo Sketch
This geisha tattoo design features a stunning project tattoo with the use of high-quality ink. The downward-looking face of the Japanese girl portrayed in this geisha tattoo gives it a cute appearance. It is one of the eye-catching traditional geisha tattoos because its design shows something hanging around the face of the girl. Moreover, the top of the head has two medium-sized flowers, and two more flowers are stuck in the middle of the head. The hand of the girl rests on the collar of the dress, which further enhances her beauty.
It is among those geisha ideas that represent a blend of feminism of Japanese girls and the Japanese culture as well.
Traditional Art Geisha Tattoo Sketch On Shoulder
The appearance of this Japanese geisha tattoo shows a cute and confident-looking geisha woman holding traditional kimono in one hand and an umbrella in the other. Besides, she has worn a full-sized dress with having red colored rose pattern throughout the dress. As a result, this geisha tattoo design enhances the look of the body part where you get it tattooed.
If you prefer traditional drawing for a geisha tattoo, then this tattoo idea can be the most appropriate one for you. Moreover, it is one of the few geisha tattoo designs that depict the Japanese girl in a walking posture and with an umbrella.
Cute Japanese Girl Geisha Tattoo Sketch
At first glance, the appearance of this geisha tattoo looks like an anime tattoo, but it is actually a traditional geisha tattoo with a calm-looking face. The corresponding geisha tattoo design depicts a geisha woman looking backward and flaunting her charming physical appearance.
It is a kind of ancient geisha tattoo idea whose style mimics the original Japanese girl of ancient times. Unlike other geisha tattoos, this geisha girl tattoo shows a very large flower design on the top of the head. It is the major factor behind why this tattoo appears more elegant than most geisha tattoos.
Colorful Geisha Tattoo Sketch With Umbrella
Featuring a standing Japanese woman with an umbrella in one hand, this geisha tattoo design size covers a major portion of your shoulder. This Japanese geisha tattoo appears magnificent because it shows the girl wearing a vibrant blue colored dress with having red flower pattern throughout.
This traditional geisha tattoo gives the idea that the girl is calm and standing confidently. This kind of appearance gives it an exceptional impression compared to other geisha tattoo designs. This Japanese geisha tattoo design can recall the original Japanese art and culture.
Colorful Geisha Tattoo Sketch With Flowers
The way the eyes are sketched in this geisha tattoo design gives an idea of how bold the girl in the tattoo looks. This Japanese geisha tattoo not just features the elegance of the geisha girl but also the meticulous work of the tattoo artist.
Keeping in mind the Japanese culture, this geisha girl tattoo is prepared with long hair that is beautifully aligned and a flower tucked at the front of the head. Also, red flowers are sketched at the bottom to let the tattoo appear more fascinating.
 Typically a choice for women, geisha tattoo designs are highly prevalent these days due to their charming and cute look. The corresponding tattoo artist dedicates all his/her efforts to designing the best tattoo sketch of the geisha girl on your body. There are plenty of Japanese tattoos, but those representing the geisha girl tattoo are unique and adorable. A geisha tattoo design can be inspired by original Japanese culture, and certain tattoos present a modern retro look. From a sketch of a typical geisha tattoo, you can gauge that the job of a geisha girl is to dance, sing, play instruments, and entertain the audience.
Feature Image from Pinterest – Want your tattoo to look brighter? Try "Tattoo Balm"