Delve into the world of geometric half-sleeve tattoos, an intriguing realm where mathematical precision meets artistic expression. This ancient yet evergreen style of inking continues to capture hearts and skin alike, offering a dazzling array of possibilities.
Geometric tattoos have long been adored for their intricate patterns and elegant shapes, becoming a celebrated choice for the modern ink aficionado. Imagine an arm clothed in a sweeping canvas of circles, triangles, and intricate mandalas, each shape harmoniously interconnected to create a stunning half-sleeve masterpiece.
Historically, these designs offered more than mere aesthetics; they carried profound spiritual and religious significance. In the time of the ancient Egyptians, geometric tattoos adorned the skin like ornate jewellery, while their pattern of dots, dashes, and lines held sacred connotations. Fast forward to our contemporary era, and these tattoos still carry potent symbolism, often evoking themes of balance, symmetry, and stability.
Ready to explore this captivating landscape of geometry-infused ink? From arm to leg tattoos, half-sleeve to full, we've curated the crème de la crème of designs to inspire your next tattoo journey. So, read on and let your skin become the canvas for the mesmerizing language of geometry.
Honeycomb Style Geometric Tattoo Sleeve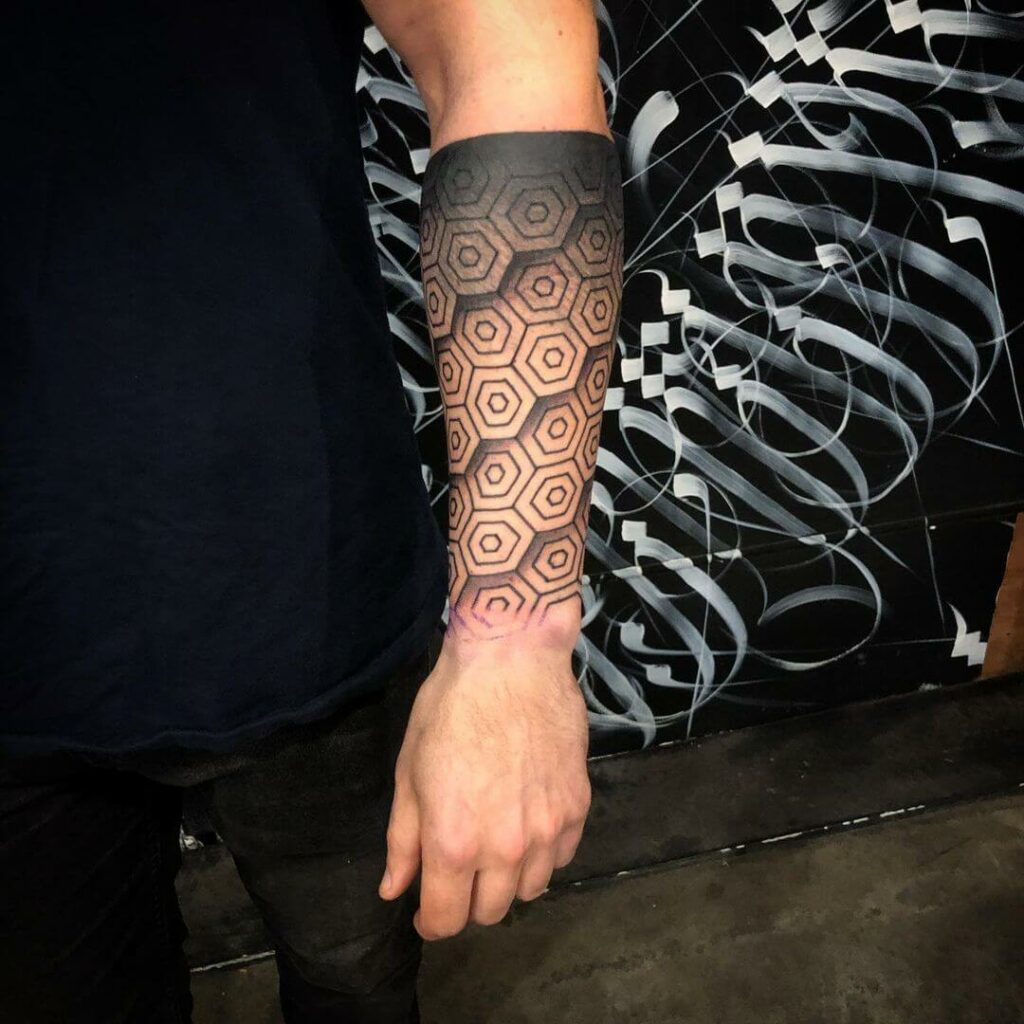 Our journey begins with a nature-inspired design resonating with the serene hum of honeycombs, where close-knit hexagons wrap around the arm in a subtle gradient, creating a captivating interplay of light and shadow. This creation is a testament to the artist's mastery and a perfect choice for those looking to ink their forearms with the delicate balance of simplicity and intricacy.
Geometric Half Sleeve Tattoo Till Palm
Continuing the exploration, we delve into the shadowy allure of an all-black geometric half-sleeve, where a meticulously crafted mandala sprawls across the palm. Radiating a slightly sinister vibe, this tattoo is a beloved choice within the goth community, adding a dash of dark mystique to the wearer's persona.
Detailed Geometric Half Sleeve Tattoo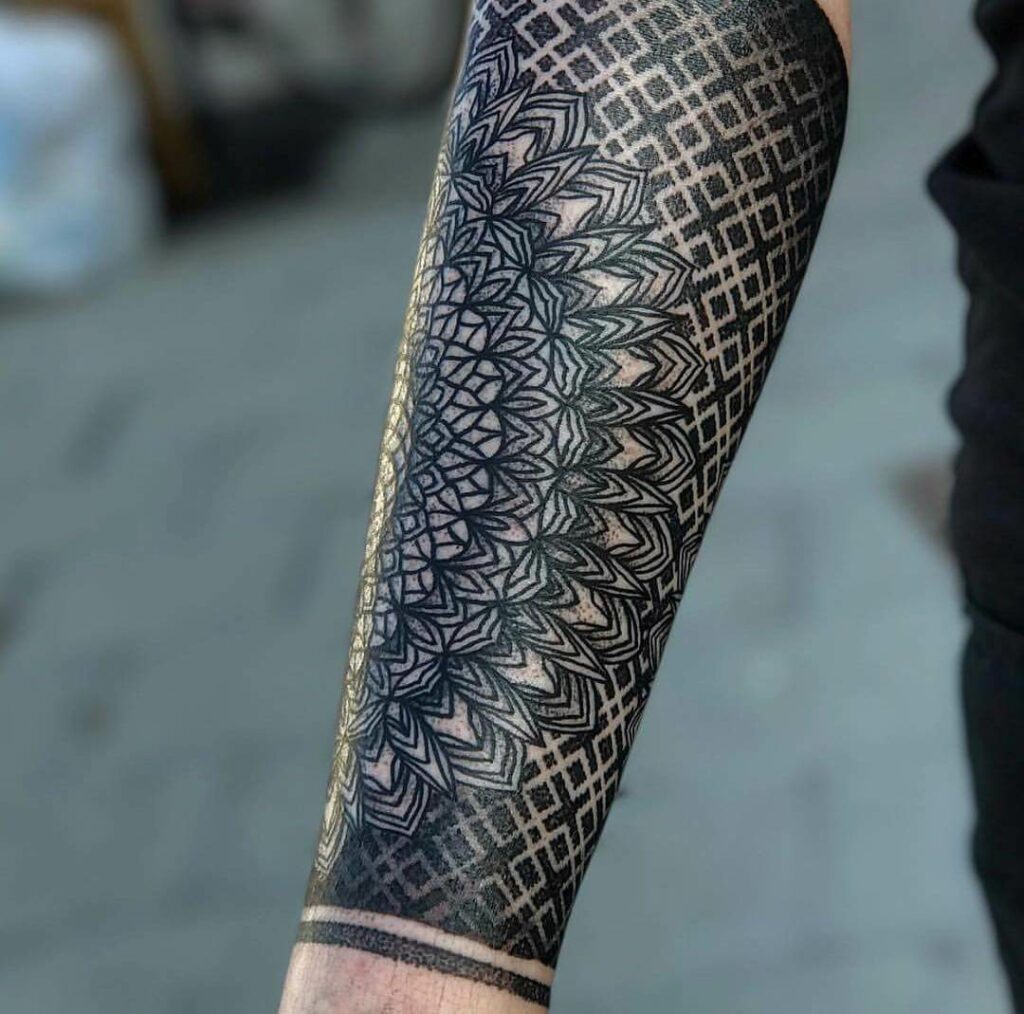 Detailed mandala-patterned design stands out, set against a solid black background. This painstakingly crafted piece might be a more substantial investment due to its complexity and the superior quality of materials used. Yet, the stunning end result—a mesmerizing geometric tapestry adorning your forearm—will undoubtedly justify the added expense and effort.
Fine-Line Half Sleeve Geometric Tattoo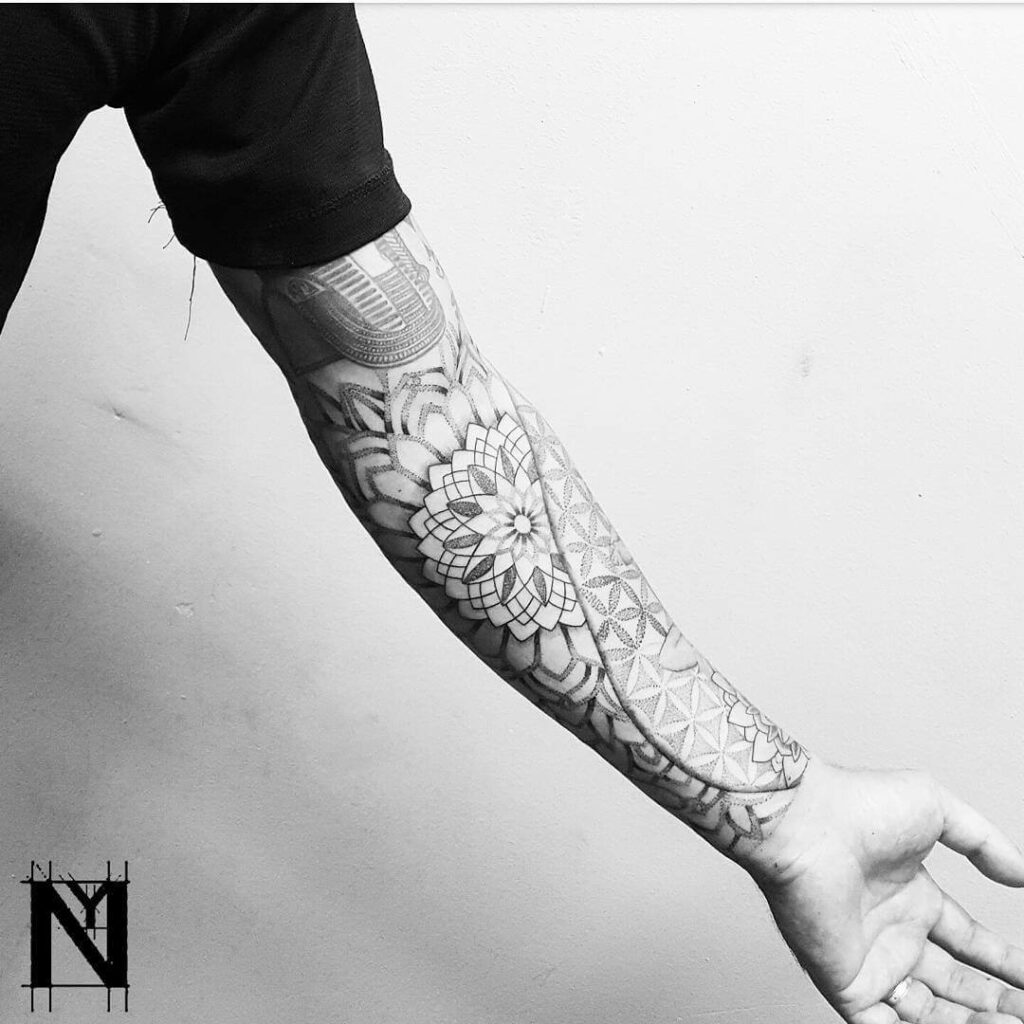 Finessing the fine-line technique, one artist offers a breathtaking half-sleeve tattoo, where meticulously etched details yield a truly mesmerizing design. The harmonious blend of varied shapes creates an abstract aesthetic that keeps the viewer's gaze riveted, making it an excellent choice for those seeking distinctive forearm tattoos.
Geometric Astronaut Half Sleeve Tattoo
Geometric astronaut half-sleeve tattoo. Here, the mystique of outer space unravels through the interplay of geometric figures, creating a visually stunning tribute to the universe's boundless beauty.
Upper Arm Geometric Half Sleeve Tattoo
Geometric tattoos truly comes to life in an expansive upper arm and shoulder design, where the abstract patterns lend a powerful visual impact. The beauty of this location is that it offers ample room for future additions, allowing for an evolution into a full-sleeve tattoo over time.
Geometric Mandala Half Sleeve Tattoo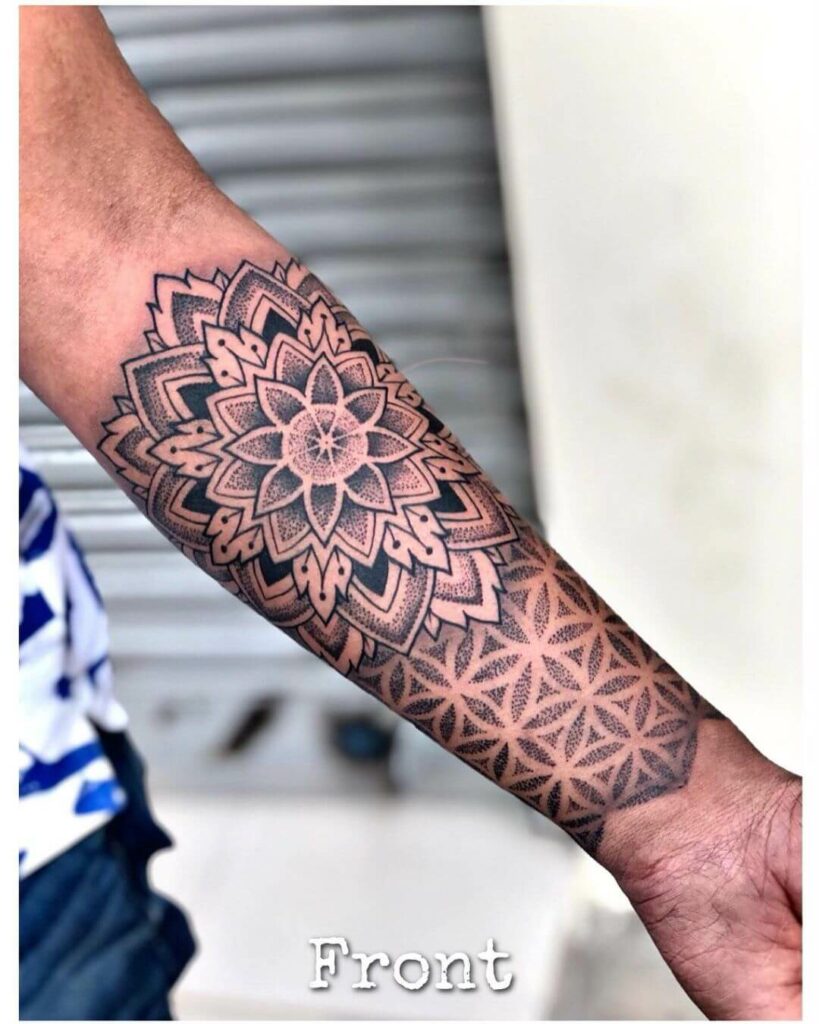 The mandala, a classic geometric motif, once again takes center stage in a delicately shaded lower-arm tattoo. As an emblematic figure in Asian cultures, the mandala adds a deep symbolic layer to this tattoo design, making it a perfect choice for those seeking a design that can grow into a full sleeve over time.
Animal-Themed Half Sleeve Geometric Tattoos
Animal-themed geometric half-sleeve presents a harmonious blend of geometric precision and the wild grace of nature. With the strong symbolism of deer and elephants etched in meticulous lines and shading, this tattoo design is sure to inspire.
Geometric Skull Half Sleeve Tattoo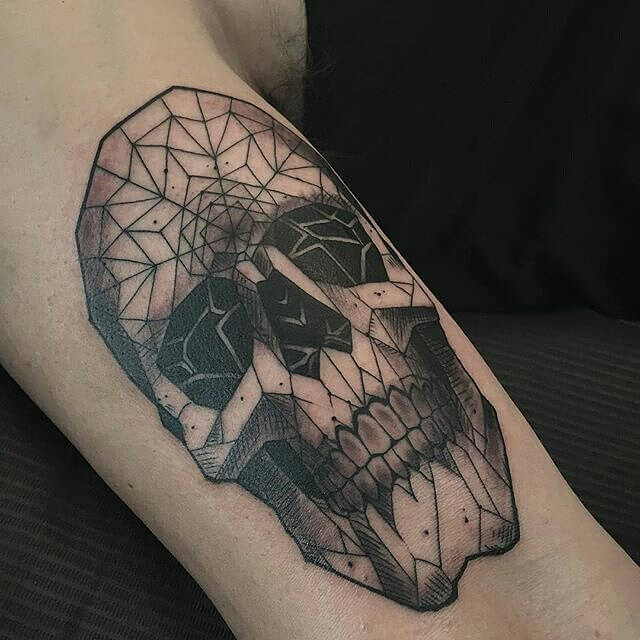 Skulls, a timeless motif in the tattoo world, lend a chilling aesthetic to the geometric half-sleeve. Against a web-like backdrop, the skeleton head stands out, its intricacies highlighted through gradient shading and meticulous line work.
Geometric Wolf Half Sleeve Tattoo
Geometric wolf design shows how effectively portrait and geometric styles can meld. While the bold lines and shading of the wolf offer a commanding presence, there's room left for geometric filler drawings, making this an excellent starting point for a full sleeve tattoo.
Conclusion
In closing, the allure of geometric half-sleeve tattoos lies in their striking aesthetics and boundless versatility. As we've explored, these designs can range from intricate mandalas to cosmic astronauts, from sinuous animal portraits to edgy skulls, each evoking a distinct mood and symbolism. When considering placement, the forearm or upper arm are prime locations, offering an excellent canvas that can later extend to a full-sleeve piece. Costs will vary, with more detailed designs requiring a higher investment due to the intricate craftsmanship and superior quality materials used. However, don't forget to factor in the potential risks associated with any tattoo procedure, such as allergic reactions, skin infections, or undesirable scarring. Ensure you choose a reputable artist, keep up with the aftercare protocol, and you'll be on your way to wearing a piece of timeless art, etched on your skin. Whether you're making a personal statement or simply appreciating the beauty of geometry, the world of geometric half-sleeve tattoos awaits with its mesmerizing patterns and shapes.
Feature image from Pinterest