Are you someone that loves bees and wants a tattoo that shows your love? Then these ten unique girly bee tattoo ideas might be what you are looking for.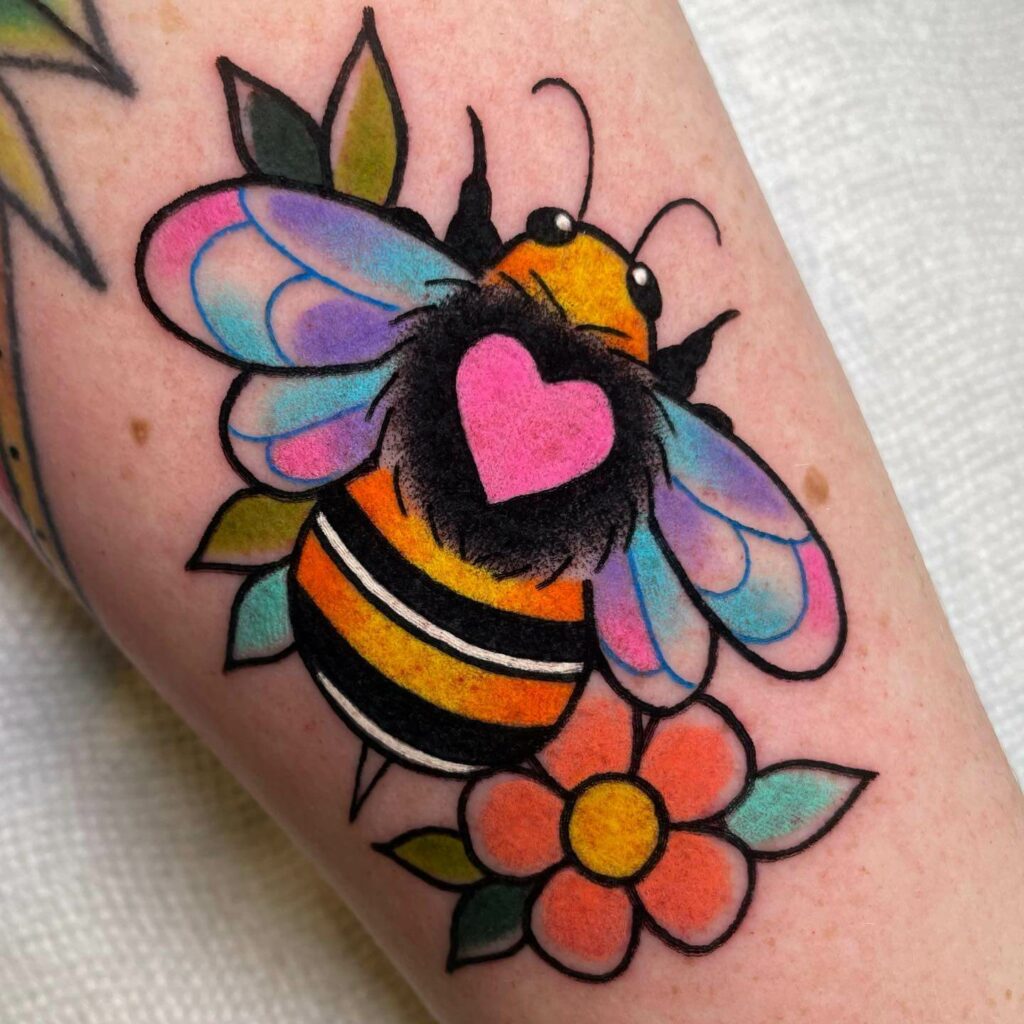 Bees are one of the most beloved insects of all time and there is a reason why.
Not only are bees super cute, but they also have a lot of positive impact on our environment. That is why a lot of people are trying to save the bees that are endangered.
Bees are very necessary for our kind to survive. They are great pollinators who help flowers pollinate. They also create some very important products like honey, beeswax, and jelly. They are very hard-working insects, and everyone should value them as such. Many steps are being taken by environmentalists and beekeepers to increase the number of bees in our ecosystem. If you love bees and want to show off your love to the world with some amazing bee tattoos, then we have just what you need. We have collected some of the best bee tattoo ideas off the internet and combined them all in a list for you. Whether you want a honey bee, a bumble bee or a queen bee tattoo on your body, we have you covered. Just look through these amazing bee tattoos and choose the one that suits you the best.
Cute Bee and Honeycomb Tattoo Design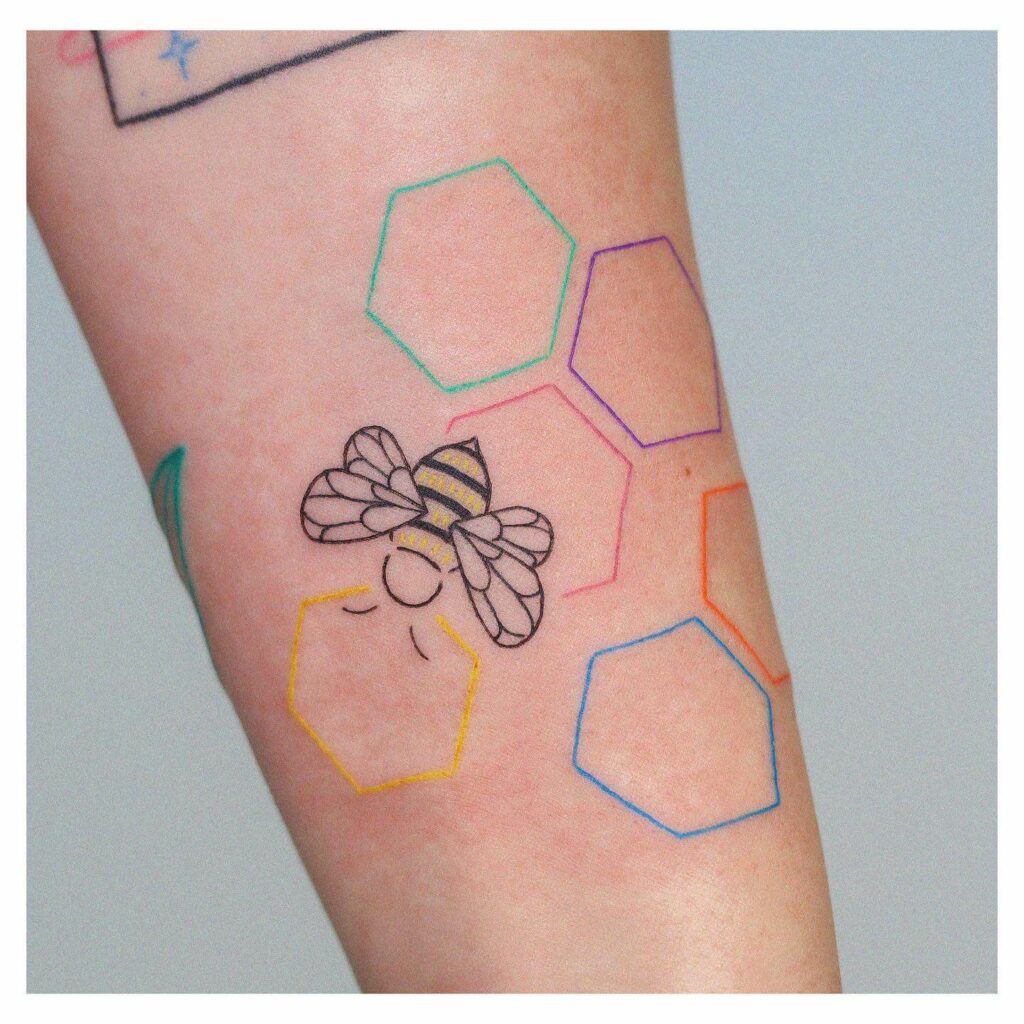 If you like fun and adorable tattoo designs that have bright colors in them, then you are going to love this tattoo design. The tattoo is pretty small and very cool. It not only has a very cute and fluffy bee as the center but also has some hexagonal designs to give off the illusion of a beehive. As you already know, beehives or honeycombs are famous for their amazing hexagonal cells. They are amazing geometric shapes that have six sides. If you also want to incorporate a honeycomb design in your honey bee tattoo, then you can get this tattoo on your body. The tattoo looks very adorable with all the vibrant colors on the hexagons, and it will look amazing on both women and men. The tattoo design is pretty minimal, but you can also ask your artist to add more details to the tattoo if you want.
Amazing Girly Cute Bee Tattoo Ideas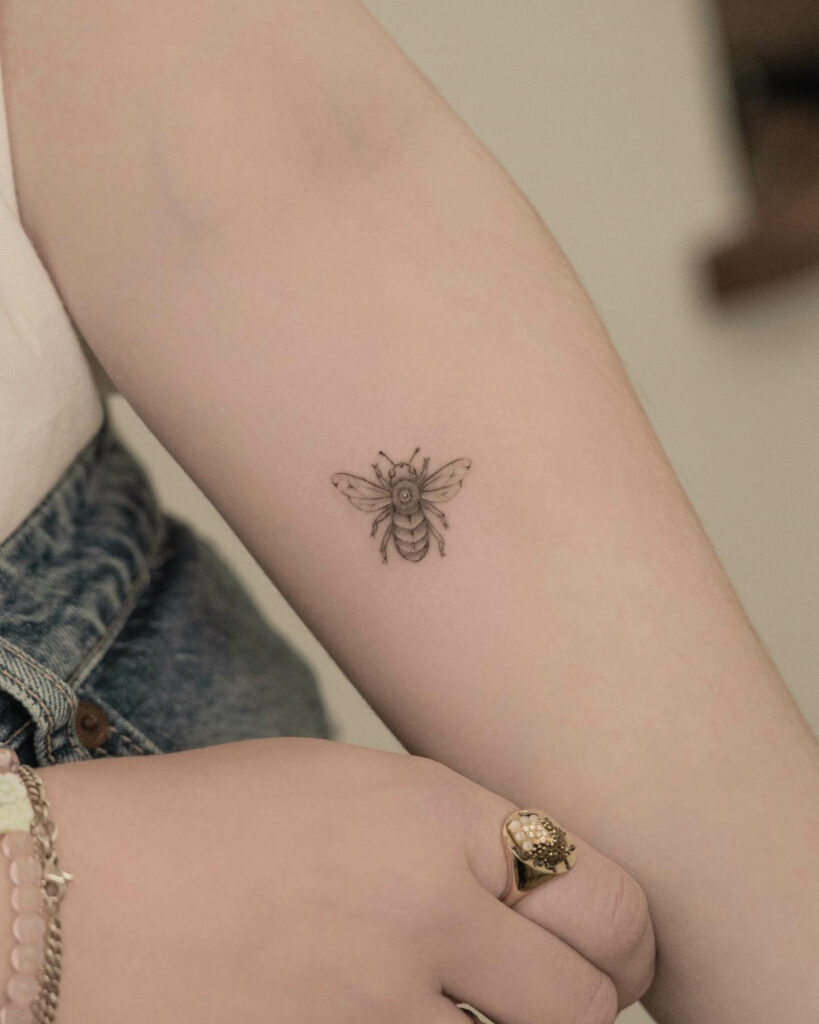 Bee tattoos have many meanings. You can get a bee tattoo to show your love for bees, or you can get them because you like what they represent even if you do not know a lot about bees. Generally, bee tattoos mean loyalty as bees are one of the most loyal creatures ever. Especially the worker bee, who are famously loyal to their queen bee, and the death of a queen if there is no other queen for them to follow, could mean the death of a whole hive. This small bee tattoo is perfect for anyone who wants to show that they are loyal. It is done in black ink, but you can also get a colorful tattoo if you want. This is a tiny tattoo of a single bee, and you can add other elements to it to make it more interesting.
Adorable Honey Bee Tattoo Ideas for Girls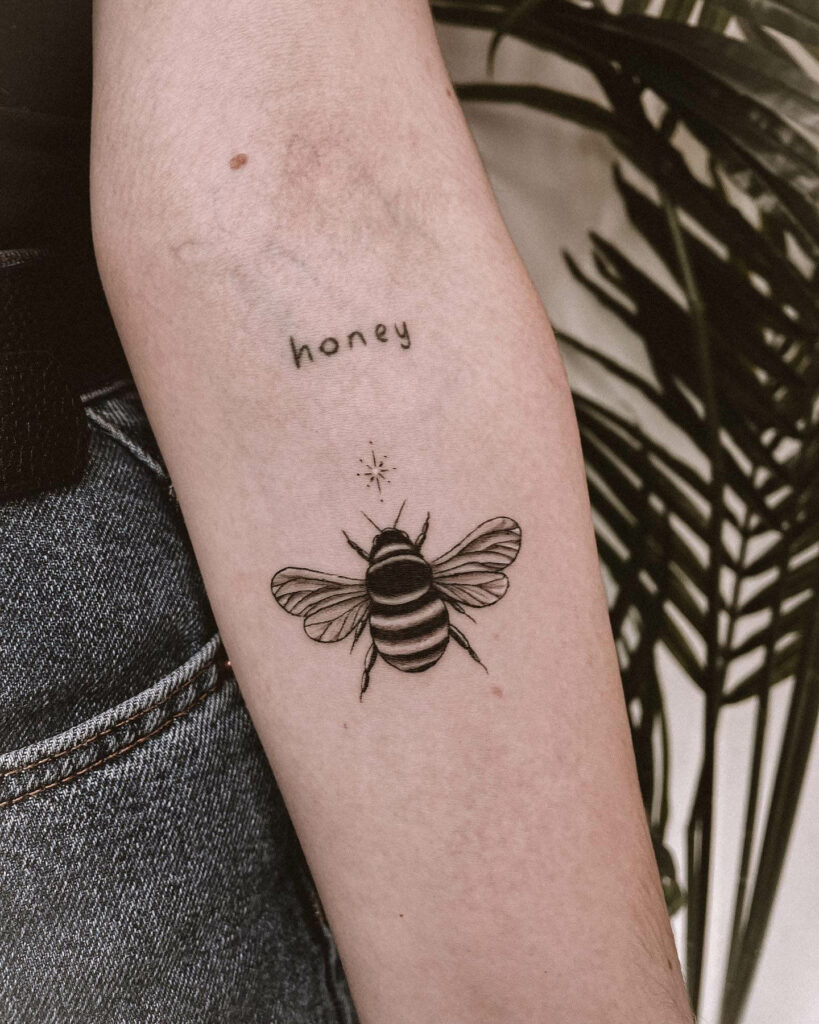 We all love honey bees. They are adorable creatures who are very hardworking. This amazing tattoo design incorporates a honey bee, giving it a complex form. The tattoo looks super cool in black ink. But if you are a fan of colors, then you can also get a colorful honey bee tattoo. As we said, bee tattoos have their own meaning and you can also get this tattoo to show that you are loyal and hard-working. The tattoo also has the word honey written on top of it. So you can get this as a couple tattoo with your partner as well. The cute little bee will look amazing on your wrist.
Amazing Realistic Tattoo of Bee Girly Designs
Are you a fan of realistic tattoos? Then we have just what you need. This beautiful tattoo of a bee flying is done in a realistic style. Even though the size of the tattoo is very small, you can see how detailed it is. This amazing and detailed tattoo is good for anyone who likes realistic designs on their tattoos. The tattoo is detailed but very small, and even the placement of the tattoo will not be a problem since it is so small. You can have this as a finger tattoo or even a behind ear tattoo if you want to hide it from people. The tattoo is pretty cool and it will look even cooler if you add some flowers to the design of this tattoo.
Cute Queen Bee Tattoo Designs You Will Love
The Queen bee is the center of any hive. She is the one that lays all the eggs that produce thousands of other bees. There always has to be a queen in a hive. If a queen bee dies before another is born, then that might mean the extinction of that hive. So if you understand the importance of queen bees and want to feel like a queen bee, then this tattoo design is perfect for you. This particular tattoo is shaped like how a queen bee of a hive is usually shaped. But more importantly, this is a very simple design that takes up a really small space. If you want to really emphasize the queen bee tattoo, then you can add a small crown to the bee tattoo and it will be a perfect match. This tattoo, though, done in black ink, can also be designed in different colors. You can also get a bumblebee tattoo in the same style.
Cute and Perfect Bee Tattoo Design for Girls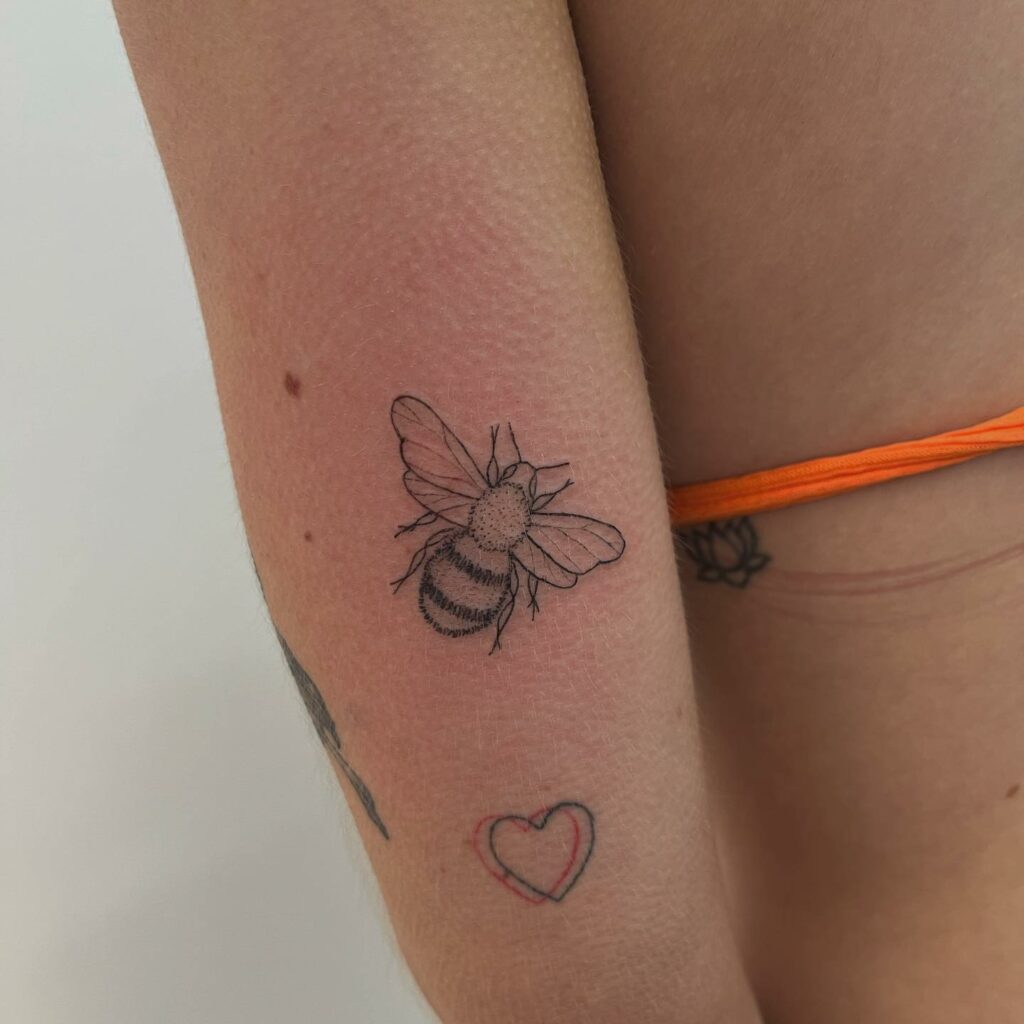 This adorable fine line tattoo design is a perfect bee tattoo for anyone who is getting their first tattoo. There are a few reasons behind that. Firstly, the tattoo is very small. And small tattoos hurt way less than bigger and more complicated designs. Secondly, fine line tattoos also tend to hurt less than regular tattoos. So if you love tattoos but never got one, then this tattoo is perfect for you to decide whether you want larger designs or not. As a bonus, it also shows off how much you like bees. The bee tattoo is done in black and grey, which is also a great idea for a first tattoo. You can also get the tattoo on your wrist or arm and it will look amazing.
Amazing Bee Tattoos with Geometrical Shapes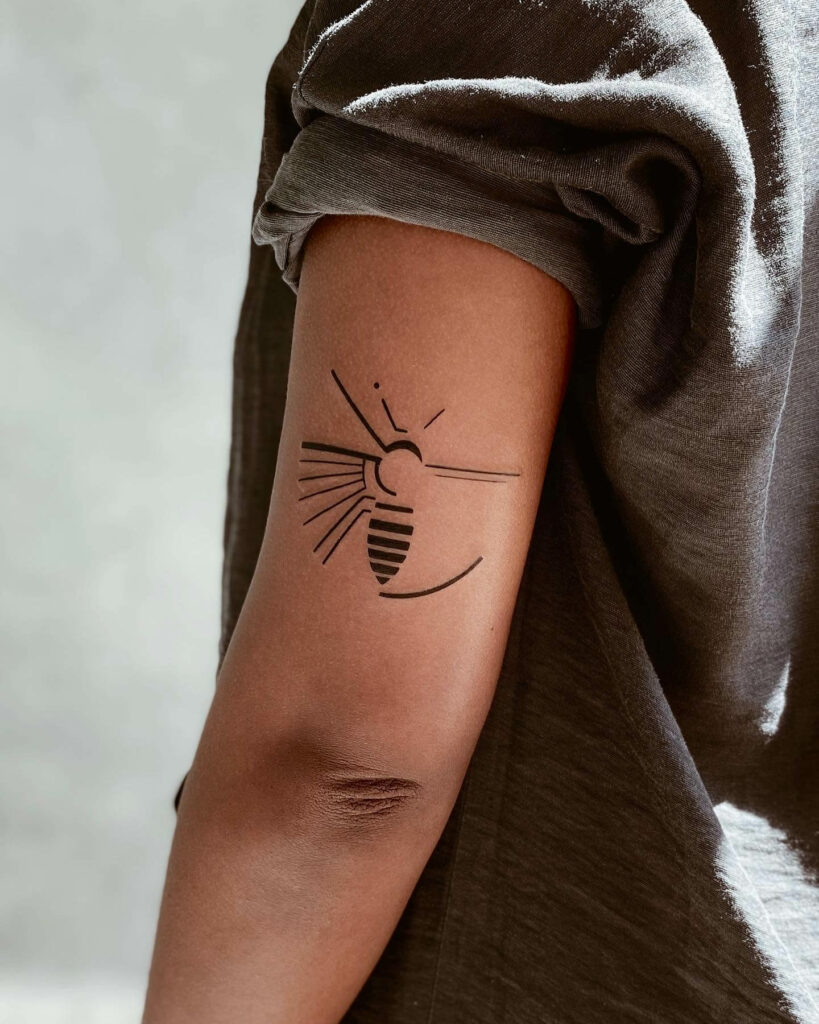 This tattoo is for geometry lovers. If you love geometric tattoo, this can be a great one for you. The tattoo design is of a bee and it is done with bold and minimalistic geometric shapes. You can also add hexagonal patterns to the tattoo to incorporate the hive into the design, just talk to your tattoo artist about it. This tattoo idea is also perfect for both women and men. You can get this tattoo in black and grey or color depending on your taste.
Creative Girly Bumble Bee Tattoo Designs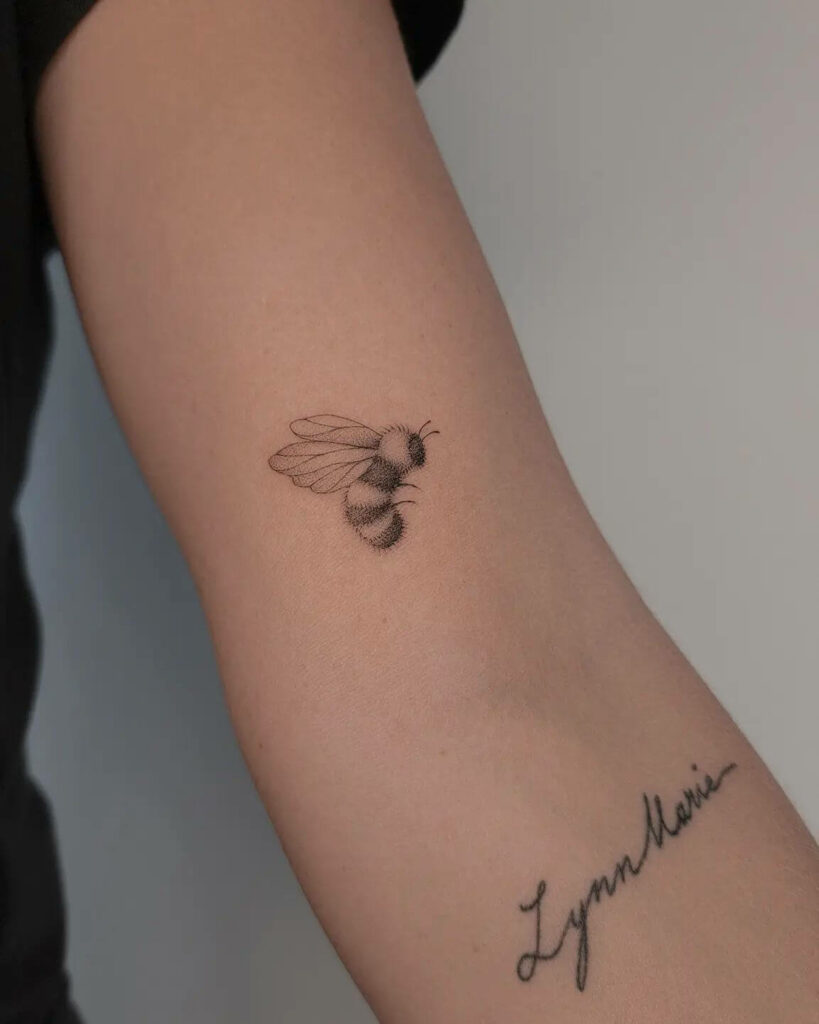 When we are talking about girly bee tattoos, we have to talk about this adorable bumblebee tattoo. Bumblebees are really cute and if you think that as well, this bumblebee tattoo is perfect for you. This tattoo shows the bee flying, which gives it more dynamics. If you are not afraid of needles, you can also incorporate some flowers into it as flowers are a really important aspect of bees. You can also get this bumblebee tattoo in color if that is something you want. This is a very cute little tattoo that you can wear on your wrist, arm, or even behind the ear if you want to hide your tattoo.
Amazing Bee and Flower Tattoos for Women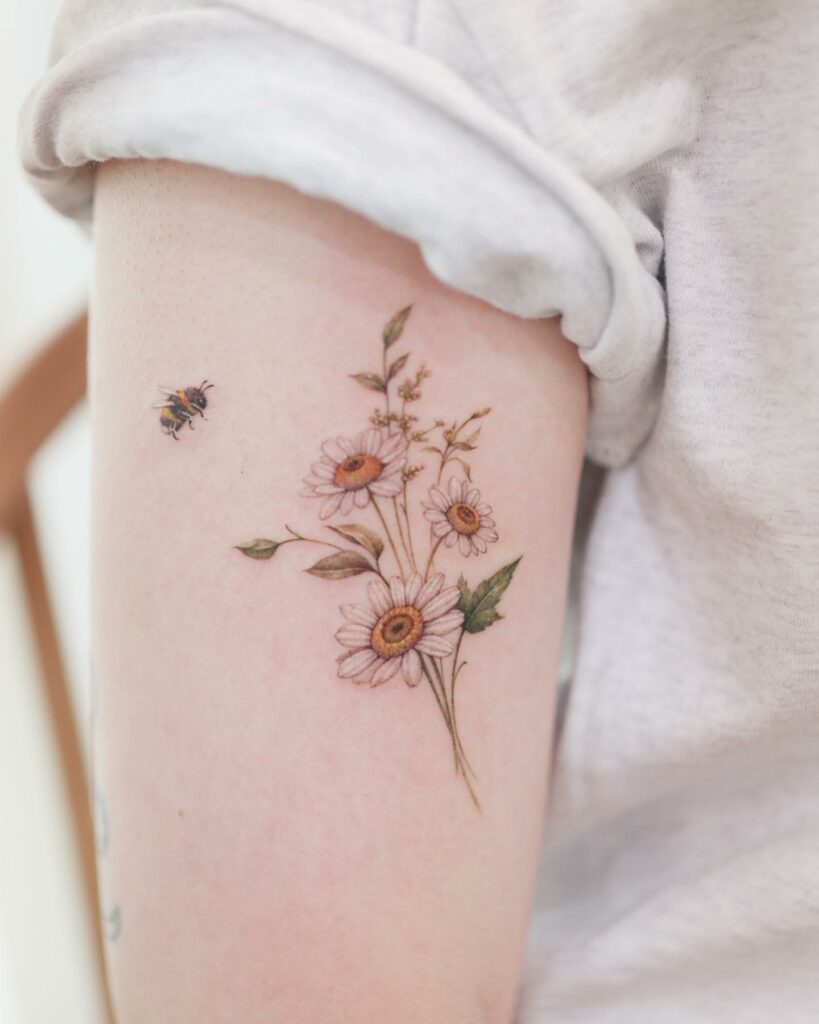 As we already said, flowers and bees are inseparable. A flower will complete any bee tattoo. So if you are looking for some amazing bee tattoos with flowers, then this tattoo design is just what you need. This is a pretty tattoo that has some flowers in the design. You can also get different flowers in the design if that is what you want. The tiny little bee on top of the flower completes the tattoo design and makes it very beautiful as well as adorable. This tattoo design is perfect if you want a slightly smaller tattoo design on your body and this tattoo will look great on your arm.
Simple and Small Bee Tattoo Ideas You Will Love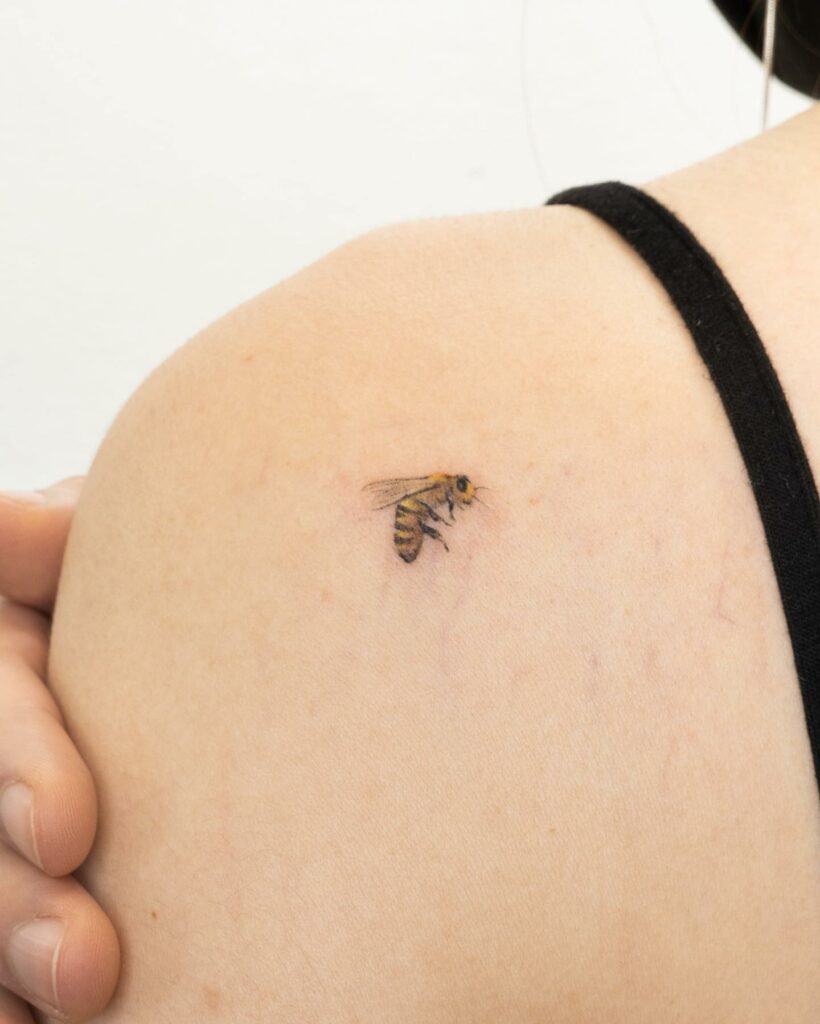 At the end of the day, simplicity is the best. That is why we are finishing our list with this detailed but simple bee tattoo that everyone is going to love. Even though the tattoo is tiny, it has a lot of detail. The whole thing will look fantastic on anybody. You can also add other elements to the tattoo if you want to get a bit creative with style. You can ask your tattoo artist to add more things like flowers or a beehive to your tattoo design to make it more interesting and fun. Or you can just have this tiny bee on your body as an inspiration for you to work hard just like them.
Feature Image from Pinterest – Want your tattoo to look brighter? Try "Tattoo Balm"