Hey there tattoo lovers! Are you looking for the perfect way to show your best friend some love and commemorate your forever friendship? Well, you're in luck because girly best friend tattoos are all the rage these days! These tattoos are a great way to express the special bond you share with your bff, even if you're miles apart. From simple symbols to cute matching designs, the options are endless. Finding the perfect girly best friend tattoo may seem daunting, but we've got you covered. Check out our list of cute and meaningful tattoo ideas to find the perfect one for you and your bestie.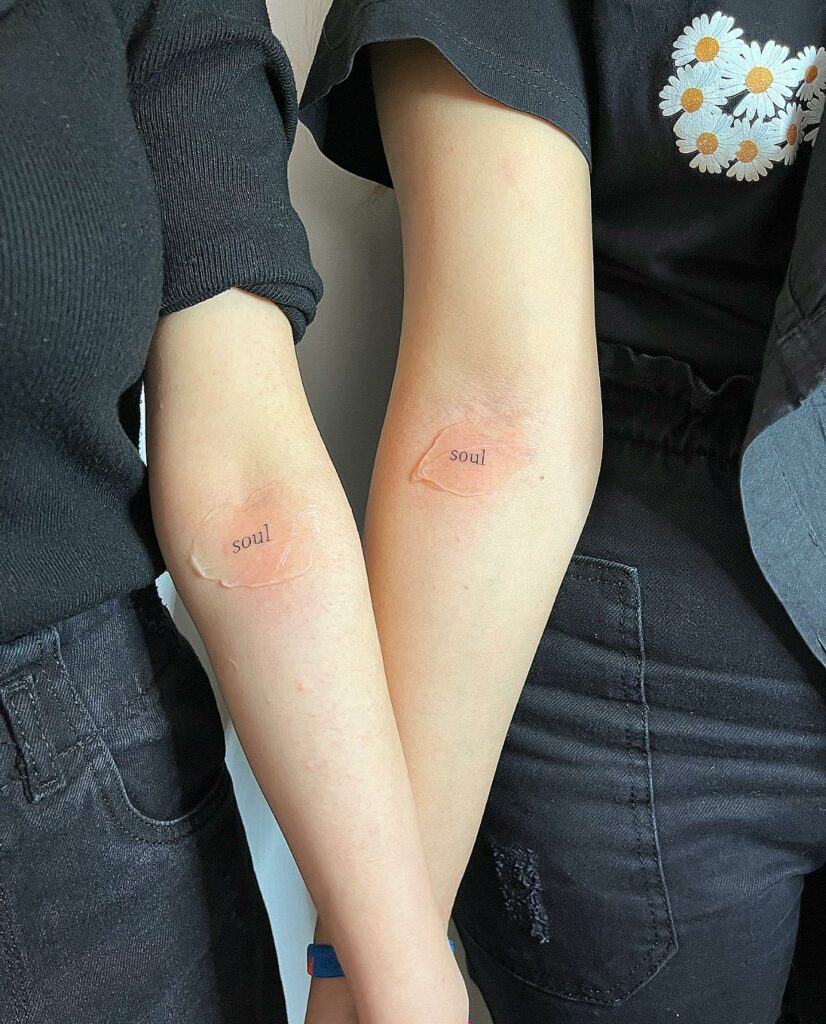 Matching Wine Glass Tattoos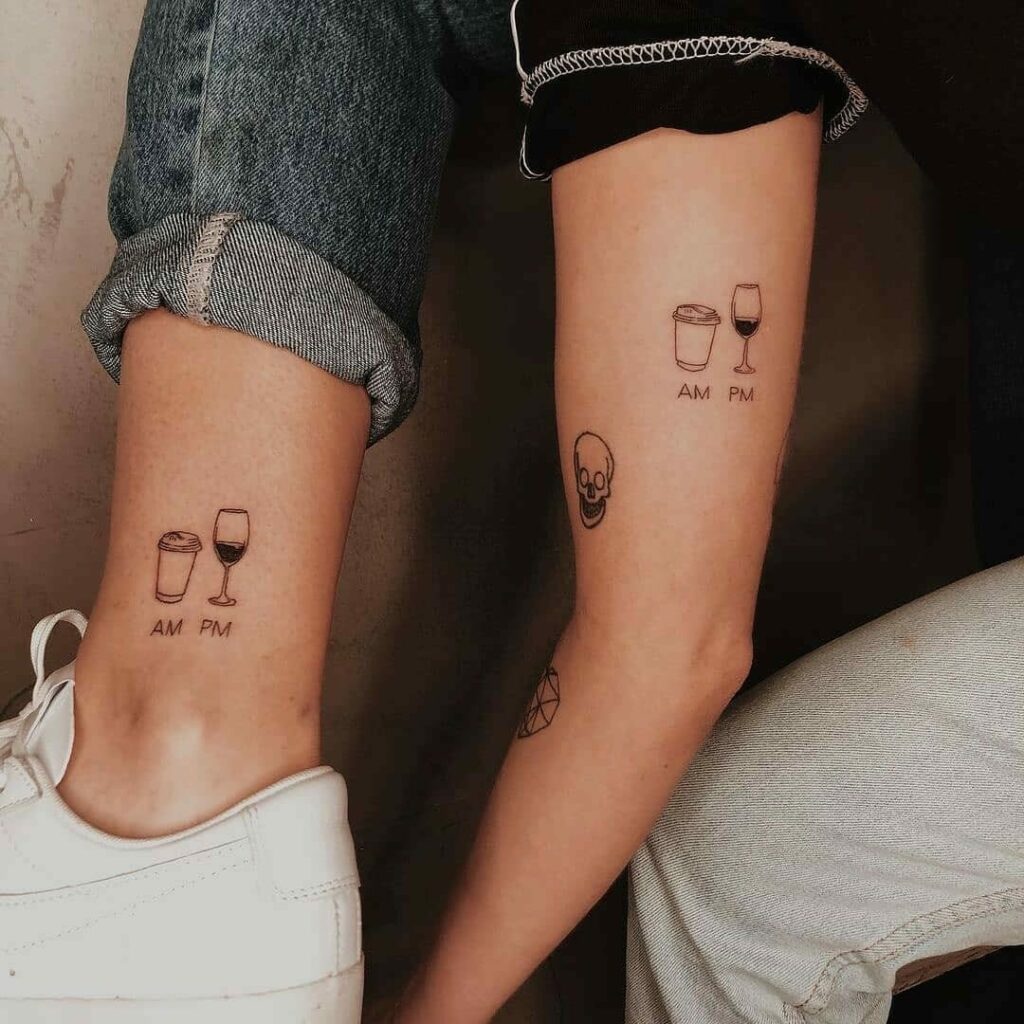 Wine glass tattoos are an ideal choice for best friend tattoos, especially if you enjoy a night out with your favorite gal pals. Whether you like to unwind with a glass of wine and good conversation or enjoy a night out on the town, a matching wine glass tattoo is a fun and classic way to showcase your friendship. Not too feminine, this tattoo design is perfect for those who want to express their love for their best friend in a subtle way. Plus, it serves as a reminder of all the good times you've had over drinks. This simple yet meaningful design is a great example of a small best friend tattoo that you and your BFF will cherish forever.
A Connection of Hearts Tattoo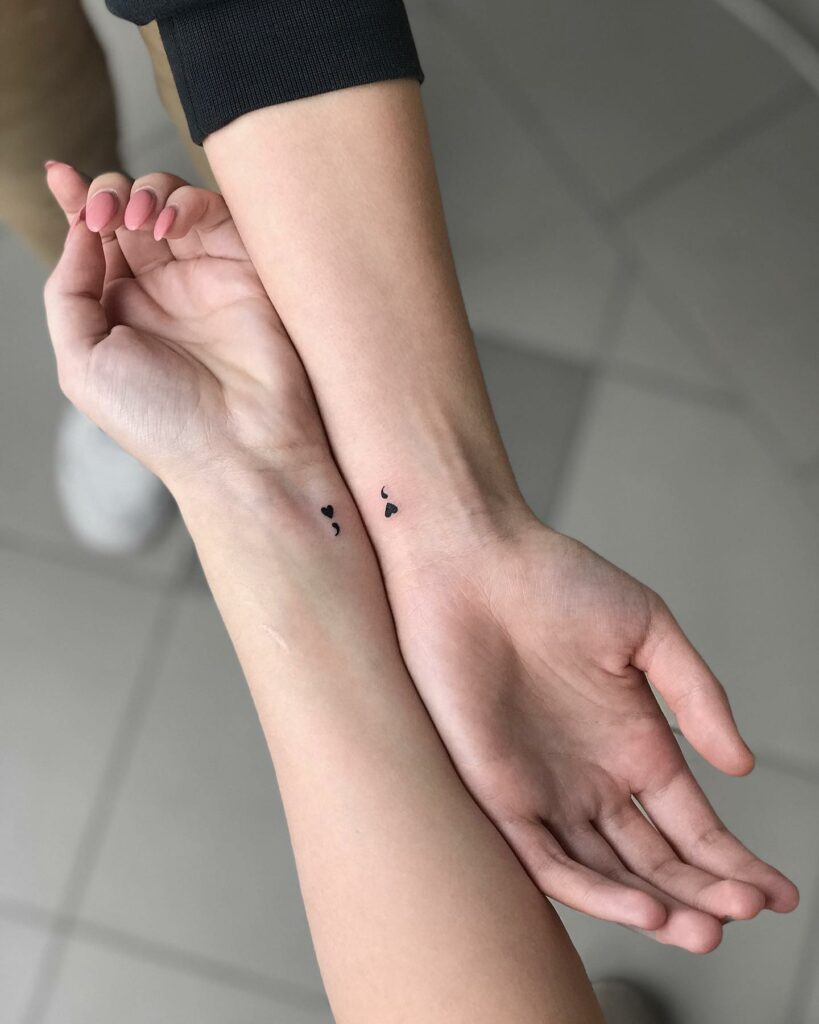 Looking for an adorable way to show off your friendship through tattoos? Look no further than this cute and simple design featuring a small heart and a colon sign. Despite its minimalistic approach, this design packs a punch in terms of sentimental value. It's a great option for those who want to commemorate their bond without going too over the top. Since it's a small design, you can explore different areas on your body to place the tattoo for the perfect spot. Additionally, those who are hesitant to undergo a painful experience can take comfort in knowing that this tattoo won't cause much discomfort. If you're looking for a tattoo that's cute, simple, and sentimental, this design is a perfect choice for you and your best friend.
Mentally At The Beach Tattoos
Looking for an ideal summer-inspired tattoo idea that radiates positivity and fun vibes? Look no further than this delightful palm tree tattoo! A perfect choice for those seeking matching best friend tattoos with a feminine touch, this design will take you back to those carefree days spent lounging on the beach with your closest companions. Imagine getting this cute and trendy tattoo imprinted on your skin during your next beach getaway, serving as a permanent reminder of the amazing memories you've shared together. With its simple linework, this versatile tattoo design can be placed on any part of your body, from your arms to your feet, and still look equally cute. This tattoo is a perfect example of how small and simple designs can create a big impact on your skin.
Friendship Forever Tattoo Designs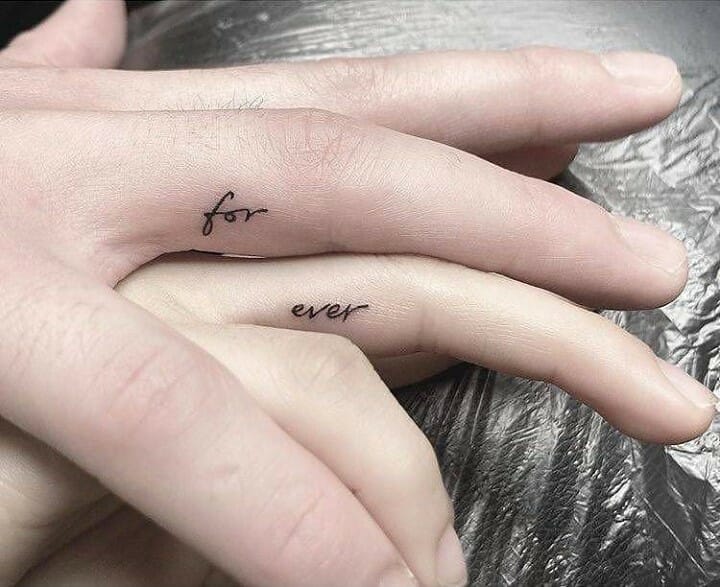 This type of tattoo design is perfect for you! These tattoos feature a minimalist design that can be inked on your hand or fingers, making them a great option for those who want something subtle yet special. These small friendship tattoos look cute and sophisticated, and can be customized to say anything you want, from nicknames to special words or symbols. They're highly versatile, and can be worn by anyone, regardless of gender or personal style. If you're looking for a tattoo idea that's personal, unique, and won't draw too much attention, this simple design is a great choice!
Cheers Tattoos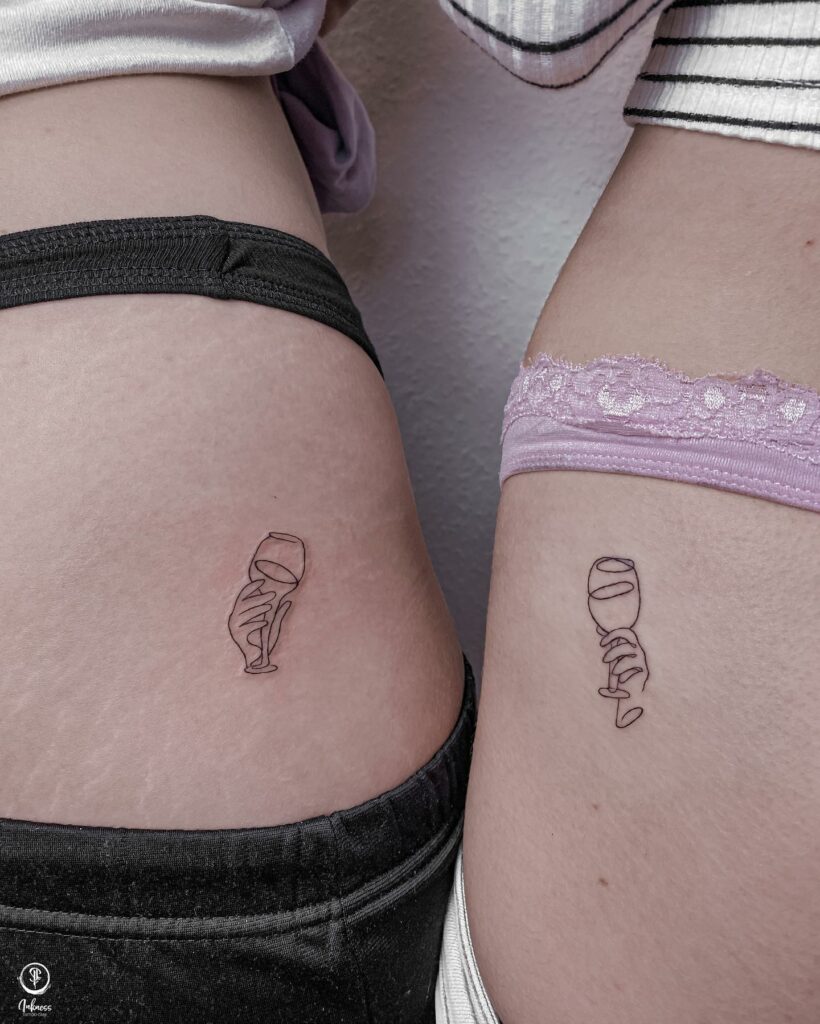 Are you and your best friend wine lovers? Then, this cute and versatile best friend tattoo idea is perfect for you! With a simple black outline of two hands holding wine glasses in a cheers, this tattoo design is not only unique, but it can also be inked on any body part of your choice. It's a wonderful idea for those who want a tattoo that is not too girly, and can be reflective of an inside joke or special moment. This design is highly customizable, and you can even choose to add color to make it pop. The wine glass cheers tattoo is a popular choice among best friends, and can also be modified to feature coffee mugs or cocktail glasses to suit your preferences. So, whether you choose to get it on your upper arm or calves, this tattoo is sure to be a fun and meaningful reminder of your friendship for years to come!
Long-Distance Tattoos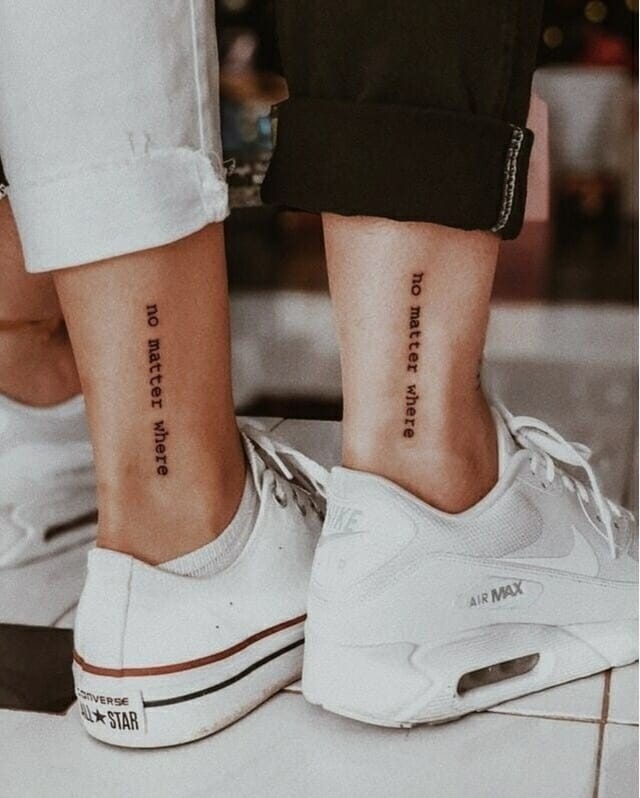 Are you and your best friend separated by distance but still want to show your love for each other through tattoos? Look no further than quote tattoos! This type of tattoo is perfect for best friends who want a constant reminder of their unbreakable bond no matter where they are in the world. You can choose to have the same quote or different ones that hold special meaning for both of you. While foot tattoos can be challenging due to the complexity of the design, a quote tattoo is a simple yet meaningful choice that will always look great. The font and spacing of the letters are carefully chosen to create a stunning design that can be placed on your foot or even your forearm. Whether you're together or apart, this tattoo will always remind you of the strength of your friendship.
Lock And Key Tattoos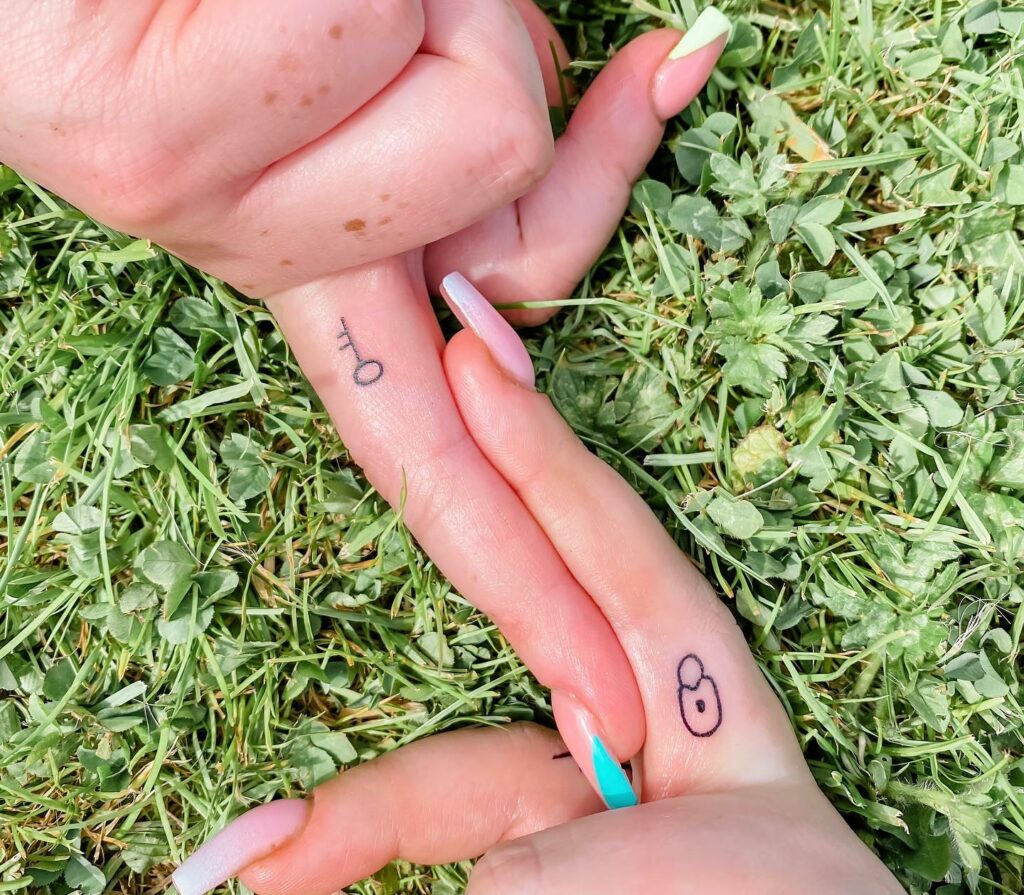 Are you on the lookout for an adorable tattoo design that symbolizes the special bond you share with your best friend? Look no further than this lock and key tattoo, which has become a timeless classic among best friend tattoos. The lock and key design represents how your best friend holds the key to your heart and deepest secrets, signifying the unbreakable bond that you share. This small, simple tattoo packs a big punch and can be customized to suit your unique preferences. If you're after a more personalized twist, you can even replace the lock and key with other symbols that hold similar meaning. This tattoo is crafted with intricate detail and is designed to be delicate, adding an element of vulnerability to your friendship. Don't miss the chance to commemorate your friendship with this beautiful and meaningful tattoo.
King And Queen Tattoo
These designs are perfect for those seeking friend symbols to be shared with their male best friends. It can even be shared with your husband and is especially meaningful for those who marry their best friends. A lovely way to celebrate love and friendship, these tattoos can be customized in various unique designs. Though these designs may be popular, they are timeless and can symbolize love, life, friendship and mutual understanding between best friends. The tattoo artist will work with you to ensure that the design reflects your unique bond and personality, making it an even more special and personal addition to your collection.
Pinky Promise Best Friend Tattoos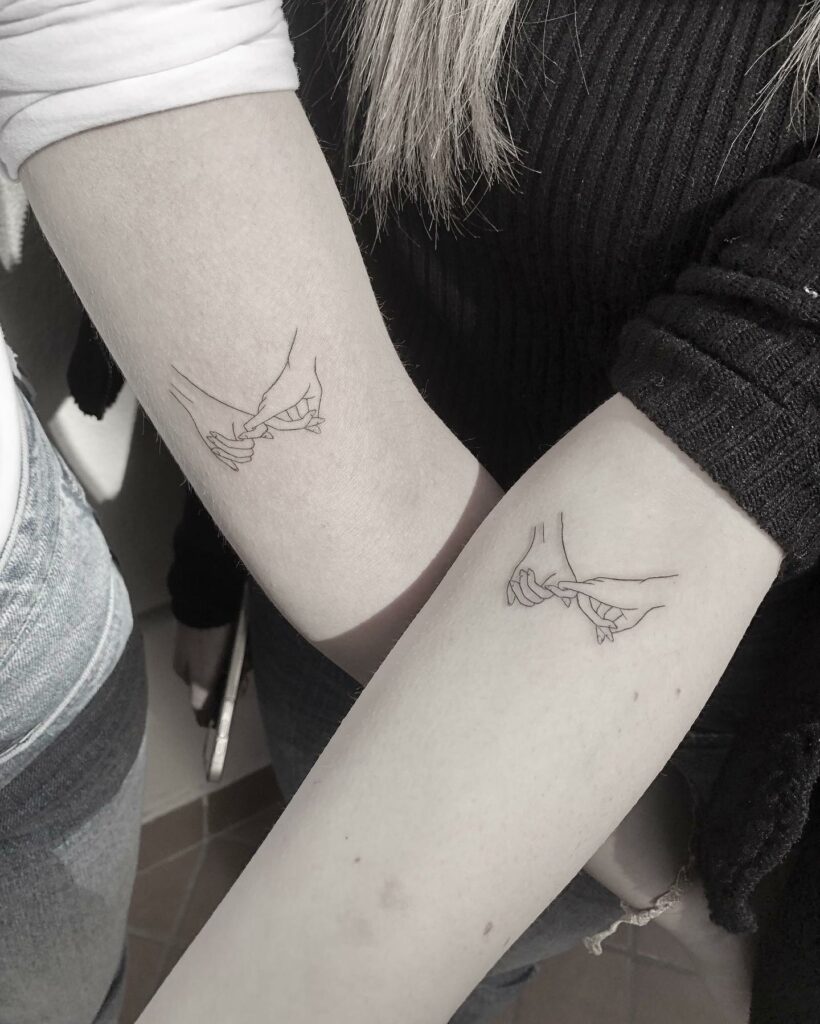 If you're on the hunt for a tattoo that signifies the depth and significance of your friendship, then look no further than the pinky promise tattoo. This tattoo represents the unspoken bond between two best friends, a promise to always be there for each other through thick and thin. It's a symbol of the trust, loyalty, and commitment that makes a friendship truly special. As far as cute tattoo ideas go, this one is a standout. Whether you're looking to commemorate a special moment or simply celebrate the strength of your friendship, this tattoo is a perfect choice. While other symbols like the infinity sign tattoo can also capture the essence of a lifelong friendship, the pinky promise tattoo is particularly personal and unique.
Flower Blossoms Tattoo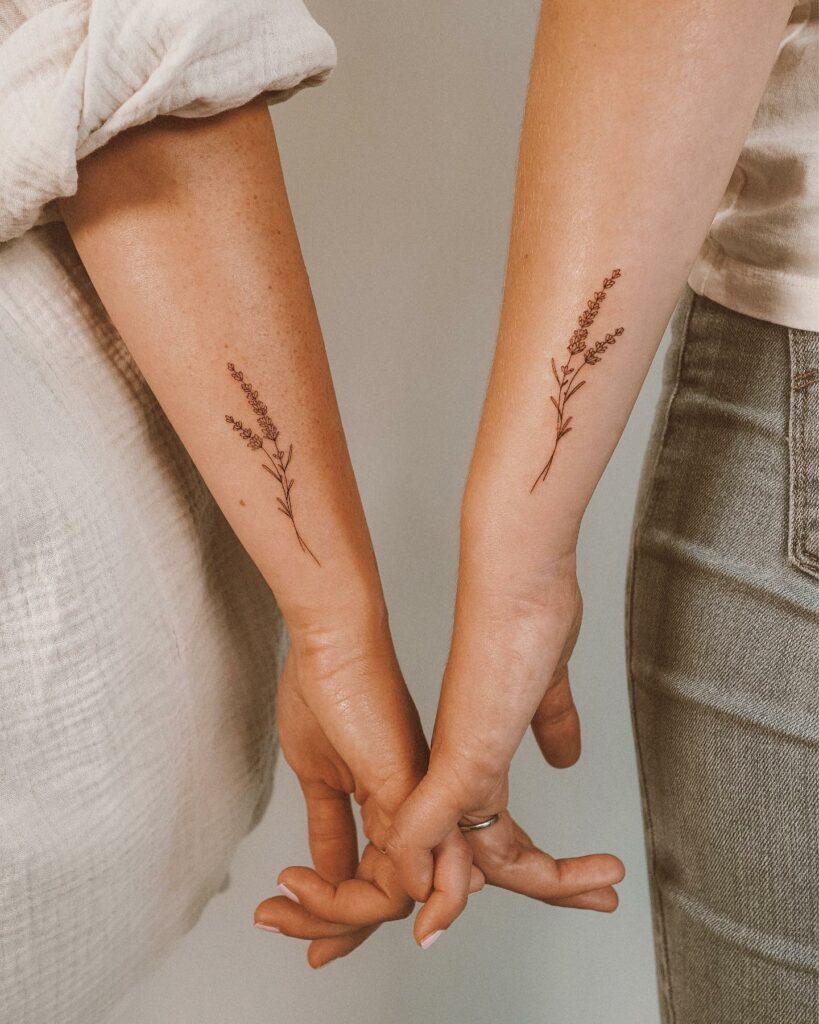 If you're searching for a subtle yet meaningful best friend tattoo, a flower tattoo might be the perfect fit for you and your friend. Not as obvious as the typical sun and moon tattoos, this tattoo design can hold a deep significance between the two of you. Matching tattoos are a great way to share something special and unique, and a flower tattoo design can offer just that. It's a subtle way to represent your bond without drawing too much attention.
Best friend tattoos come in all shapes and sizes, and they're becoming increasingly popular in today's world. As people move away for jobs and other life events, a tattoo can be a lasting reminder of your friendship. Best friends often choose to get matching tattoos to commemorate important events like birthdays and friendship anniversaries. You can also choose to create your own unique tattoo designs together by visiting a tattoo parlor. It's an experience that you'll both remember for a lifetime
feature image from Pinterest – Want your tattoo to look brighter? Try "Tattoo Balm"