Hey there, are you thinking about getting a heart tattoo but not sure what design to choose? Heart tattoos are a classic choice for both men and women, representing love, passion, and emotion. There are so many styles and symbols to choose from, and we've got some girly heart tattoo ideas that you'll love! The color of the heart you choose can also have different meanings. For example, a black heart tattoo can represent death and sadness, while a yellow heart tattoo can symbolize a fresh start. Heart tattoos are perfect for people who want to express their love and commitment to someone special, or as a reminder of a personal tragedy. Whatever your reason may be, heart tattoos are a great way to show your emotions and make a statement. So, let's explore some heart tattoo designs together!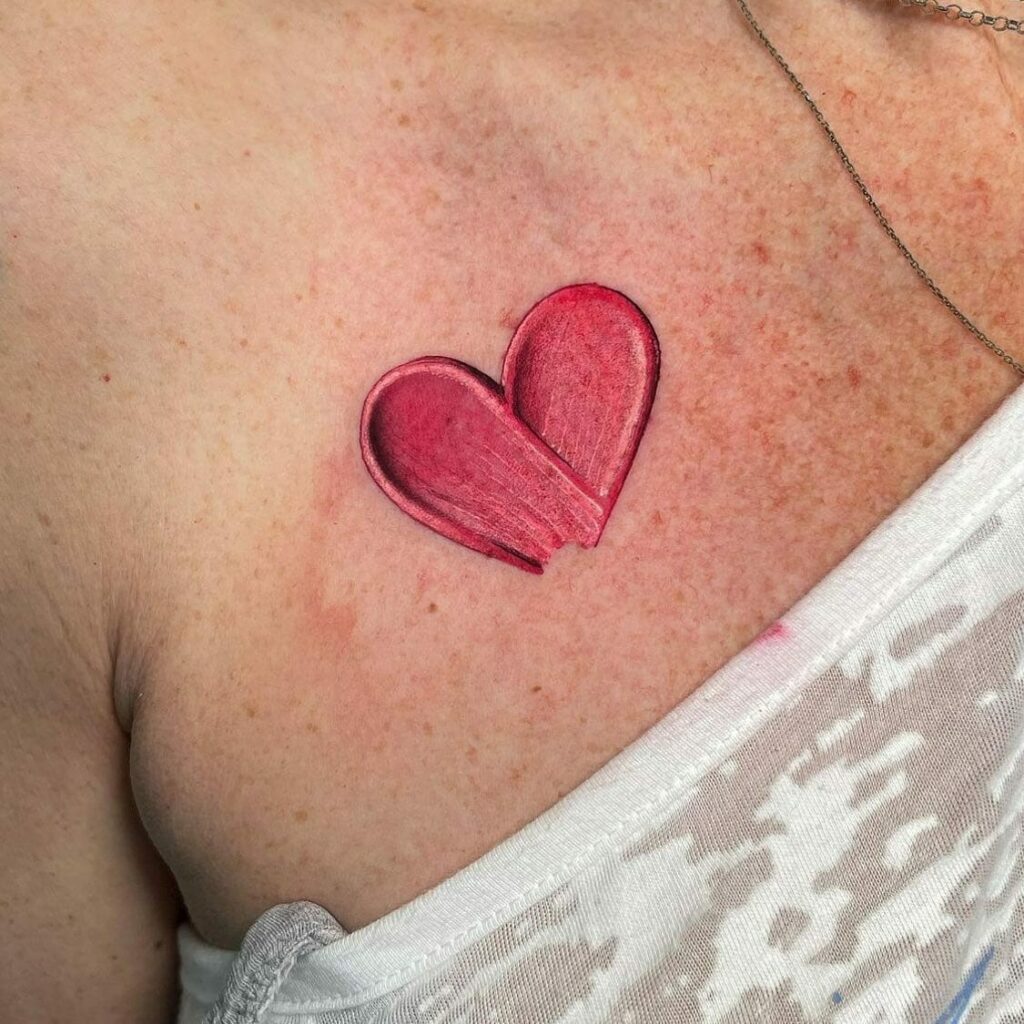 The Flowers Growing On Heart Tattoo
When it comes to heart tattoos, many people opt for the classic heart shape, but if you're looking for something more anatomically accurate, the realistic heart design is a fantastic option. The intricate detailing on this tattoo is truly impressive, and it adds a sense of realism that is hard to find in other designs. The heart is not just a symbol of love and affection, but also represents the essence of life. You can add other elements like flowers or other ornaments to make it more personalized, or you can let the design speak for itself. If you're feeling adventurous, you can add some bright colors to make the tattoo really pop!
Small Girly Heart Tattoo
Small tattoos are an excellent way to get started with tattoo art. They are adorable, girly, and don't require as much commitment as bigger designs, both in terms of time and money. You can get a small tattoo like a heart and still have the same impact as larger designs. This tiny heart tattoo is a perfect example of that.
The beautiful design of this heart tattoo has been dotted throughout the skin of the woman's arm, which is a perfect way to express self-love. The small heart tattoos are available in various colors and can be placed anywhere you like, such as behind the ear or on the neck. You can even get two or three hearts in different colors to make a beautiful, simplistic yet creative tattoo design. So, don't hesitate to start with a cute heart tattoo and see where your tattoo journey takes you!
Elegant Girly Heart Tattoo Designs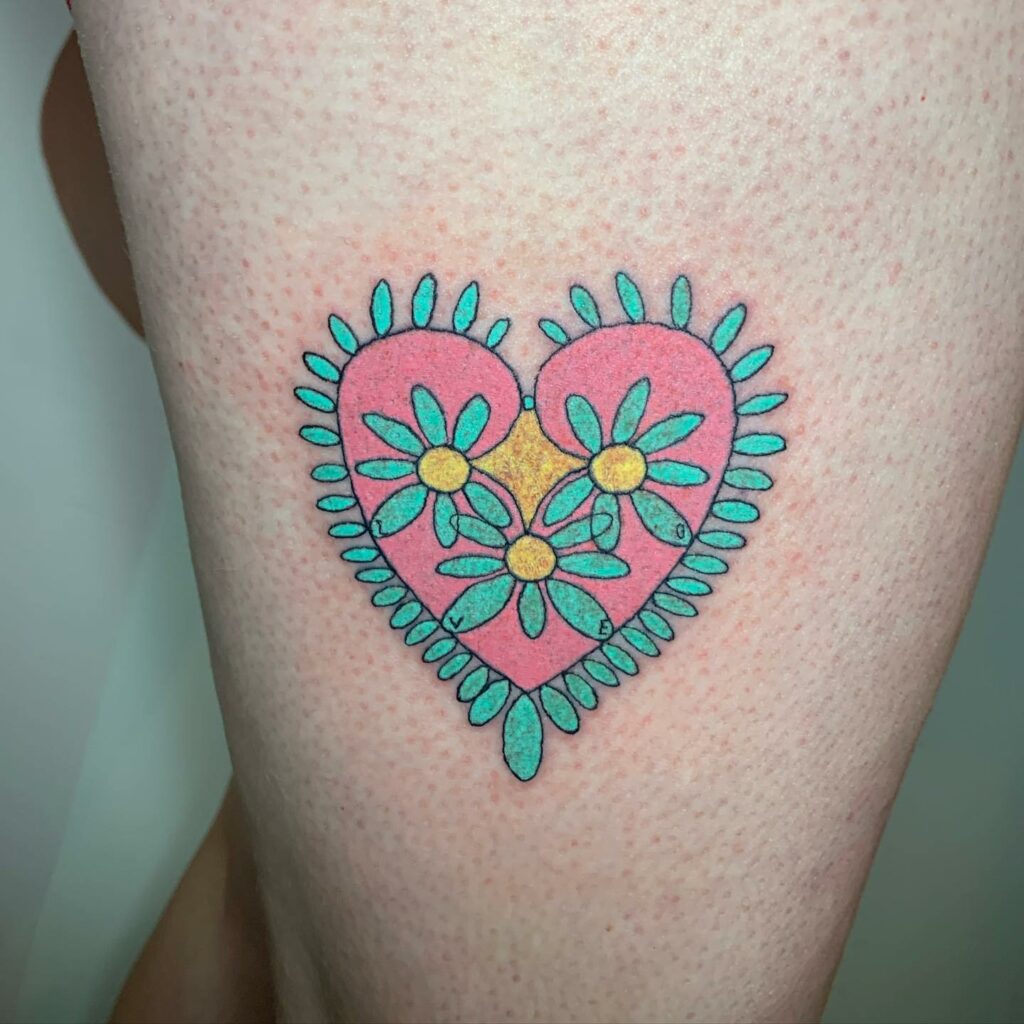 Are you in search of a beautiful small heart tattoo design? This one is just perfect for you. The creative design is very vibrant and beautiful, and the pink background complements the flower tattoo that is made in mint and yellow color. This tattoo is perfect for someone who wants a tattoo that reminds them of their childhood. The image is similar to what we used to doodle in our notebooks.
If you prefer a more personalized touch, you can add the name of a loved one to the design. The tattoo artist can also change the design according to your preferences. This tattoo will look great on your wrist, and it gives off a girly vibe.
The Dagger In The Heart Tattoo
When it comes to expressing deep emotions like pain and sadness, a broken heart tattoo is a popular choice. The design can symbolize a range of experiences such as the loss of a loved one, the end of a relationship, unrequited love, or betrayal. The sword in the heart design emphasizes that the heart has been wounded and is vulnerable. Many people resonate with these emotions and can relate to the design.
This heart tattoo design is not just a simple image, but it carries a deeper meaning. It represents the emotional pain and sorrow that the person has been through. Women are particularly drawn to this design, as it reflects the heartbreak they might have experienced. The red heart symbolizes the loss of a loved one or a relationship, and the sword across it represents the feeling of hopelessness that can arise. Overall, the broken heart tattoo is a meaningful and poignant tattoo idea for anyone looking to express their deep emotions.
Girly Heart Locket Tattoo With Roses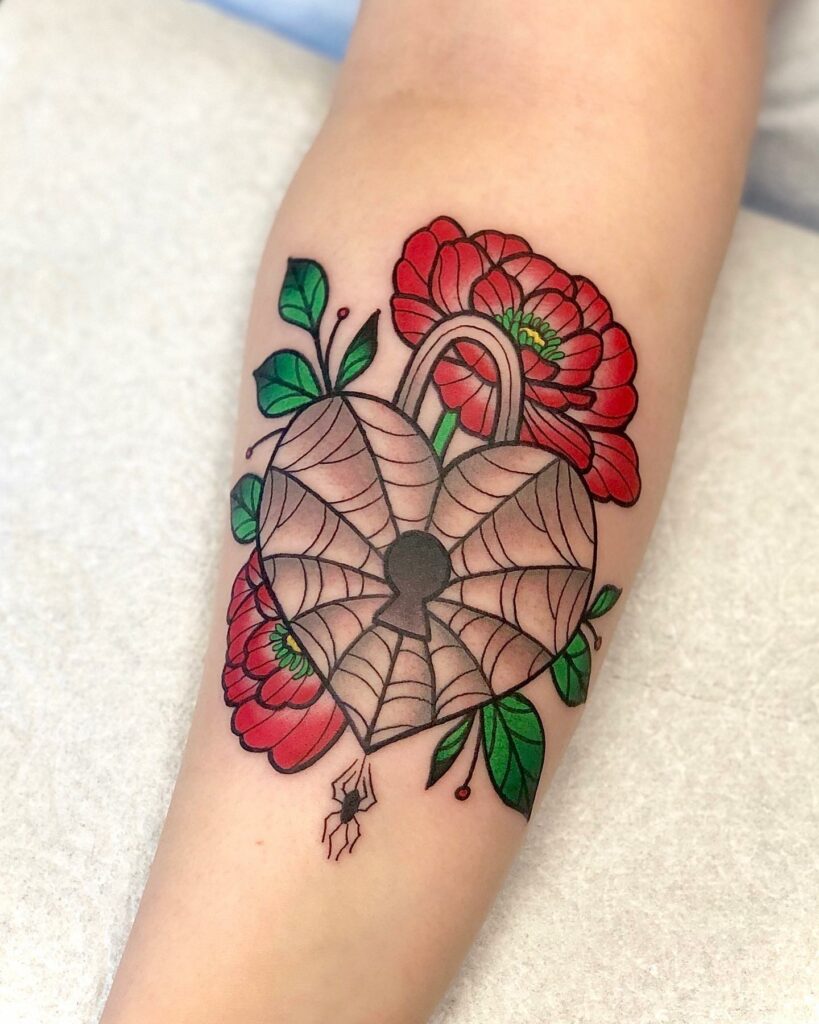 This tribal heart tattoo, also known as the locket heart tattoo, is more than just a design; it carries a deeper meaning. The original meaning of this tattoo was to prevent oneself from falling in love or having any such kind of emotions or feelings for anyone. The locket symbolizes locking any and everyone away and out of the heart. The web with the spider in the design represents the person's reluctance to let anyone enter their heart after being betrayed. It's a perfect tattoo design for someone who has been hurt in the past and has healed but is not ready to give love a second chance. The intricate details of this tattoo are eye-catching and provide a unique touch to the design.
The Cure Red Heart Tattoo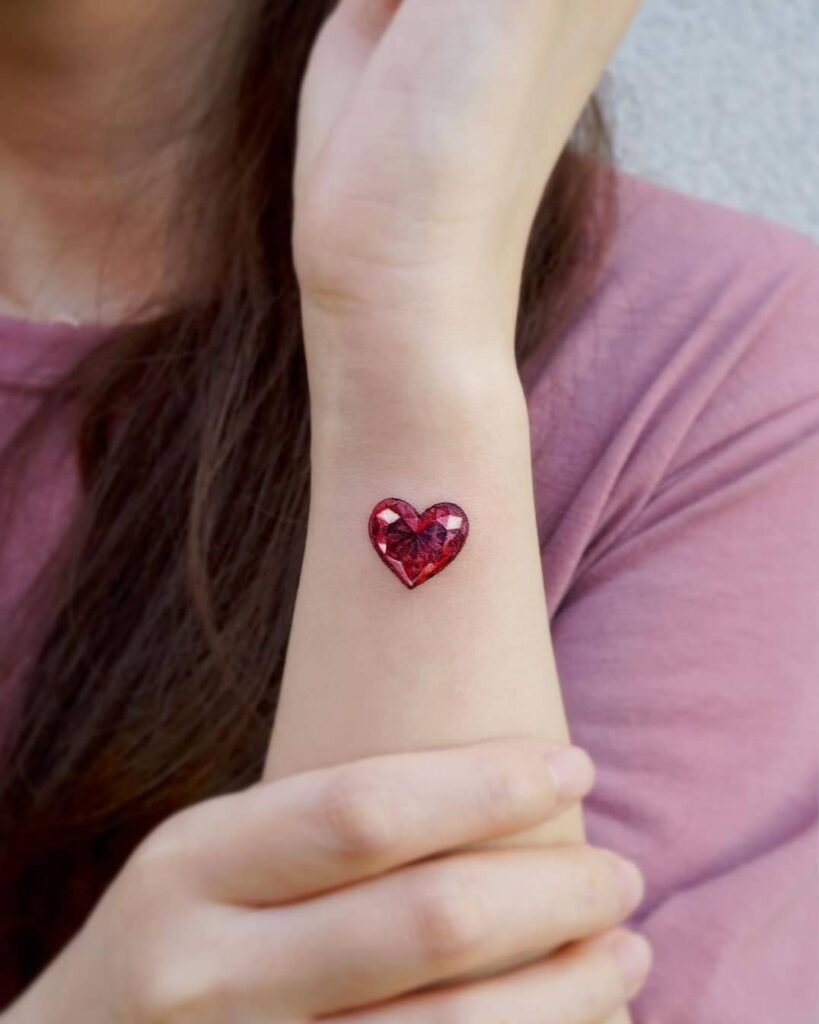 When choosing a heart tattoo, the color you select can have a significant impact on the tattoo's meaning. For example, red ink usually represents romantic love, while black ink is often associated with sadness. A small red heart tattoo can be a wonderful way to pay tribute to a loved one, whether it be a partner, a friend, or a sibling. These brightly colored heart tattoo designs are incredibly popular, especially among some of our favorite celebrities. These heart tattoos are beautifully crafted and resemble a heart-shaped gem. They are adorable and are a favorite among many people. These heart tattoo designs can be inked anywhere on the body and can even be turned into an ear heart tattoo. You can even modify the design and create three heart tattoos, placing them wherever you like on your body.
Colorful Two Hearts Cute Tattoos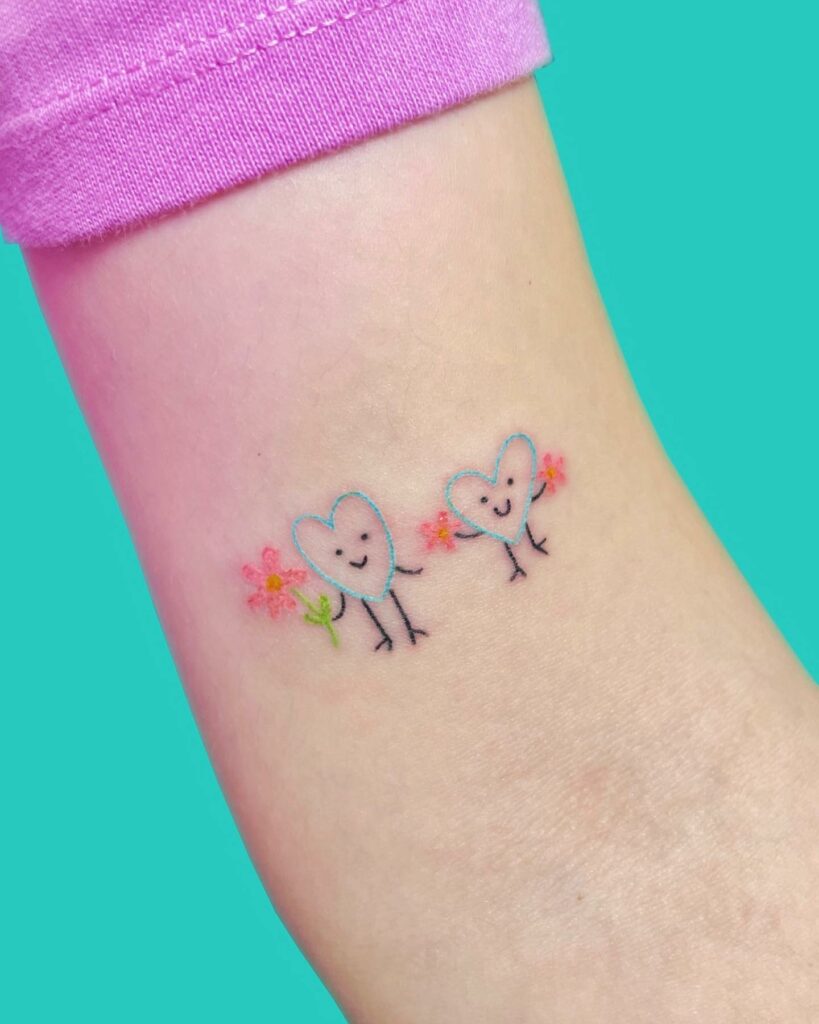 When it comes to tattoos, sometimes less is more! A simple yet striking design, such as an outline heart tattoo, can make a bold statement. The great thing about these tattoos is that they are effortless yet eye-catching, and they can be created in a wide range of colors. Speaking of colors, the double hearts tattoo design is adorable and gives off such positive energy. The tiny hearts holding hands are perfect for symbolizing the unbreakable bonds between loved ones. To add a personal touch, some people like to incorporate little wings into their heart tattoos, signifying freedom. These designs are perfect for those who want something meaningful and visually appealing, without going overboard on the details.
The Beautiful Heart Tattoo Ideas With Flowers And Roses
The heart, flower, and rose combination tattoo is a classic and elegant design that exudes femininity. This trio of symbols typically signifies strong emotions and passionate love. The rose is a flower that symbolizes romance and friendship and is often depicted in bold, vibrant colors. The design can be created in various styles – from simple and delicate to gothic and edgy. This tattoo is versatile and can be placed anywhere on the body, but it looks especially great as a back tattoo.
If you want to add a deeper meaning to this design, you can include a dart or thorns piercing the heart. The overall heart tattoo design is stunning and intricate. It's an excellent choice for women who are looking for a complex heart tattoo. The tattoo also carries a message of femininity, with the flowers surrounding the heart symbol.
The Two hearts Tattoo Showing The Hope Of Love
These red heart tattoos are stunningly crafted and have a distinct and individual style to them. They have a certain edginess that reflects an emo vibe. The tattoo artist has skillfully incorporated two hearts into the design, one with an image of two couples, and the other with a skeleton. These small heart tattoos would be ideal for women who want something unique and different. The versatility of this tattoo design means it can be placed on any part of the body. The beauty of this tattoo is that it can be interpreted in different ways, making it perfect for those who want a tattoo that reflects their individuality.
The Splash Of Colors In The Heart
This heart tattoo design is definitely one of a kind! Instead of the traditional solid fill or outline, this tattoo features a unique mix of colors that create a beautiful splashed effect within the heart shape. The way the colors blend together creates a stunning visual that almost resembles the waves of the ocean. The simple yet eye-catching design makes it perfect for someone who wants a minimalist yet striking tattoo that will turn heads. It's a perfect way to showcase your love of color and creativity.
feature image from Pinterest – Want your tattoo to look brighter? Try "Tattoo Balm"