Are you a Scorpio and want to show off your love for your zodiac sign? Look no further because we have got you covered with some of the best girly Scorpio sign tattoo designs!
Scorpios are often misunderstood for their vengeful nature and feisty sting. But did you know that Scorpios are one of the sweetest people you'll ever meet in your life? Born between October 23 and November 21, Scorpios are fierce, passionate, and incredibly psychic. As the eighth sign in the astrology charts, Scorpio is ruled by Pluto and is denoted by the constellation of Scorpius. The glyph that represents the sign is a lowercase 'm' with an arrow at its stinger.
Scorpios are fascinating due to their secretive nature, which makes people keep wondering what their next move could possibly be. They are also big on trust issues due to everything they go through in their life. If a Scorpio decides to trust you and give you all of their heart, consider yourself lucky because Scorpios can reveal an emotional side that they hide behind their facade to only the close ones.
We have compiled a list of the best feminine Scorpio tattoo designs that reflect your wonderful personality, which coexists with a poisonous stinger. So, if you want to get inked, check out our list of the coolest Scorpio tattoo ideas.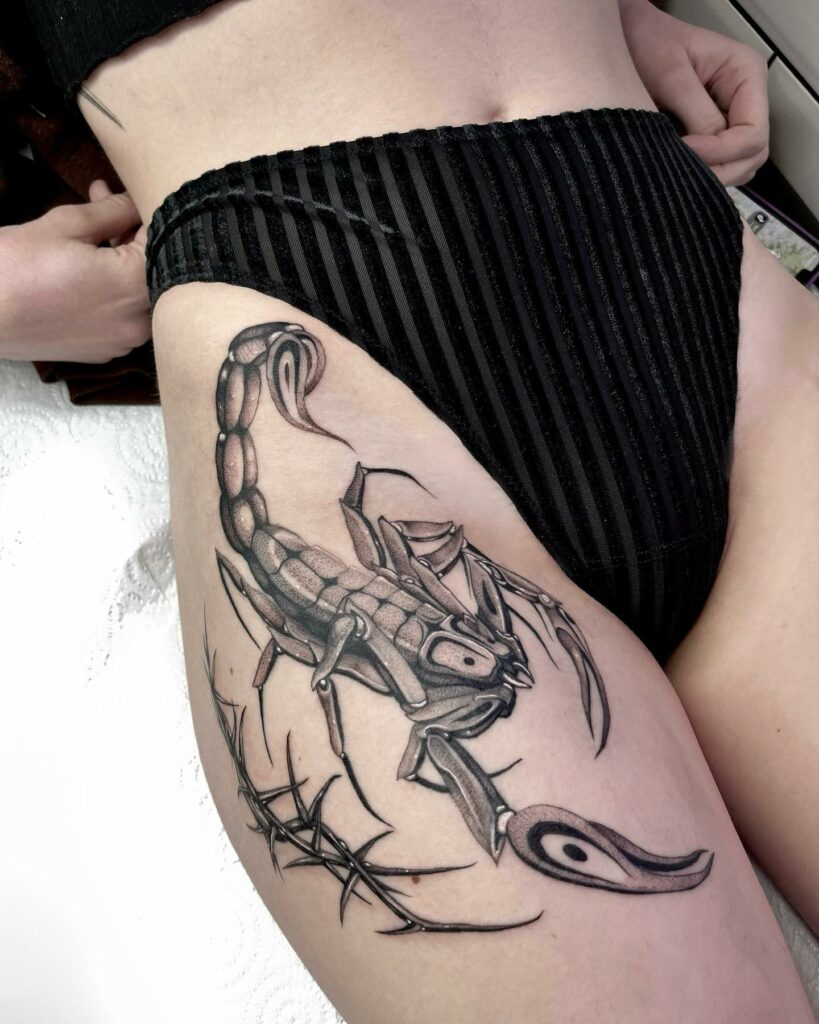 Scorpio Script Tattoo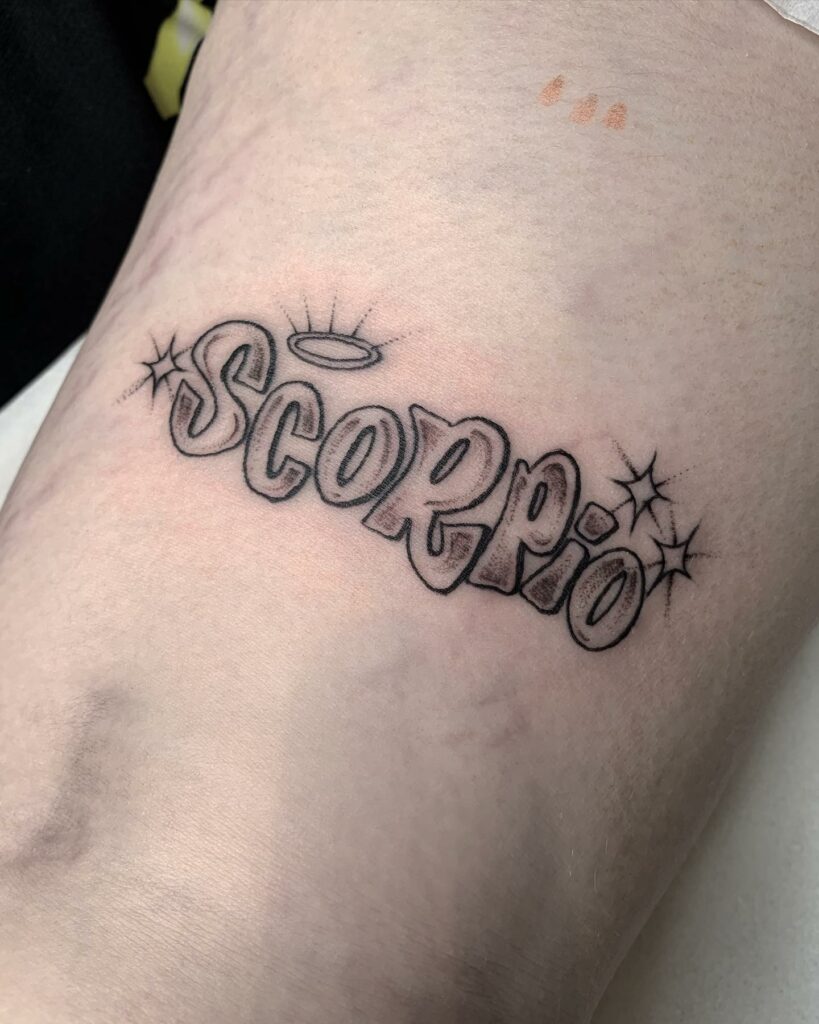 This design is perfect for those who want a simple yet bold tattoo. All you need to do is choose a font that speaks to you and have your tattoo artist ink it on your body.
For a cute and girly take on the Scorpio word tattoo, consider the Bratz font. This playful font adds a touch of fun to the design, while still remaining bold and eye-catching. In black ink, this Scorpio script tattoo is both stylish and timeless. So, if you're looking for a way to showcase your Scorpio pride, the Scorpio word tattoo in Bratz font is a great option to consider.
Scorpio Symbol Tattoo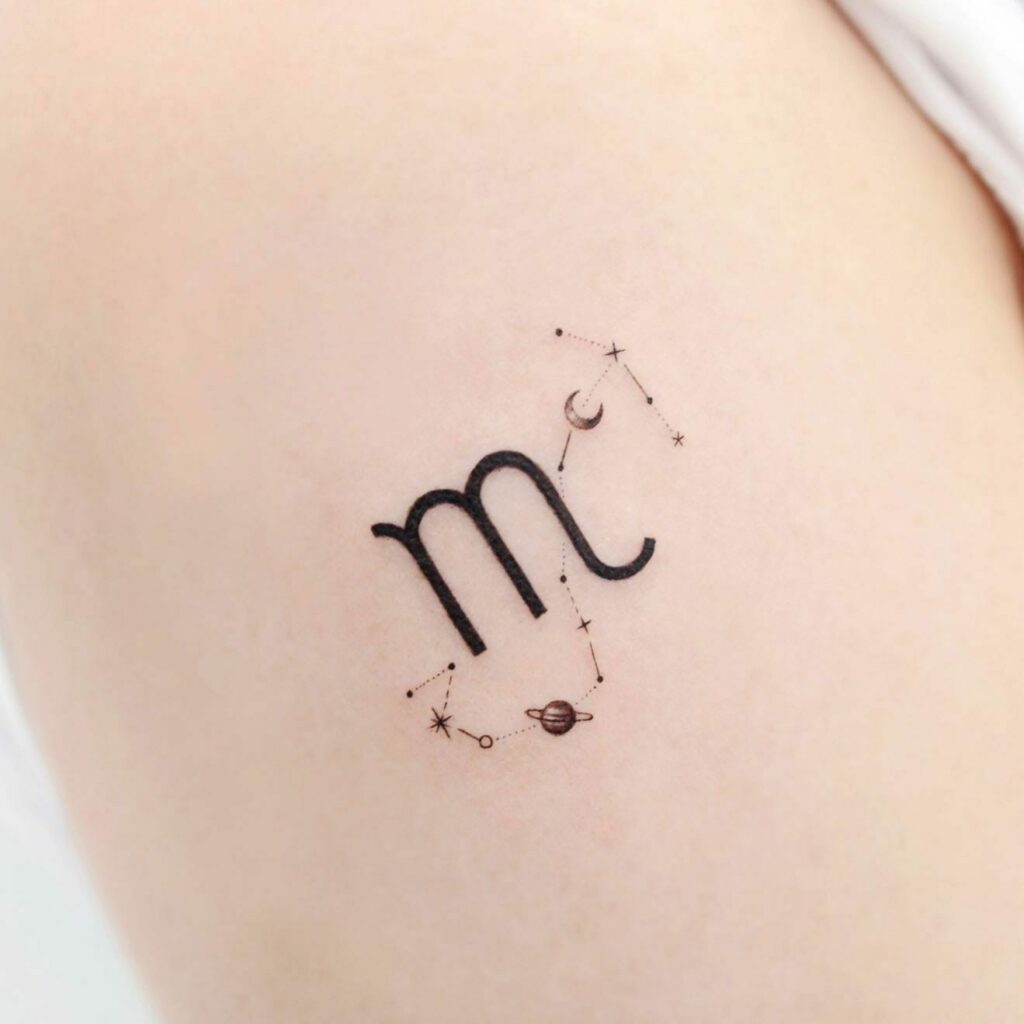 This design features the distinctive 'm' shape with an arrow on its tail, which represents the scorpion's stinger. It's a popular choice for good reason, as it perfectly captures the essence of Scorpio's fierce and mysterious personality. You can customize this design by adding your own unique touch, such as incorporating flowers, stars, or even the Scorpius constellation. The example above showcases a Scorpio symbol tattoo with a beautiful constellation backdrop, creating a minimalist yet stunning design. So, embrace your Scorpio energy and get inked with this timeless symbol.
Realistic Scorpion Tattoo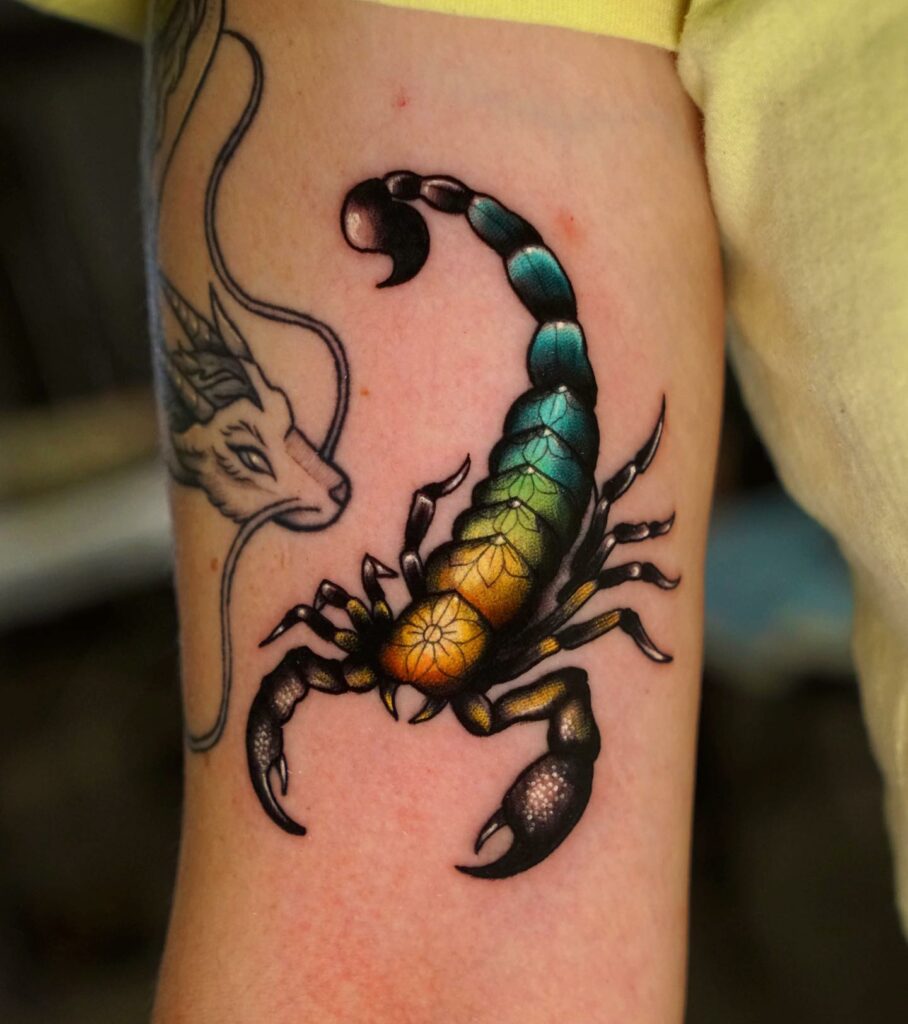 Scorpio zodiac signs are often represented by Scorpion tattoos. Due to a scorpion's ability to stay hidden in the darkness and keep an eye out for its safety, as well as its poisonous stings if you break a Scorpio's trust, scorpions are considered to be Scorpio's spirit animal. The featured tattoo above showcases a beautifully realistic and creative Scorpion tattoo with perfect shades to make it look metallic. To make the tattoo even more unique, you can add details such as floral designs to make it stand out in a crowd.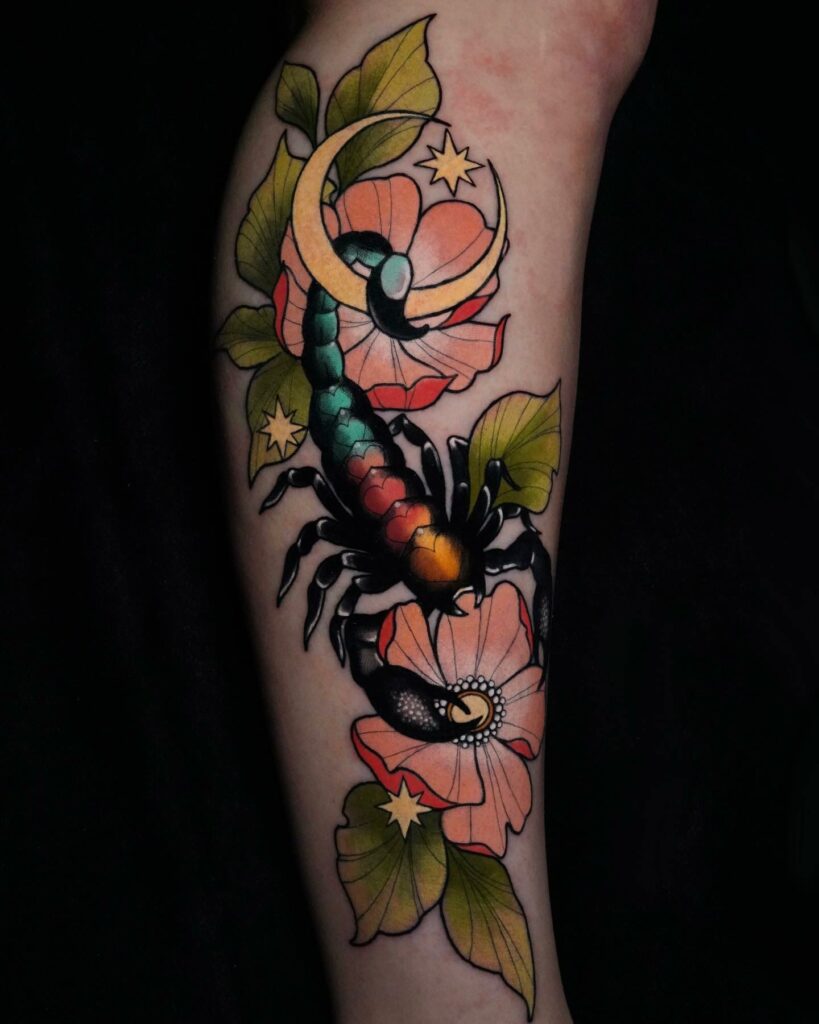 Scorpio Constellation Tattoo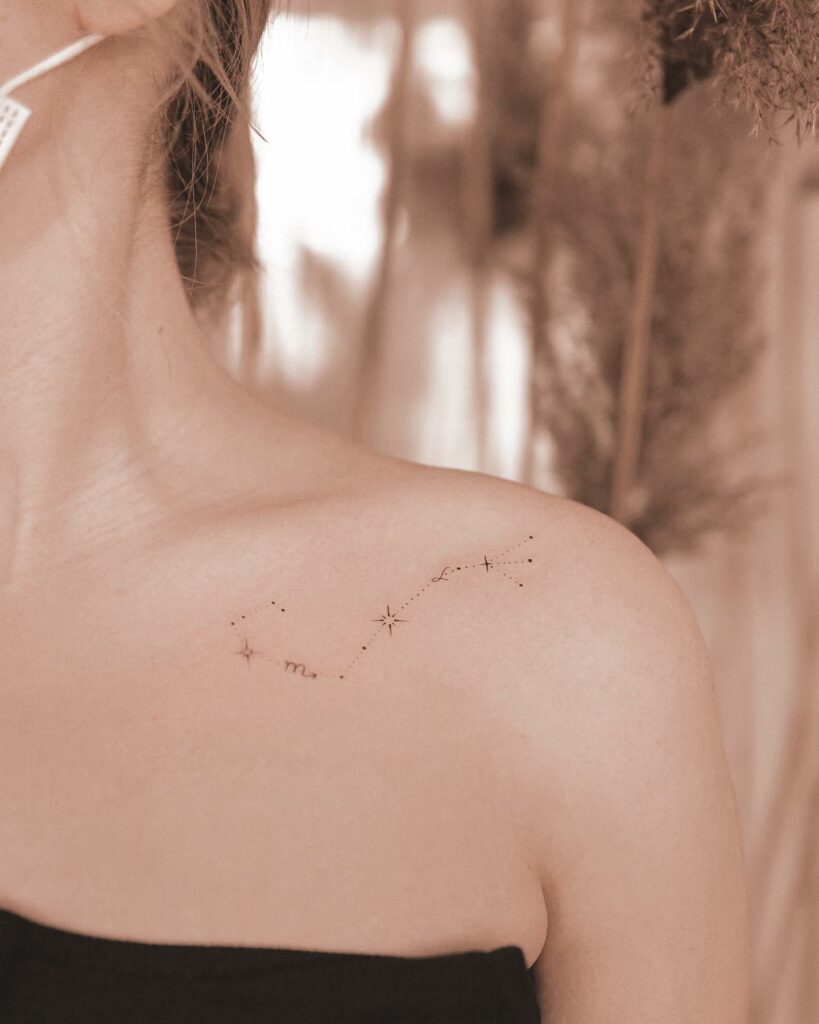 The Scorpius constellation is the origin of the Scorpio zodiac sign, making it a meaningful and unique tattoo choice. The beauty of this design lies in its simplicity, making it a perfect pick for someone looking for a minimal yet meaningful tattoo. This Scorpio constellation tattoo features the Scorpius constellation with the Scorpio symbol placed within it. Its delicate and feminine design makes it a great choice for women who want to showcase their zodiac sign in a subtle yet beautiful way. Get ready to turn heads with this stunning Scorpio constellation tattoo!
Tribal Scorpion Tattoo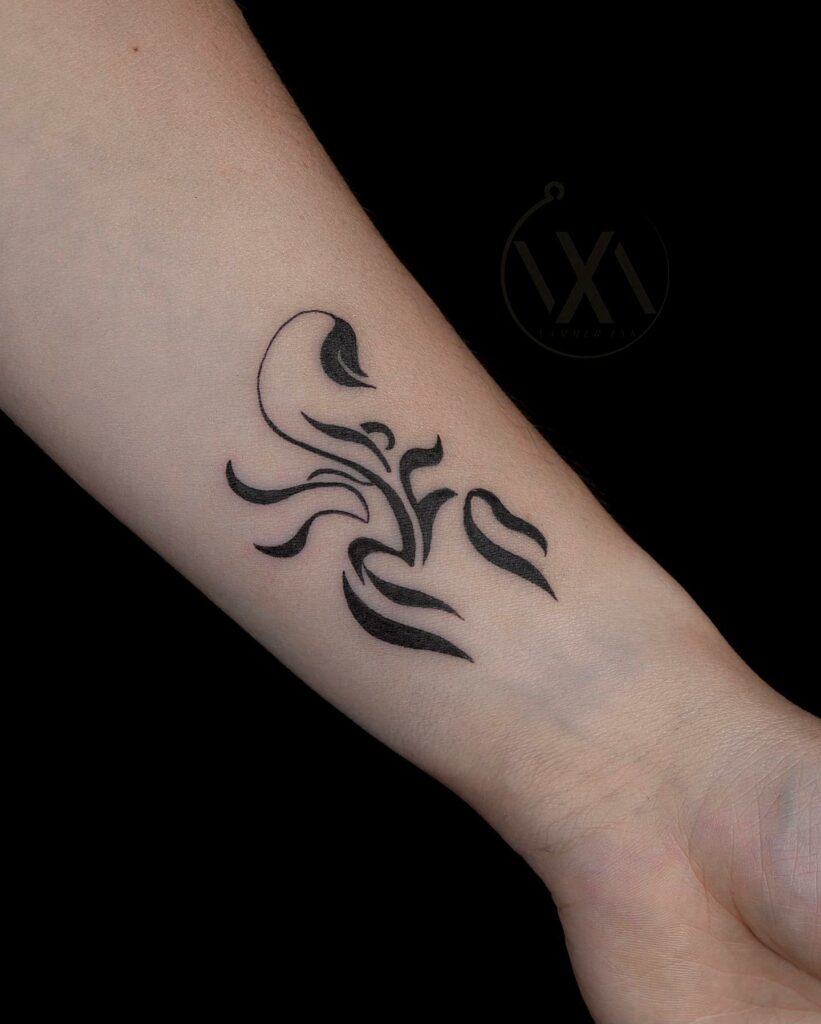 Tribal scorpion tattoos are an excellent choice for those looking for something unique and meaningful. These designs, which often feature bold, black lines and intricate patterns, symbolize strength, heritage, and protection against negative energies. The tribal style tattoo is a perfect fit for Scorpio natives, as it represents the loyalty and power that are inherent in their personality. This striking black ink scorpion tattoo design featured above is perfect for Scorpio women, with its bold and powerful appearance. This timeless design is sure to impress and will stand the test of time.
Tiny Scorpion Tattoo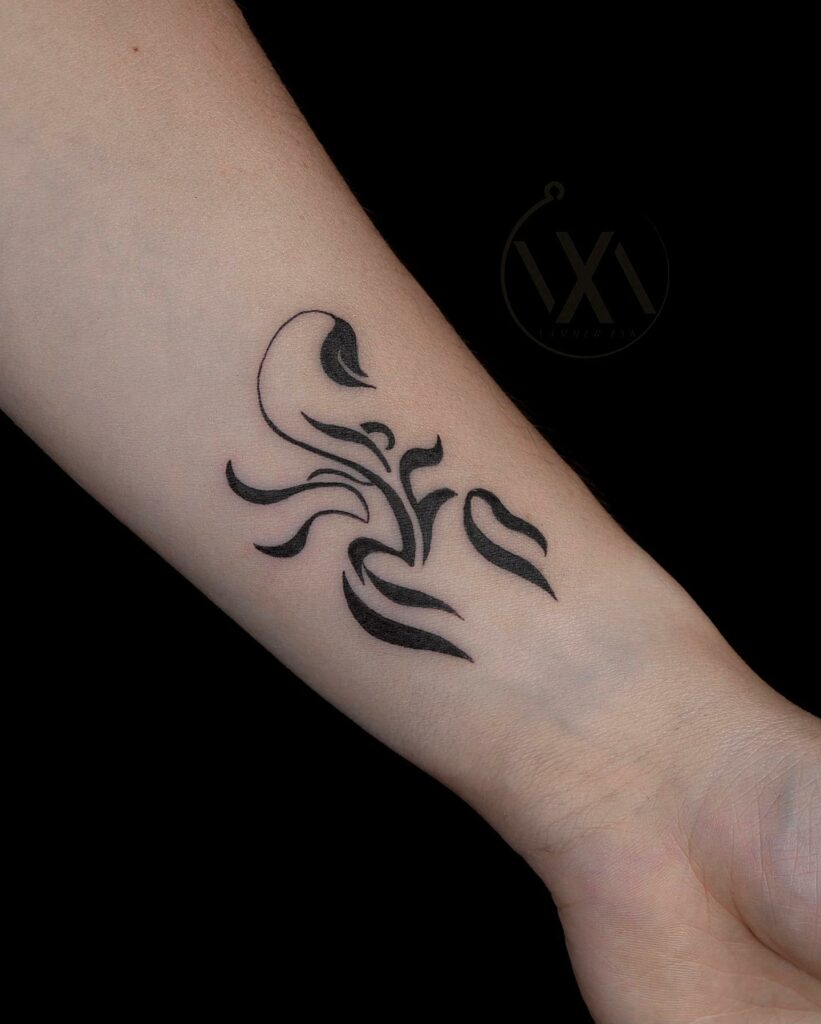 Scorpios, known for their secretive nature, often prefer small and hidden tattoos that still embody their essence. A minimalist scorpion tattoo, like the one pictured above, is an excellent choice for those who prefer a more discreet tattoo. This tiny red scorpion tattoo is both feminine and sensual, making it a perfect choice for women born under this water sign. Despite its small size, this tattoo packs a powerful punch, proving that small Scorpio tattoos can be just as stunning as the bigger, bolder designs. The choice of red ink for this tattoo is also significant, as it symbolizes the passion that Scorpio women are known for.
Chrysanthemum and Scorpion Tattoo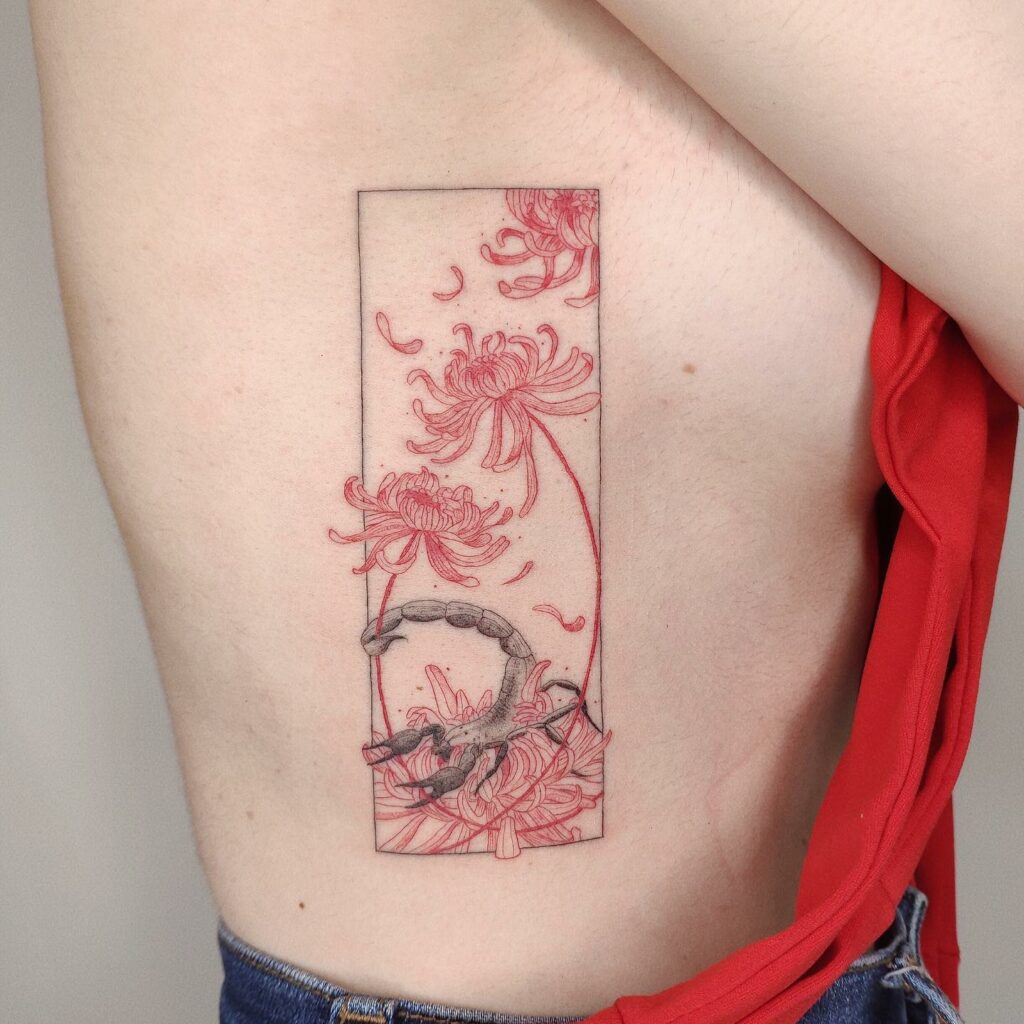 The chrysanthemum is a flower that represents friendship, love, and loyalty, making it an ideal choice for a Scorpio zodiac sign native. This beautiful flower's bold and emotional nature perfectly aligns with the Scorpio's traits, making a chrysanthemum tattoo an excellent option, especially for Scorpio women. The stunning tattoo above showcases a red chrysanthemum field with an image of a scorpion incorporated within it, creating a beautiful and meaningful design. The red chrysanthemums symbolize love, making this scorpion tattoo an ideal representation of the passionate Scorpio natives. If you're looking for a Scorpio zodiac tattoo to adorn your body, this one is an excellent choice to consider.
Woman Scorpion Tattoo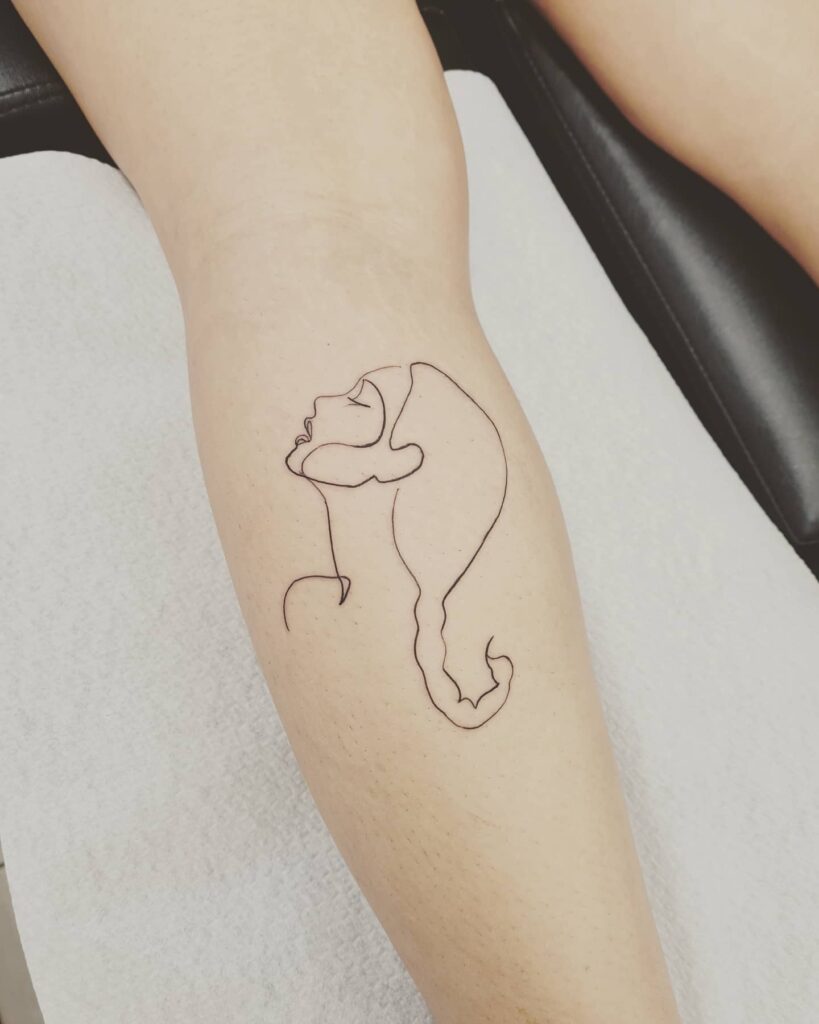 For Scorpio women looking for a unique and artistic take on the traditional scorpion tattoo, the Scorpion woman tattoo is an excellent option. This beautiful tattoo design features a one-line drawing of a woman with braided hair, with the ends of the braids cleverly shaped into the stinger of a scorpion. It's a subtle yet striking way to represent the Scorpio zodiac sign's traits of power, strength, and loyalty. This minimalist tattoo is perfect for those who prefer a small yet meaningful design, and it's sure to turn heads and inspire others.
Yin Yang Scorpion Tattoo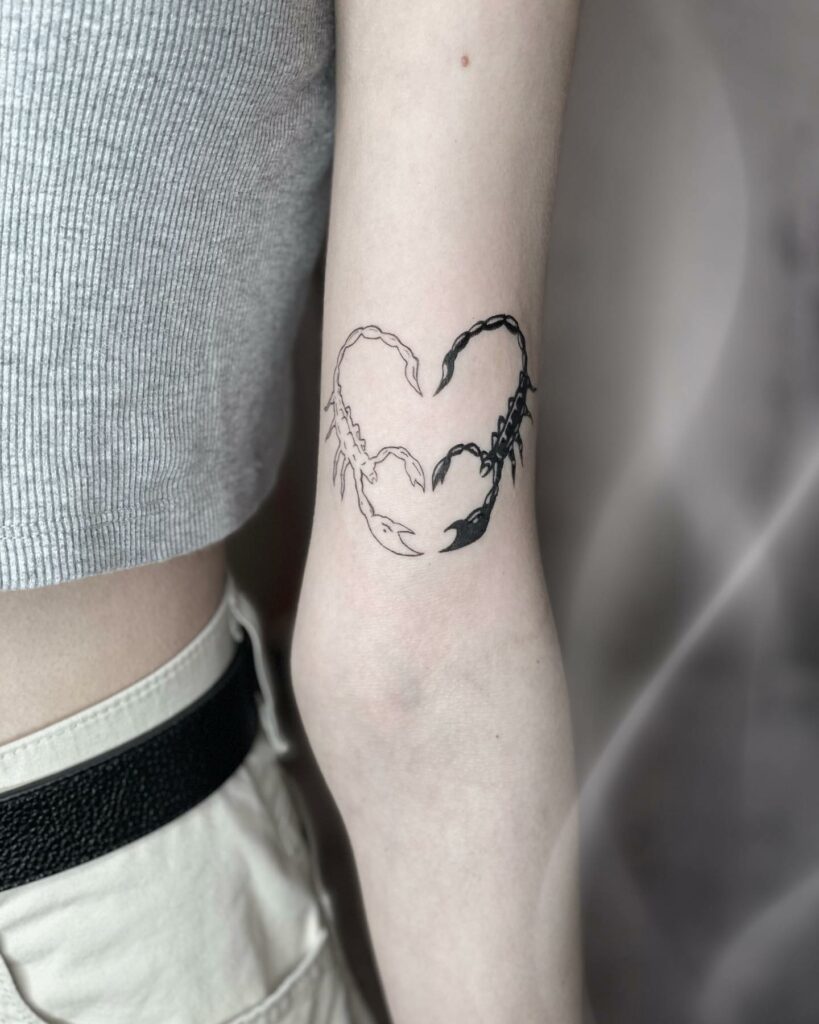 Yin yang tattoos are a symbol of balance and harmony in Chinese culture. They represent the idea that seemingly opposite forces are actually complementary and interconnected. Yin represents femininity, darkness, and passivity while yang represents masculinity, light, and heaven. For Scorpio natives, a yin yang tattoo can hold a deep and personal meaning. This design is a perfect representation of the balance and duality that is inherent in Scorpio's complex personality. If you are searching for a meaningful tattoo that captures the essence of your Scorpio spirit, a yin yang tattoo may be the perfect choice for you.
Outline Scorpion Tattoo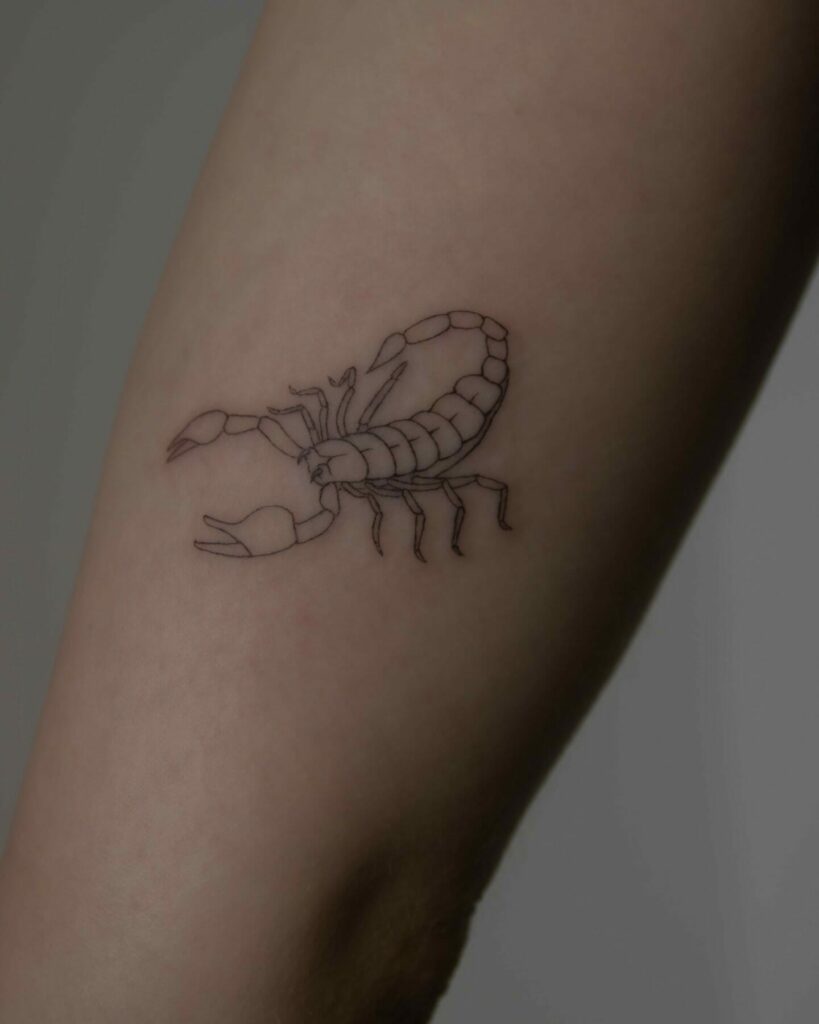 If you're looking for a tattoo that is both stylish and significant, then a Scorpion tattoo might be perfect for you. This tattoo design is a minimalistic yet meaningful option, especially if you're searching for cool Scorpio tattoo ideas. The simple Scorpion outline in black ink is perfect if you're after an aesthetic and Tumblr-inspired tattoo. However, it's essential to find an experienced tattoo artist who can handle such intricate details. One tiny mistake could ruin the art forever. So, be sure to do your research and choose an artist who is familiar with this type of work.
Ideas For Men And Women
Tattoo Designs Scorpio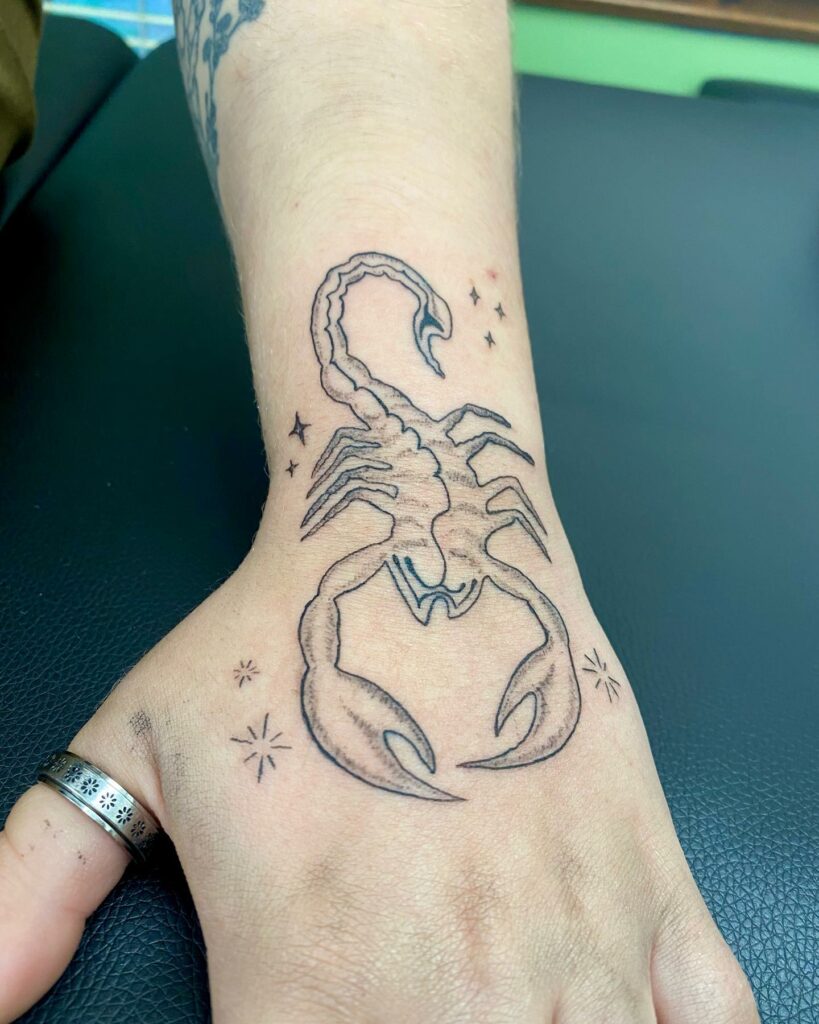 Tattoos Design On Shoulder Ideas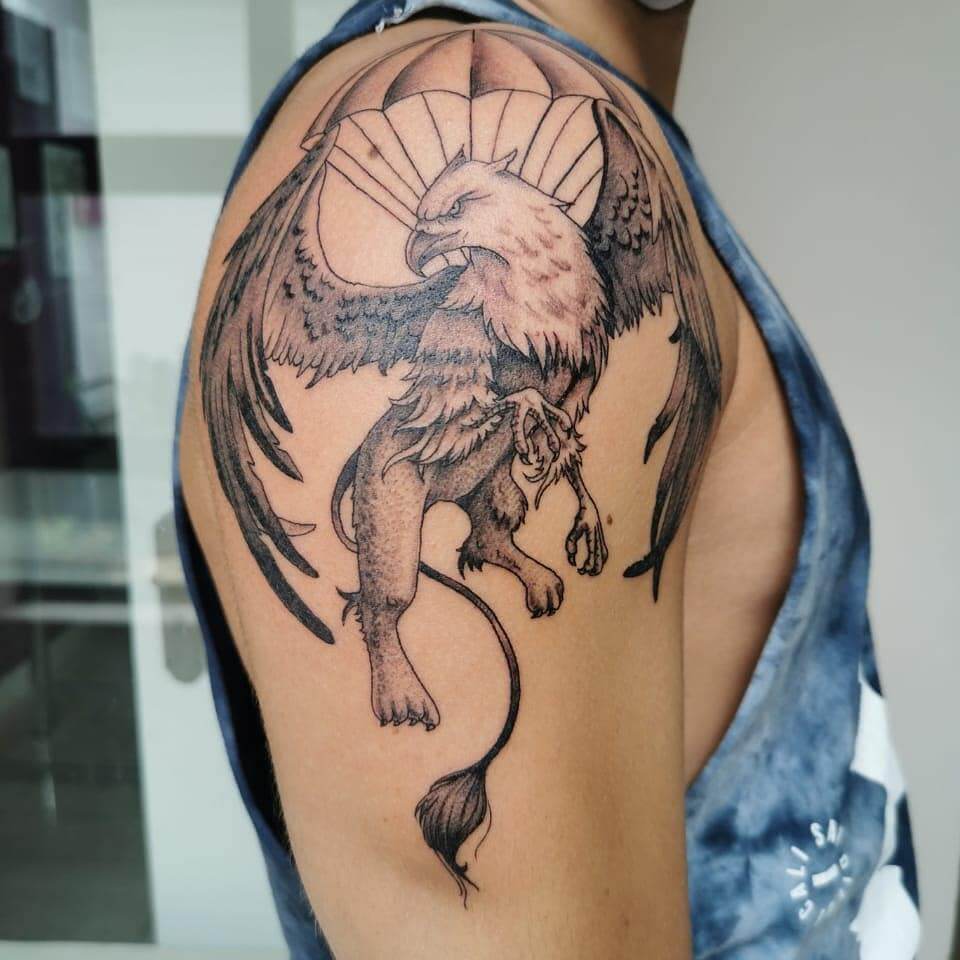 feature image from Pinterest – Want your tattoo to look brighter? Try "Tattoo Balm"
Last reviewed and updated on May 5, 2023