Are you looking for some spine-chilling gore tattoos that will connect you to your inner Goth? Look no further, here is an ideal list for you!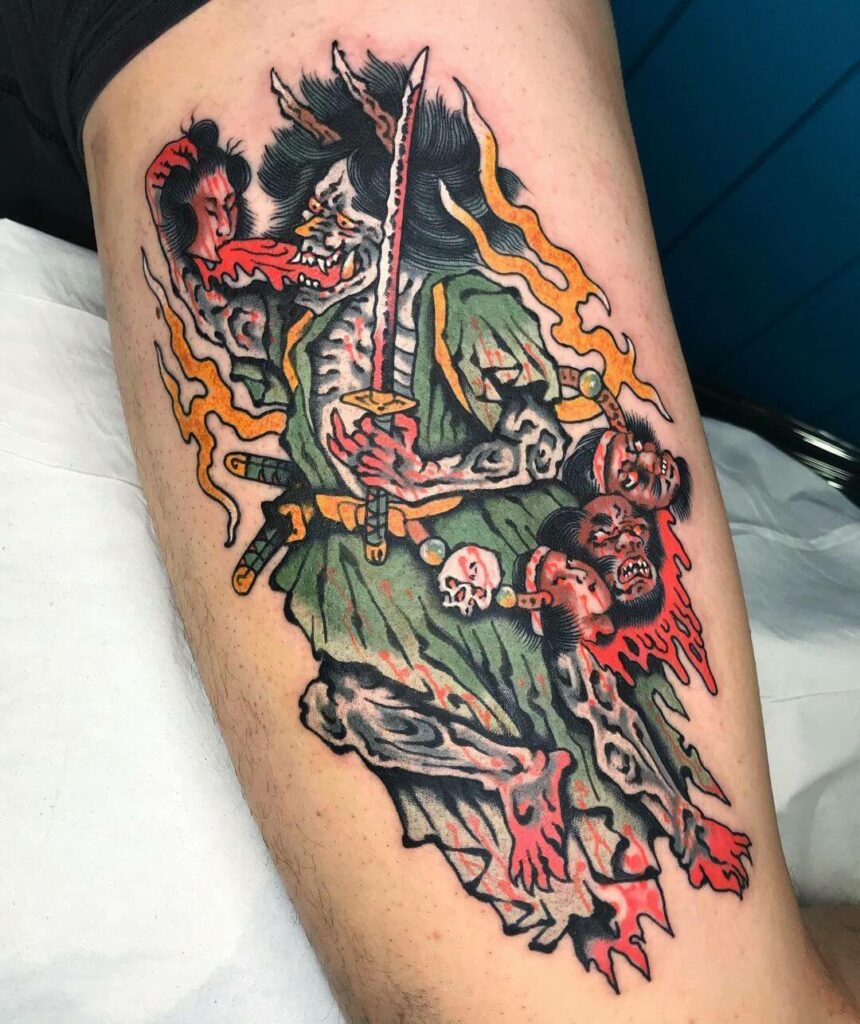 For anyone who likes body horror, the gore genre must be an exciting experience.
But to join the gore clan, a tattoo from the gore aesthetic is a must. As we all know, after all, a tattoo takes your fashion game to the next level.
To provide a suitable impression of the Goth, there are certain gore tattoo designs that one can choose from. Moreover, during Halloween, these tattoos are more in demand, therefore, it is advisable to refer to an artist for a better art piece. Goth tattoos with an adequate amount of gore are a perfect choice for a tattoo with a horror element. The feeling of flaunting gore tattoos on a chilly evening perhaps at some winter party is a thrill in itself. It can provide one with a sense of dare and adventure. With some gore theme instilled in it, it becomes all the more bloody and grotesque.
Manga Tattoo In Gore
Junji Ito known for his gore manga work is a popular choice for these gore tattoos. The body horror tattoos based on these manga works bear a uniqueness to them with a subtle element of horror. The tendency of these manga-inspired tattoos are that they carry a story of sanity slowly descending into the supernatural to become an unresolved, monstrous character and therefore to join the gore clan. Thus, it has a soul to it and is a perfect option.
Dark Themed Scar Cover Up Tattoos
Dark lined tattoo in the Gore theme is a classic. It is in its natural habitat and the artist can accentuate the integrities of the horror better with this. In this reference, being a long tattoo it is best suited on the arm, on the spine, or on the calf.
Nun Bloody Gore Tattoo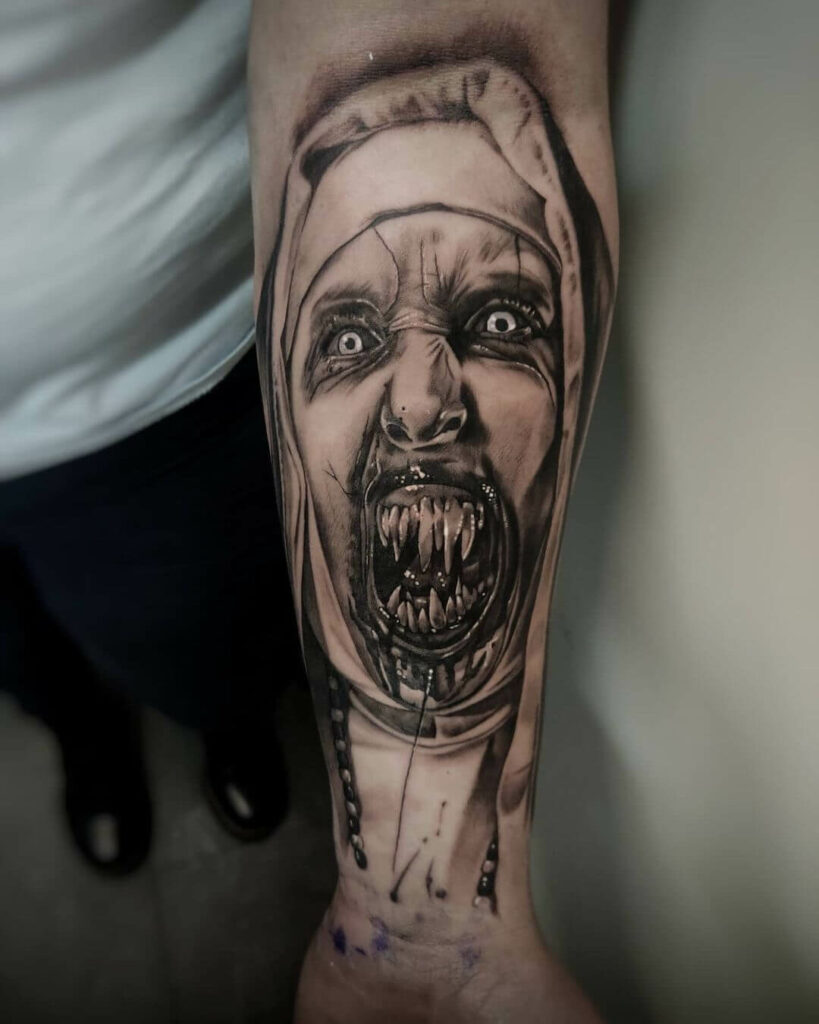 That scary nun who appears every time there's danger lurking around you, yes what is more ideal than this for a Gore-themed tattoo? In the month of Halloween and post it, a gothic twist to a religious figure is something absolutely spine-chilling and will surely turn heads to the tattoo. If you are a fan of the movie Nun, this can be a great tattoo to go for.
Pastel Gore Tattoo
Amidst all the dark thematic gore gothic, adding a bit of pastel colour to it not only gives the tattoo a chic outlook but also brings a certain amount of creep to it because of the chirpy, flamboyant colour theme but the tattoo idea being dark and haunting.
Lucifer In Gore With A Bold Work
There is no one perfect time or occasion to get a Lucifer-based goth tattoo. The Devil here to bind the soul in his name in the Winter month is an all-time favourite scene for a gore gothic tattoo enthusiast. This tattoo can have variations with different scenarios of Lucifer in action or customised scenes with the Devil.
Gore Dragon Tattoo
Be it in Ghibli, cartoons, or horror fantasy tales, a dragon is a popular choice for everyone. In symbolism, a dragon tattoo signifies prosperity, protection of the home, happiness, and longevity. To infuse an aesthetic of gore into it gives it a darker impression but also a fun twist to it if it has a colour pop to it.
Gore Art Tattoo
Getting an art piece based on one's idea of the theme is an open choice for the customers. One gets to think of their own scene with no limitation to the idea or in the interpretation of it perhaps with some flamboyant shades in it yet the scene being a scary one, thereby making it a head-turner gore art tattoo. Sounds like quite a plan, what say?
Chaotic Gore Magala Tattoo
Yet another dragon-based tattoo, the Gore Magala is the juvenile dragon in the Monster Hunter games. Therefore this is one of the most appropriate choices for video game lovers and this being a detailed tattoo, it is best to keep it black themed. This tattoo is usually a time-consuming one so it is better to book the session with the tattoo artist a month before at least.
Venom Tattoo In Gore
The shape-shifting extraterrestrial character often regarded as a villain in the Marvel comics is a worldwide famous choice. So as it goes without saying, a Venom tattoo that too in gore theme is something no one can not like. It is a gothic symbol of hatred and the duality in life.
Creepy Gore But Cute Tattoo
Baphi goat: the symbol of the Devil but with a cute colour shade; absolutely creepy choice. With the bright colour pop, it signifies a happy go lucky charm to it but the character is one of the most fearsome figures in existence for the God fearing population, it acts like a " knife dipped in sugar ". It is idiosyncratic, and peppy yet bears a certain interpretation to it which can vary from one perspective to another.
Gore, not being a very convenient option for a tattoo, it is advisable for the person to have healthy communication with the artist and to log in and research enough about it to gain substantial knowledge. In western countries like Canada, the US, France, Italy, UK the gore theme is popular but in countries like India, Bangladesh, Pakistan, and Nepal the theme is not easily grasped by the audience. You can also add human elements and splatter colour to make gore more prominent. Which again can pose as a unique theme.
Feature Image from Pinterest – Want your tattoo to look brighter? Try "Tattoo Balm"