Have you always been craving for a detailed gradient tattoo? Then you can just check out these awesome gradient tattoo ideas.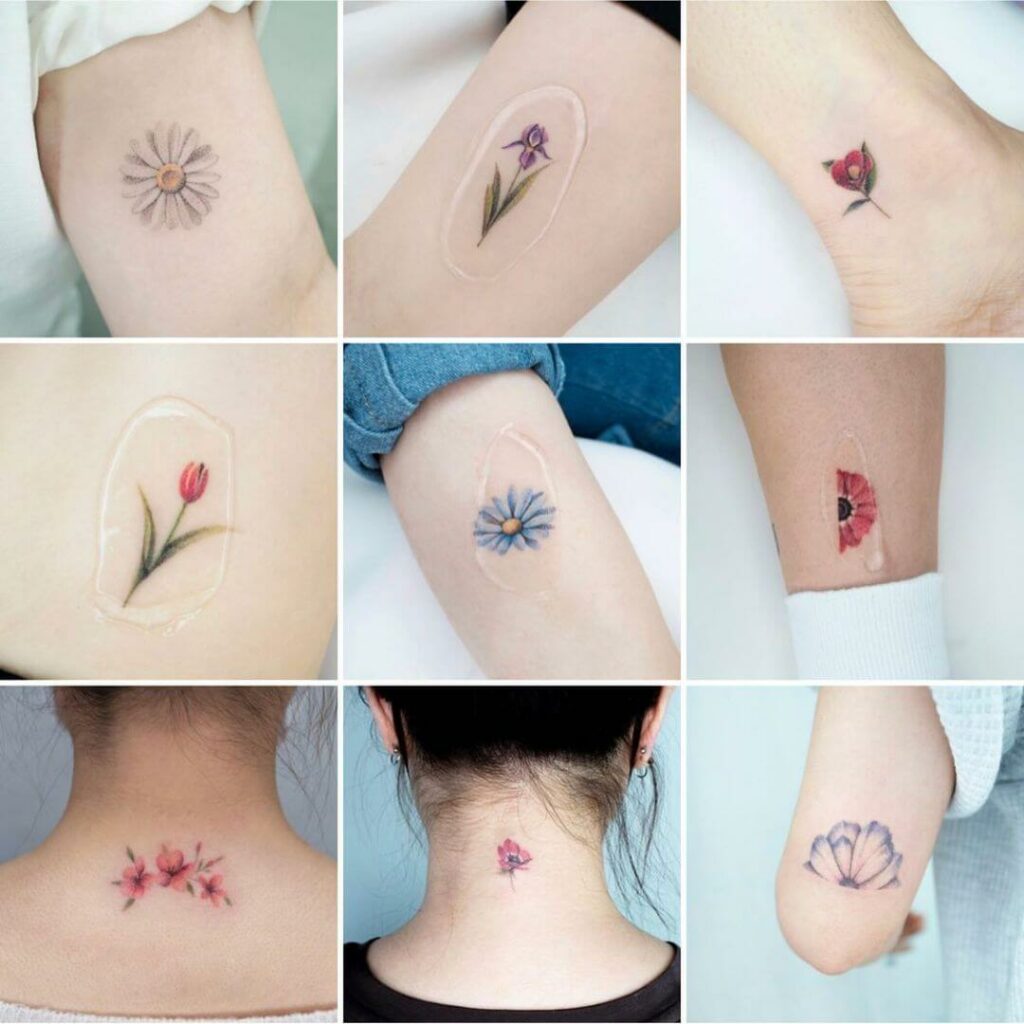 The first thing that you have to keep in mind before searching for gradient tattoos is the type of gradient tattoos you want to choose from.
It is true to say that when it comes to gradient tattoos, black and grey are the longest sustaining colour combination. Yet skilled tattoo artists can transform any gradient tattoo into a magnificent one.
Gradient tattoos are very much in fashion in the hub of South Korean artists. Monochrome colours are widely used in gradient tattoos to create depth and shades. The catch lies in blending different colours and contrast in a gradient tattoo, be it monochrome gradients or colourful ones. If you research more about gradient tattoos you will get to know how the artists designed cartoon characters using the gradient technique.
Here we have made your research work easy with some cool and funky gradient tattoo ideas. It's time to choose the right tattoo design and of course right artist.
Colour Splash With Waves
If you are a fan of watercolour painting then you are simply going to love this tattoo! Here the artist has created the effect of waves using his or her skilled ability in this tattoo. The canvas clearly depicts how well the artist is able to understand colour theory. The sole motto of a gradient tattoo is to flaunt ink flawlessly.
This tattoo reminds us of the bold colours we used to use in our childhood artistry! The emphasis on the choice of colours accentuates the detailing and blending. The artist has used the bright contrast to keep a symphony with the rainbow and has created the illusion of colourful waves.
Gradient Alphabets
Inking alphabets has always been considered a good gradient tattoo option. Here, as you can see the artist has chosen vibrant blue and black instead of monochrome gradients and which has worked with the design. The main highlight of this tattoo is its grainy texture which does resemble sand.
When you decide the alphabet for the tattoo, you can also choose bold colours like this dark black and blue tattoo. This tattoo artist has made the gradient tattoo in a smaller size, yet skilled tattoo artists can make a good gradient tattoo in a bigger space.
Gradient Sci-Fi Dream Tattoo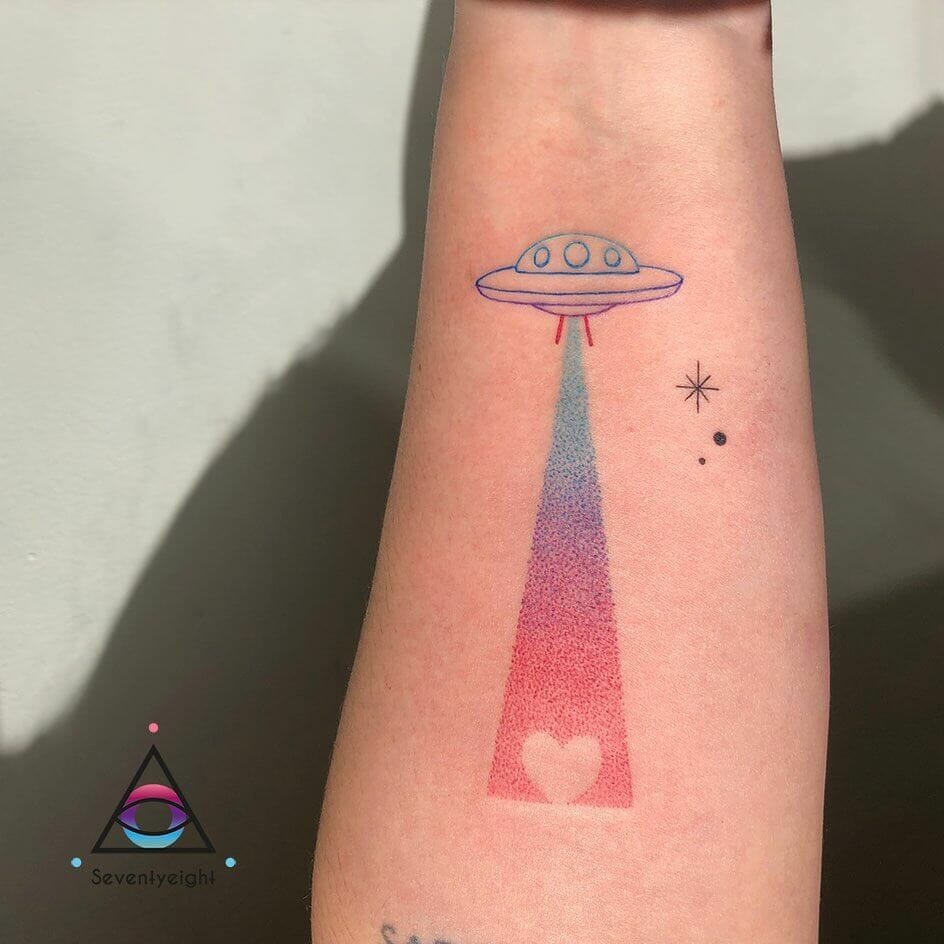 Are you a fan of the sci-fi universe and have been wondering how to make your passion a part of your life? Well, what can be better than a cute tattoo like this to achieve that dream? You can choose your wrist or forearm to flaunt the body ink.
In this tattoo, the gradient part resides in the triangular light portion of that cute UFO. If you give it a close look, it shows the strong deep hues of the colours and blends of shading. This is the sign of the skilled ability of a skilled artist who knows tattoo works. This colour gradient tattoo can also be seen as an example of a geometric abstract pattern.
Ink Your Little Cat
As you can see here, this gradient tattoo is a true celebration of monochrome gradients. You can see how the body of the little pussy shows shading and work of fading gradient. Each and every grain has been transported the tattoo to the next level.
You can definitely consider this gradient tattoo idea if you are a cat person and you want your little fluffy friend to stay with you forever through this amazing work of art.
Colour Patches
Well, we all want something classic at one point or the other. Then why not with gradient tattoos! A colour patch tattoo like this. This one can also be considered as a rainbow gradient tattoo. The colours accentuate any tattoo and here the themes relating to the tattoo gradient is simply awesome.
If you choose the right artist, your tattoo may also look like this fine piece of art. Here the artist has used a watercolour painting like background for depth and then used the needles to form this gradient dot work tattoo. If you want to explore something else than cartoon characters then the strong deep hues of this tattoo will surely become a good choice!
A Cute Bunny Tattoo
As we have mentioned that there are many artists who designed cartoon characters in a tattoo design, it is not necessary that a bunny has to be a 'bugs bunny'. You can imagine your own cartoon bunny and tell your artist what you want. This tattoo here is a blend of monochrome and colour. The artist has used the technique of highlighting the colour through black. As shown here, this tattoo design will look fabulous on your skin and create a funky look.
Lucky Charm In Your Arm
Even if you do not believe in a 'lucky charm', this clove leaf tattoo will surely send you good vibes. As we were earlier talking about colour theory, here we can see how this artist has made a true celebration of nature. In this small gradient tattoo, the artist has used both light and dark green to create life. We can differentiate each and every part of the leaf in such a small sphere due to the excellent tattoo gradient shading of the artist.
Close To Nature Gradient Tattoo
While searching for the best tattoos in the category of geometric gradient pattern tattoos we came across this masterpiece. One of the most beautiful aesthetic tattoos is where the artist has used both dark black and vibrant colours to give a treat to the eyes. This gradient tattoo depicts a tree cycle with the cycle being portrayed in the best quality possible. Where the smaller circles show detailed work, the bigger circle uses fine lines to give a birds-eye view. This gradient tattoo gives a whole new perspective to nature lovers. It also puts highlight to the idea of hope as light comes through the forest. The bright red portion works as an eyecatcher and also shows how the ink flawlessly flows through the pattern.
Bring Out The Flash
This cool and crazy gradient tattoo is surely going to tickle your sporty nature and bring out lots of energy and inspiration. This one can be considered one of the most unique tattoos where the artist has not used tattoo outline to the glasses. Instead, he or she has let the colour blend into the skin perfectly. The artist has used a blending of orange, red and sunset yellow to give the perfect sports goggle effect in the artwork.
Beach Colours
Last but not least here is another unique gradient tattoo idea where you can find themes relating to travel and beaches. In this tattoo design, you will find vibrant colours and shades used in the fading gradient. The contrast that has been formed using both light and dark colours have transported the tattoo to the next level. This one will surely look great on your forearm even at your back.
After going through all the tattoo ideas, maybe you have gotten a whole new perspective about gradient tattoos. Your tattoos speak a lot about yourself, so choose the design wisely and go for it. Before you pick your favourite design, you can search the following:
Feature image from Pinterest – Want your tattoo to look brighter? Try "Tattoo Balm"
Last reviewed and updated on March 9, 2023