Hey there, Gravity Falls fans! If you can't get enough of the wacky adventures of Mabel, Dipper Pines, and Grunkle Stan, you're in for a treat. We've put together a collection of Gravity Falls tattoos that'll have you itching for some ink!
Gravity Falls is hands down one of the quirkiest and cleverest cartoons ever to grace our screens. If you haven't yet experienced Mabel and Dipper's Oregon escapades, allow us to introduce you. In a nutshell, these eccentric but lovable twins spend their summer in the enigmatic town of Gravity Falls with their great uncle, and they soon find themselves unraveling a host of mysteries.
This animated gem is a masterclass in sharp wit, offbeat characters that'll quickly win your heart, and a continuation of Disney's storied tradition of delivering top-notch entertainment without fail.
So, it's no wonder people are excited about getting their very own Gravity Falls tattoos. We've curated a list of ink-tastic Gravity Falls tattoos featuring everyone from Mabel and Dipper to Grunkle Stan, Bill Cipher, and even Waddles.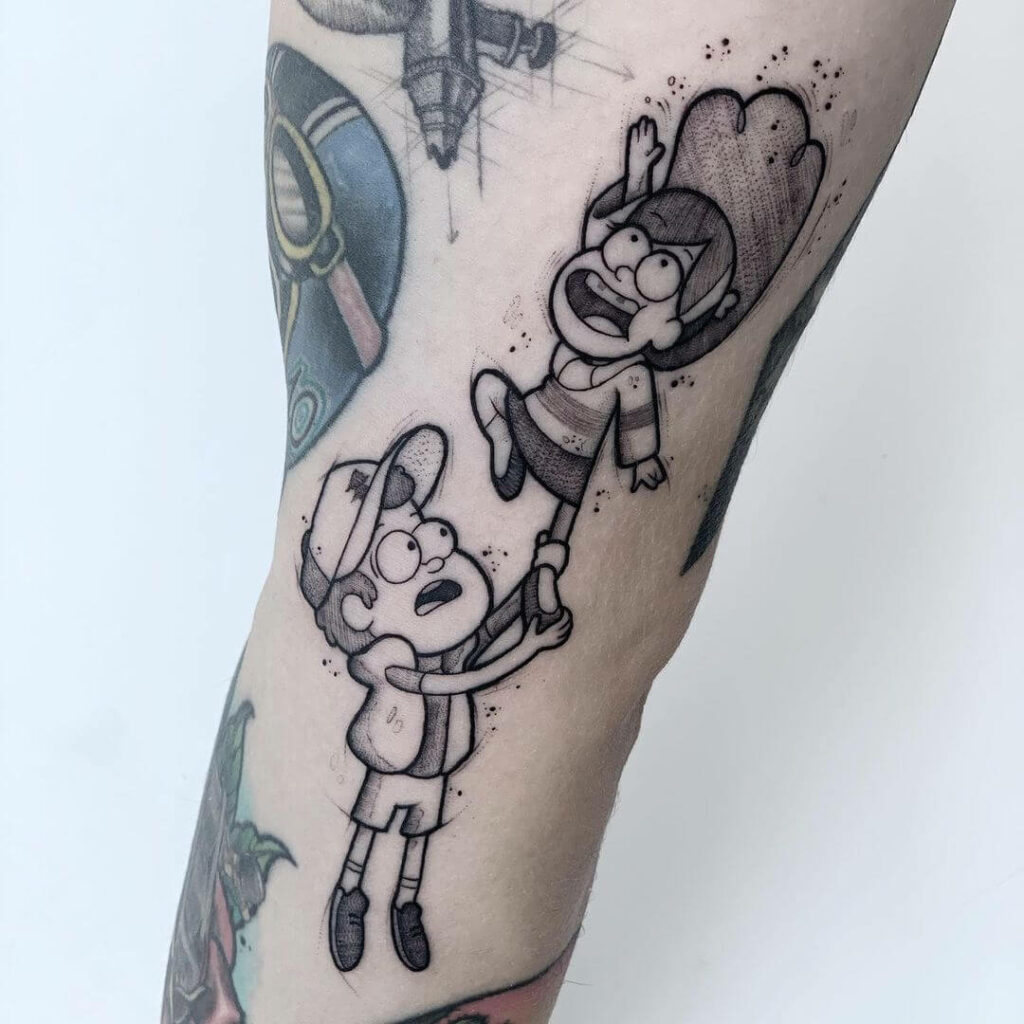 Dipper Pines Gravity Falls Tattoo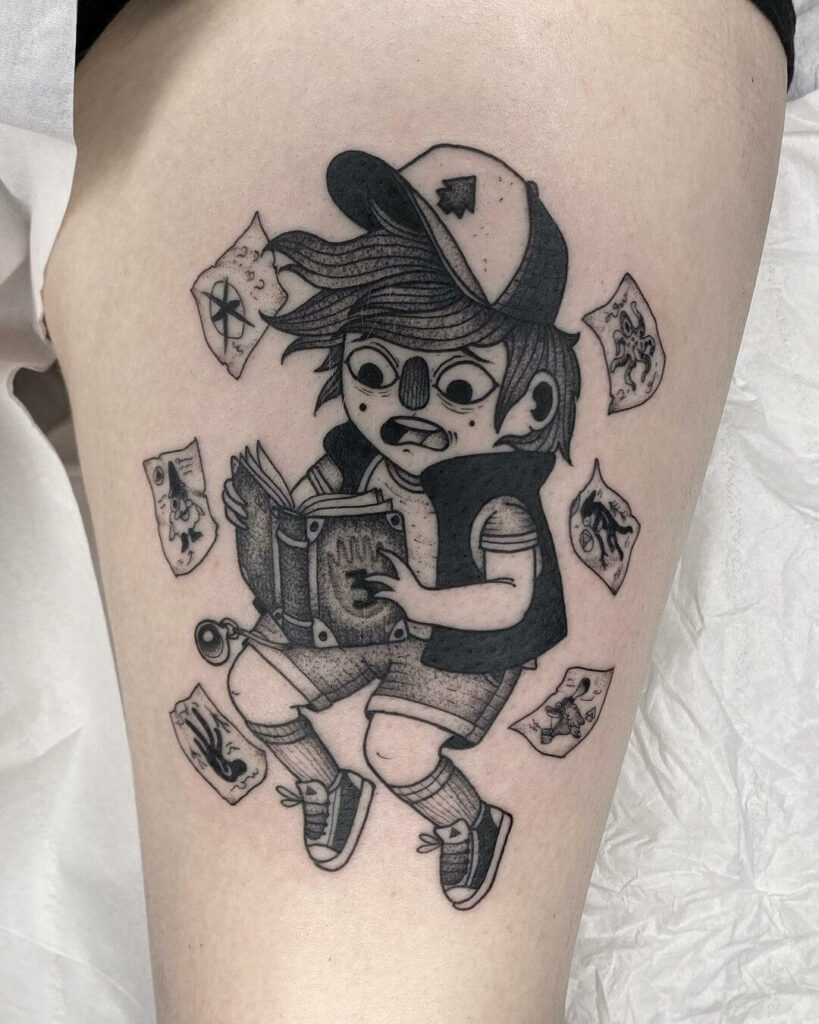 Opening our exploration of fascinating tattoos, we present a striking Dipper Pines piece, masterfully executed in the intricate blackwork style. For the uninitiated, Dipper Pines is a spirited 13-year-old character from the beloved animated series, Gravity Falls, where he embarks on thrilling adventures, armed with a cryptic journal as he uncovers the town's paranormal secrets.
This captivating design is modest in size, making it a perfect choice for placement on areas like the outer bicep or the forearm. The blackwork style adds a sense of depth and contrast to the piece, accentuating Dipper's charismatic persona. If you're a fan of the show or simply adore charming designs, this Dipper Pines tattoo might be the perfect homage to your love for the character's intrepid spirit. As with any tattoo, we encourage you to consult a skilled artist to ensure the best possible representation of this delightful design on your skin.
Mabel Pines Gravity Falls Tattoo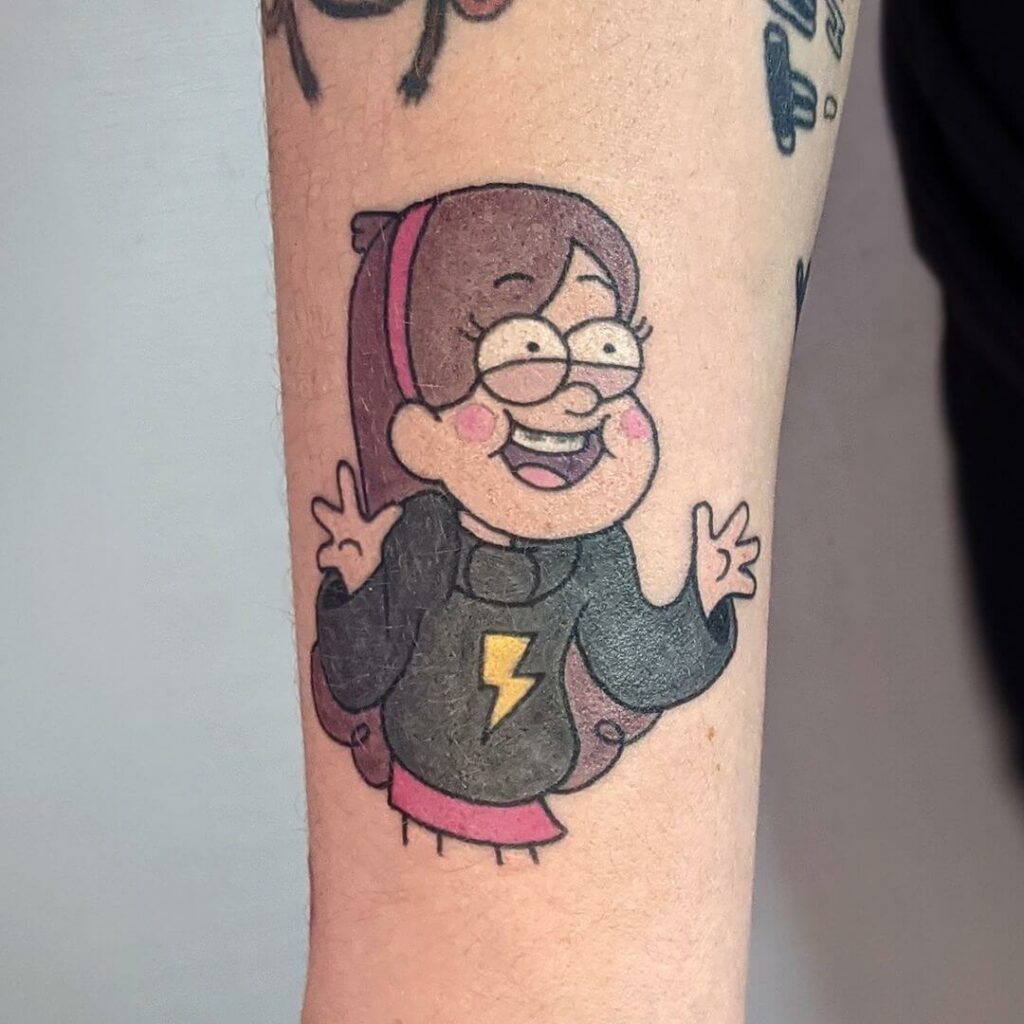 In the world of Gravity Falls, it's impossible to mention Dipper Pines without acknowledging his equally endearing twin sister, Mabel Pines. As such, it's only fitting that we spotlight a delightful Mabel Pines tattoo for the series' devoted fans.
This charming design features Mabel's vibrant, cheerful visage and would make a stunning addition to your forearm, where her infectious smile is sure to garner countless compliments. Mabel's quirky personality and lighthearted outlook on life have endeared her to viewers and have even led some to consider her their "spirit animal."
If you've been mulling over the idea of immortalizing Mabel Pines on your skin, consider this a gentle nudge in that direction. As always, consult with a reputable tattoo artist to ensure your Mabel Pines piece captures the essence of this beloved character in all her whimsical glory.
Wendy Corduroy Gravity Falls Tattoo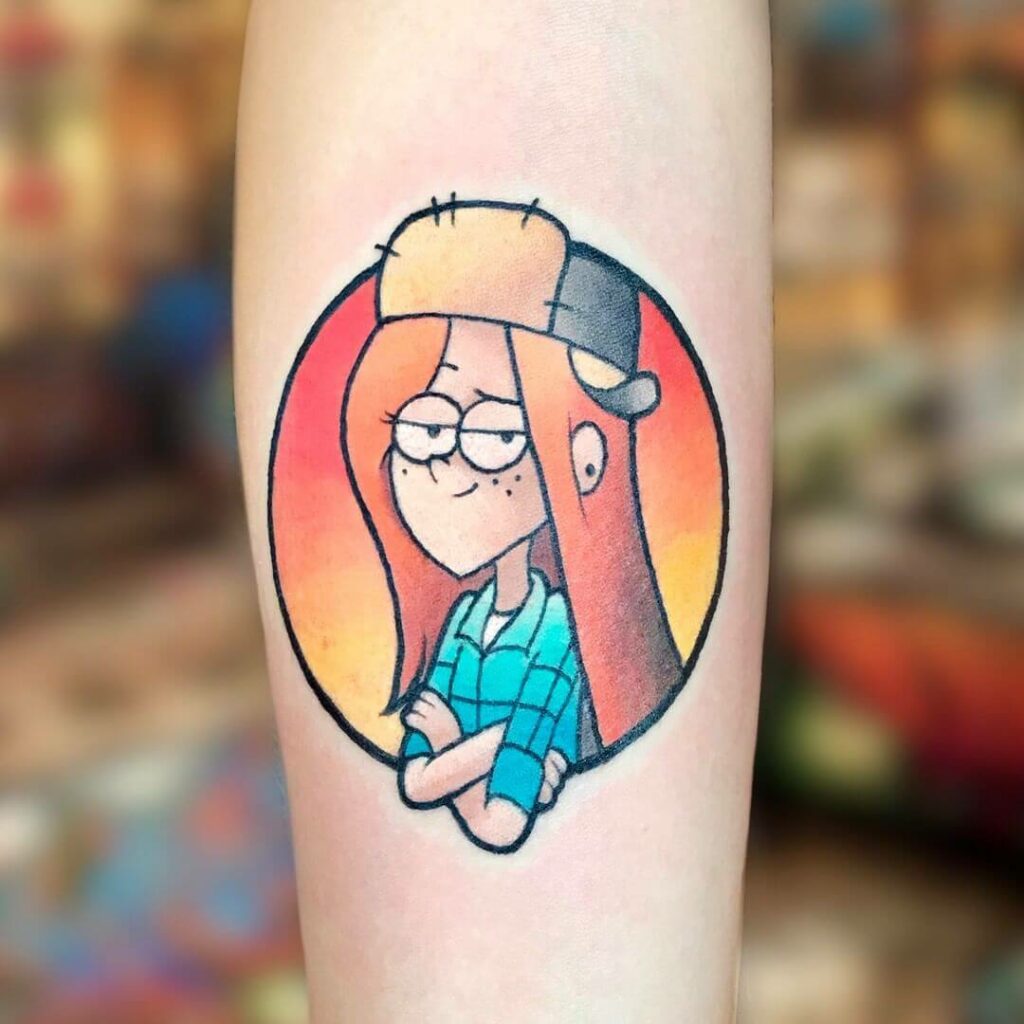 Though Mabel Pines is undoubtedly a fan favorite, we mustn't overlook the undeniably cool Wendy Corduroy from Gravity Falls. Her adventurous spirit and rebellious nature have resonated with many viewers, earning her a special place in the hearts of the show's community.
To celebrate Wendy's unique charm, we present a captivating, colorful Wendy Corduroy tattoo design that will surely enchant fans. If you find yourself identifying with Wendy's bold character and consider her your spirit animal, this tattoo might be just the right tribute to express your admiration.
As with any tattoo, it's essential to consult with a skilled artist to ensure the design captures Wendy's essence and matches your vision. So, if Wendy Corduroy's tenacity and charisma speak to you, consider this vibrant tattoo as a way to celebrate her distinctive presence in the world of Gravity Falls.
A Tattoo Of Waddles From Gravity Falls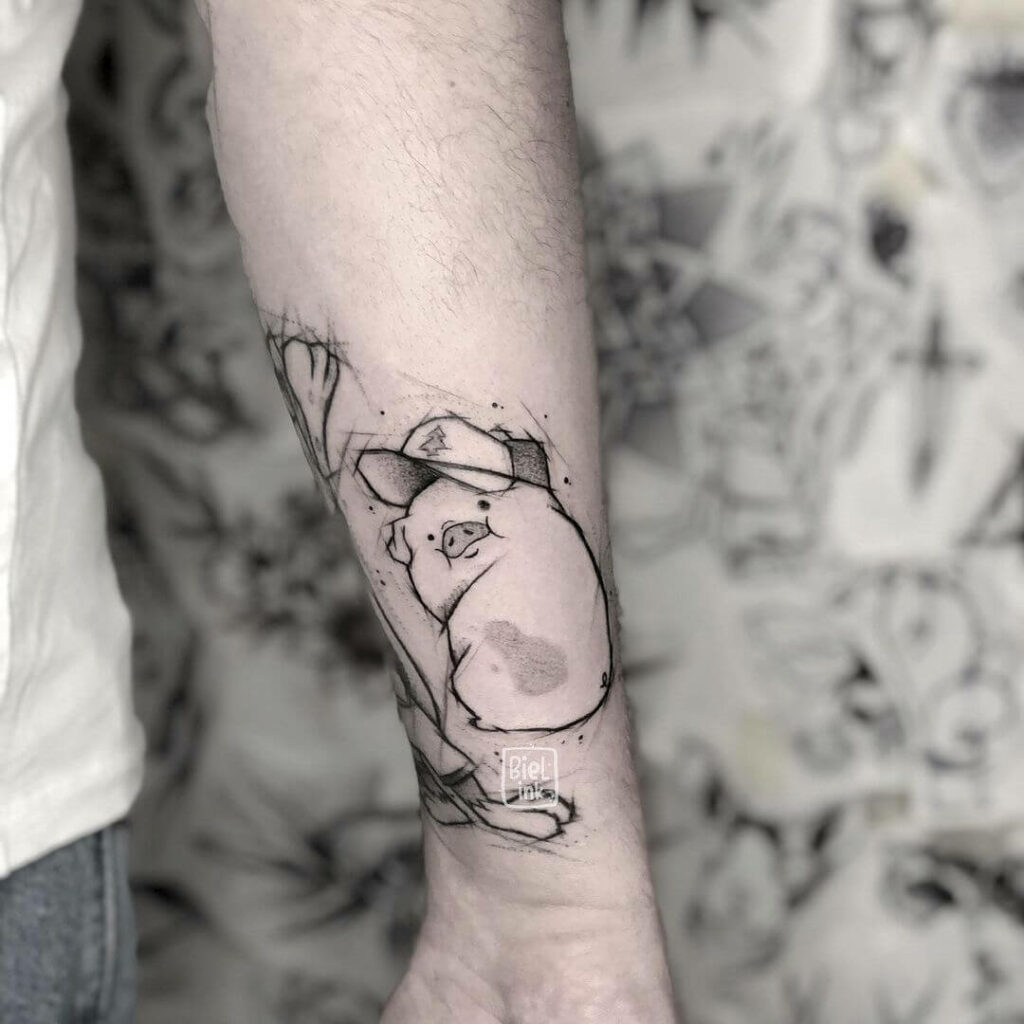 In the realm of delightful tattoos, it's hard to imagine anything more endearing than a piece featuring Waddles, the lovable pet pig from Gravity Falls. We may have used the word "cute" quite a bit already, but it's truly the most fitting descriptor for this charming design – though "adorable" comes in as a close second.
This Waddles tattoo showcases the heartwarming bond between Mabel and her cherished pet, and is brought to life using delicate, thin linework. Adding a whimsical touch, Waddles dons Dipper's signature cap, further enhancing the design's irresistible appeal.
If you're a fan of the heartening friendship shared by Mabel and Waddles, or simply appreciate the irresistible charm of a plump piglet sporting a cap, this tattoo might just be the perfect way to express your affinity for these memorable Gravity Falls characters.
A Tattoo Of Bill Cipher From Gravity Falls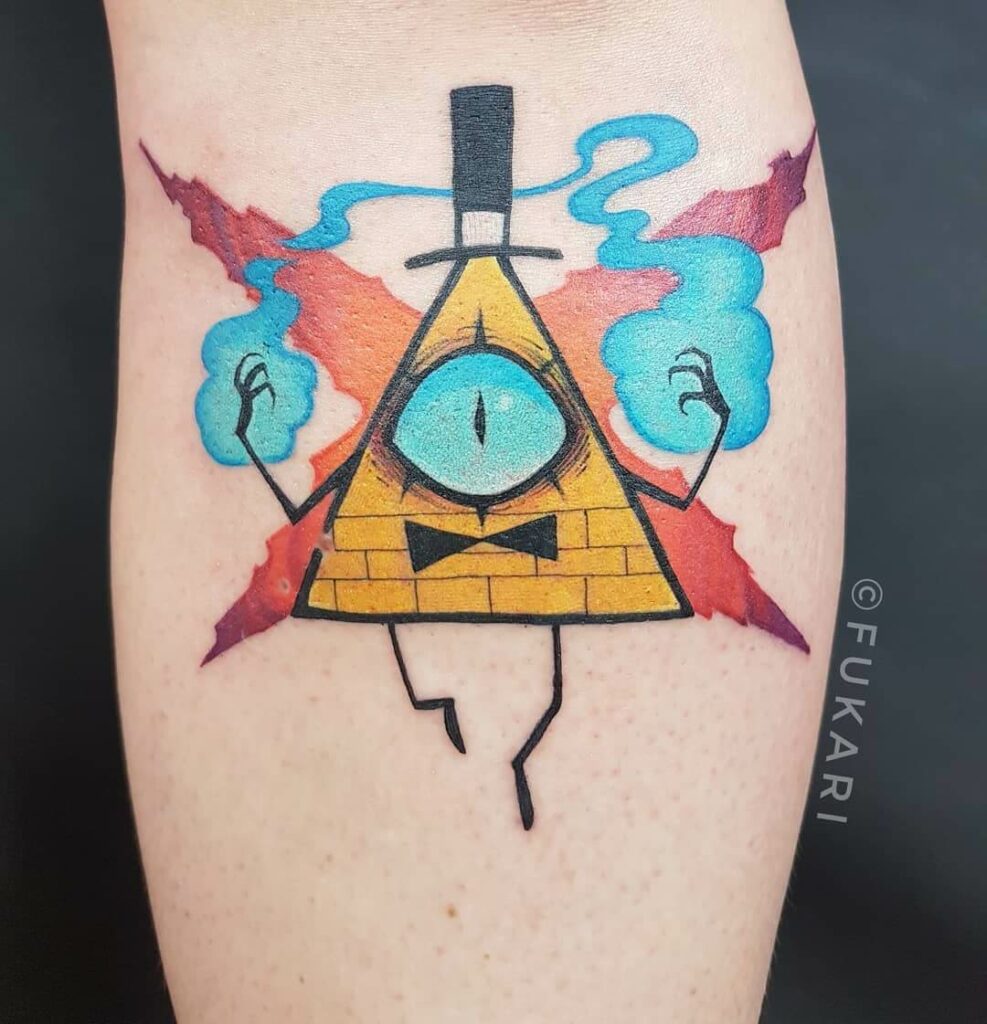 For those who revel in the darker side of Gravity Falls, a Bill Cipher tattoo may be the ultimate tribute to the show's sinister, supernatural antagonist. It's no secret that villainous characters often hold a unique allure, and Bill Cipher is no exception.
As a fan-favorite, Bill Cipher's nefarious exploits have made him a sought-after subject for tattoos, particularly among fellow Gravity Falls enthusiasts. This enigmatic character is known for his penchant for tormenting the show's residents, including Mabel and Dipper Pines, which only adds to his mystique.
If you're drawn to the captivating presence of Bill Cipher, a tattoo featuring this infamous villain is sure to leave both you and your fellow Gravity Falls fans in awe. As always, work with a skilled tattoo artist to ensure that your Bill Cipher design captures the essence of this intriguing and popular character.
Gravity Falls Stan Tattoo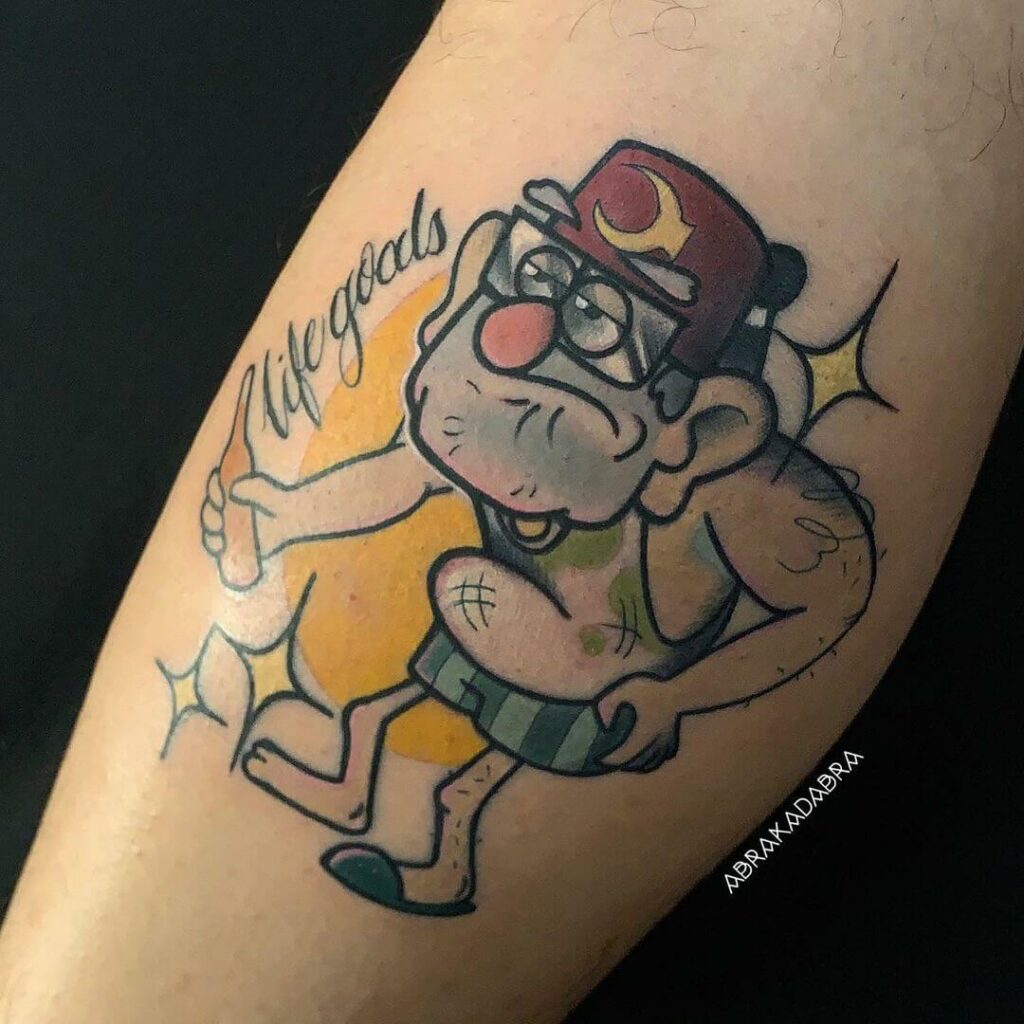 In our exploration of Gravity Falls-inspired tattoos, it would be remiss not to mention a Stanford/Stanley Pines piece. Heralded as the genius of all geniuses, this character's story is both captivating and complex.
After years of facing corruption and disgrace, Stanford/Stanley Pines finds solace in the enigmatic town of Gravity Falls. Despite his past, he becomes a beloved figure in the community, supporting himself by capitalizing on local folklore and operating a quirky tourist attraction known as The Mystery Shack.
For fans drawn to anti-heroic characters, a Stanford/Stanley Pines tattoo may be the perfect choice. This design boasts a neo-traditional aesthetic, faithfully capturing the character's distinctive features. As with any tattoo, be sure to collaborate with a talented artist who can bring your vision to life and create a stunning tribute to this multifaceted Gravity Falls icon.
Mabel And Dipper Pines Matching Sibling Tattoo
The timeless appeal of matching tattoos endures, and we've discovered a heartwarming design that's perfect for a brother-sister duo who share the same bond and loyalty as Gravity Falls' Mabel and Dipper Pines.
This endearing tattoo set features artful renditions of Mabel and Dipper, each lovingly crafted by the artist. What sets this design apart and adds a personal touch is the way Mabel is highlighted for the sister's arm, while Dipper takes center stage on the brother's. It's a creative way to showcase the unique connection between siblings, just like the Pines twins.
If you and your sibling share a special bond, consider this charming matching tattoo design as a celebration of your enduring friendship and loyalty. As always, work with an experienced tattoo artist to ensure the final result captures the spirit of Mabel and Dipper and reflects the love you share with your brother or sister.
Gravity Falls Hand Poke Rainbow Tattoo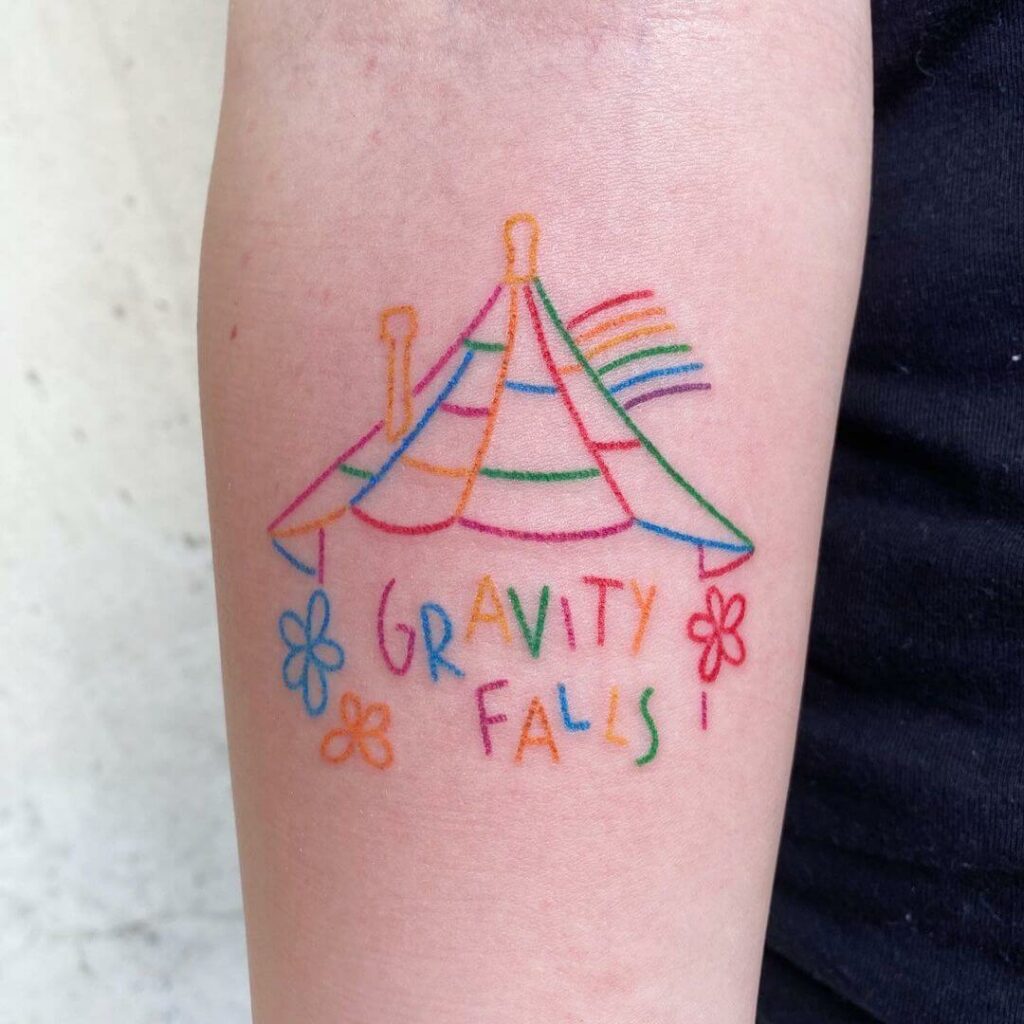 In recent years, hand-poke tattoos have gained immense popularity among tattoo aficionados, celebrated for their distinctive, artisanal quality. As such, it's only fitting that we highlight a Gravity Falls-inspired design well-suited for this trendy technique.
This particular piece is notable for its simplicity and vibrant, rainbow-hued outlines. Its minimalistic, charming aesthetic boldly proclaims your love for the show while remaining true to the essence of what tattoos are meant to achieve—personal expression and artistic individuality.
If you're a fan of hand-poke tattoos and Gravity Falls, consider this delightful design as a way to combine your interests while making a bold statement. As always, consult with an experienced tattoo artist who is well-versed in the hand-poke technique to ensure the best possible outcome for your one-of-a-kind tribute to this beloved animated series.
The Lost Journals Of Gravity Falls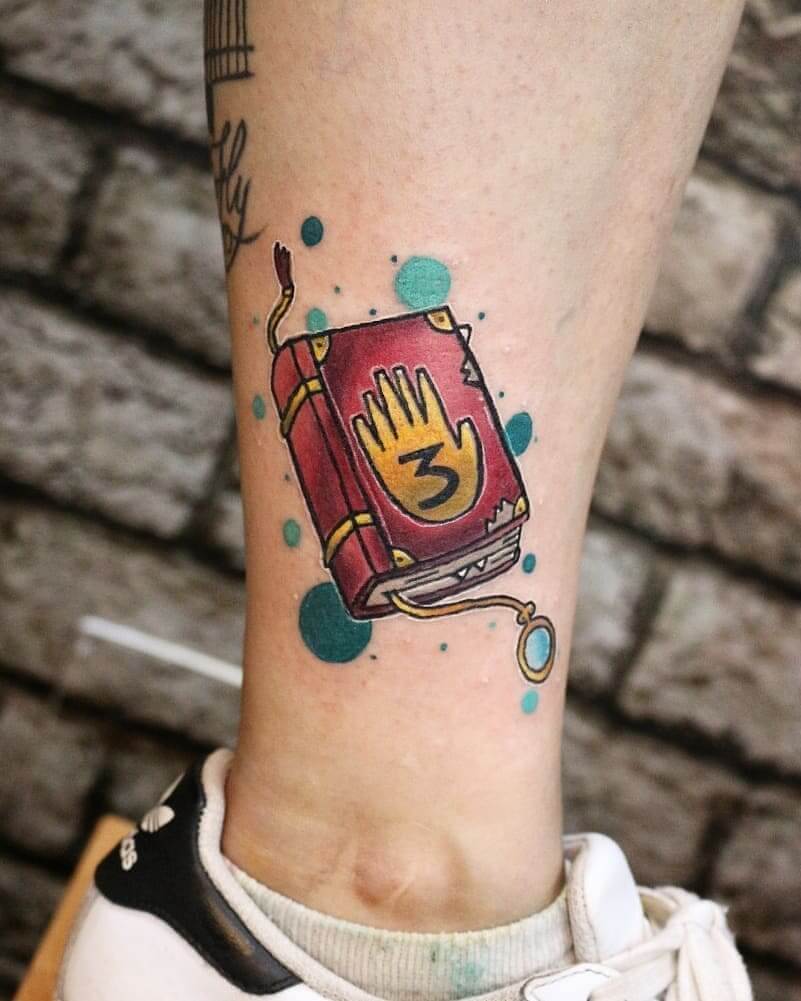 At last, we're delighted to showcase a tattoo design inspired by the infamous lost Journal No. 3 of Gravity Falls. As an integral element of the show's storyline, this iconic journal naturally lends itself to a charming and compact tattoo design.
This subtle yet meaningful piece serves as a tasteful nod to the beloved series, making it an ideal choice for Gravity Falls fans seeking a less intricate tattoo that still pays homage to their favorite show.
If you're a devoted Gravity Falls enthusiast looking for a discreet way to express your passion for the series, consider this Journal No. 3 design. As always, collaborate with a skilled tattoo artist to bring your vision to life and create a piece that captures the essence of the enigmatic journal while reflecting your own personal style.
Gravity Falls Trust No One Tattoo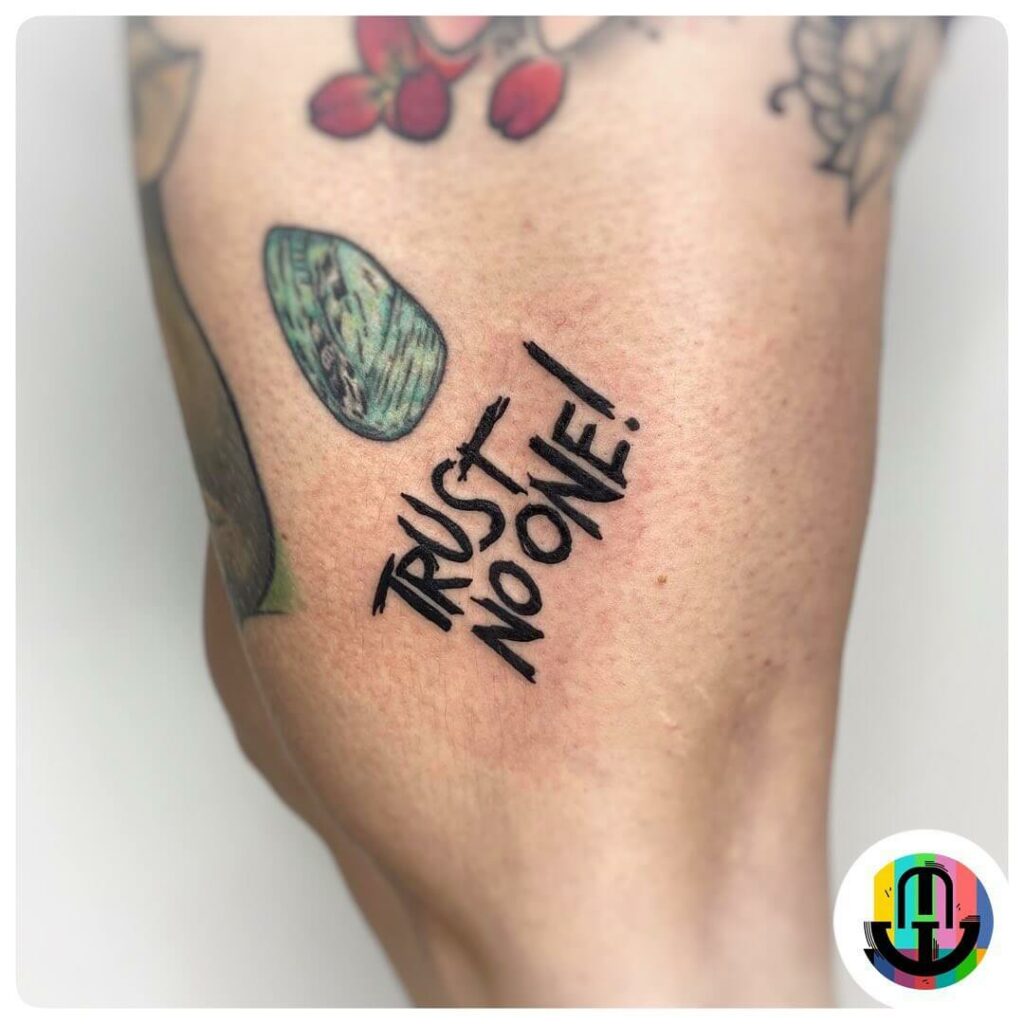 As we wrap up our exploration of Gravity Falls-inspired tattoos, we present the iconic "Trust No One" design, often associated with the enigmatic Bill Cipher and the statue found in the Mystery Shack. This tattoo not only serves as a reference to the show, but also pays tribute to its ultimate antagonist, the cunning and sinister Bill Cipher.
For fans seeking a darker, more humorous take on Gravity Falls, this design is a fitting choice, capturing the show's unique blend of intrigue and wit.
With that, our Gravity Falls tattoo journey comes to a close. The show's passion and relevance have sparked countless discussions and rekindled cherished childhood memories. Though it's technically a children's cartoon, the depth and resonance of its themes have garnered a devoted adult following as well. And let's not forget the adorable Waddles, the lovable pig that graces some of the cutest tattoos you'll ever encounter.
If you're considering a tattoo inspired by this beloved series, be sure to collaborate with a talented artist to create a design that celebrates your love for the show and captures the essence of the captivating world of Gravity Falls.
Feature image from Pinterest – Want your tattoo to look brighter? Try "Tattoo Balm"