Are you on the hunt for a shark tattoo that's both dangerously cool and totally unique? Look no further than the hammerhead shark tattoo – a stunning and increasingly popular choice among marine enthusiasts and tattoo lovers alike.
Despite their fearsome appearance, hammerhead sharks are actually quite docile creatures and pose no threat to humans. But their distinctive shape and powerful presence make them a powerful symbol of confidence, fearlessness, and a go-getter attitude.
In different cultures, the hammerhead shark has been interpreted in various ways. For example, the Polynesian people see these creatures as divine emblems of protection, while the Celts view them as skilled hunters. Fishermen and sailors often wear hammerhead shark tattoos as a talisman for protection against the dangers of the sea.
So if you're ready to take your tattoo game to the next level, check out our curated list of the coolest hammerhead shark tattoo designs trending on the internet. Whether you're looking for a bold statement piece or a more subtle nod to your love of the ocean, you're sure to find the perfect hammerhead shark tattoo to express your unique personality and style.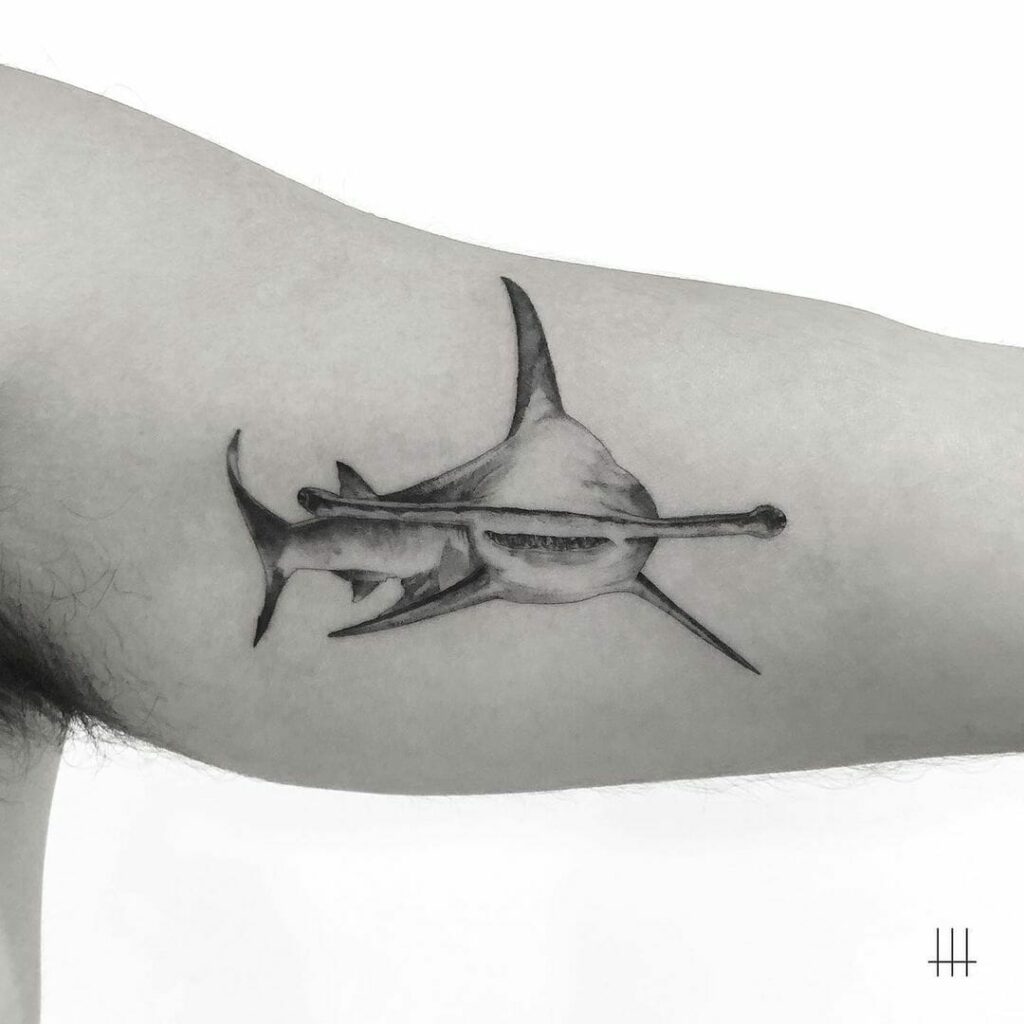 Traditional Hammerhead Shark Tattoo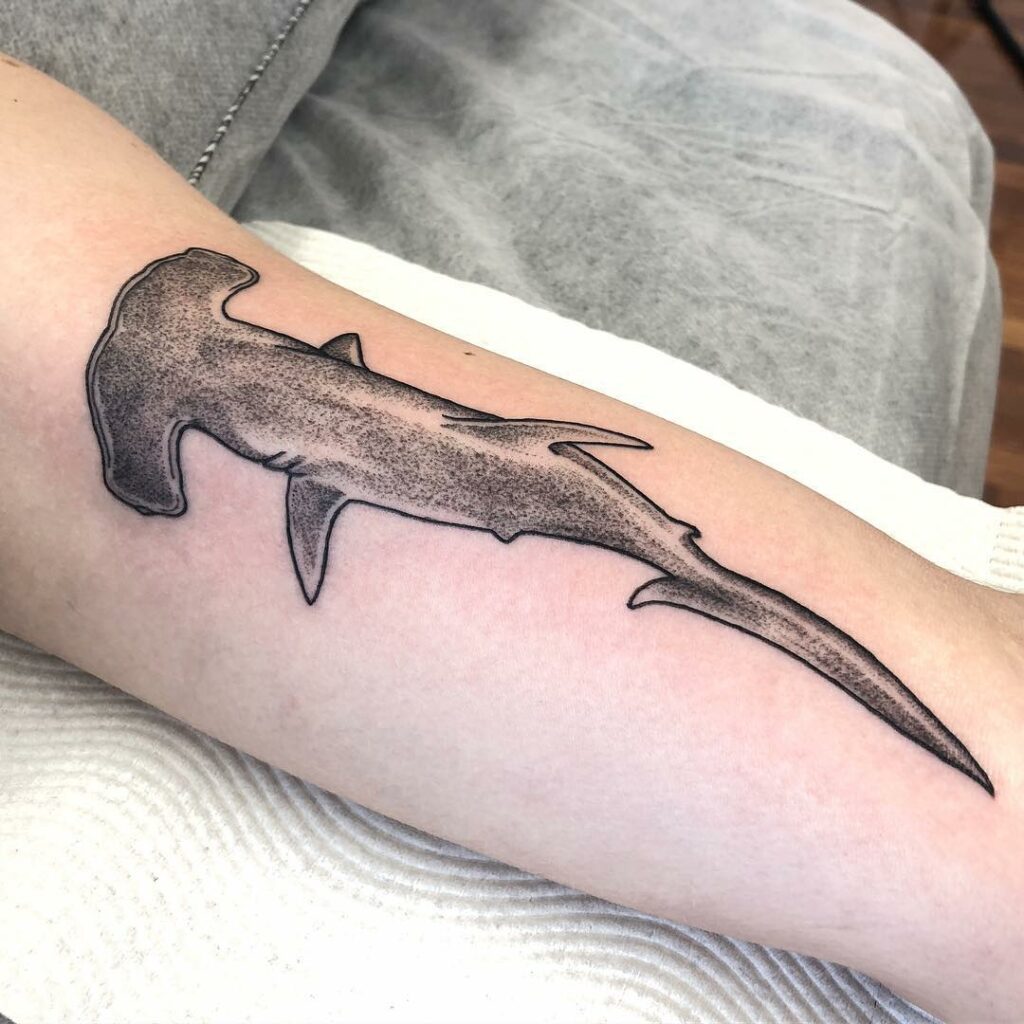 Sharks are fascinating creatures and getting a tattoo of them is a great way to showcase their beauty and power. To do justice to these majestic creatures, an old-school full-body tattoo is a perfect way to go. The artist outlines the shark with plain black ink and fills it up with intricate dot work. This tattoo style may be simple, but it perfectly captures the essence of the shark's spirit.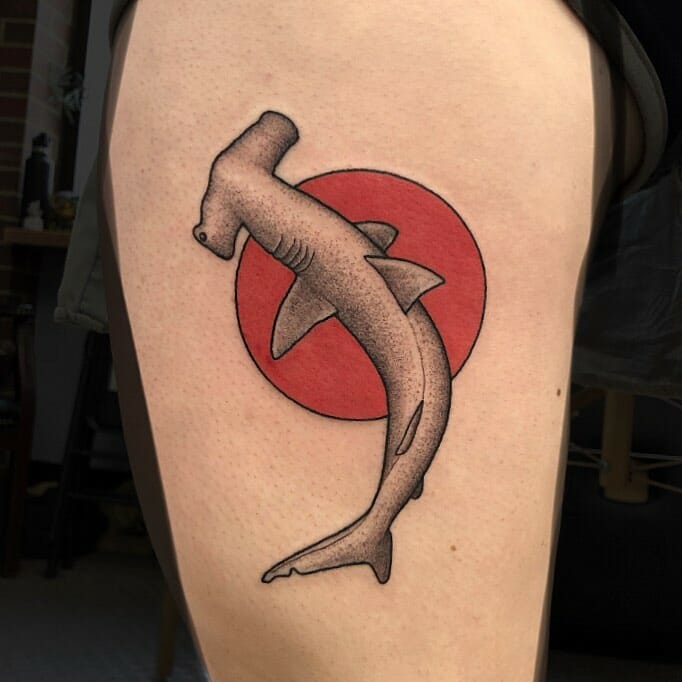 Looking for a shark tattoo that's simple yet bold? Check out this design featuring a shark in black ink with a pop of bright red color for added impact. The red circle provides balance to the design and fills the negative space around the shark. This tattoo is perfect for those who want a minimalist style that still makes a statement. Consider placing it on your forearm or upper arm to showcase this fierce and powerful creature.
Hammerhead Shark Tattoo On Back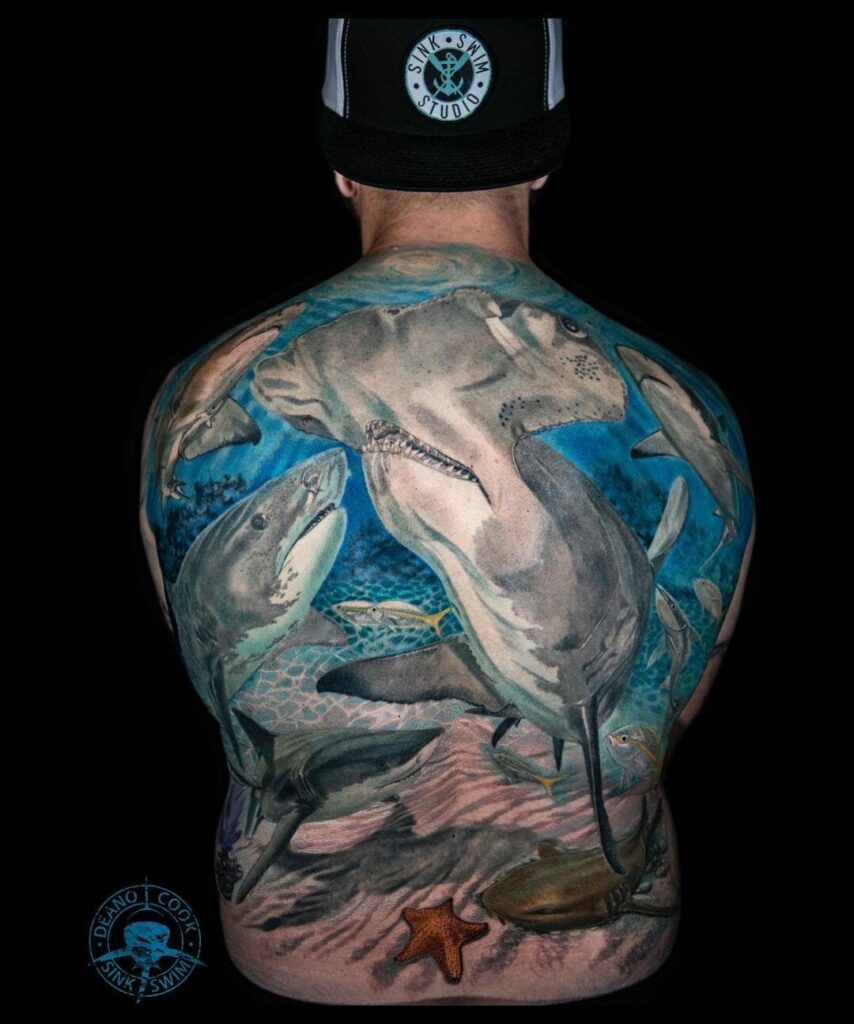 If you're a fan of sharks and want to showcase your love for them in your tattoo, consider a hammerhead shark tattoo that captures them in their natural habitat. Hammerheads are typically found in warm waters near Hawaii, Columbia, and Costa Rica. This tattoo design features hammerheads swimming alongside other shark species against the backdrop of the ocean floor, with the blue and red of the background making them stand out even more. This new style is perfect for anyone who wants to make a statement and have a unique and beautiful tattoo on their back.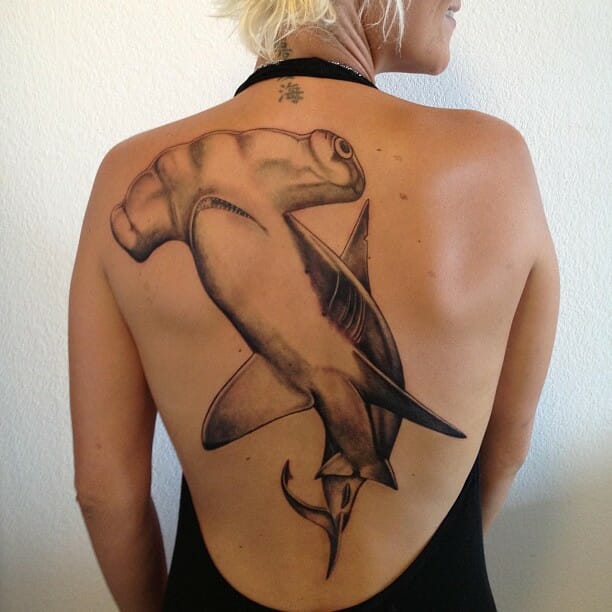 If you're looking for a classic and timeless shark tattoo, a singular hammerhead design might be perfect for you. With the use of shading techniques, this traditional monochromatic shark tattoo captures the essence of the majestic creature. You can also customize it with other design elements to make it uniquely yours. Keeping the tattoo clean with minimal detailing adds to its appeal and makes it a perfect choice for anyone looking for a simple yet striking design.
Tribal Hammerhead Shark Tattoo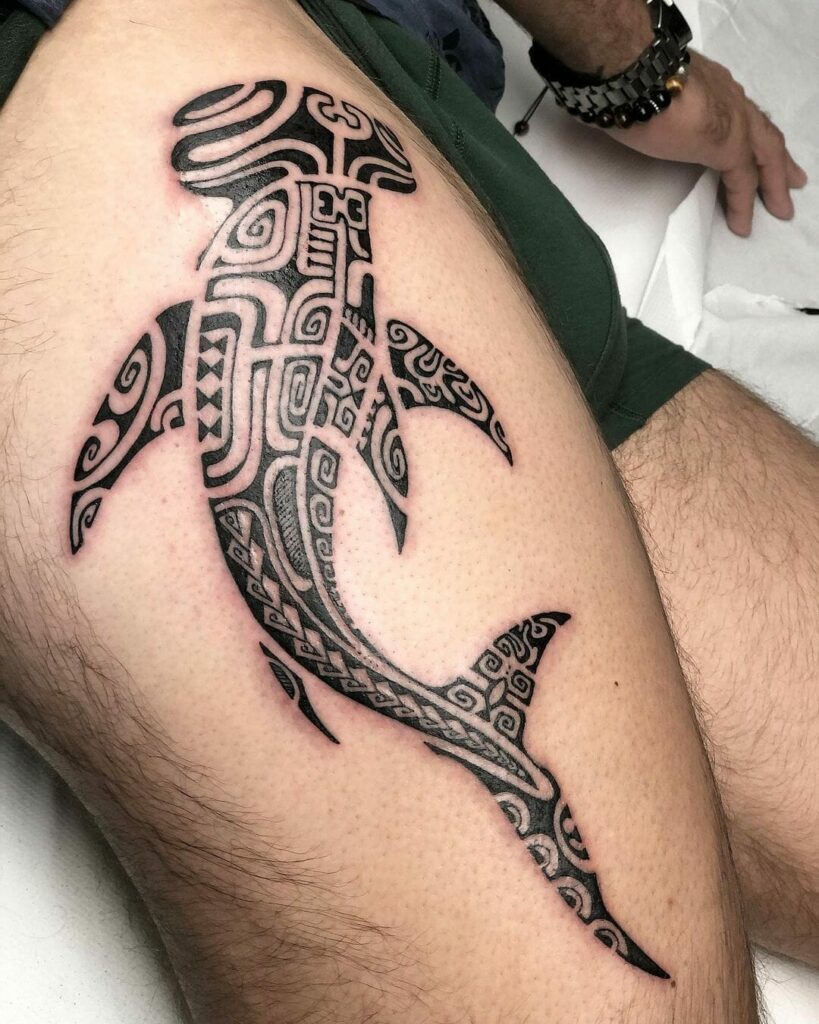 Indigenous Polynesian culture has a deep respect for marine life, especially for the hammerhead sharks that swim in their waters. This Polynesian hammerhead shark tattoo design captures the essence of this culture and their admiration for these creatures. The bold tribal lines used to outline the shark create a striking image that symbolizes strength and power. The intricate patterns and shapes within the tattoo add a unique touch that enhances the overall design. However, if you prefer a simpler design, a basic tribal shark tattoo can still make a bold statement.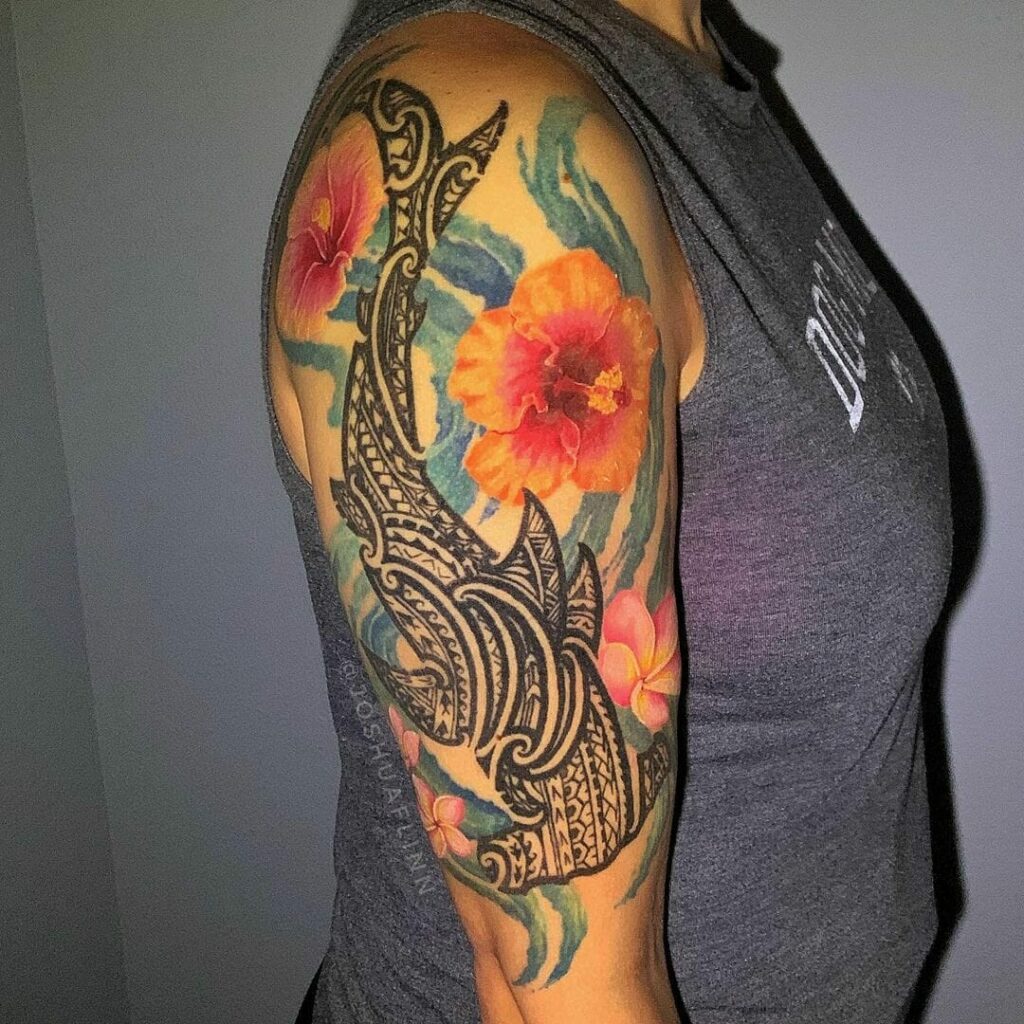 Enhance your tribal hammerhead shark tattoo with additional elements that make it even more stunning. This tattoo design features pastel flowers and blue streaks, creating a beautiful fusion of land and sea. The ombre effect on the flowers and blues adds depth to the overall design and makes it an intriguing representation of the tribal shark. With the right mix of colors and patterns, you can take your tribal shark tattoo to the next level and create a unique and captivating piece of body art.
Simple Hammerhead Shark Tattoos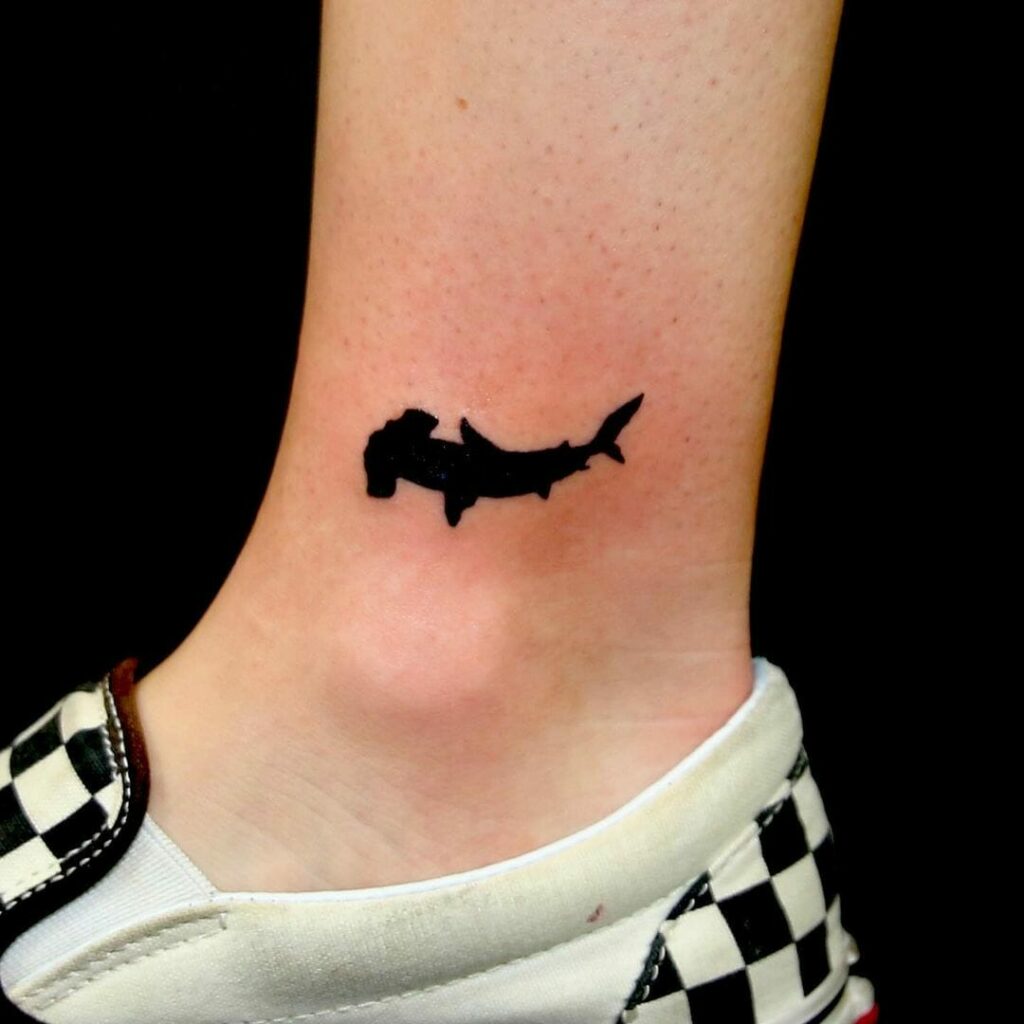 Looking for a minimalistic tattoo design but still want to show your love for sharks? Look no further than this solid black shark tattoo. Despite its simplicity, it still packs a punch and is perfect for those who prefer a more understated look. This design is versatile and can be placed on various parts of the body like the wrist or ankle, making it a great option for those who want a subtle yet meaningful tattoo.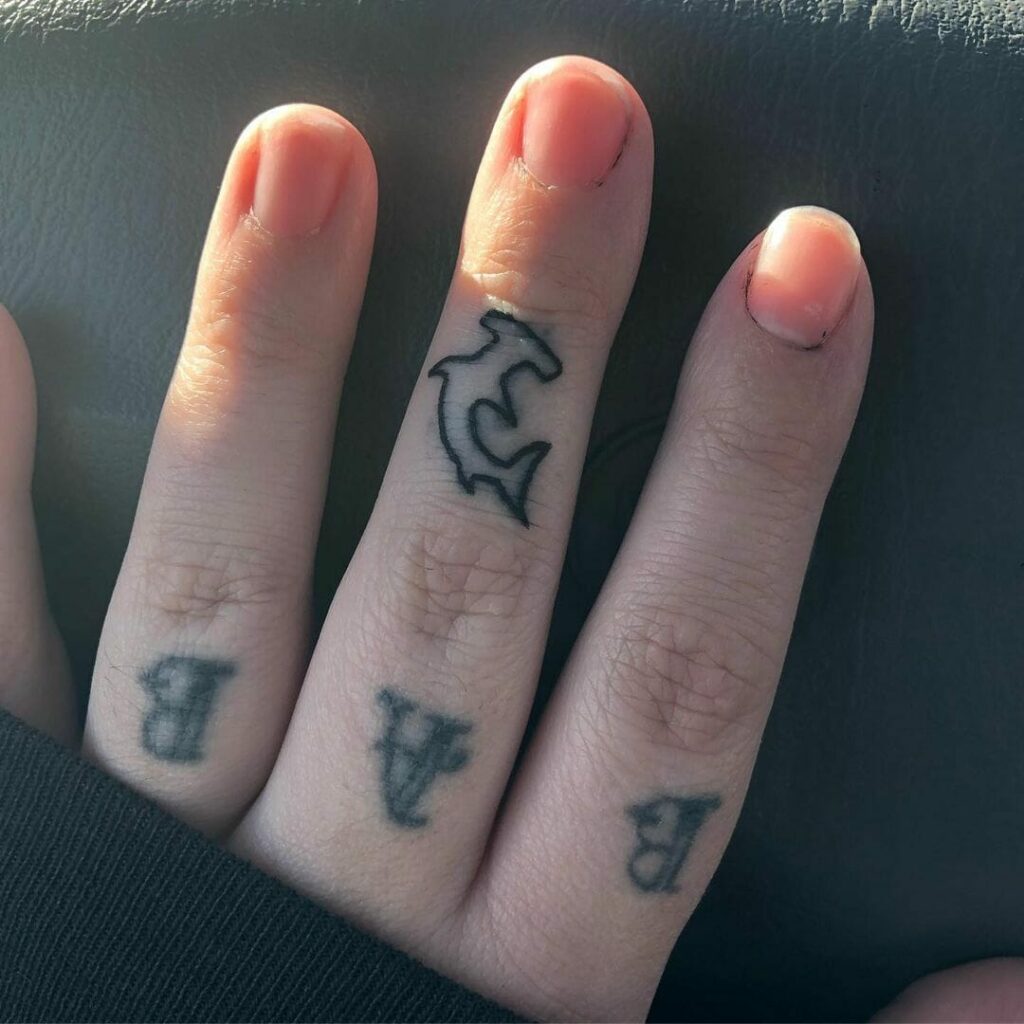 For those who prefer a more subtle look, this shark tattoo design features a minimalist outline of the shark that still looks incredibly realistic. While it may not be as flashy as other designs, it still manages to make a statement. If you're worried about it being too plain, you can always add a splash of color to make it pop. Plus, its simplicity means it can be placed almost anywhere on your body. Give it a try and watch the compliments roll in!
Hammerhead Shark In A Rhombus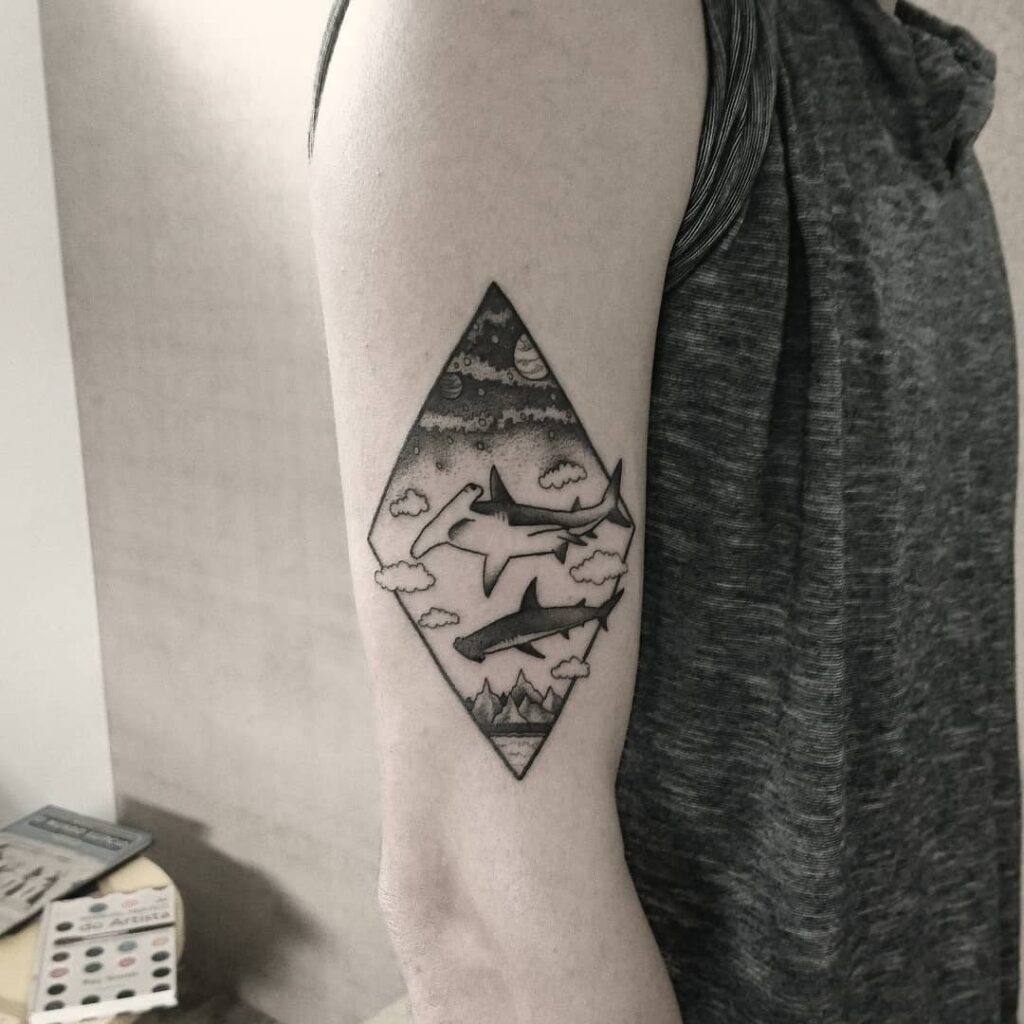 Looking for a tattoo that brings together the beauty of the sky and the ocean? This quirky shark tattoo is perfect for you! The design features sharks floating amidst white clouds with planets above and the sea below, creating a dreamy scene that is sure to turn heads. The artist has used shading techniques to add depth to the design, but you can always opt for colors to make the sharks look more realistic. Take inspiration from this design to create your own unique portrayal of ocean life on your skin.
Hammerhead Shark Tattoos And Other Beautifications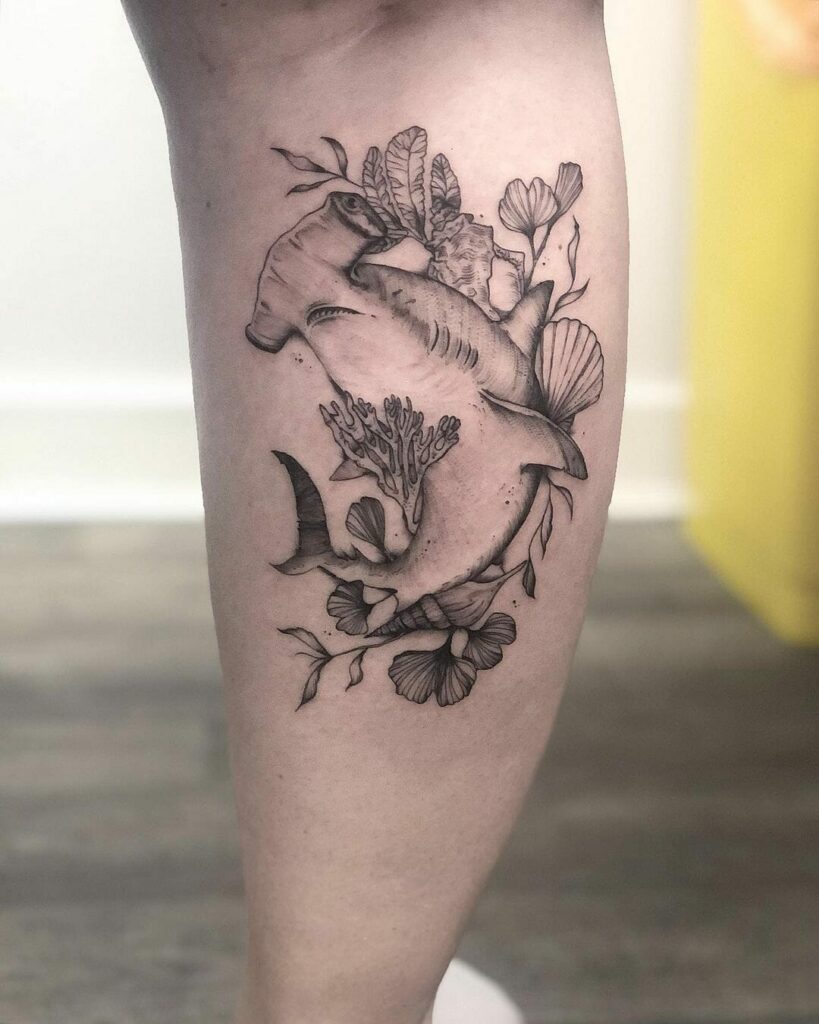 This shark tattoo is a beautiful portrayal of the hammerhead surrounded by other sea creatures and seaweed. The details of the hammerhead are intricately inked by the artist, giving it a realistic look with all the fine lines and gills. The shading technique used in this design adds depth and dimension to the tattoo, making it a stunning work of art.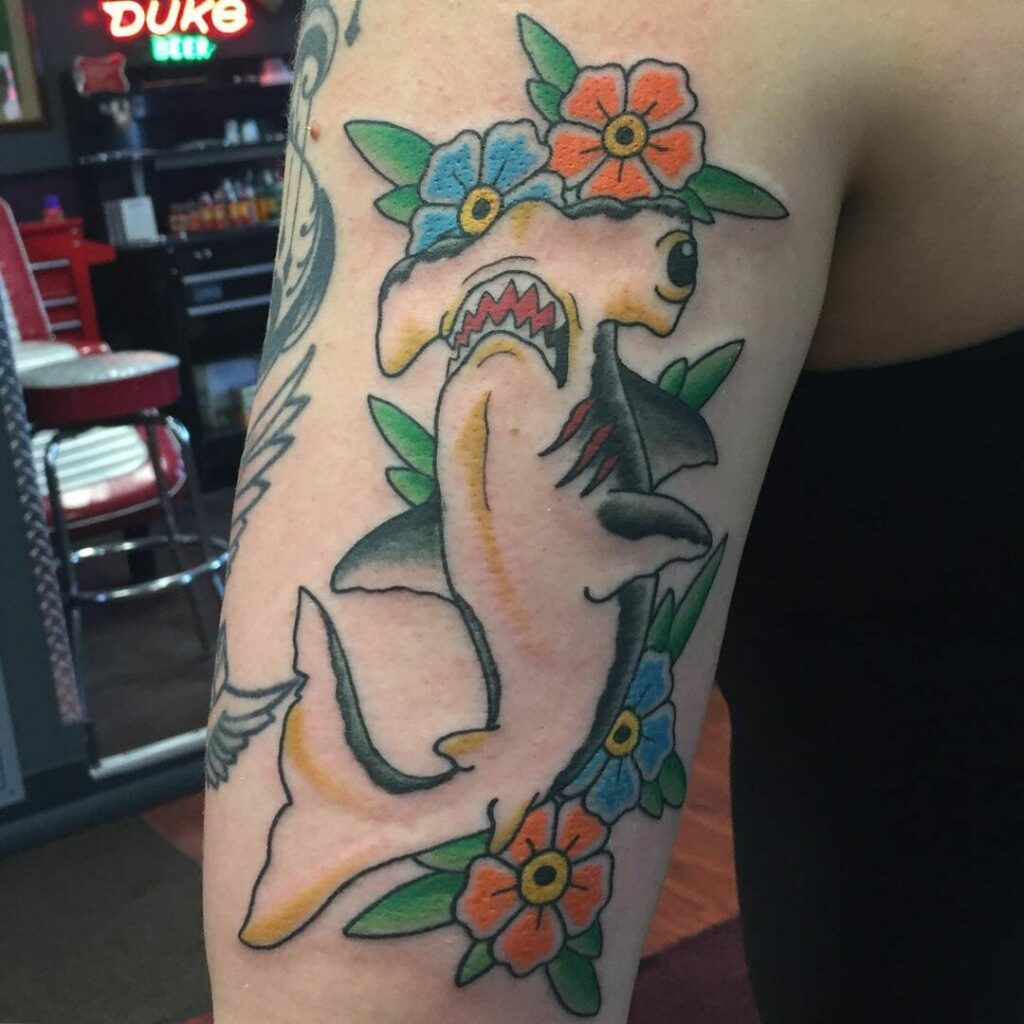 When it comes to tattoos, colors can make all the difference, and this vibrant shark tattoo is the perfect example. By adding bright, eye-catching colors to the background, this tattoo brings the hammerhead to life while maintaining its realistic portrayal. The focus is not solely on the shark's body but rather the combination of the shark and the striking background. This design is a great way to showcase your love for marine life while still having a visually stunning tattoo.
Japanese Hammerhead Shark Tattoos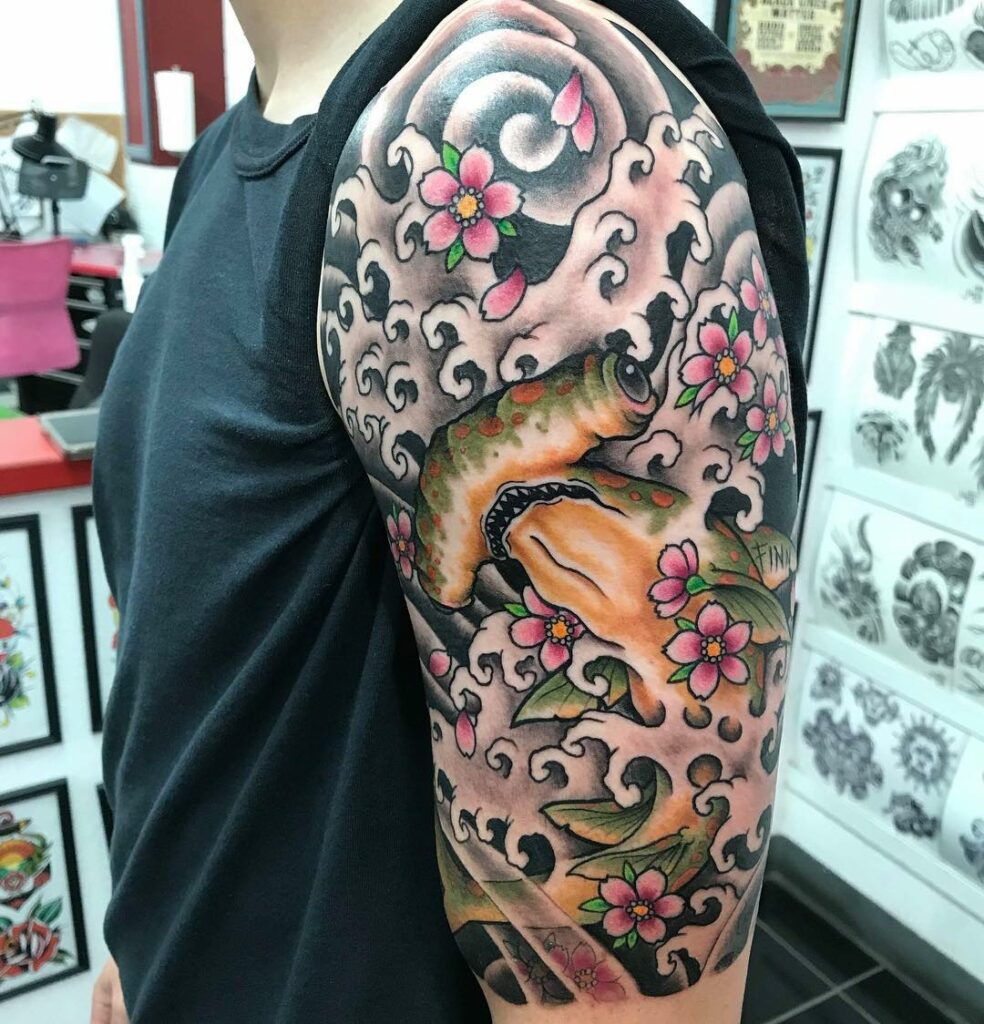 If you're interested in combining Japanese art with shark tattoos, check out this unique design! Japanese tattoos, known as Irezumi, are often filled with intricate patterns and flowers, making them a great way to incorporate sharks into the mix. This tattoo showcases the beauty of combining traditional Japanese elements with a realistic shark design. The use of grey-green shading on the shark's back adds depth and dimension to the overall piece. If you're looking for a large tattoo, this design would be perfect for a sleeve.
Hammerhead Shark Tattoos With Fish Hook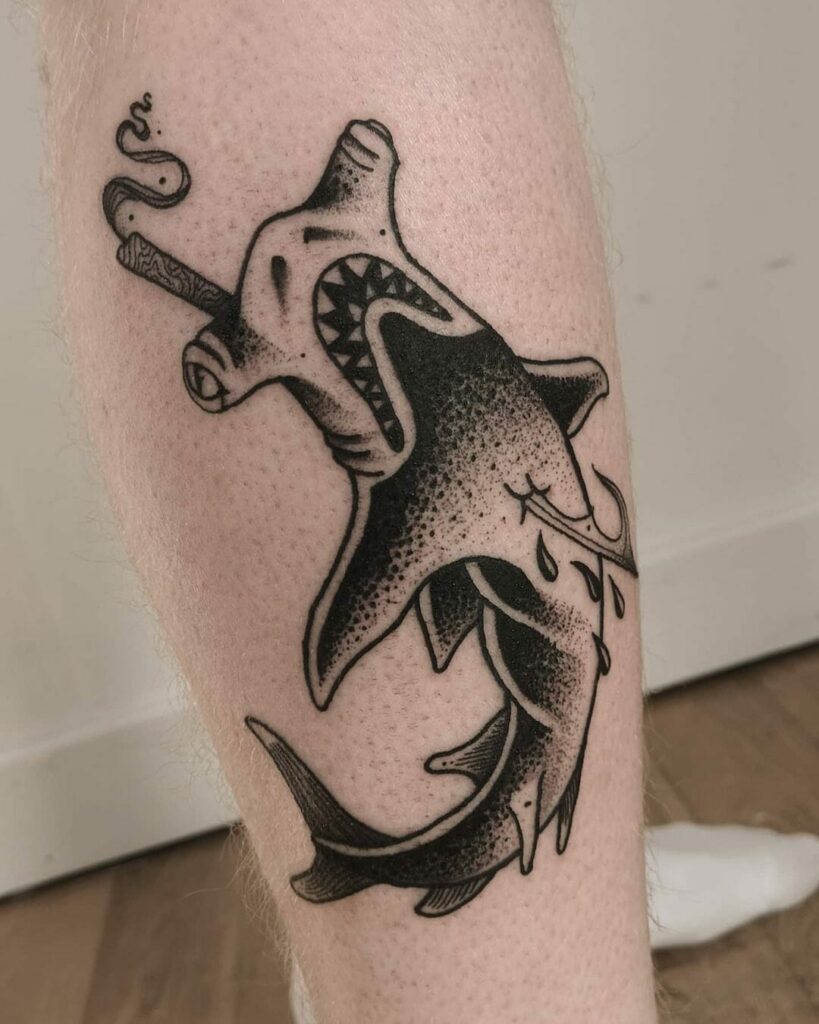 The art of tattooing has deep roots in Polynesian culture, and their traditional tribal tattoos have always been a great source of inspiration for tattoo enthusiasts. This design depicts the importance of the fish hook in the lives of the people in the region. As a tool that they use to earn their livelihood, the fish hook is revered by the fisherfolk. The design shows sharks getting caught in the hook, depicting a rather painful image. The artist has done an excellent job of adding intricate details to the hook and the sharks. You can get these tattoos inked on your arm or calf, and if you want, you can customize them to suit your style.
Hammerhead Shark Tattoos On Feet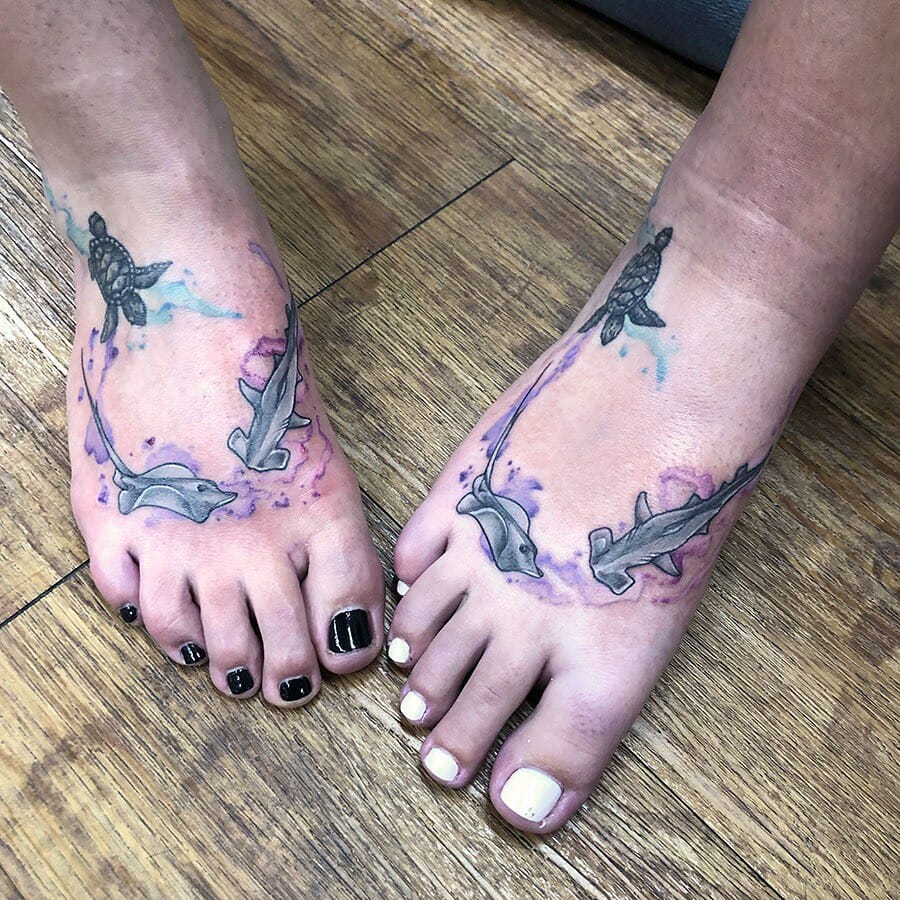 Foot tattoos have gained popularity recently and if you're someone who loves to keep their tattoos subtle yet intriguing, then this design is just for you. The shark tattoo featured here is a unique composition of a hammerhead shark, a stingray, and a tortoise, all in one design. The use of color in this tattoo is minimal but it still manages to look captivating. This tattoo design is perfect for those who want to showcase their love for sea creatures in a simple yet creative way.
Funny Hammerhead Shark Tattoos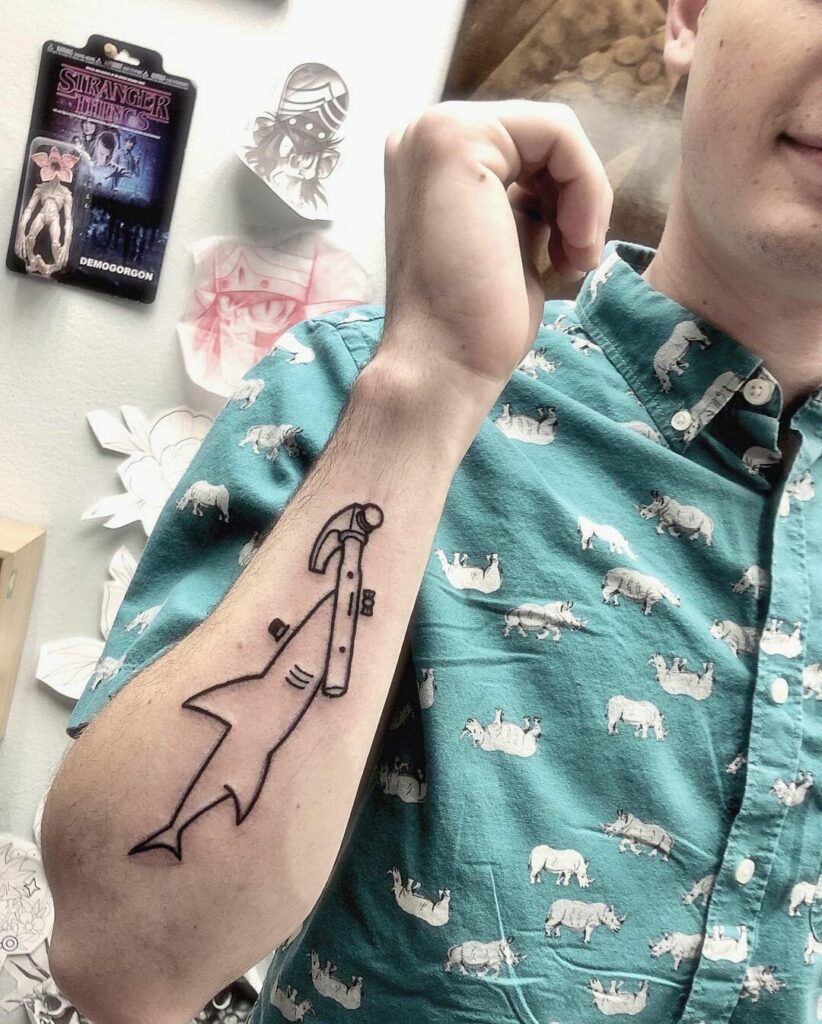 Hammerhead shark tattoos have been a popular choice for quite some time now, and it's not just because of their unique shape. In fact, they can also be fun and edgy, just like this particular design that features a hammerhead with a real hammer for a head, a straight face, and a tiny little hat with a bow. If you have a playful personality, then these types of shark tattoos are perfect for you. You can place them on your forearm for some laughs with your friends. Don't be afraid to get creative and come up with your own unique designs that reflect your personality.
Last reviewed and updated on May 15, 2023