Welcome, fellow tattoo enthusiasts and art admirers! Delve with us today into the richly inked world of hikae tattoos – a genre that has stirred the hearts and tickled the imagination of tattoo lovers worldwide. Hold on tight as we embark on a curated journey through the top hikae tattoo inspirations tailored just for you!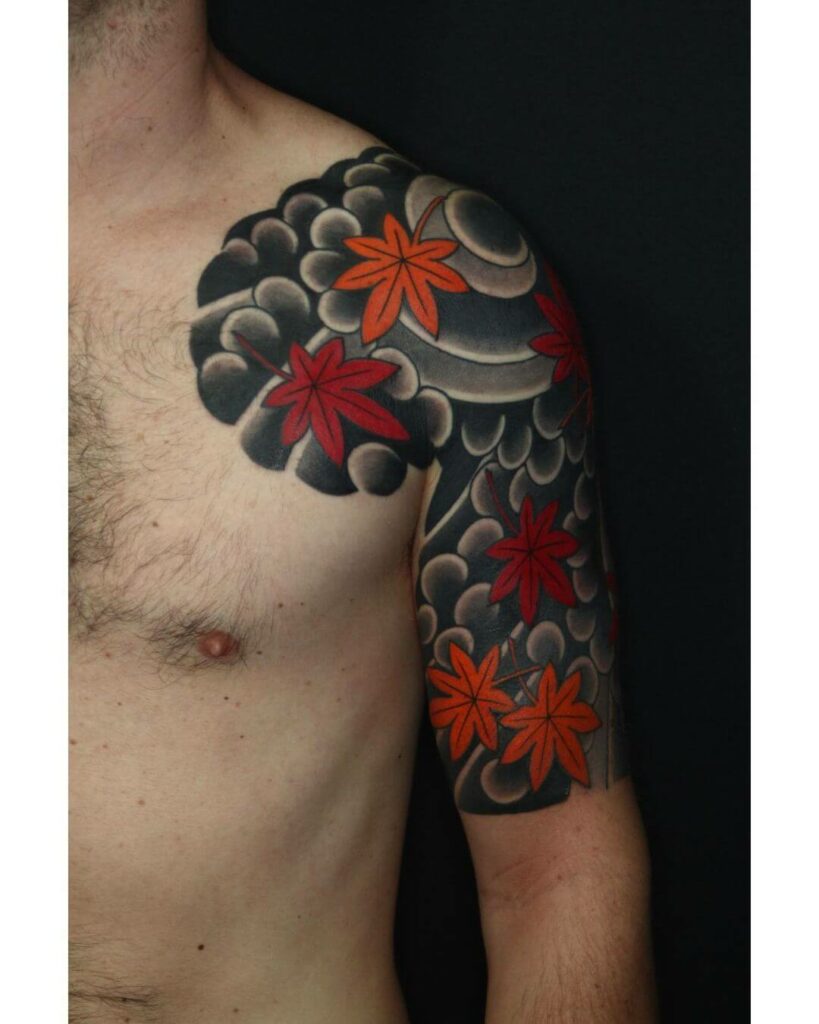 Tattooing isn't a mere fashion statement in Japanese culture; it's an ancient art form, a testament to its deep roots and unique aesthetics. Hikae tattoos, thanks to their silver-screen depictions in yakuza-themed cinema, have a magnetic allure that transcends borders.
Our love affair with Japanese tattoos finds its roots in the Edo Period, from which today's contemporary styles have elegantly evolved. The term 'hikae' in Japanese is an umbrella term denoting any tattoo sprawling across the pectoral muscles and sprawling down into a half or full sleeve arm tattoo. This age-old tradition of Japanese tattooing embraces the divine and the delicate – from mythical deities to radiant floral designs and intricate ornamental patterns.
Be warned, though: a hikae tattoo isn't for the faint of heart. It's a grand spectacle that often requires multiple sittings and demands an undeniable commitment to the craft. Despite the beauty and artistic brilliance of these tattoos, they still carry a bit of a taboo in Japan. In fact, visible tattoos can sometimes restrict your entry into certain public spaces like hot springs and beaches. So, while these captivating hikae designs may call your name, remember they are a bold and powerful statement in the Land of the Rising Sun.
So, if you're enamored with these striking designs and are yearning for a hikae of your own, this article is the perfect guide to help navigate your creative decisions. So, roll up your sleeves (or prepare to get one tattooed), and join us as we explore the hikae tattoo universe!
Hikae Upper Arm Sleeve Tattoo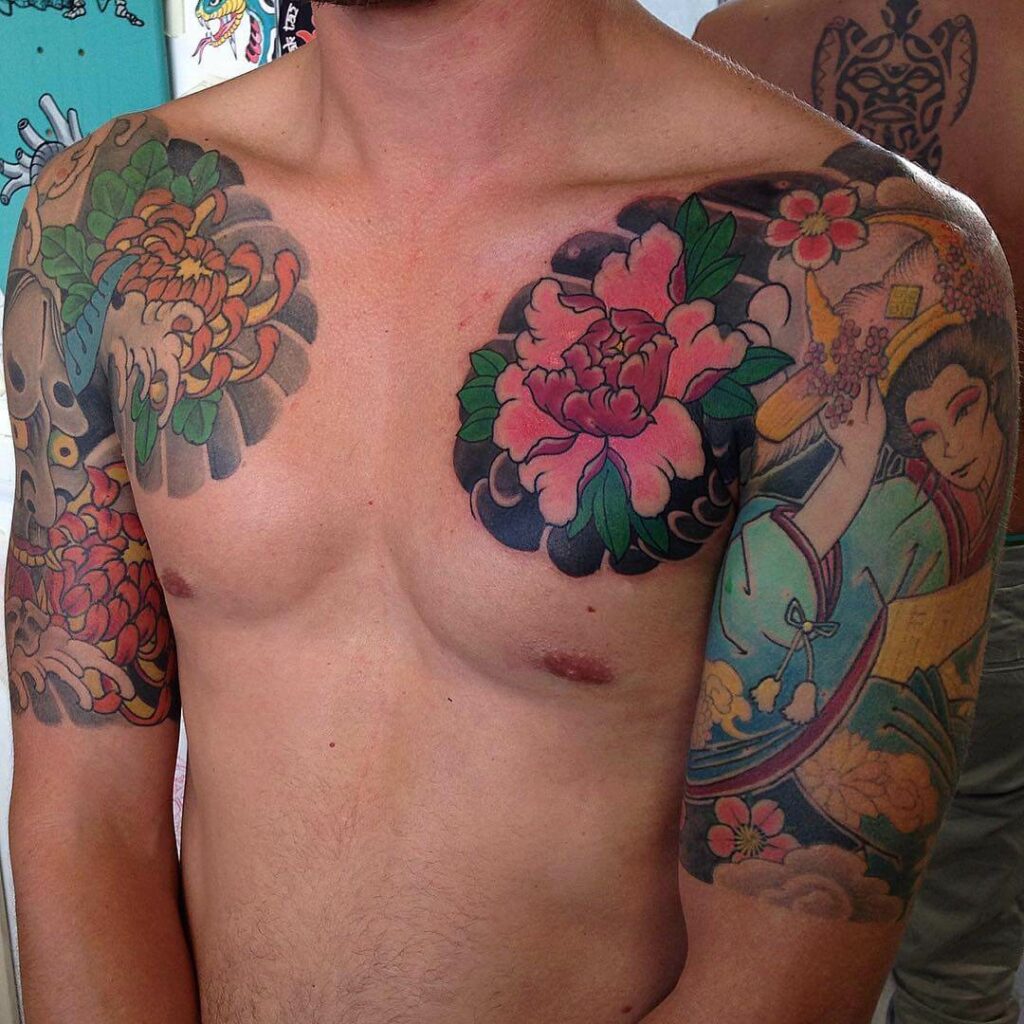 A veritable canvas of beauty, this traditional hikae features a smorgasbord of floral elements intermingling with an elegantly dressed woman. Such components are a cherished hallmark of Japanese tattoos, harmoniously blending intricacy and elegance. This design's half sleeve approach offers an invitation to flaunt your ink love by just donning a tee.
Oni Hikae Chest Tattoo
Venturing into the mythical, Oni or the demons, ogres, and trolls, have been integral to Japanese folklore. Capturing this vibrant spirit, the Oni Hikae chest tattoo is a daring blend of cultural symbolism and raw artistic flair. Accentuated by traditional floral elements, this design is a surefire attention-grabber, speaking volumes about your appreciation for Japanese culture.
Full Sleeve Hikae Arm Tattoo
Echoing the daring vibe of Asian gangsters in Hollywood cinema, this full sleeve hikae tattoo employs bold lines and dramatic colors. The breathtaking intricacy evokes a sense of awe, hinting at the grit and commitment of the bearer. If you're hunting for an audacious hikae chest panel tattoo, this could be your muse!
White Tiger Hikae Arm Tattoo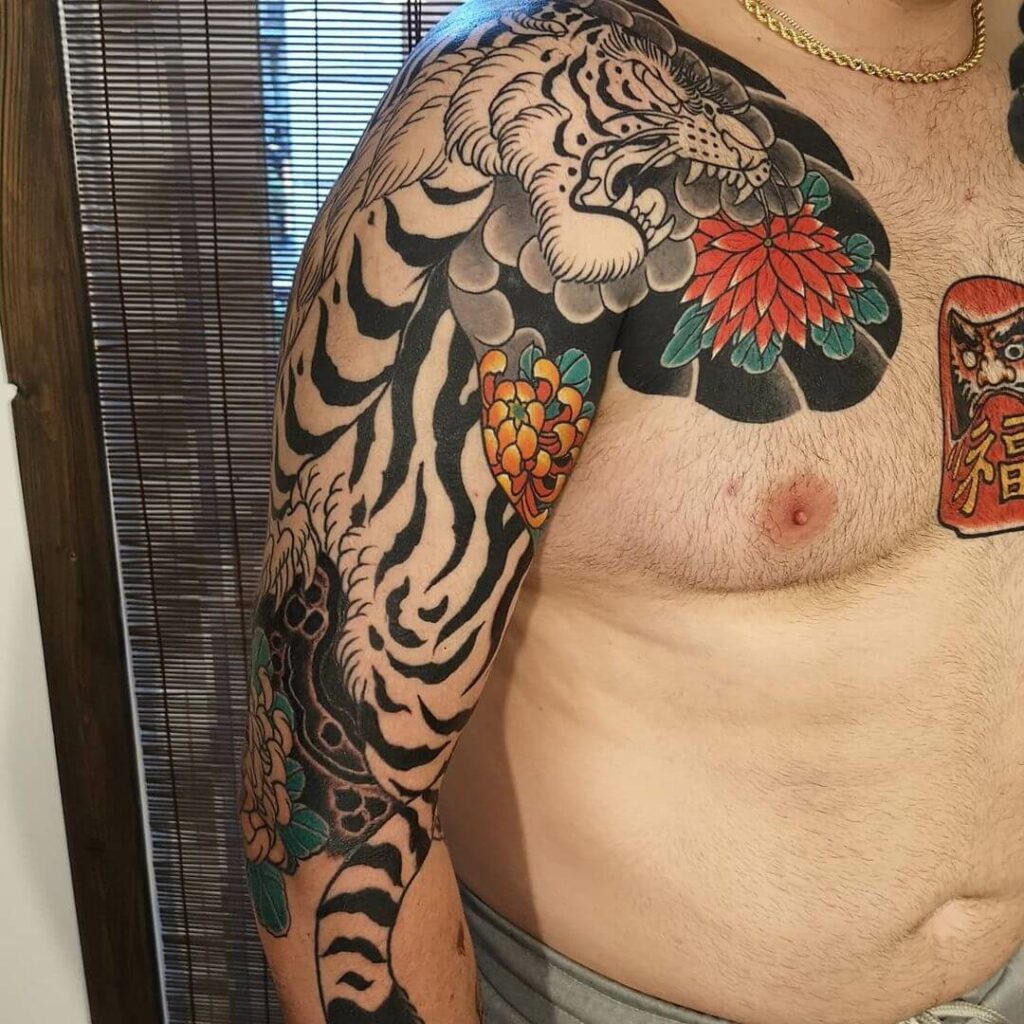 A testament to the power of contrast and balance, the White Tiger Hikae arm tattoo leverages negative space to house a ferocious white tiger. Surrounded by vibrant floral accents, this design radiates a masculine energy that's sure to turn heads.
Raijin and Fujin Hikae Tattoo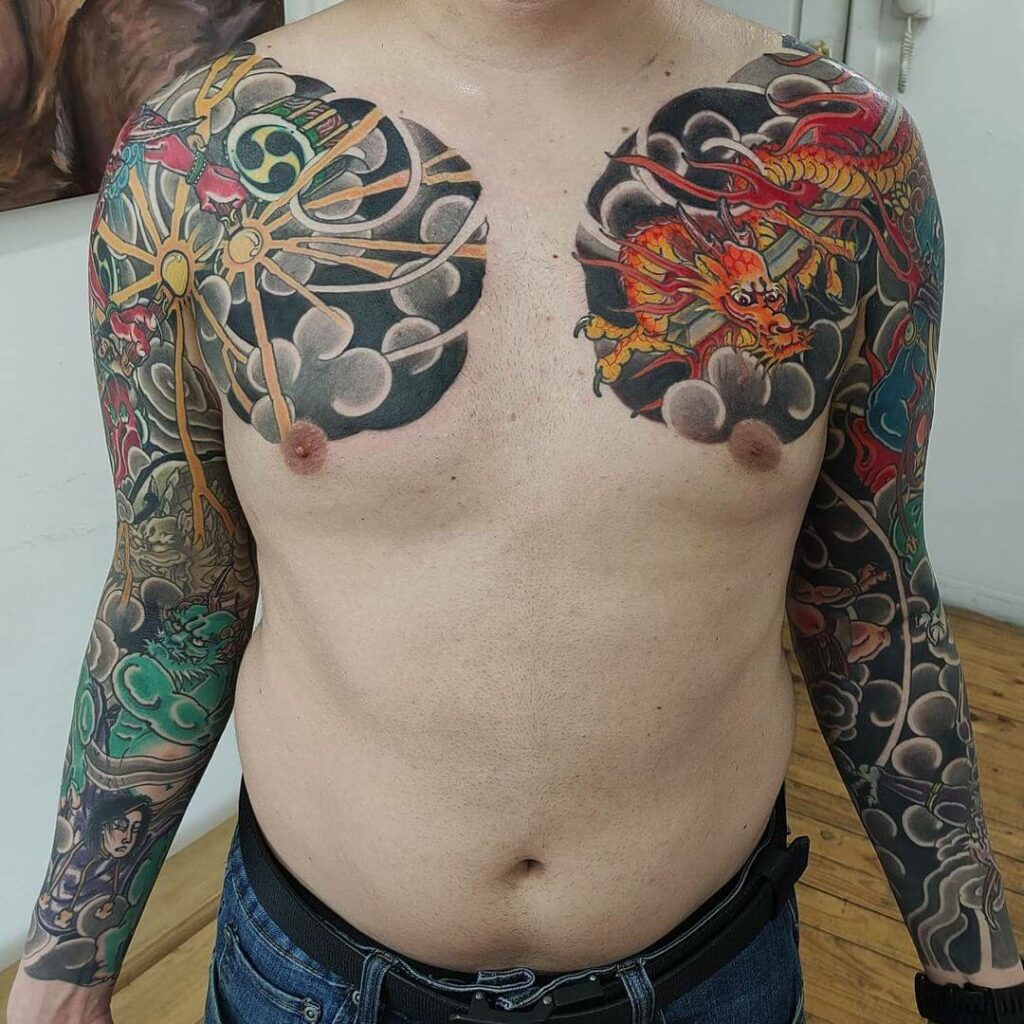 Dedicated to the Japanese gods of thunder (Raijin) and wind (Fujin), this tattoo is a profound cultural narrative. Each arm carries distinctive symbols: wind bars for Fujin and lightning bolts for Raijin, entwining divine symbolism with artistic grandeur.
Traditional Oni Hikae Tattoo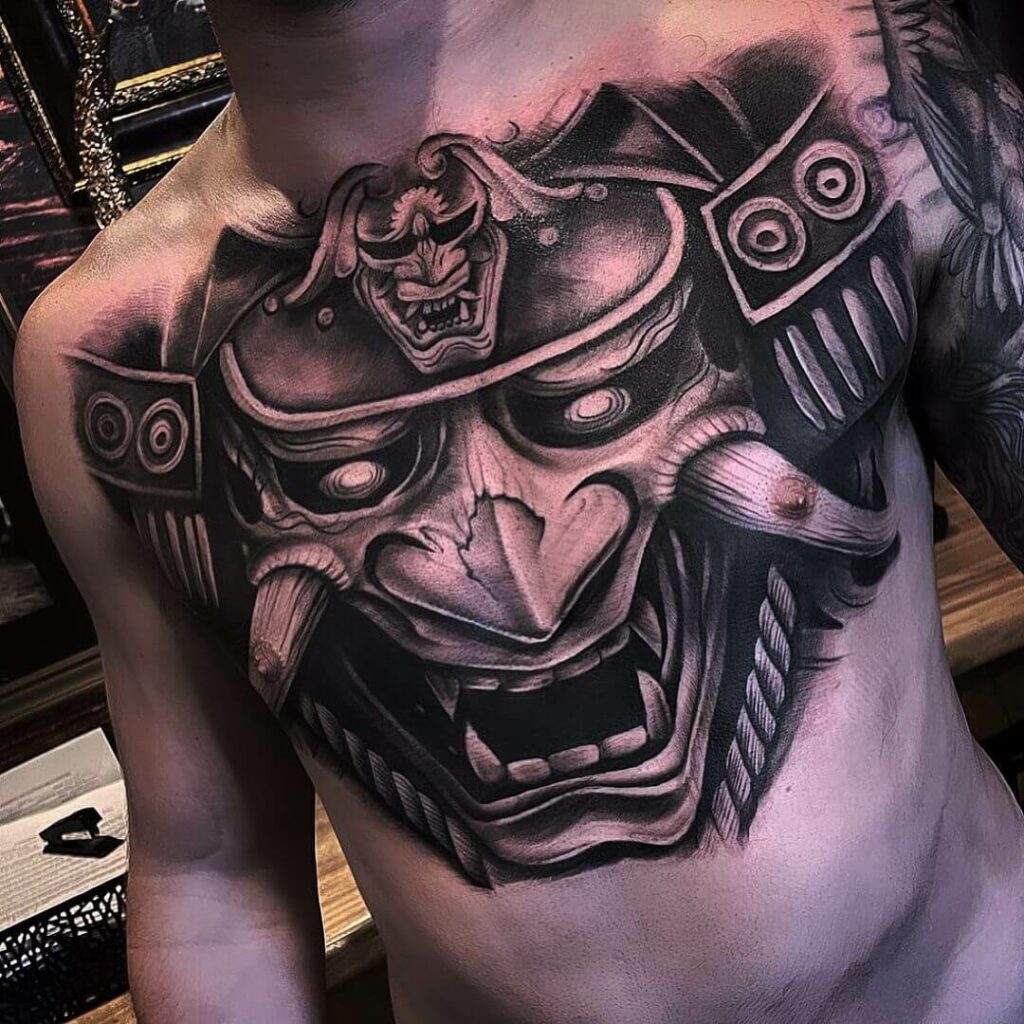 Oni, the demons of Japanese folklore, are chillingly brought to life in this chest-focused hikae tattoo. Its unique aesthetic, reminiscent of intricate woodwork, adds a distinct appeal for those seeking a singular Japanese ink statement.
Traditional Japanese Woman Hikae Chest Tattoo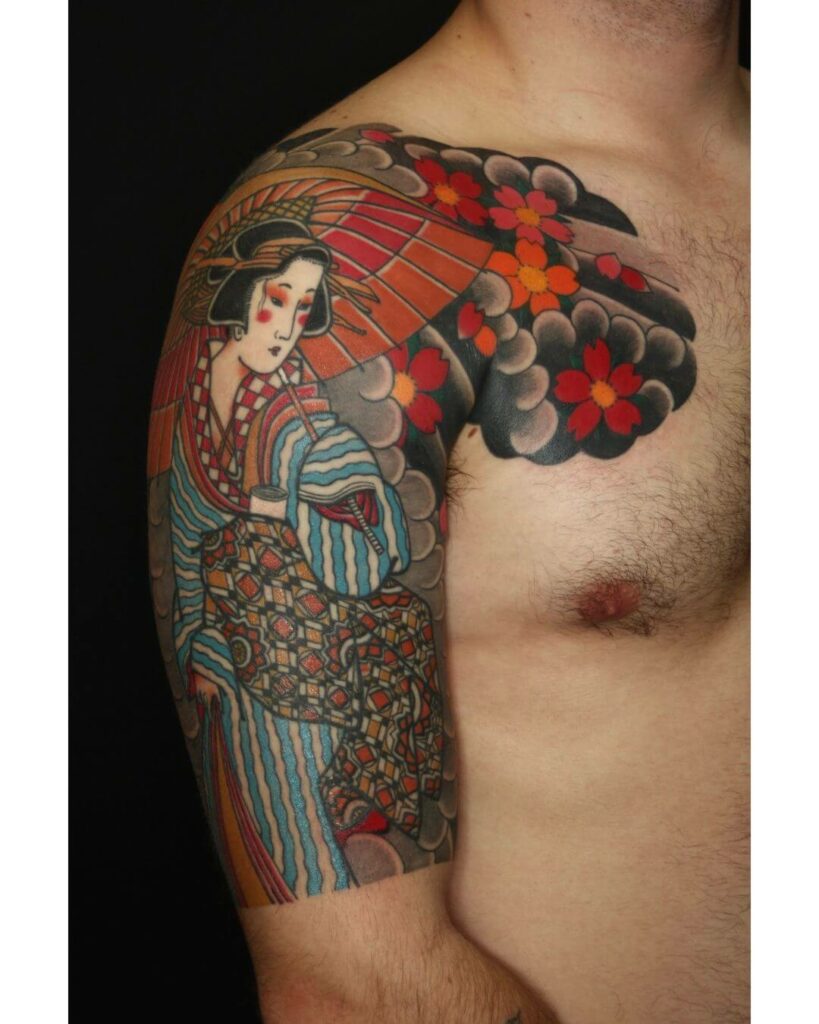 Embodying the quintessence of Japanese tattoo artistry, this design showcases a traditional woman amid a vibrant background. With its striking color play and intricate detailing, this hikae design is a radiant tribute to classical Japanese aesthetics.
Traditional Wave Style Japanese Hikae Tattoo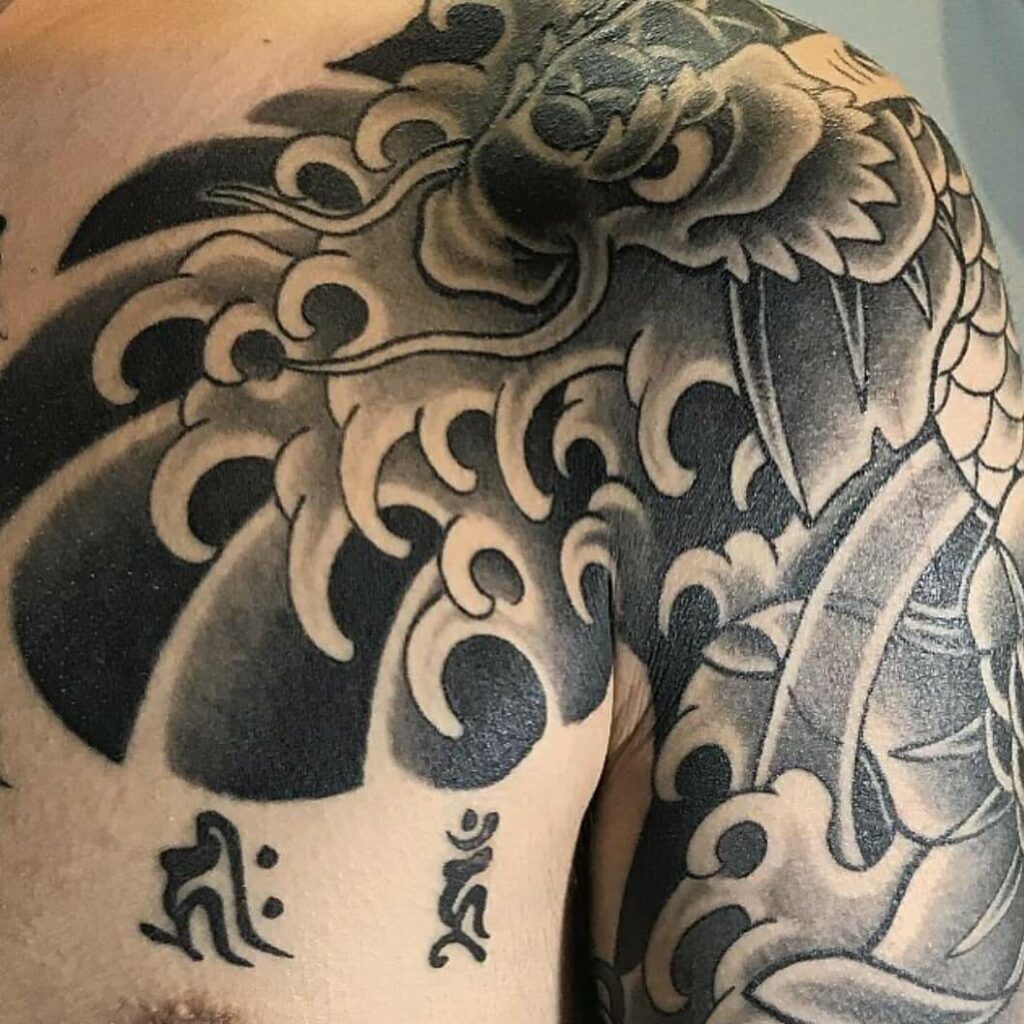 Widely celebrated across the globe, the Japanese wave-style tattoos are a visual delight. This hikae design couples black and white waves with a koi fish, resulting in a piece that's a testament to the enduring allure of Japanese body art.
Oni Full Chest Tattoo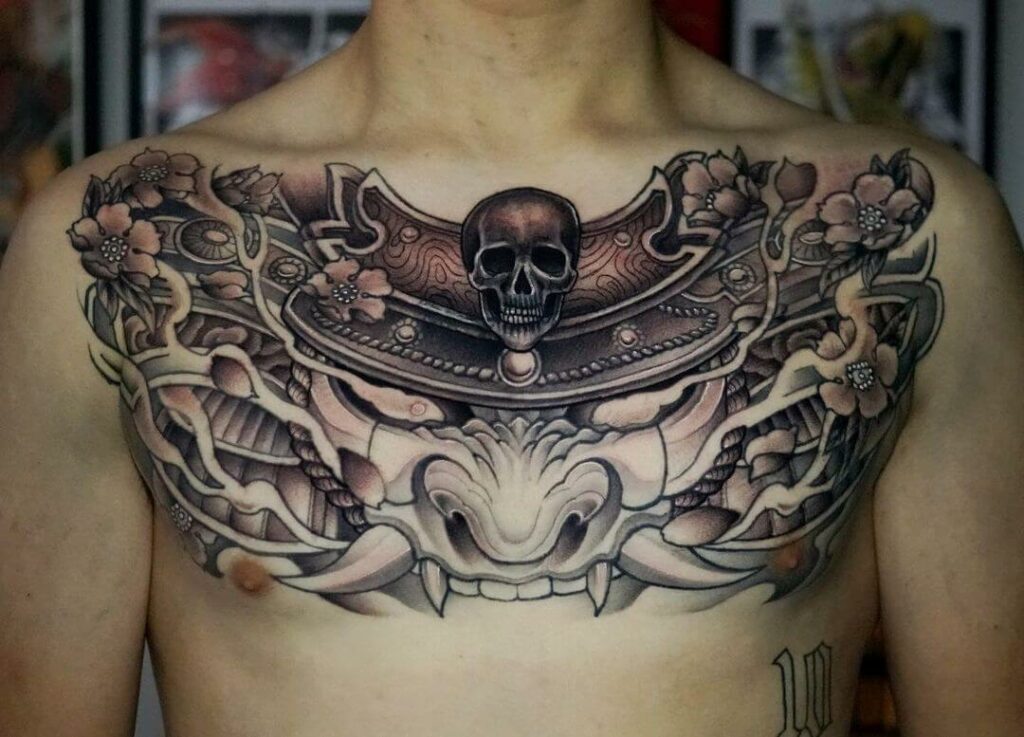 Prominent in the Japanese tattoo world, the Oni tattoos are a bold declaration of cultural appreciation. This full chest piece is a stunning showcase of the traditional style, symbolizing the transformative power of enduring pain for the sake of ultimate artistic expression.
Koi Fish Full Sleeve Hikae Tattoo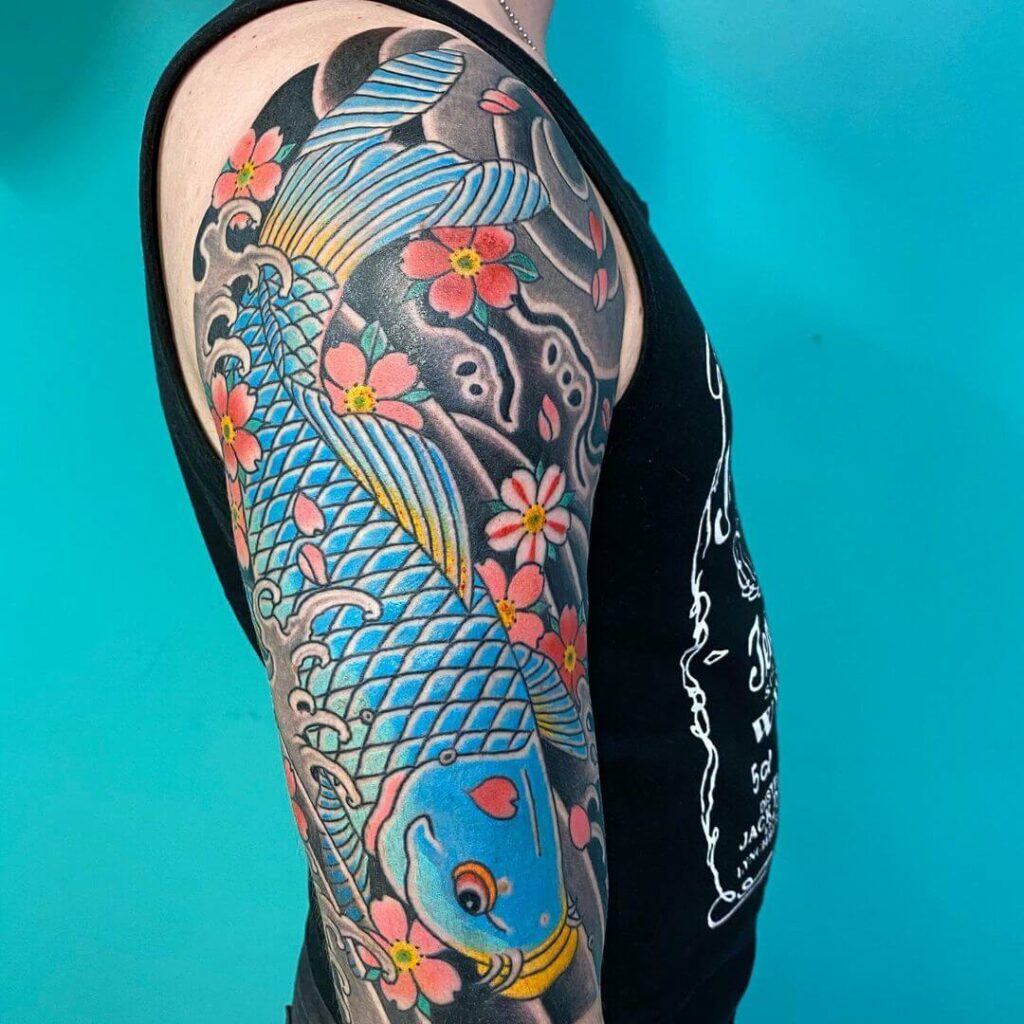 A visual spectacle, the Koi Fish hikae tattoo is a tour de force of intricate design, steeped in the Japanese ethos of resilience and perseverance. This design is a perfect entrée into the world of Japanese tattoos, inviting you to a journey of self-expression and cultural appreciation.
In the realm of tattoos, hikae designs are striking expressions of personal narratives entwined with rich cultural symbolism. So, whether you're a tattoo novice or a seasoned inking aficionado, these designs offer a new and exciting path on your tattoo journey.

Conclusion
There you have it, folks! A dazzling array of hikae tattoo designs that bridge centuries of Japanese art, culture, and spirit. As we venture further down the rabbit hole of ink, remember that tattoo placement is a personal choice that often depends on your pain tolerance and desired visibility. The chest and arm, traditional sites for hikae tattoos, can offer a spacious canvas but may also bring a higher level of discomfort. So brace yourself for some exquisite pain – a rite of passage for most tattoo enthusiasts.
In terms of cost, you're looking at a broad range depending on the size, intricacy, and your chosen artist's rate. A hikae tattoo can run from several hundred to a few thousand dollars, considering the labor-intensive and time-consuming process involved. Always remember to do your research, consult thoroughly with your artist, and don't skimp on quality for cost savings.
Finally, a word of caution: while tattoos are indeed captivating expressions of our unique identities, they aren't without potential risks. Skin reactions, infections, and potential societal stigmas, especially in certain parts of Japan, are all potential downsides. Be sure to research, reflect, and be ready to embrace the responsibility that comes with your new body art.
In the end, a hikae tattoo is more than just a piece of art; it's a commitment, a statement, and, perhaps, a part of your story waiting to be inked. So, are you ready to wear your narrative on your sleeve?
Feature image from Pinterest