Packed with outdoor inspiration, hiking tattoos are the perfect way to share an outdoorsy message. Take a look at these hiking tattoo ideas to adorn your body.
Hiking tattoos are a great way to show off your love for the outdoors. They can depict how far you have gone in life and the experiences you've had along the way. Packed with outdoor inspiration, hiking tattoos are the perfect way to share an outdoorsy message. Whether you're planning your summertime adventures or gearing up for a hike, getting a hiker tattoo will always keep the vibes alive.
Bright And Colourful Backpack Tattoo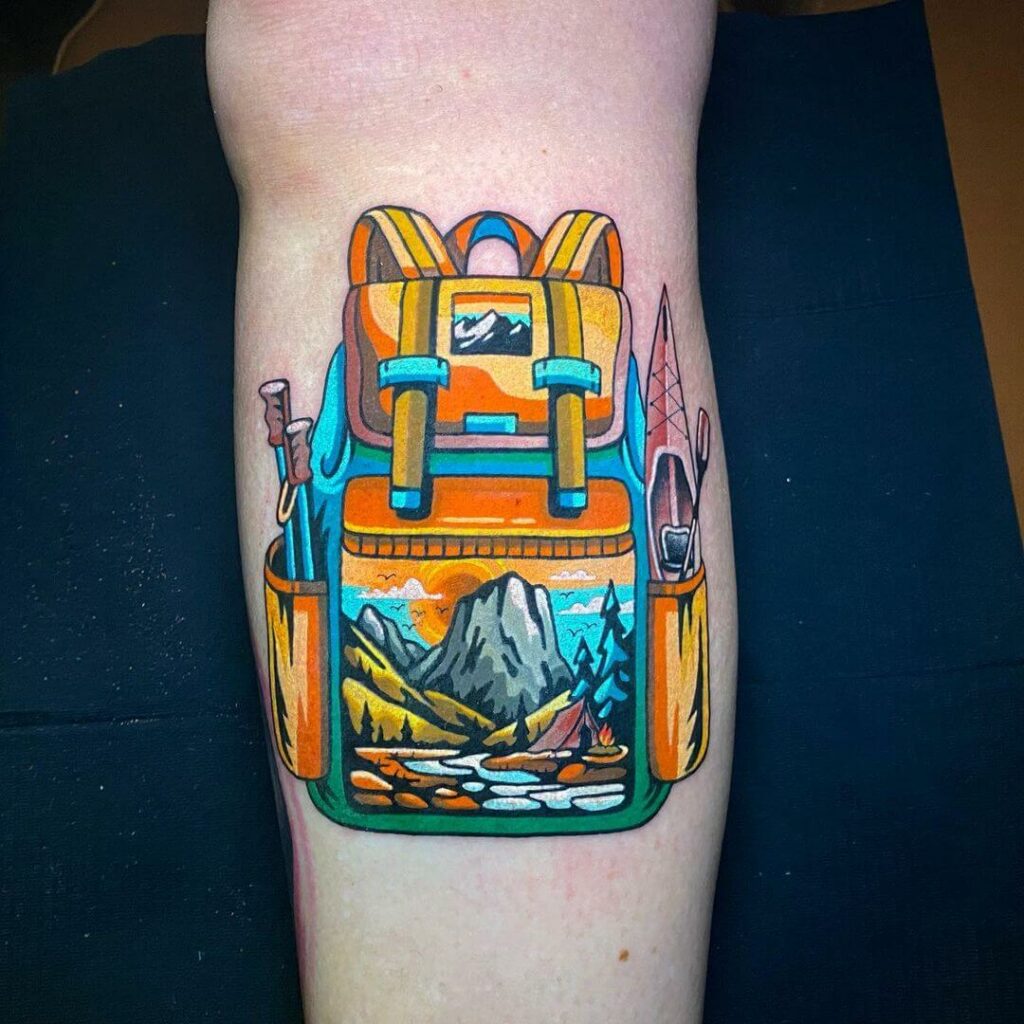 Are you an avid hiker looking for a way to express your love for the great outdoors? Look no further than the backpack tattoo! This unique accessory is perfect for carrying all your hiking and camping essentials while also showcasing your passion for nature. With stunning mountain designs adorning the bag, you'll be sure to feel inspired on even the toughest trails. And if you ever feel down on your journey, the vibrant colors are sure to brighten your mood. Plus, this backpack tattoo serves as a helpful reminder to pack all your equipment before setting off on your next adventure. So why not take your hiking game to the next level with this must-have accessory?
Geometric Blackwork Hiker And Dog Tattoo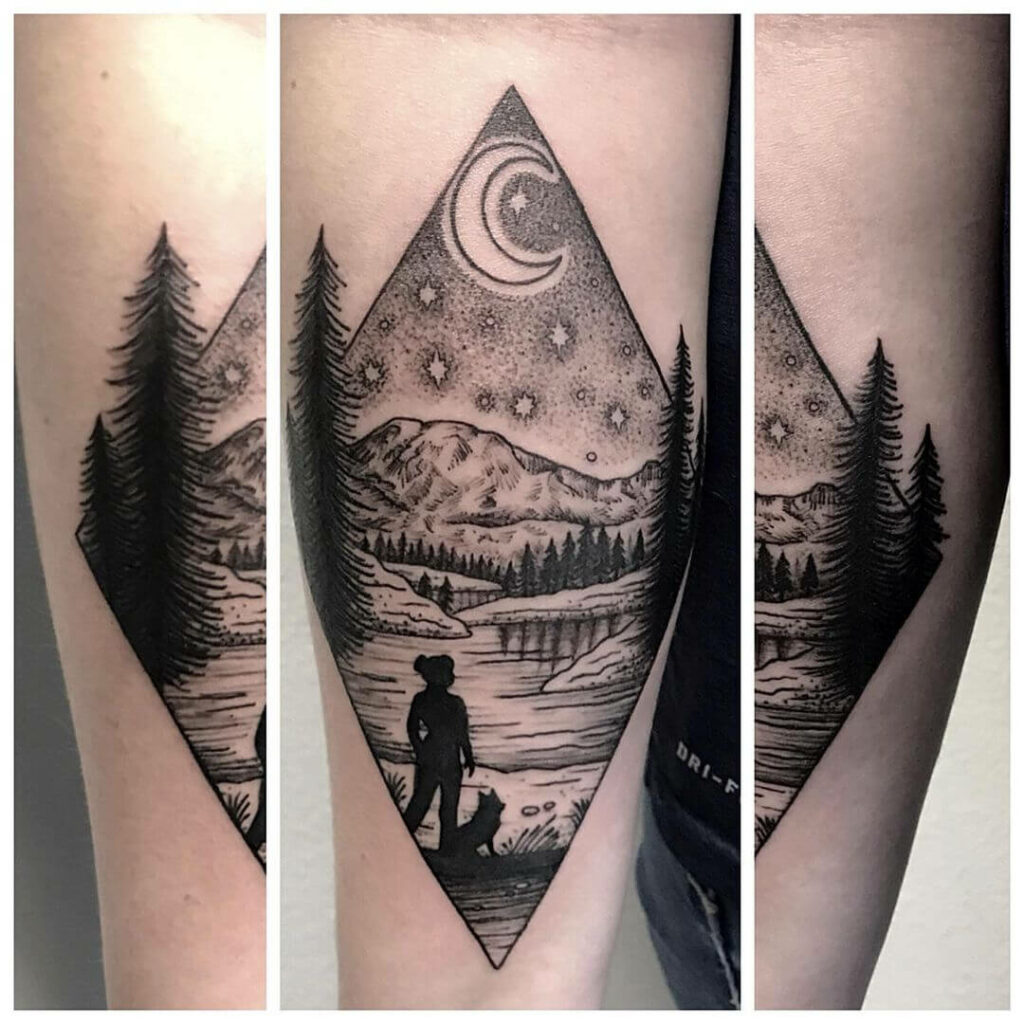 This stunning monochrome design features mountains, trees, a lake, and even a hiker girl standing with her dog under the stars with the crescent moon high up in the sky. The blackwork and dotwork methods are beautifully used to make the tattoo attractive. And if you're worried about how to bring out the essence of hiking represented through natural beauty within a geometric structure, this hiking tattoo is sure to fit the category.
Hiker Mushroom Tattoo
But have you ever seen a cute teensy mushroom with a backpack, holding a trekking pole, treading along the hiking trail? This adorable hiker mushroom tattoo is sure to capture your love for nature and hiking. You can use simple black ink to get this tattooed, or you can add some cute colors to make it even more unique.
Hiking Shoes With Mushrooms Tattoo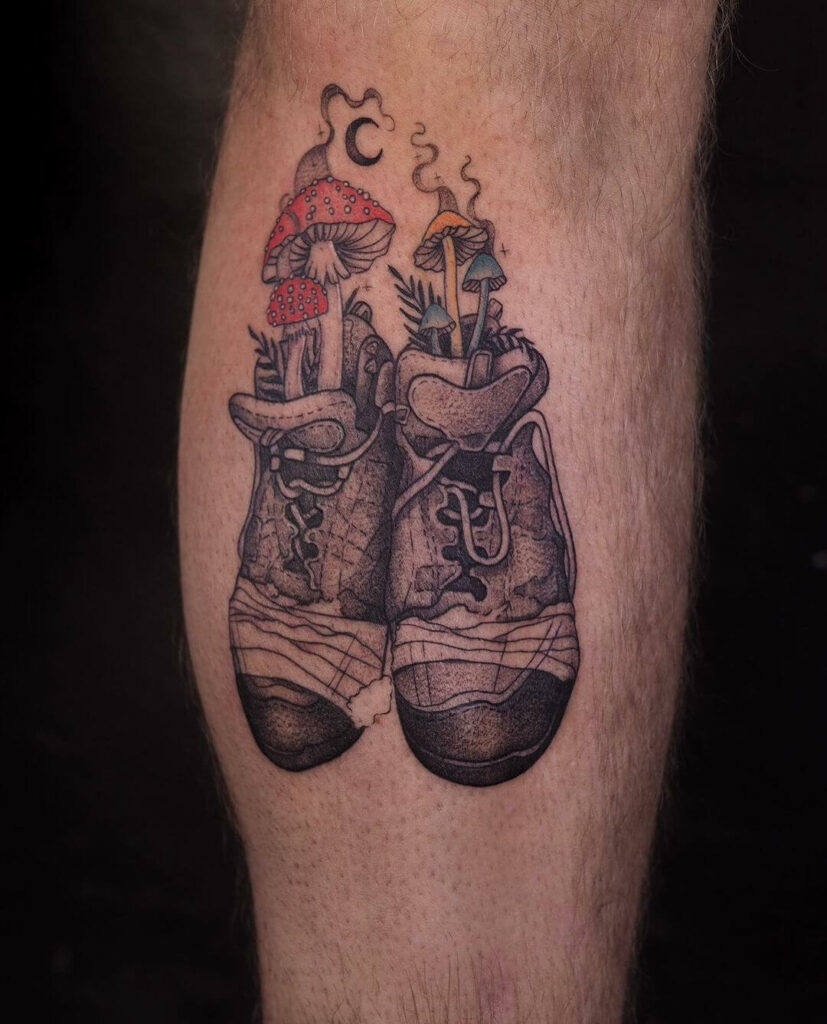 And what better way to memorialize your best hiking trips than with a tattoo? Imagine having a pair of shoes that you wore on each of your hiking trips – shoes that gradually got worn-out and can no longer be worn on your outdoor walks. But they were your favorite pair, and even though you can't wear them anymore, you want them to be with you in some form. That's where the tattoo comes in! You can ask your tattoo artist to use black shading techniques to draw the boots and then add some colorful mushrooms and grass growing out of the boots for an extra touch of nature.
Hiker Pictogram And Night Sky Galactic Tattoo
While it's a very popular method in photography and cinematography, creating a tattoo where two or more exposures superimpose is also an amazing idea. And when it comes to choosing the perfect image for your tattoo, the projection of a human pictogram is an excellent choice. Imagine trees, mountains, and the night sky in a galactic semblance – everything about this tattoo screams excellence. The work is very neat and subtle, creating a mystical aura that's sure to capture your love for nature and hiking.
Colourful Hiker Frog Tattoo
Most people might think of mountains as frogs' habitats, but hikers know that these tiny creatures can be found along the Pacific Crest Trail or the Appalachian Trail. And what better way to symbolize your love for hiking than with a tattoo featuring a frog as a hiker? This tattoo is sure to inspire your passion and motivate you to challenge your fears and set out for the wilderness to live your dream. Imagine this hiker frog with a backpack and a hobo stick – it's the perfect symbol of strength and determination.
Hiker Girl Fineline Tattoo
This fineline hiker girl sketch makes for a beautiful hiking tattoo that can fit your arm or your upper thigh. The tattoo symbolizes one's urge to walk towards the paths that are yet to be discovered – paths that nobody has walked before. There's a strange sense of temptation nature possesses for hikers, and this tattoo featuring a hiker girl walking towards the unknown has captured the quintessential nature of man being fascinated by the unknown.
Traditional Backpack Tattoo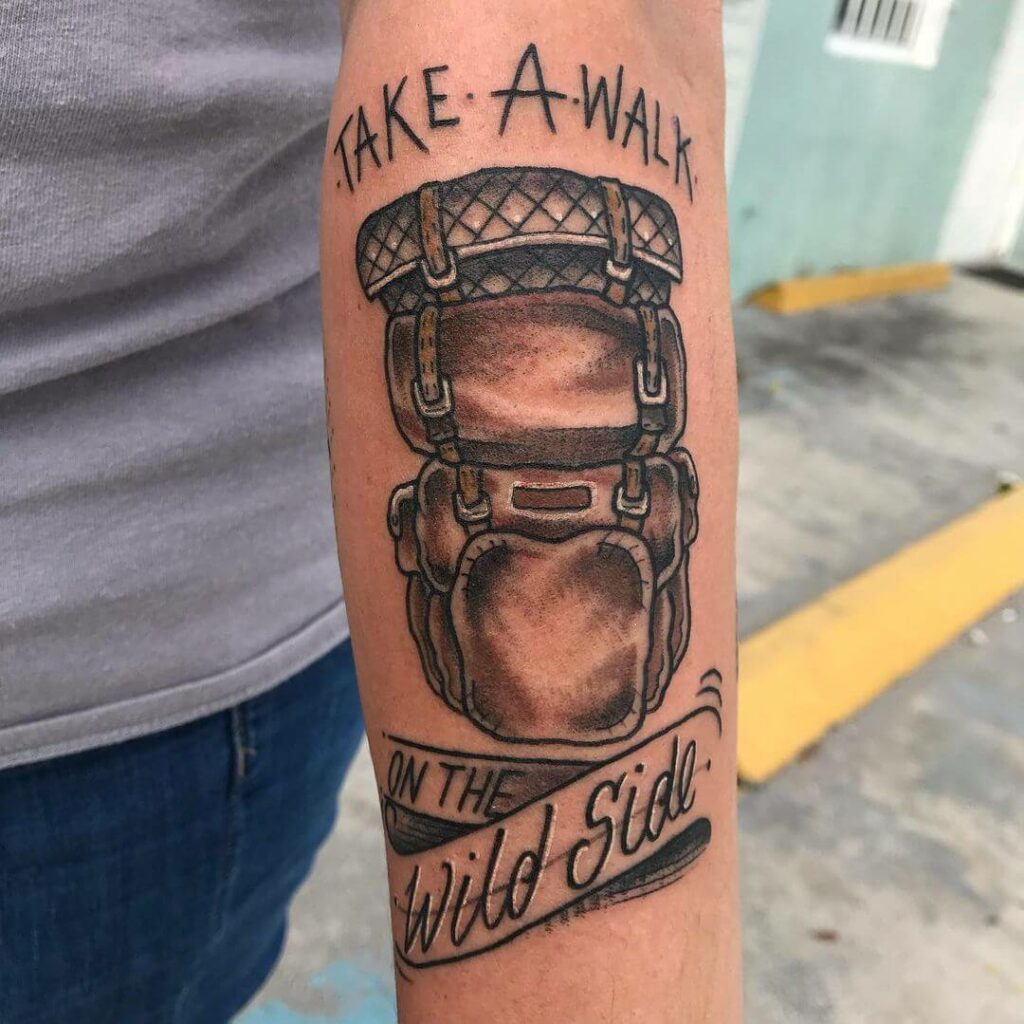 The call of the wilderness is something not everyone can resist. The outdoors – the mountains, animals, trees, rivers, sunsets – nature in all its resplendent glory wraps one's mind in a way that not only compels one to go on exploration but also inspires one to embrace the wild. And what better way to symbolize your love for nature than with a vintage backpack hiking tattoo? This tattoo with its vintage hue is telling you to take a walk on the wild side. It's an invitation for you to explore the pristine natural beauty unperturbed by all the pollution.
Bindle On A Hobo Stick Tattoo
Getting outside and having fun is the best way to break through the mundane existence. And why not permanently keep its remembrance on your body? Start planning your next adventure and put the finishing touch on your souvenir with this hobo stick and bindle tattoo. Touching on the traditional, the bindle also has an image of snowy mountains and trees on it – the perfect emblem for a hiking tattoo.
Hiker Skeleton Sitting On The Globe Tattoo
The world is vast – so much that each and every corner of it cannot be explored in a lifetime. You can hike endlessly, and even then there will be some trails, some routes that will remain undiscovered. And what better way to symbolize your love for hiking than with this hiking tattoo? This tattoo shows a skeleton who used to hike, sitting on the globe, signifying that even after death he is trying to explore all the places.
Conclusion
Whether you're an avid hiker or just love the great outdoors, hiking tattoos are a great way to show your love for nature. When it comes to placement, hiking tattoos can be placed on any part of the body. However, some popular spots include the arm, thigh, and back. As for cost, it depends on the size and complexity of the design. On average, you can expect to pay anywhere from $50 to $300 for a hiking tattoo. While there are no negative side effects or risks associated with getting a tattoo, it's important to choose a reputable tattoo artist who uses sterile equipment and follows proper safety protocols.
Feature image from Pinterest
Last reviewed and updated on May 23, 2023