Seeking a striking Hugin and Munin tattoo to express your love for Norse mythology? Prepare to be dazzled by our incredible collection of Nordic-inspired tattoos.
In ancient Norse lore, Hugin and Munin are two ravens that serve as Odin's eyes and ears, gathering secret knowledge from the world of Midgard. Each morning, Odin sends these mystic birds out to explore, and they return by breakfast to whisper their findings to him. The fascinating connection between Odin and Hugin and Munin carries deep wisdom and significance.
Artistic representations of Hugin and Munin date back to the sixth and seventh centuries AD, and they are often depicted alongside Odin on clothing, jewelry, and even helmets. As symbols of secret knowledge, these legendary birds feature prominently in the Skaldic poems that recount stories from Norse mythology. They make for intriguing and meaningful tattoo subjects, especially for those who admire both birds and Norse lore.
A Hugin and Munin tattoo can also signify travel, mysticism, and the pursuit of worldly knowledge. These raven tattoos can be designed in various ways, such as an angel whispering in one's ear, to evoke their role in Norse mythology. For those seeking their first tattoo with deep meaning and a connection to the rich tapestry of Norse tales, Hugin and Munin are a perfect choice.
In our collection, you'll find a diverse array of Huginn and Muninn tattoo designs, including the Hugin and Munin Valknut, headpieces, and pieces inspired by DeviantArt. These tattoos celebrate the ravens' symbolism of deep thought and knowledge, offering unique and thought-provoking options for shoulder, ear, and chest placements. Explore these captivating designs and discover the perfect way to pay tribute to these legendary birds.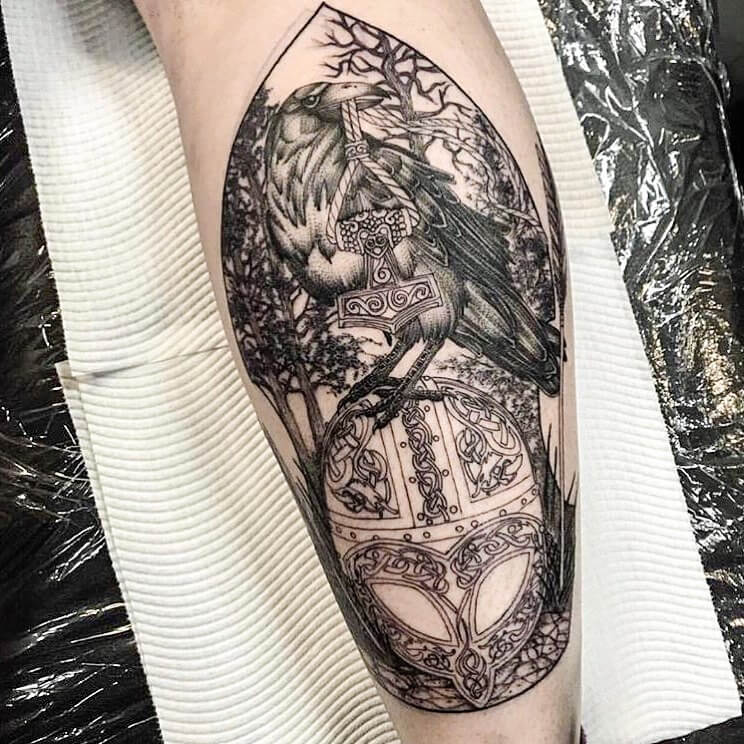 Detailed Black Huginn And Muninn Tattoo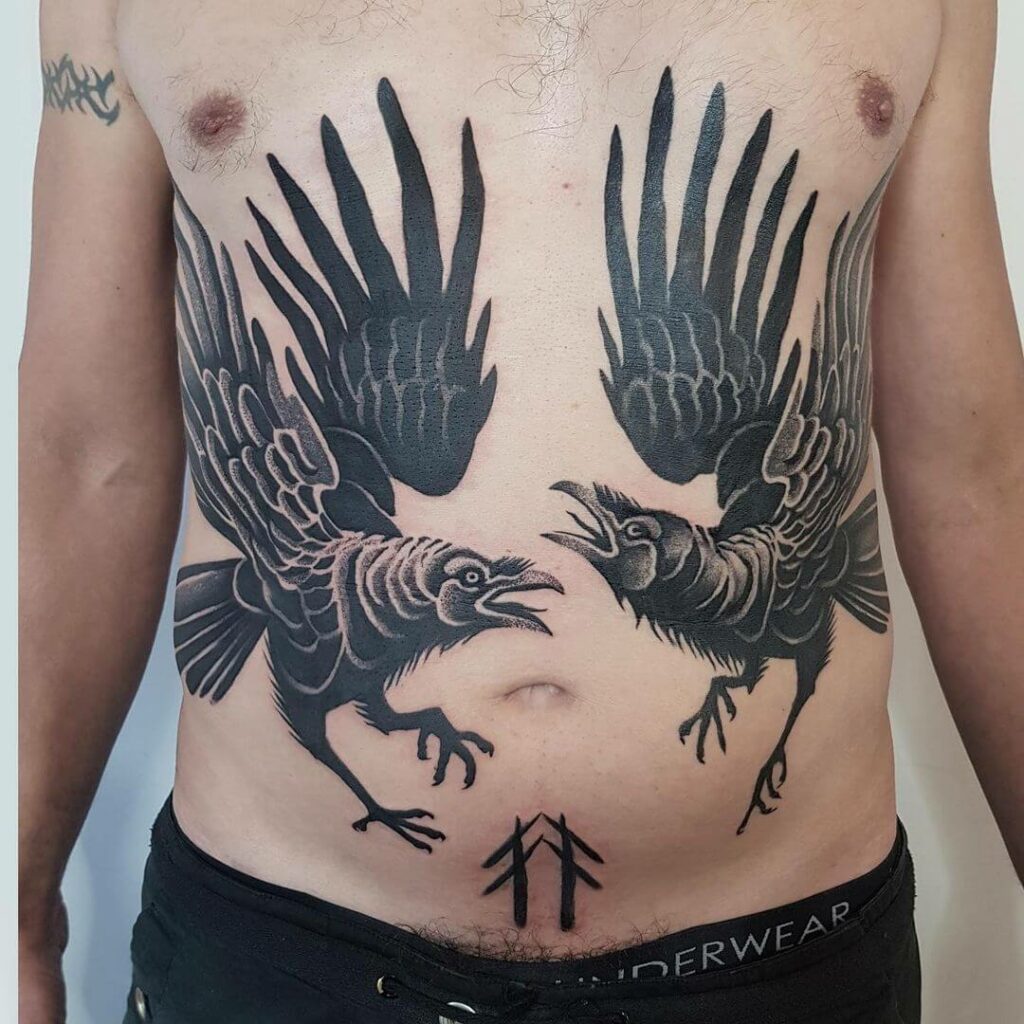 In Norse mythology, the god Odin was known as the Raven God, as he received secret knowledge from his trusty ravens Huginn and Muninn. This stunning monochromatic tattoo of Huginn and Muninn is a great choice for anyone who values knowledge and seeks to learn more. It also holds significance as a symbol of secrecy and keeping secrets. If you're looking for a larger tattoo that captures these elements, this design would be a perfect fit. With the right artist, you can bring this piece to life on your skin and wear it proudly as a symbol of your thirst for knowledge and wisdom.
Aztec Red And Black Munin And Hugin Tattoo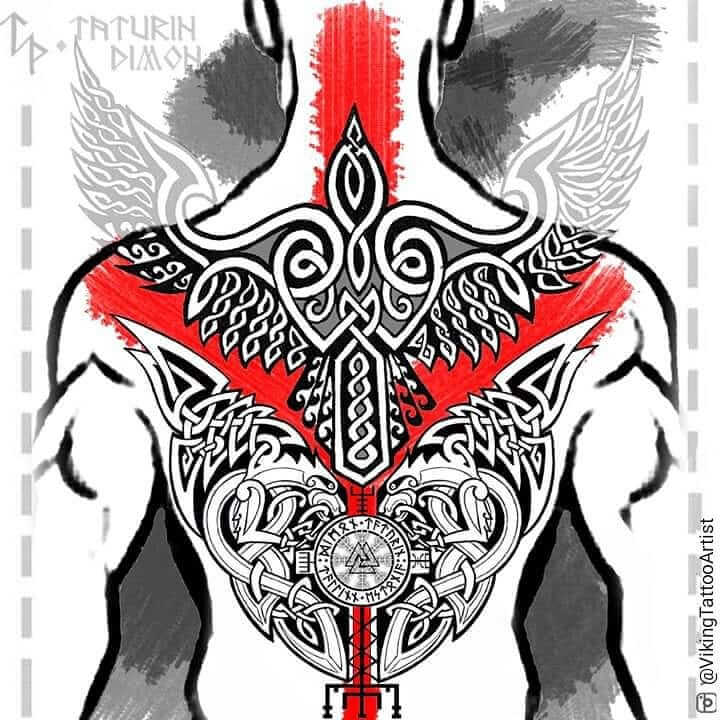 Aztec tattoos have become increasingly popular in recent years, and this particular Aztec tattoo featuring Huginn and Muninn is no exception. The intricacy of the design is truly mesmerizing and reflects the mystique of Norse mythology. These godly birds were believed to possess secret knowledge and are a powerful symbol for those seeking to embody their qualities. What makes this tattoo even more unique is the addition of red accents, which bring the design to life and add depth to the piece. It's a true work of art that will stay with you for a lifetime, representing your love for Norse culture and mythology.
Huginn And Muninn Tattoo With Odin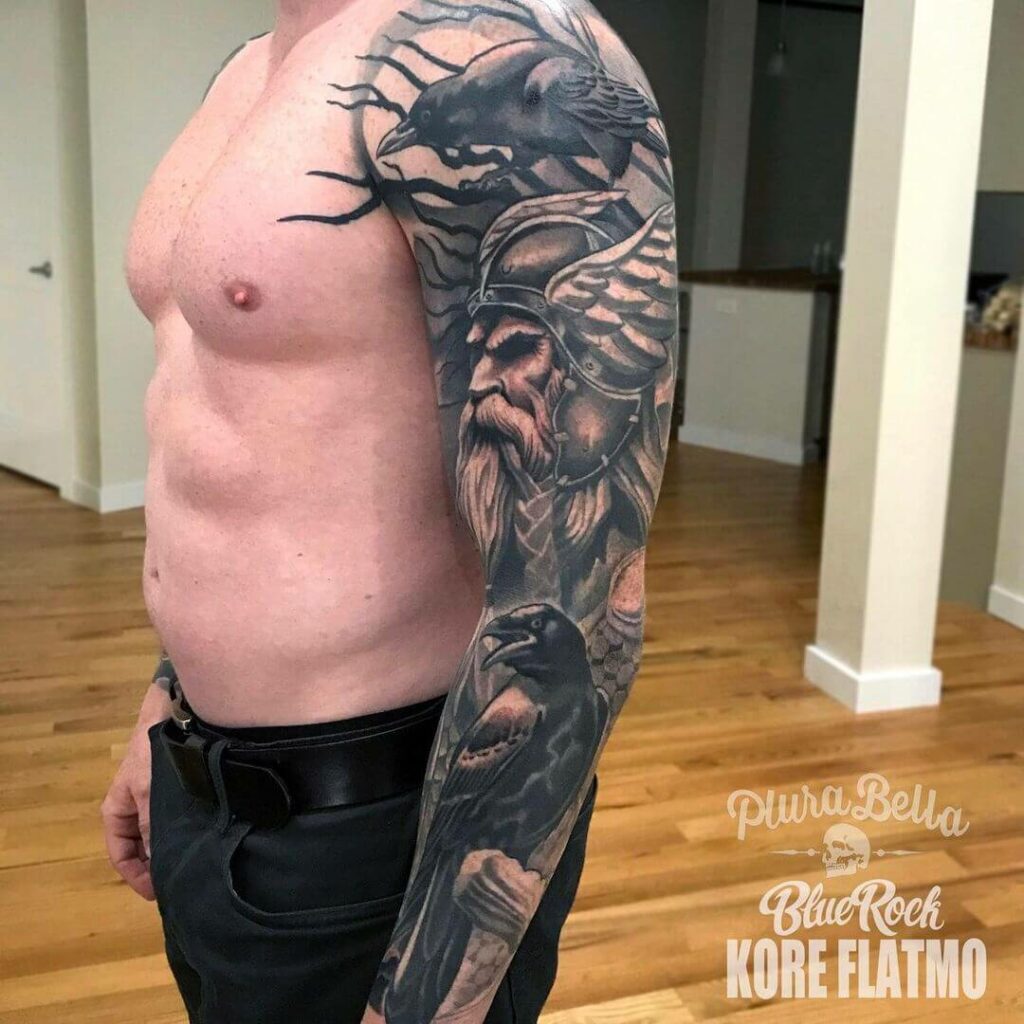 In Norse mythology, Odin is a powerful deity revered for his wisdom and knowledge of the secrets of the world. He is often depicted with his two raven companions, Huginn and Muninn, perched on his shoulders, whispering their secrets into his ears. This tattoo is a stunning representation of that image, complete with intricate details, perfect shading, and strategic placement to create a beautiful sleeve tattoo. The design almost resembles a piece of Viking armor, making it a unique and striking addition to any tattoo collection. If you're drawn to the mystique and power of Norse mythology and want to showcase your love for Odin and his feathered friends, this Huginn and Muninn tattoo is the perfect choice for you.
Nordic Huginn And Muninn Tattoo Design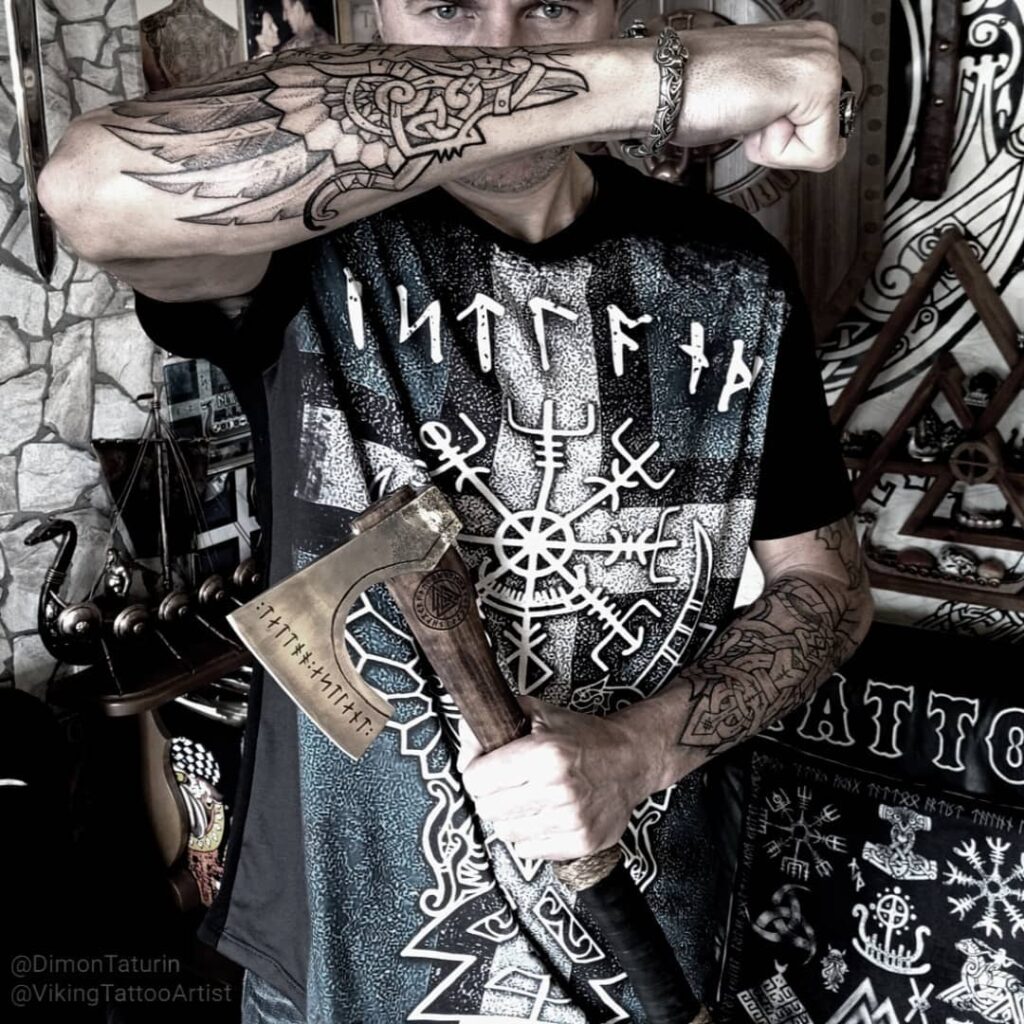 Nordic bird tattoos have been gaining popularity among tattoo enthusiasts, and this particular design features the ravens of Odin, Huginn and Muninn. The intricate details of this design make it stand out and offer a unique take on the traditional design of the ravens. It's a great tattoo choice for twins, siblings, or best friends looking to showcase their bond in a subtle yet meaningful way. The design is perfect for those who value meaningful tattoos and are looking for something that hasn't been seen before. For those who want to make it a pair, you can even choose a different raven design for the other hand.
Huginn And Muninn Tattoo With Celtic Elements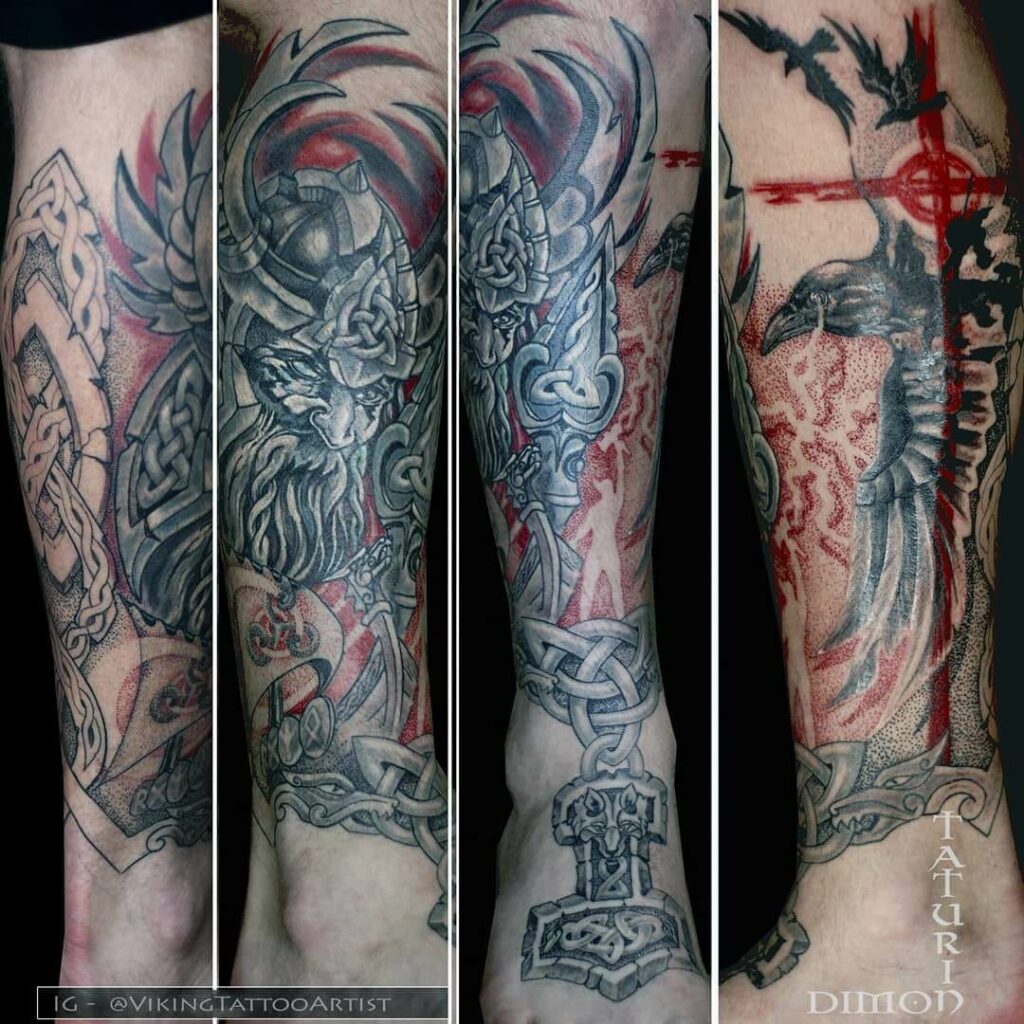 Sleeve tattoos have become increasingly popular over the years and for good reason. If you're looking for a sleeve tattoo that incorporates Norse mythology with Celtic elements, this tattoo design featuring Huginn and Muninn is an excellent choice. The intricate details and expert shading make this tattoo a work of art that is sure to turn heads. The addition of the Celtic elements in red adds an extra layer of depth to the design, making it even more visually stunning. This tattoo is perfect for anyone who is a true Viking at heart and is always seeking knowledge and adventure. So, if you're ready to take the plunge and get a meaningful and eye-catching tattoo, this design is definitely worth considering.
Vegvisir, Valkyrie And Huginn & Muninn Tattoo Sleeve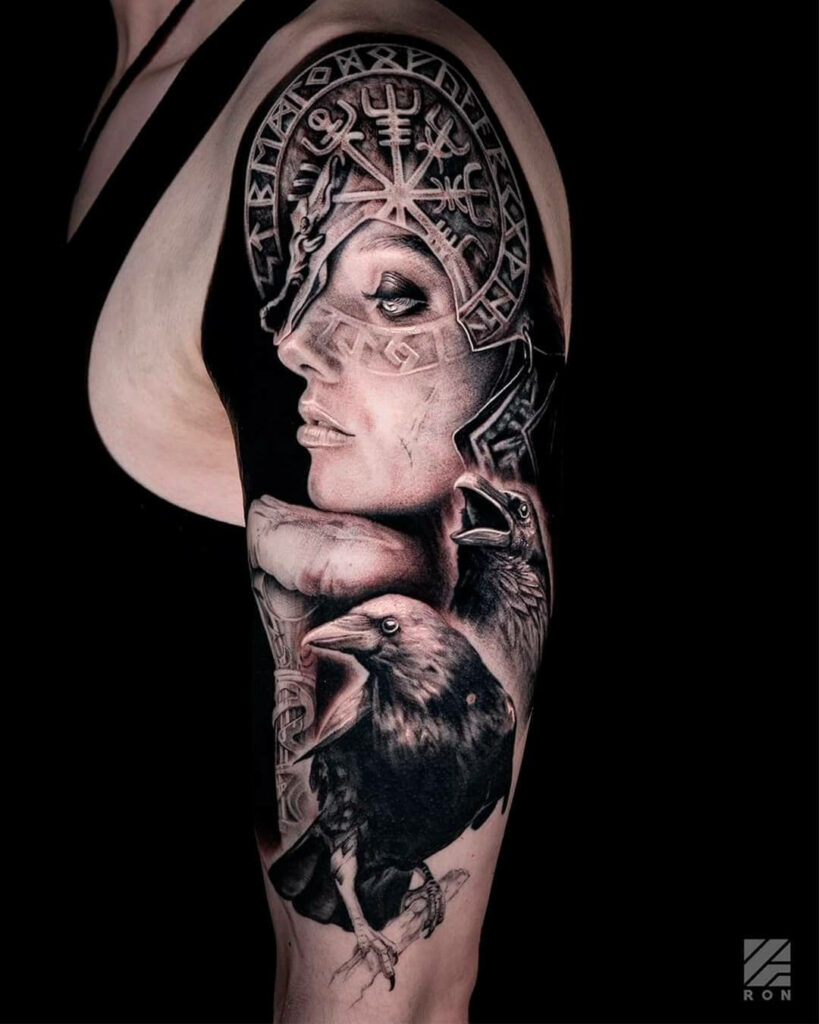 This masterpiece features an assortment of Nordic elements and the piercing gaze of the Valkyrie, making it a perfect choice for your arm, shoulder, or thigh. And let's not forget about the Huginn and Muninn tattoos, which are also finely detailed and well-designed. This stunning tattoo demands precision and expertise, so make sure to entrust it to a skilled tattoo artist. The Valkyrie and Vegvisir design is a beautiful combination of Norse artistry and symbolism, making it a meaningful and timeless tattoo that you'll treasure for life.
Black And White Odin And Huginn & Muninn Tattoo Design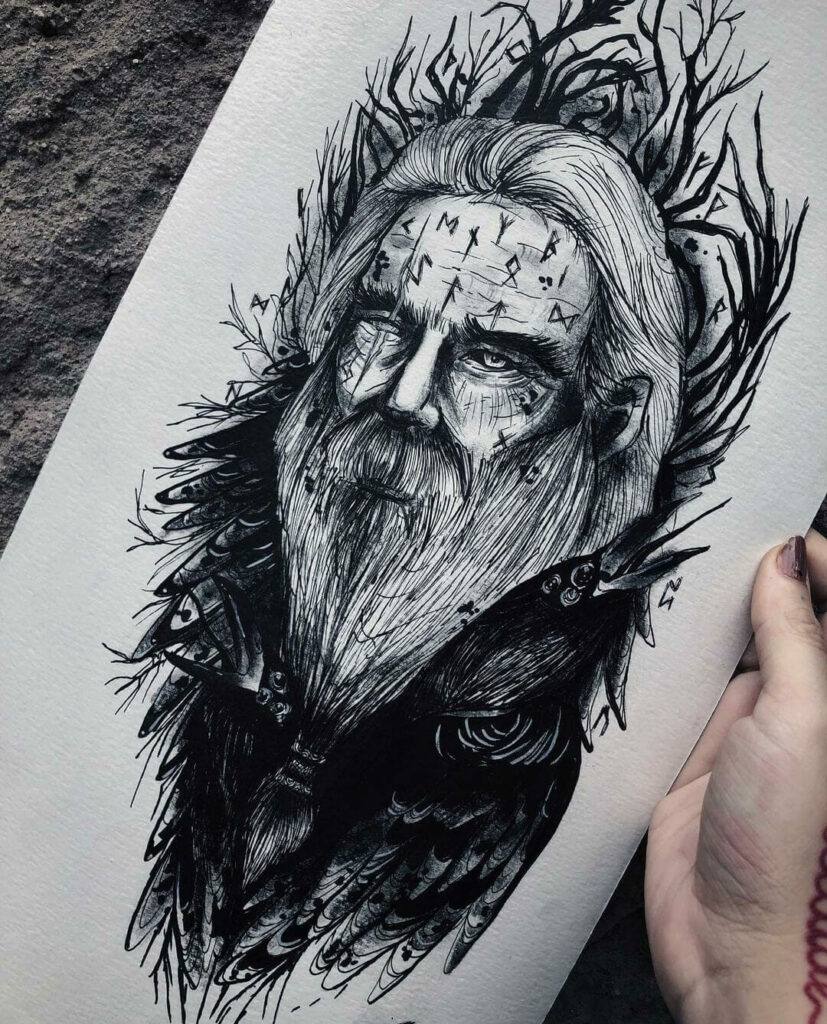 Tattoos that reflect mythology and legends are always a great choice for anyone who's interested in the stories and beliefs of ancient times. This tattoo is an excellent example of modern art merged with mythical elements, and it's an ideal choice for anyone who loves to have a unique tattoo on their body. The sketch itself is beautifully designed and has the potential to look like a true masterpiece when it's fully inked. The intricate details and carefully crafted lines make it a perfect fit for a chest tattoo, but you can always ask your artist to suggest the best placement according to your body type and preferences. So, if you're looking for a tattoo that is both artistic and meaningful, this tattoo design is definitely worth considering.
Unique And Detailed Shoulder Tattoo Design Of Huginn & Muninn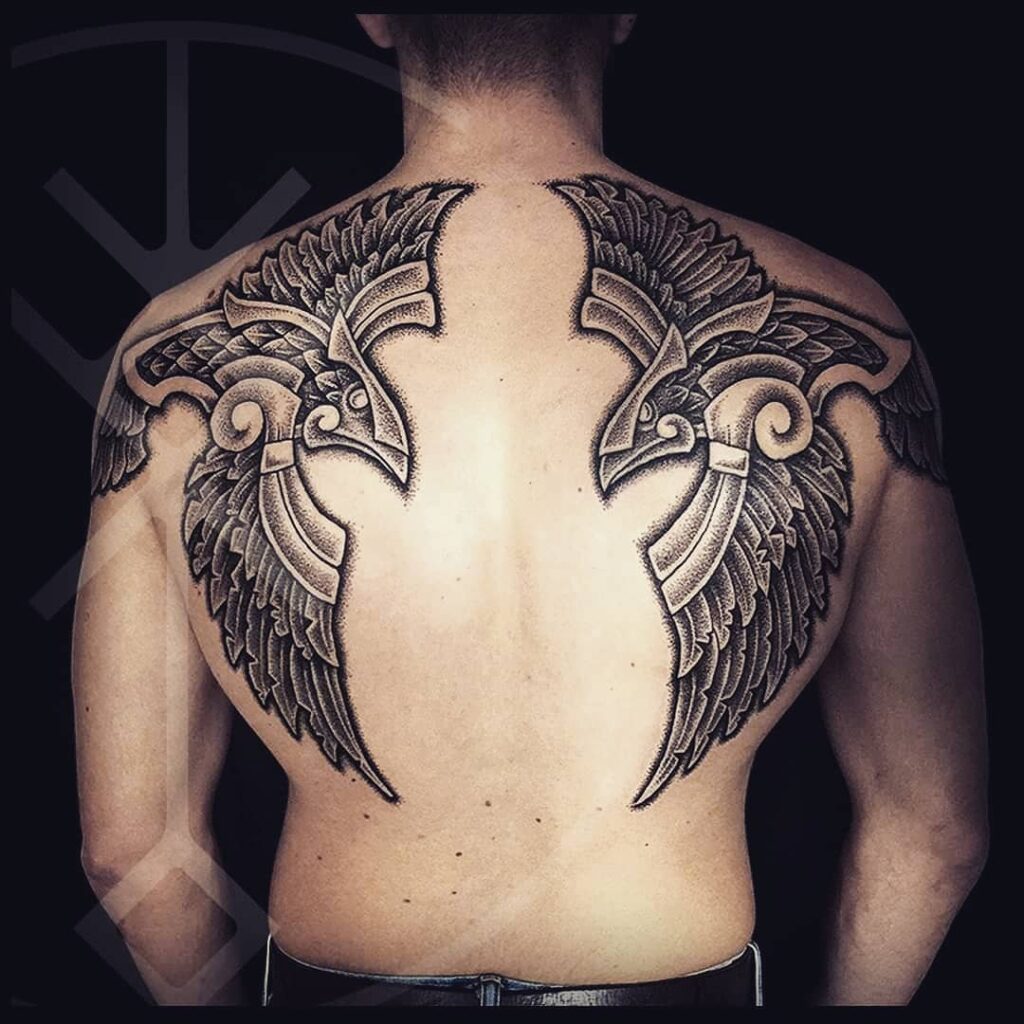 The shoulder is one of the most popular spots to get a tattoo, and this Aztec design of flying ravens is the perfect choice for anyone looking for a unique and meaningful shoulder tattoo. The design is inspired by Norse mythology and is reminiscent of angel wings, making it a great fusion of two cultures. The flying ravens are also believed to symbolize secret knowledge and wisdom, adding an extra layer of depth to the design. The intricate details of the feathers and the wings make it a true work of art. This tattoo is sure to catch the attention of anyone who appreciates beauty and symbolism.
Tattoo Combining Mjolnir And Huginn And Munnin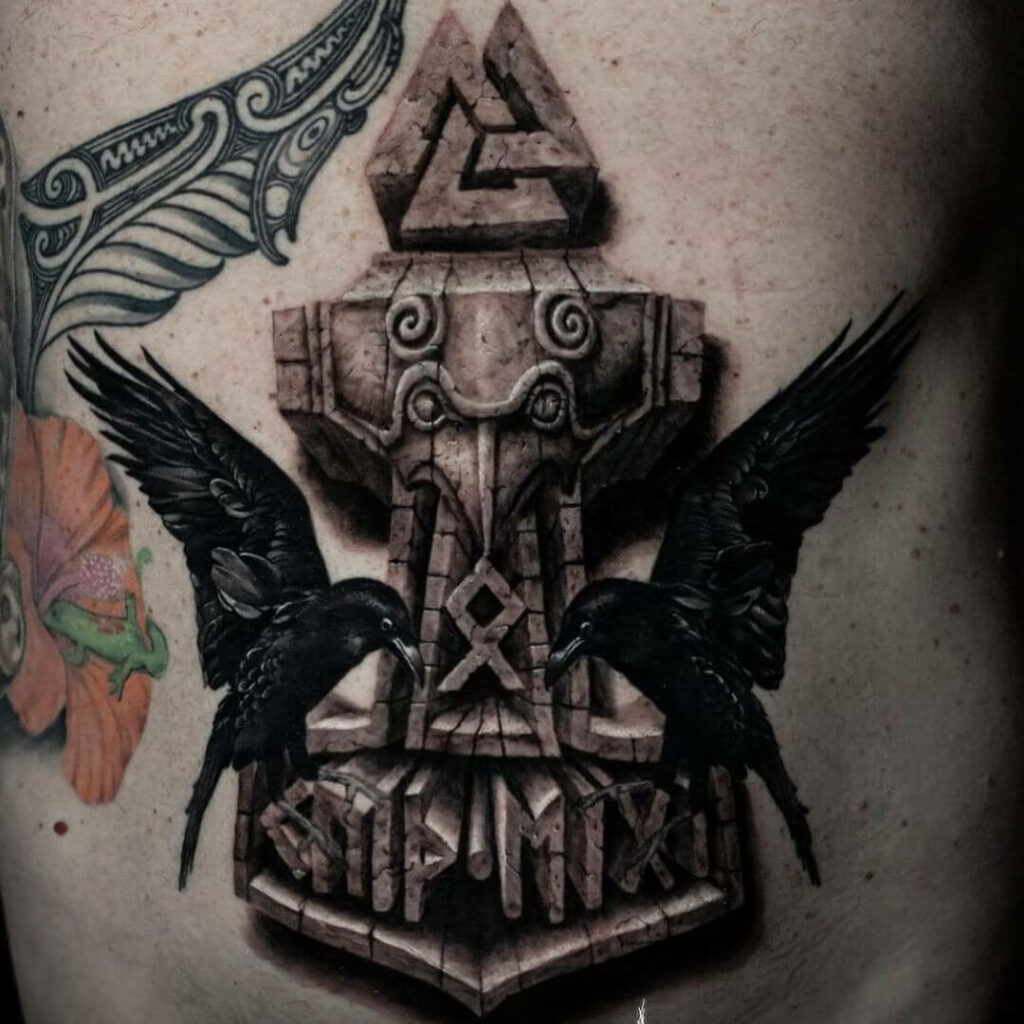 For those who are fans of Norse mythology, this tattoo of Mjolnir is a must-have. Mjolnir is the famed axe wielded by Thor, a beloved character in the Marvel Comic Universe. This tattoo is a great reminder of the heroism and power that Thor represents, and it also symbolizes the importance of knowledge and how it can be a source of eternal power. The intricate design of this tattoo is shaded to perfection, making it almost look like a 3D image on the skin. Whether you're a die-hard fan of Norse mythology or just looking for a powerful and meaningful tattoo, this Mjolnir design is sure to impress.
Celtic Huginn And Muninn Black And White Tattoo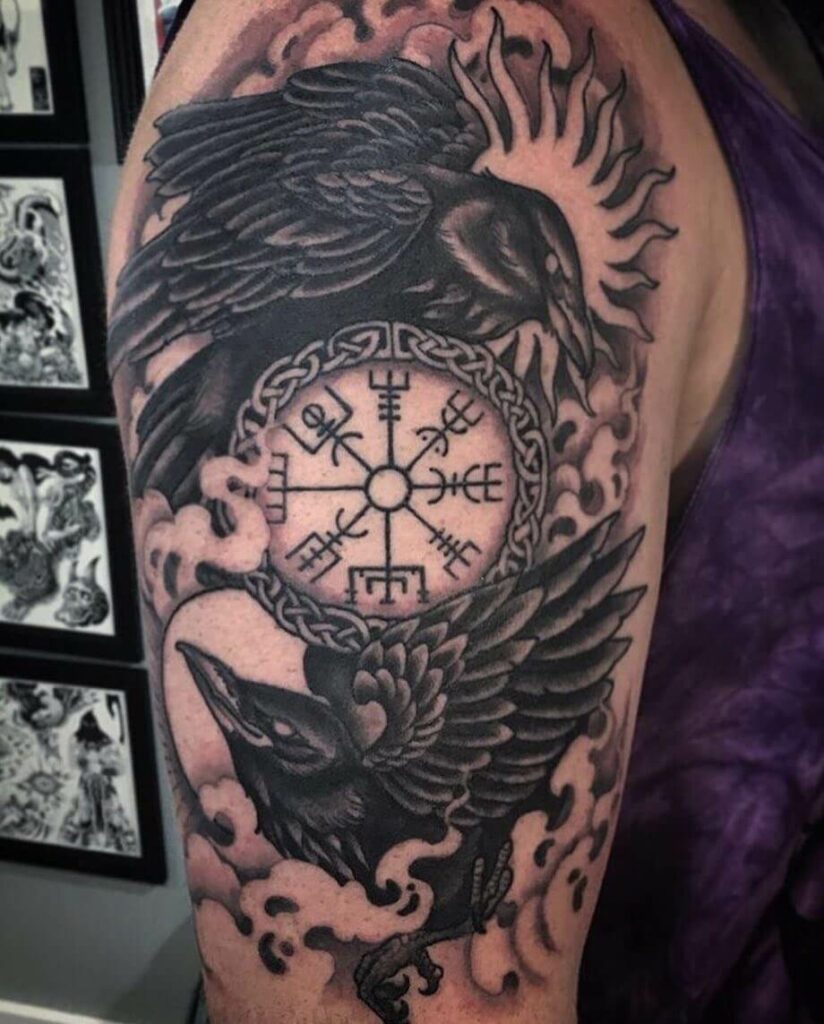 This tattoo design is a beautiful representation of the cycle of life and the passage of time, with the wise Huginn and Muninn perched on each side. It is truly one of the most meaningful and symbolic tattoo designs out there, and can be placed on almost any part of the body, including the chest, back, shoulder, arms, and thighs.
If you're drawn to the world of Norse mythology and want a tattoo that's both visually stunning and packed with significance, consider getting inked with the ravens of Odin. Whether you opt for a Huginn and Muninn tattoo or an Odin raven tattoo, these designs are perfect for those seeking to honour a loved one or pay tribute to the wisdom and knowledge of the ancient Norse gods. Take your time exploring the various designs available and find the one that truly speaks to you.
Feature image from Pinterest – Want your tattoo to look brighter? Try "Tattoo Balm"
Last reviewed and updated on April 23, 2023