In the world of body art, certain tattoo themes stand out for their distinct charm, unique aesthetic, and the powerful stories they weave on the skin's canvas. Among these, hunter-themed tattoos hold a compelling appeal, serving as intriguing emblems of the wearer's individuality. The allure of these designs doesn't merely lie in their striking visuals, but also in the potent symbolism they encapsulate.
Flaunting a hunter tattoo is akin to wearing your heart on your sleeve, or in this case, your passion on your skin. It's about expressing an innate affinity for the great outdoors, for the thrill of the chase, and for the primal yet profound connection between man and nature.
Historically, hunting tattoos have been sported by those who embody strength and courage. Their presence on the skin has been a longstanding symbol of power and valor across myriad cultures, further accentuating their desirability in today's tattoo scene.
The imagery of a hunter, poised with bow and arrow, or perhaps a tableau of wild animals, encapsulates a dramatic narrative that has become increasingly fashionable in contemporary body art. Moreover, abstract interpretations of the hunting motif lend themselves perfectly to the expressive canvas of the skin, adding a modern twist to this timeless theme.
Hunter-themed tattoos are particularly appealing to those who identify with a spirit of freedom, determination, and relentless pursuit of their passions. Does your life echo a similar melody? Does your decision-making demonstrate the keen precision of an expert archer? Does your passion inspire others around you? If your answers to these questions are a resounding yes, then a hunting tattoo may well be your next artistic adventure.
As we delve further into this intriguing genre of body art, we'll be exploring a host of hunting tattoo options that cater to a wide range of preferences, be it trendsetting, classic, traditional, or contemporary, while considering their optimal placements on the body. So, stay tuned and prepare to be ink-spired!
Duck Hunting Tattoo
Imagine the spectacle of a Duck Hunting Tattoo; these designs are the perfect testament to one's resilience. They are about embodying the attributes of the ducks themselves – their adaptive nature, their intuitive survival skills. These tattoos weave a narrative of releasing pent-up emotions, symbolizing a journey of self-realization. Such designs, whether they portray a hunter with his faithful dog in pursuit of ducks, add an aura of commitment and dedication to your persona.
Bow And Arrow With Bear Head Tattoo
We delve into the realm of the Bow and Arrow with Bear Head Tattoo. This design speaks of progression and fearlessness, celebrating the power of moving forward despite challenges. The marriage of a bow and arrow with the head of a ferocious animal like a bear or a tiger infuses the design with a sense of potency and wild beauty. Rooted in tradition, these designs are a homage to your origins, a testament to your distinct personality.
Lion Head Hunter Sleeve Tattoo
Lion Head Hunter Sleeve Tattoos are a majestic tribute to courage and tenacity. The act of lion hunting reverberates with a deep spiritual connection to nature, reflecting a timeless style statement. Whether worn on your sleeve or accessorized with a depiction of a hunting rifle, these tattoos embody the heart and soul of a hunter.
Woman Hunter Tattoo Design
In a nod to the grace and strength of femininity, we explore Woman Hunter Tattoo Designs. Celebrating women's empowerment, these tattoos combine the charm of feminine aesthetics with the thrill of the hunt. These designs radiate an aura of romance and desire, carrying forth the saga of hunting in an enchanting narrative on the skin.
Fish Hook Tattoo
Fish Hook Tattoos offer a refreshing divergence from traditional hunting tattoos. These designs encapsulate a variety of meanings, ranging from good fortune to harmony, depending on the type of fish. Be it a simple yet chic fish hook design or an elaborate fisherman tattoo, these uncommon designs guarantee a unique fashion statement.
Hunter And Dog Tattoo
Moving on to the heartfelt depiction of the bond between a hunter and his dog, these tattoos capture a poignant scene of a hunter returning from his hunt, his faithful canine companion by his side. Dogs, revered for their hunting prowess, make a compelling addition to these designs.
Mighty Hunting Arm Sleeve Tattoo Designs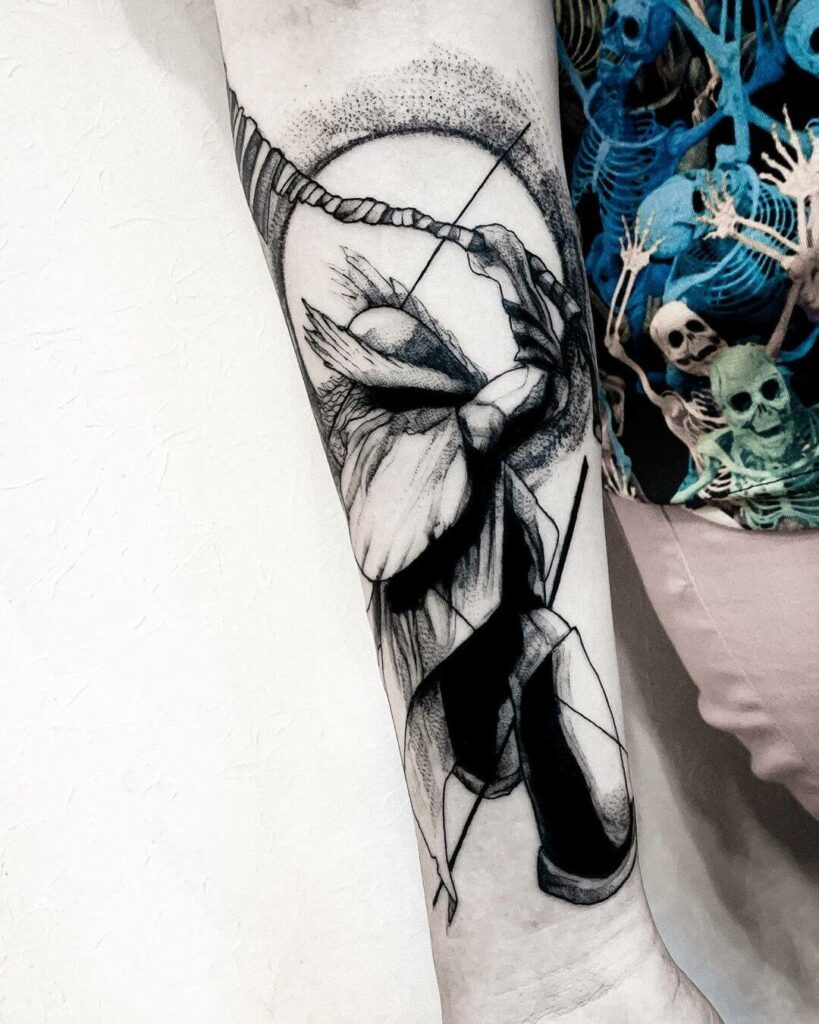 Next up are the mighty Hunting Arm Sleeve Tattoo Designs. These powerful displays feature formidable animals like lions, tigers, and wolves, symbolizing independence and strong will. They encapsulate the essence of hunting – prosperity, strength, wisdom, and the majestic thrill of the chase.
Deer Hunting Tattoo
Then we have the timeless Deer Hunting Tattoos. A homage to the sacred weapon of hunters, the bow, and arrows, these designs can be personalized with depictions of dogs, ducks, or skulls. Pair them with your favorite phrase or quote to add a personal touch.
Edgy 'Bloodborne' Hunters Mark Tattoo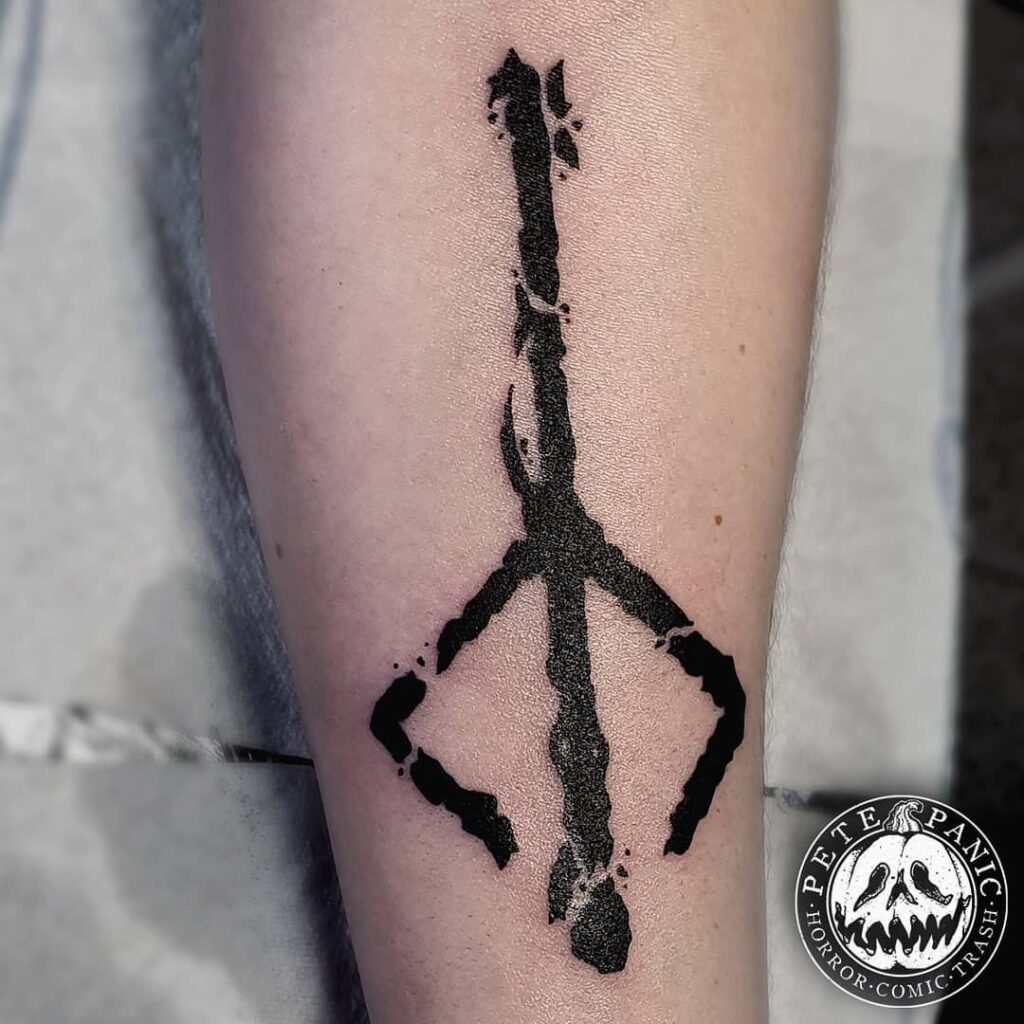 The unique Edgy 'Bloodborne' Hunters Mark Tattoo designs, known for their elegant simplicity, are a minimalistic yet impactful choice. Known for bestowing a sense of direction in life, these designs are the perfect homage for fans of the cult favorite 'Vampire Diaries'.
A Man On The Hunt – Classic Hunting Tattoo
Lastly, we delve into the classic Man on the Hunt Tattoos. These designs are a powerful testament to a bygone era when hunters would etch the skulls of their hunted prey, the head of the animal, or their hunting narratives on their bodies. These tattoos narrate the story of your life, echoing a personality imbued with passion and patience, reminiscent of the classic hunters of yore.
Conclusion
In conclusion, the world of hunting-themed tattoos is a mesmerizing and powerful journey, steeped in history, symbolic meanings, and a profound connection to the natural world. The decision of where to place your tattoo depends largely on personal preference and the statement you wish to make. Visible areas like the forearm, chest, or sleeve are perfect for showcasing detailed designs, while more discreet locations like the back or leg might be suited for those desiring a more private symbol of their hunting affinity.
The cost of your tattoo will vary based on factors such as the complexity of the design, the size, and the artist's experience. It's common for prices to range from $100 to several hundred dollars, so budgeting for your body art is an important step. Remember, a great tattoo is an investment in a piece of art you'll carry with you for a lifetime. It's worth paying for quality work from a reputable artist.
As with any tattoo, there are potential risks and side effects to consider. Common ones include infection, allergies to ink, scarring, and MRI complications. Ensure that your tattoo artist practices strict hygiene measures, including the use of new, sterilized needles for each customer. Aftercare is also essential to avoid complications and ensure your new tattoo heals properly. With careful planning and consideration, your hunting-themed tattoo can be a powerful testament to your passion and personality, a piece of wearable art that speaks volumes about your story.
Tattoo Hunting Tattoos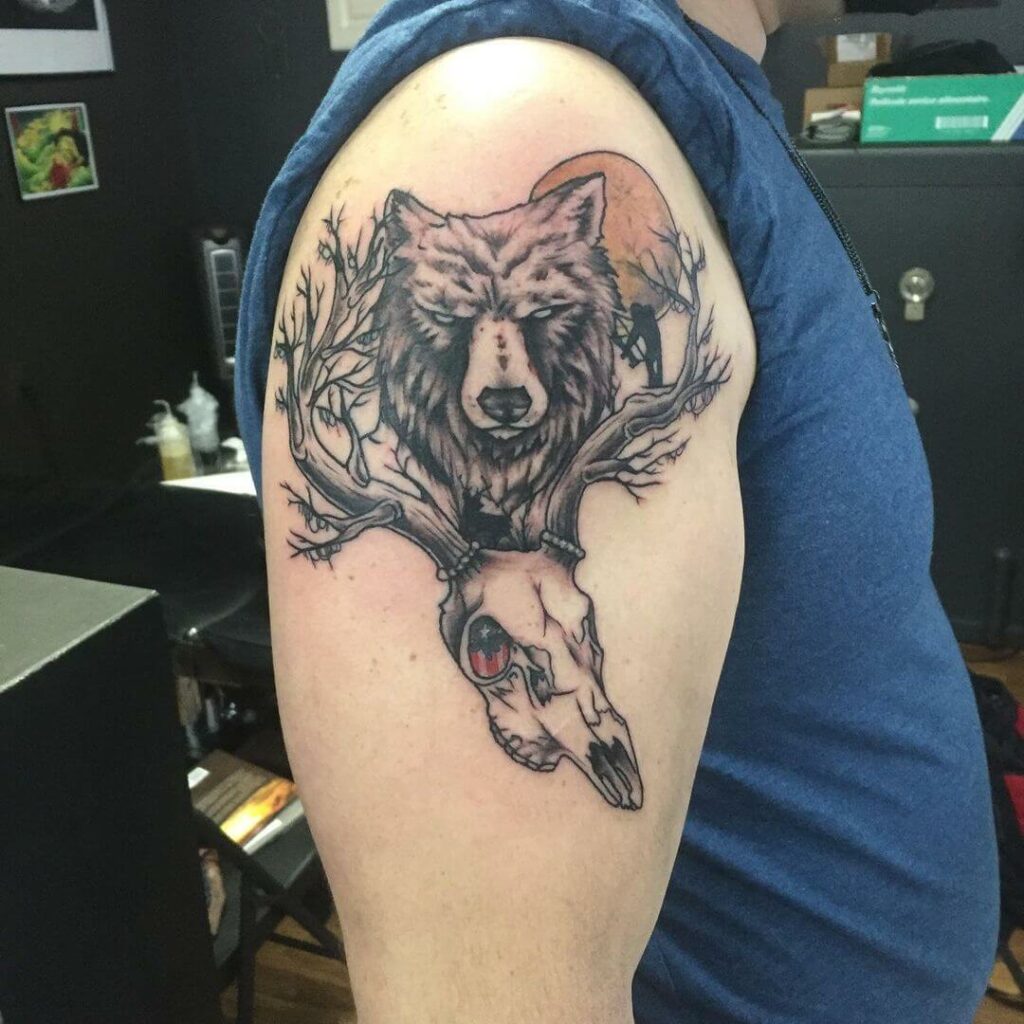 Tattoos Hunting Tattoo
Hunting Tattoo Tattoos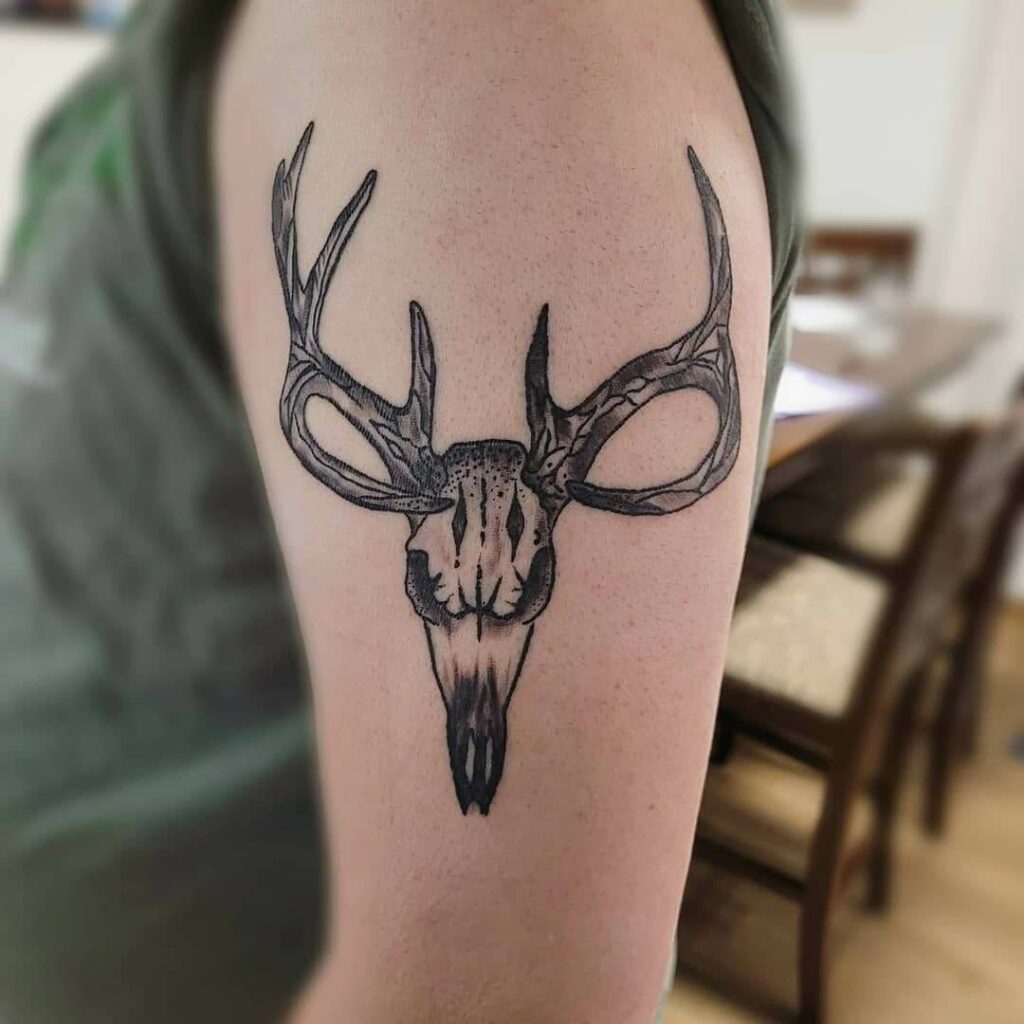 Hunting Tattoos Tattoo
Hunting Tattoo Bow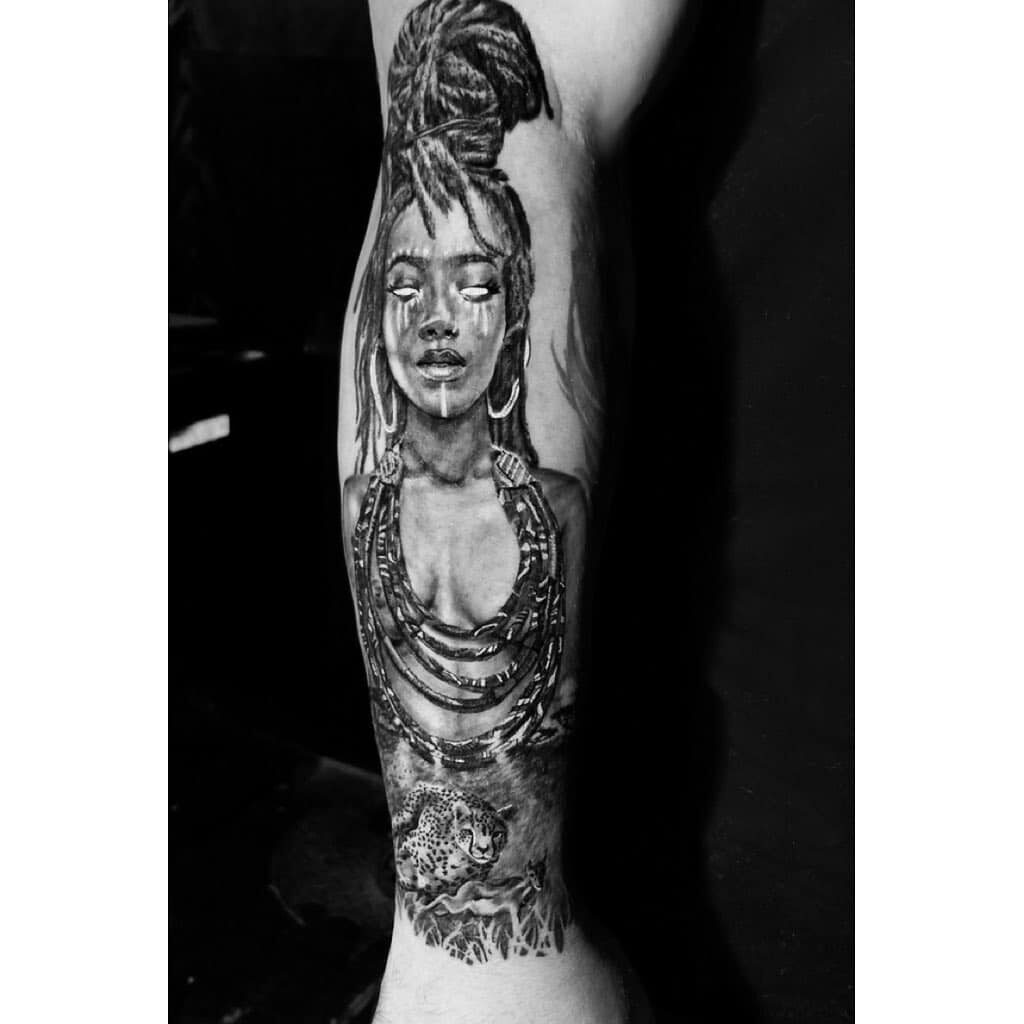 Feature image from Pinterest
Last reviewed and updated on May 23, 2023