Looking for some delicious ice cream tattoo ideas? Here are some of the most interesting tattoos for you to check out.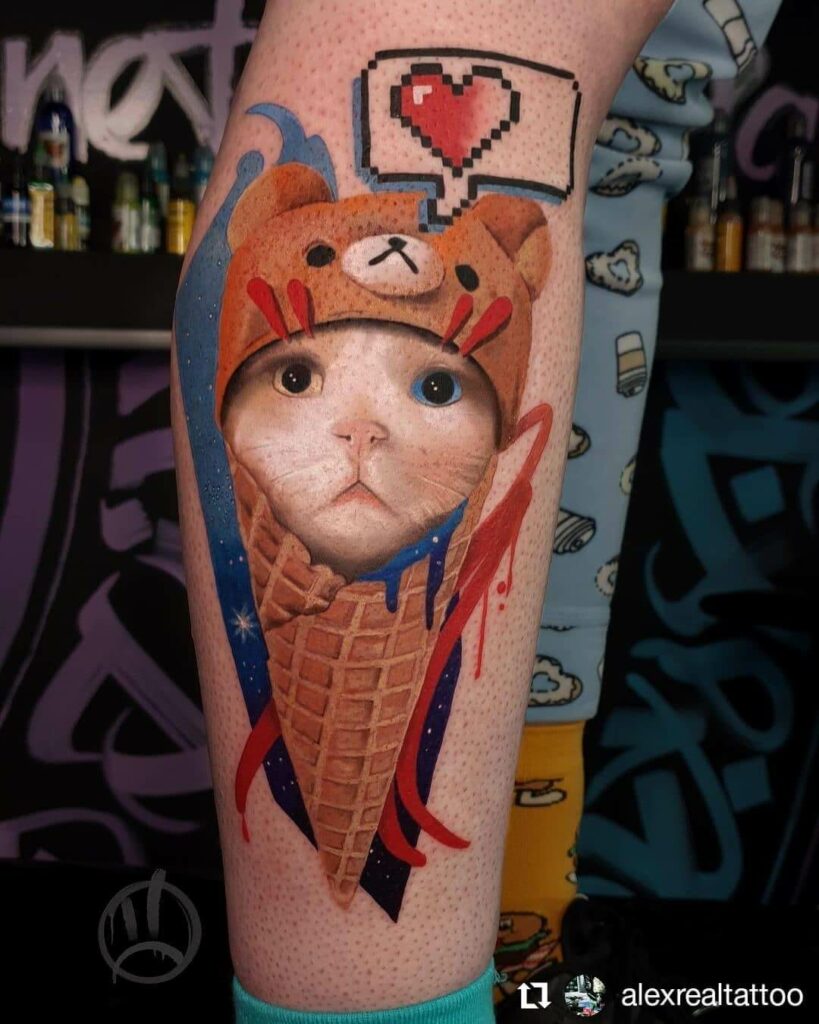 Ice cream tattoos are cool.
What does the ice cream tattoo mean? Well, this cool dessert, filled inside a cone with sweet flavours is the best refuge in hot days.
Ice cream tattoos are great to uplift spirits and a great delight to work on as tattoo artists.
Having a great ice cream design is not easy to achieve. They must be realistic; great in shape and size; must look fun, as they are an important element in the cold world of desserts topped with sweet candy and other amazing designs. To imagine a great ice cream tattoo design, one must think of inspirations like a hot sunday with scorching heat of the sun and a great tattoo design that can provide peace and satisfaction against it.
It must look real enough for the viewers to be willing to eat it rightaway. Its such a fun element to use as a main tattoo. Various colours of ink can be used to achieve these amazing ice cream tattoo designs and various sign of different brands can be used to make it look more aesthetic.
Twin Lion Face Ice Cream Cone Tattoo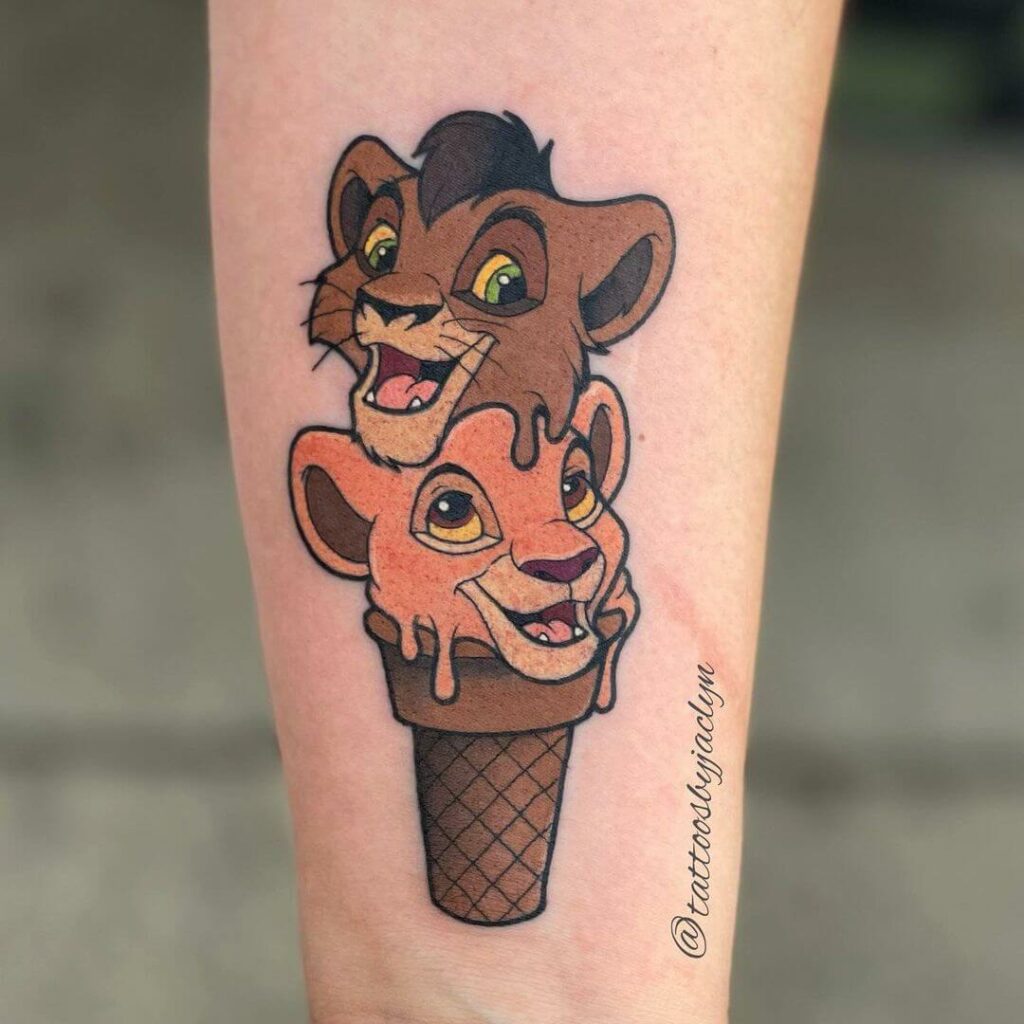 Kovu and Kiara from Lion King 2 inked on your skin on an ice cream cone definitely brings back childhood memories. The character on the top is Kovu as a cub and the character on the bottom is Kiara as a cub and both of their portraits are so young and youthful with small sized cone to make it look more adorable. This is definitely a great ice cream face tattoo idea that you would want to get if reminiscing childhood memories makes you ecstatic.
Melting Lime Ice Cream Tattoo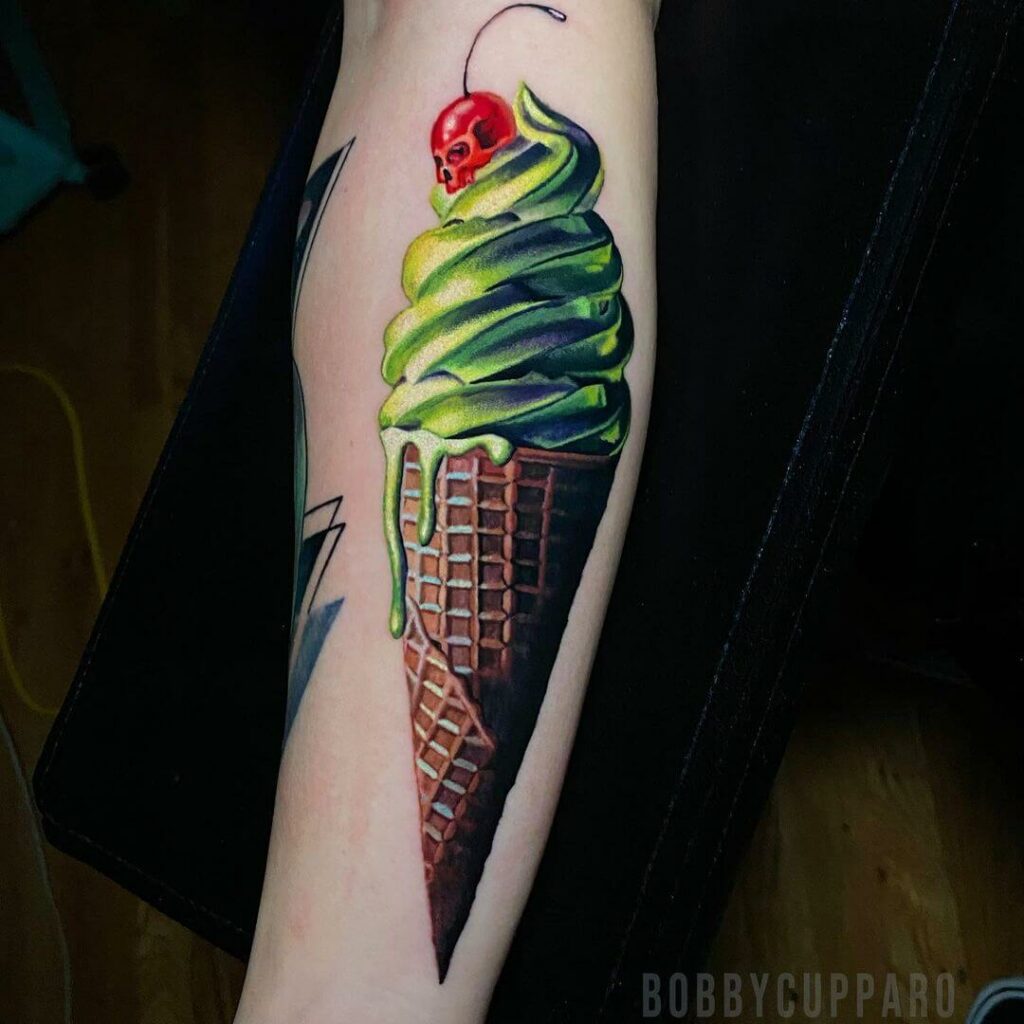 This ice cream tattoo has a dark themed appearance to it. The ice cream in this tattoo is a bright green flavour which is a punching lime flavoured ice cream. It melts from the left side of the ice cream cone and the cherry on top is fiery red skull. The colour usage by this tattoo artist is extraordinary; the way the green has been mixed with black and white to bring out the shades of light and dark is something that you do not see every tattoo artist pull off.
Boo-Berry Ice Cream Tattoo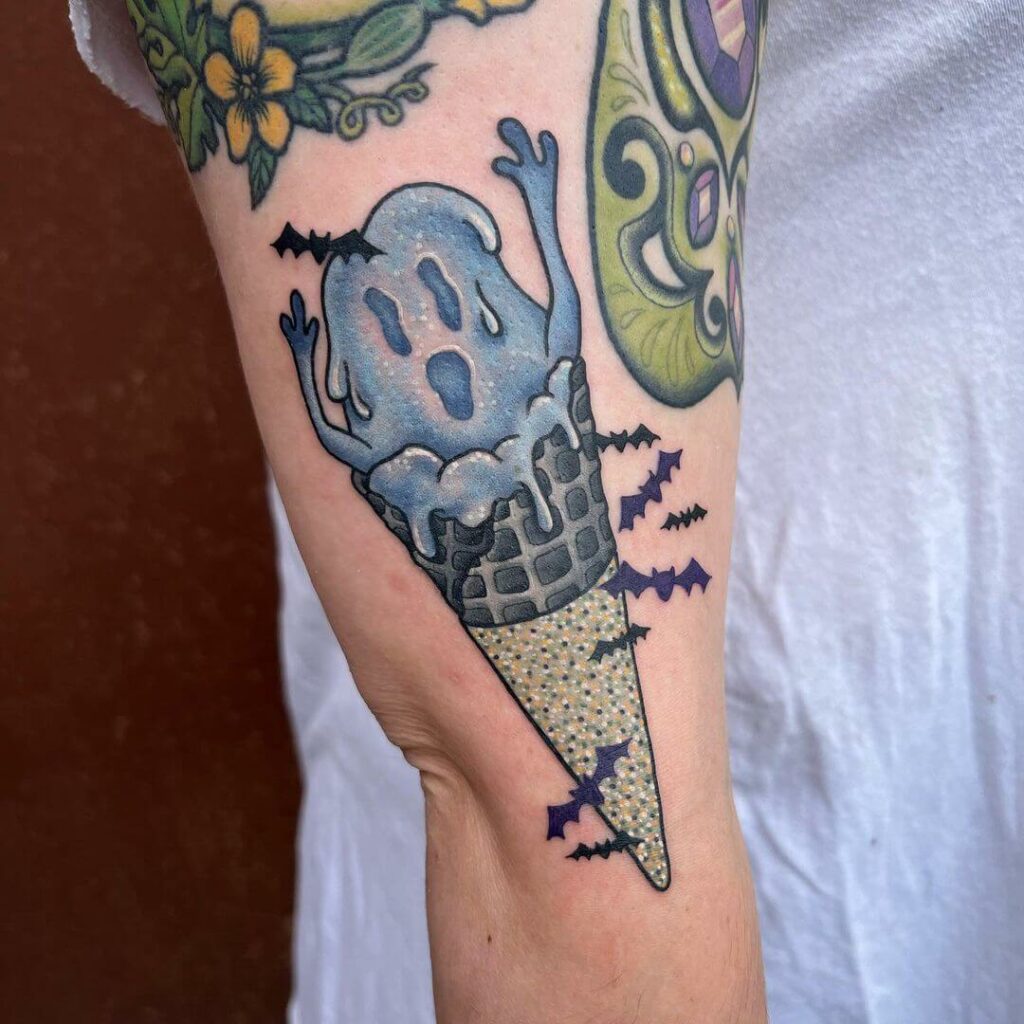 This is a Halloween themed tattoo. The ghost booing in this ice cream tattoo is actually a blueberry flavoured ice-cream. What makes this tattoo unique is the dark grey waffle cone and the bats flying around the ice cream cone. This is not a tattoo that you'd see in everyday life.
This spooky thematic tattoo has been executed splendidly by the tattoo artist. People love to pay attention to a creative element rather than a simple design. It is quite popular among men.
Gucci Mane Ice Cream Cone Tattoo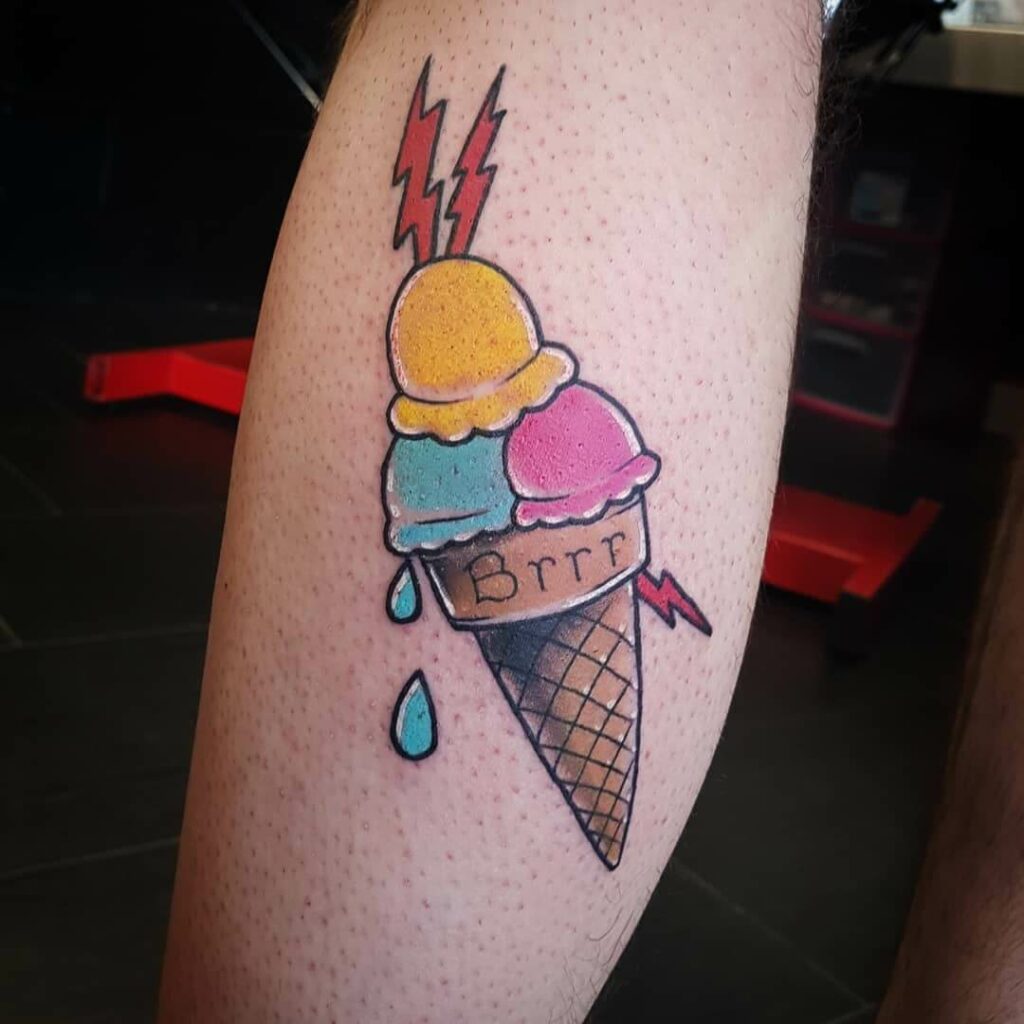 This Gucci Mane ice cream tattoo is very popular among Gucci Mane's fans. Gucci is a successful rapper with ice cream tattoo design on his face to express his way of living his life. He's the coolest rapper of his time. This tattoo design in which there are three scoops of ice cream, red lightnings and a special phrase 'Brrr' engraved on the cone is an iconic design.
Most people thing, 'what does Gucci mean?' Gucci meaning is as simple as a successful rapper's name; there is not much to it. This Gucci Mane tattoo ice cream design has gone viral and thousands of people have absolutely loved its spirits thinking that they will also represent the same motto in their lives. A simple, colourful, minimal tattoo yet a great impactful tattoo design for sure.
Duo Chrome Quality Tattoo
In this duo chrome coloured ice cream tattoo, the tattoo artist has creatively executed two different coloured swirls of ice creams which suggests two different flavours. The backdrop of this tattoo adds another element of aesthetics using a red sunset which is a perfect colour combo in this tattoo. It looks like a real captured image of a melting cone of ice cream. The execution is remarkable and overall it's quite mouth watering.
Kitty Ice Cream Tattoo Design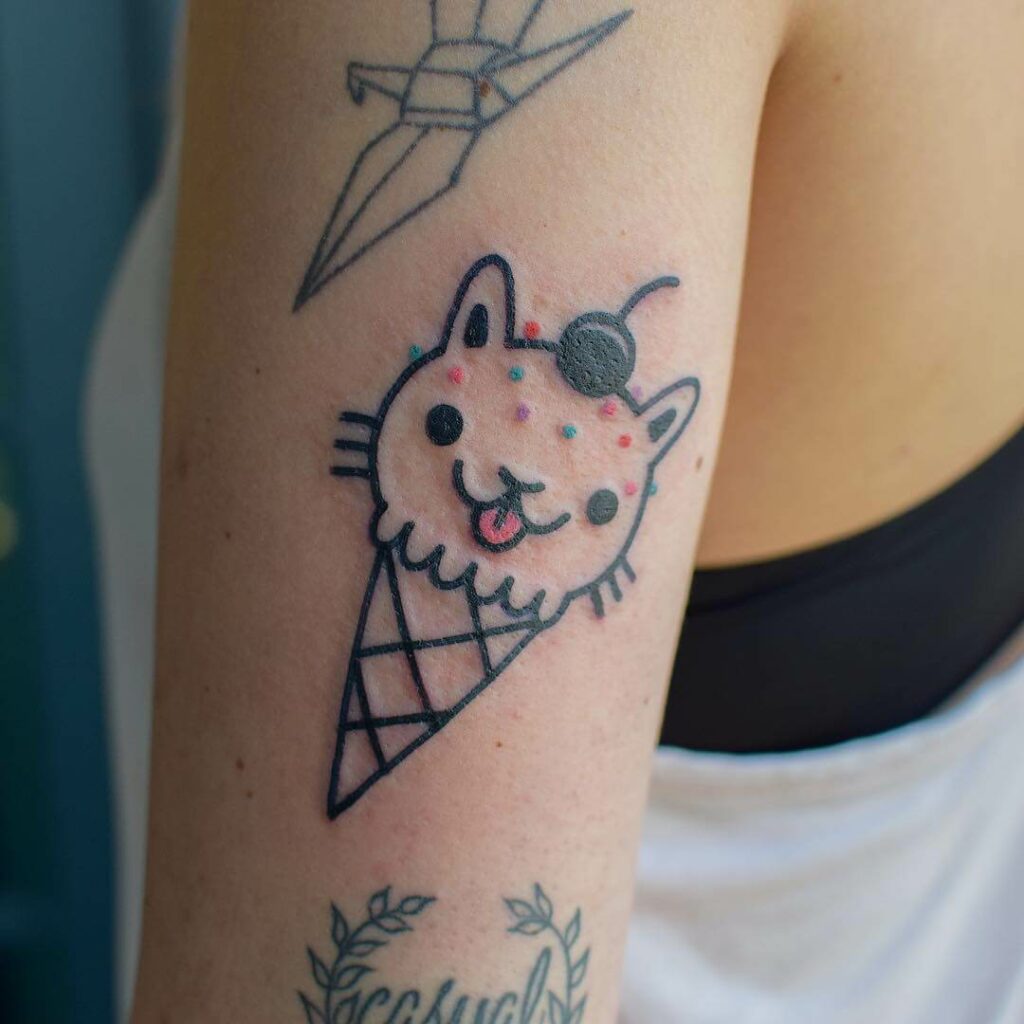 In this kitty ice cream tattoo, the tattoo artist has gone for a more comical approach rather than displaying a real ice cream scene. This is a great design for young adults and even for people who are fond of cats.
A simple bordered ice cream tattoo design in which the face of a kitty has been drawn instead of an ice cream scoop and there are more detailed elements like the cherry on top and various other toppings on the kitty. A simple yet a great tattoo design.
Ice Cream Swirl Tattoo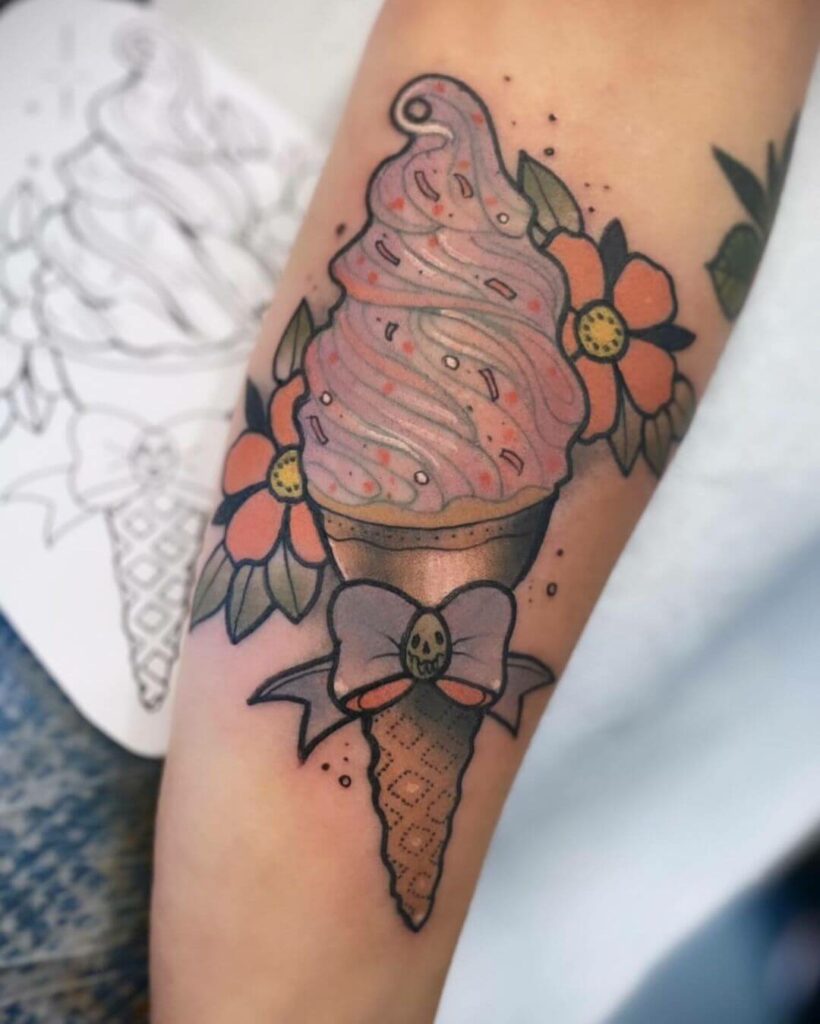 This is a beautiful lavender shaded swirled ice cream tattoo design. in this tattoo, the tattoo artist has beautifully exemplified the feature of an ice cream which is a great swirled scoop. THe simple light tone of lavender makes it more attractive.
The cone has also been made with great details and the shadings using brown and black inks are remarkable. The added accessory on the ice cream cone makes it more special. The tattoo artist has creatively added a skull figure at the centre of the bow to make it look more fun and interesting.
Dazzling Ice Cream Tattoo Design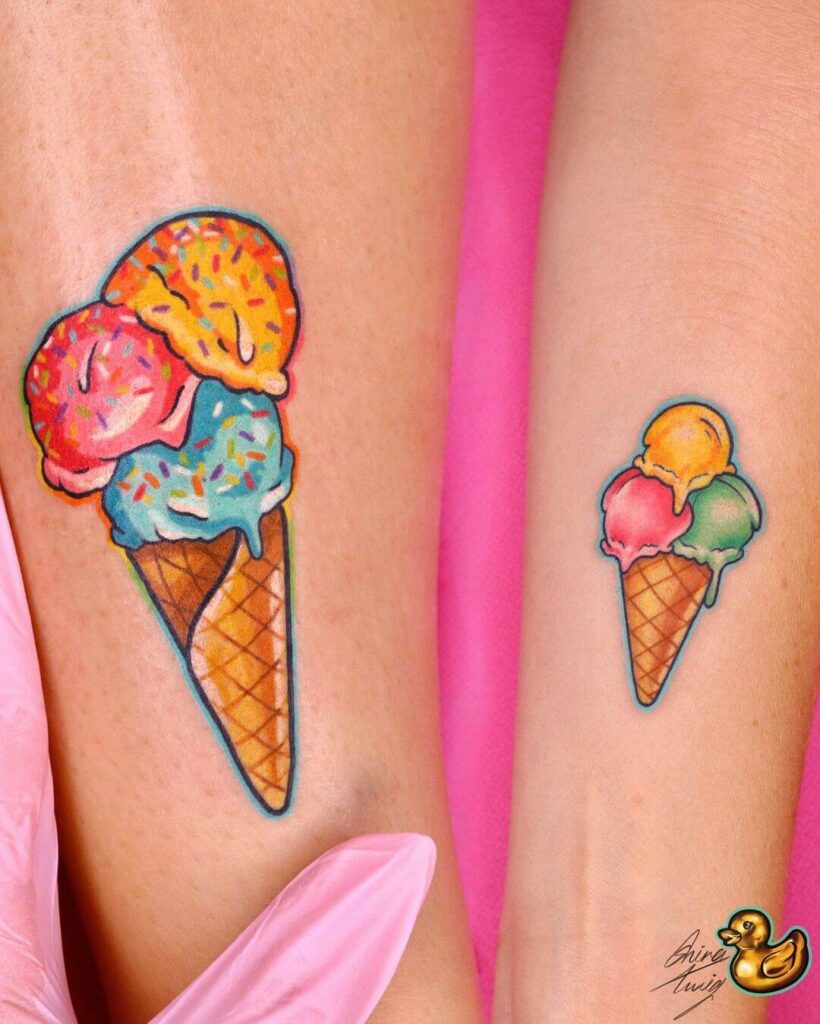 This tri-cone ice cream tattoo is a mouth watering treat as well as a visual delight. The colour story in this tattoo is stunning. The tattoo artist has used bright colour in this tattoo. The glossy effect and the little details like the sprinkle toppings on the scoops are great.
It is a matching tattoo which means that two people can get the same design to capture the essence of the tattoo. The realism in this tattoo is beyond remarkable. The shadings of the same colour in various hues to give it light and dark depth is a great skill.
Planet Ice Cream Tattoo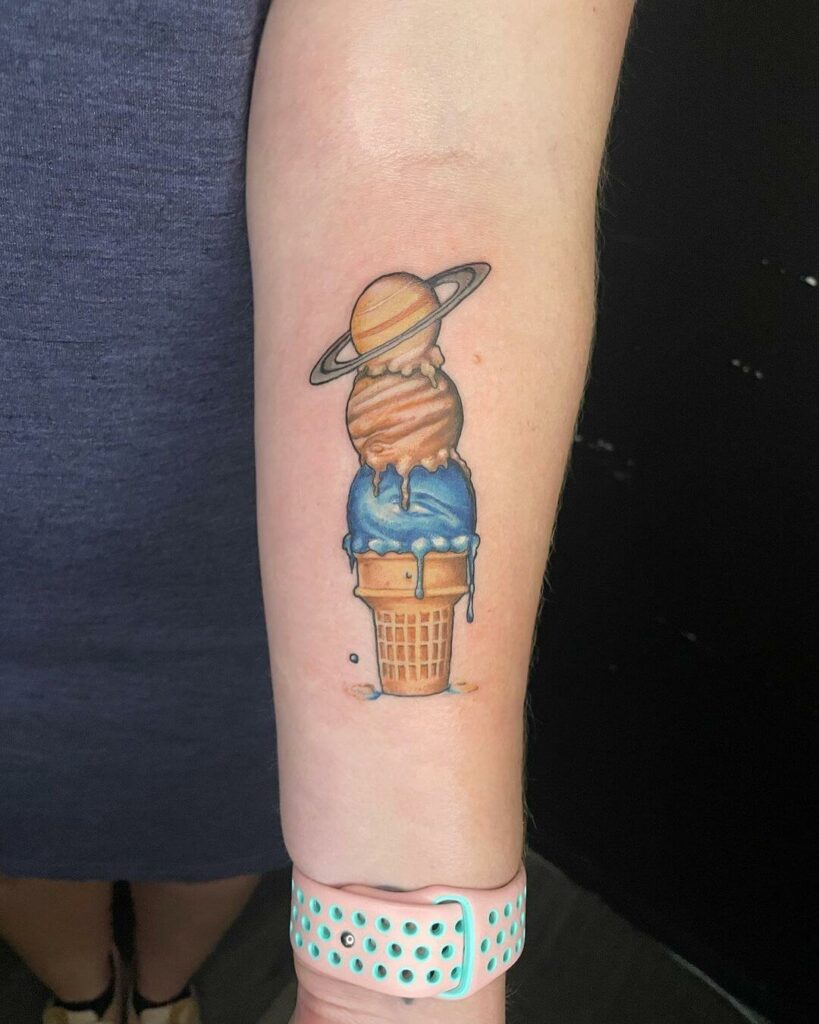 This is a great space lover ice cream tattoo design. The tattoo artist has used the three scoops to represent various planets in this tattoo. The top scoop is the planet of Saturn. The middle scoop is the planet of Jupiter and the bottom scoop is the planet of Neptune. The cone is small and adorable. A great execution of the space theme and great details using light toned coloured inks.
Ice Cream Snail Tattoo Design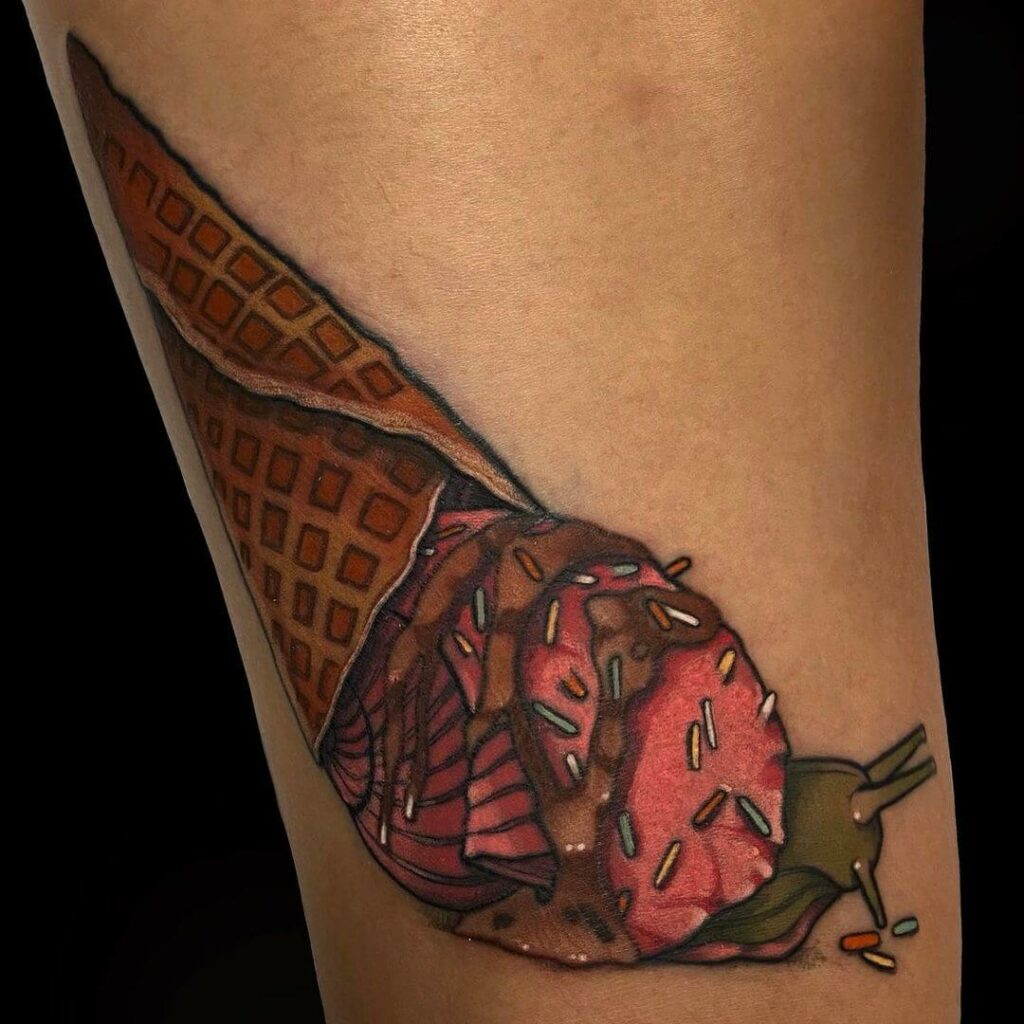 One of the most creative ice cream tattoo design is this snail ice cream tattoo design. The tattoo artist has drawn a very realistic looking snail and has cleverly substituted its back with the ice cream scoop which is connected to the ice cream cone.
The detailings in this tattoo are great. The snail looks as if it is eating the sprinkles that have fallen from the ice cream top. Te colour story of this ice cream tattoo is perfect as it is not quite bright and also not quite dark which makes it balanced.
Feature image from Pinterest – Want your tattoo to look brighter? Try "Tattoo Balm"
Last reviewed and updated on March 8, 2023