In search of some fantastic inner elbow tattoo inspiration? You've come to the right place! Explore our collection of the coolest tattoo designs and find the perfect idea to adorn your inner elbow.
Elbow tattoos have been in vogue for quite some time, and it's no wonder that inner elbow tattoos are catching on and gaining popularity. One of the key reasons people adore inner elbow tattoos is their versatility: it's easy to either show off or conceal the design depending on the occasion. Plus, this unique spot on the body offers plenty of room for small to medium-sized tattoos.
Dive into our curated selection of inner elbow tattoo designs and discover the perfect artwork to make your personal style statement.
How Painful Are Inner Elbow Tattoos?
Getting a tattoo for the first time is a big decision, and it's important to be aware of the potential discomfort associated with certain tattoo placements. The inner elbow is a popular tattoo spot, but it's important to note that it can be one of the most painful areas to tattoo. This is because there are two nerves present in the inner elbow, and the area lacks fat and muscle between the skin and bone. As a result, inner elbow tattoos require careful aftercare and can take several months to fully heal. However, if you're determined to get an inner elbow tattoo, a skilled tattoo artist can help minimize discomfort and ensure the best possible outcome.
Do Inner Elbow Tattoos Fade Easily?
When it comes to getting an inner elbow tattoo, it's important to consider the potential for fading due to friction caused by constant bending of the arm. Therefore, it's recommended to choose designs with bold outlines or those that cover areas above and below the inner elbow to minimize fading. Despite this challenge, there are plenty of unique and creative inner elbow tattoo ideas to choose from, ranging from compasses to roses and beyond. Whether you're a man or a woman, keep reading to discover some of the best inner elbow tattoo designs to inspire your next ink!
Botanical Inner Elbow Tattoo
Botanical tattoos are a popular choice for those looking to add some natural elements to their body art. The image above showcases a stunning example of this type of tattoo. In this design, leafy motifs are delicately inked on the side of the inner elbow, creating a beautiful and aesthetic addition to the body. What's great about this design is that it doesn't cover the entire inner elbow, meaning it will cause less pain and heal faster than a full inner elbow tattoo. The bold and dark appearance of the leaves adds a striking visual appeal that is sure to catch anyone's attention.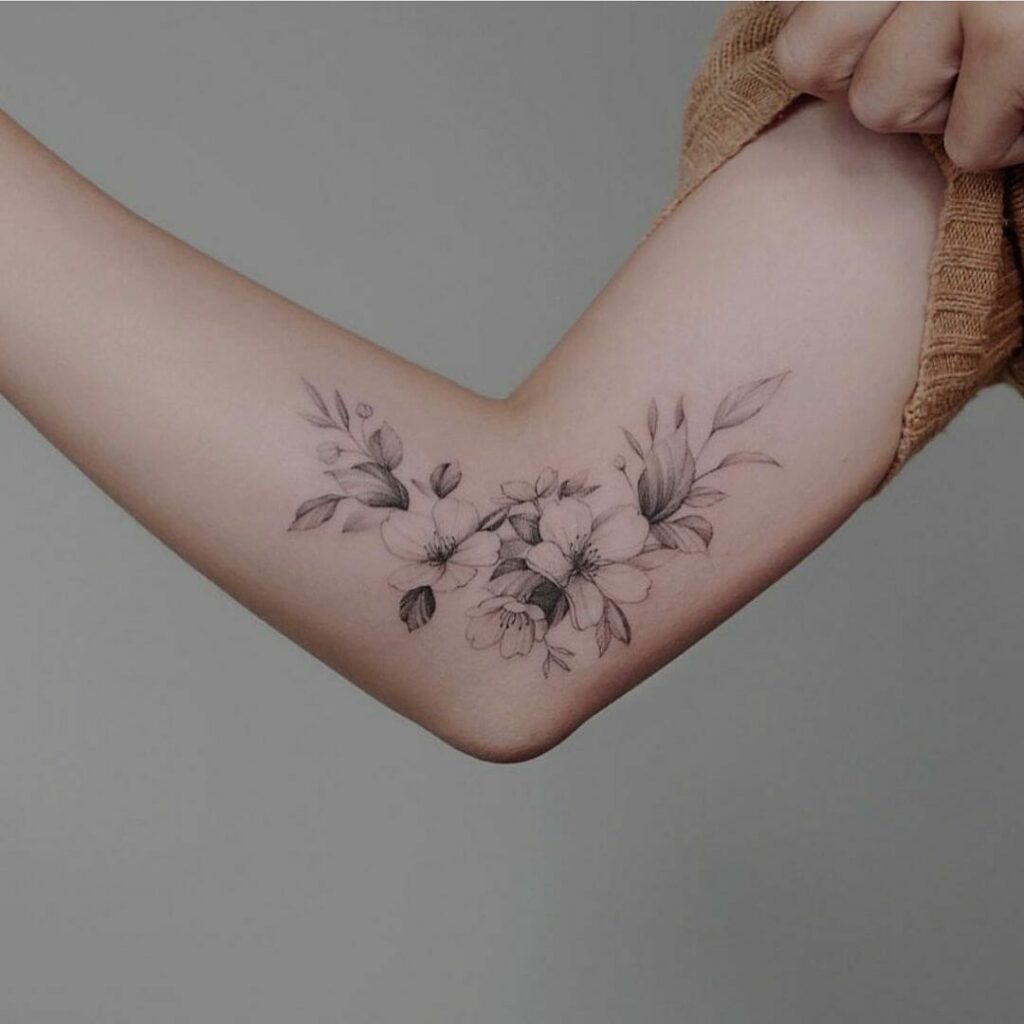 Floral designs can be a great option for those who love nature-inspired tattoos, and this particular design is no exception. Located on the side of the inner elbow, this tattoo features delicate flowers that have been inked with a light touch. The use of color is soft and subtle, giving the tattoo a delicate and feminine look. The leaves have been given a darker color to create contrast, adding depth to the design. While this tattoo is in a sensitive area, it's not fully on the inner elbow, making it a good option for those looking for a more painless experience.
Eye Inner Elbow Tattoo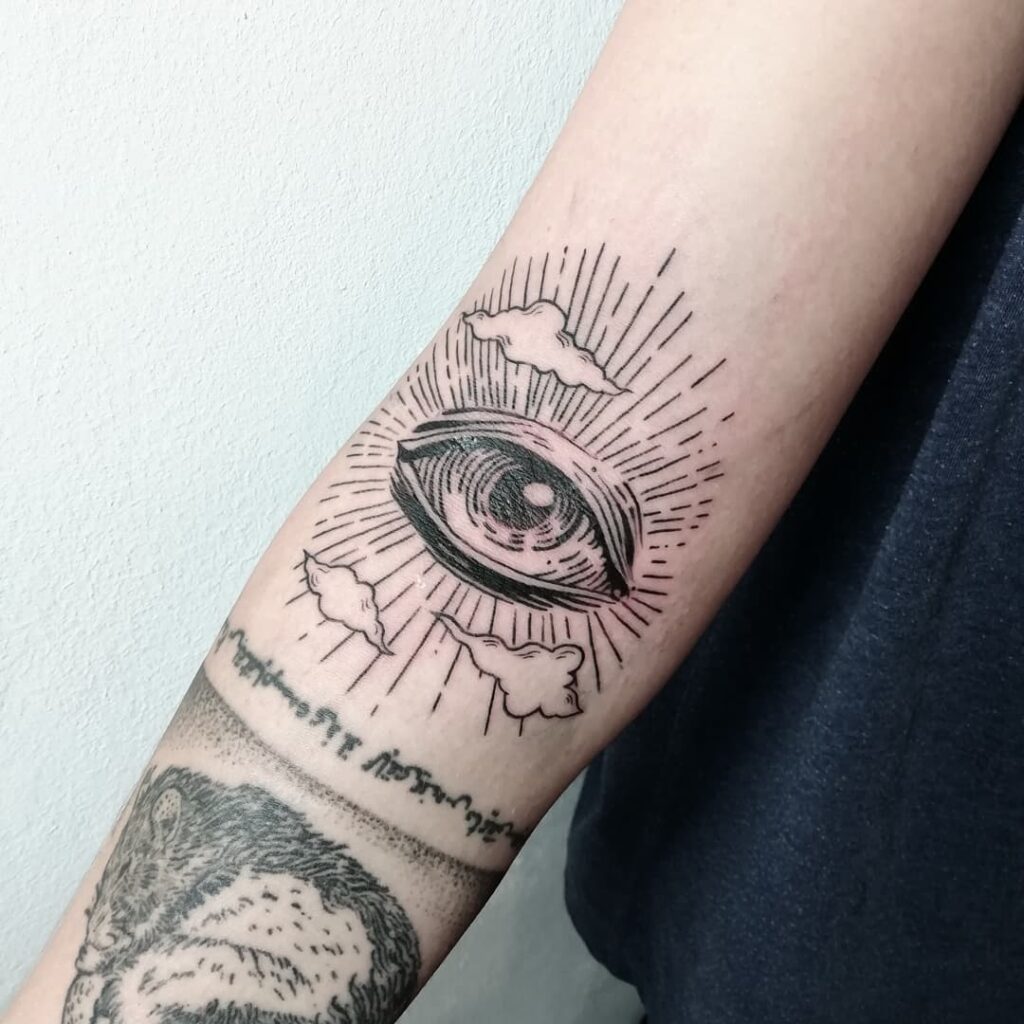 Inner elbow tattoos are a unique and meaningful way to showcase your personality, and this particular tattoo design is no exception. The intricate and symbolic eye tattoo represents God's omnipresence and serves as a constant reminder that we are always being watched over. The image of the dark eye, complete with clouds, raindrops, and sun rays, perfectly captures the elements of nature and the idea of a higher power. The artist has expertly used shades of black, white, and grey to create a stunning piece that is sure to catch everyone's eye. Whether you are a religious person or simply appreciate the beauty of this design, this inner elbow tattoo is an excellent choice.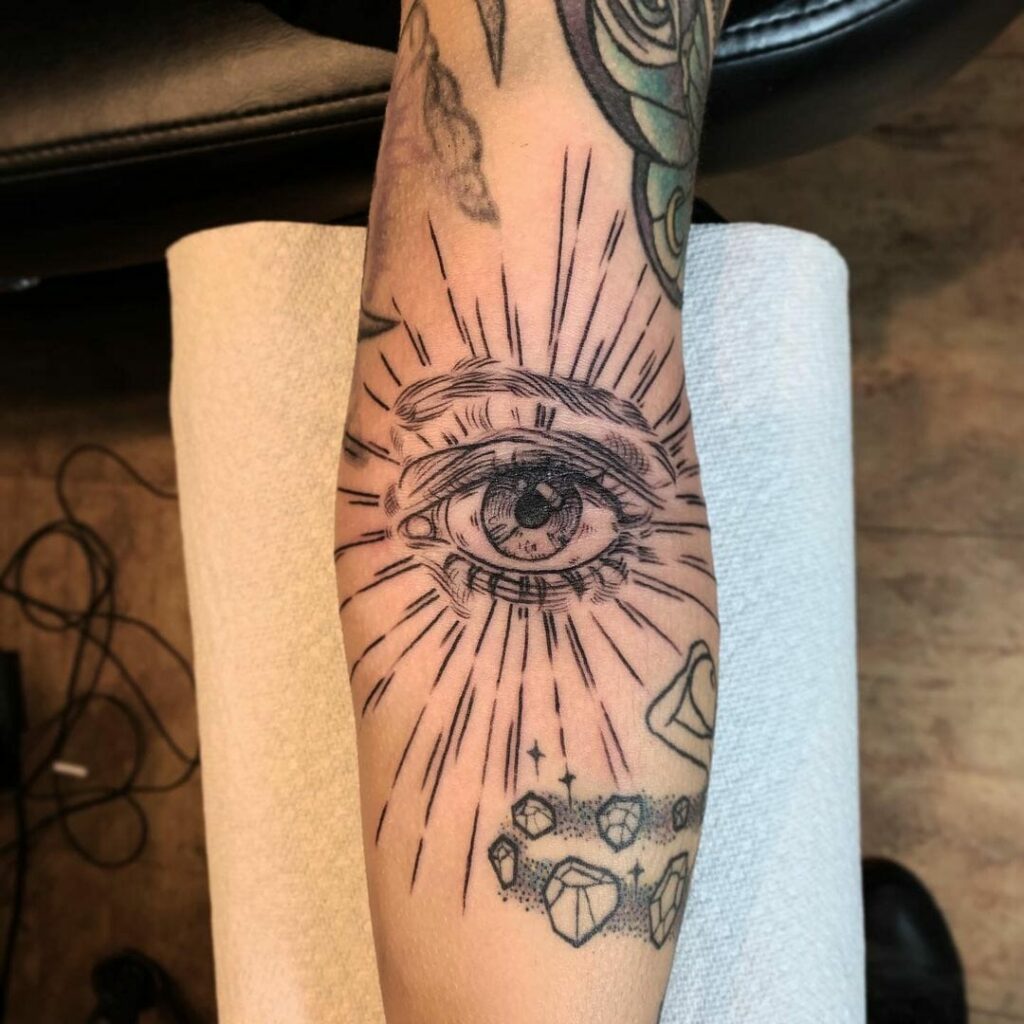 The eye is often referred to as the window to the soul, and this tattoo design captures it perfectly. The eye tattoo is drawn in a realistic style, with attention to detail, making it almost look like a medical diagram. The intricate lines surrounding the eye represent the heavenly nature of the eye and its connection to the spiritual world. This type of tattoo design is ideal for people who appreciate realism and artistic expression, and it can be a meaningful addition to their body art collection.
Ornamental Inner Elbow Tattoo
Ornamental tattoos are a fantastic way to add a unique touch to your inner elbow tattoos. This particular design features an intricate pattern that covers half of the inner elbow. The use of shading and white detailing provides the perfect amount of contrast to the delicate and graceful pattern. The addition of white ink gives this ornamental tattoo a glossy, almost metallic look that will catch the eye. If you're looking for a traditional and timeless design for your next tattoo, this ornamental tattoo is a great option to consider.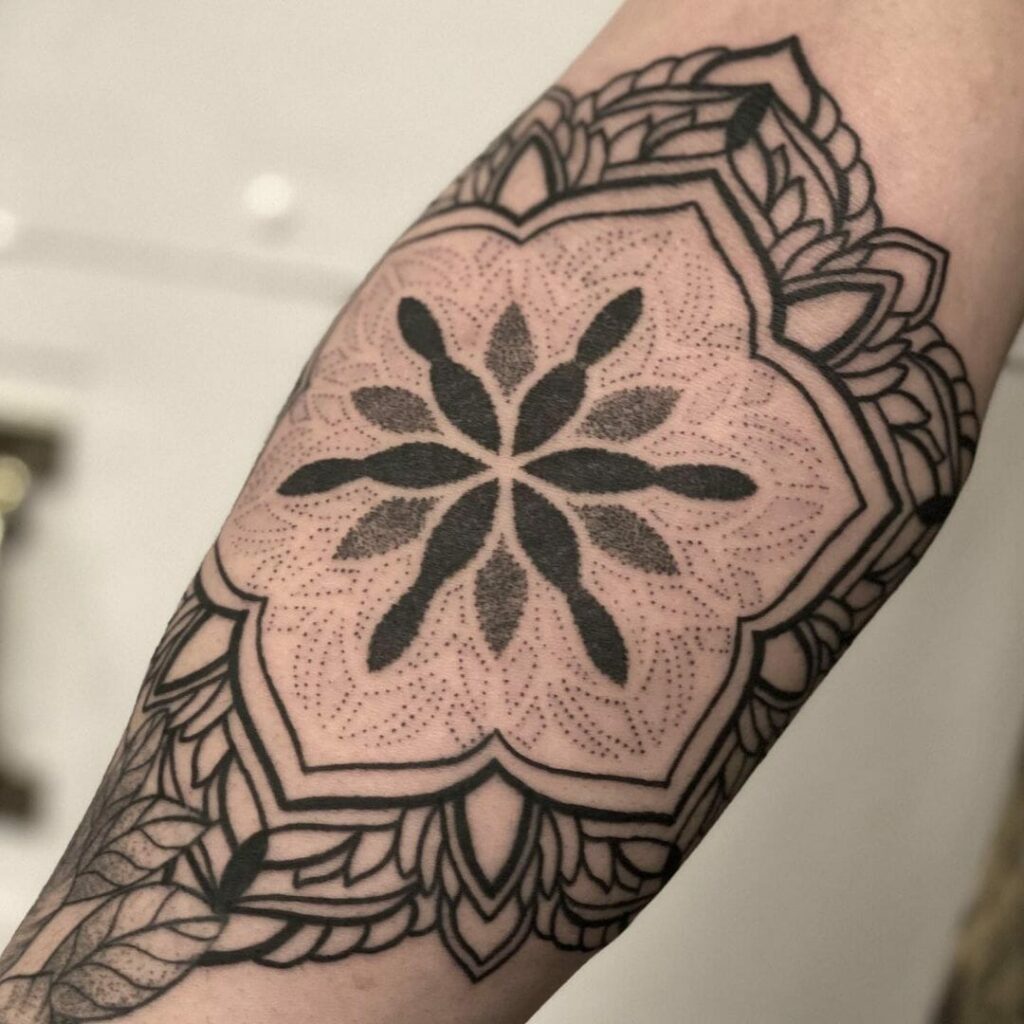 The mandala design in this inner elbow tattoo is a stunning work of art that truly stands out. The artist has used thick, bold outlines and intricate dotted lines to create a mesmerizing design that catches the eye. The clever use of dark and light shading adds depth and dimension to the tattoo. However, it's important to note that this design is more complex than some of the other inner elbow tattoo ideas we've seen, which means it may take longer to complete and require a higher pain tolerance. But for those who are up for the challenge, this mandala tattoo is definitely worth considering.
Quote Inner Elbow Tattoo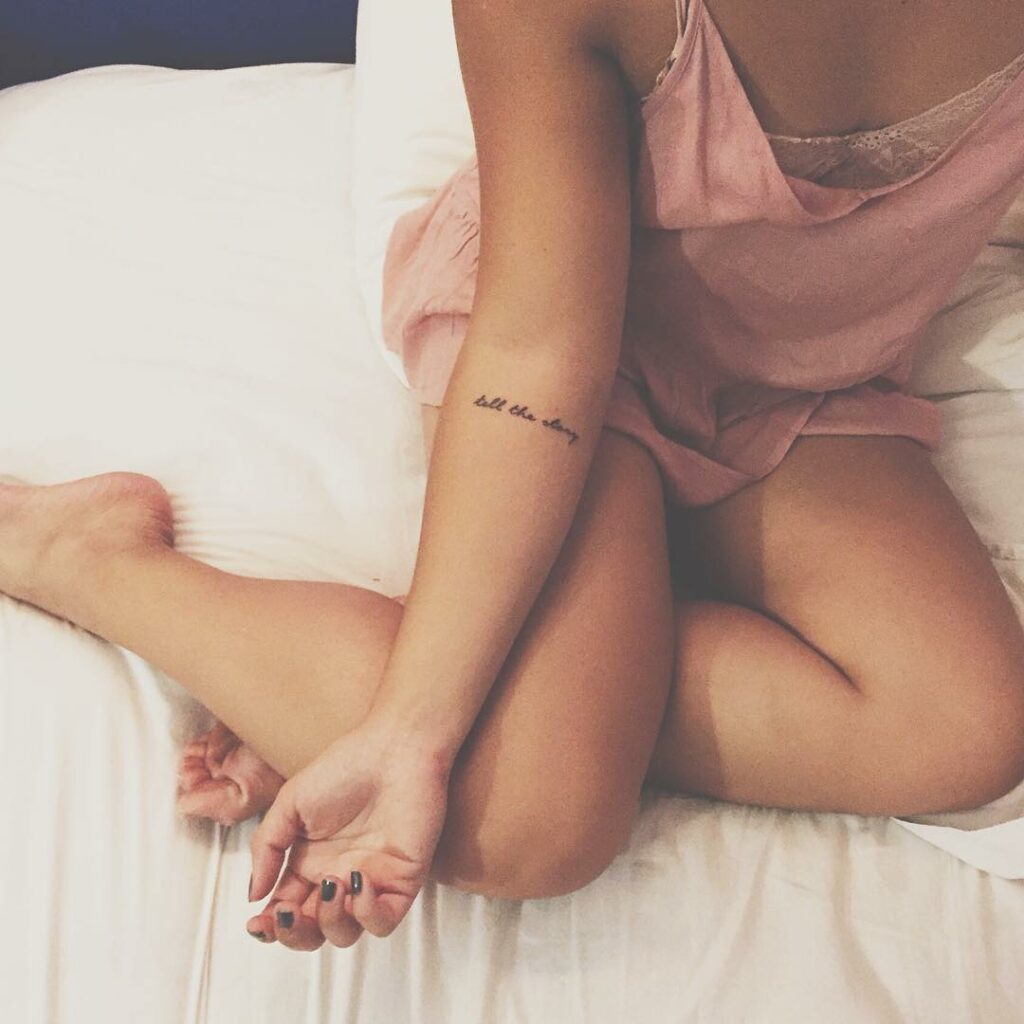 Quote tattoos are a fantastic way to express yourself and have a meaningful reminder permanently inked on your skin. The "tell the story" tattoo in the picture above is a great example. It serves as a constant reminder to always speak up and share your story. The font used in this tattoo is beautifully cursive and elegant. Another reason why inner elbow quote tattoos are so popular is that they can be personal and intimate, and the location is not always visible to others. There are endless possibilities for quote tattoos, and you can choose any phrase or quote that resonates with you.
This minimalist quote tattoo is perfect for those who want a small and subtle addition to their inner elbow. The simple font used in this design adds an elegance that is both eye-catching and meaningful. As the design is small, it will cause less pain and will heal more quickly, making it an ideal choice for first-time tattoo enthusiasts. Despite its simplicity, the power of the message behind the quote is not lost. So, if you want to showcase your favorite quote in a unique way, this design is perfect for you.
Insect Inner Elbow Tattoo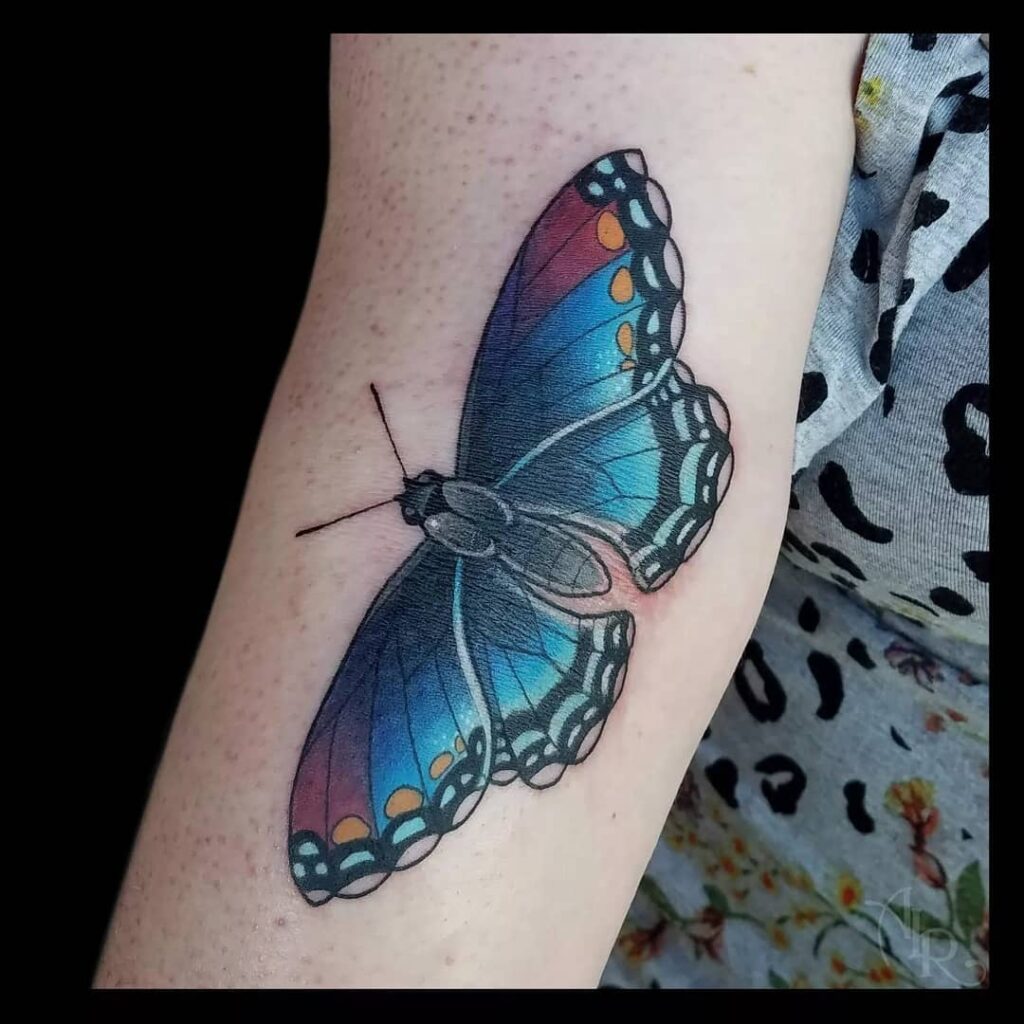 Insect tattoos are known for their intricate details and beautiful patterns, making them a popular choice among tattoo enthusiasts. An insect inner elbow tattoo is a great way to make a statement and stand out from the crowd. This particular design features a stunning butterfly with a striking combination of colors, including blue, black, red, and white. The placement of the tattoo on the inner elbow is perfect, although you could choose to have it slightly above or below if the inner elbow area is too sensitive for you.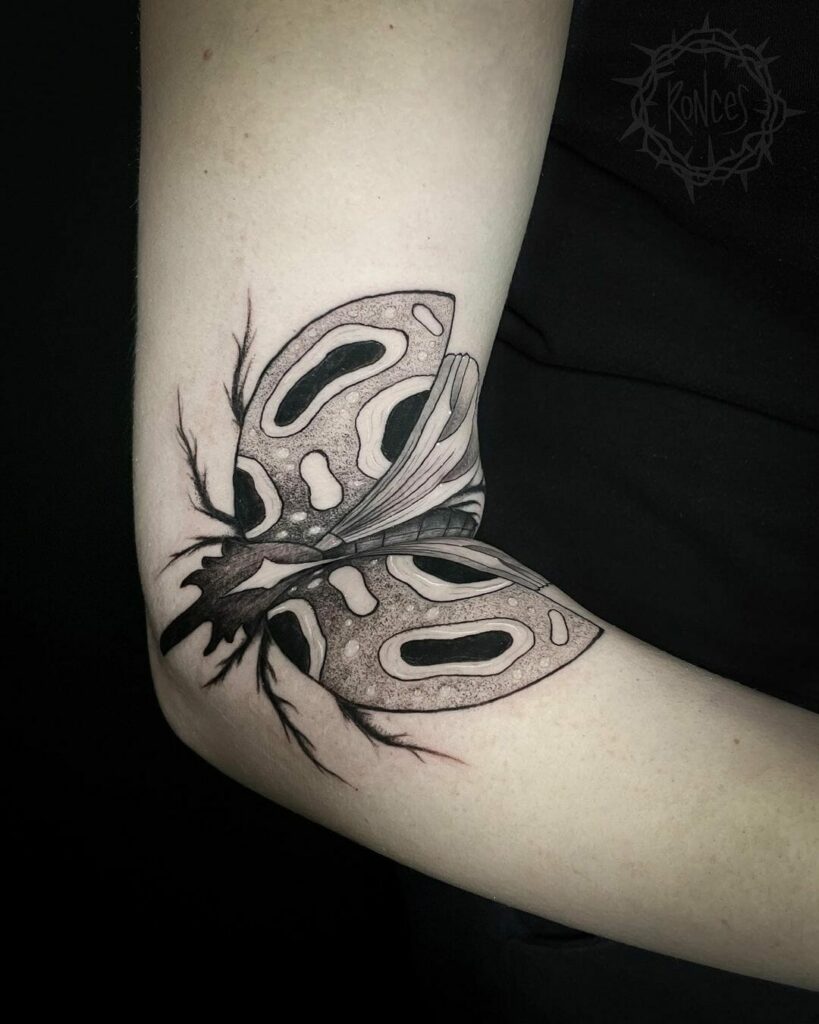 The scarab beetle tattoo is an impressive and meaningful addition to the inner elbow tattoo collection. In ancient Egypt, scarab beetles symbolized resurrection and the solar cycle, and this tattoo design is a fantastic way to carry forward those meanings. With its placement covering the outer and inner elbow, this tattoo is unique and intriguing, as the whole design will only be fully visible when you fold your hands. The cool black and grey colour scheme adds to its appeal and is sure to stand the test of time. Whether you're a fan of Egyptian culture or just appreciate intricate tattoo designs, this scarab beetle tattoo is an excellent choice for you.
Dotwork Inner Elbow Tattoo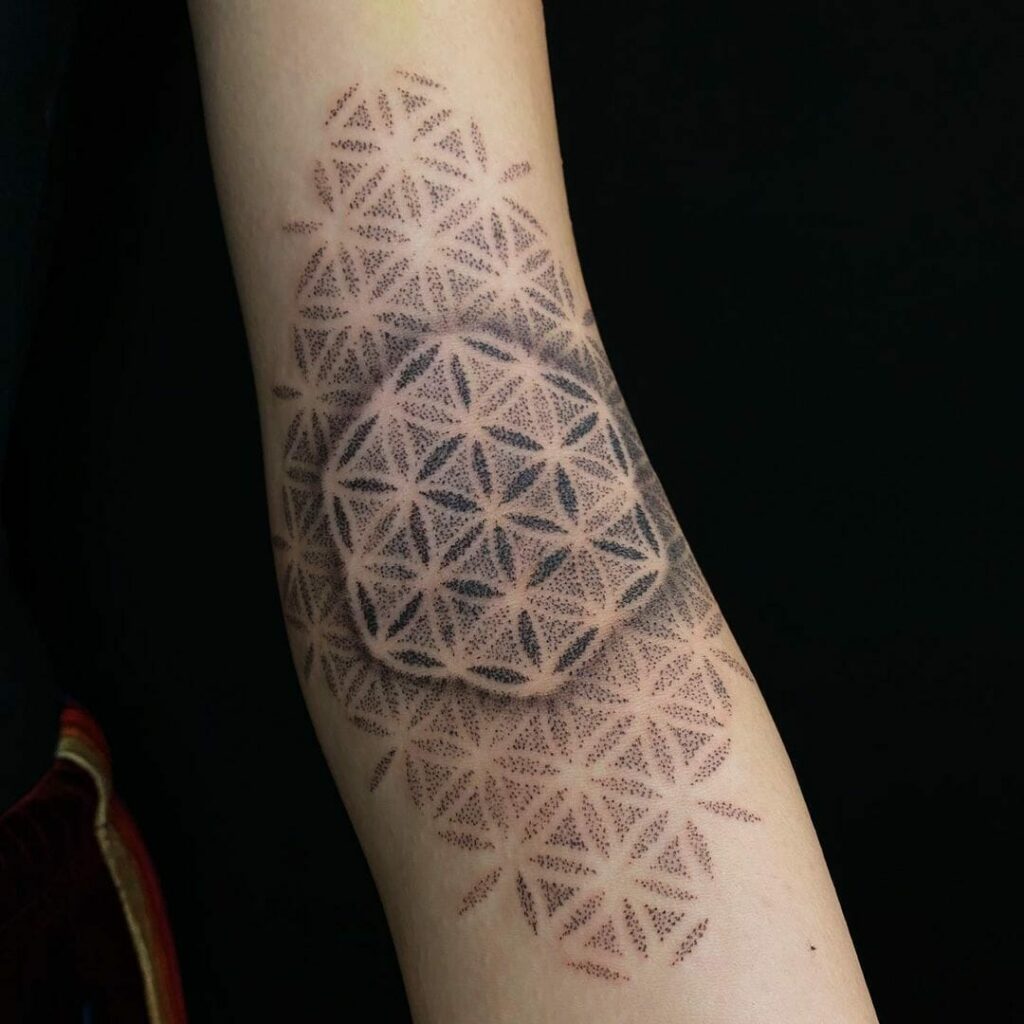 Dotwork tattoos can be quite time-consuming but the end result is well worth the wait. If you're looking for a unique inner elbow tattoo, consider a stunning geometric dotwork design that features a captivating blend of black and grey. The centerpiece of this tattoo is bold and dark, while the surrounding patterns have been done in a lighter shade of grey to create a perfect balance. This tattoo is perfect for those who appreciate the art of symmetry and design, and are looking for a tattoo that truly stands out.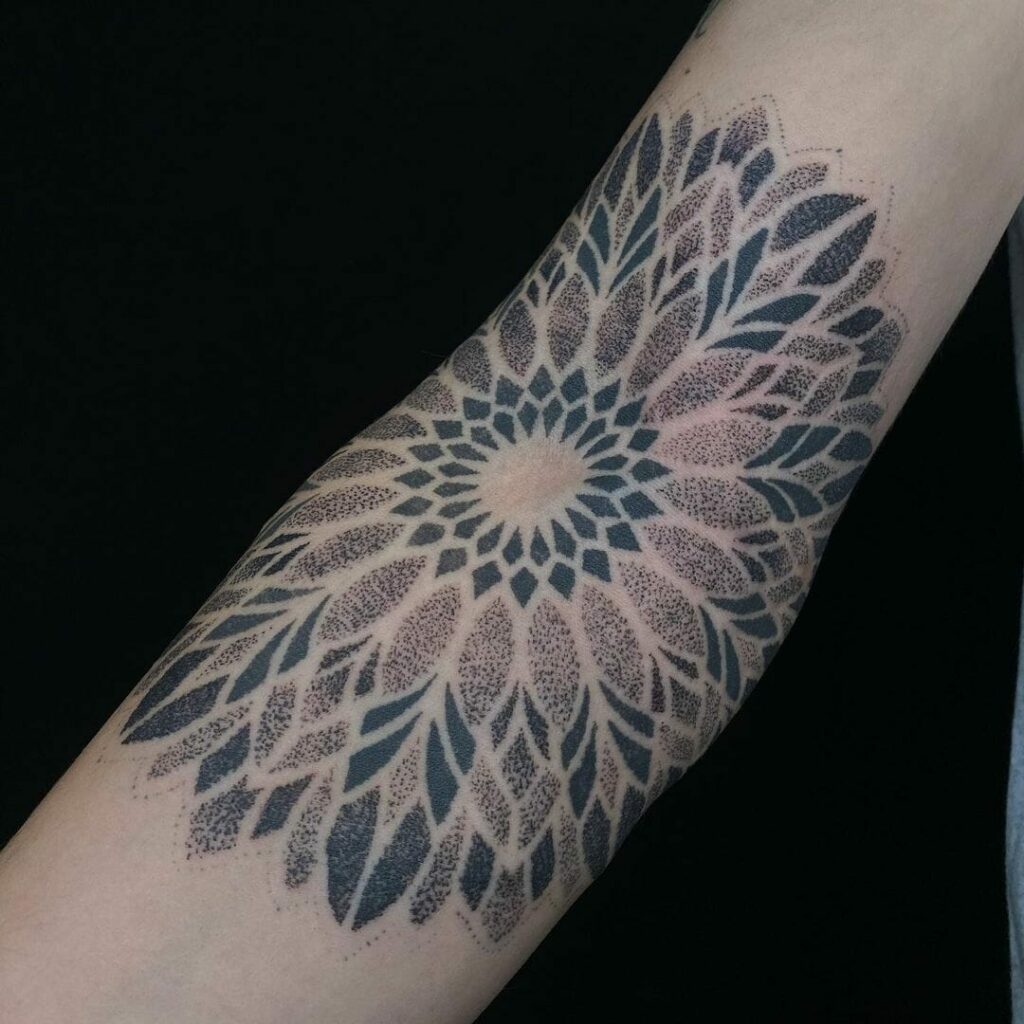 If you're looking for a unique and artistic take on inner elbow tattoos, this design is a great option. Unlike traditional geometric designs, this tattoo features intricate floral patterns that create a beautiful, organic look. The use of varying shades of black and grey gives the design depth and dimension, while the fully inked center adds a bold and striking element. This tattoo is sure to catch the eye and make a statement.
Coloured Inner Elbow Tattoo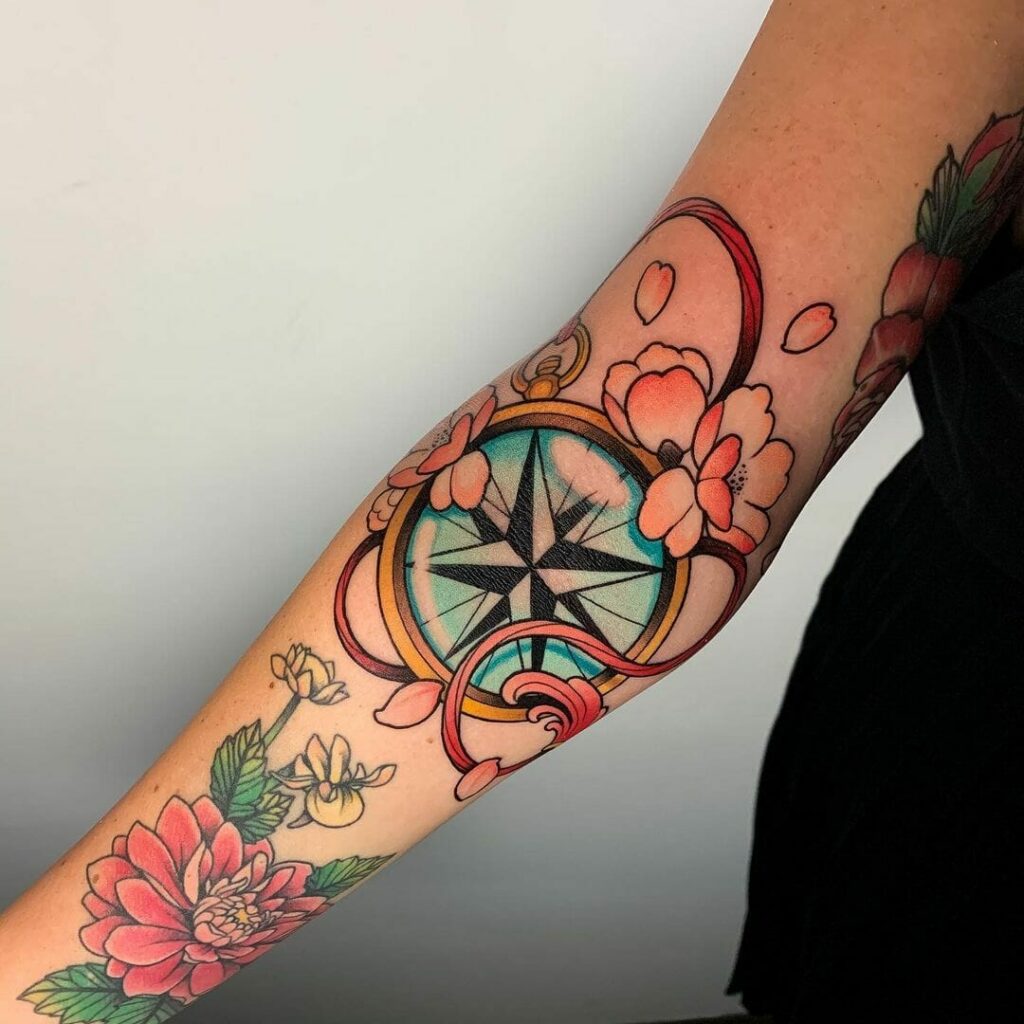 This inner elbow tattoo featuring a compass surrounded by flowers is perfect for those looking for vibrant, colourful designs. The intricate details of the compass, including its blue glass and needle, contrast beautifully against the golden frame and pale red flowers. This design is especially great for those who love floral patterns and would be an ideal choice for women. However, it's important to note that such a detailed tattoo can take several hours to complete, so it's important to be prepared for a longer tattoo session.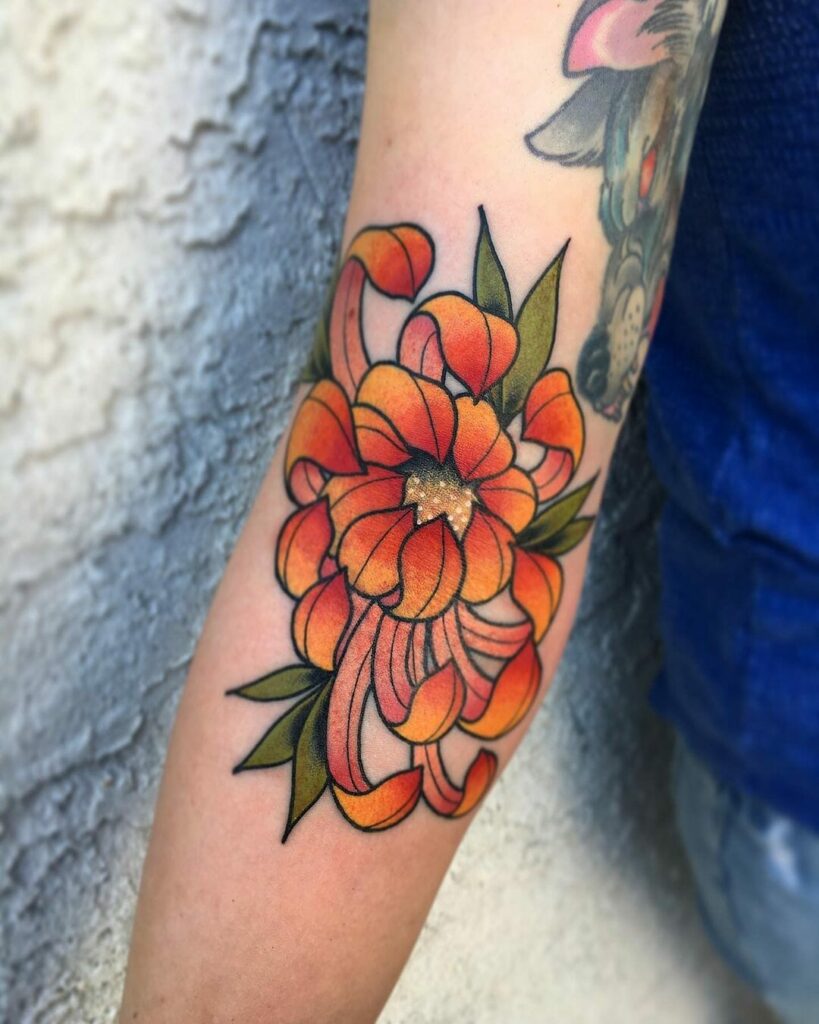 The orange and yellow gradient colouration of the flower adds a unique depth and dimension to the design. As a symbol of longevity, this flower tattoo represents life's beauty and can be your protective charm against dangers. With such a beautiful and elaborate design, this tattoo will definitely catch everyone's eye. Furthermore, the use of vibrant colours is a surefire way to ensure that this artwork will remain stunning for a long time to come.
Elaborate Inner Elbow Tattoo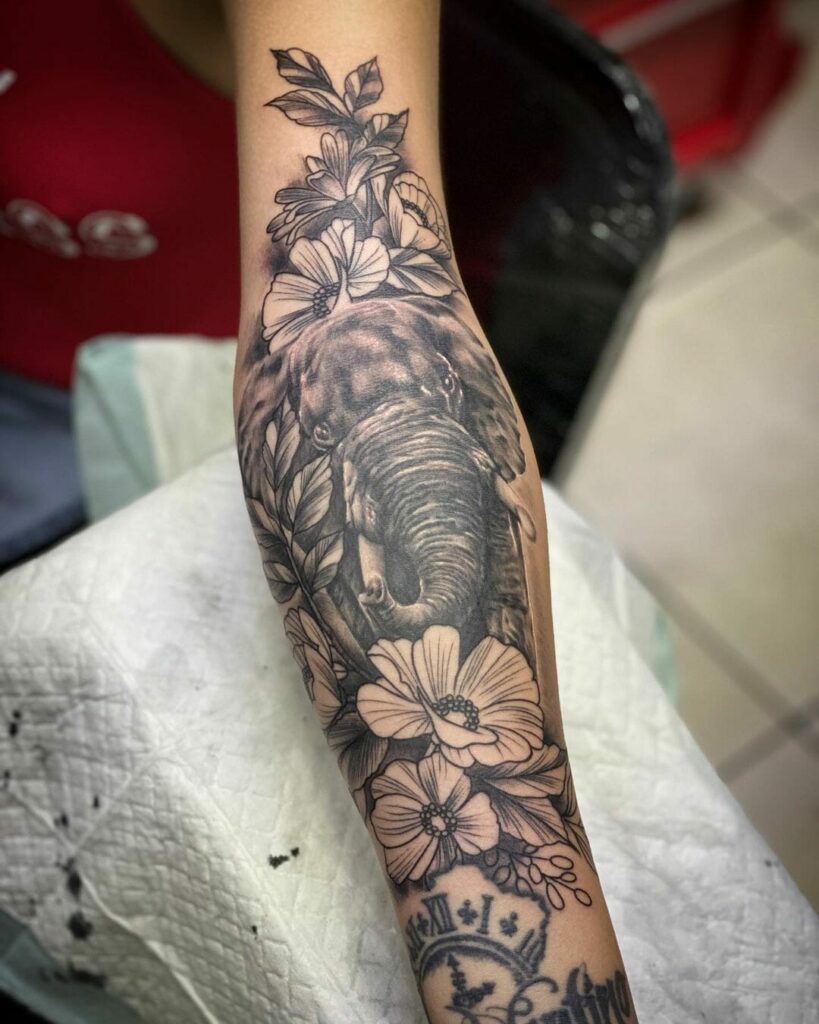 This intricate inner elbow tattoo design is perfect for those who want a lot of details and precision. As you can see, the design covers the entire inner arm, with a cluster of black and grey flowers in the inner elbow portion. Each element of this tattoo has been meticulously crafted with great care by the tattoo artist, making it a true work of art. Getting this tattoo means wearing a stunning piece of art on your skin for life.
This captivating tattoo design showcases a striking snake that appears to be coiled around the arm. The intricately detailed snake has a beautifully curved body, giving the impression that it is about to move. The addition of the rose on the side adds a touch of elegance to the design, making it truly unique. This idea is a great choice for both men and women who appreciate intricate and precise details in their tattoos.
Fish Inner Elbow Tattoo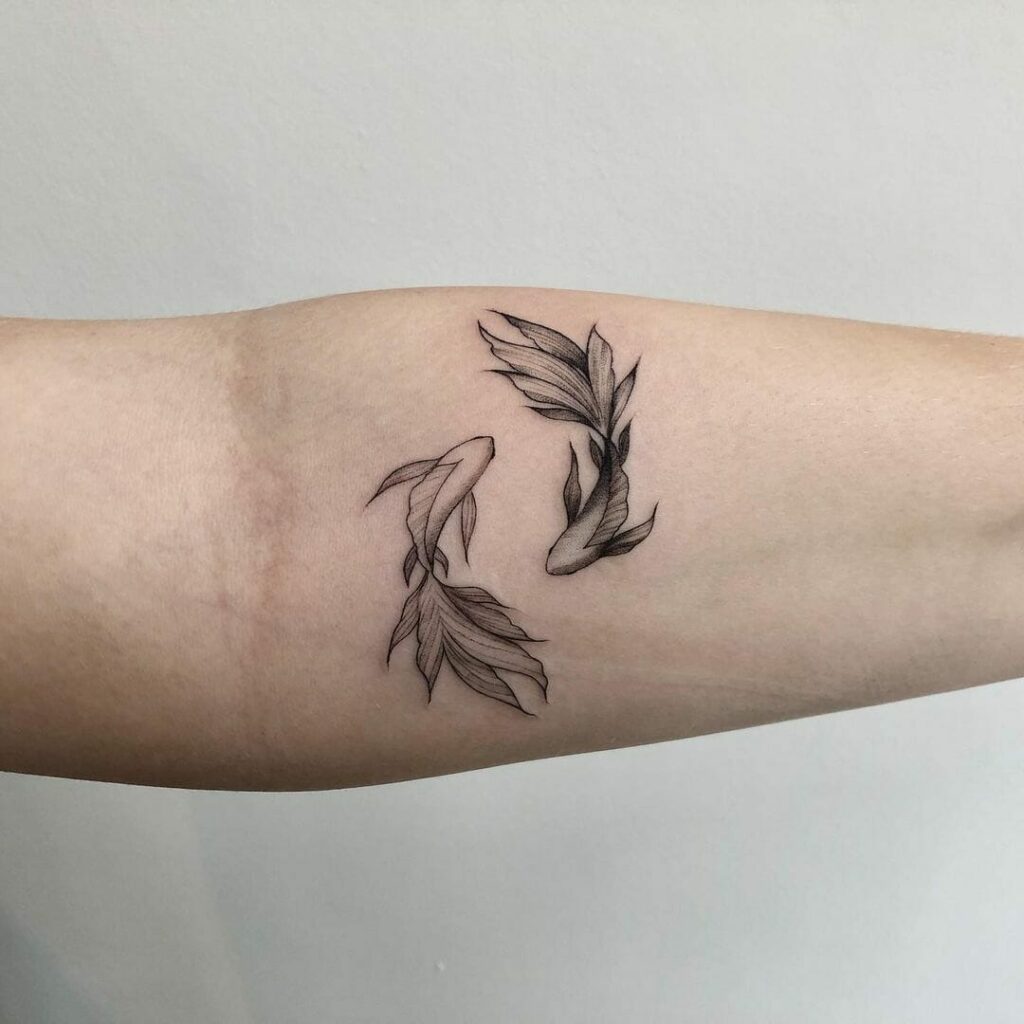 This tattoo is a great option for those looking for a design with a touch of edginess. The snake in this tattoo is incredibly detailed and appears as if it is wrapped around your arm. The rose on the side of the snake adds an extra layer of complexity and beauty to the piece. The design is gender-neutral and suitable for anyone looking to add a unique touch to their body art collection. While it may not be as elaborate as some other designs, the precise details of this tattoo make it a standout piece.
Mini Matching Inner Elbow Tattoo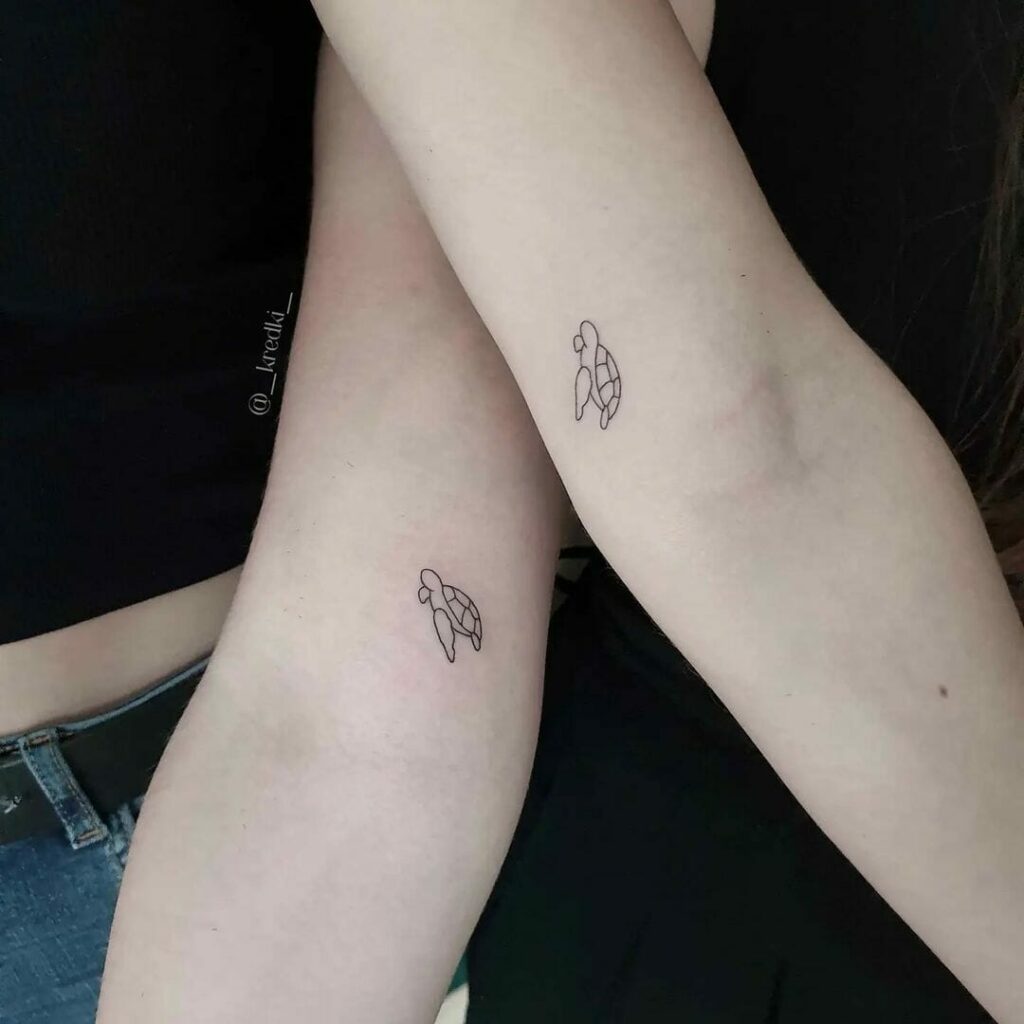 he black outline of the turtle is simple yet charming, and it represents protection, strength, and healing.
Inner elbow tattoos are a great way to adorn your body with a unique piece of art. They are suitable for both men and women, and can serve as an accessory to your body. However, it's important to keep in mind that the inner elbow area is quite sensitive and can be painful during the tattooing process. It's essential to find an experienced tattoo artist who knows how to handle this area properly.
After getting an inner elbow tattoo, it's important to give the area enough rest to heal properly. It might take some time, but with proper care, you will soon be able to show off your new piece of body art with pride.
feature image from Pinterest – Want your tattoo to look brighter? Try "Tattoo Balm"
Last reviewed and updated on July 26, 2023