If you're looking for incredible intricate tattoo designs to etch on your body permanently, look no more. This list of tattoo ideas has got you covered.
Getting a tattoo done is always a big deal, and there are loads to think about and a wide variety to choose from; take note of every pro and con as well as select the perfect detailed design for yourself.
Besides the meaning of your tattoo, and talking of that, your tattoo design can mean anything you want it to; there is also the question of how much does an intricate forearm tattoo cost? Certainly, such detailed tattoos' costs depend on the size and design – the smaller your tattoo design, the lesser it costs, the more complicated and detailed it is, the more time it takes and thus costs more.
Your go-to tattoo artist might surely offer you a discount or two, and you can always customize your designs. Such intricacy in tattoos is usually to minimalist tattoos, like the Mount Kilimanjaro tattoo of Mandy Moore or the matching date tattoo of Sophie Turner and Maisie Williams of Game of Thrones fame. At the same time, geometric tattoos are also quite popular as any intricate design tattoo, as geometric patterns are really easy to get right in the first go and look effortlessly good. So in celebration of new beginnings, go for a tattoo with a powerful meaning and get ready to charm everyone around you.
Minimal Maple Leaf Geometric Tattoo
For first-timers getting tattooed, although a colour pigmented ink tattoo cannot be recommended, you can go for such small geometric designs if your skin is not allergy-prone. With a light circle in the background, it is accompanied by other detailed geometric shapes, like a small gradient triangle, a gradient orange rectangle, outlined circle, as well as some small circles, dots and lines with white pigment in the middle of the lines, with the dots in stark black. The beautifully shaded vibrant red and orange maple leaf is extremely eye-catching and makes for a stunning design that is very detailed but very simple at the same time.
Blackwork Poppy Tattoo
Getting inked always requires a lot of thought; a blackwork tattoo will always be the best choice as it causes the least amount of complications. Taking nature as inspiration, this floral tattoo is a stunner, with bold and thick lines as the outline of the petals of the poppy flower with thinner lines depicting the petal in detail as well as the pistils of the flower. The smooth but detailed thin lines as the stem of the flower add the perfect finishing touch. The placement of this sweet creation as a hand tattoo design can also be done anywhere on your body, like your back or the leg and you can also go for a different flower as well, like roses or lilies which will offer you the same detailed design.
An Incredibly Intricate Colourful Tiger Tattoo
Animals are always a good choice to go for when you're getting inked, and as time-consuming it might be, tattooing such a detailed piece will never fail to charm. Such a magnificent colourful tattoo will be a head-turner everywhere you go. With tribal geometric designs, this tiger tattoo is a burst of colours from blue, yellow, pink, green, orange to extremely fine black borders on the outline of the animal. The detailed black and blue eye of the tiger, the snout and the tongue complete with sharp white teeth add life to this design with gradient design on every coloured ink and pattern present. The gradient pink beads that hang from a black dotted thread add a stunning charm to the already perfect and vibrant design.
You can also go for a similar detailed geometric bear tattoo if animals are your theme or a detailed geometric heart tattoo in the same design will also be just as gorgeous.
A Minimal Phases Of A Tree Tattoo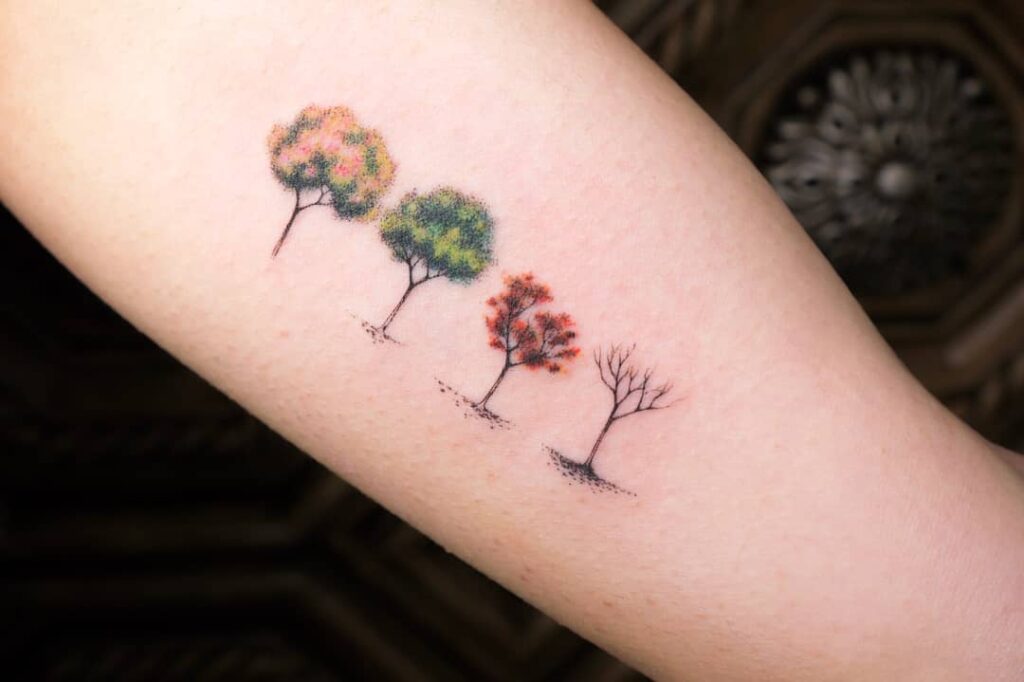 If you're getting tattooed for the first time and don't want to commit to huge body art, a minimal but detailed design would be perfect. These delicate images represent the four different phases of a tree through the four different seasons. The ink is pigmented and lacks defining black borders except for the trunk and branches. The peach for spring, the green for summer, the orange for autumn and the leaflessness for winter represent the seasons exquisitely and add a basic sense and meaning to your tattoo besides being infinitely detailed. Such delicate ideas can also go well on your fingers and other parts of your skin and will add charm to your style.
Blackwork Geometric Arm Tattoo
While getting inked, your tattoo artist is sure to advise you that blackwork style tattoos are the safest option as they don't require too much sincere aftercare and are easy to manage. Detailed geometric style tattoos are very popular because of their symmetry, and this detailed design does represent a lined wave in a half-circle with lines emanating from it making it look like the sun followed by a crescent moon and dotted designs following that.
Created in a very simple yet delicate manner, the minimal yet detailed touches like a triangle, cylindrical and lined shapes in black ink look great on the arm, and this tattoo will definitely add life to your everyday style.
Stunning Blackwork Moon Tattoo
If you want to create a stunning blackwork tattoo in extreme detail then this crescent moon tattoo with gradient shading will be perfect for your arm. From animals to the sun and moon, nature is always a subject of exploration in tattoos, and the work of ink transforms it into gorgeous art. With beautiful added designs on the body of the moon, in creative and detailed geometric symbols, this design also has beaded ropes falling from the moon in a soothing way and clean white dots to highlight the tattoo and the finely detailed patterns of the characters are quite attractive complete with gradient shaded inkwork.
Popular with women especially, creating such a stunning and detailed arm or forearm tattoo will always be magical as well as the fact that blackwork will be preferred by the artist.
Geometric Style Blackwork Tattoo
It is wrong to say that geometric tattoos only contain shapes like a triangle or circles and so on. The beautiful shapes and patterns of a mandala are also geometric in nature, and tattooing such geometric tattoos is easy but does take time and expertise. This detailed geometric tattoo on the arm or the forearm is inspired by a tile design and form a stunning design similar to a band on the arm. The detailed tattoo consists of thick black ink that is used in creating this art, with each design being extremely detailed, with thick and thin-lined patterns. The vase symbol is intricately detailed even with the tiniest precision visible. If you're looking for such extremely detailed hand tattoos then this one would be perfect.
Blackwork Detailed Tigress Tattoo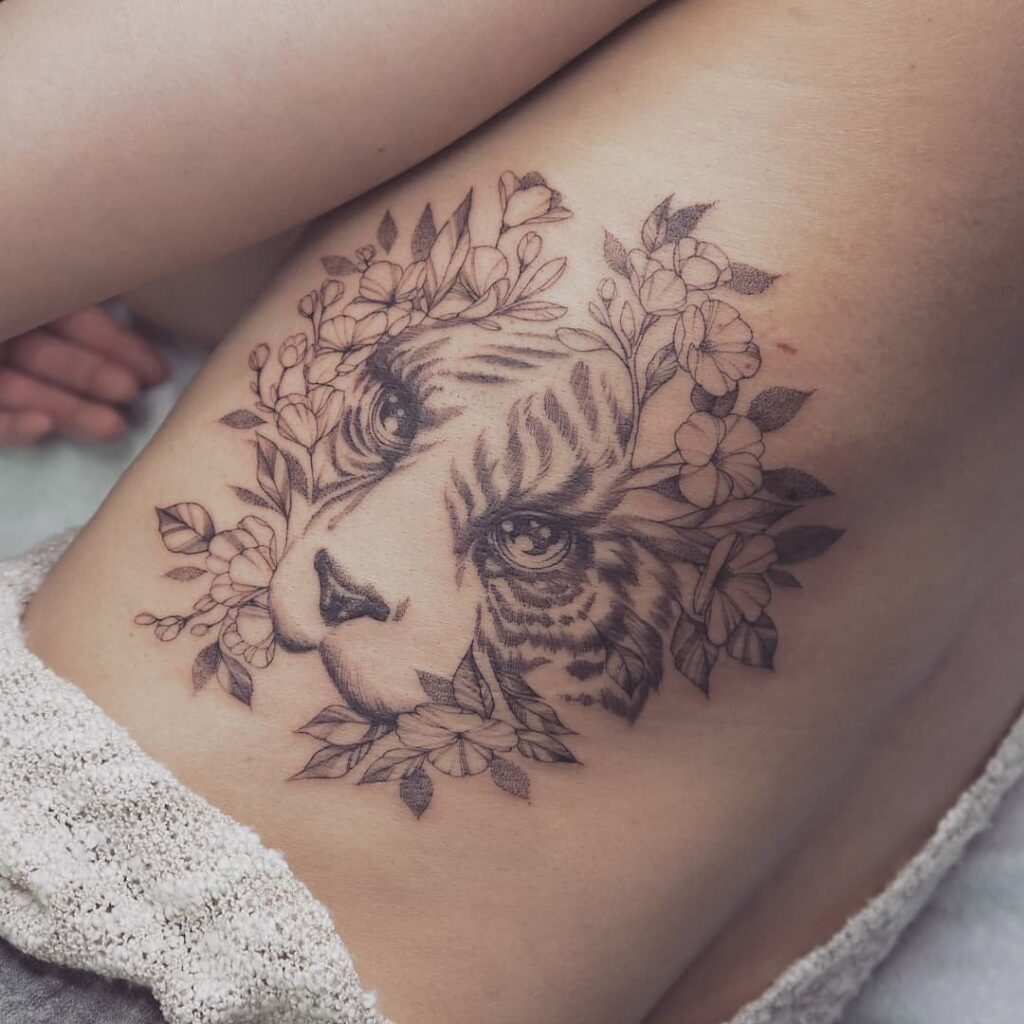 Essentially a cute tattoo, this blackwork tigress is also bold and detailed. Although the placement of this tattoo is done in the abdomen area, such detailed tattoos also go very well on the leg or forearm. Once again, taking inspiration from nature, this tigress tattoo has soft strokes of light black ink to mark its stripes and beautiful bulging eyes that look almost innocent. Covered with flowers and leaves as the animal's outline, the flowers are done in fine-line work while the pigmented leaves are shaded. The magnificently detailed fur, eyes as well as blossoms and leaves are hard to turn away from thus making this a great option to opt for.
Geometric Blackwork Forearm Tattoo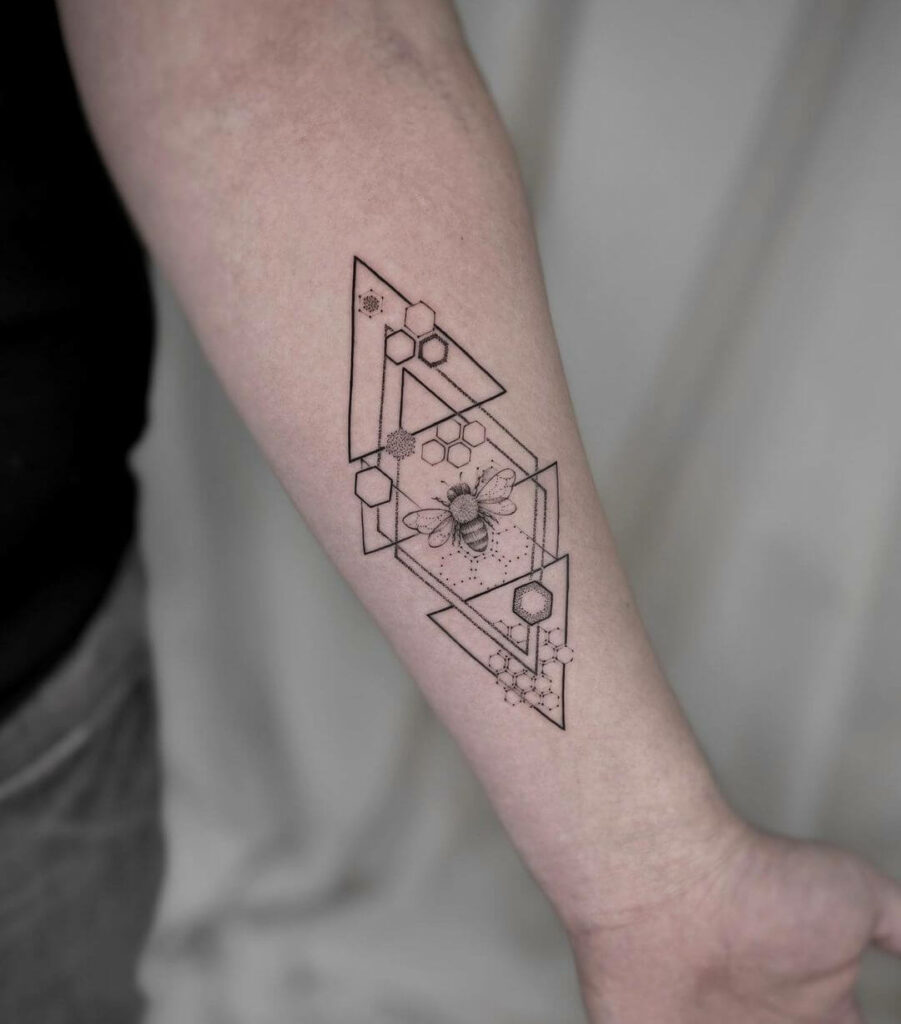 This detailed geometric tattoo is definitely a stunner with a bee in the middle and other geometric shapes emanating from it. The hexagon shape of a beehive, a geometric shape, is drawn here besides the thick-lined triangles. The small shaded, dotted and gradient shaded hexagons also add a great touch to the entirety of the design. The minutely detailed bee in black ink and its shades is complete with extremely detailed touches like the veins of the wings and the striped body, even the stings and fur of the insect are stunningly detailed.
Adding an insect, like a bee or a beetle amidst such geometric shapes form a really cool design and you can also go for other geometric patterns like rectangles or circles and replace the insect with any natural thing in a small size.
Gorgeous Watch Diagram Tattoo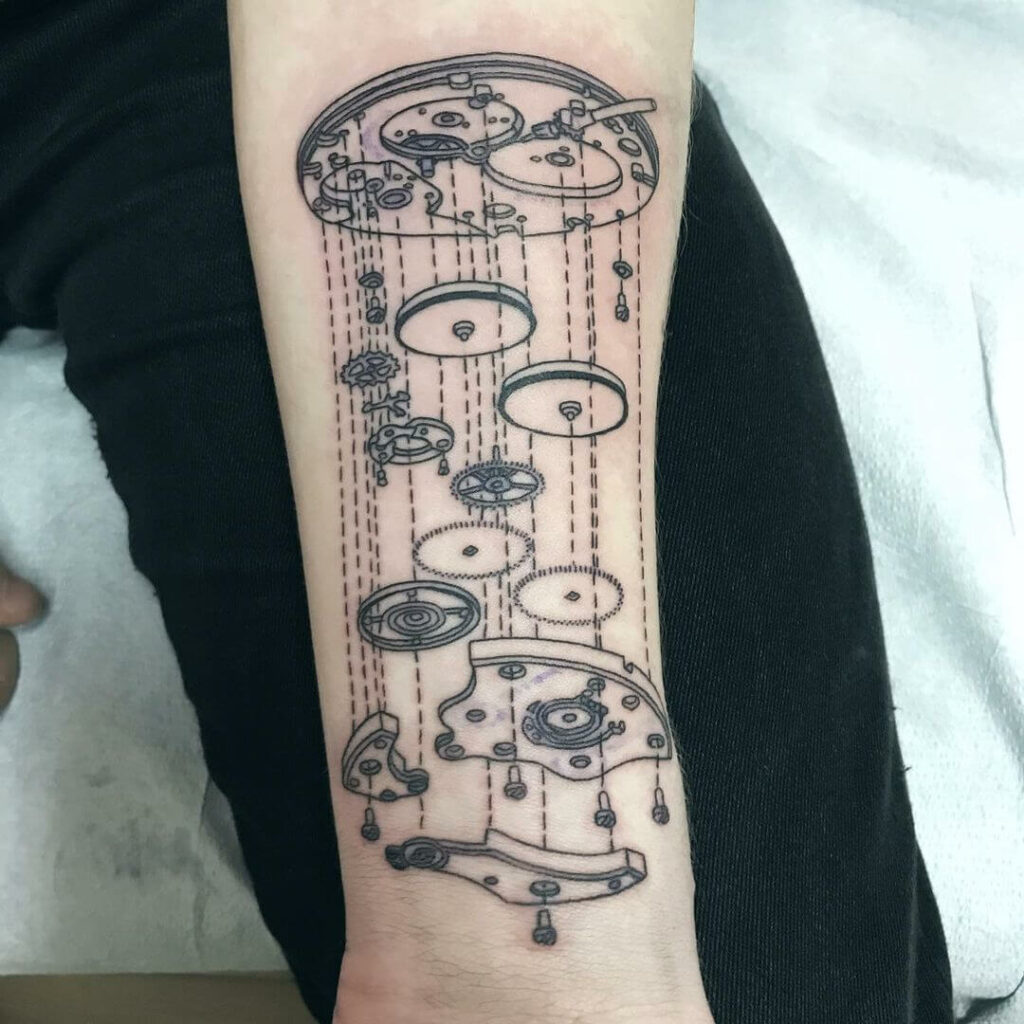 Quite a detailed piece, this blackwork geometric design is a stunner, as all geometric tattoos are. Dismembering a watch, this finely detailed design consists of all the minute parts of a watch, its screws and parts hanging by a dotted thread. Done in vibrant and detailed blackwork, the intricacy of each part that is done in this design is nothing but gorgeous with all the bolts and screws not missing a single detail. If you want to go for geometric tattoos that are full of intricacy and very detailed such a long design would be definitely recommended. However, such a huge piece may not be fit for a person getting a tattoo done for the first time. So once you're sure of committing to such a big piece, then all the work and patience would definitely be worth it.
If you're tired of opening links and sites looking for an example of geometric tattoos or cool tattoos with detailed intricacy incorporating some geometric idea, take a look at this list of a wide range of tattoo styles that will be popular with both men and women. Combining different elements you can also add your own ideas to create a meaningful original piece that will look stunning on your forearm, arm or leg. Your geometry-based design or your intricate minimal tattoo will be simple but gorgeous anywhere you go and you can get such tattoos anywhere you like on your body.
So give up on those links and choose your favourite design from this list as your first body art. Pertaining to any symbol or being meaningful is always up to the one getting the tattoo but you can always ask your talented artist for their opinion.
Feature image from Pinterest – Want your tattoo to look brighter? Try "Tattoo Balm"