Welcome to the vibrant world of Japanese full-sleeve tattoos, a realm where art, symbolism, and skin intertwine to create stunning body narratives. If you're in pursuit of the perfect pattern to grace your canvas, you're in luck. We've curated a brilliant selection of awe-inspiring designs that encapsulate the distinct beauty of this timeless tradition.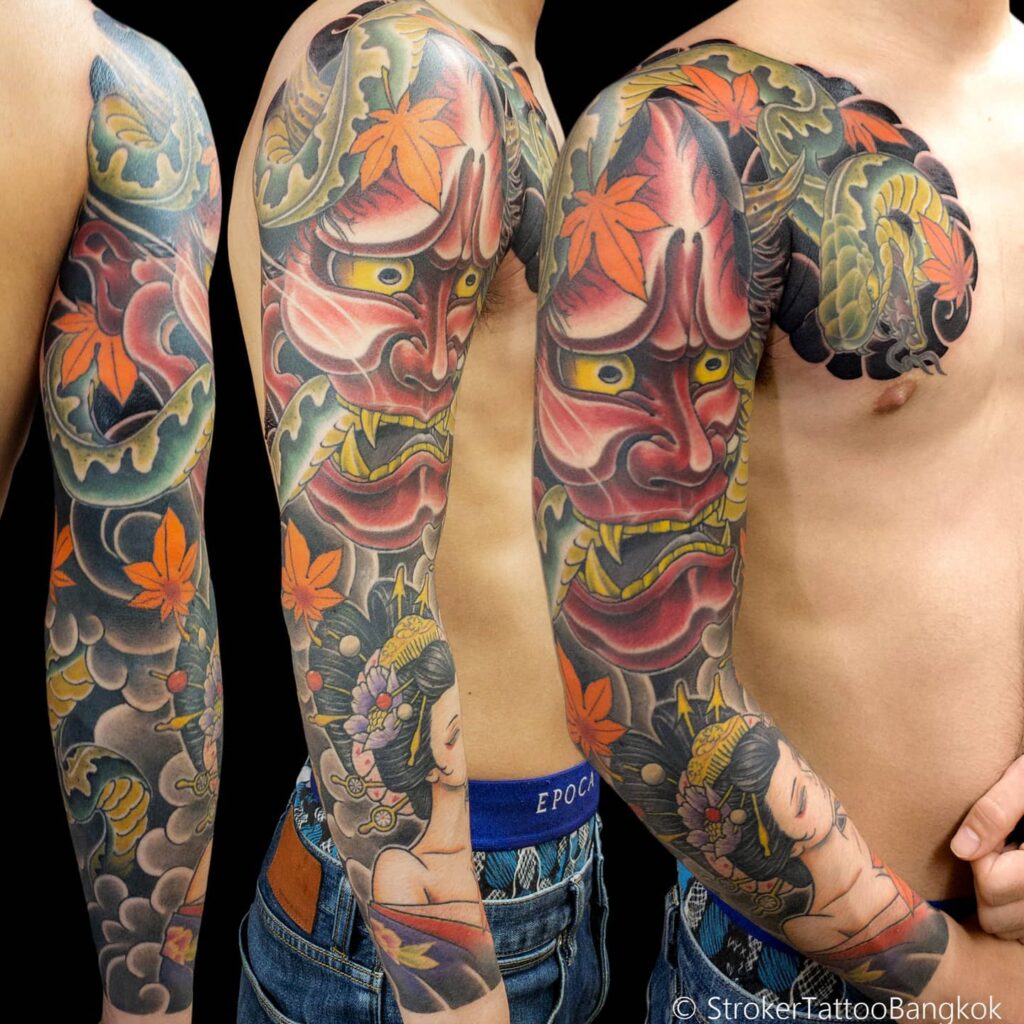 With an upsurge in popularity in recent years, Japanese full-sleeve tattoos have carved an indelible mark on the hearts of tattoo aficionados worldwide. These designs are renowned for their grandiose symbolism and motifs, layered with profound meanings, intricate linework, and an exuberant palette of colors. With quintessential elements ranging from serpentine creatures and fierce tigers to delicate cherry blossoms and imposing samurai warriors, each Japanese tattoo tells a story as vibrant and varied as the Land of the Rising Sun itself.
These motifs' adaptability shines through their variations, transforming from one form to another while still maintaining their core aesthetics. Full-sleeve tattoos, or 'Nagasode,' and half-sleeve tattoos, referred to as 'Gobu,' are amongst the most celebrated renditions. There's also the 'Hikae' approach, which creates a flowing narrative from the chest panel to the upper arm. Bold black outlines paired with vivid hues breathe life into these designs, each filled with hidden significances waiting to be decoded.
There's a democratization to the allure of Japanese full-sleeve tattoos. They are equally cherished by both men and women, though there's a notable tilt towards men in the client demographics. The unique blend of the traditional and the avant-garde in these designs has captivated the younger generation, cementing their status as both cool and classic.
Embarking on the journey to find the perfect Japanese full-sleeve tattoo can be an exhilarating adventure, and we're here to help. So, without further ado, let's dive into our exclusive list of chic and unique designs, each ready to inspire your next body art project.
Koi Fish Tattoo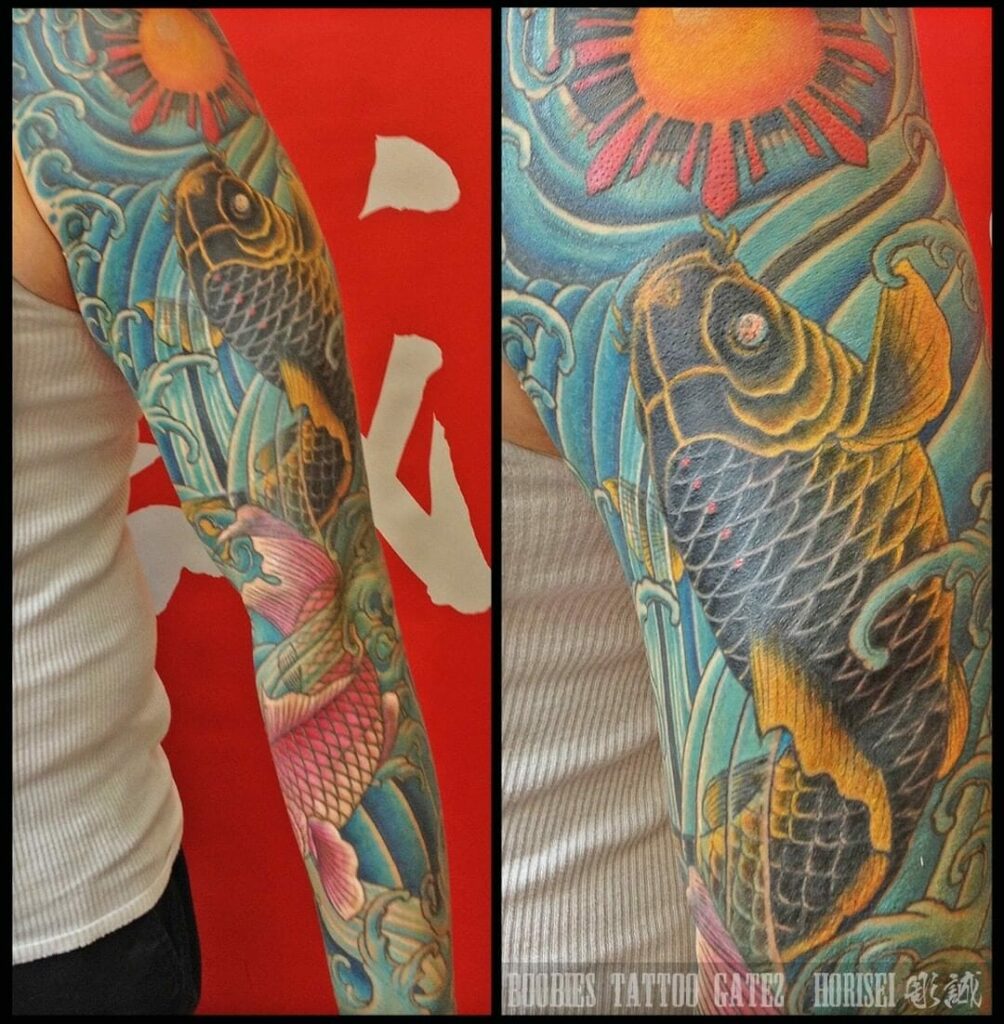 A classic example of Japanese tattoo design, the koi fish encapsulates the essence of determination, celebrating the human capability to surmount life's trials. Intriguingly, its symbolism evolves with color variation: red stands for bravery, black signifies masculinity, gold illustrates wealth, blue symbolizes fertility, and white denotes career success. An exquisite full-sleeve design showcases three koi, each a different hue – striking black, subtly radiant gold, and a charming blend of red and white. Additional elements such as water and the sun further amplify the intricate beauty of this symbolic representation.
The Hannya Tattoo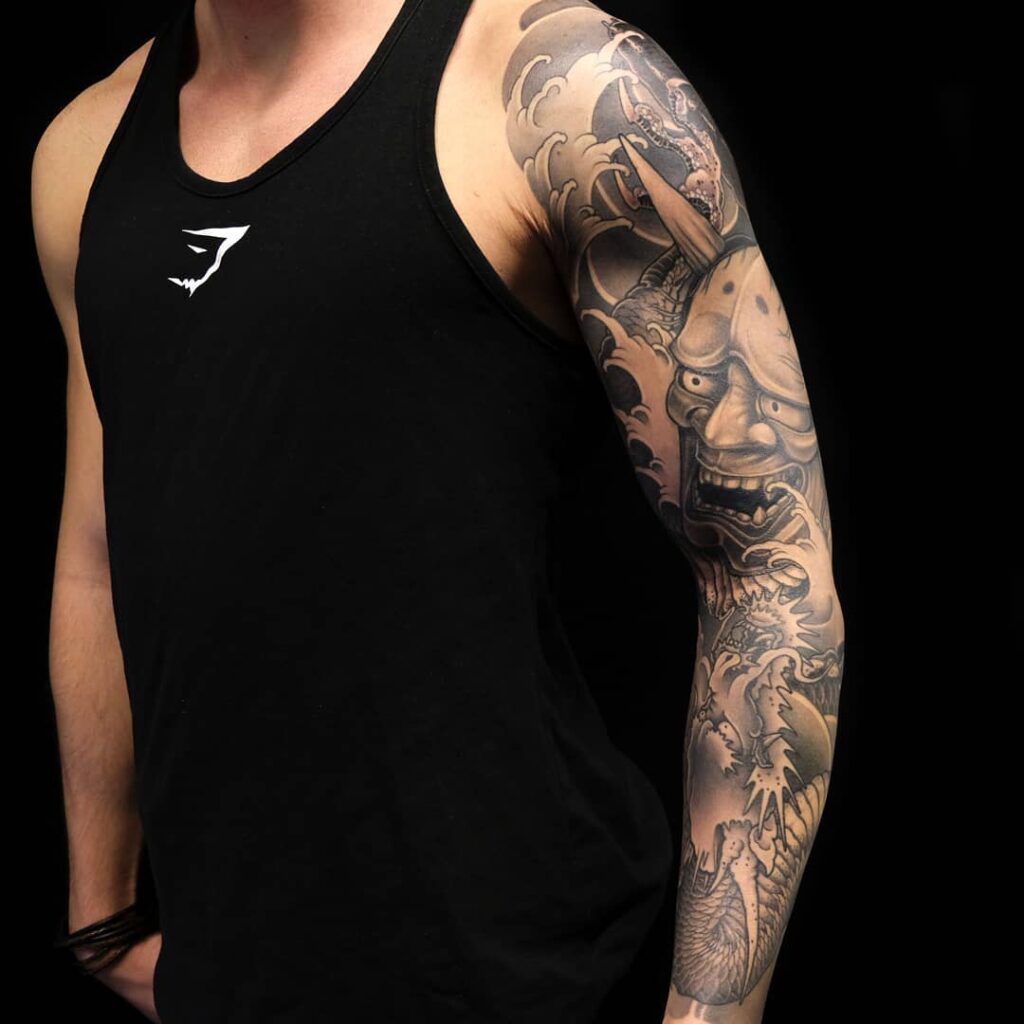 The Hannya mask, another popular Japanese tattoo, portrays deep-seated female wrath and sorrow. Despite its fearsome, demonic appearance, the mask is also imbued with a melancholic aura. The mask's angle modifies its meaning and interestingly, 'Hannya' translates to wisdom, rendering it a talisman against evil in Japanese culture. Strikingly rendered in bold monochrome, this tattoo features a central Hannya mask framed by a stunning background composed of varying elements.
Japanese Snake Tattoo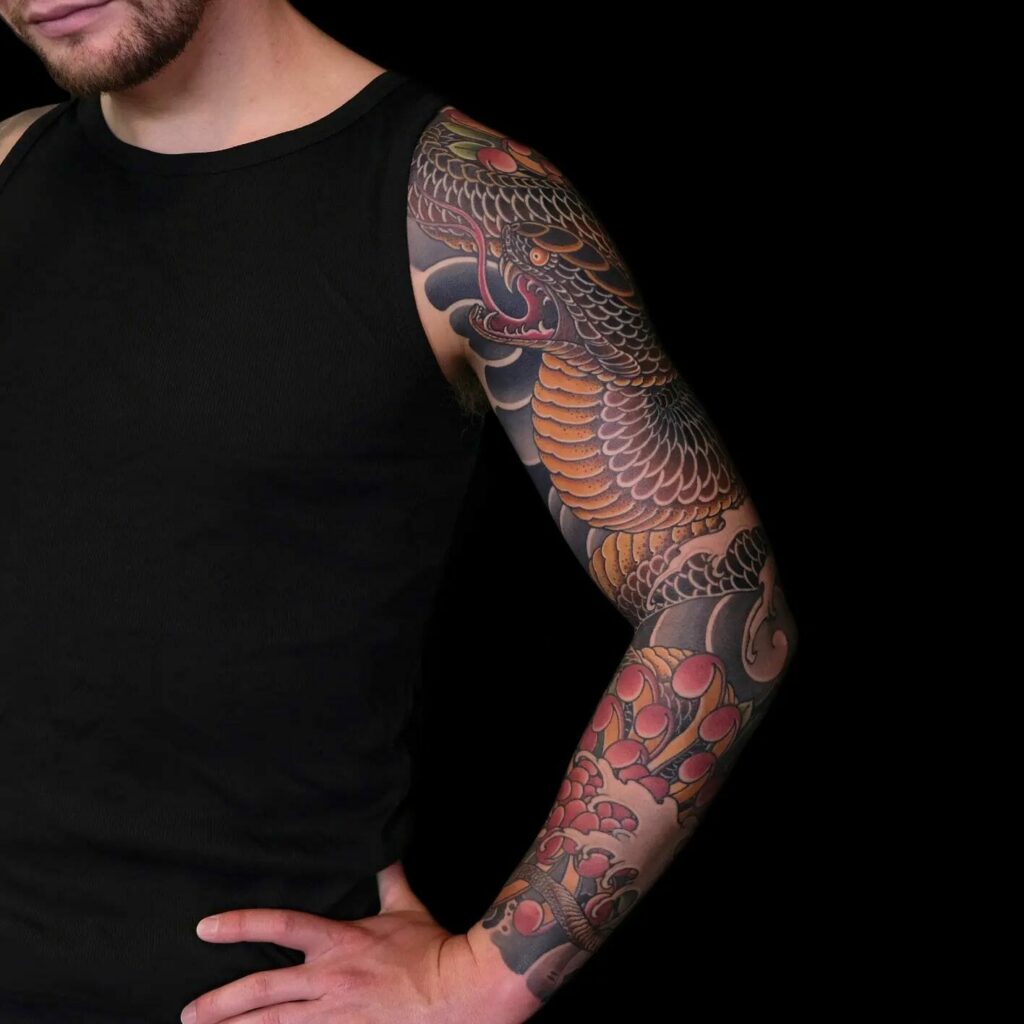 To the Japanese, snakes, or 'heavy,' are protective symbols against ill-luck and sickness, with white snakes symbolizing good fortune, while a dead snake is an omen of impending doom. The tattoo depicts a fierce snake coiling around an arm in a full-sleeve design, its shades of black, red, golden, and brown intertwined with other elements like flowers and waves, evoking a powerful shield against evil.
Traditional Japanese Tattoo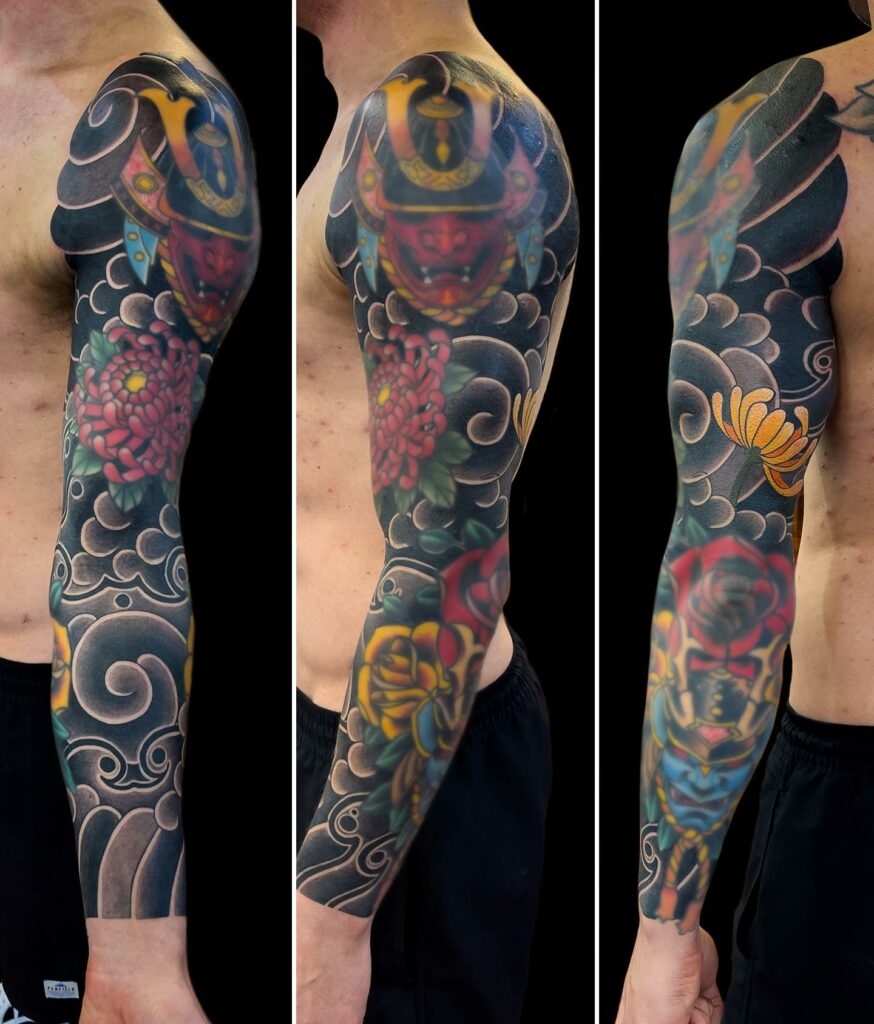 This design epitomizes traditional Japanese tattooing. A vibrant hannya mask rests atop the sleeve, symbolizing protection against evil. The body of the design blooms with cherry blossoms – symbols of life, spirit, and beauty – and a spectrum of roses representing love, friendship, and the need for positivity. Another hannya mask, blue this time, balances the design. The background of wavy black, white, and grey lines further enhances the allure of this colorful display of Japanese culture.
Japanese Dragon Tattoo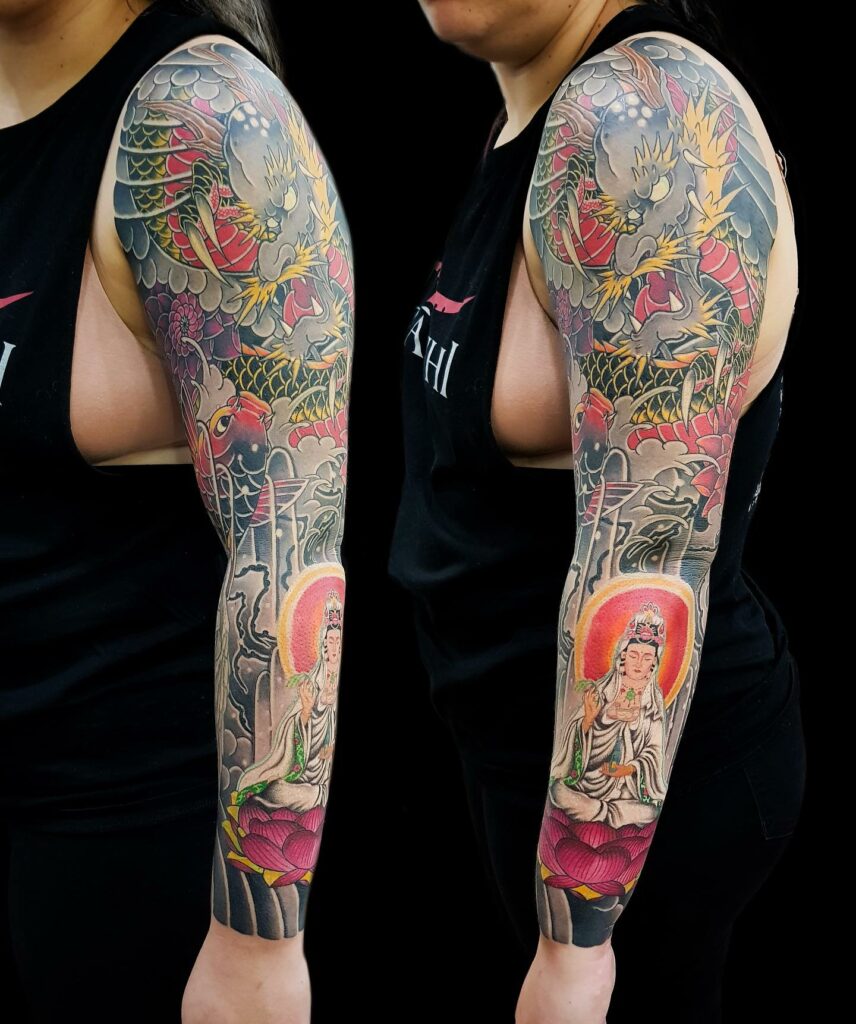 The Japanese Dragon, a cultural icon, is known as a symbol of strength, divine power, and wisdom. It traditionally dominates the sleeve in a Japanese design, its head situated near either the shoulder or wrist. The intricate design paints the dragon in colors like purple, red, orange, yellow, grey, and white, presenting a mesmerizingly unique piece.
Peony Sleeve Tattoo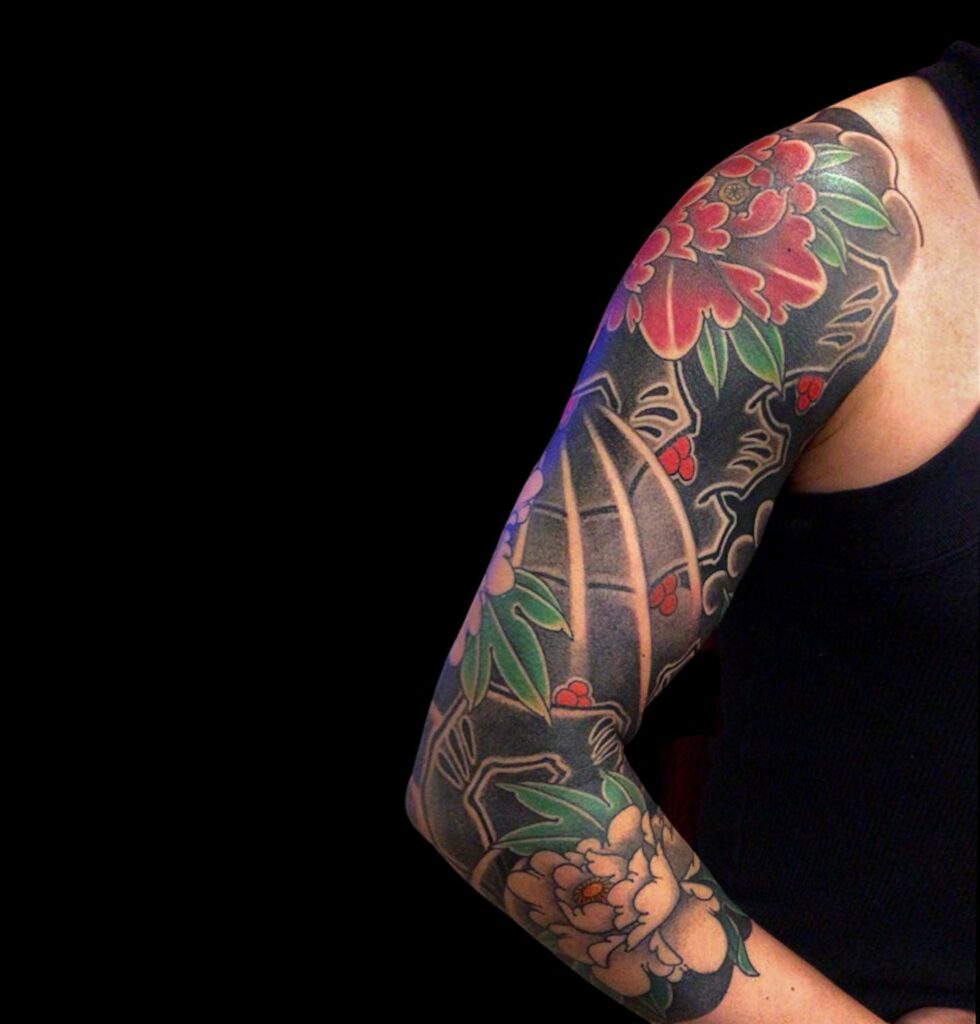 A peony, signifying good fortune, prosperity, and beauty, conveys the message of reward through risk-taking. The tattoo highlights red, white, and pink peonies against a contrasting backdrop of black and grey shades, creating an exquisite, vibrant design.
Oriental Tattoo Sleeve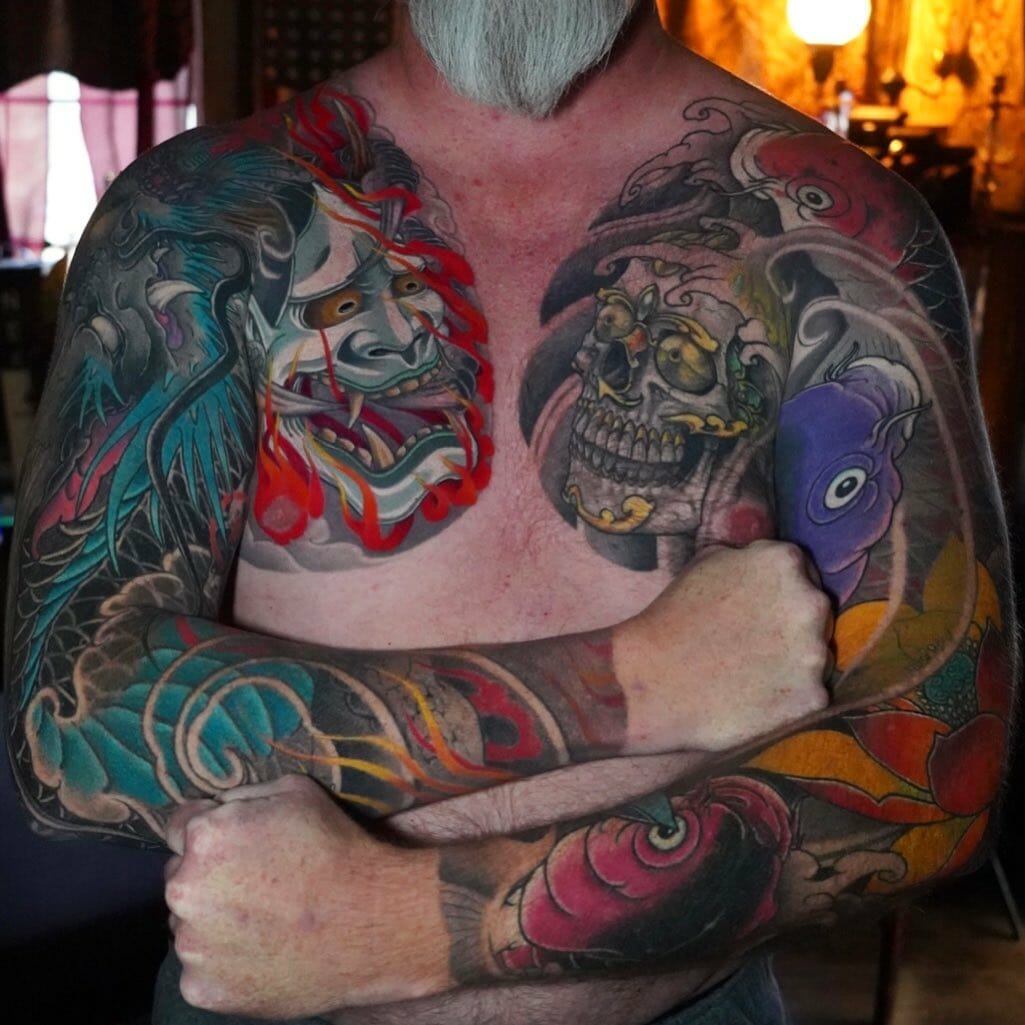 This tattoo incorporates elements of the dragon and Hannya mask tattoos, with vibrant colors and bold lines. It features a white Hannya mask amid red flames, with a blue dragon body flowing across the sleeve. On the other side, a Koi fish swims underneath a skeleton-like face, possibly another Hannya mask. This design represents inner strength and perseverance.
Traditional Japanese Full Sleeve Tattoo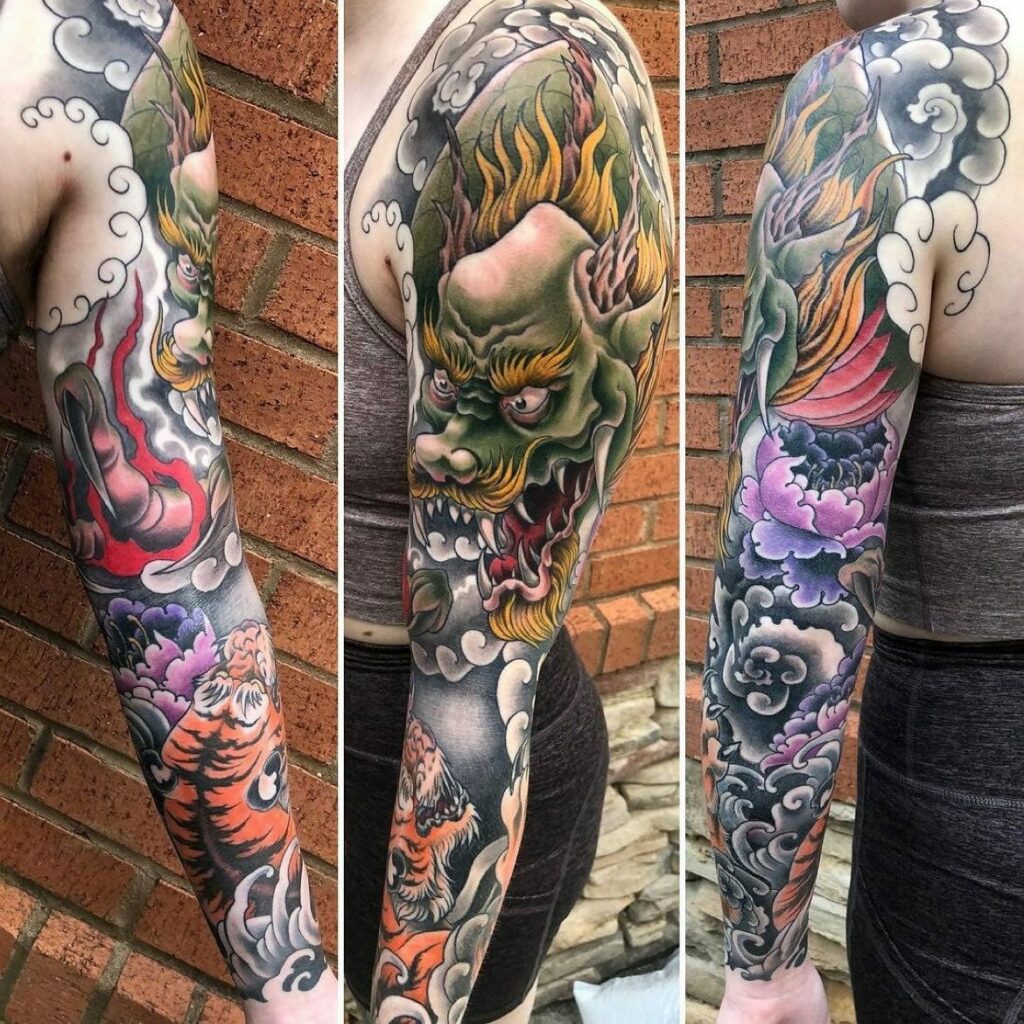 These designs showcase protection against evil with bright colors and bold lines. The tattoos use shades of black, grey, white, pink, and purple to construct a vivid representation of Japanese cultural symbols.
Geisha Tattoo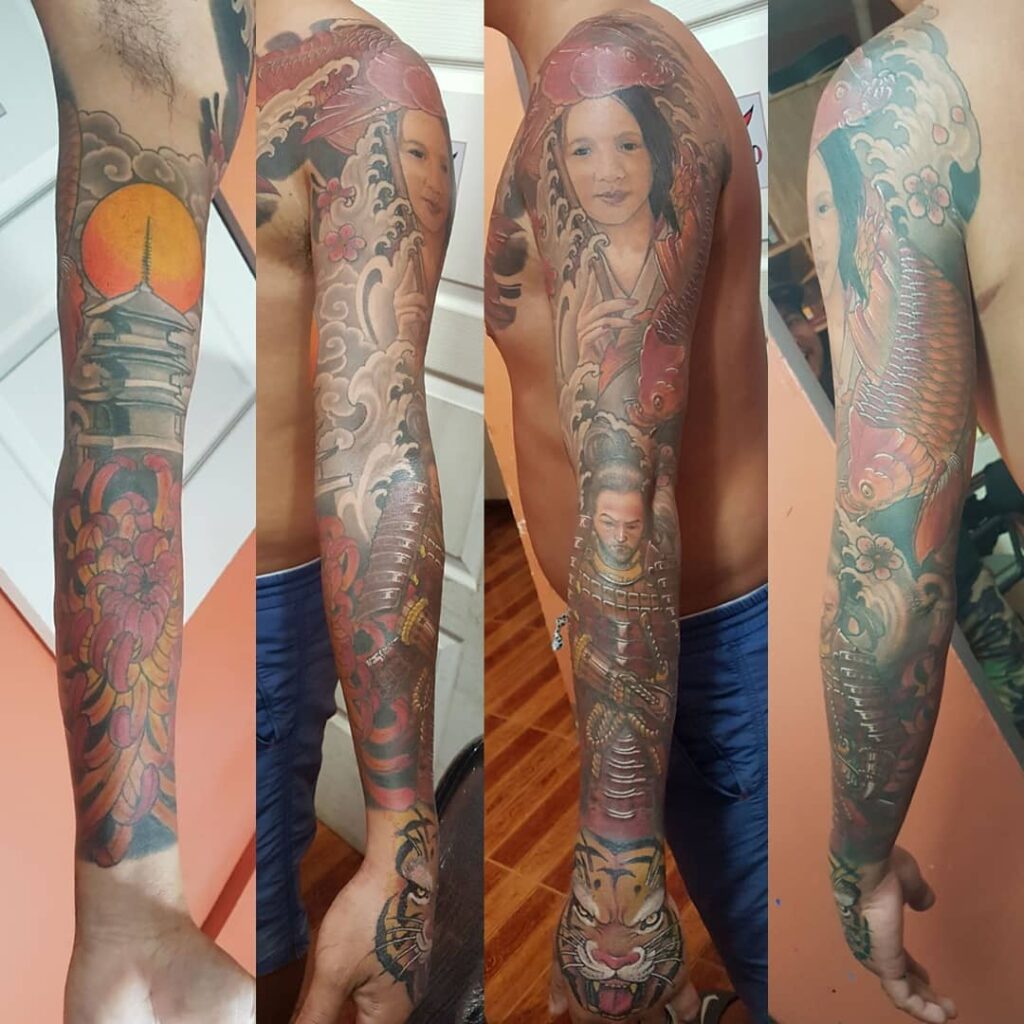 A common choice in Japanese-style tattoos, the Geisha symbolizes a woman of exceptional beauty. It has been adopted by various cultures as a symbol of grace and divine beauty. A captivating portrait of a Geisha, rendered in shades of black, peach, pink, and grey, adorns the upper arm in an exceptional display of tattoo artistry.
Conclusion
As we draw to a close on this rich exploration of Japanese tattoos, it's worth emphasizing the profound depth of meaning and intricate artistry that each design holds. Where these tattoos find a home on your body is a deeply personal decision, often influenced by the design's significance to you and the visibility you desire. Full sleeve tattoos, for instance, command attention and broadcast your connection to the rich cultural tapestry they represent, whereas a discreet tattoo on the upper arm or shoulder may be more fitting for those preferring a subtler declaration.
As a seasoned tattoo enthusiast, I'd recommend budgeting for a quality artist, especially when dealing with the complexity of traditional Japanese designs. Depending on the complexity, size, and your location, you could be looking at a range between $200 to $2000.
As with any tattoo, there are potential risks and side effects to consider, including infection, allergic reactions, and the possibility of regret down the line. It's critical to choose a reputable artist who prioritizes cleanliness and to follow their aftercare instructions meticulously. And remember, while tattoos are a beautiful form of self-expression, they are also a significant commitment. A moment of contemplation before the needle touches the skin can save a lifetime of potential regret. Your skin is the canvas of your narrative – paint it wisely.
feature image from Pinterest
Last reviewed and updated on May 23, 2023