Well, hello there, my budding tattoo connoisseurs! We're about to set sail on an ink-filled voyage across time to explore one of the oldest and most vibrant traditions in the world of body art: Japanese tattoos. With origins tracing back to a staggering 5,000 years ago, they are some of the most fascinating and culturally rich pieces you can adorn your skin with. We're going to paint you a picture, so sit back, relax, and immerse yourself in the enthralling narrative of Japanese tattooing.
What Are Japanese Tattoos?
Our story begins with an ancient Mandarin text, the Wei Chih, circa 297 AD, which gives the earliest recorded mention of Japanese tattooing. Picture this: men of all ages, from wide-eyed youths to weathered elders, inked from head to toe, sometimes even wearing their stories on their faces. In those days, tattoos were considered expressive folk art – until the powers-that-be decided to flip the script.
A turn of fate saw tattoos being used as a mark of punishment, branding unruly citizens with indelible symbols of their transgressions. An interesting side note here: my buddy, Kazuki, a third-generation tattoo artist, still has the original hand-carved tools that his great-grandfather used to ink these markings, a sobering reminder of how far the art form has come.
Over the years, Japanese tattooing has branched into two main styles: the traditional and the modern. Both styles carry the spirit and symbolism of Japan in their veins, but they differ in the tools they use.
Traditional Japanese tattooing, or Irezumi, is a hand-poked art, where the artist uses a set of non-electrical tools, similar to the ones in Kazuki's collection. On the other hand, modern Japanese tattoos employ the familiar buzz of the electric tattoo machine. Whether it's the rhythmic tapping of the traditional Tebori or the steady hum of the modern coil machine, the magic lies in the transformation of ink into art.
Now, don't be fooled into thinking that Japanese tattoos are limited to black and grey. While these shades do play a crucial role in many designs, traditional Japanese tattoos are known for their mesmerizing interplay of bold, contrasting colors. They're like fireworks on your skin – pops of pinks, oranges, turquoises, and bright blues sizzling against black backdrops, making every motif come alive.
But here's the thing: colors in Japan aren't just about aesthetic appeal; they carry meanings and associations deeply embedded in the culture. Think of white, a color symbolic of purity, truth, and, rather paradoxically, death in Japan. Or black, which can convey mourning, mystery, and the legacy of tattoo culture itself.
Then, there's red, the color of joy and vitality – a staple in celebratory events from weddings to birthdays. Blue, associated with luck and fidelity, is a common choice for corporate attire, symbolizing commitment to work. Green represents life, energy, and respect for the earth, while purple exudes a regal air, reminding us of its past exclusivity to the ruling class.
Don't forget pink, symbolizing femininity, good health, and the fleeting beauty of cherry blossom season, or yellow, a complex hue denoting joy, optimism, prosperity, and occasionally, deceit. But don't worry, there's no color-coding faux pas when it comes to your skin. Collaborate with a seasoned artist, and they'll weave these colors into a stunning, auspicious tapestry that's unique to you.
Japanese Tattoo Placement
Japanese Forearm Tattoo
Let's start small – the forearm. It's spacious enough to capture the intricacies of Japanese tattooing, yet conveniently discreet. One of my clients, Samantha, wears a vibrant Koi fish on her forearm. It's her daily reminder of resilience and transformation, and she loves rolling up her sleeves to share her story with the world.
Japanese Chest Tattoo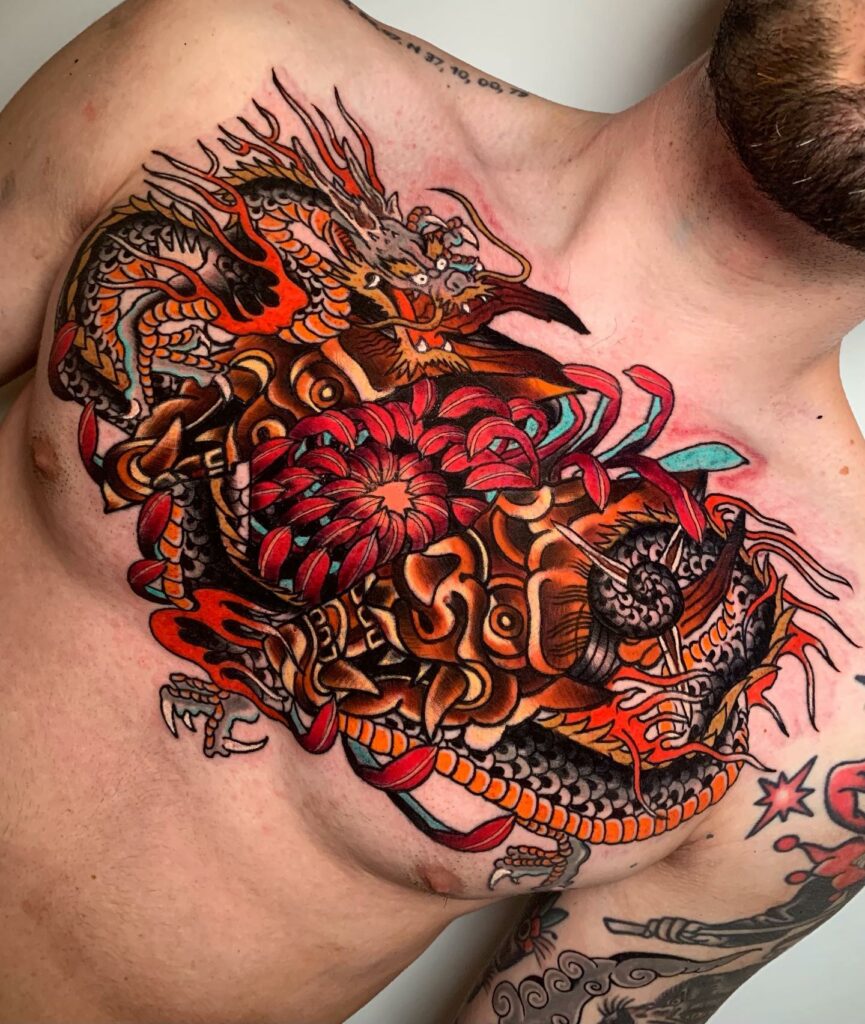 The chest is a choice for those looking to make a bolder statement. The tattoos here are like colorful secrets, close to your heart, ready to be revealed. Just ask Marcus, a firefighter from Chicago, who sports a vivid fire dragon across his chest – a symbol of courage and power.
Japanese Back Tattoo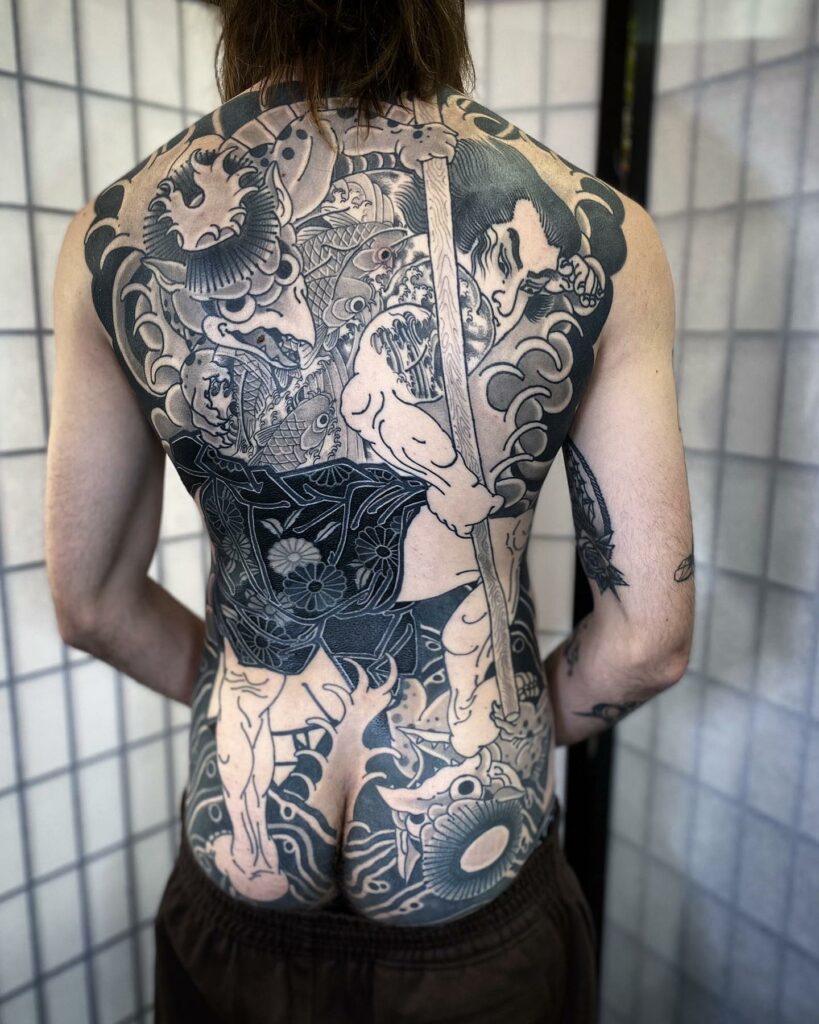 For the fearless, the back provides an expansive canvas for large-scale designs. Imagine the detail in a samurai warrior or a mythical phoenix stretching across your back, a grand piece of art veiled by your shirt, waiting to be unveiled.
Japanese Thigh Tattoo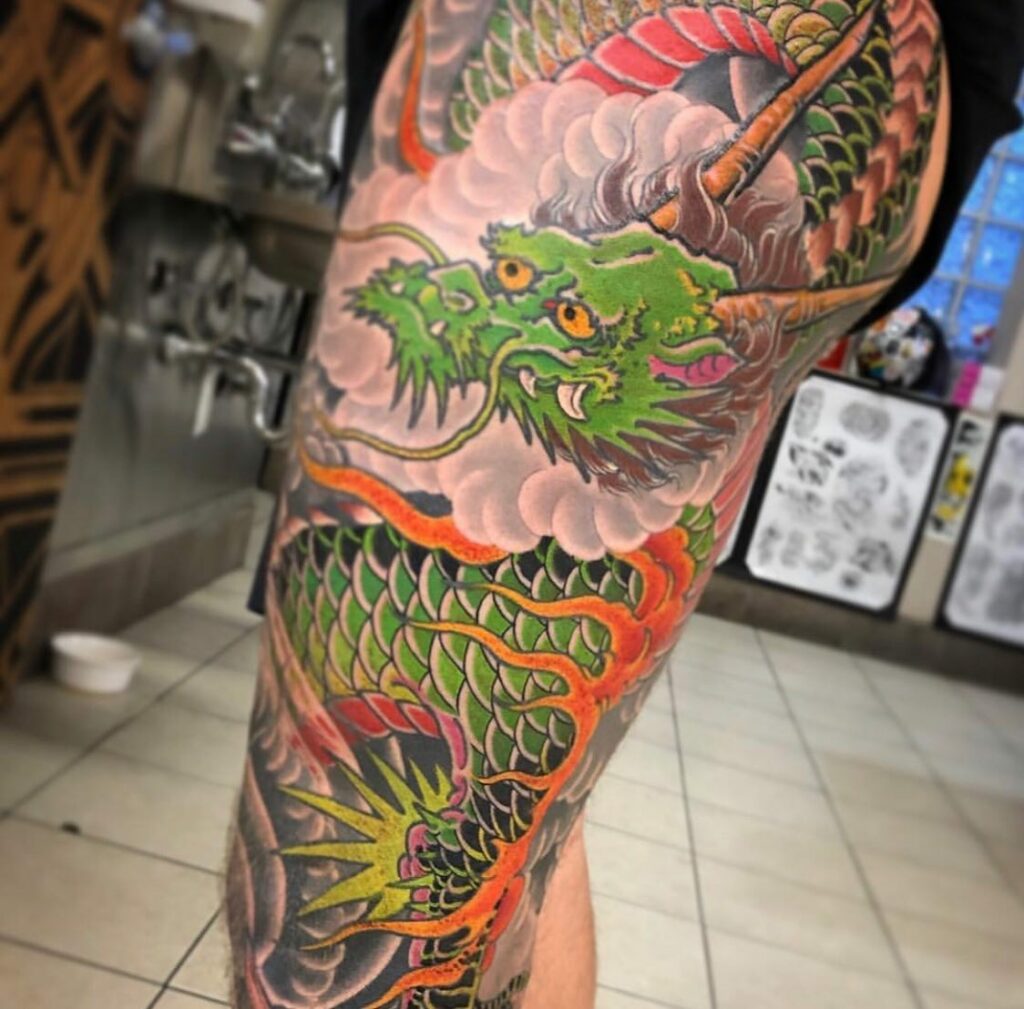 Thigh tattoos, especially with potent symbols like dragons, radiate an aura of power and strength. On my friend Mia, a tattoo artist herself, a resplendent dragon coils around her thigh, symbolizing her fearless spirit.
Japanese Neck Tattoo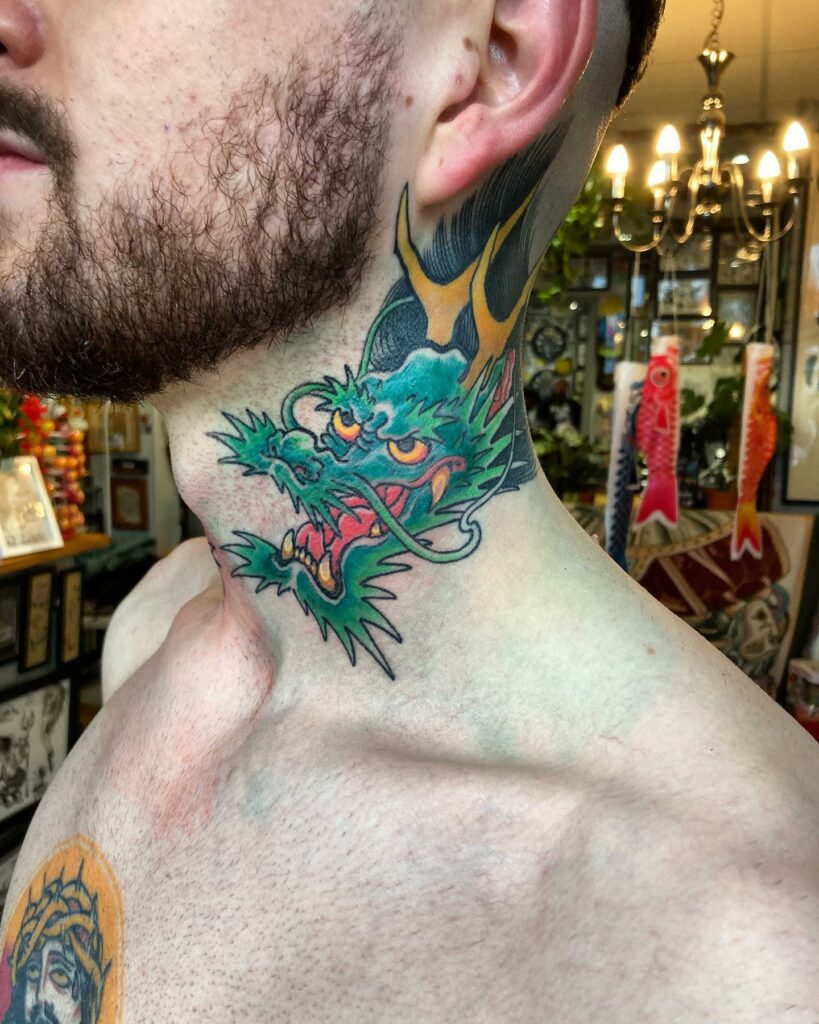 The neck, though smaller, is an impactful space for a vibrant Japanese mask or a delicate cherry blossom branch. It's for those who wear their art with unabashed pride, like my buddy, Kazuki, who adorns a Hannya mask on his neck, a reflection of his passion for the art form.
Japanese Hand Tattoo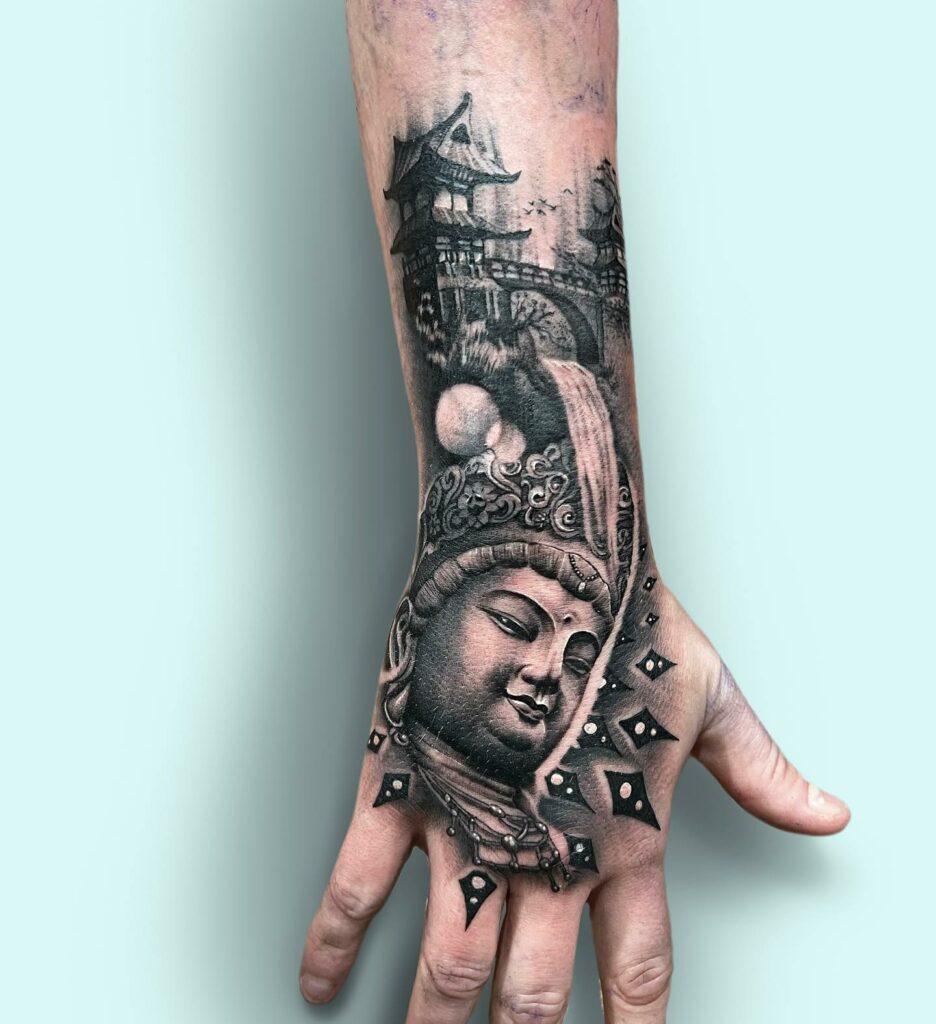 Then there are hand tattoos, always on display and speaking volumes about the wearer. A miniature Koi fish or a cherry blossom branch could be an ever-present symbol of hope and renewal. My barista, Hiro, carries a beautifully inked Koi on his hand. He says it's his good luck charm and a conversation starter with customers!
Japanese Shoulder Tattoo
Shoulders offer a comfortable middle ground, offering enough room for elaborate designs while being easy to conceal. From stretching dragons to formidable masks, your shoulder can carry a lot of stories.
Japanese Feet Tattoo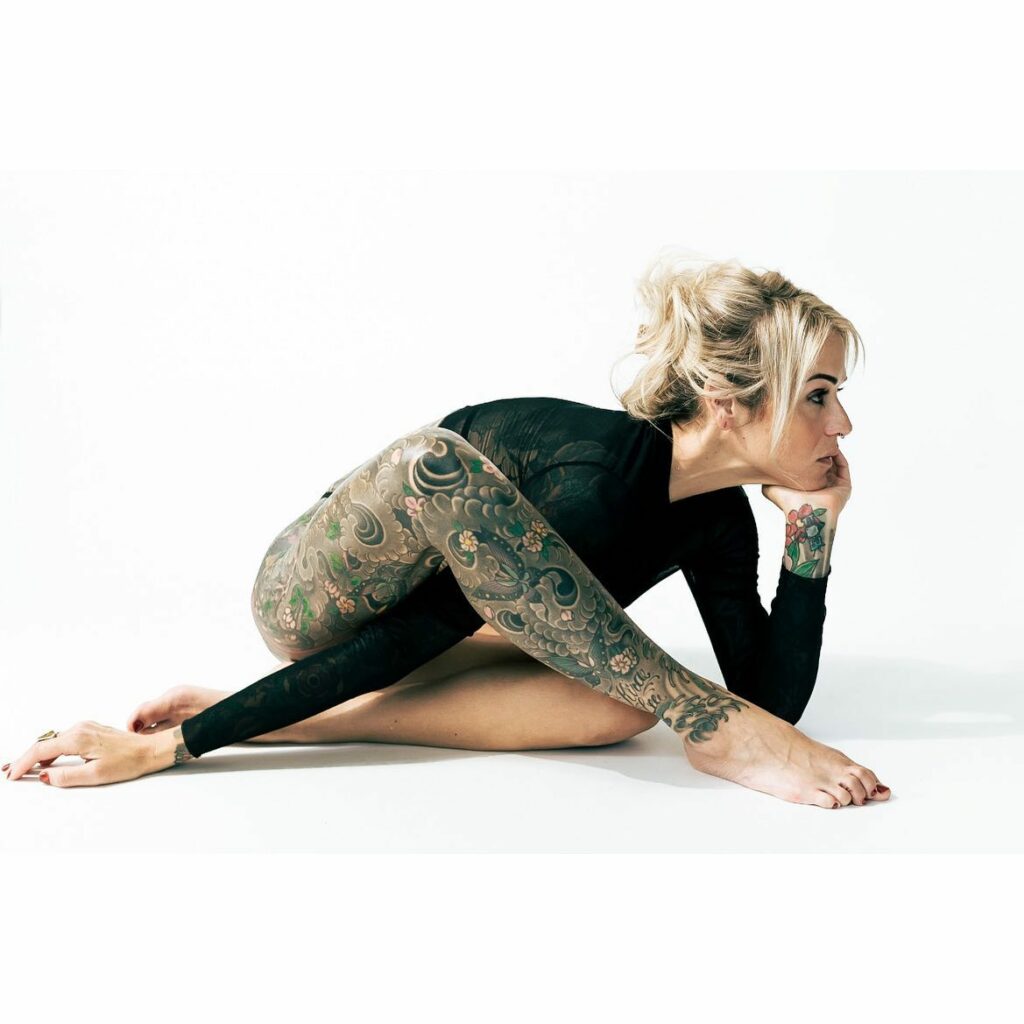 Let's not forget the feet. It's like your hand's twin, with similar size and shape but easily concealed. An intricate mask or a tiny Koi fish can be a subtle yet significant adornment.
Japanese Calf Tattoo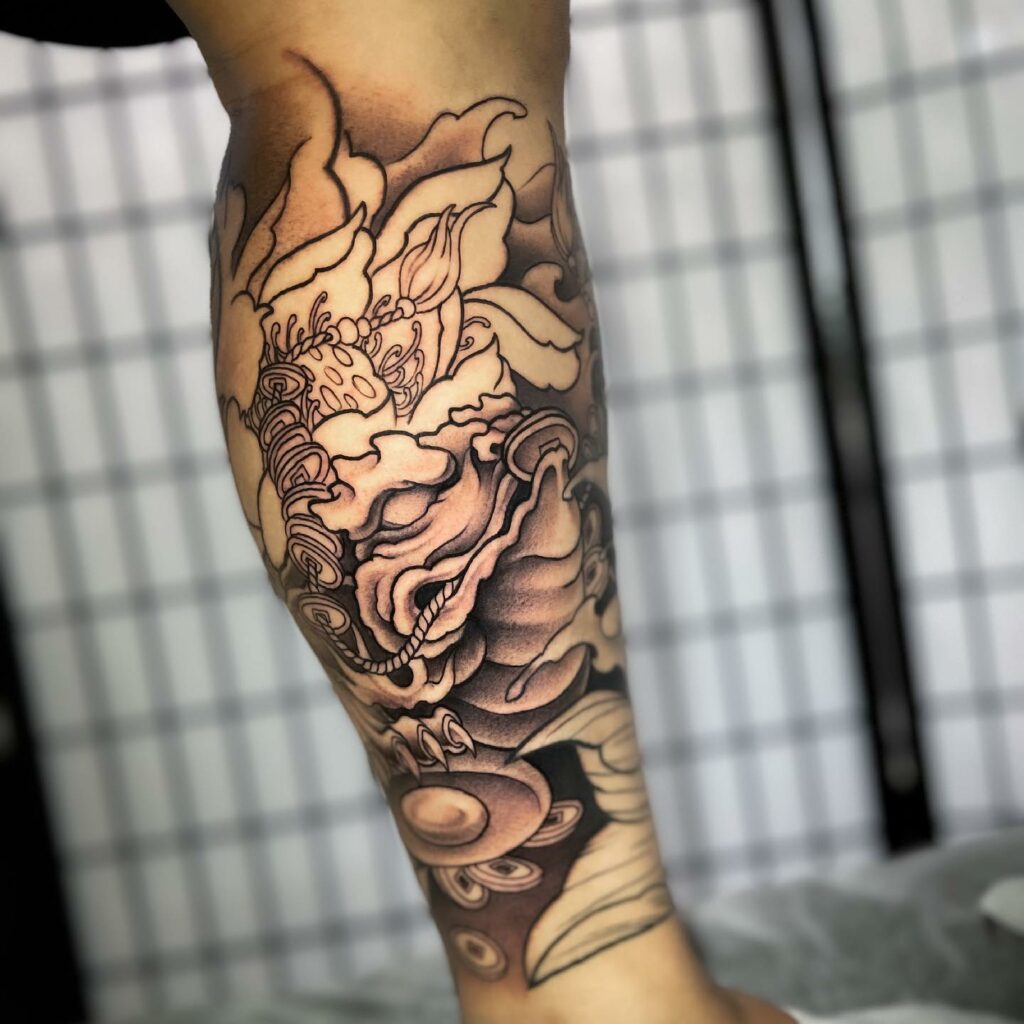 The calf, a slightly covert yet generous spot, can house a range of Japanese tattoos. Think of it as a mobile art exhibition, peeking out from under your jeans or dress.
Japanese Tattoo Subjects
Oni Mask Tattoo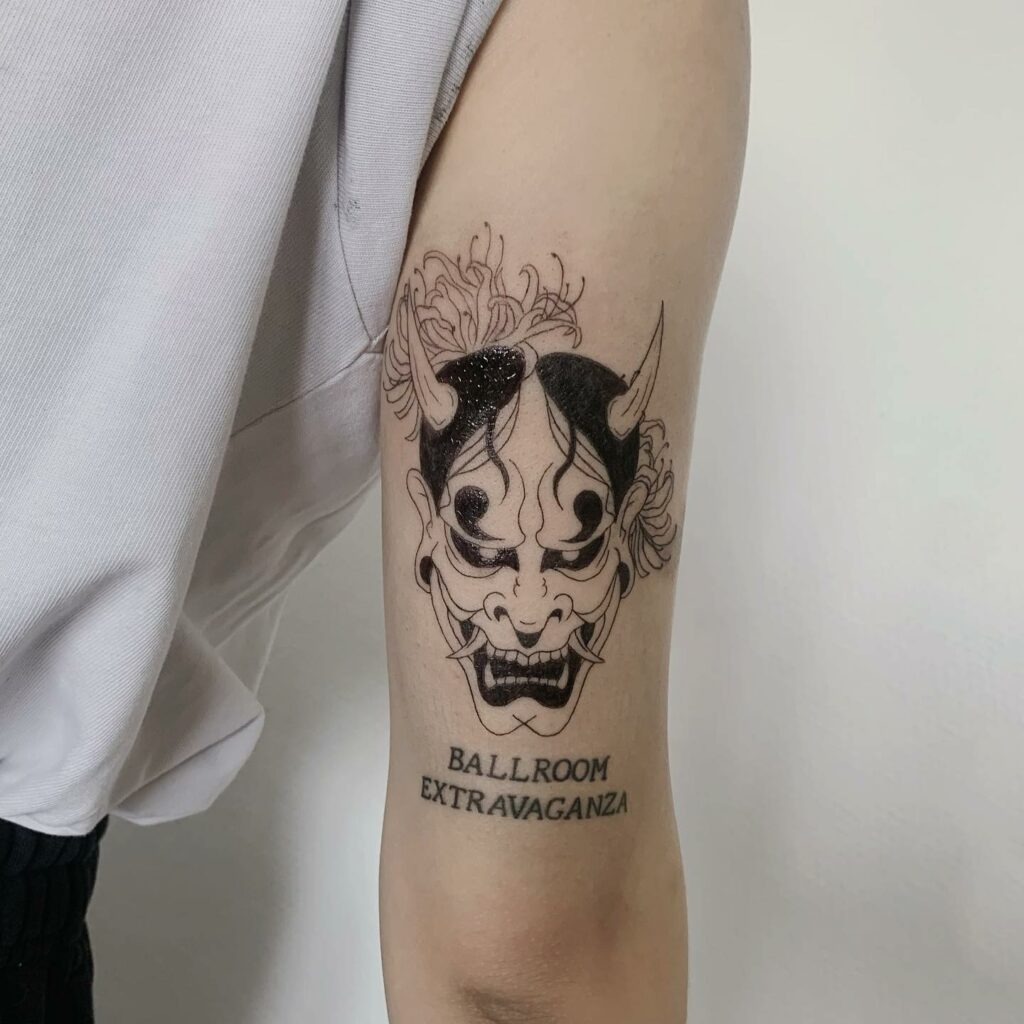 First up, the Oni Mask tattoos. A powerful symbol drawn from the realm of Yokai – creatures of the spirit world, the Oni is a testament to resilience in the face of adversity. Like Jake, a veteran who weathered many storms, sporting an Oni Mask tattoo, he says, "It reminds me of the battles I've fought and won, in the field and in my mind."
Tengu Mask Tattoo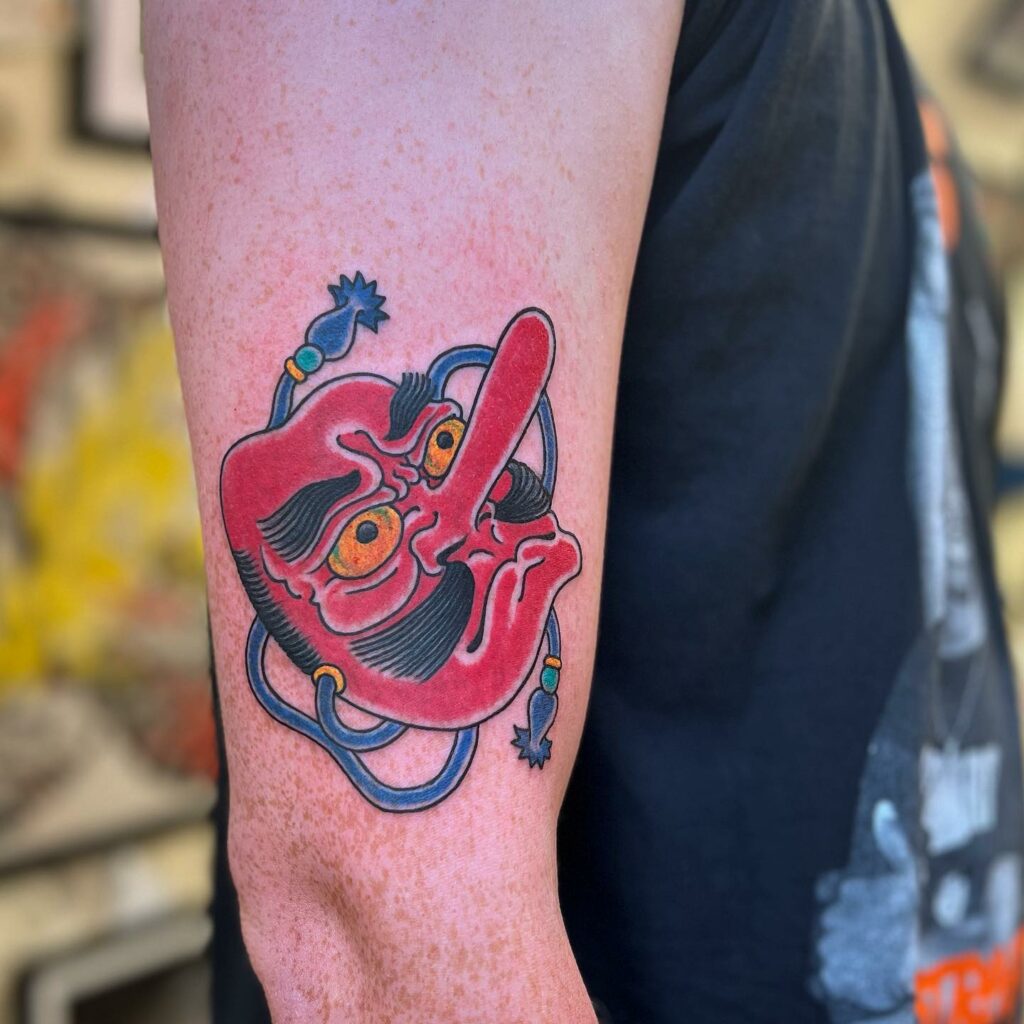 The Tengu mask, another intriguing subject, with its dog-like features and a beak-like nose, encapsulates transformation and adaptation. Tengu's ability to shape-shift into various forms echoes a story of embracing change, a sentiment beautifully put by Rosa, a ballet dancer with a Tengu mask tattoo. She says, "Life is a dance of change, and my Tengu is my tribute to that dance."
Okame Tattoo
The Okame symbol, with its gentle features and rosy cheeks, embodies beauty, femininity, and joy. Remember Kim, a therapist from San Francisco, who chose an Okame tattoo to spread positivity and warmth, stating, "Okame's cheerful aura inspires me to bring a smile to those around me."
Okina Mask Tattoo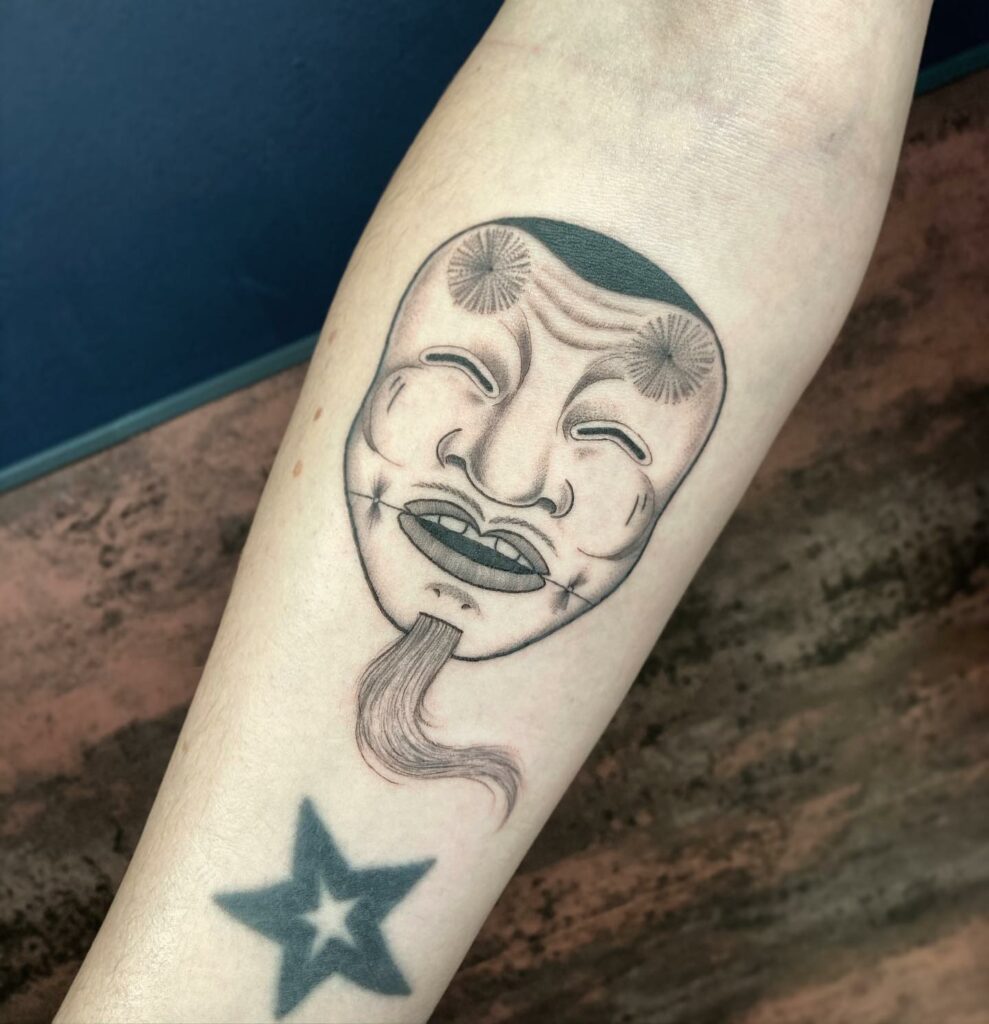 The Okina mask, depicting a content old man, stands for wisdom and respect. It resonates with those who value life's lessons and the wisdom of the elders, like Alex, an anthropology professor, who sports an Okina mask tattoo, sharing, "It's my homage to wisdom gained over the years."
Hyottoko Mask Tattoo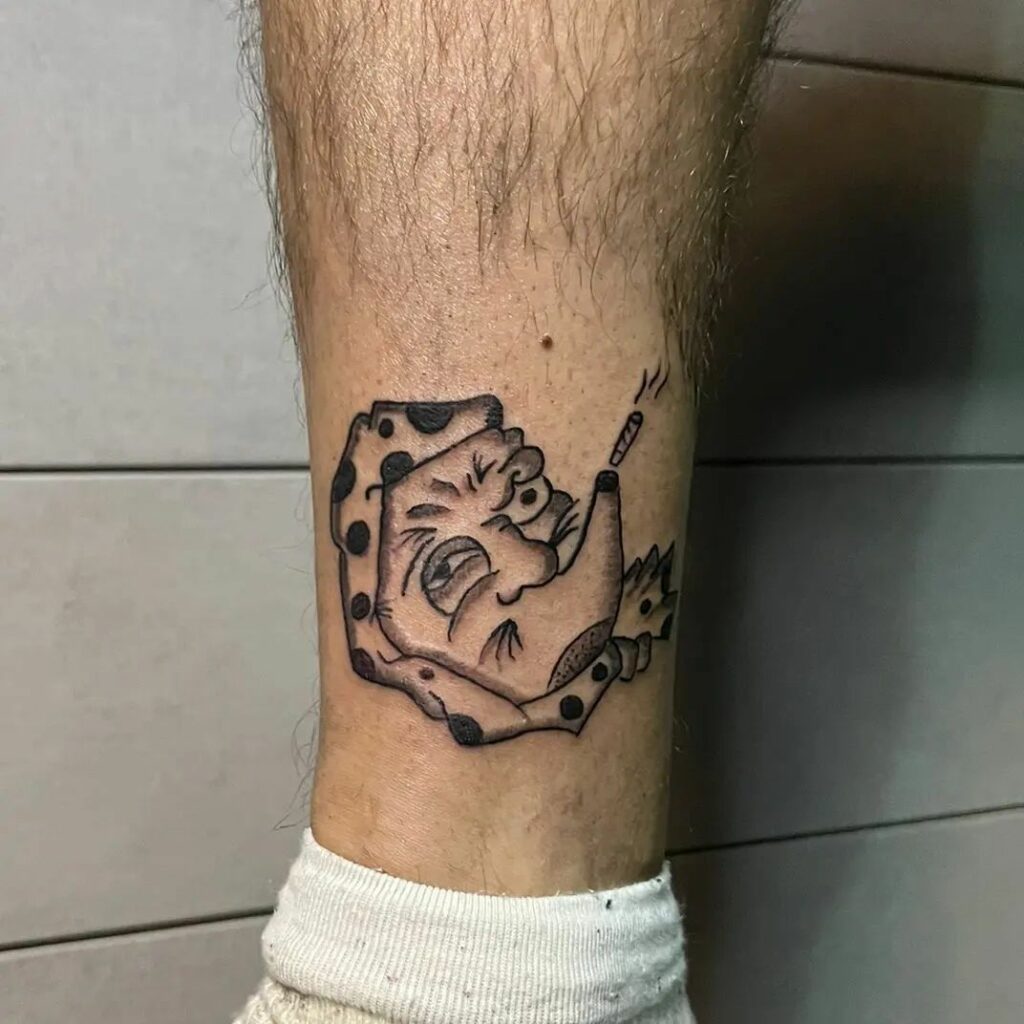 The Hyottoko mask, a comic relief amid the ghoulish spirits, signifies humor and prosperity. Talk about lightening the mood, right? Meet Lisa, a stand-up comedian with a Hyottoko tattoo. She says, "Life can be heavy, but a laugh can lift you up. My tattoo keeps me grounded in that truth."
Namahage Tattoo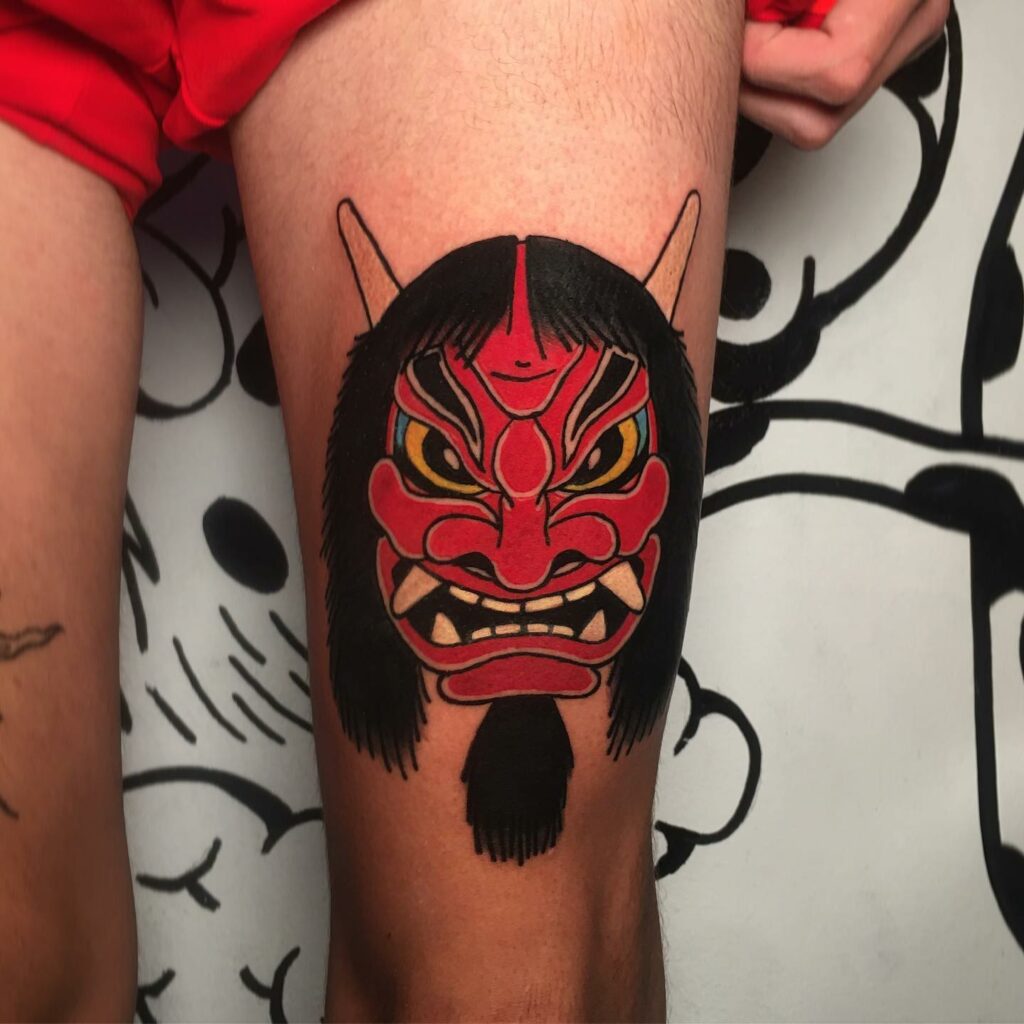 The Namahage, while lesser-known, carries a mischievous charm. An unusual Santa Claus figure, it disciplines the naughty and celebrates the well-behaved. Chris, a single dad with a Namahage tattoo, finds it useful in maintaining order with his five kids. He laughs, "It's an inked guardian reminding them to behave, or else!"
Saru Tattoo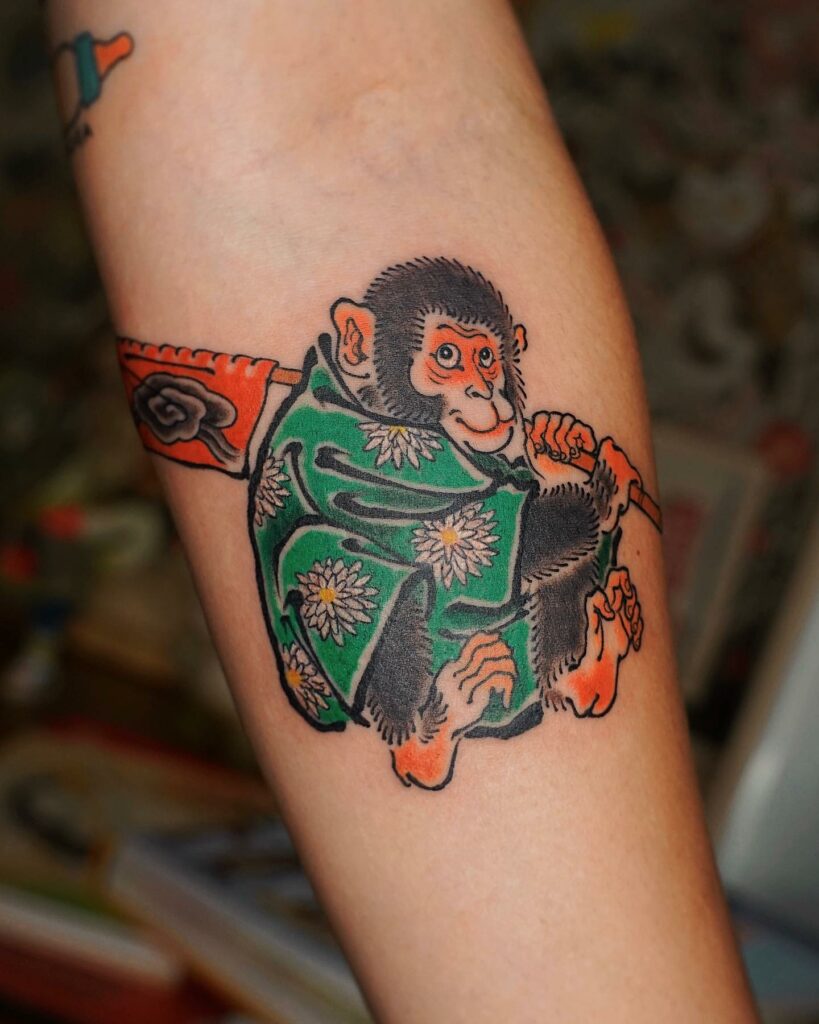 The Saru, or monkey, represents the playful, silly, and sometimes, a bit of a trickster side of us. John, a software developer with a Saru tattoo, believes it reflects his playful spirit, saying, "In the world of codes and algorithms, my Saru is a symbol of my quirky side."
Yokai Tattoo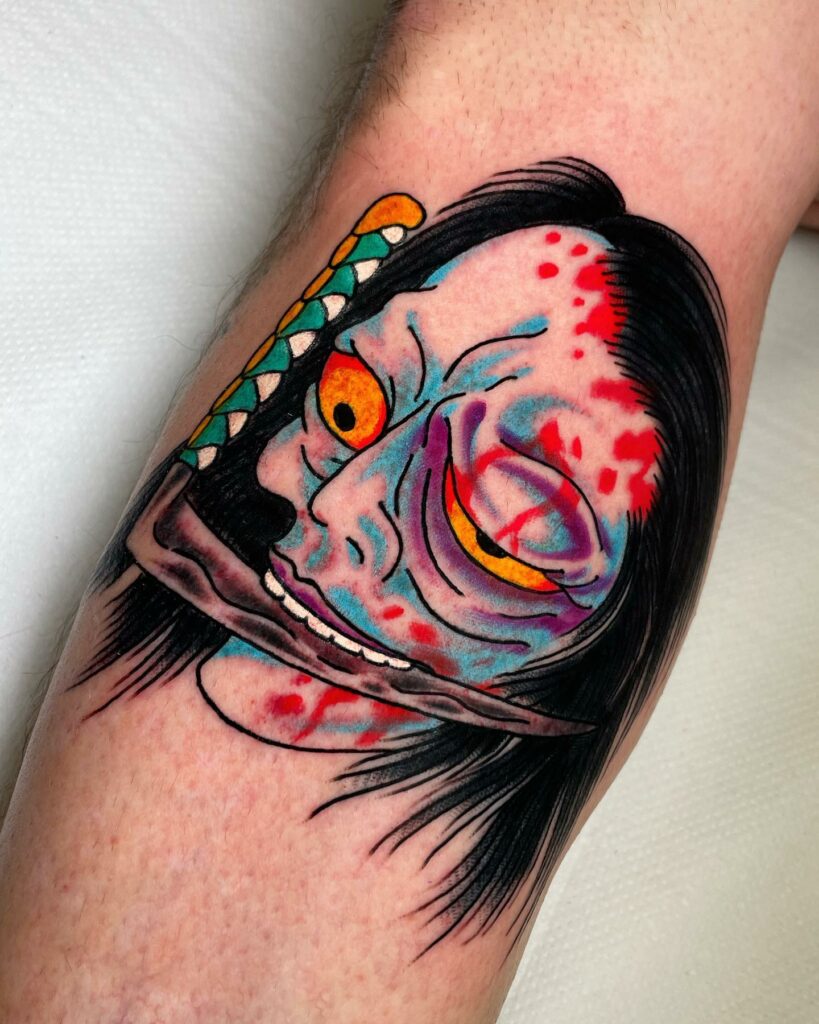 Yokai tattoos are a tribute to the vastness of Japanese folklore. With a Yokai tattoo, you honor your roots or a love for the enigmatic world of Japanese mythology. Or maybe, you're just into cartoon-ish and friendly tattoos, like Maya, a graphic designer from Seattle, with a myriad of Yokai tattoos. She grins, "They are my favorite doodle buddies!"
Kappa Tattoo
Kappa tattoos, another member of the Yokai family, signify loyalty and helpfulness. Recounting her story, Jen, a social worker with a Kappa tattoo, says, "In a world that often seems thankless, my Kappa reminds me of why I do what I do. It's about being there for others."
Tanuki Tattoo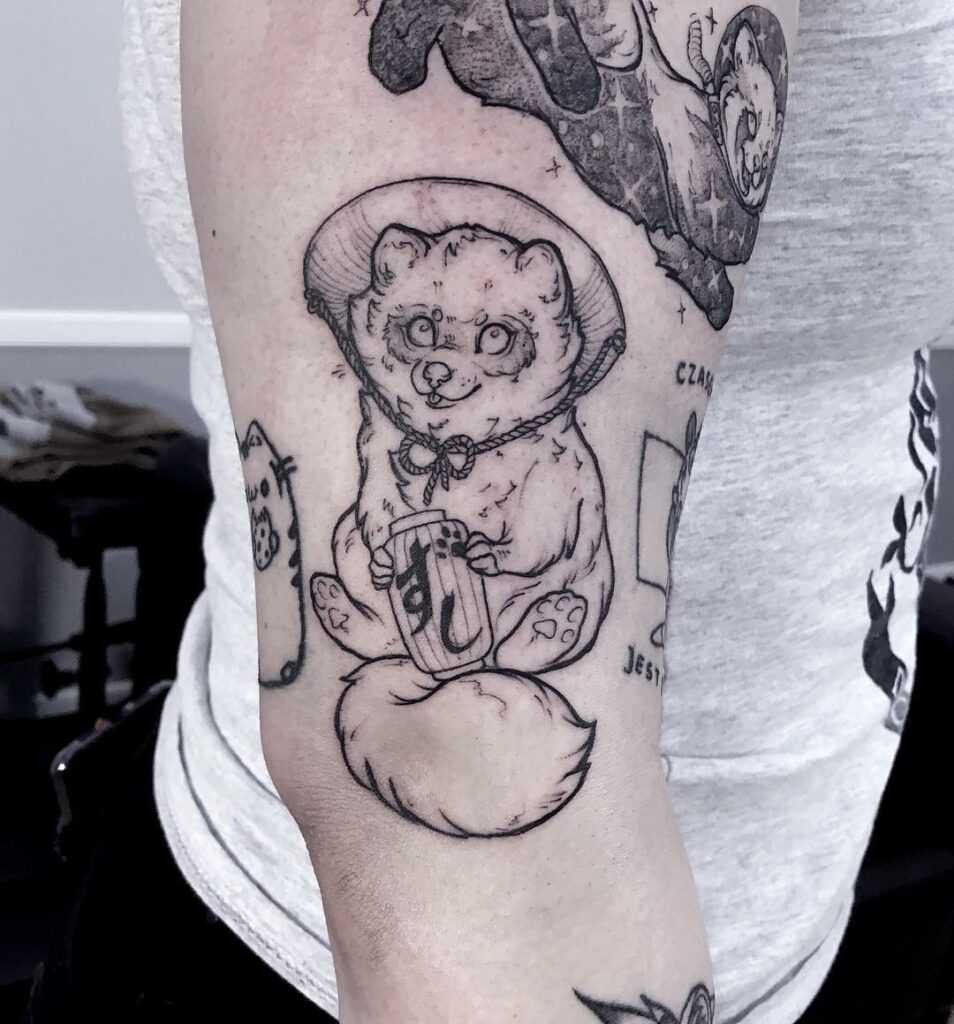 And lastly, the jovial Tanuki, symbolizing wealth and prosperity with an added dose of cheeky humor. Like Ben, a restaurateur, and his team, all sporting matching Tanuki tattoos. "It's our little nod to the joy we bring to our customers and the prosperity we aspire to," he chuckles.
The Importance Of Color In Japanese Tattoos
color is an integral part of traditional Japanese tattoo art. It serves not just as an aesthetic element, but also a symbolic narrative, imbuing designs with deeper meanings. Consider the power of the dragon motif, for example. While black dragons represent wisdom and experience, red dragons embody passion and, surprisingly, a protective nature. When paired with lush green bamboo backdrops, the motifs gain depth, telling intricate tales of growth, protection, and wisdom.
Similarly, the vibrant orange and gold hues of a Koi fish, swimming upstream, stand for resilience and the strength to overcome adversity. Meanwhile, the blues and indigos often associated with the waves or water around the fish serve as a counterpoint, symbolizing life's obstacles. It's a dance of contrast, of resilience against adversity, told in ink.
Or take the striking Hanya mask tattoos. A red Hanya represents a woman transformed by jealousy and obsession, while the blue version suggests a tormented male spirit. These masks, often set against backgrounds of black and gray, create a stark juxtaposition, lending a sense of drama to the design.
In essence, colors in traditional Japanese tattoo art are not just mere visual flourishes – they're integral to the narratives being woven, adding layers of symbolism and depth to each design. When considering your tattoo, remember that every hue tells a part of your story.
Conclusion
Navigating through the intricate world of Japanese tattoo art, it becomes clear how this symbolic ink becomes an extension of our identities. As we've seen through various stories, the tattoo's subject holds an intimate connection to one's personal journey, aspirations, and values. But remember, as much as the choice of subject matters, so does its placement. Consider the canvas of your body and how the tattoo might harmoniously fit there. As a ballpark figure, expect to shell out anywhere from $100 to $500 per hour depending on the artist's experience, the intricacy of the design, and the geographical location.
As with any form of body modification, there are risks involved. The most common concerns include allergic reactions, infections, and the potential for scarring. Therefore, do your research to find a reputable tattoo parlor with stellar hygiene practices. After all, this artful adventure should be a source of joy, a personal keepsake, not a health hazard.
In essence, each tattoo tells a story – a narrative woven in ink, etched into the skin, reflecting the world within. It's a bold, colorful declaration of who you are and what you stand for. So, whether you choose the fierce Oni, the transformative Tengu, or the playful Saru, remember to choose wisely and wear it proudly. Happy tattooing!