Hey there, tattoo lovers! Welcome back to alexie, where we're exploring the enchanting world of body art. Today, we're diving into the realm of floral tattoos, specifically focusing on the lovely jasmine flower. Get ready to be inspired by these stunning jasmine designs that will bring a fresh and fragrant touch to your ink collection!
Jasmine flowers are not only strikingly beautiful but also carry a unique symbolism across various cultures and spiritual traditions. Often referred to as the "gifts of God," jasmine is associated with Mother Mary and motherhood in Christianity, as well as signifying grace, elegance, sensuality, purity, beauty, and love.
With their richly scented blossoms and undeniable positive energy, jasmine flower tattoos are a true feast for the eyes and soul. While particularly popular among women as a symbol of feminine charm and beauty, these tattoos also look fantastic on men, representing love, loyalty, respect, and honor. So, why not let a jasmine flower tattoo express your inner essence and make a stylish statement?
To help you find the perfect design, we've handpicked ten breathtaking jasmine flower tattoos that showcase the versatility and allure of this beloved bloom. Get ready to fall in love with your new favorite floral tattoo!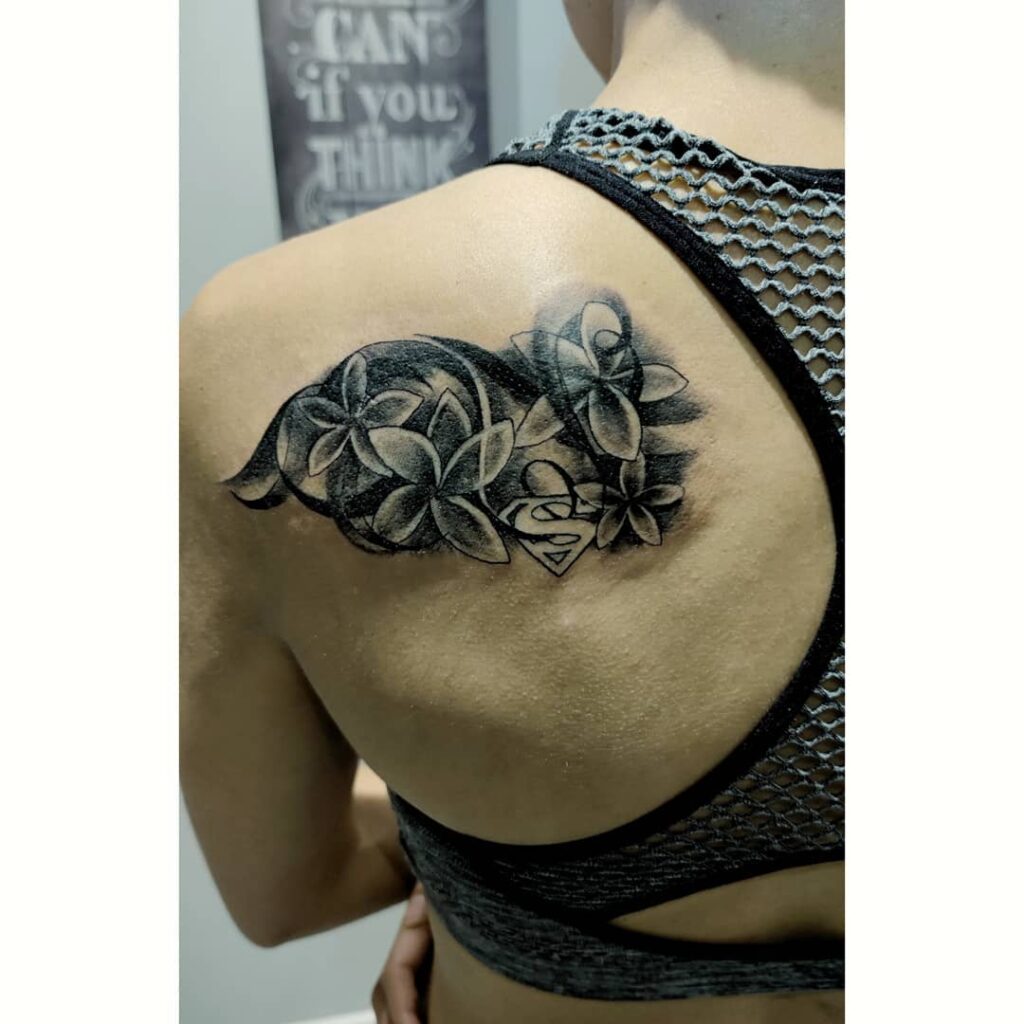 Minimalistic Jasmine Flower Tattoo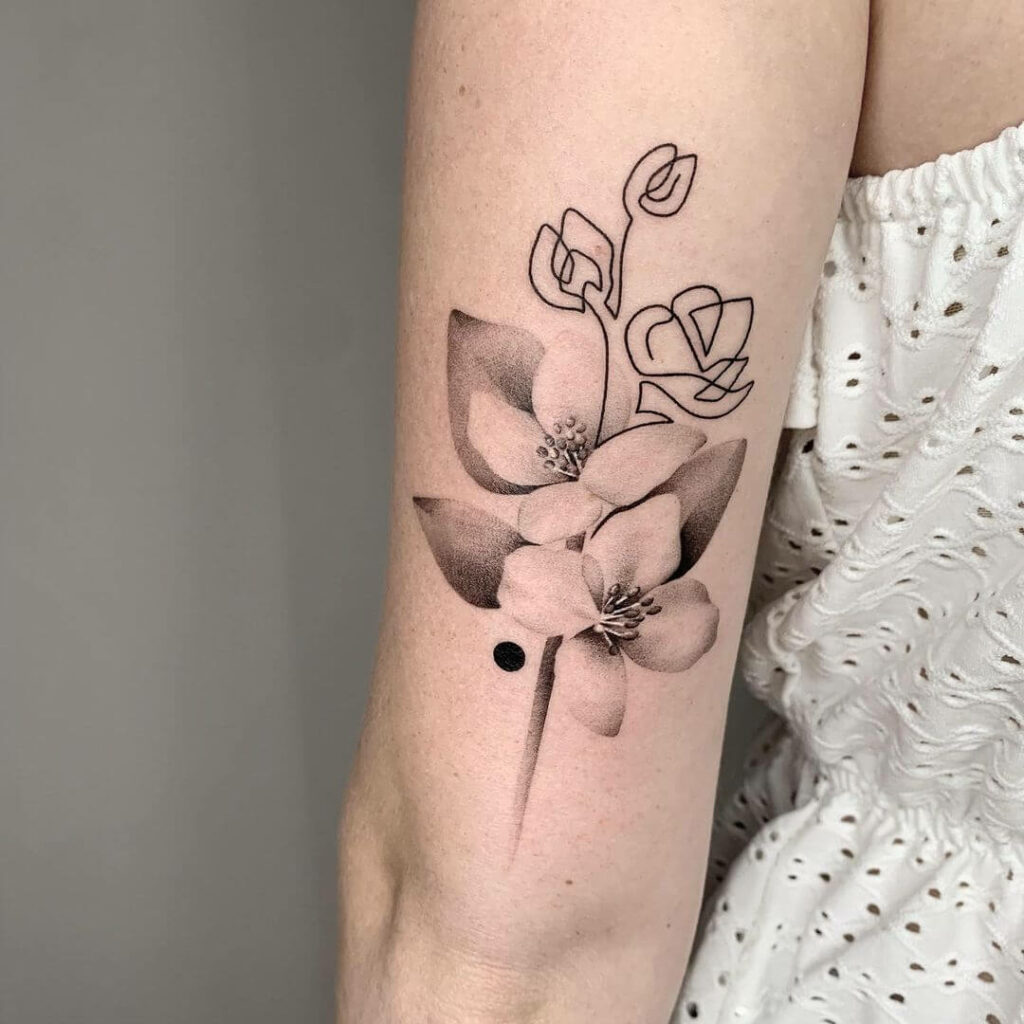 Looking to infuse some radiance into your body art? Consider this enchanting monochromatic white jasmine tattoo that exudes a soothing and charming aura.
This tasteful jasmine flower tattoo employs varying shades of black to create a visually appealing design. Two white jasmine flowers, highlighted with subtle black shading, take center stage. The interplay of dark and light tones on the leaves harmonizes beautifully with the pristine white of the blossoms. A crisp black floral outline provides the perfect finishing touch to this captivating piece.
Ideal for placement on the arm, shoulder, or upper back, this exquisite jasmine tattoo adds a touch of lively grace to your overall look. Embrace the elegance of nature with this striking and serene design that's sure to turn heads and spark conversation.
Purple Jasmine Tattoo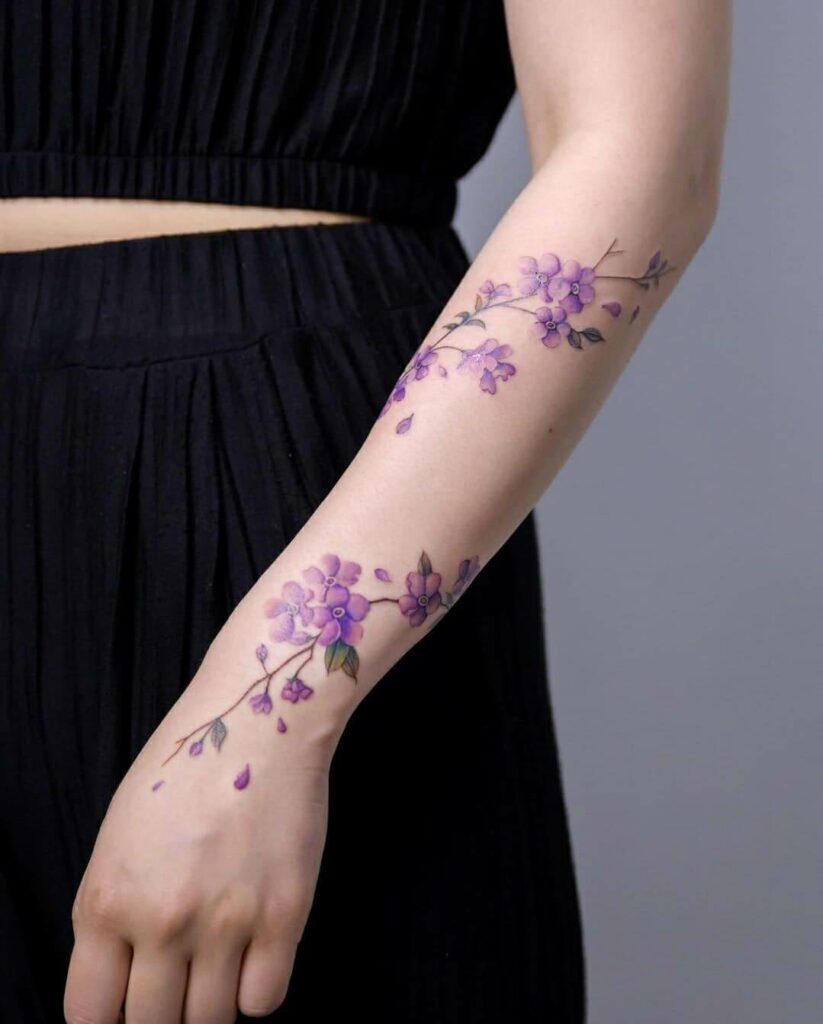 The enchanting purple jasmine is often associated with symbols of royalty, innocence, luck, and love, making it a sought-after choice for tattoo enthusiasts. These captivating designs are popular among women and can be gracefully placed on the lower arm, rib area, or shoulder. Meanwhile, men might prefer showcasing this regal floral motif on their upper arm or chest.
Featuring several purple jasmines in a range of rich purple shades, this tattoo truly stands out as a majestic addition to any collection. The striking contrast between dark green leaves and vivid purple petals imbues the design with an undeniable vibrance and sophistication.
Whether you're seeking a bit of luck, a touch of elegance, or a reminder of love's vitality, this stunning purple jasmine tattoo is the perfect way to adorn your body with a meaningful and eye-catching symbol.
Jasmine Shoulder Tattoo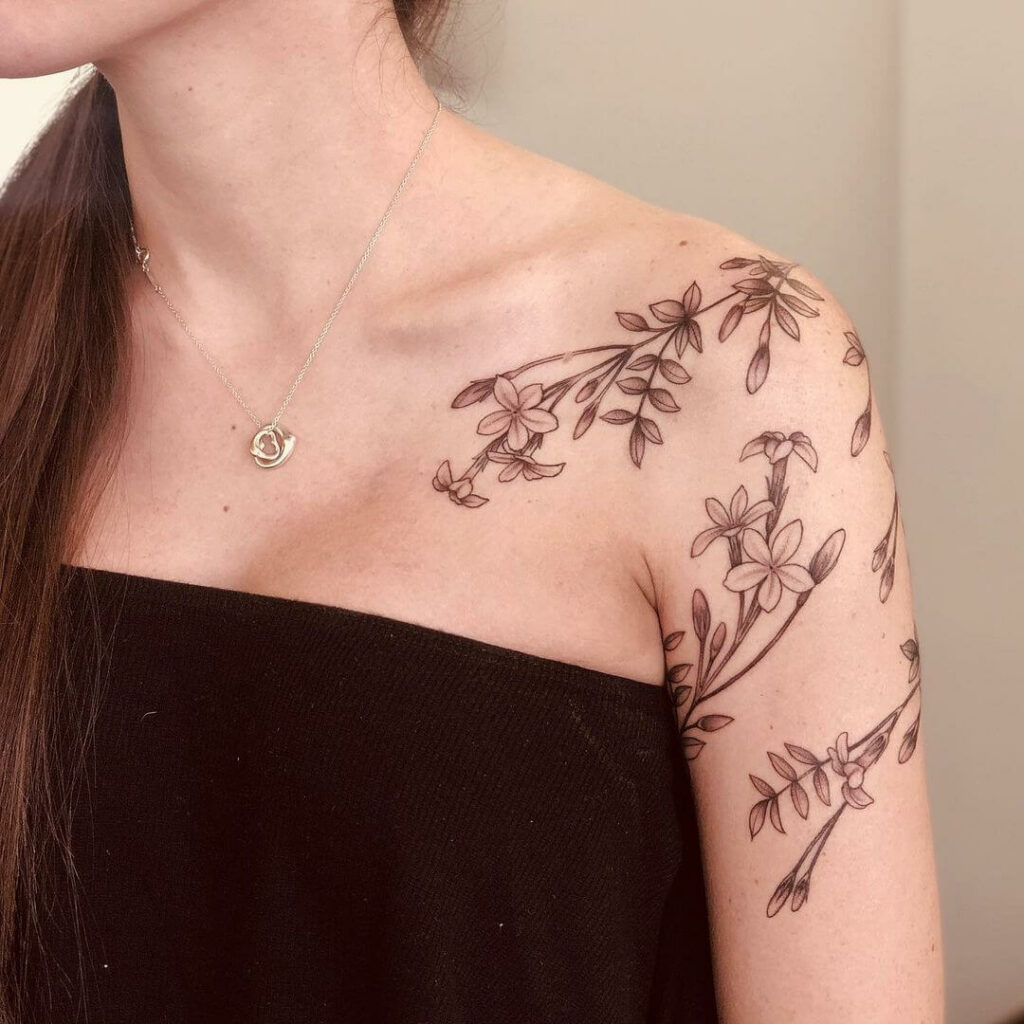 Imagine adorning your shoulder with a breathtaking jasmine tattoo that's sure to turn heads! The intricate detailing on the petals, achieved with delicate light grey strokes, adds depth and dimension to this captivating design. The masterful interplay of light and dark shades on the leaves and buds requires the skill of an experienced tattoo artist, as the charm of the design hinges on their expertise.
When selecting the ideal placement for this expansive piece, keep in mind that it will cover a significant portion of your skin. Once you've chosen the perfect spot, you can confidently flaunt your new jasmine tattoo, adding an elegant twist to your sleeveless ensembles. This stunning piece of body art is a celebration of grace, beauty, and the allure of nature.
Black Ink Jasmine Tattoo
If you're on the hunt for a sleek and eye-catching design, this jasmine tattoo might just become your new favorite! Depicting jasmines blossoming from a branch, the tattoo evokes the positive symbols of spring and rebirth, infusing the design with an uplifting energy.
This elegant piece showcases a clean, linear black line adorned with a series of orderly drawn jasmine flowers. Skillful use of varying black shades adds visual interest and enhances the tattoo's aesthetic appeal. If you're eager to make a statement with a dynamic floral tattoo, this captivating design should definitely be at the top of your list!
Forearm Jasmine Tattoo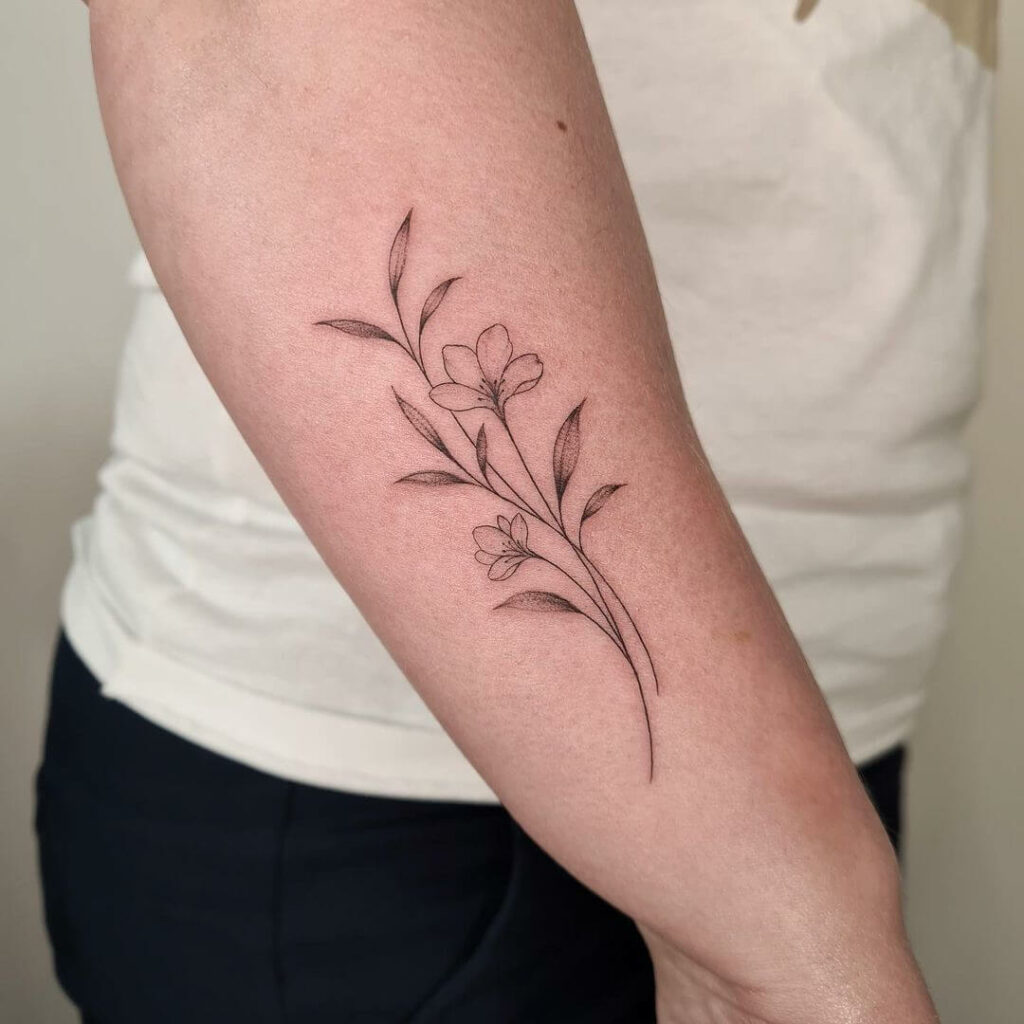 This charming jasmine flower tattoo demonstrates the beauty of simplicity, featuring jasmine flowers and a few leaves all crafted with black ink and shading. The design is a testament to the wonders that can be achieved with just a single color! Skillful strokes and varying shades of black used on the leaves give the whole piece a refined and sophisticated allure. The petals, rendered in black ink, exude a subtle glow that adds to the tattoo's charm.
The versatile size of the tattoo makes it a perfect fit for numerous locations, such as the wrist, ankle, arms, chest, or shoulder. If you're seeking a simple yet enchanting tattoo design, this jasmine piece is a superb choice to showcase your feminine beauty!
Black Shade Jasmine Tattoo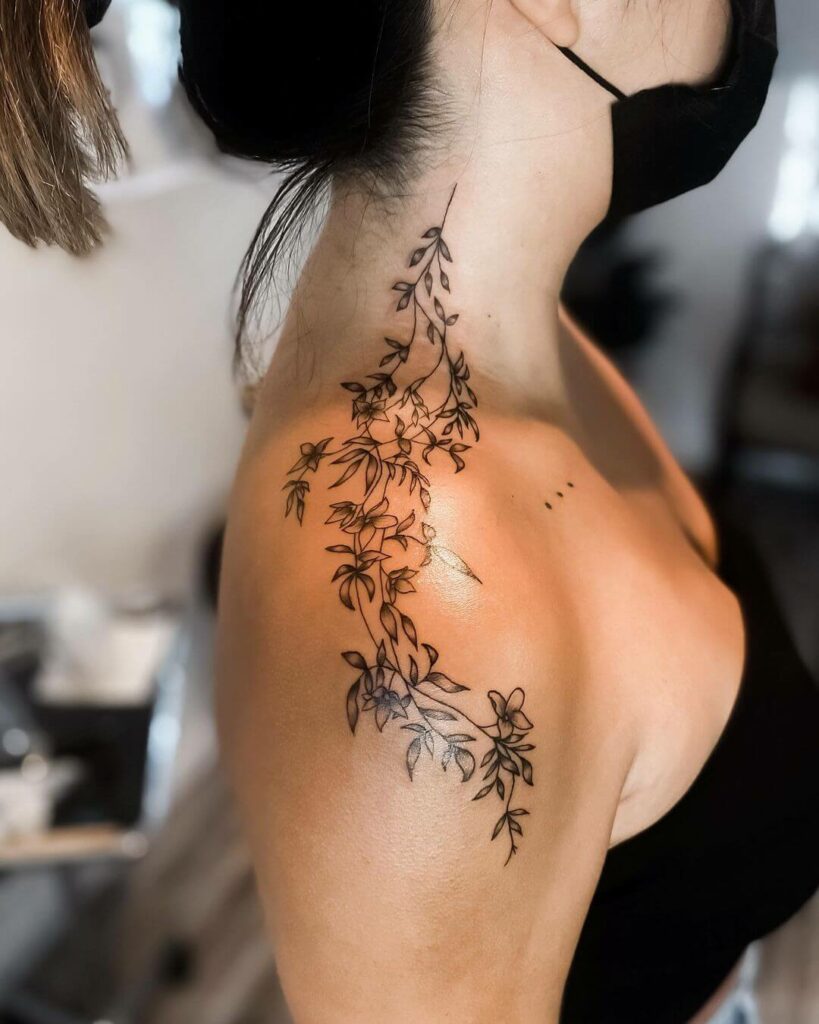 If you're on the hunt for an enchanting jasmine tattoo, look no further than this delightful design! The tattoo showcases numerous small jasmine flowers, each bursting with vibrancy and positive energy. The harmonious interplay between the black and white shades of the petals and leaves is nothing short of mesmerizing, while the dynamic black outlines serve to accentuate the design's flawless execution.
Given the tattoo's elongated shape, ideal locations for inking would be the shoulder, arms, or legs. Adorn yourself with this eye-catching jasmine flower tattoo and embrace the uplifting positivity it symbolizes!
Adorable Jasmine Tattoo
The tattoo showcases a fully bloomed jasmine flower, accompanied by several buds and a pair of leaves. The bold black outlines lend the tattoo a remarkable vibrancy, while the meticulous shading on the leaves enhances its aesthetic appeal. Both charming and audacious, this design is guaranteed to set you apart from the crowd. Embrace this gorgeous black tattoo and make a confident statement of your femininity!
Star Jasmine Floral Tattoo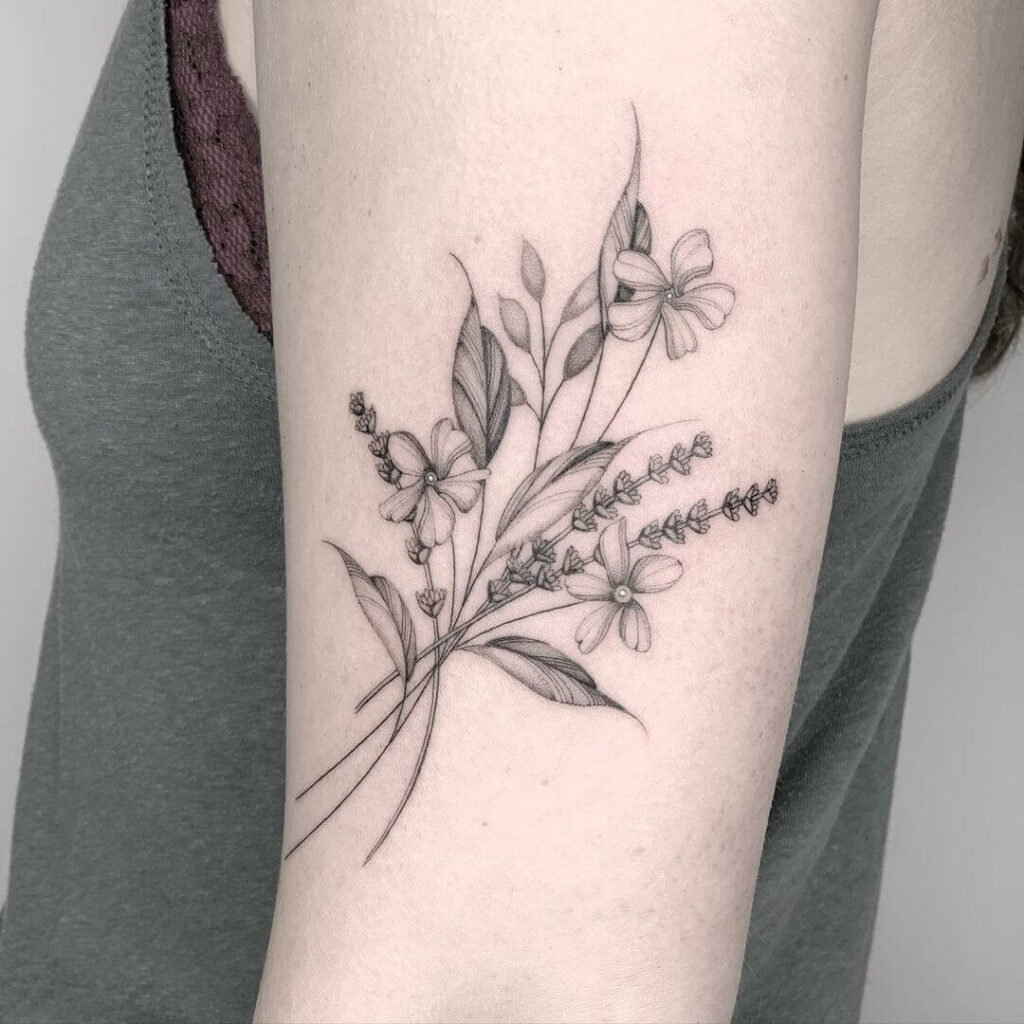 If you're seeking a tattoo that can elevate your style and add a touch of freshness to your daily appearance, consider this beautiful black and grey shaded design. Featuring jasmines paired with lavender and eucalyptus, one can almost imagine the heavenly fragrance wafting from this tattoo.
The harmonious blend of dark-shaded lavender and lighter-toned jasmines creates depth in the design, while the intricate detailing using dark ink lends a sense of sharpness to the overall piece. Choose this sophisticated floral tattoo as your next design, and let it be a timeless expression of your personal taste!
Yellow Jasmine Colourful Tattoo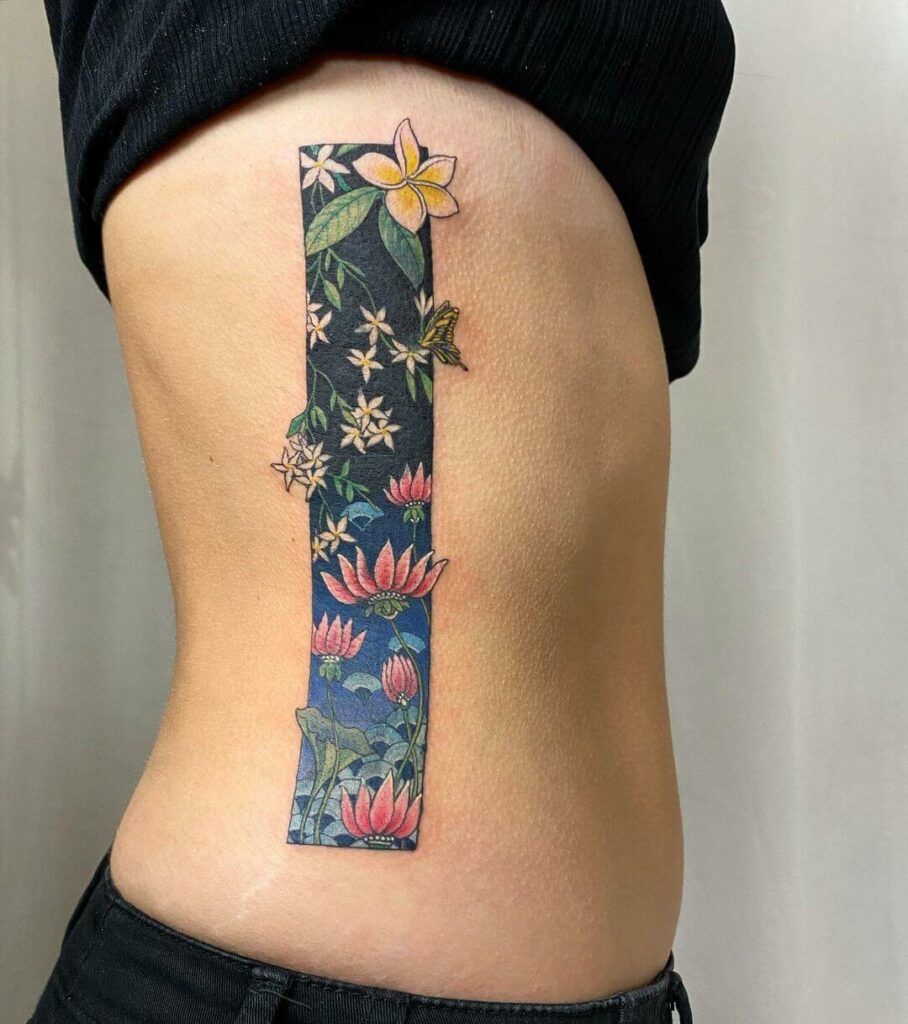 This tattoo bursts with the lively hues and vibrant energy of nature, making it an absolute must-have for all nature enthusiasts! Combining a lotus, yellow and white jasmines, and a butterfly, each element brings its own brilliant color to the design.
The pink shade of the lotus, the white and yellow tones of the jasmines, and the majestic beauty of the butterfly with intricate detailing are so mesmerizing that you might find yourself gazing at this exceptional design for hours. The black background serves to further emphasize the vibrancy of the tattoo. If you wish to embrace the natural world in your daily life, this tattoo was created just for you!
Realistic White Jasmine Tattoo
This realistic jasmine tattoo is a true marvel for nature lovers! The tattoo displays a fine art of minimalistic shading and colours to showcase the flowers in all their glory. The delicate petals are drawn precisely, giving a realistic effect that is hard to miss. The leaves add to the charm with a shimmering green colour, which beautifully complements the flowers. The thick black outlines on the petals and bold outlines on the leaves and branches provide the design with the perfect finishing touches.
Whether you're a man or a woman, the tattoo would look great on your arm, shoulder, or chest. So, if you want to add a touch of delicate luxury to your everyday look, this realistic jasmine tattoo is the way to go!
Feature image from Pinterest – Want your tattoo to look brighter? Try "Tattoo Balm"