Are you a Sailor Jerry fan too? Here we present you a list of the 10 most popular Sailor Jerry tattoo designs that will leave you awestruck.
Norman Keith Collins was popularly known as Sailor Jerry.
He is the most prominent American tattoo artist based in Hawaii, famous for his sailor tattoos. Born in 1911, he learned the art of tattooing as a child.
He is known to have made significant contributions to the world of modern tattooing. He developed pigments of his own and created custom needle formations that caused less irritation on the skin. He was also amongst the first artists to advocate the use of single-use needles and use autoclave to sterilize equipment. He also held expertise in maritime rum and developed a rich flavoured spiced rum named after him. In Hawai, a Sailor Jerry Festival is held in his honor.
Classic Colourful Skull Tattoo
Skulls are a classic symbol of a sailor's life. Since Sailor Jerry spent a major part of his life sailing, he held expertise in this kind of tattoo. This tattoo has a spooky shading of black and red with a hint of green. There is a sharp curved rod-like structure passing through the eye of the skull, with two red hearts hanging at the pointy end. It is a sleeve tattoo that can be inked by anybody irrespective of gender.
Traditional Italian Bright Tattoo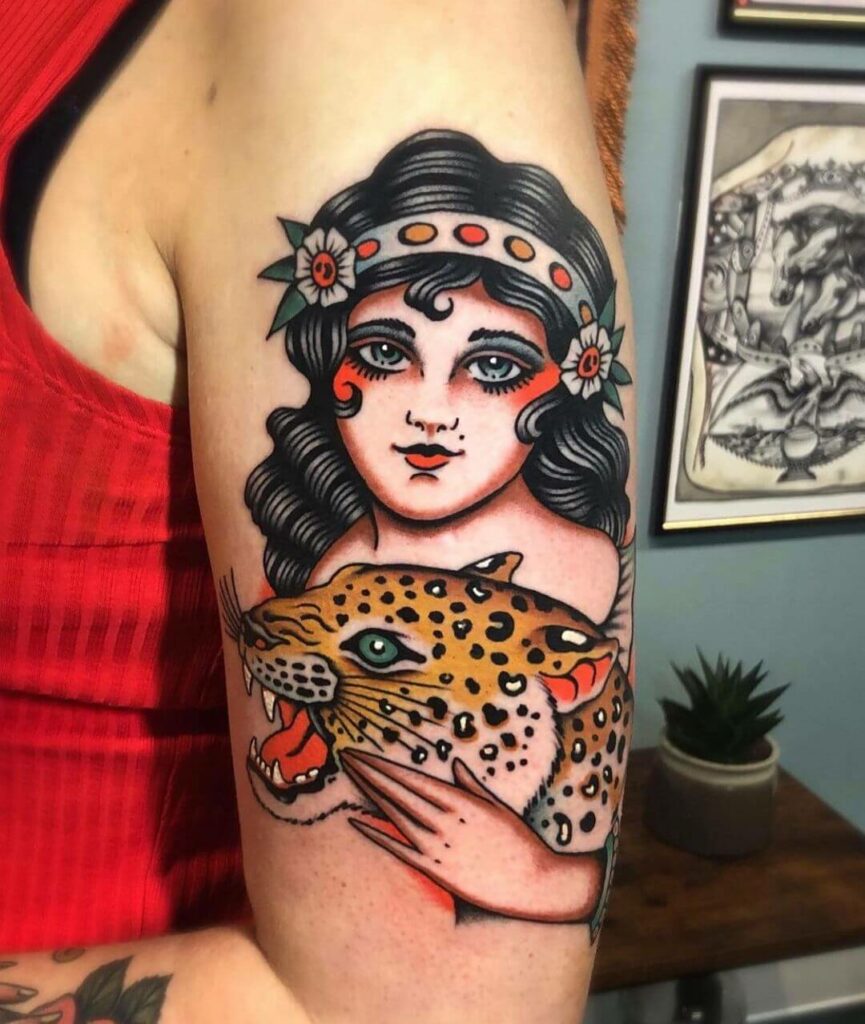 This tattoo comprises a beautiful tribal maiden holding a leopard in her arms. The tattoo reflects the unique Sailor Jerry colour shades. The exquisite blue eyes and rosy cheeks along with just the right amount of shading in her hair gives her an innocent look. The leopard has an enraged look, protecting his master. Both these elements make this tattoo a unique combo.
Colourful Eagle In Action Tattoo
This eagle in action tattoo symbolises power and dominance. Among birds, fierce and focused eagles are iconic for a Sailor Jerry tattoo. The red background used in the shape of a glowing light highlights the features of the eagle even more. If you are someone who has bing watched Pirates of the Caribbean and always fantasised about getting an eagle on your body, this is the perfect piece for you.
Vintage Blue Grandpa Tattoo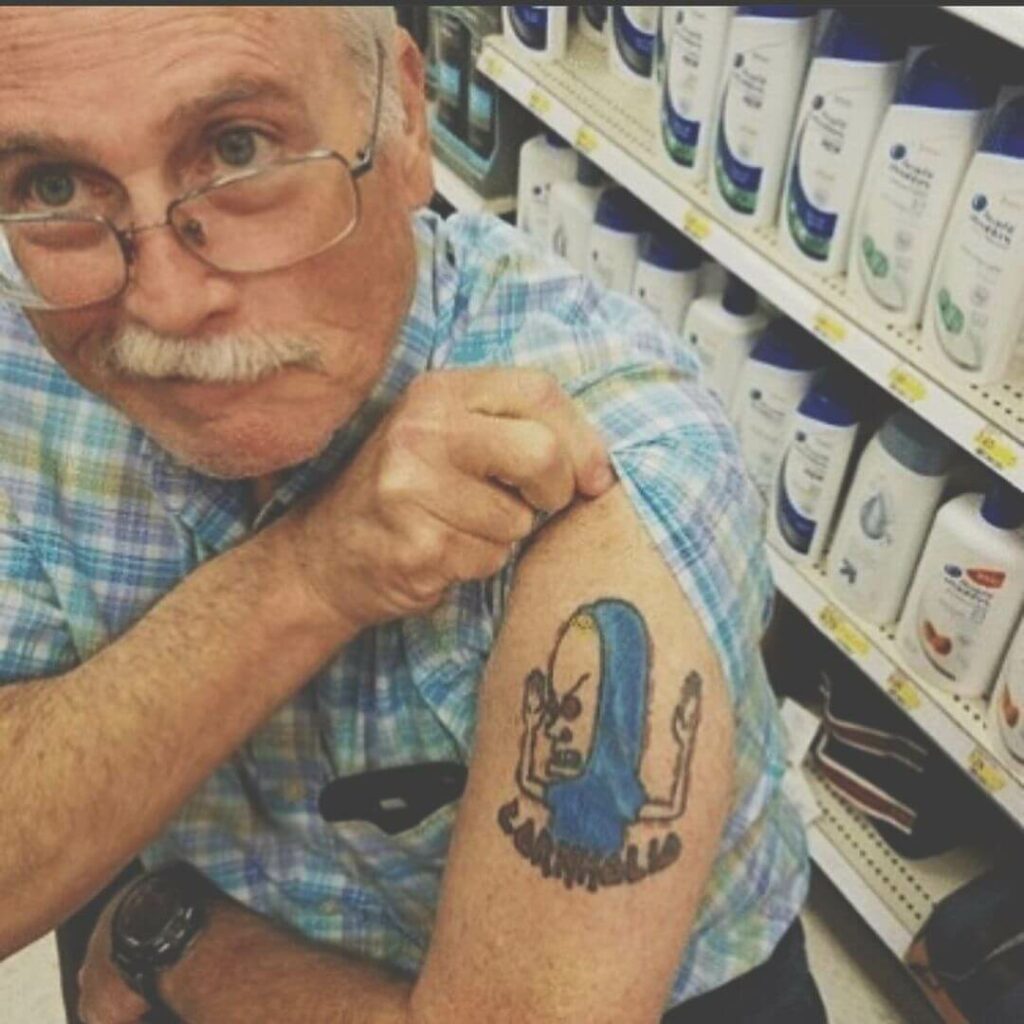 This spooky tattoo on the arm of the grandpa is breaking all age stereotypes to get a bold Sailor Jerry tattoo. This tattoo portrays strong emotions and its bright blue colour usage makes it stand out. The wordings can be done in colours too, according to the liking of the tattoo bearer. This tattoo can be done on any part of the body due to its small size and is a good choice for any motivated man or woman.
Sailor Jerry Deer Tattoo
This bold line deer tattoo is an indigenous American style of tattooing Sailor Jerry is famous for. The shading is done in patterns of thick strokes using an eccentric combination of colours. The beauty of the tattoo lies in the subtle touches of sea blue here and there giving it a soothing effect. If you have wide arms, you opt to ink it there or you can go for the front/back shoulder according to your comfort.
Classic Dancing Girl Tattoo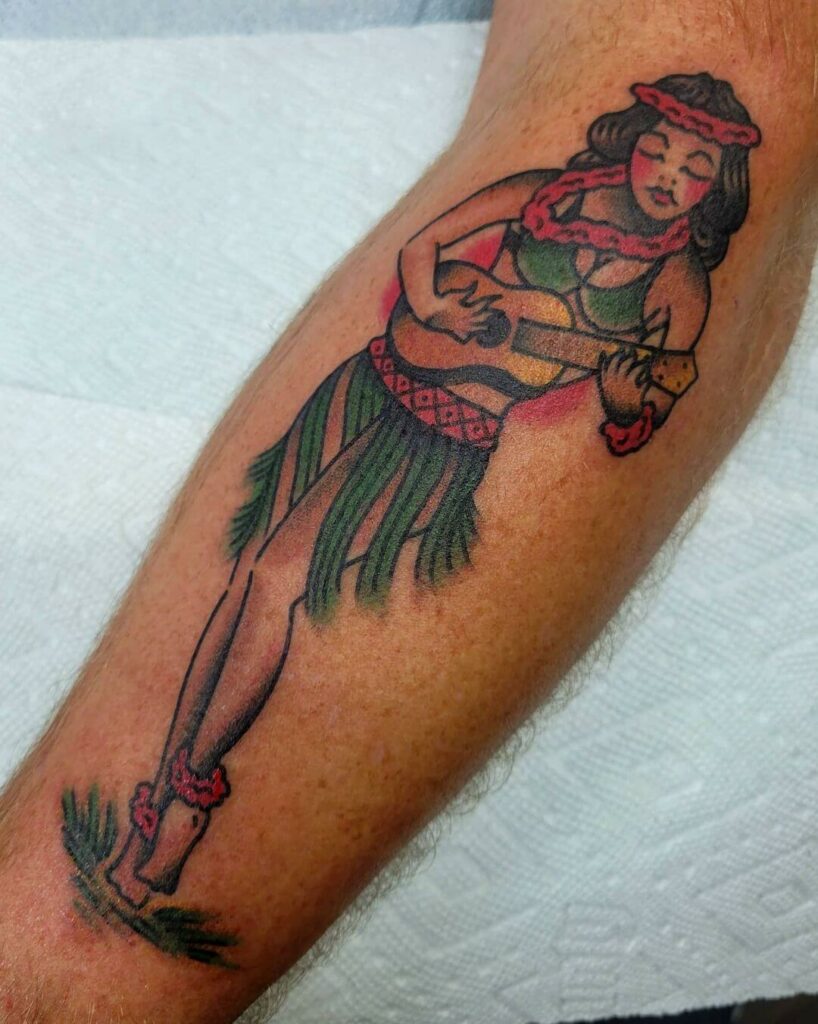 This lady on the beach is the perfect representation of joyful country life. Music and dance are an intrinsic part of the authentic American lifestyle and nothing portrays that artistry more than this tattoo. The dark beauty holding her instrument and moving along the beats is a popular Sailor Jerry design and it has always been a treat to the eyes. Matching colour is used for the costume with that of the grass giving it an original tribal touch. If you are amongst those people who would choose country life above others, this tattoo design is perfect for you.
Black Horse Fine Line Tattoo
This black beauty in all her glory is peeking through a gateway adorned by creepers. The rich pigments used and the expertise with which the shading is done speaks volumes for the skills of the tattoo artist. Such dark colours hold chances of fading away quickly, so be sure before you ink it. Check out the sites providing tattoo services and read well before choosing an artist.
Bold Face And Neck Fish Tattoo
Face tattoos are rare and critical at the same time. ThisSailor Jerry tattoo combo consists of three fishes along the side of the face, the neck and the head. All three are crucial areas with soft and delicate skin. There is extensive use of bold colours in this tattoo that requires detailed needlework. Be very sure about the skillset of the tattoo artist you get this design inked from.
Screaming Hand tattoo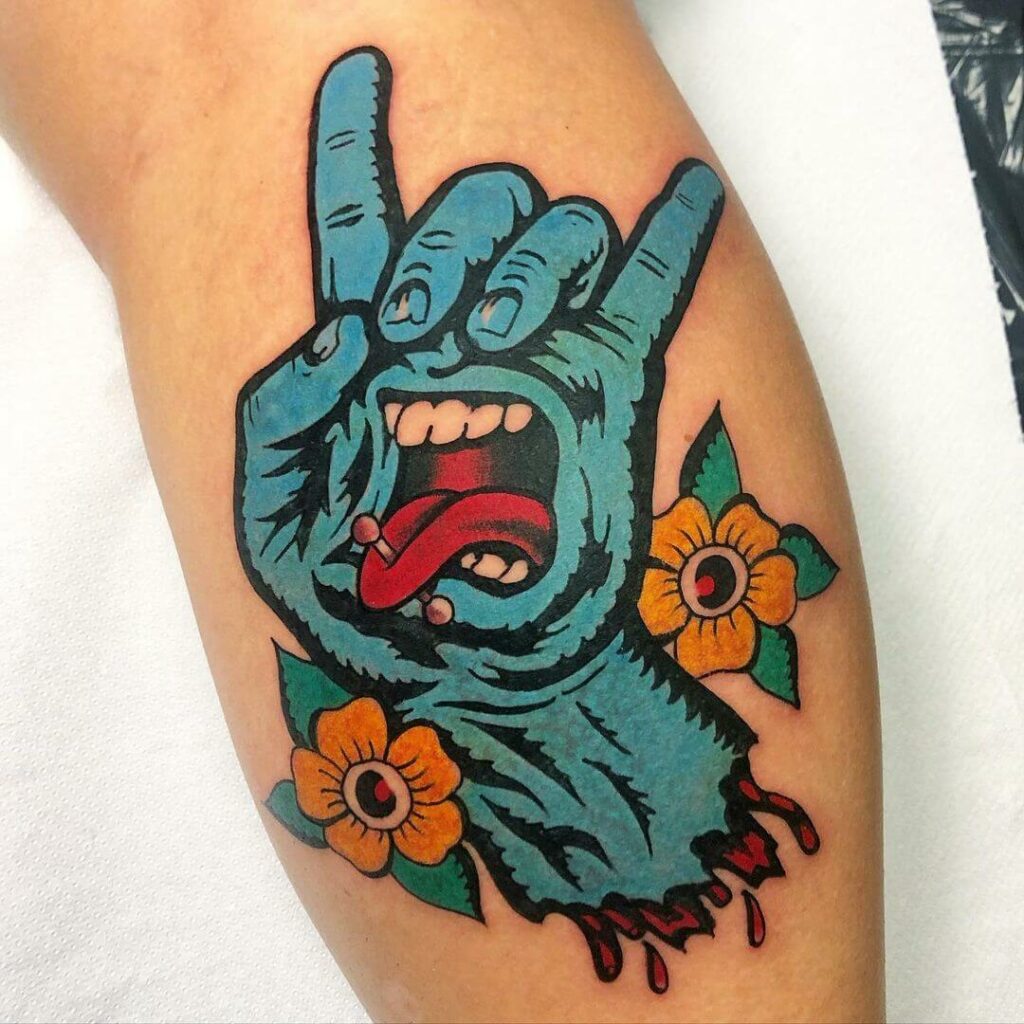 The content of this tattoo design is one of a kind. This tattoo marks a new meaning for the idea of expressing our thoughts through our hand gestures. The monochrome cyan colour adds to the uniqueness of the tattoo. The screaming effect with the tongue piercing means oppression and frustration, and the flowers on both sides makes the sense as if a female is oppressed by a man. Still, this tattoo can also determine the anger of people in general.
Japanese Hannya Mask Tattoo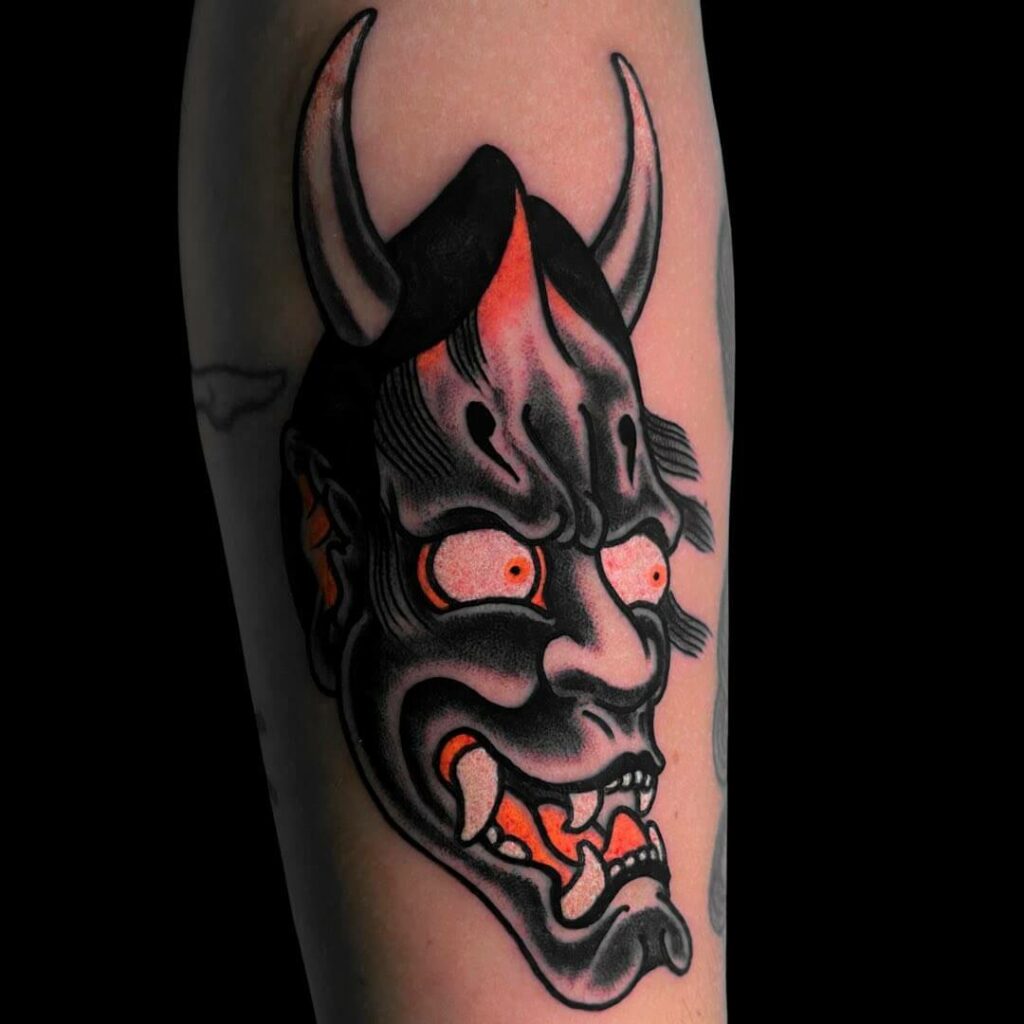 Hannya is a female demon. A hannaya mask tattoo symbolizes a woman whose heart is overcome with intense passionate emotions. The colours used agree with the unique Sailor Jerry style and create a link between Japanese and American tattooing styles. The desperation in the eyes is very well depicted in the tattoo. This design continues to be a quirky tattoo choice for many.
 Based on your personality, nature, state of mind or the events ongoing in your life, you can determine which tattoo idea you want to go for. Sailor Jerry tattoos are a good choice for a tattoo for anyone with a love for pirate life and Viking ship, irrespective of age, gender or skin complexion.
Feature image from Pinterest – Want your tattoo to look brighter? Try "Tattoo Balm"