If you have always wanted to get a kawaii tattoo but did not know what to get, we have combined a list of amazingly cute, kawaii tattoos that you will love.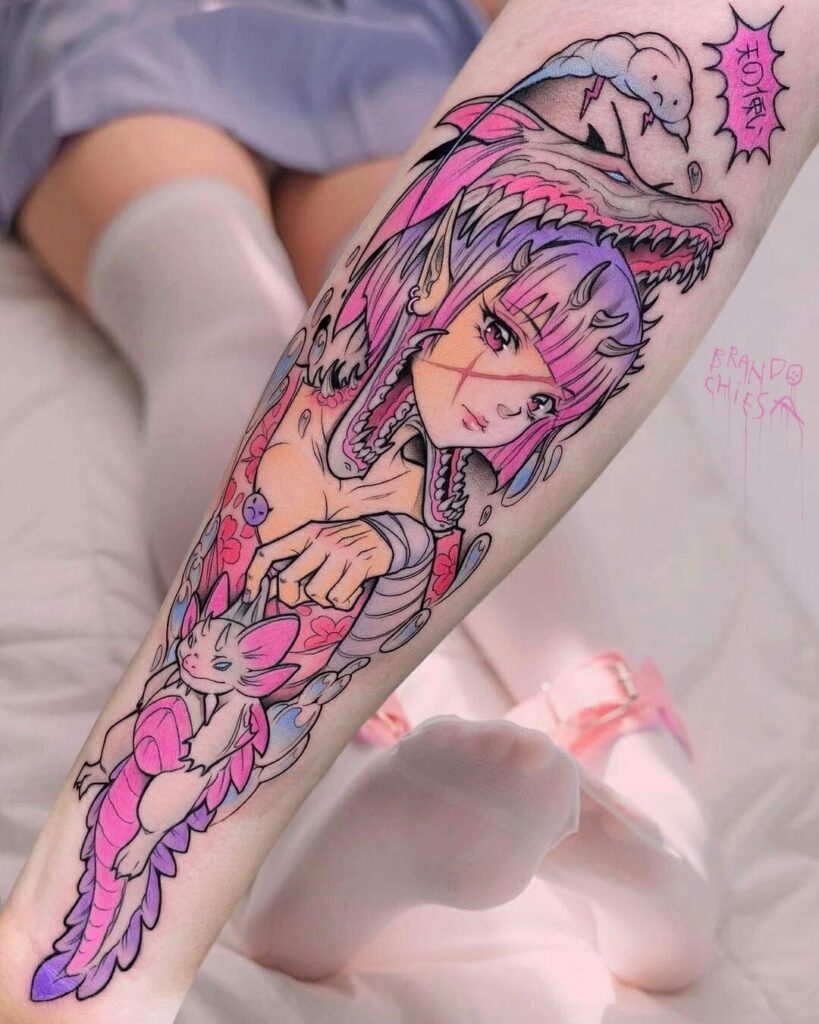 In the Japanese language, the word 'Kawaii' means cute.
The word was popularised by the spread of Japanese media, namely animes and mangas in the world. Nowadays many people use it to define things that are extremely cute.
In art and other mediums, something being kawaii means it has bright colours, big eyes and a childlike innocence. Many humans, animals and even inanimate objects have gotten the 'kawaii' makeover in the hands of artists. And we have to admit that they are really cute. If you are also an appreciator of the kawaii form and want to get a kawaii tattoo, we have got some amazing ideas for kawaii tattoos just for you.
Kawaii Cat Tattoo Ideas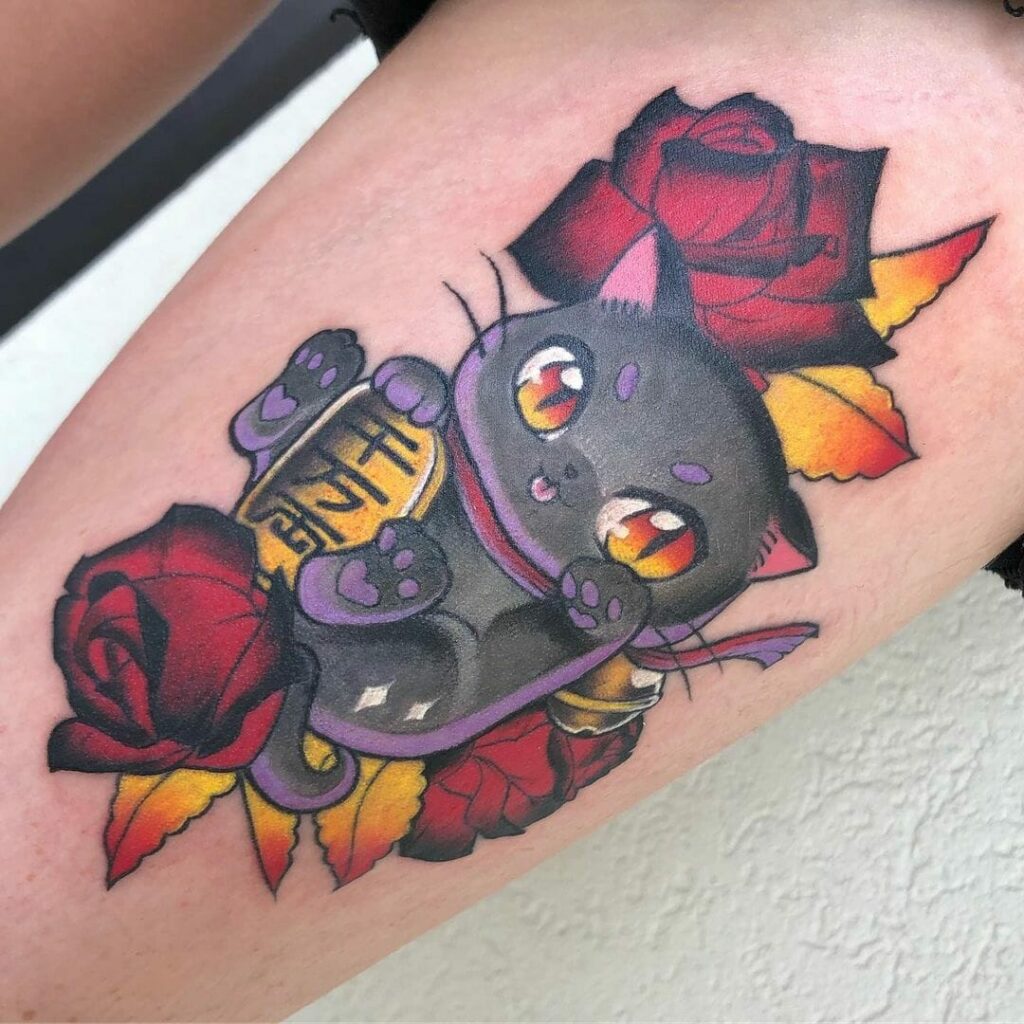 Are you a fan of cats? Or maybe you are a kitty parent and want a kawaii version of your cat to be inked on your skin? This Kawaii kitty tattoo idea is just for you. The best placement for this tattoo will be on your arm, forearm or thigh. You can also get it on your chest. Make sure to go to a good tattoo artist who will do justice to this cute cat tattoo.
Kawaii Sailor Moon Tattoo Ideas
Sailor Moon is a very famous Japanese anime that many people love. If you are a Sailor Moon fan, this Kawaii Sailor Moon tattoo is just what you need. This cute black and white piece can also be done in a smaller size. You can also get a tattoo of your favourite Sailor Moon characters. You can also get colourful versions of this tattoo. Find a good Anime tattoo artist who can make this adorable tattoo a reality. Sailor Mercury, Sailor Venus, Sailor Mars, Sailor Jupiter, Sailor Saturn, and Sailor Uranus will also be perfect characters for this type of tattoos.
Kawaii Moon Tattoo with Kawaii Sun Tattoo
This one is for a duo! If you want to get a tattoo to match with your friend, family or partner, this kawaii sun and moon tattoo duo is perfect for you. The artwork is beautiful and adorable. If you always wanted to get a matching tattoo with someone, these kawaii tattoos are just what you need to show off that lifelong trust and bond. You can also choose to have both the tattoos on your own two arms as they will look like a complete piece.
Pokemon Kawaii Tattoos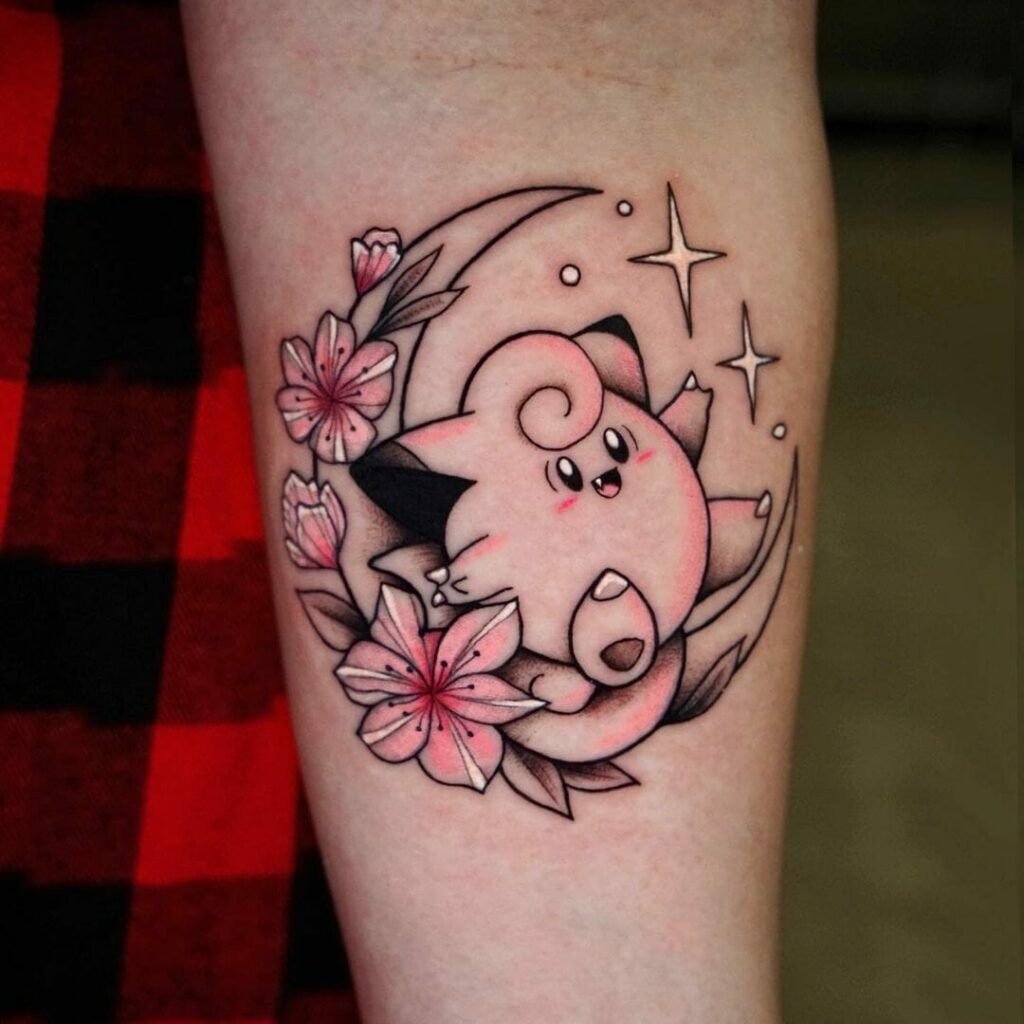 Are you a Pokemon fan and love the cute pokemons? Well this kawaii pokemon tattoo is just for you. This is a adorable design with immaculate artwork. The lines are clean and the little pops of colour bring this tattoo to life. Get this to show your friends how big of a Pokemon fan you really are. This tattoo design is of the Pokemon Clefairy. But you can also choose to have other cute pokemons on your skin like Pikachu, Togepi, Vulpix, Squirtle, Jigglypuff, Eevie and many more.
Kawaii Tattoos of Food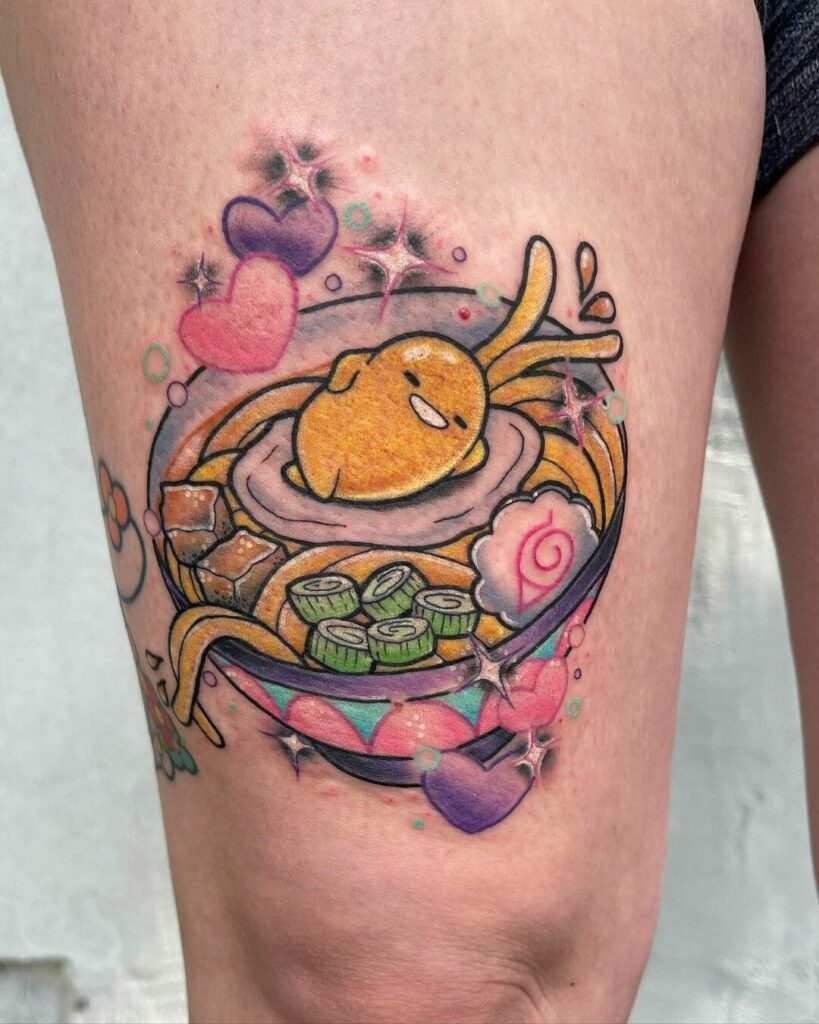 Kawaii food artwork designs are very famous amongst youngsters. Many food and drink items are usually drawn with varying colours and big eyes to make them kawaii. This trend is everywhere from websites and logos to tattoos. If you are also a fan of this trend, then this adorable and colourful design is perfect for you. You can also find many other kawaii tattoo designs and make this into a kawaii tattoo sleeve if you want to. You can also choose your own favourite food and get its kawaii version tattooed on you. There are many possibilities with this types of tattoos.
Kawaii Girl Tattoo Ideas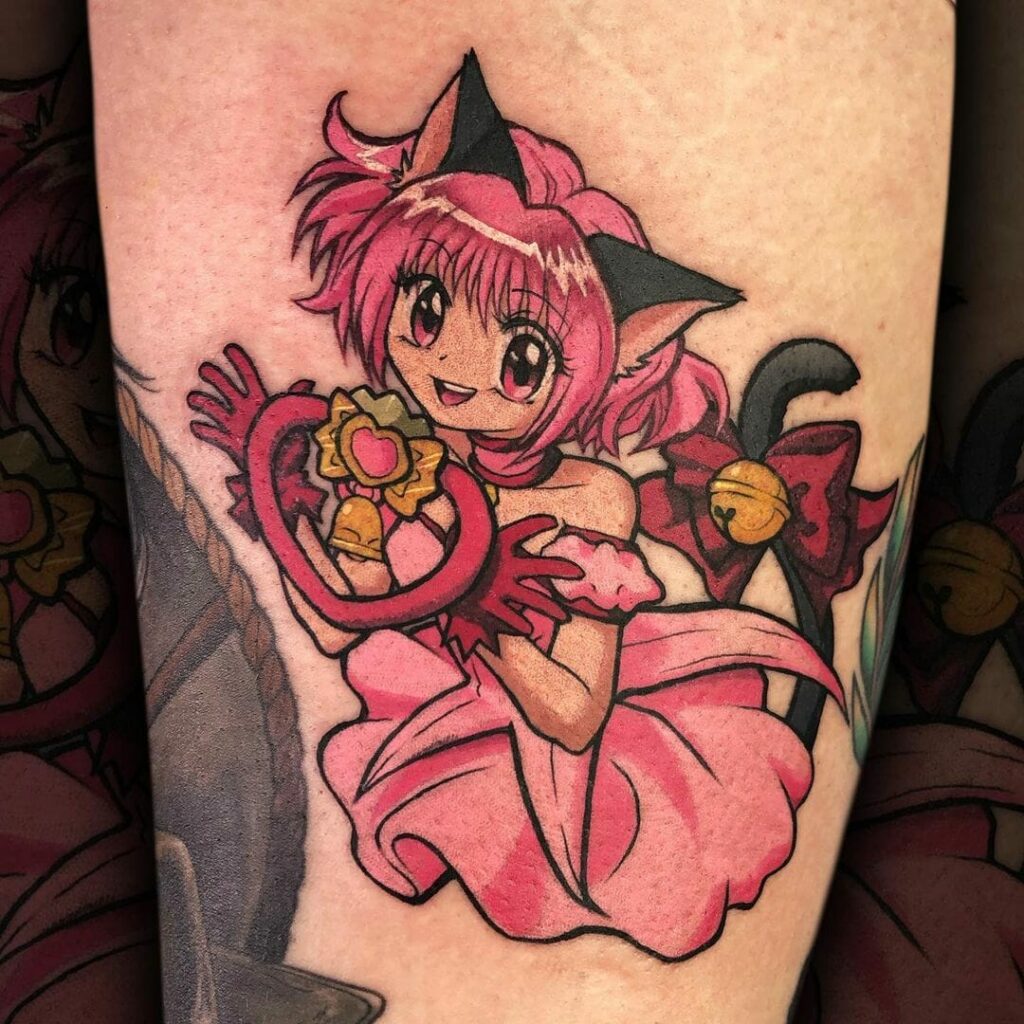 Kawaii girl artworks and designs are very popular. If you also wanted to get a kawaii version of your favourite anime girl character, then this is the tattoo you are looking for. The picture shows the character of Ichigo from Tokyo Mew Mew. But you can get beautiful and kawaii tattoos of any of your favourite characters. Make sure to browse through good anime tattoo artists before you choose the artist who can bring this tattoo to life. Place this on your arm, forearm or thigh for the best experience of this tattoo.
Kawaii Plant Tattoo Ideas
Are you an avid plant and cacti enthusiast? Then this is the perfect tattoo for you. This adorable tattoo of a cactus with a balloon is really heartwarming and cute as well. You can also get other plants inked on your skin. You can also choose to give them other accessories. Just make sure that your artist draws the perfect kawaii plant design for you.
Kawaii Animal Tattoos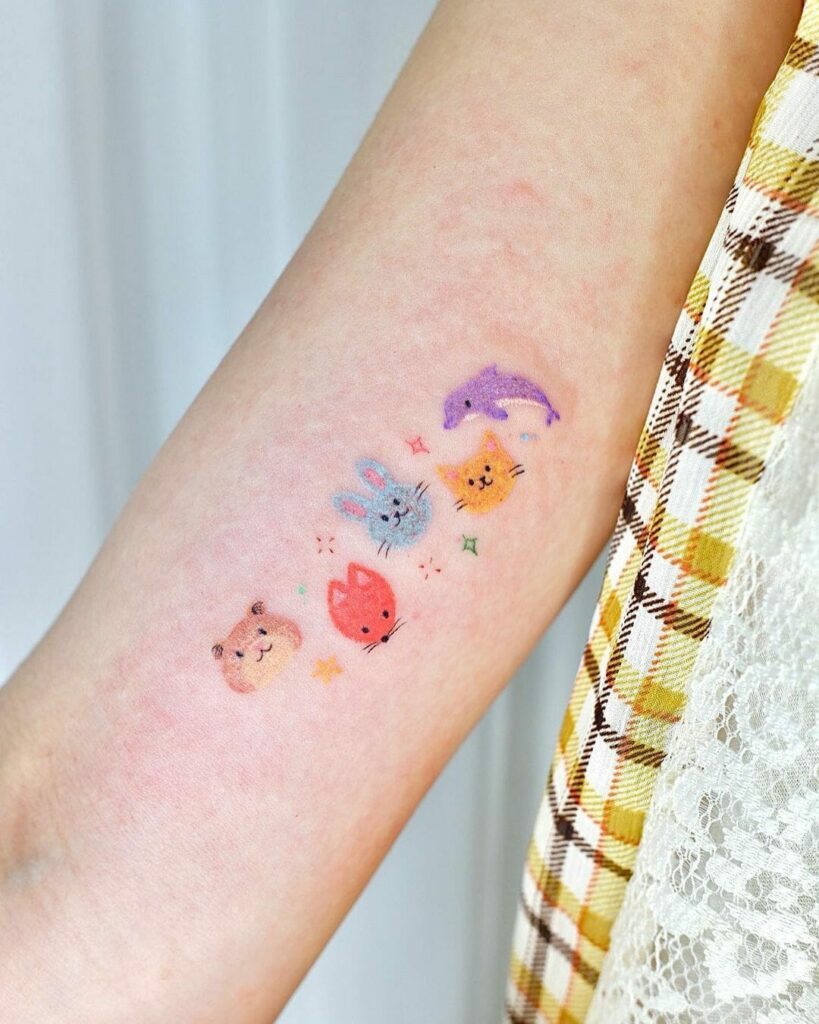 An animal fan looking for a cute animal tattoo? Well, we are here to help. These tiny and colourful animal tattoos are very adorable and you can choose to add however many you want to. You can have them in different colours and they would still look perfect on your body. You can also have bigger kawaii animal tattoos if you want to. They are perfect for young women who are looking for small and cute animal tattoos. If you have a pet that you love and want a small kawaii tattoo of them on your arm, then look into this idea. Even if you are not experienced with getting tattoos, these small designs will make sure to be the perfect tattoo for your first time. Talk to your artist about your dream kawaii animal designs and get the perfect tattoo for you.
Kawaii Anime Tattoos
Kawaii anime tattoos are so famous that even if you are not a fan, you might have seen the art somewhere. But if you are a fan, then we have the perfect tattoo idea for you. This cute tattoo features characters from the famous Ghibli movie, My Neighbor Totoro. This tattoo is adorable and couples these characters with sparkly crystals. You can choose your own favourite anime character for your tattoo. You can add your own choice of accessories as well. The best part about kawaii anime tattoos is the fact that you can combine many characters at once and get a full sleeve of kawaii anime characters.
Kawaii Heart Tattoo Ideas
Heart tattoos are one of the most popular tattoos that people get. They have been popular for a long time and they are timeless. If you have always wanted to get a kawaii heart tattoo, then this tiny and pretty design is just what you need. This tattoo has a lot of potential because it has such a simple design. You can have it in your colour of choice. This can also be an adorable couple tattoo idea to show of your love and trust. It can also be a gift for your loved one to show them that your heart belongs to them.
Feature Image from Pinterest – Want your tattoo to look brighter? Try "Tattoo Balm"
Last reviewed and updated on March 17, 2023