If you are a sucker for king skull tattoo designs, we have the perfect art styles for you! Check out the most famous king skull tattoos below.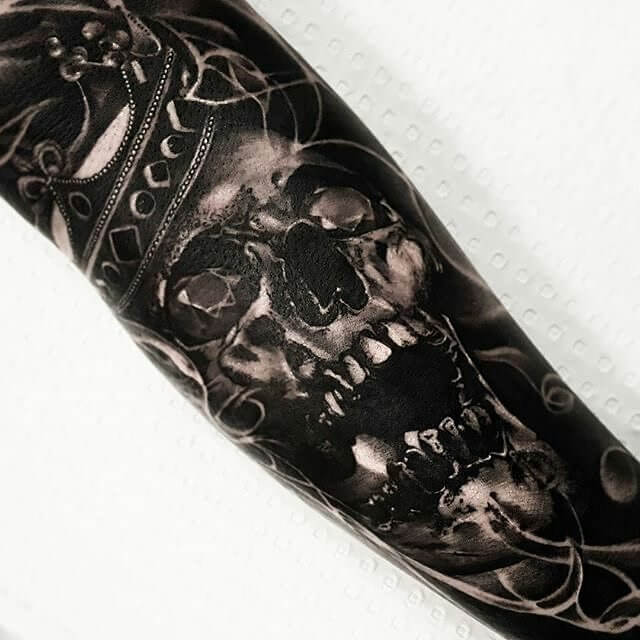 Skulls are one of the most (if not the most) famous tattoos out there: from first-timers to veterans, a skull tattoo is never a bad choice.
Skulls symbolize different meanings in different cultures. The most common beliefs see skulls as a bad omen or a sign of death, and most people get such designs for the same reason.
But you'll be surprised to know that in many cultures, they also hold a positive meaning. For instance, according to some tribal beliefs, skulls are seen as a sign of luck, wisdom, rebirth and the next life.
One of the major reasons behind the popularity of skull tattoos is the variations associated with them. There are thousands of illustrations to choose from, coming in several shapes, colours and sizes. Moreover, you can combine a skull with other concepts to depict a more meaningful symbolism.
So, without further ado, let us take a look at some of the king skull tattoo designs!
Arm Skull Tattoo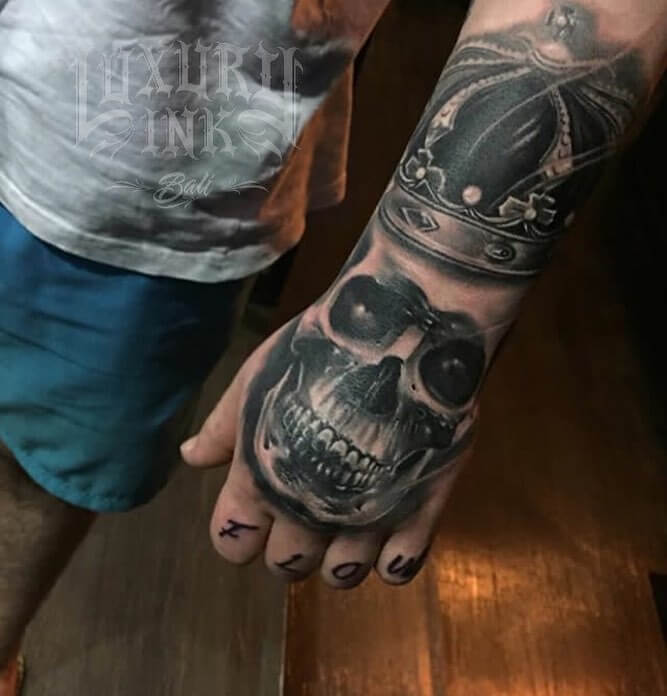 Starting off our design with a spooky king skull tattoo!
Arm tattoos are a powerful style statement in themselves. You would've seen power-hungry mafia leaders often wearing these types of hand designs.
This tattoo, in particular, encompasses a skull and an Imperial crown (mostly worn by the most powerful king or queen) while following a classic black and grey colour theme.
If you want to show off your tattoo, the forearm or wrist would be the best place to get one!
Rose Skull Crown Tattoo
A symbol of evil combined with a rose gives a whole new meaning to poetry. While skulls represent death, the rose is a trademark for everlasting love making their integration a beautiful irony.
In this hyper-realistic skull tattoo, the artist has tried to explore something very different, and it seems to be a success.
Whether it's the crown, the rose or the skull, a lot of effort has been put in to make it a bold masterpiece. Besides the amazing and intricate structure of the crown and skull, there are a few additions that make this way more creepy.
Firstly, the blood dripping from the eyes is bound to send chills down the spine, and secondly, the shining star between its teeth is an amusing addition.
One change, however, could be to paint the blood & rose red, so it pops out.
Moon And King Skull Tattoo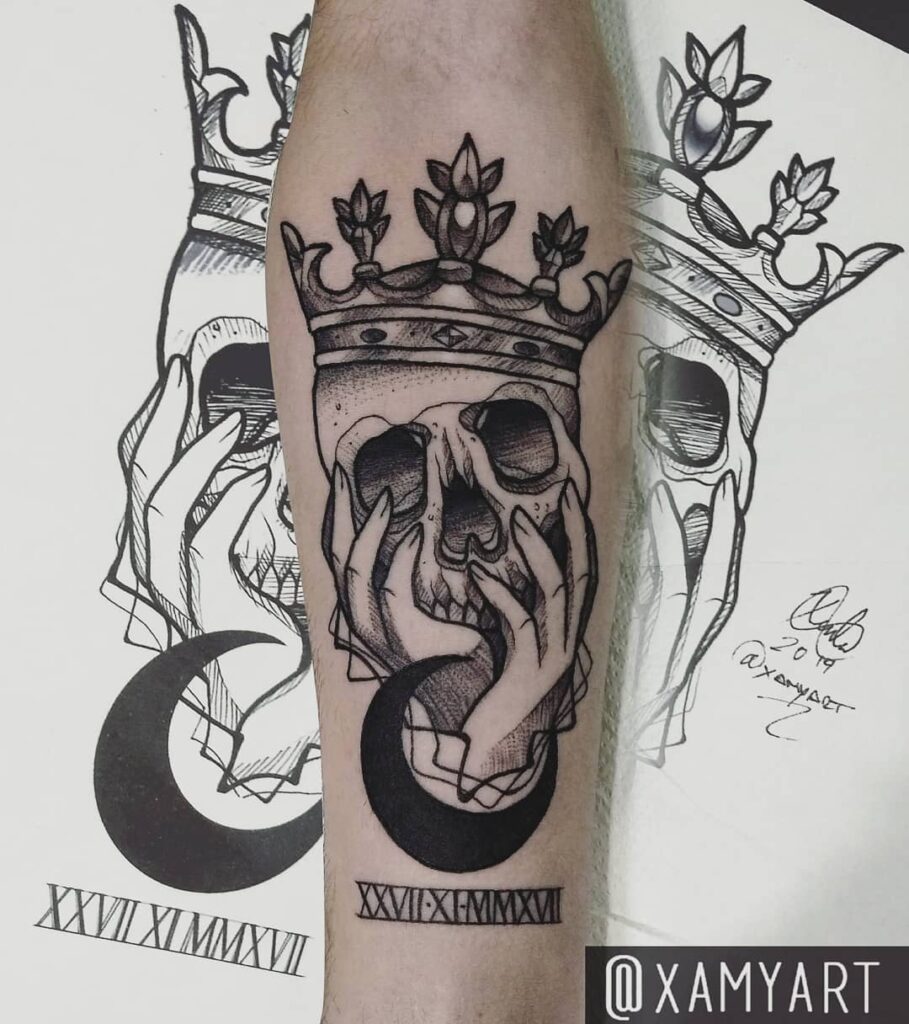 Worn by both men and women over the years, moon tattoos have always carried deep meaning. In ancient practices, people used to worship Selene, the goddess of the moon, in hopes of protection from the darkness.
Integrating a skull with a moon is very contrasting. While the moon is a symbol of eternity, the skull is a sign of an inevitable end, meaning one day all is going to be dead, and it's no point holding onto them.
The design has a pair of hands holding the skull followed by a jet black half-moon below it. Apart from the moon, everywhere else, the artist has used shading tattoo techniques, making it a sketch style tattoo.
This badass design will look great on your sleeve, legs and back of the neck.
Grim Reaper Skull Tattoo
It's impossible to talk about skull tattoos without mentioning the Grim Reaper.
In different scriptures and illustrations around the world, Grim Reapers are portrayed as death or king of the underworld themselves, present only to cause death and take the souls. If that doesn't instil fear in you, we don't know what will!
This gothic design beautifully captures the description of the Grim Reaper. A tall, skeletal figure, wearing a crown made out of bones while holding a scythe and a lamp.
The design is not too intensive with over the top detailing; it still sends a warning to your surroundings. To make it more badass, you can use a dark background around the figure.
Sugar Skull Tattoo
Sugar Skull Tattoo design comes from the Mexican Culture. In Mexico, the death or departure of a loved one is celebrated rather than mourned.
Sugar tattoos often follow a vibrant colour theme, each design with its unique colour palette. In this design, too, you can see a variety of colours. This warm colour choice helps to tone down the seriousness and grim pertinent around the world.
Having one inked on his/her skin would show that the wearer hopes and wishes the best for the deceased.
Human-Skull Tattoo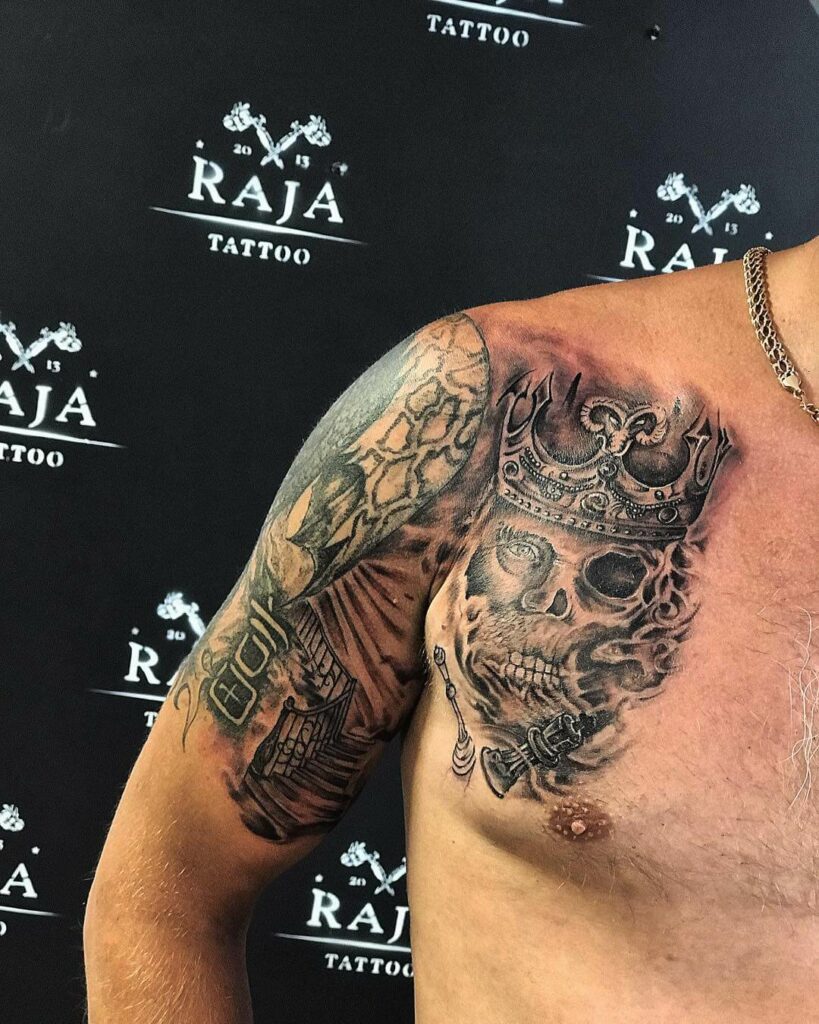 The above two-in-one tattoo has a very unique theme associated with it.
The design mixes half human- half skull to tell a lot about the person. The intention behind this human to skull transition aims to highlight what they both individually represent.
The human side of the tattoo tells that the wearer knows of his mortality, while the bold skull depicts that the person has accepted this underlying truth. It brings out the toughness in the wearer's personality.
This king skull tattoo also has 2 chess pieces at the bottom, one of them being a king, further highlighting the real meaning of the tattoo.
As this design is more horizontal, it would look best on your chest or back.
King Of Hearts Skull Tattoo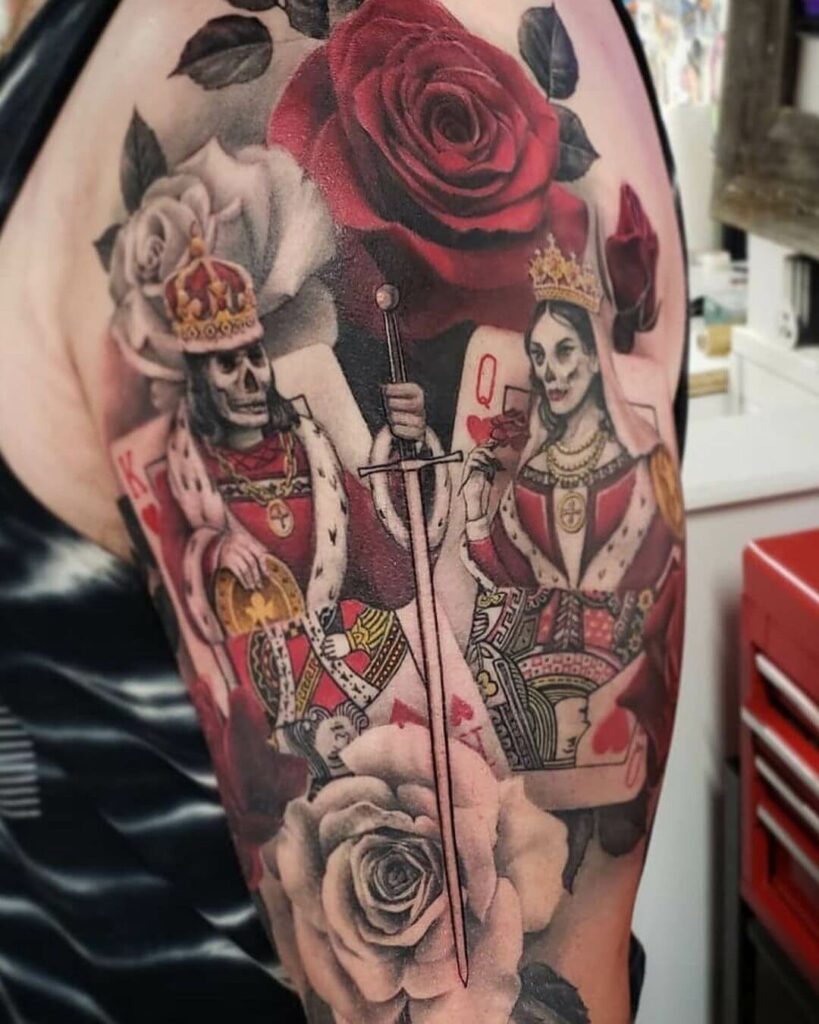 The four lords in a deck of cards are emblematic of rulers that have existed all through time. The king of hearts was associated with Charles VII of France.
The symbol of the king of hearts is linked to the power of undying love, and the same is taken into consideration in this tattoo. Here, a king skull, also seen with the queen of hearts skull, is the embodiment of eternal power and love.
Unlike most of the designs on this list, this skull tattoo isn't all black and grey. There is a bloody shade of red on the figures, which makes them more eye-catching. Such king and queen skull tattoo designs are great tattoos to get for couples!
Good Luck Skull Tattoo
Each leaf of a Clover has been associated with different aspects of life. In Irish Culture, the four-leaf clover is a symbol of luck, wherein the four leaves represent hope, faith, love and success.
In this king skull tattoo, the artist has divided the skull into four parts and incorporated each part inside a cloverleaf. Furthermore, to add a 3D effect, there has been a lot of shadowing done.
If you are struggling to find better luck in your life, maybe this will help!
Beard King Skull Tattoo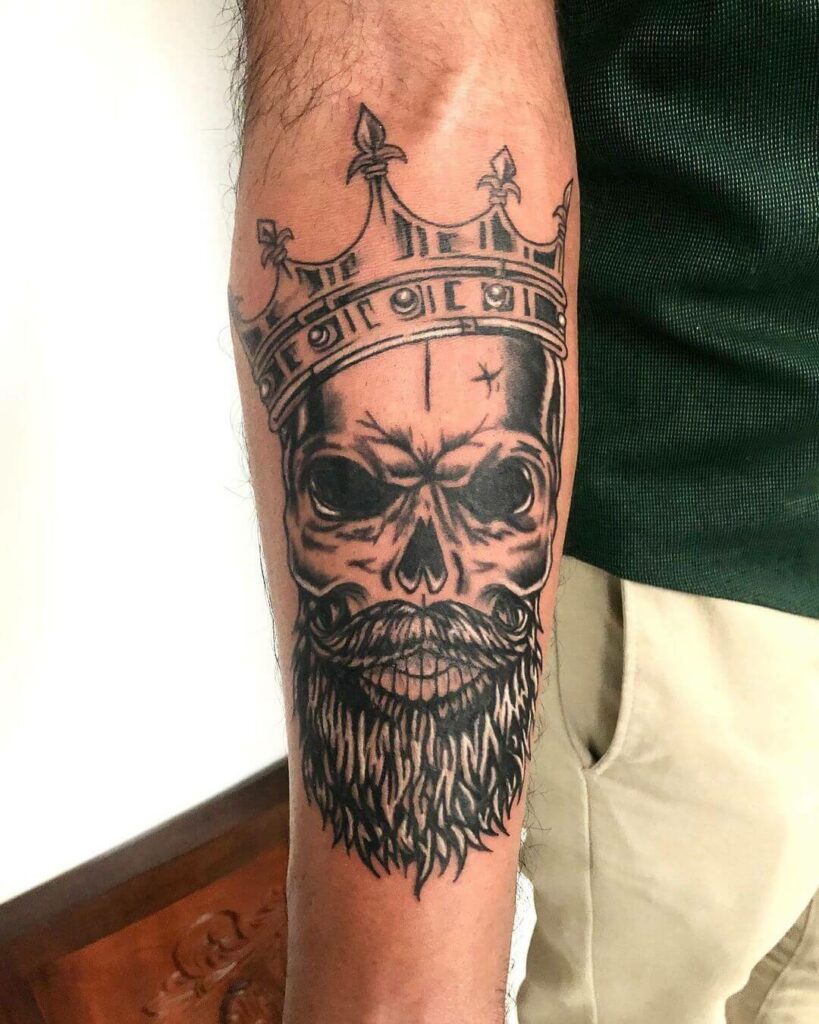 If you like beard styles or rock one yourself, then this beard crown tattoo will be a great choice.
Not only us but scientific studies have also agreed on the fact that beards generally remind one of dominance, power and authority. Having a beard tattoo signifies that you are one of the alphas and is more likely to grab attention.
A beard combined with a skull portrays a rather witty meaning. It shows that a beard's symbolism is timeless. No matter the face, a beard can make anyone look extra intimidating.
You can have this tattoo placed on your forearm and legs.
Minimalistic Crown Tattoo
If you don't like big and weighty tattoos, consider going with this minimalistic king skull tattoo.
In this tattoo, the artist has decided to keep it small and simple. It encompasses just the skull and a flower crown. Although, you can experiment by adding green ink to the leaves in the crown.
As this design doesn't require a lot of space, you could get this on your wrist, ankle, chest or back.
Feature image from Pinterest – Want your tattoo to look brighter? Try "Tattoo Balm"
Last reviewed and updated on October 17, 2023