In this deep dive, we're going to float like Kirby through Dream Land, exploring the intersection of nostalgia, art, and body ink. In the grand menu of designs up for grabs, Kirby tattoos are like that unique flavor of ice cream that not everyone's tried, but once you do, there's no going back.
From the simple-yet-cute Kirby silhouettes to complex, multicolored scenes from the beloved game series, we'll uncover the best Kirby-inspired tattoo ideas that could make even King Dedede stop and stare. And remember, much like Kirby's power-copying ability, the world of tattoos is as versatile as you want it to be.
So, whether you're an avid gamer yearning for a dash of childhood nostalgia, a fan of standout pop-culture ink, or you're simply on the hunt for a distinctive design to adorn your skin, this post is the warp star you've been waiting for. By the end, you'll have a wealth of inspiration and knowledge about why Kirby designs are more than just a tribute to a video game character, but a testament to creativity and imagination in their purest forms.
The Nostalgic Charm of Kirby Tattoos
Whether you were clutching onto that boxy Nintendo (NES) console or just passing time at a friend's, if you've navigated the whimsical world of Kirby's Dream Land, you've likely been marked by the infectious charm of this pink puffball. Fast-forward a few decades, and we're now inking these delightful memories on our skin with a spectacular range of Kirby tattoos. There's something simply irresistible about Kirby, with his bright eyes, contagious grin, and those iconic red boots, making him a perfect muse for our tattoos.
Embracing the Arm Canvas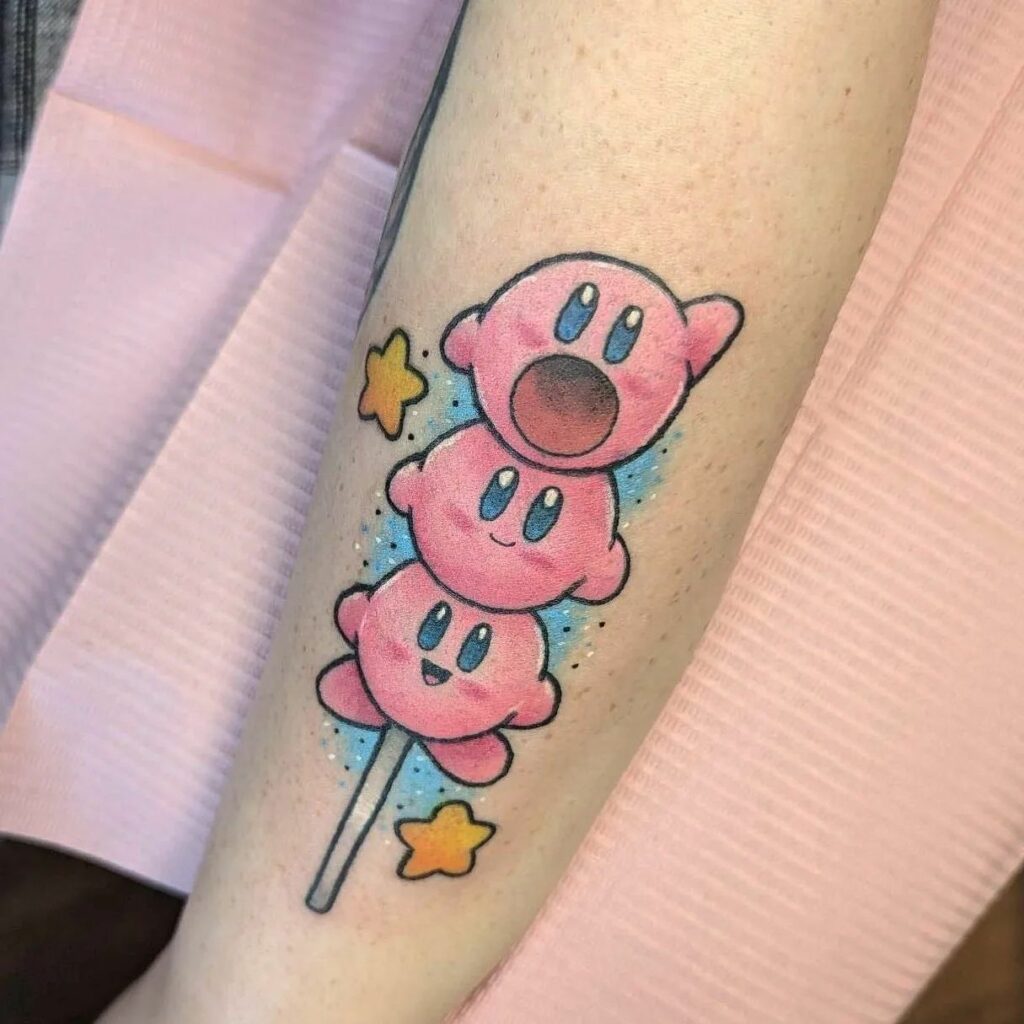 Kirby tattoos on the arm offer us a fantastic playground to really make our beloved Star Warrior pop. From eye-catching American Traditional styles boasting thick black outlines, contrasting pinks, and luminous greens, to the raw charm of black and gray sketch designs—there's something for everyone in this colorful spectrum.
Colorful Kirby Video Game Tattoos
These Kirby-inspired tattoo designs carry the quintessential elements of Kirby's Dream Land—think bright rainbows and giant hammers—all swirled into an explosion of colors. The thrill of seeing a childhood game become a part of you is simply unmatched.
Crossover Theme Tattoo Ideas
Nothing gets the creative juices flowing quite like intertwining the beloved Kirby with elements from other popular manga, anime, or video game themes. The sight of our dear Kirby flaunting a hairstyle straight from Dragon Ball Z? Absolutely genius.
Floral Kirby Ink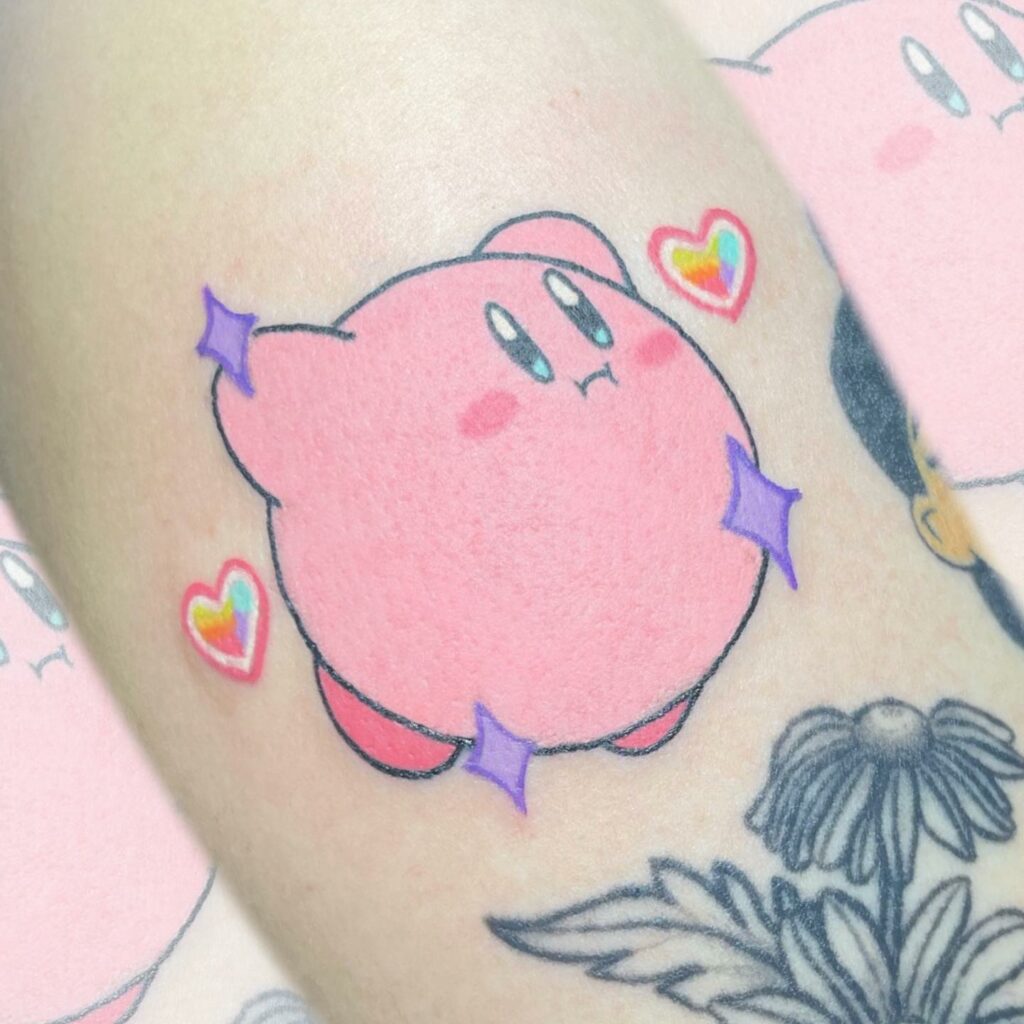 Some Kirby tattoo enthusiasts have found a unique blend of elements from Kirby's Dream Land with more universal tattoo themes. Pairing the adorable pink Kirby with various floral designs against an old-school Nintendo Game Boy backdrop? That's ink innovation at its finest.
Food Tattoo Art
As someone who appreciates a good meal, merging Kirby with tastefully crafted food tattoos seems like a recipe for success. From waffle cones to noodle bowls, these designs strike an impressive balance with Kirby's larger-than-life persona.
Kirby's Adventure Leg Tattoos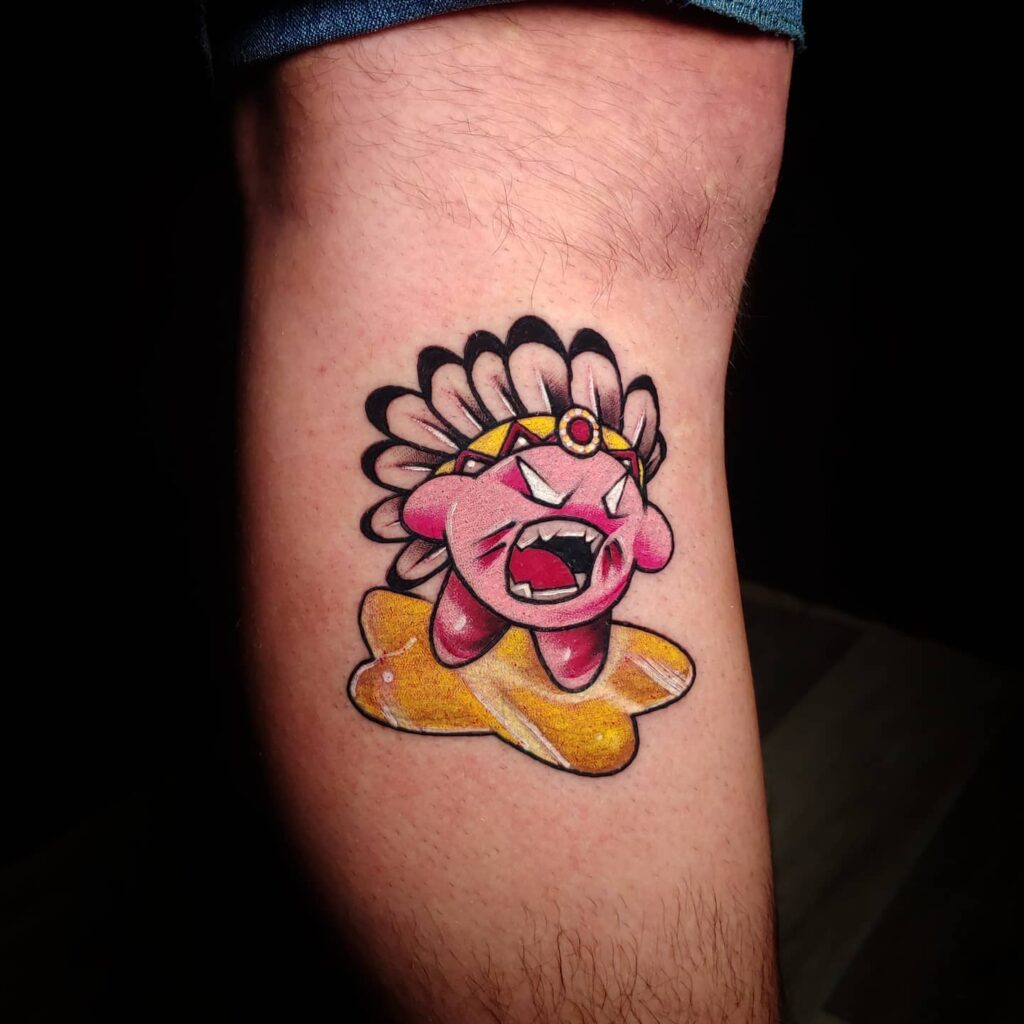 There's an infectious joy in witnessing Kirby brought to life on leg tattoos. From classic Kirby riding a gold star, to an intriguing black ink linework version, these tattoos remind us that when it comes to body art, the only rule is to get the ink you truly want.
Mario Bros and Kirby Video Game Tattoos
Mario and Kirby are like two sides of the Nintendo coin. Both crafted by the visionary Masahiro Sakurai, they share a unique bond that is beautifully captured in tattoos that either intertwine their worlds or mash them up entirely.
Kirby Pixel Tattoo Models
For those seeking a hint of retro, pixelated Kirby tattoos are an artistic nod to the nostalgic graininess of old televisions and video games. These designs are rapidly growing in popularity, painting a captivating homage to all things retro.
Pokemon Series and Kirby Tattoo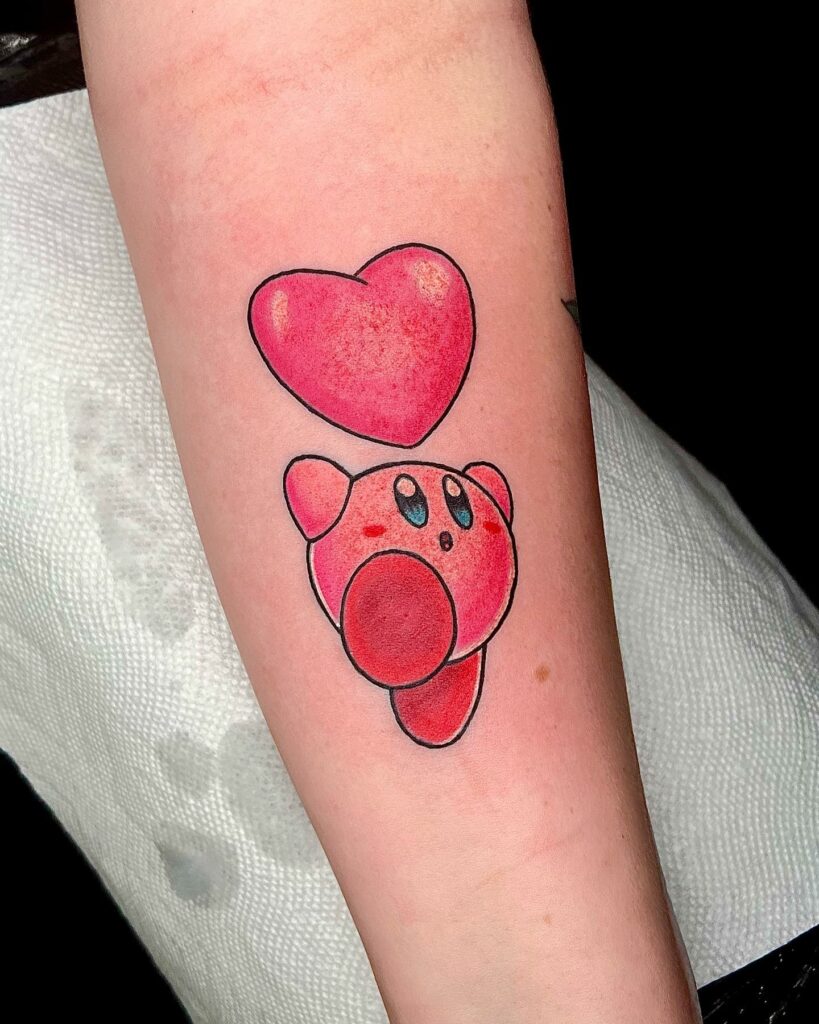 In the corners of the internet, where fan fiction thrives, you'll find a delightful crossover of Pokémon and Kirby that has translated into some truly epic tattoos. Although I may not be a Pokémon expert, the blend of Kirby with iconic characters like Pikachu is quite a sight.
Sketch Tattoo Concepts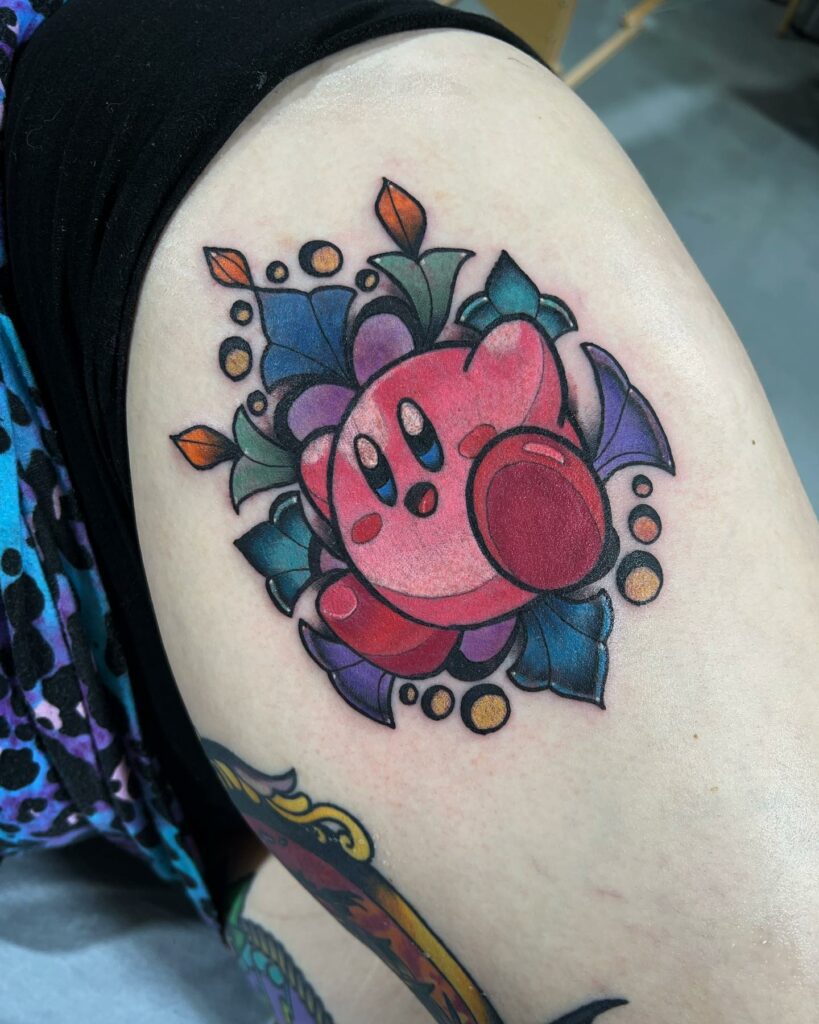 Sketch tattoos offer a unique twist by stripping Kirby of his signature pink hue and introducing a range of black and gray concepts. From the sword over the shoulder idea reminiscent of an epic saga cover, these designs truly bring Kirby to life.
Small Creator Designs
Kirby's bright, cheerful design lends itself beautifully to smaller tattoos. The versatility of Kirby's bright pink spherical shape allows for a range of designs that can be easily concealed or displayed, be it on the hand, foot, or even neck.
Zelda and Kirby
In a delightful blend of gaming icons, Kirby steps into the shoes of Link from Zelda, creating an array of scenarios that will surely resonate with fans of both franchises. These designs will surely bring a smile to those familiar with the quirky adventures of our Nintendo heroes.
Popular Crossover Themes For Kirby Tattoos?
Kirby's iconic design and vibrant personality make it a popular choice for a variety of crossover themes. Here are a few popular ones:
Mario & Kirby: Given that both characters hail from the realm of Nintendo, it's no surprise they often share the limelight in tattoo designs. You might see Kirby depicted in Mario's signature red and blue outfit, or alongside other characters from the franchise.
Zelda & Kirby: Another popular Nintendo crossover theme features Kirby with elements from The Legend of Zelda series. Imagine Kirby sporting Link's green tunic and cap, or even wielding the Master Sword and Hylian Shield!
Pokémon & Kirby: Given the cute and vibrant aesthetics of both franchises, Pokémon and Kirby crossovers are not uncommon in the tattoo world. From Kirby versions of Pikachu, Jigglypuff, and others, this crossover can be both adorable and colorful.
Dragon Ball Z & Kirby: Imagine Kirby with Goku's spiky hair or performing a Kamehameha! The Dragon Ball Z and Kirby crossover brings a fun and quirky twist to both fandoms.
Kirby & Other Pop Culture Icons: Given Kirby's adaptable nature (he is known for copying powers, after all), he can be mixed with a multitude of other characters, from comic book superheroes to iconic film characters, and more.
Remember, the beauty of a tattoo is its personal significance. So, choose a crossover theme that not only looks great but also resonates with your personal interests and memories.
Conclusion
And there you have it, my fellow ink enthusiasts, our vibrant and nostalgic journey through the world of Kirby tattoos. From playful crossover themes to heartwarming retro pixelated designs, there's a slice of this universe for everyone. However, remember that getting a tattoo is a commitment and it's crucial to do your research and find a trusted artist who can bring your Kirby-inspired dream to life.
Don't forget that while these tattoos are a celebration of nostalgia and personal memories, they should also be something that resonates with you on a personal level. Take the time to ponder over your design choice, consider where it fits best on your body, and above all, ensure it's something you'll love for years to come.
Tattoos are a beautiful form of self-expression, and what could be more expressive than inking a memory or a character that has played a significant role in your life? So, if Kirby's charm has captured your heart, why not let it capture a bit of your skin too? Here's to creating art that not just adorns our bodies, but also tells our stories. Happy inking!