From the dawn of human history, knives have carved out an essential place in our lives, in our kitchens and our imaginations. If you're a culinary aficionado or simply someone with a keen edge for the symbolically rich and visually striking, then a knife tattoo could just be the 'cutting-edge' artwork you're seeking.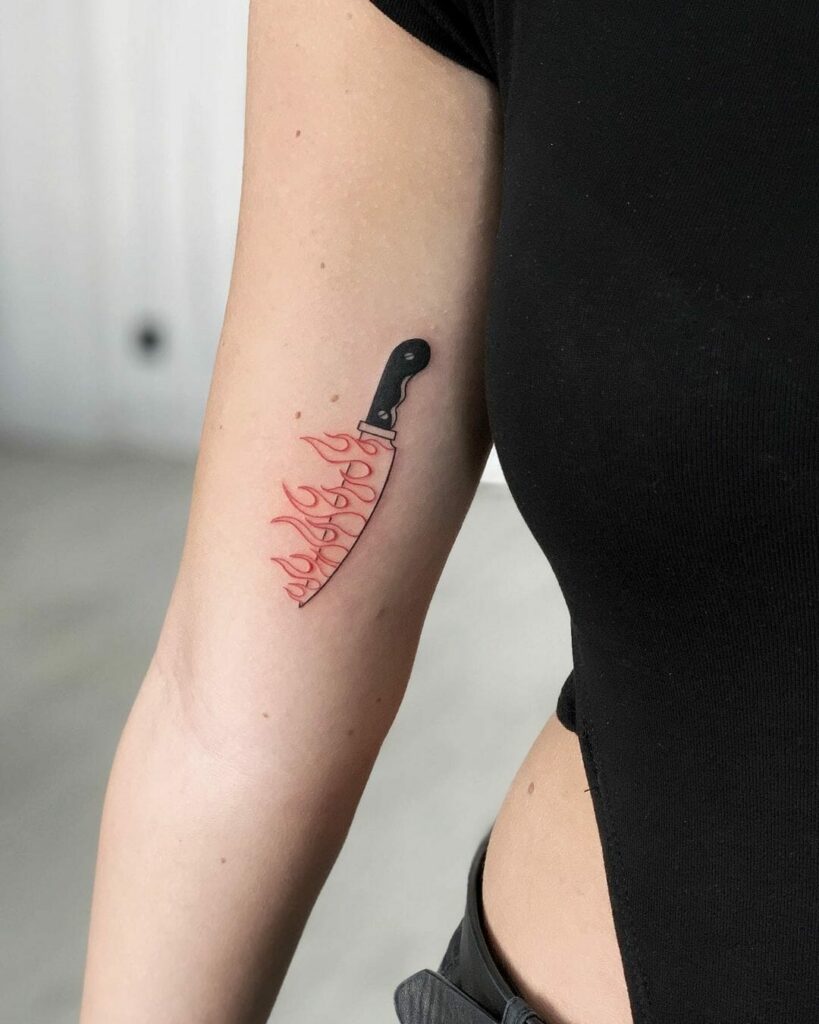 These sleek, dynamic knife tattoos not only make a bold aesthetic statement, they're also teeming with nuanced symbolism. Whether as a potent emblem of liberation, a stark reminder of betrayal, or a token of your love for the culinary arts, a knife tattoo might just be the edgy statement piece your skin canvas needs.
While tattooing as a practice doesn't trace its roots as far back as the advent of knives, it does have a long, storied history interwoven with the tapestry of human culture. Once used to brand criminals and slaves, now an art form that gives voice to our innermost desires and feelings, tattoos have truly evolved over time.
And among the pantheon of modern tattoo designs, knife tattoos shine for their cool, sleek allure. Be it a warrior's sword, a delicate dagger, or a chef's prized kitchen blade, knife tattoos can be crafted to reflect your personality. Perhaps it's a vibrant, cartoonish design, playfully subverting the knife's seriousness, or maybe it's a more traditional rendition, imbued with historical resonance.
So, if you're contemplating getting inked and find yourself drawn to the intriguing world of dagger tattoos, blade ink designs, or the knife's piercing allure, this curated selection should set you on the right path to finding your perfect design.
Skull Sword Knife Tattoo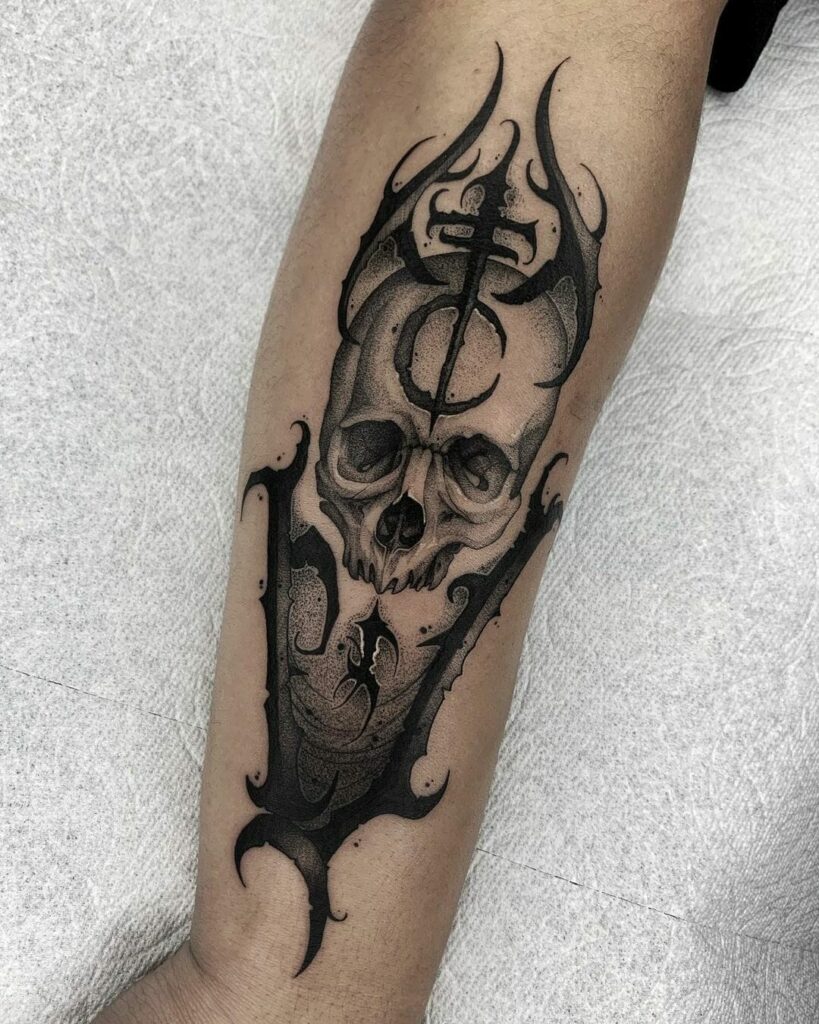 In the world of body art, there is little that speaks to the rugged, the hardcore, the beautifully macabre quite like a skull being pierced by a dagger. This audacious design does more than just make an aesthetic impact; it becomes a symbol of victory, a metaphor for the triumph of good over evil. Picture the stark black ink tracing intricate details, light and dark shading adding an almost lifelike depth, the jewels studding the sword reflecting a unique artistic vision. But remember, artistry like this demands a patient, skilled hand – so take your time in finding the perfect artist.
Royal Sword Tattoo Set
Embody a touch of regality with this refined sword tattoo. Evocative of an exquisite, jewel-encrusted royal sword, this design imbues its bearer with an air of grandeur. Versatile in size, it can be scaled to fit your desired location, whether on the forearm, wrist, or knuckles, provided you have an experienced artist at the helm.
Minimalistic Chef's Knife Tattoo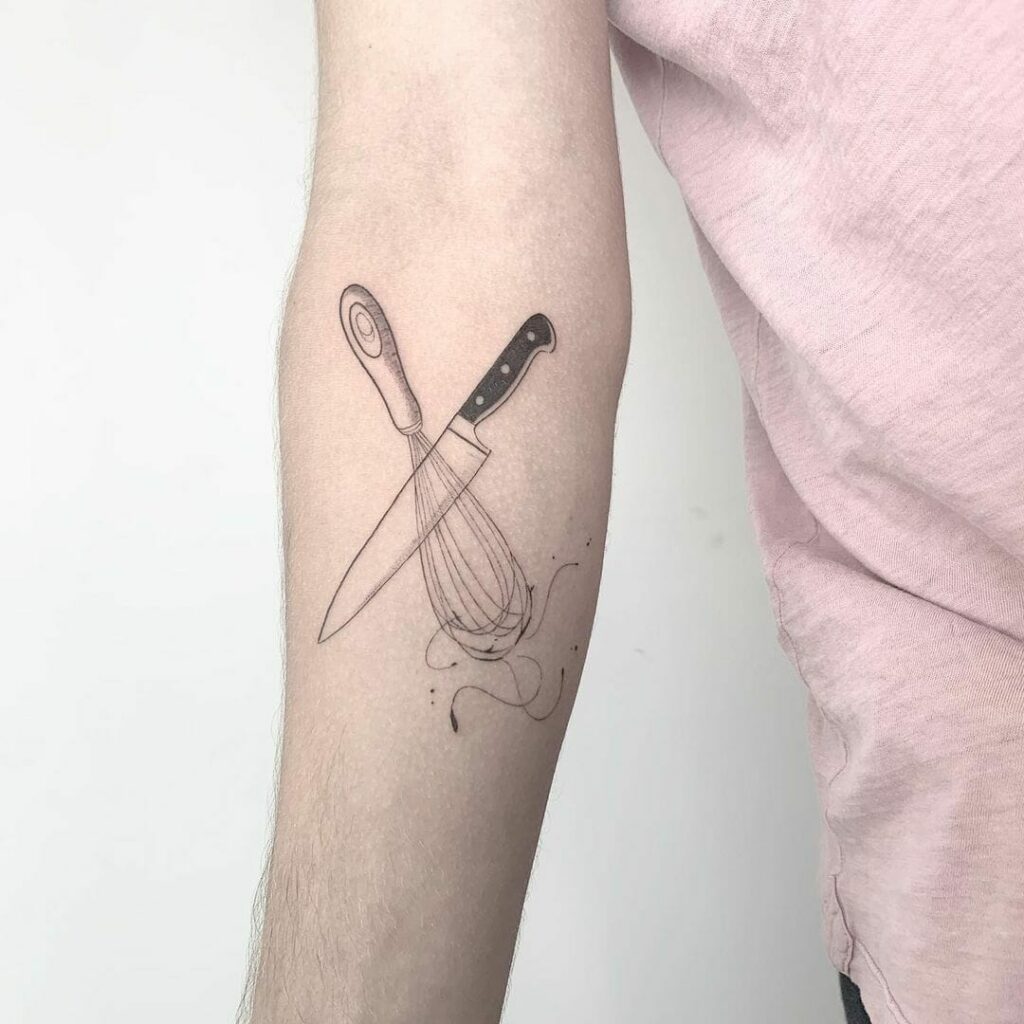 Seekers of subtlety, look no further. This minimalistic chef's knife tattoo is an appealing, light-hearted nod to the kitchen. Essential tools like a whisk and knife come to life in this design, a delightful testament to both food lovers and culinary creators. There's room for customisation, too – add vibrant colours, or perhaps a fork, to truly make it your own.
Dagger Snake Tattoo
With a blend of bold imagery and symbolism, a snake entwined with a dagger can represent many things – bravery, triumph, or a nod to the Roman God Mercury, the divine protector of labourers. To replicate the precise detailing of the snake's scales or the symmetry of the dagger takes skill, but the result can be a stunning work of body art, suitable for any part of your body you choose.
Rose Knife Tattoo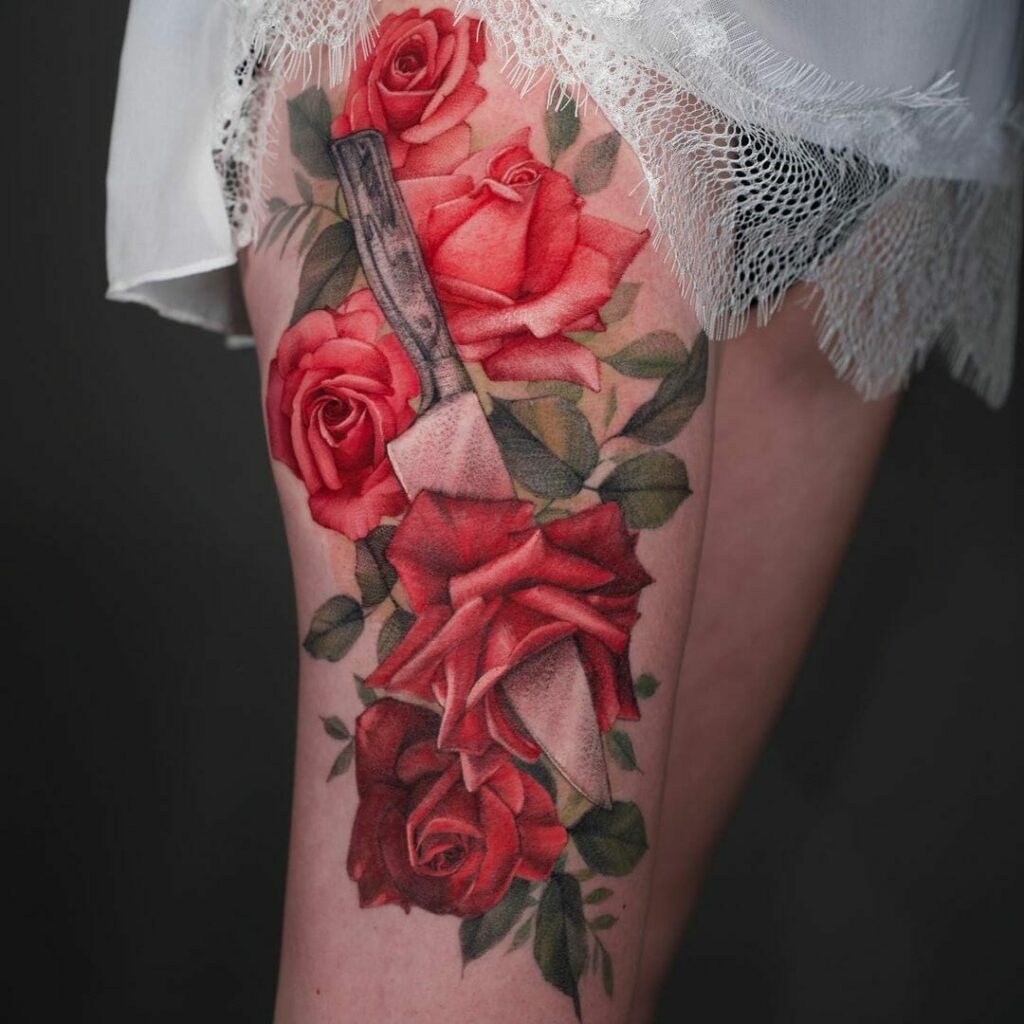 The rose and the knife – a pairing that encapsulates life's sweet and bitter moments. This design could denote a myriad of experiences, from heartbreak to the daily struggles of life. Make it truly yours by incorporating your personal artistic flair.
Snake Skull Sword Tattoo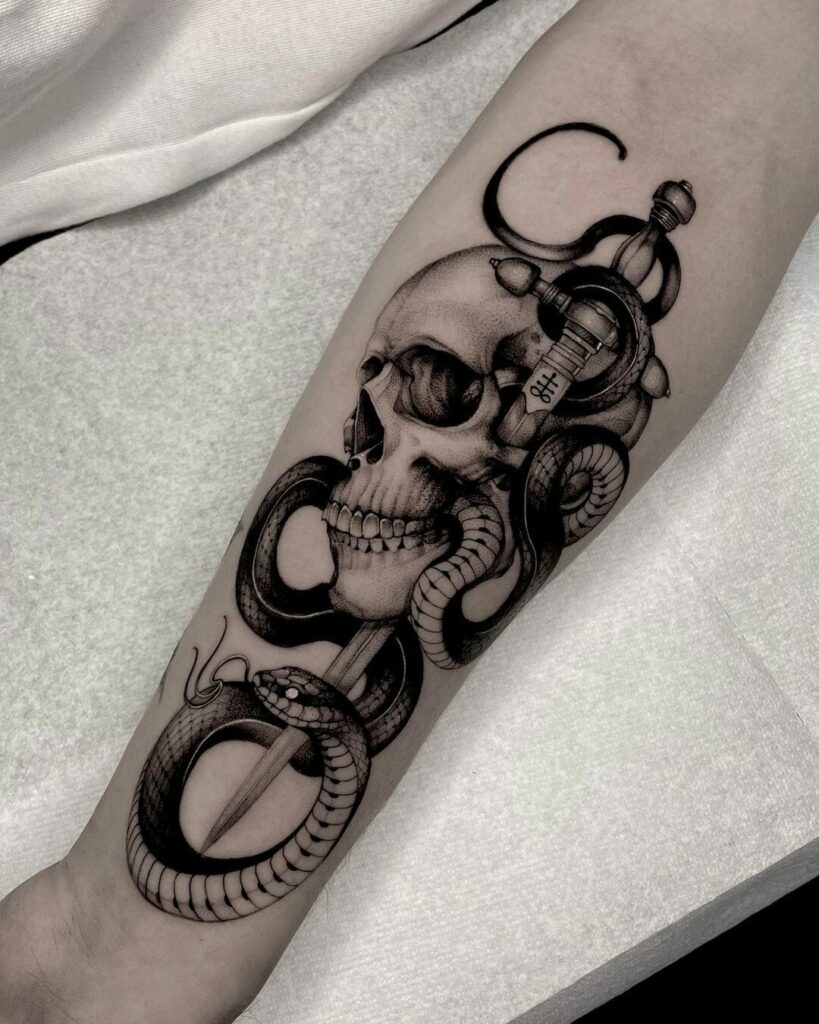 A sword, a skull, and a snake – a powerful trio signifying protection, sacrifice, and warrior spirit. You could further personalise this design with elements representative of your family, creating a unique symbol of your protective bond.
Head Chef Knife Tattoo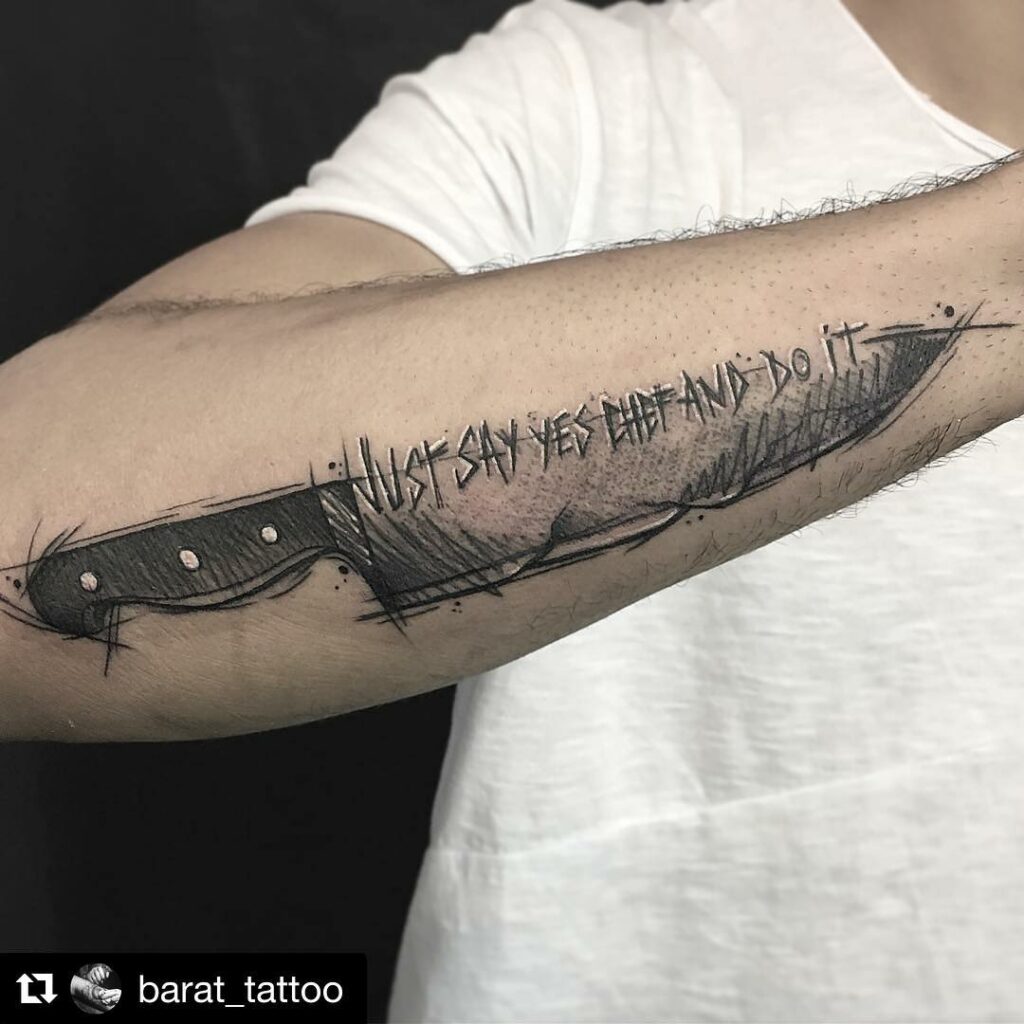 For passionate cooks, what could be more fitting than a tattoo that combines essential kitchen tools with your favourite ingredients? Throw in a favourite motto like "Just say yes chef and do it," and you have a colourful, personalised testament to your love of food and cooking.
Glitched Knife Tattoo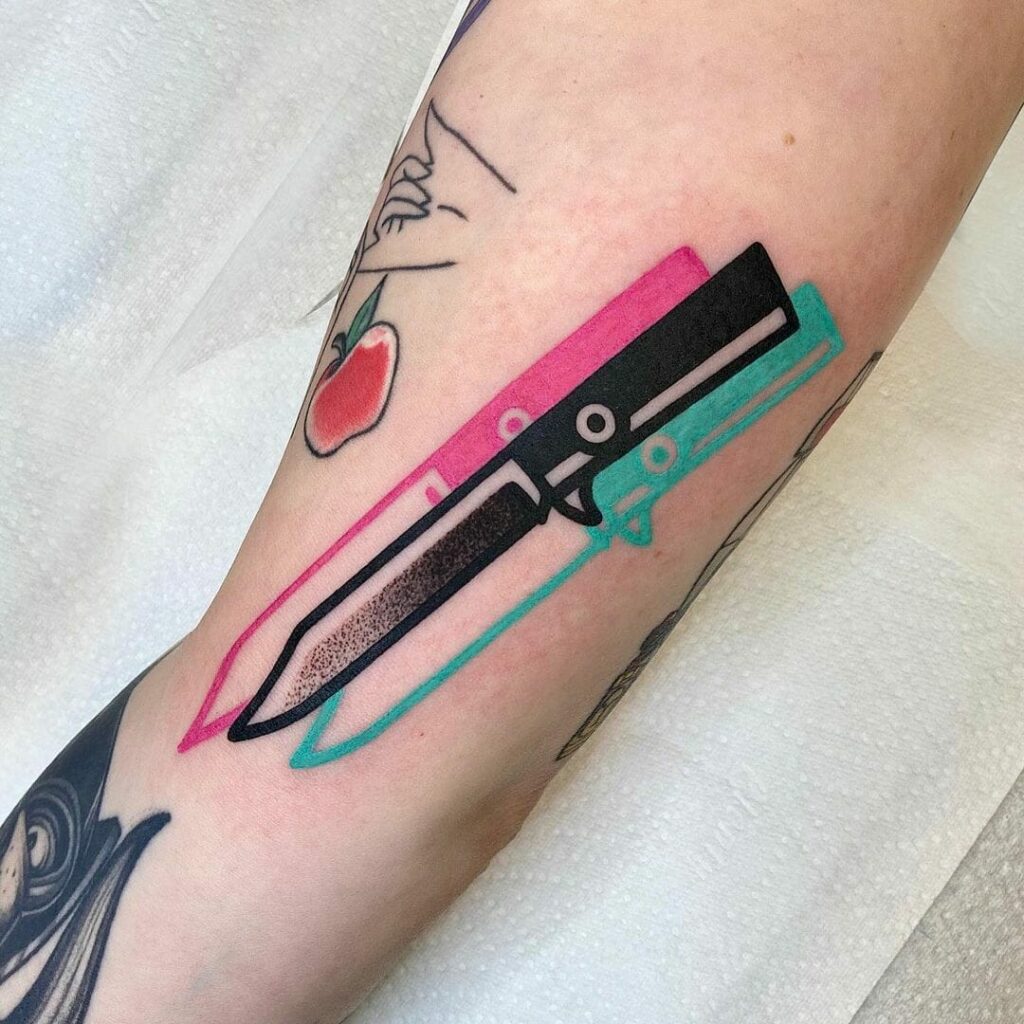 Here's something for the tech-savvy generation – a glitched knife tattoo. Taking inspiration from the concept of digital glitches, this design is a trendy, unique nod to the digital age.
Anime Knife Tattoo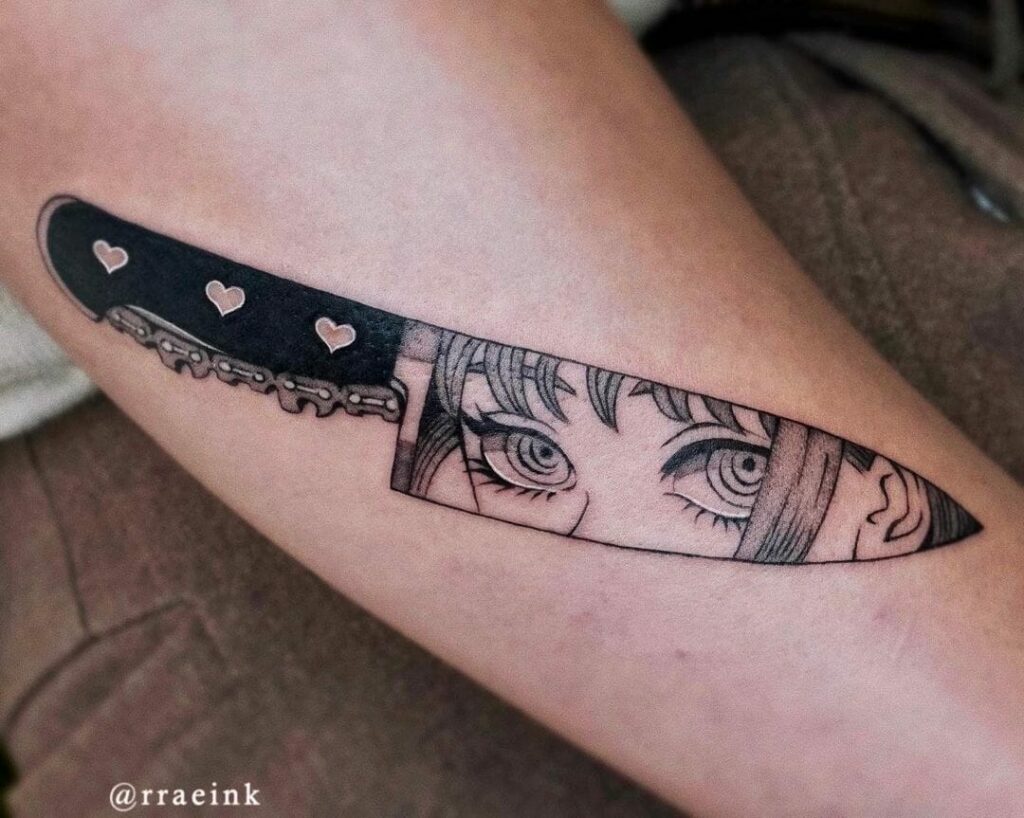 Anime lovers, behold your next tattoo inspiration. With a design showcasing the eyes of an anime character reflected in a knife, this is an artwork that tells a story. Imprint the blade with your favourite anime character and let your fandom shine.
Sword Piercing The Heart Tattoo
Are you looking to complete a sleeve with a large, meaningful design? A heart impaled by a sword could be your answer. This popular design can symbolise various experiences – heartbreak, betrayal, or the agony of lost love. The symbolism of the heart pierced by a sword, tattooed on your arm or thigh, could serve as a permanent testament to your emotional journey.
Conclusion
Navigating the world of knife tattoos can be as exhilarating as it is complex, teeming as it is with countless designs, styles, and meanings. From the profound symbolism of a skull sword piece to the culinary nod of a chef's knife, there truly is a design to suit every individual. As with any tattoo, placement is a personal decision often dependent on the size of the piece and your own comfort. Popular spots include the forearm, wrist, and thigh, but don't shy away from exploring other areas that might make your tattoo truly stand out. Costs can vary widely based on the complexity of the design and the skill level of your artist, so it's crucial to conduct thorough research and consultation. It's also worth noting that tattoos, while exciting and meaningful, do carry potential risks such as allergic reactions, infections, or scarring. Therefore, always ensure your chosen studio adheres to stringent hygiene standards and you follow aftercare instructions diligently. In the end, remember: a tattoo is an act of self-expression, a story etched in skin, a personal journey made visible. Choose wisely, treat it with care, and let it be a testament to your individuality.
feature image from Pinterest