Are you looking to make a bold statement with your next beach tattoo? Look no further! Lace under breast tattoo designs are the perfect way to showcase your unique style and femininity. Sternum tattoos, as they are also called, are not only beautiful but also hold deep meaning for many women. Some view them as a representation of their life journey or a religious symbol, while others get inked in honor of a loved one. These tattoos are known to be one of the sexiest designs out there, and for good reason! Typically, the tattoo artist will follow the curve just beneath the breast to create an intricate and visually stunning design, like the ornamental artwork pictured here. Keep in mind that this placement can be a bit painful due to thin skin and the proximity to the rib bones, so it's important to discuss your pain tolerance with your tattoo artist beforehand. Check out some of our favorite lace under breast tattoo designs below to find the perfect one for you!
Under The Breast Lace Tattoo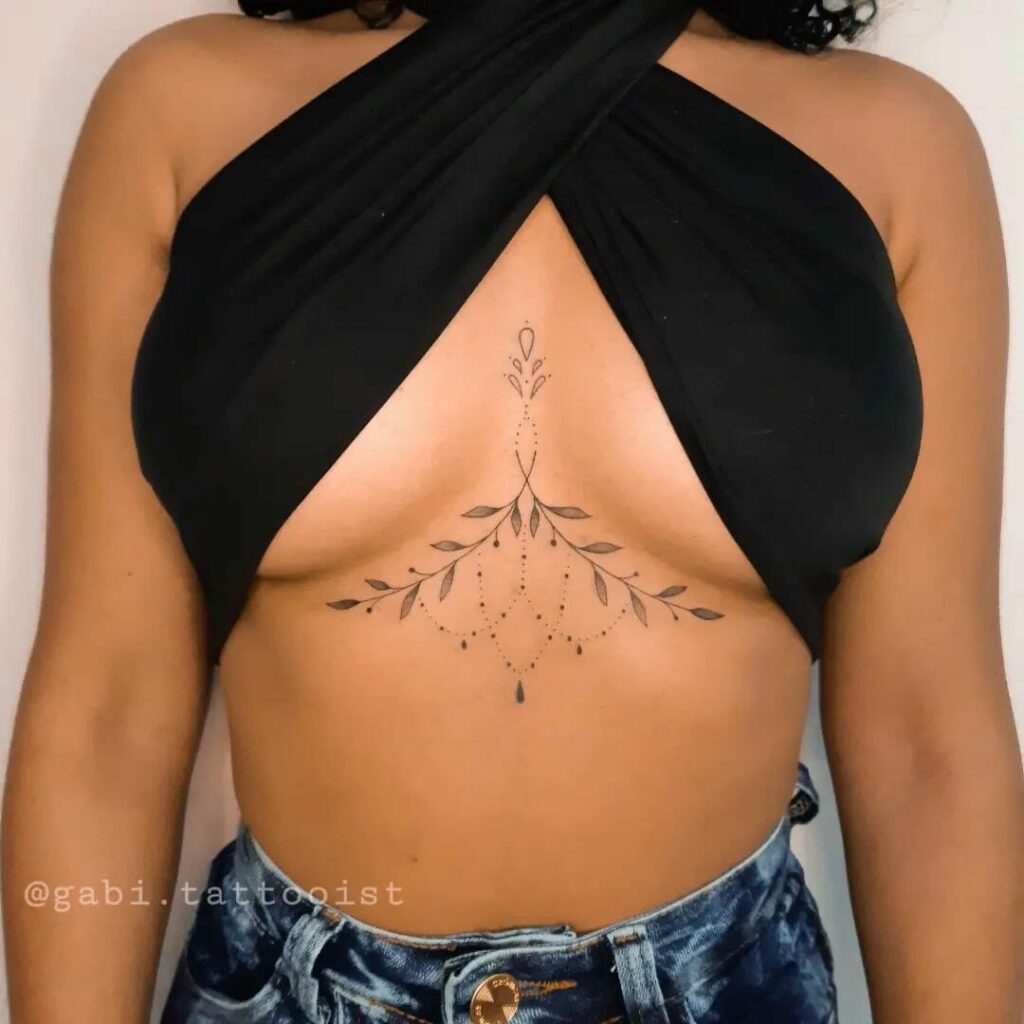 Did you know that lace artwork can add a touch of femininity and elegance to your tattoo design?
Lace tattoos are among the most intricate and ornate designs that women love. They are often viewed as delicate jewelry, making them a popular choice for body art. Lace tattoos can be embellished with additional elements such as delicate creatures, ornaments, or even wild animals to create a unique and personalized look.
If you take a closer look at this particular design, you'll notice the intricate details that give it a natural and ornamental appearance. The design is placed near the breast area, and it appears as if the woman is wearing a beautiful jewelry piece delicately hanging over two leaves. If you're looking for a tattoo that exudes femininity and elegance, a lace design might just be the perfect choice for you.
Lace Mandala Under Breast Tattoo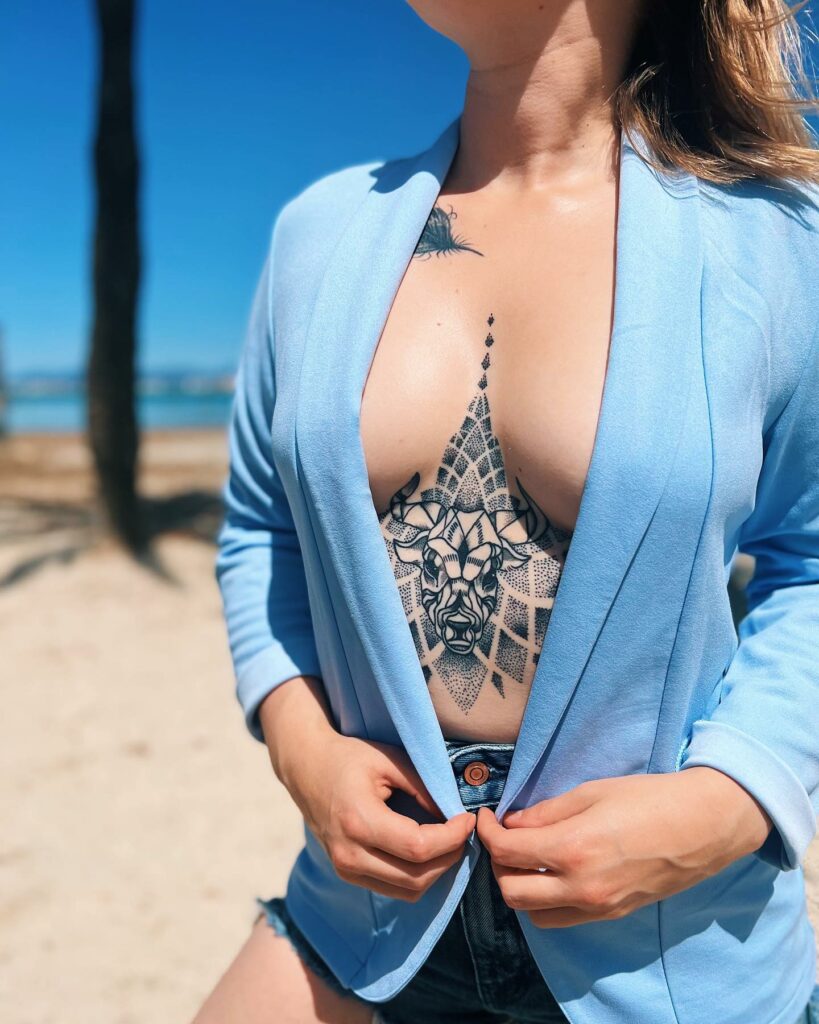 Mandala artwork has a rich history and deep symbolism rooted in Hinduism and Buddhism, making it a popular choice for those seeking a tattoo with a meaningful message. Mandalas are intricate circular designs that can be tailored to fit any size, from small and delicate to full-body coverage.
One example of a beautiful mandala tattoo is this design, which begins on the chest and extends under the breasts. The dots and circular patterns create a calming and soothing effect, while the Taurus symbol adds a touch of strength and resilience to the design.
While this particular tattoo features the Taurus sign, there are many options available to choose from, allowing you to personalize your tattoo to reflect your own astrological sign or other meaningful symbols.
Lace Under Breast Simple Tattoo
Flowers have been a symbol of happiness and satisfaction in ancient beliefs. They are often incorporated into tattoo designs, especially for women, to create a naturalistic and feminine look. Flowers represent love and purity, making them a popular choice among many.
This particular design is situated between the breasts and is made up of unique patterns of flowers. The tattoo artist's skillful hand has created neat and identical-looking flowers, highlighting the beauty of both the artwork and the artist. You can choose any flower you like, including popular options like roses, lilies, and hibiscus, to create a unique and meaningful design that suits your personal style.
Lace Tattoo Under Breast Tattoo Design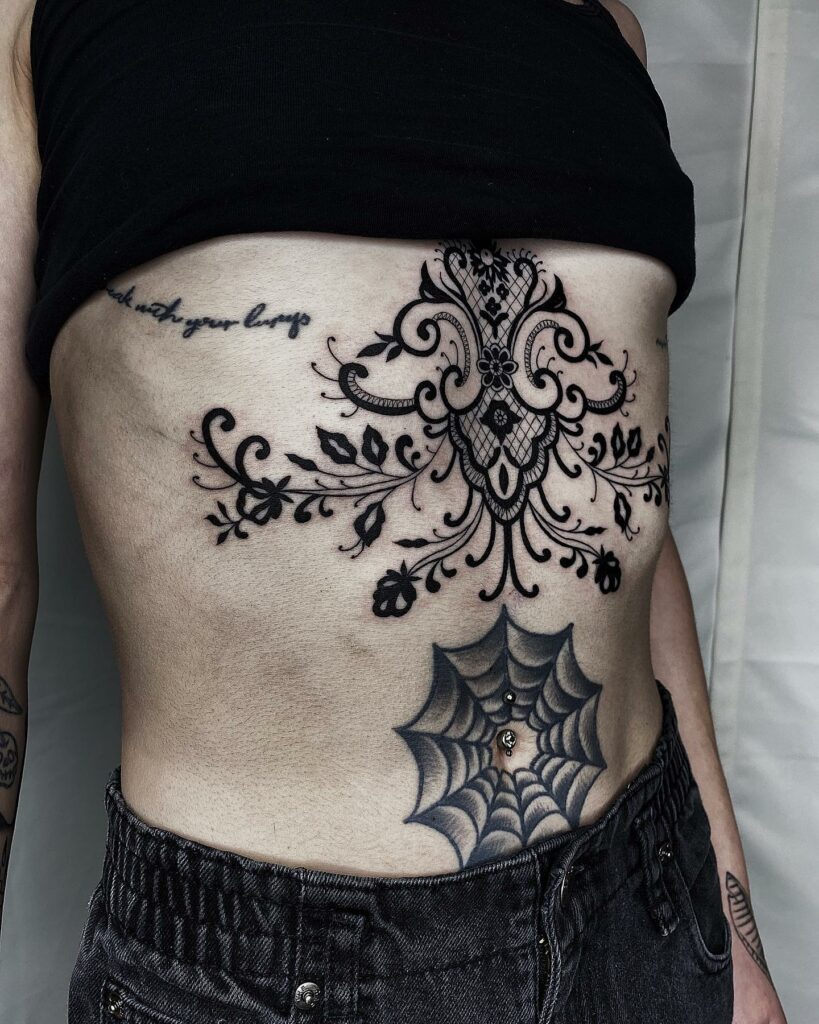 Lace has been a timeless fashion pattern that has fascinated women for centuries. When it comes to tattoos, incorporating lace designs into body art gives a natural and delicate touch. These designs are airy, elegant, and theatrical, and they can be combined with other forms such as quotes to add depth to the design.
This particular design is positioned at the center, beneath the two breasts. The intricate patterns of leaves and other designs perfectly complement the lace. The artist has used a black hue to create a stunning contrast against the skin. The beauty of lace tattoos is that they can be customized to suit any style or preference, making them a versatile and timeless choice.
Full Cover Under Breast Tattoo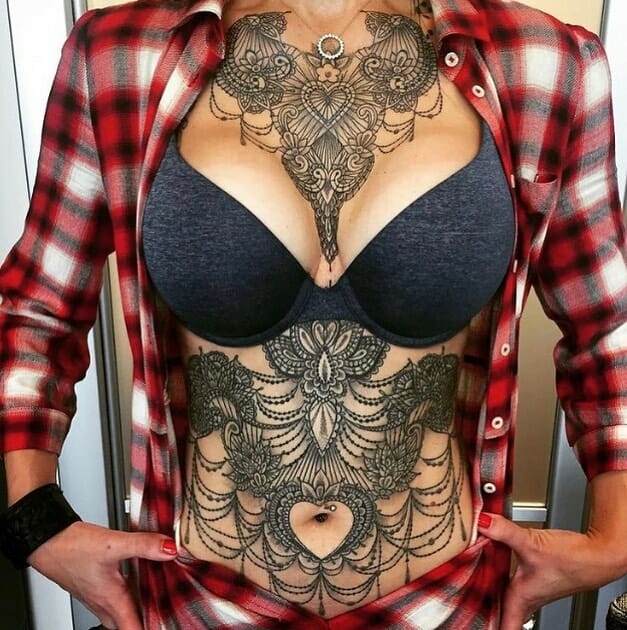 Full-coverage tattoos are known for their allure and the chest and under-breast area is a particularly popular spot. With this much space, the design can be intricate and detailed, showcasing the complexity of the art.
A skilled artist will deliver a beautiful and symmetrical design, like the one pictured here. The tattoo extends gracefully from the chest to the naval, creating a stunning visual effect.
Full-coverage tattoos can be combined with other design elements such as celestial bodies, flowers, or wings, to create a truly unique piece of art. If you're looking to make a statement with your ink, a full-coverage tattoo in this area is sure to turn heads.
Mandala Design Under Breast Tattoos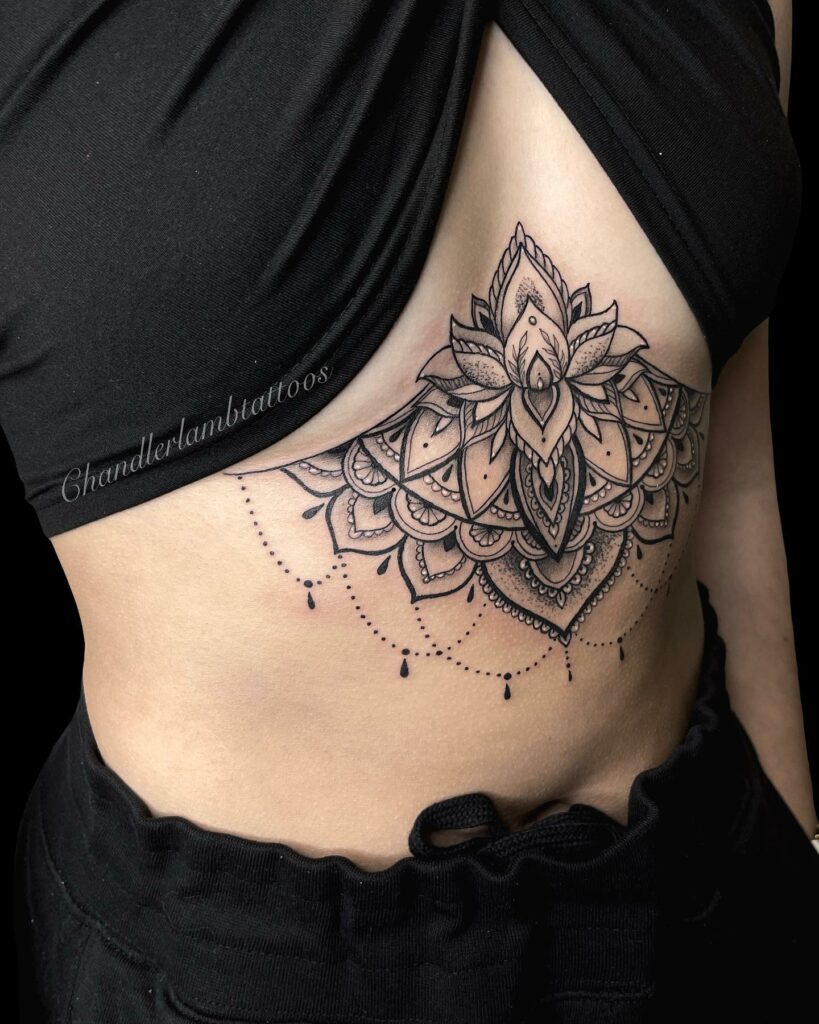 Attention all mandala enthusiasts! If you are looking for a design that boasts intricate details and flawless symmetry, look no further. This dot work masterpiece is sure to captivate your attention. Every single element of this design has been crafted with precision, resulting in a perfect balance of thick and thin lines. A mandala represents harmony and equilibrium, and this design truly embodies that meaning. If you resonate with the ideals of balance and perfection, this mandala should definitely be on your must-have list.
Lotus Underboob Tattoo Designs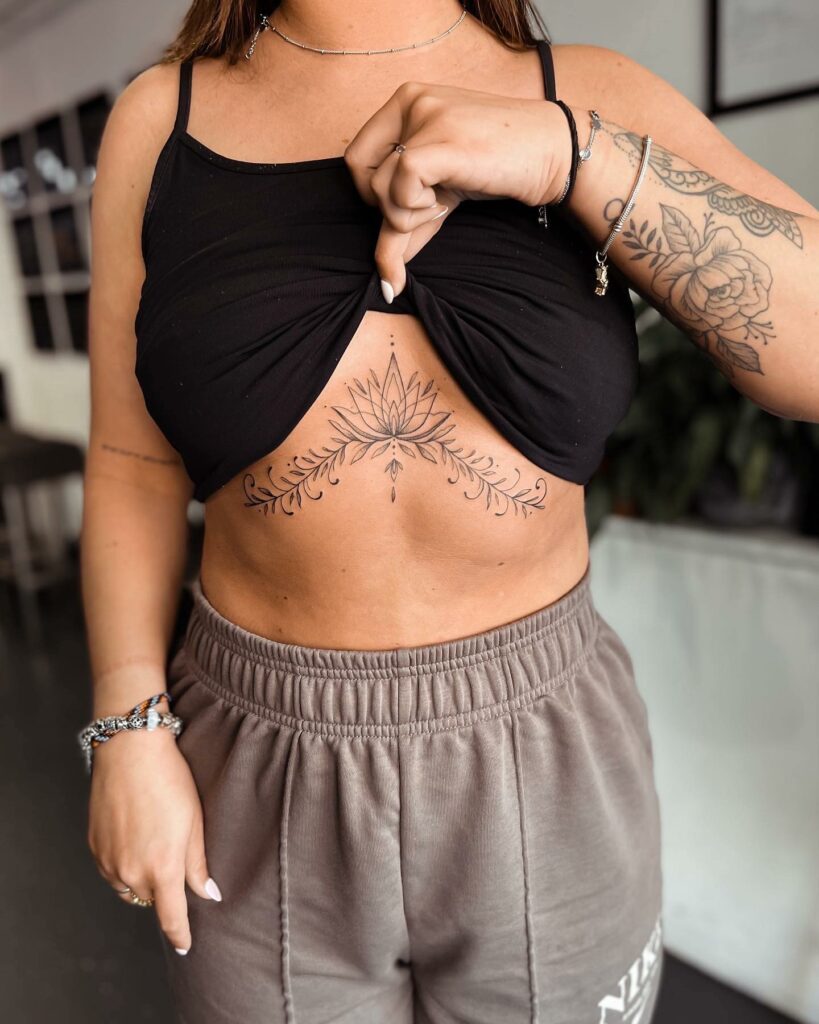 Lotus tattoos have a deep-rooted meaning in Hindu cultures, where they are referred to as Padma. Symbolizing purity, beautification, and spiritual enlightenment, they represent a fresh start in one's life. The lotus flower's journey from growing in muddy waters to blooming into a stunning creation is associated with struggle and growth. Placed in the center following the curve of the breasts, this lotus tattoo design is simply mesmerizing. With the mandala artwork serving as a base for the lotus, it exudes an air of tranquility. The ornamental designs add to its allure, making it a true masterpiece.
Sternum Tattoo Under Breast Tattoos Designs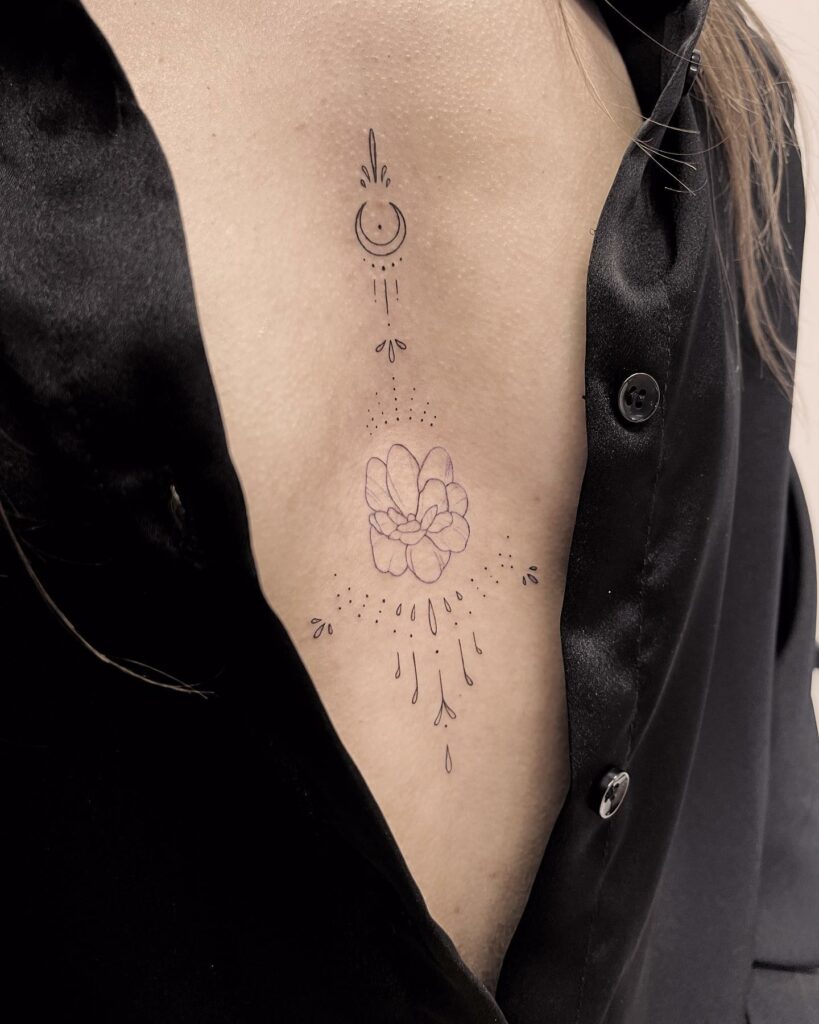 Tattoos have always been a way of celebrating and embracing oneself, and feminine tattoos are no exception. These designs promote creativity, empowerment, and inspiration to be oneself. In fact, feminine tattoos are not limited to women and can be embraced by anyone.
Fine lines are a popular way to convey the essence of femininity in tattoo art. In this design, delicate lines create a graceful image featuring a flower, a lunar symbol, and decorative elements. It has a dreamy and petite appearance, and you can add a rose and butterfly to enhance its beauty. This design is perfect for anyone looking to add a touch of elegance and femininity to their body art.
Moth Underboob Tattoo Design
Moth and butterfly tattoos are among the trendiest tattoos of recent times as they hold a multitude of meanings. The moth, for instance, is believed to navigate through the city with the help of the light provided by the moon, and they have a positive perspective as they look for brightness. Furthermore, they are regarded as a representation of metamorphosis since they emerge from larvae.
The tattoo image displays a fine, detailed design showcasing dotted artwork and thin lines. The tattoo is placed below the breast area, offering an alluring placement for the piece. The simplicity of the tattoo design makes it a low-effort, minimalistic tattoo option that requires less time to complete.
Snake Tattoo Under Boob Tattoo
Snakes have been an enduring symbol in art, literature, and the human imagination, and snake tattoos are no exception.
These tattoos are often associated with rebirth and transformation since snakes shed their skin and emerge anew. They also represent healing, temptation, fertility, power, strength, and wisdom.
In this design, the serpent is placed between the breasts and faces towards the chin. The tattoo is created solely with black ink, adding to its cool and charming appearance.
Under boob tattoos are highly personal and feminine, revealing a person's personality based on the design, coverage, and size. These tattoos require post-care for a few days, which your tattoo artist will inform you about. Regardless of gender, under boob tattoos are suitable for anyone looking to make a statement with their ink.
feature image from Pinterest – Want your tattoo to look brighter? Try "Tattoo Balm"