Are you intrigued by the macabre and do the spine-chilling echos of horror films excite you? If so, buckle up, as we're about to embark on a spine-tingling journey into the realm of Leatherface tattoos, offering a veritable feast for the lovers of all things dark and menacing.
Born from the classic horror masterpiece, 'The Texas Chainsaw Massacre', which gripped audiences in the '90s, our muse is none other than Leatherface – the terrifying, unforgettable villain of this iconic narrative. Known for his chilling character, the Leatherface tattoos bring forth an aesthetic that is simultaneously gruesome, savage, and startlingly potent.
For those with a taste for the uncanny, these designs offer a symphony of horror and artistry, a celebration of the iconic horror genre that goes beyond the mainstream. So, if you revel in the twisted tales of terror-inducing characters and find an unconventional allure in the adrenaline-pumping thrill of horror flicks, then you're in for a treat. Dive into this bone-chilling collection of Leatherface tattoo ideas, where horror aficionados can satiate their appetite for the perfect terrifyingly terrific tattoo.
Texas Chainsaw Massacre
Immerse yourself in the eerie world of horror-themed tattoos, starting with a wickedly playful take on the Texas Chainsaw Massacre's Leatherface. Here, a talented artist transforms the frightful villain, Ed Gein, into an amusing caricature. Despite its blood-curdling nature, the design brims with a distinct aesthetic appeal that allows it to sit comfortably on your skin. A perfect nod to horror aficionados craving subtlety with their preferred characters inked on them.
The Horror Mask Character
This design teems with authentic dread, masterfully incorporating a full-body Leatherface wielding his signature chainsaw alongside a chilling front-facing portrait. Exquisite detailing brings his ghastly leather mask to life, and an expert use of shading contributes to its grim uniqueness.
Realistic Leatherface Tattoo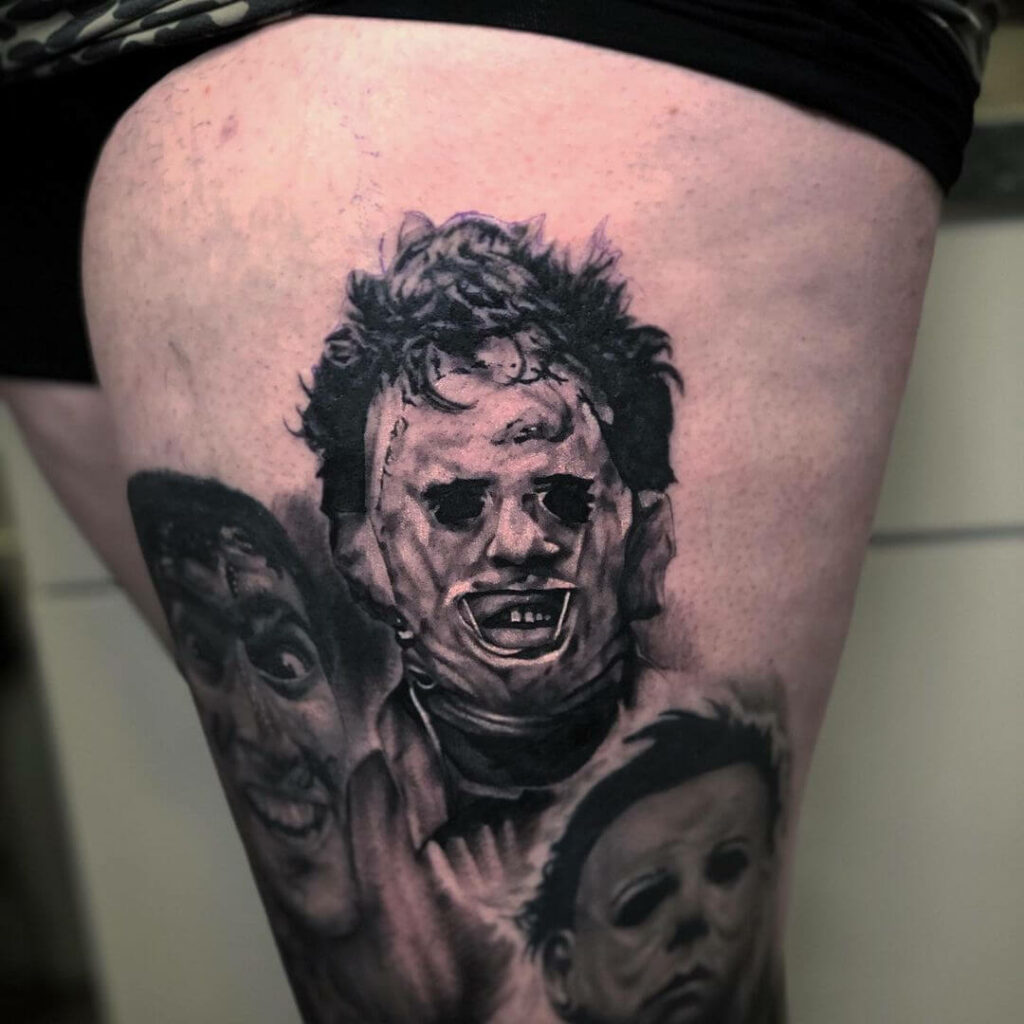 Leatherface tattoo rendered in haunting realism. It features three evocative portraits: a horrifyingly disfigured Leatherface; a second sporting a refined leather mask; and a third, maskless figure bearing an uncanny countenance. The artistry employed weaves a visual narrative that is undeniably dramatic, successfully channeling the dread of the movie into skin art.
The Bloodfeast Design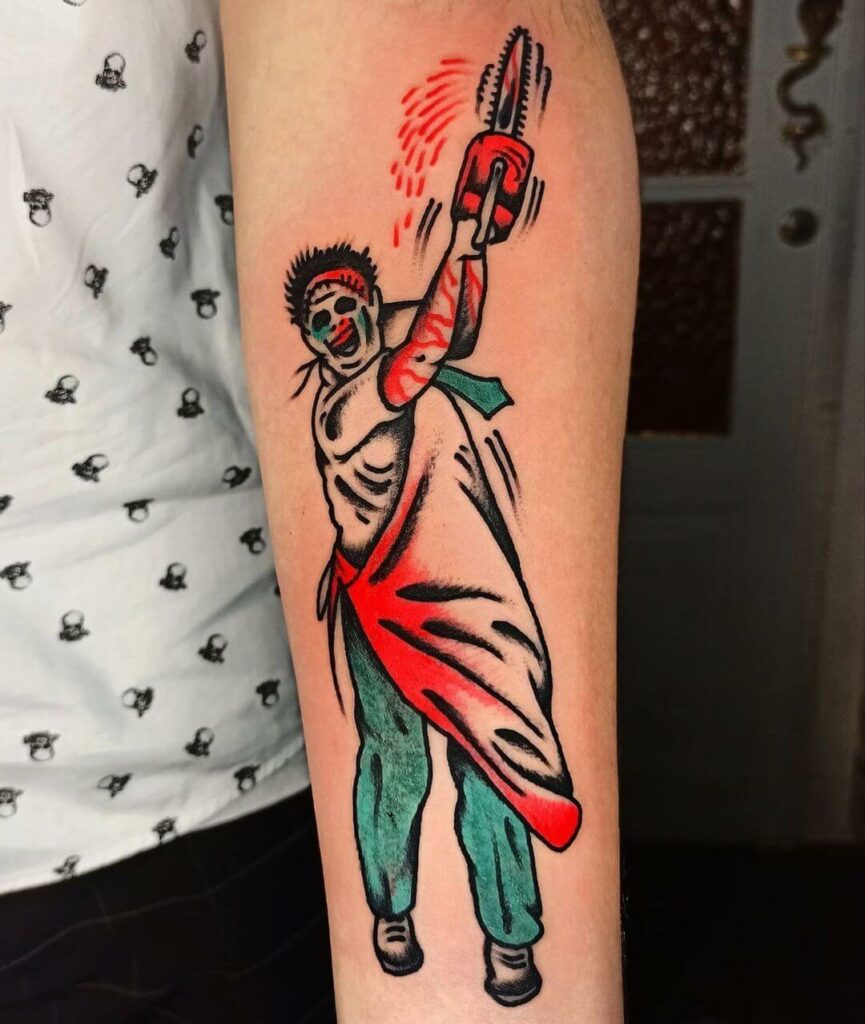 The "Bloodfeast" design taps into old-school tattoo sensibilities, offering a cartoonish depiction of Leatherface. The animation-style figure brandishes a blood-spilling chainsaw, a riveting concept for horror fans and a daring choice for Halloween-inspired tattoos. The striking color palette employed – red, green, black, and white –contrasts yet complements each other, culminating in an aesthetically pleasing and distinctive piece.
Grungy Leatherface Tattoo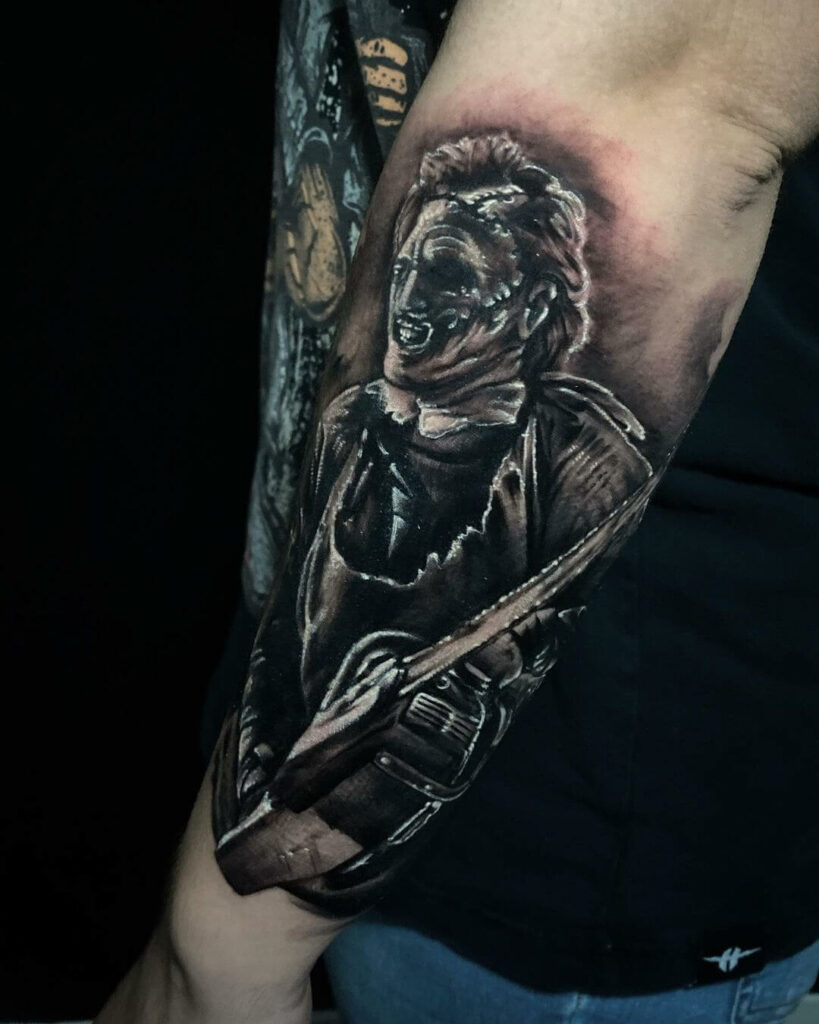 Turning to a design faithful to the original movie, the 'Grungy Leatherface' tattoo is as creepy as it gets. Precision reigns supreme in this design as it channels the movie's grim atmosphere through meticulous details and dark hues. The chainsaw, wielded by Leatherface, appears chillingly authentic, with shadowing and highlights enhancing the horror aesthetic.
Faded Leatherface Tattoo Effect
The 'Faded Leatherface' effect offers a front portrait of the masked murderer. This design emphasizes the hideousness of the Leatherface mask, hand-crafted from human skin. It's a horrifying tribute to the infamous character, and the artist's accuracy in capturing the original look is commendable.
Dotwork Leatherface Mask
The 'Dotwork Leatherface Mask' is an intriguing homage to the famed horror film. It's an impressive large-sized design ideal for those passionate about horror, with its spooky demeanor executed in frightening detail.
Chainsaw Skin Art
Chainsaw Skin Art', the focus shifts from Leatherface to his weapon of choice. The design is as detailed as it is gruesome, with realistic edges, handles, and buttons on the chainsaw, and a surprise cameo by Leatherface's face on the blade, splattered with blood. It's a narrative piece, vivid and attention-grabbing.
Spooky Zoomed In Portrait
'Spooky Zoomed In Portrait' showcases a grotesque and highly detailed interpretation of Leatherface, revealing the unnerving details of his stitched-on skin mask. Enhanced by chainsaw chains and human bones, it is a creepy, atmospheric piece sure to satisfy horror purists.
Texas Leatherface Character
Texas Leatherface Character', a color story that perfectly encapsulates the terrifying aesthetic of Leatherface. The tattoo is richly detailed, with Leatherface's face adorning a large knife, terror-filled eyes staring at an unseen victim. Its bold use of color and meticulous detailing elevate this tattoo into a gruesome masterpiece.
Conclusion
Navigating the world of horror-inspired tattoos is a thrill ride of creativity and imagination, with designs inspired by icons like Leatherface serving as a macabre testament to the wearer's love for the genre. As with any ink commitment, careful consideration should be given to the placement, which is influenced by individual pain tolerance, lifestyle, and display preferences. Detailed, large-scale pieces are often recommended for spacious areas like the back, chest, or thigh. Cost can fluctuate significantly depending on the design complexity, size, and artist's expertise, with intricate pieces potentially ranging from a few hundred to several thousand dollars. It's crucial to remember, tattoos do come with risks, including infection, allergic reactions, and scarring. Always ensure your artist follows stringent hygiene protocols, and take care of your new art during the healing process. Ultimately, a horror tattoo is an unapologetic personal statement, a piece of skin art that tells a hauntingly beautiful story of your unique appreciation for the genre.
Feature image from Pinterest