Are you considering getting a leg sleeve tattoo and looking for some inspiration? Well, you're in luck! Sleeve tattoos have become a beloved trend for tattoo enthusiasts and offer a unique canvas for creative expression. The possibilities are endless when it comes to sleeve tattoo designs, and tattoo artists have been experimenting with a variety of tropes to create breathtaking works of art. But before you take the plunge and get inked, there are a few things to keep in mind. The process can be time-consuming, especially for intricate designs, but don't worry – leg tattoos tend to be less painful due to the presence of fat and muscle around the thigh and calves. And if you're worried about body hair growth, it's normal for it to take some time to return to its natural state after the tattooing process. But enough of the technicalities, let's dive into some popular sleeve tattoo designs for women that can be worn on any limb with grace!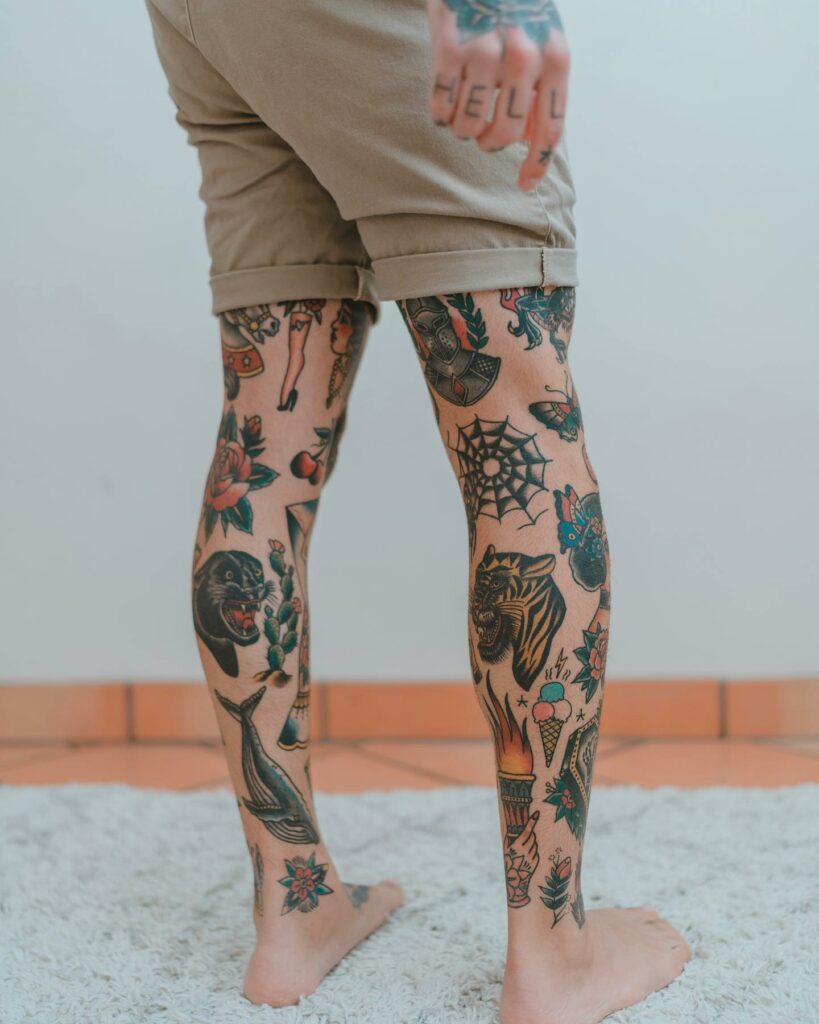 Ornamental Leg Sleeve Tattoo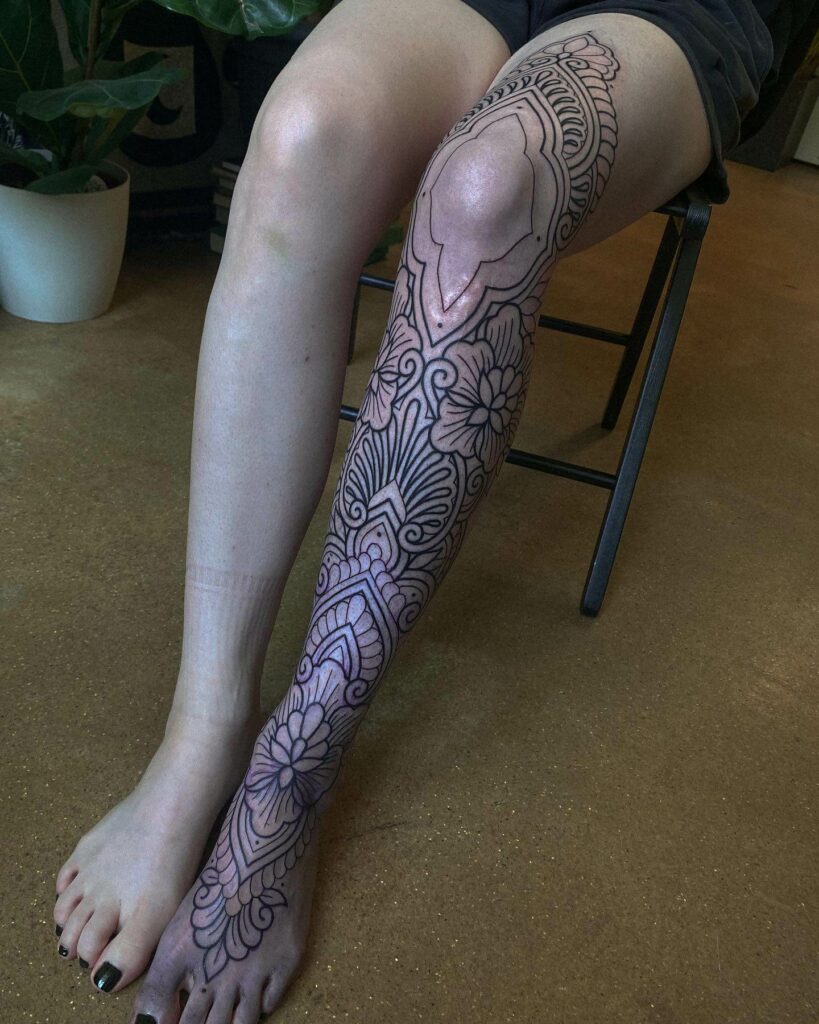 Full leg tattoos are a popular choice for women who want a beautiful and ornamental body art that complements their feminine side. This particular design features a stunning floral motif that adds an extra touch of elegance to the wearer's body. One striking feature of this tattoo is the blank knee area, which adds a unique visual element to the design. While the tattoo is primarily constructed with black outlines, it can be easily transformed with the addition of vibrant colors, giving it a more radiant and eye-catching appearance. So, if you're looking for a stunning full leg tattoo that showcases your femininity, this is the perfect design for you.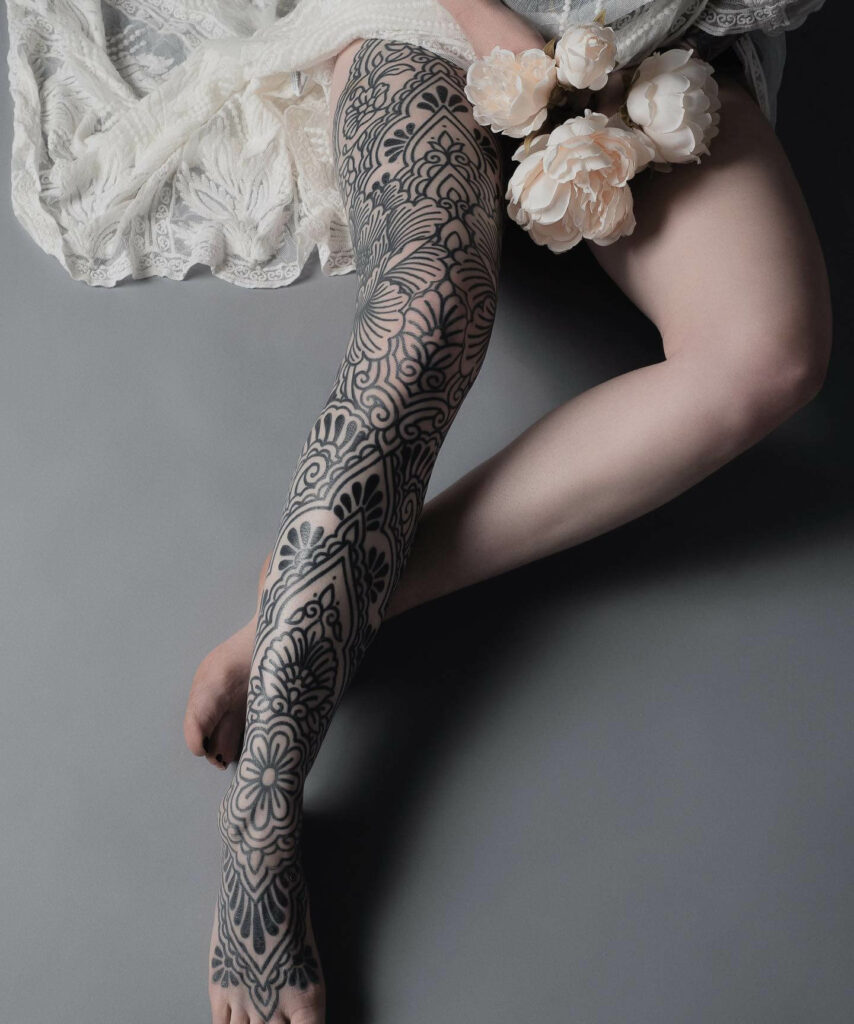 Floral designs have been a popular choice for tattoos, and this full leg tattoo takes it up a notch by extending the floral imagery upwards towards the upper thigh. You can choose the most exquisite and stunning flowers to be incorporated into this botanical masterpiece. The intricately designed flowers in this tattoo give it a lively and animated appearance, making it a perfect addition to your body art collection. With this design, you won't have to worry about brainstorming for ideas, as the swirly floral imagery takes care of everything!
Japanese Leg Sleeve Tattoo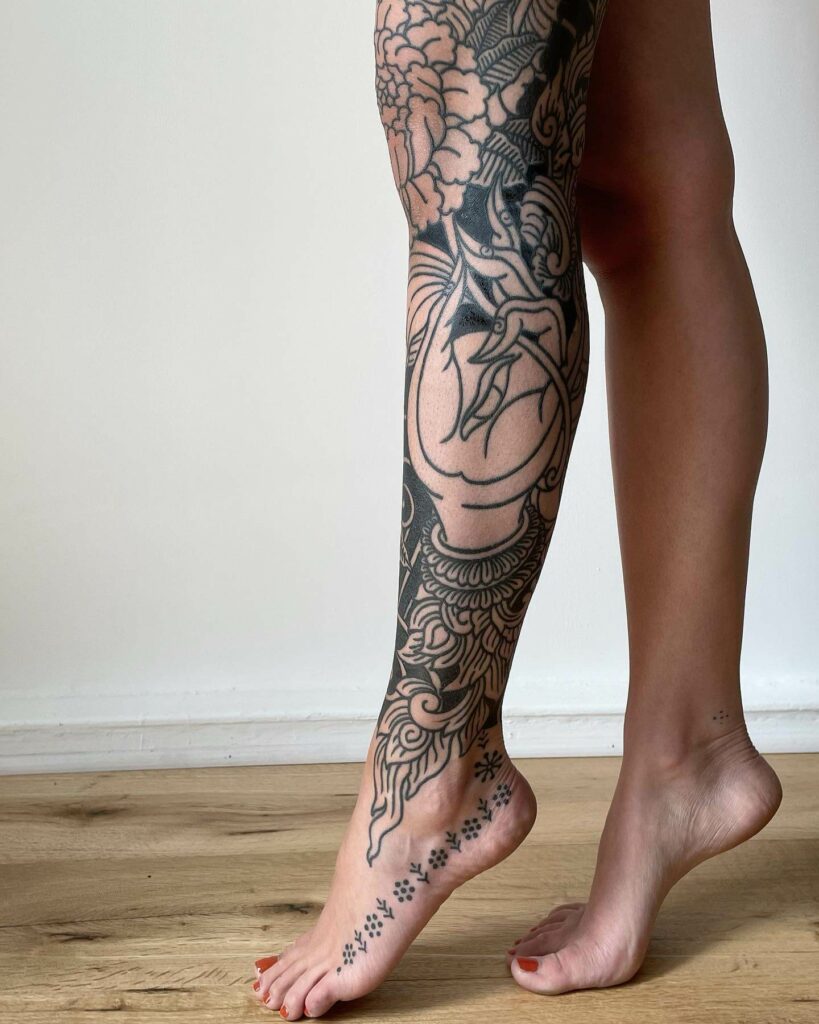 Japanese culture has been a great inspiration for tattoo artists worldwide. The unique art form of Japanese tattoos is appreciated by both men and women. It incorporates traditional symbols and images that carry deep meanings.
This stunning Japanese leg tattoo sleeve is a perfect example of how traditional Japanese elements can be incorporated into tattoo designs. The black ink work is exquisite, featuring a hand holding a beautiful flower set against a classic black background. The choice of flowers like the lotus or cherry blossoms can elevate the design even more. If you are looking for a striking and meaningful leg tattoo, this Japanese-inspired design is an excellent choice.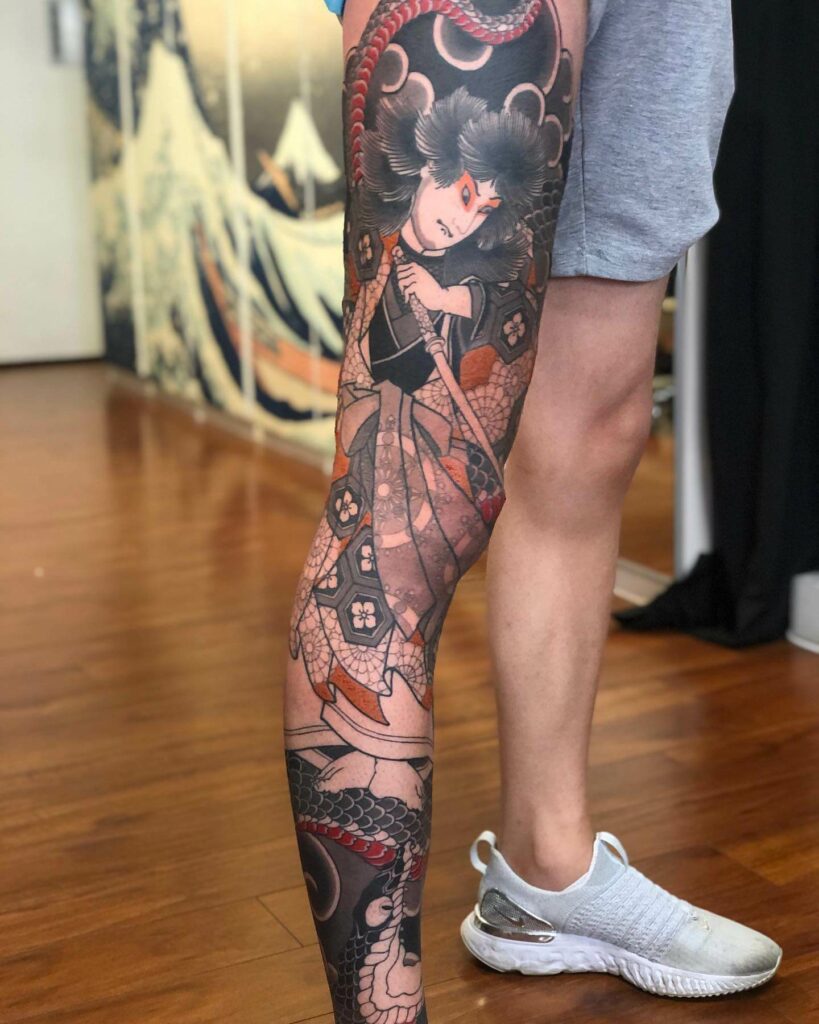 Indulge in the captivating world of Japanese art by choosing a full-leg sleeve tattoo design. With more space to work with, artists can add intricate details and showcase their skills. This particular tattoo displays a Samurai in his traditional garb, intricately decorated with minute oriental details. Embrace the Japanese folklore with mythical creatures like dragons and phoenixes, or opt for traditional symbols such as koi fish, Hannya masks, and cherry blossoms. The possibilities are endless, making Japanese-inspired full-leg tattoos a great choice for anyone looking to showcase their love for this fascinating culture.
Traditional Leg Sleeve Tattoos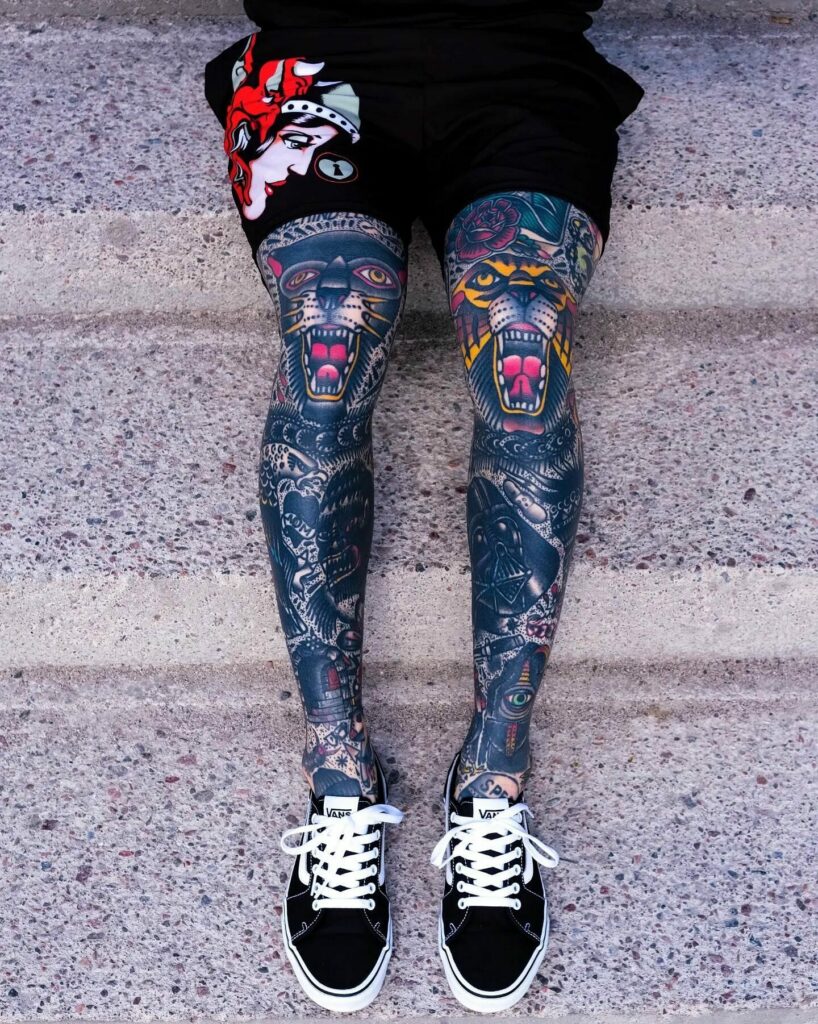 Old school tattoo designs are always in vogue among tattoo aficionados. This leg tattoo, in particular, features a compilation of classic designs from a flash sheet, but with a unique twist – the background. Instead of the usual plain background, the artist has given a lot of thought to the background, which has turned out to be pitch black. However, to ensure that the subject in focus does not get camouflaged, you can always play with colors to create a dramatic effect. So, whether you choose to go monochrome or add a pop of color to your leg tattoo, an old school design will always stand the test of time.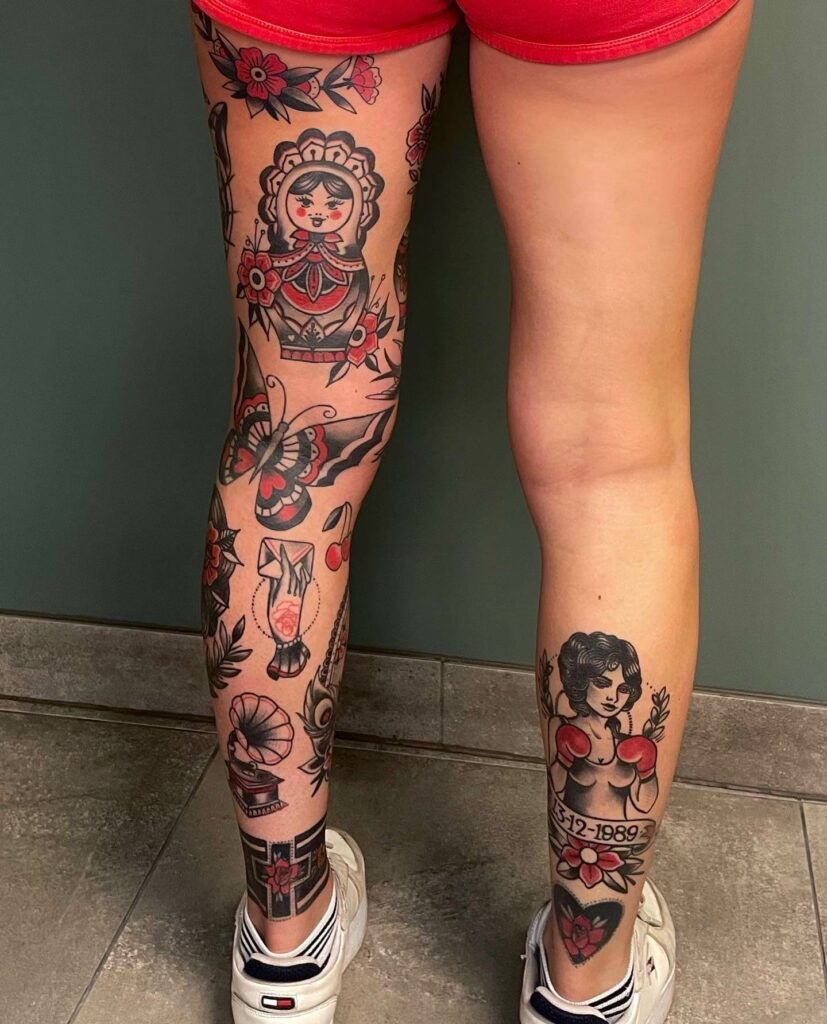 For those who prefer simplicity in their leg tattoos, the American traditional style is a great option. This design is expertly drawn by the artist to not overcrowd the leg, offering a clean and classic look. The beauty of this design lies in its versatility, as you can choose the size and placement of your tattoo according to your preference. Whether you want a full leg sleeve or a small tattoo on your upper leg or calves, this design can be easily customized to fit your needs.
Women Leg Sleeve Tattoo With Skull Motif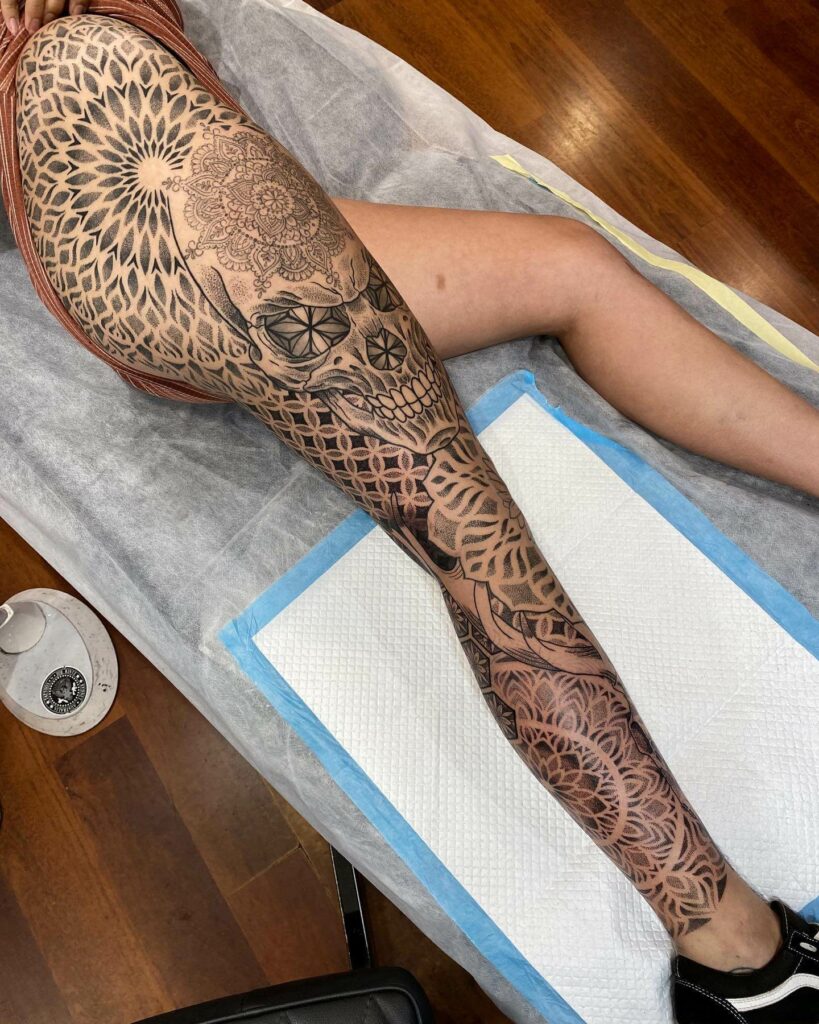 The skull motif has always been a popular choice for leg tattoos among women who want to express their strength and resilience. Despite its morbid connotations, the skull also represents the truth of life, making it a meaningful and bold statement piece. In this design, the skull is incorporated into intricate mandala patterns, which are created entirely through the use of dot work. This technique not only adds depth and texture to the tattoo but also gives it a vibrant and dynamic feel. Whether you prefer a large, full leg tattoo or a smaller design on the calf or thigh, a skull tattoo is a great option for those looking to make a statement.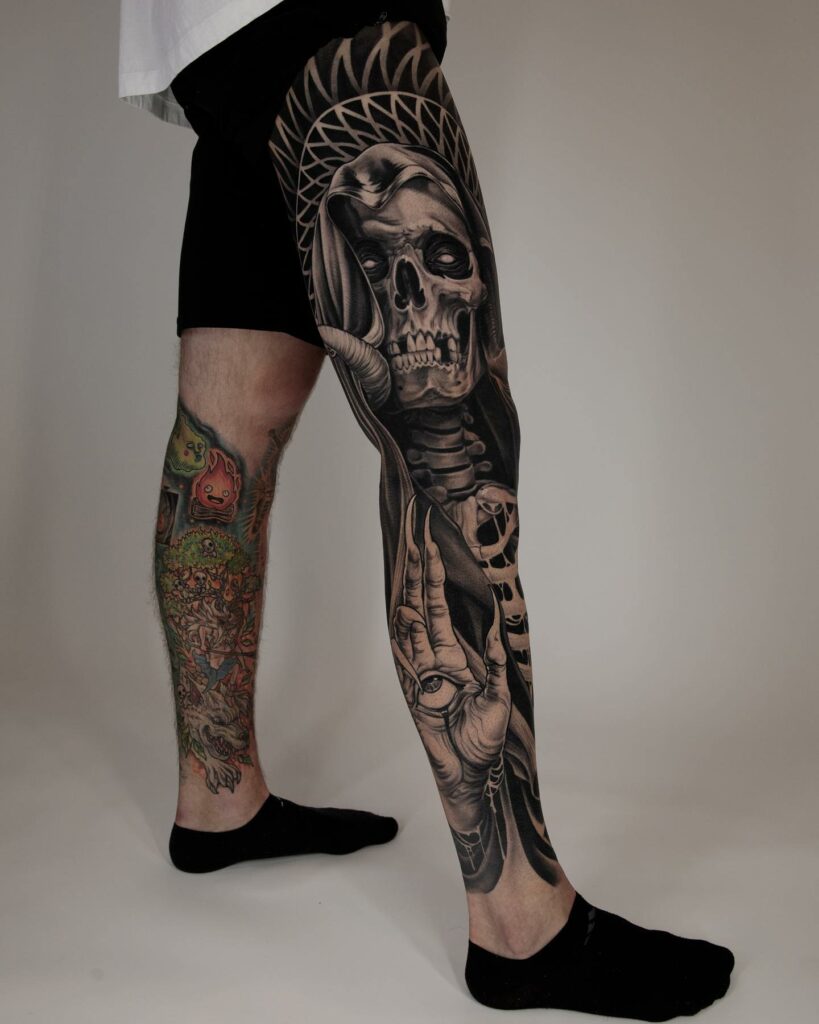 This leg tattoo design is for those who want to challenge the conventional feminine aesthetics and embrace a darker side. The artist masterfully incorporates a consistent black and grey theme throughout the tattoo, creating an intense and edgy look. The design can be enhanced with additional elements, such as sugar skulls, to add more depth and meaning to the tattoo. Despite the dark imagery, the tattoo can still be a celebration of life and its cycles, making it a versatile choice for those seeking a unique and powerful design.
Leg Tattoos For Women With Snake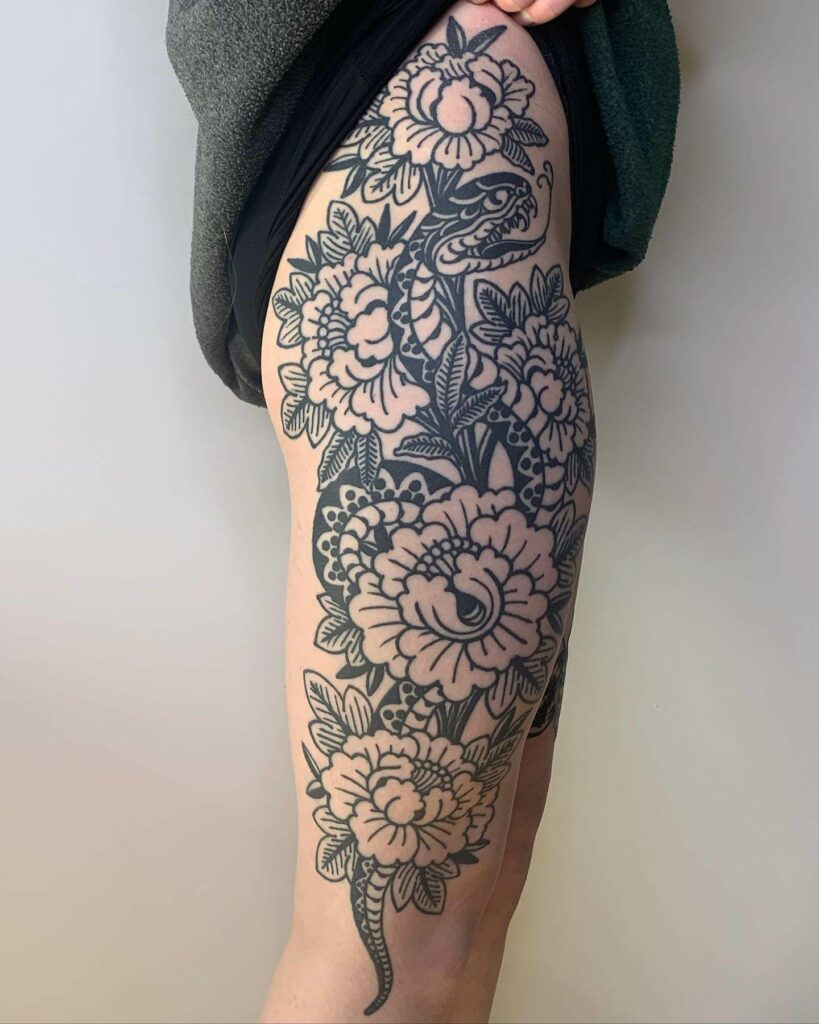 Serpents have always been a popular tattoo choice for their edgy and dangerous appeal. However, the way in which they are used can greatly alter their meaning. When paired with flowers like peonies, serpents can represent rebirth, fertility, and strength. This beautiful side thigh tattoo showcases just that, with intricately detailed peonies intertwined with a coiled serpent. Side thigh tattoos offer plenty of space for larger, half-sleeve designs like this one, which can enhance the natural curves of a woman's body.
Cartoon Inspired Leg Sleeve Tattoo Ideas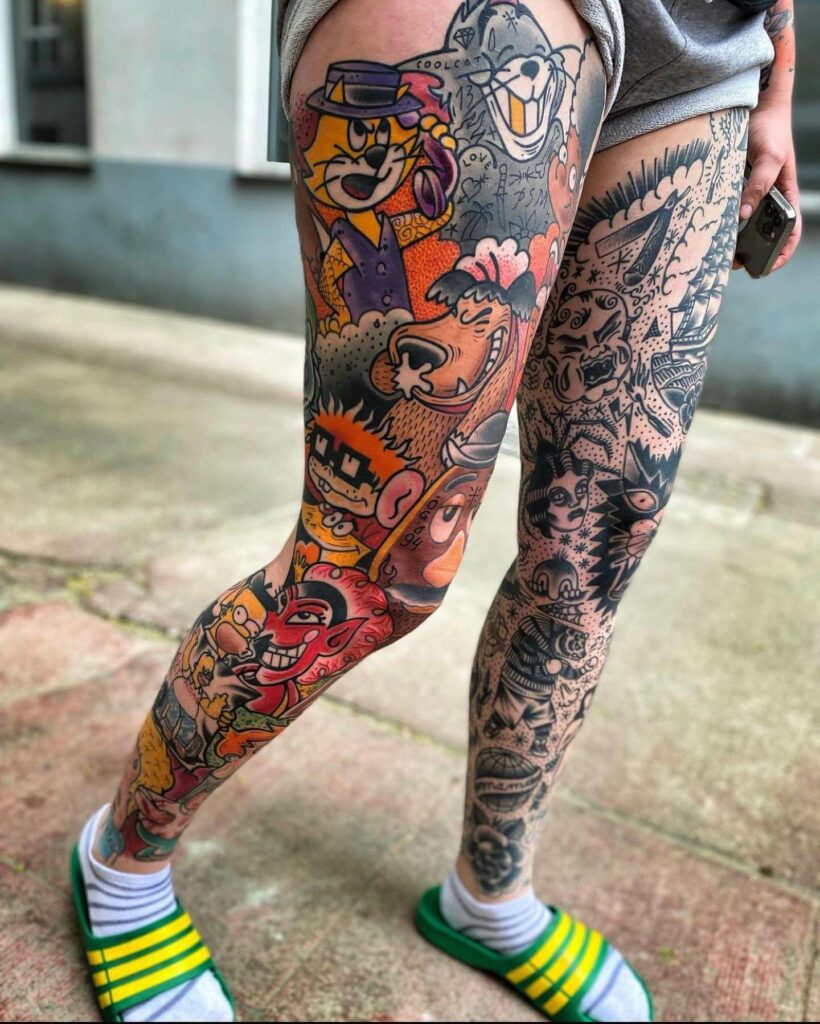 Do you miss your childhood days? Why not revisit them with this unique and vibrant leg tattoo that showcases all your favourite iconic cartoon characters! This old-school piece of art is perfect for those seeking a fun and laid-back design.
The artist expertly blends a variety of cartoon characters without any shared background. Instead, the figures are intertwined and overlap each other, providing ample space for each one. The use of soft colours enhances the traditional American look without being too flashy.
Whether you choose to transform this design into a full leg sleeve or keep it limited to the lower leg is up to you! This playful tattoo will surely bring back fond memories of the good old days.
Geometric Leg Sleeve Tattoo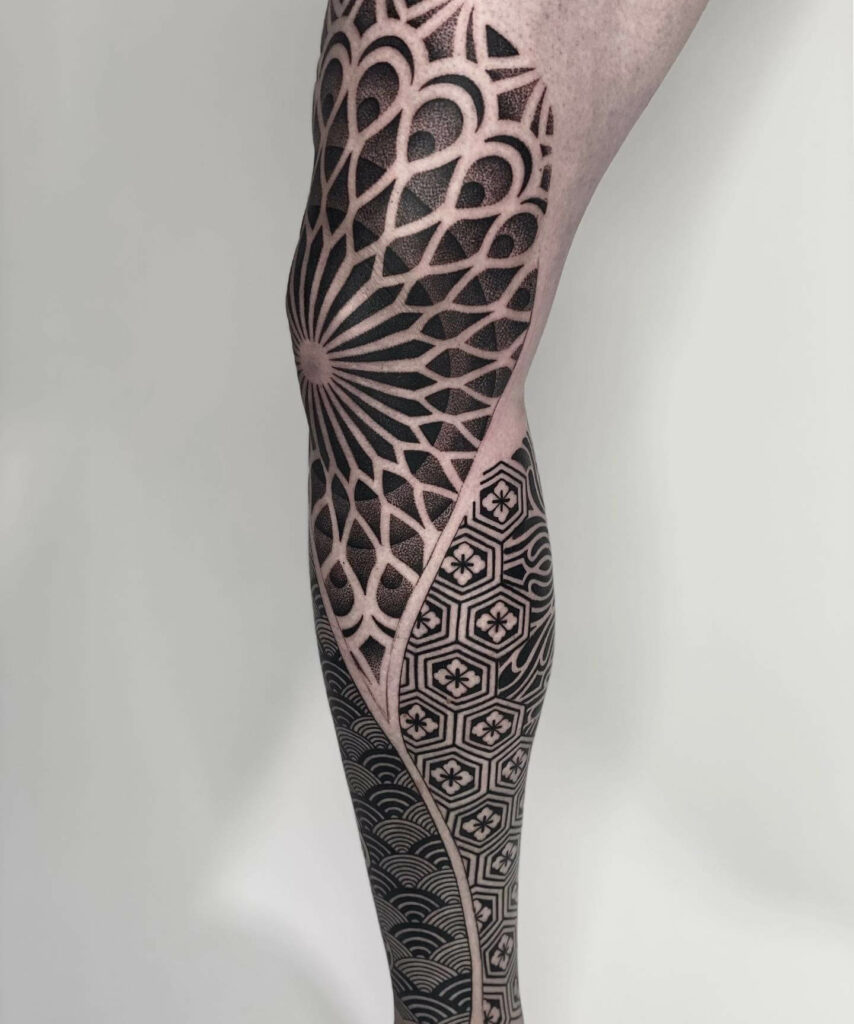 Geometric tattoos never go out of style and can add a touch of sophistication to any look. This leg tattoo features three unique patterns that showcase the versatility of geometric designs. The knee area boasts a beautiful mandala crafted with fine dot work, while the back of the calves showcase florals arranged in a beehive pattern. The front of the leg incorporates an oriental touch with semi-circular loops. The clear borders between the three patterns create a clean and uncluttered design.
If you prefer a more minimalist approach, consider a contemporary geometric sleeve with fine lines and plenty of negative space. You could even incorporate sacred geometry into your design, but be sure to keep it understated for a more subtle effect. Whatever your preference, geometric tattoos are a timeless and stylish choice.
Tribal Leg Sleeve Tattoo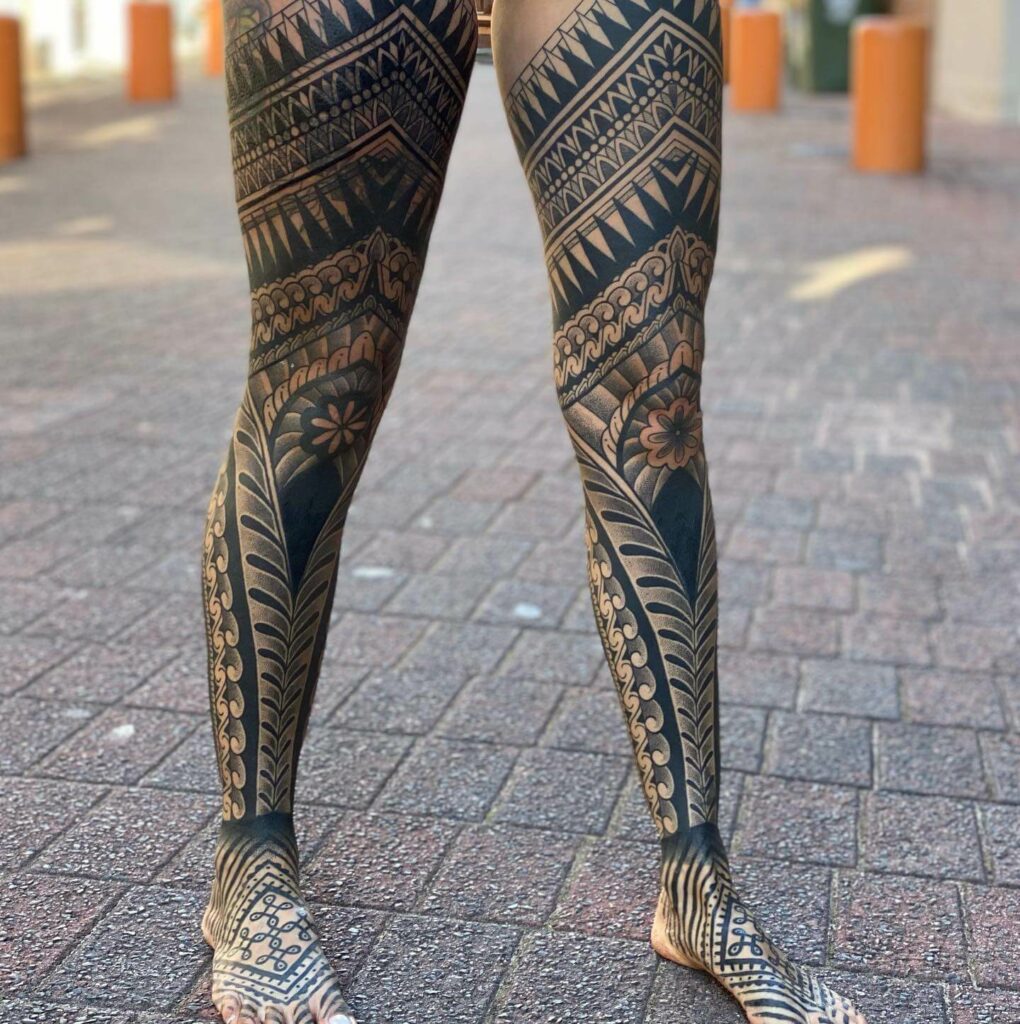 Tribal tattoos have long been popular among men, but don't let gender norms hold you back from getting a tribal design if it speaks to you! In fact, tribal tattoos can look incredibly powerful and striking on women, providing a bold contrast to their soft features.
This particular tribal leg tattoo is crafted with bold black and grey lines and extends all the way down to the foot, drawing inspiration from aboriginal cultures. By researching and selecting patterns that resonate with you, you can create a truly unique and meaningful design. Whether you choose a traditional tribal motif or incorporate modern elements, a tribal leg tattoo is a great way to express your individuality and showcase your strength.
Leg Sleeve Tattoos In Blackwork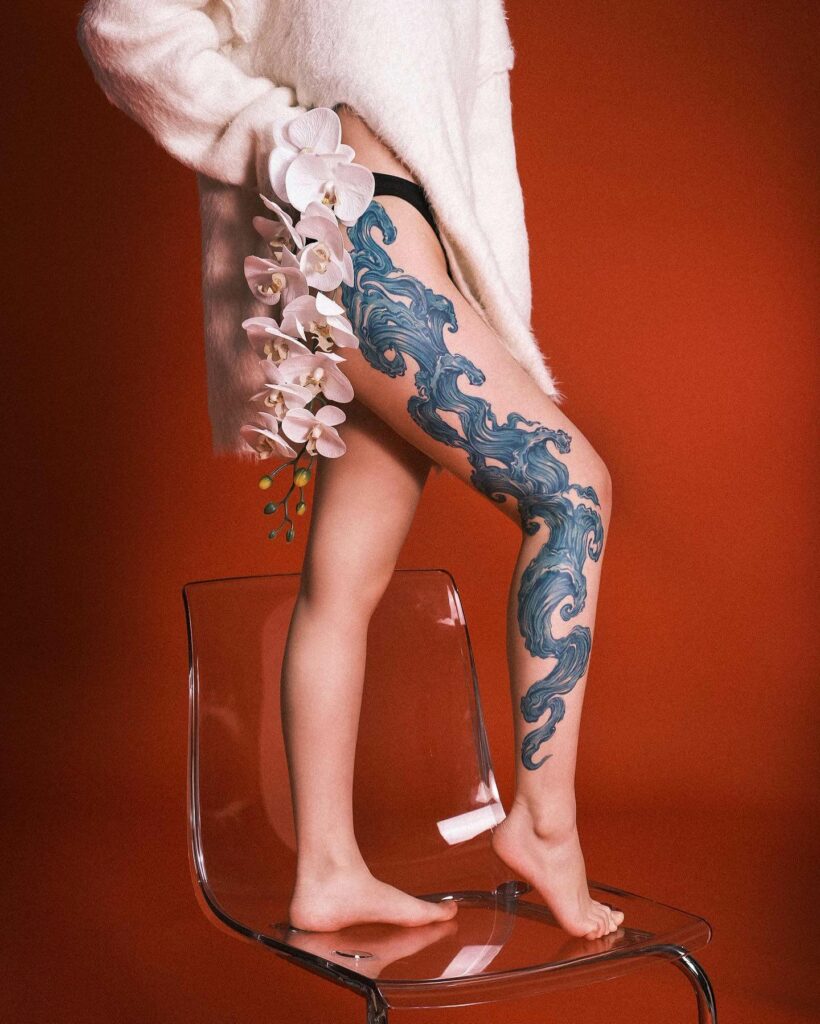 The side of the leg is an underrated yet excellent canvas for tattoo art, especially for women. The area provides a sleek and subtle space to showcase your favourite designs, such as this beautiful wavy pattern. The artist chose a gorgeous shade of blue that perfectly captures the essence of the sea. The waves are accented with delicate details, using a lighter blue to add depth and dimension to the tattoo. This blue colour is an ideal choice for those who want a more feminine touch than the traditional black ink. A chain effect, like these waves, can be a great starting point for designing your own leg tattoo.
Realistic Leg Sleeve Tattoo Design
Realistic tattoo designs on legs offer a larger surface area to showcase detailed artwork. In this half-leg sleeve design, the artist has inked a stunning portrait of the mythical character, Medusa, along with her serpents. To match the theme and mood, it is best to use black and grey ink for mythological characters like Medusa.
Contrary to popular belief, Medusa is a symbol of feminism and empowerment, who was subjected to mistreatment and abuse. Her story portrays the harsh realities of life and the struggle that women have to face. A tattoo of Medusa can be a powerful symbol of resilience and strength for women.
While sleeve tattoos on arms are popular, sleeve designs on the leg offer a unique and stylish look. Leg tattoos provide a spacious canvas for intricate designs, and they can be easily concealed if needed. So why wait? Visit your favourite tattoo shop to get started on your next leg tattoo today.
Still looking for inspiration, then checkout this blog post about japanese snake tattoos
Feature Image from Pinterest – Want your tattoo to look brighter? Try "Tattoo Balm"