Hey, fellow Libra enthusiasts and tattoo lovers! Are you considering a cosmic tribute to your zodiac sign? Dive into the world of stellar Libra constellation tattoos and discover the perfect design to express your celestial connection.
Zodiac constellation tattoos are a unique and stylish way to display your astrological pride. If you're a Libra-born individual, the alluring Libra constellation tattoo could be your next ink masterpiece, beautifully representing your sign's essence.
As the seventh sign of the zodiac, Libra's constellation depicts the iconic balance scales, symbolizing harmony and equilibrium in the world. You can even take it a step further and incorporate the goddess Themis, holding the scales, into your design. Don't forget the elegant swan, Libra's spirit animal, as a potential motif as well!
Zodiac tattoos have always held a special allure, and constellation tattoos offer a distinct, personalized touch. So, dear Libras, embark on this journey with us as we explore the captivating realm of Libra tattoo ideas, and perhaps, find the design that's destined to be your next tattoo.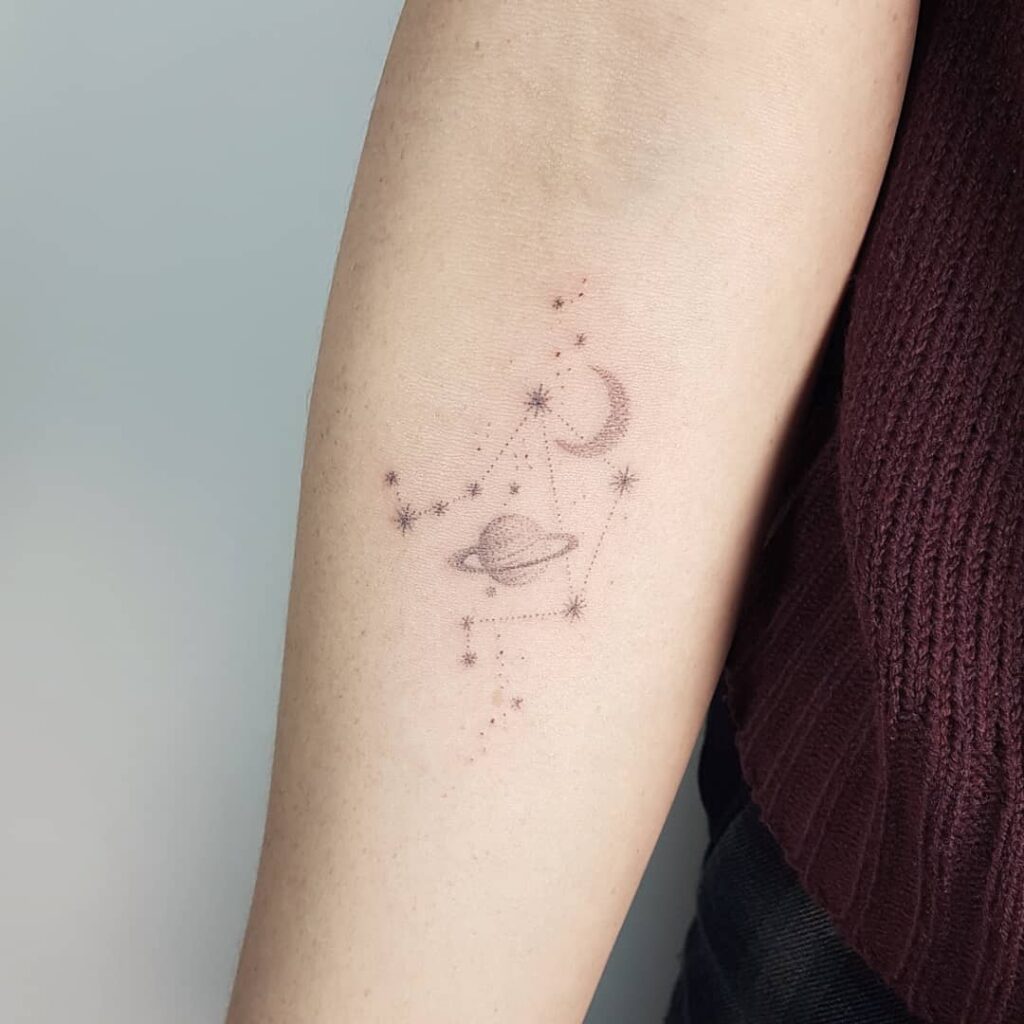 Libra Constellation Tattoo Geometric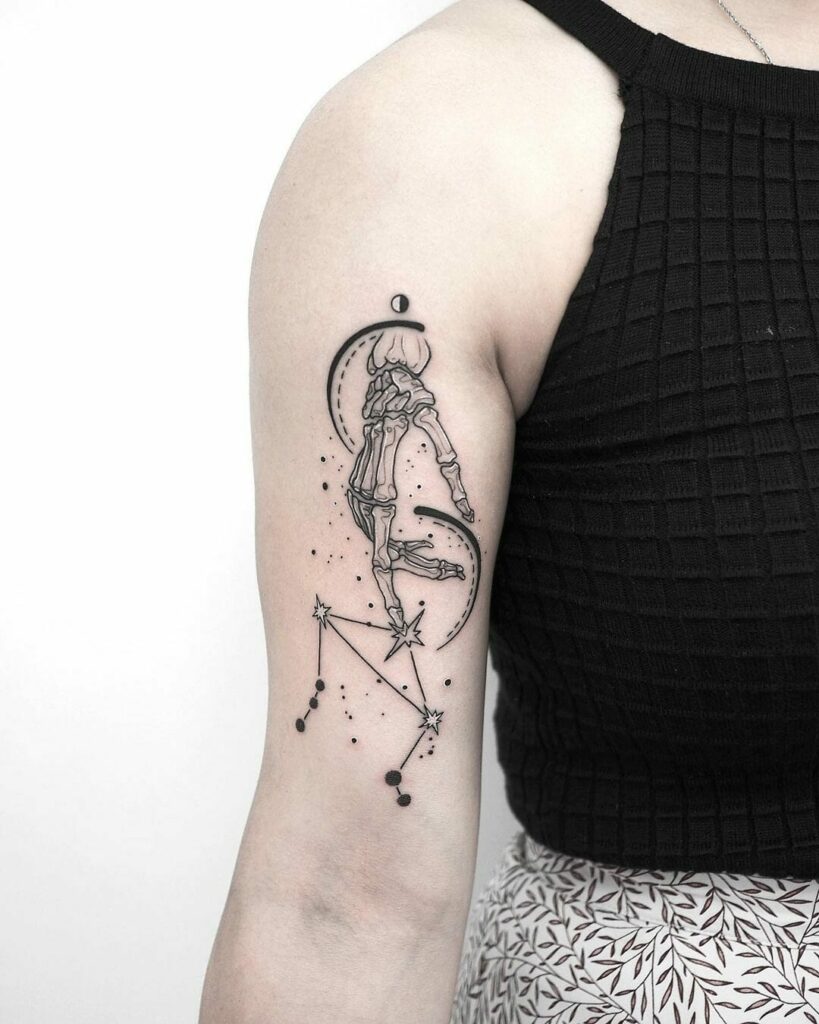 For those who are Libra zodiac astrology sign, there are many different tattoo designs available to showcase this sign on your body. This Libra zodiac tattoo is a unique design that goes beyond the constellation symbol. In addition to the star constellation of the Libra sign, there is a skeleton hand reaching out to touch one of the stars. The hand is surrounded by two semi-circles in double lines, with one line being dotted and the other being completely black. The skeleton hand represents both the celebration of life and the inevitability of death, making this tattoo both a birth and death sign combined in one design. The tattoo artist has beautifully combined these concepts to create a profound message that is perfect for those looking for meaningful Libra constellation tattoo designs.
Libra Goddess Tattoo
If you're a Libra looking to add a feminine touch to your zodiac tattoo, the lady of divine justice might just be the perfect design for you. This intricate Libra symbol tattoo features the goddess Themis holding the scales of justice in her hand, taking center stage in the design. The Libra scales are a crucial part of the zodiac sign, representing balance and harmony. In this particular tattoo, the artist has gone the extra mile, incorporating many elements that speak to the Libra air sign, including swirling air currents and celestial bodies like stars and the sun. The sun even features an eye that seems to look directly at the viewer. This Libra tattoo design is perfect for women who want to showcase their love for balance and the cosmos.
Libra Star Constellation Tattoo In Fine Lines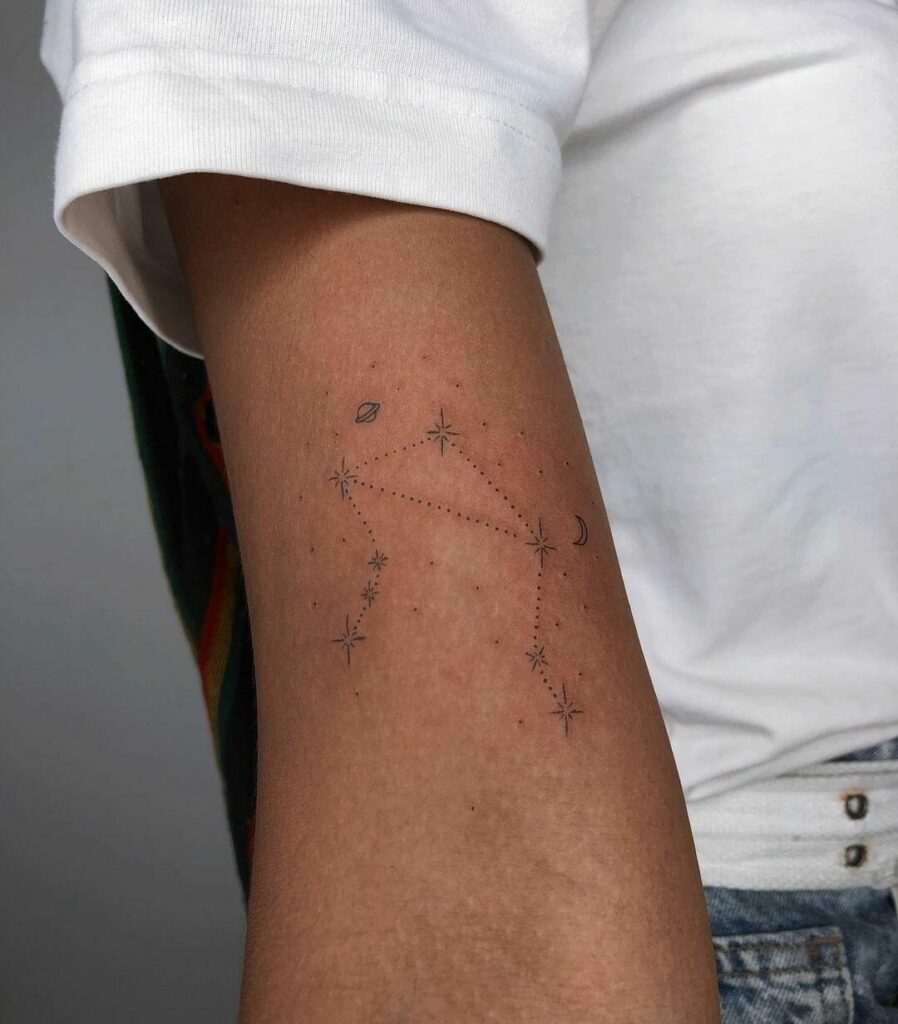 If you're looking for a Libra constellation tattoo that's subtle yet significant, this design is perfect for you. The tattoo artist has created the Libra constellation using fine lines, giving it a delicate and elegant appearance. The tattoo design also includes two additional symbols, one representing Saturn and the other, a tiny crescent moon. However, if you prefer, the crescent moon can be replaced with a sun symbol. The minimalist design of this Libra tattoo is perfect for those who want a subtle yet meaningful tattoo. To depict the sky, the tattoo artist has included tiny dots around the constellation, making it look like other stars are present in the sky. If you're a fan of Libra astrology and want to get inked with a tattoo that represents the Libra constellation, this is the design for you.
Constellation Libra Tattoo With Moon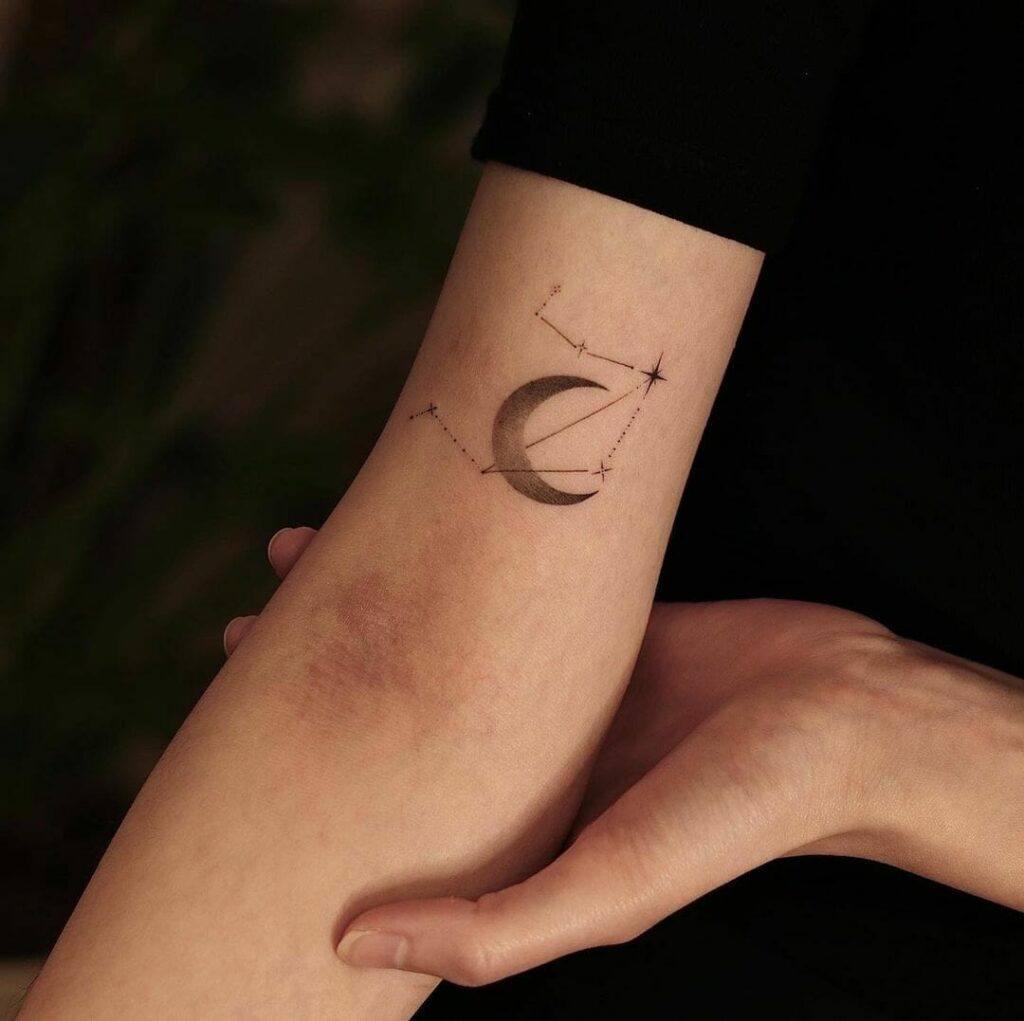 If you're a Libra and want a meaningful tattoo design, then combining the crescent Moon symbol with the Libra constellation is a great option. The crescent Moon is a powerful symbol that represents both birth and death in a spiritual sense, while the Libra scale symbolizes balance and harmony. By combining these two symbols, you can showcase the importance of finding balance in your life. This type of Libra constellation tattoo design is suitable for both men and women and is a great way to express your personality. Tattoo artists often add their own unique twist to constellation tattoos to make them more visually appealing. In this particular design, the crescent Moon is fully shaded and sits in the middle of the constellation, making it a perfect choice for those who prefer simple yet meaningful tattoos.
Libra Constellation Tattoo Design & Cross
For those looking for a Libra tattoo with a twist, a geometric design may be a great option to consider. This Libra tattoo, with its cross-shaped geometric design, is perfect for women looking to ink their wrist. The larger cross at the centre is embellished with smaller symbols, adding an extra layer of complexity to the tattoo. At the intersection of the cross design, four lines extend out equally into free space. These lines are a combination of dots and lines. Geometric Libra tattoos like this are perfect for those who want to stray from the traditional Libra constellation tattoos. The balance and symmetry that are a part of the Libra personality are well-represented in this design. If you're looking for a beautiful, simple, and elegant zodiac design for your wrist, then this tattoo idea is perfect.
Libra Zodiac Tattoo With Cat
This Libra tattoo idea is definitely unique, as it features a sleek and beautiful cat holding the scales that represent the Libra symbol. The balance of the world is conveyed through the scales, and adding a cute cat holding them makes the design even more interesting. With angel wings and a playful wink, this feline friend adds a touch of whimsy to the tattoo. Additionally, the cat is also the spirit animal of Aquarius, making this design a union of both zodiac symbols. If you are a cat lover and a Libra, this design is perfect for you. It's a fun and meaningful way to showcase your personality through ink.
Simple Libra Zodiac Sign Wrist Tattoo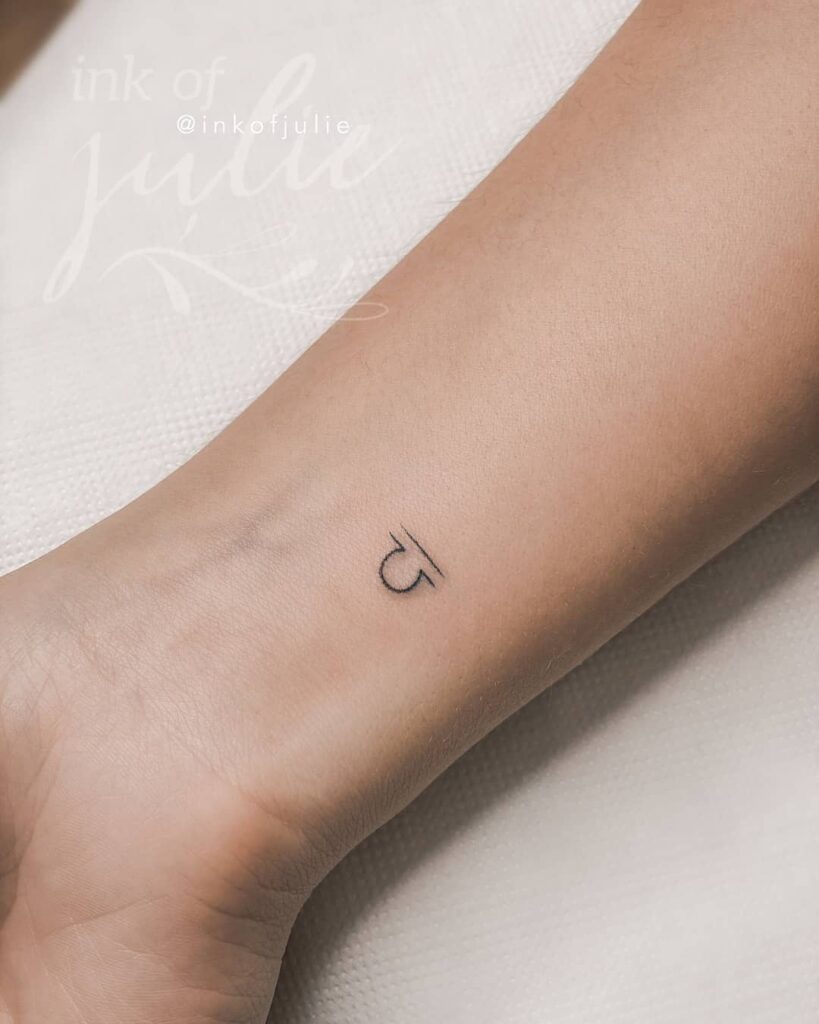 A delicate and minimalist way to showcase your Libra zodiac sign is by getting a tiny tattoo of the Libra symbol inked on your wrist. The symbol consists of scales, representing balance, justice, and equilibrium – key characteristics of Libra. The circle within the sign symbolizes the divine spirit of Venus, the ruling planet of Libra, while the cross below the circle links it to the Taurus zodiac sign. Interestingly, the symbol can also be interpreted as a sun setting. This tattoo is perfect for Libra women who prefer a simple yet meaningful design to represent their zodiac sign.
Libra Sign Sleeve Tattoo With Floral Patterns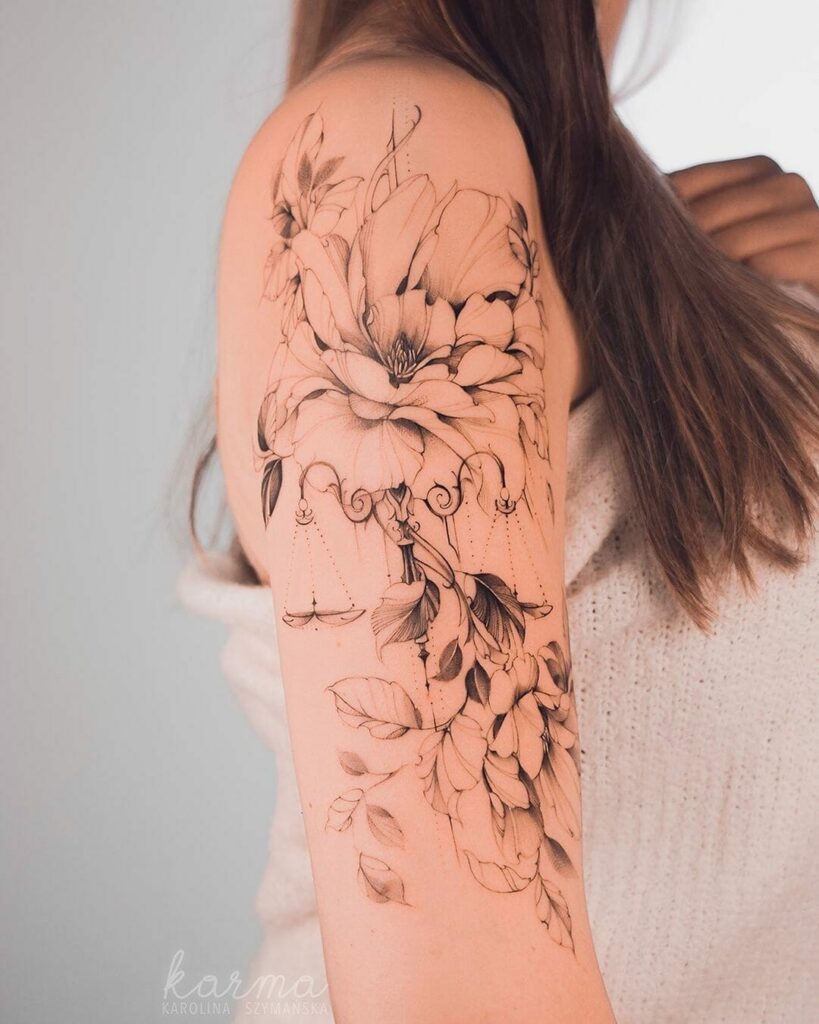 If you're a Libra woman looking to get a tattoo that's both feminine and representative of your zodiac sign, consider a floral design like this one. This particular Libra tattoo is a sleeve tattoo that covers a wide area of skin, with a prominent floral pattern and the Libra symbol of scales intertwined in the design. The flowers in the tattoo are used as a stand to balance the scales on either side, creating a beautiful and meaningful composition. This type of floral Libra tattoo idea is perfect for those who want to add a touch of elegance and femininity to their zodiac ink. If you're a Libra woman who loves flowers and wants a tattoo that represents balance and harmony, this design is a great option to consider.
Delicate Libra Tattoo Constellation Tattoo
Looking for a subtle yet meaningful way to represent your Libra zodiac sign? Look no further than this delicate and elegant fine line tattoo idea. This Libra constellation tattoo features a simple yet beautiful design that is perfect for women. The constellation is made up of fine lines and stars, but what sets this tattoo apart is the addition of a shaded crescent moon with a line running through the center. To further enhance the design, a dotted circle is included, which can represent the sun. With the sun, moon, and stars all present, this tattoo perfectly encapsulates the Libra zodiac symbol. Plus, the simple design makes it an excellent choice for a wrist tattoo. Don't underestimate the power of a simple design – this Libra constellation tattoo has deep meaning and significance.
Rose Libra Tattoo With Constellation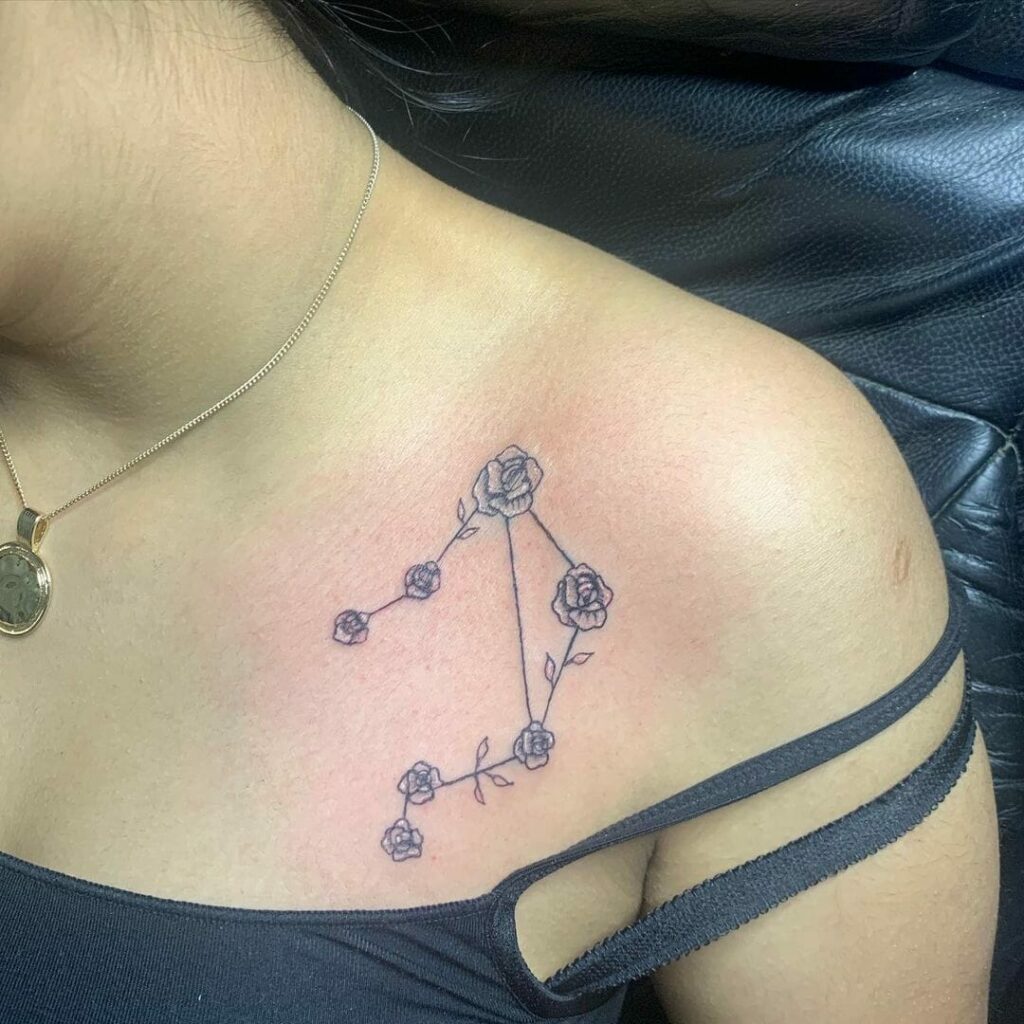 Libra constellation tattoos are a classic choice, and this particular design adds a unique twist. Instead of stars, this Libra constellation tattoo incorporates delicate roses, the flower that symbolizes the Libra zodiac sign. The combination of floral patterns and the Libra constellation makes for a beautiful and meaningful tattoo. This design is perfect for women who want a simple yet elegant tattoo that still represents their zodiac sign. And, this concept can be applied to other constellations as well, offering a range of options for those looking to get a floral constellation tattoo.
feature image from Pinterest – Want your tattoo to look brighter? Try "Tattoo Balm"