If you're searching for a powerful symbol to showcase your strength and resilience, look no further than the lion and cross tattoo. We've compiled a list of some of the most stunning and majestic designs to inspire you.
The lion and cross have a special connection, often depicted together in tattoos. This pairing has roots in the bible, where the lion represents Jesus Christ and symbolizes his triumph over death.
A lion tattoo can signify a person's ability to persevere through adversity and courage in the face of tragedy. The lion's meaning represents strength and bravery, making it a popular choice for larger, more noticeable tattoos.
Meanwhile, a cross tattoo can reflect your faith and commitment to your religion. For Christians, the cross is a significant symbol, representing the place where Christ sacrificed himself to save humanity. A cross tattoo can also represent Jesus' love, affection, and suffering for all humankind.
So, whether you're looking for a lion and cross tattoo to celebrate your strength and faith or simply appreciate their majestic beauty, we've got you covered. Join us as we explore some of the most beautiful and meaningful designs around.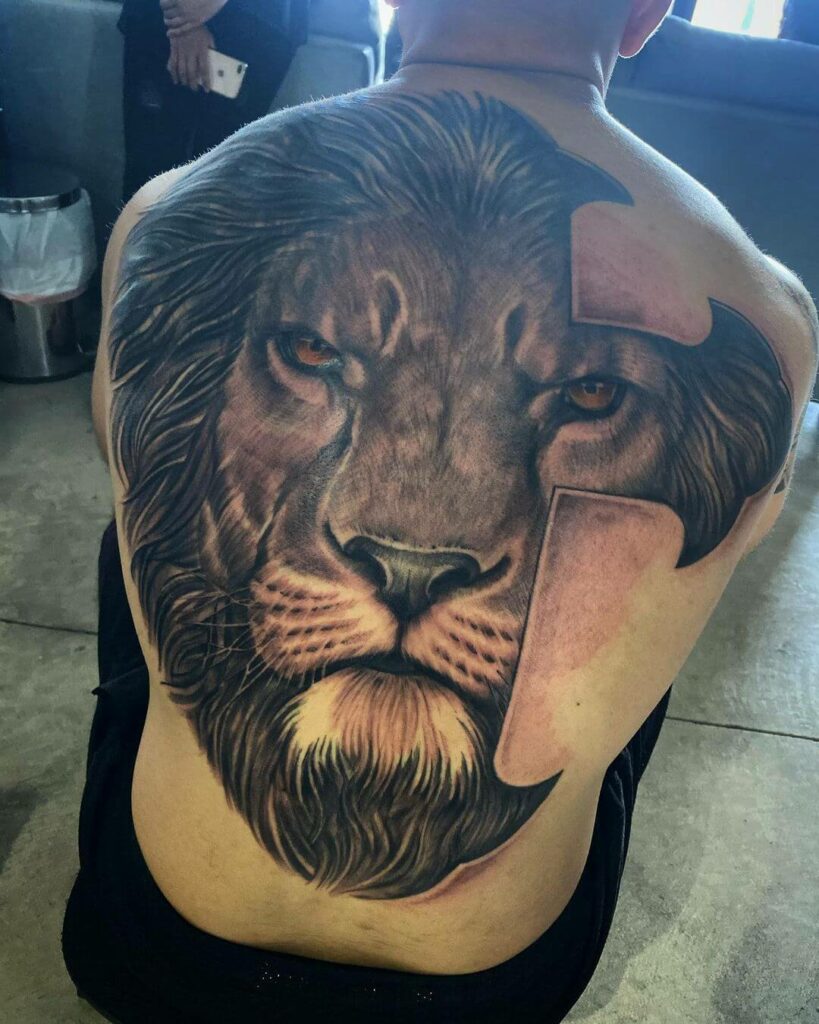 Lion And The Cross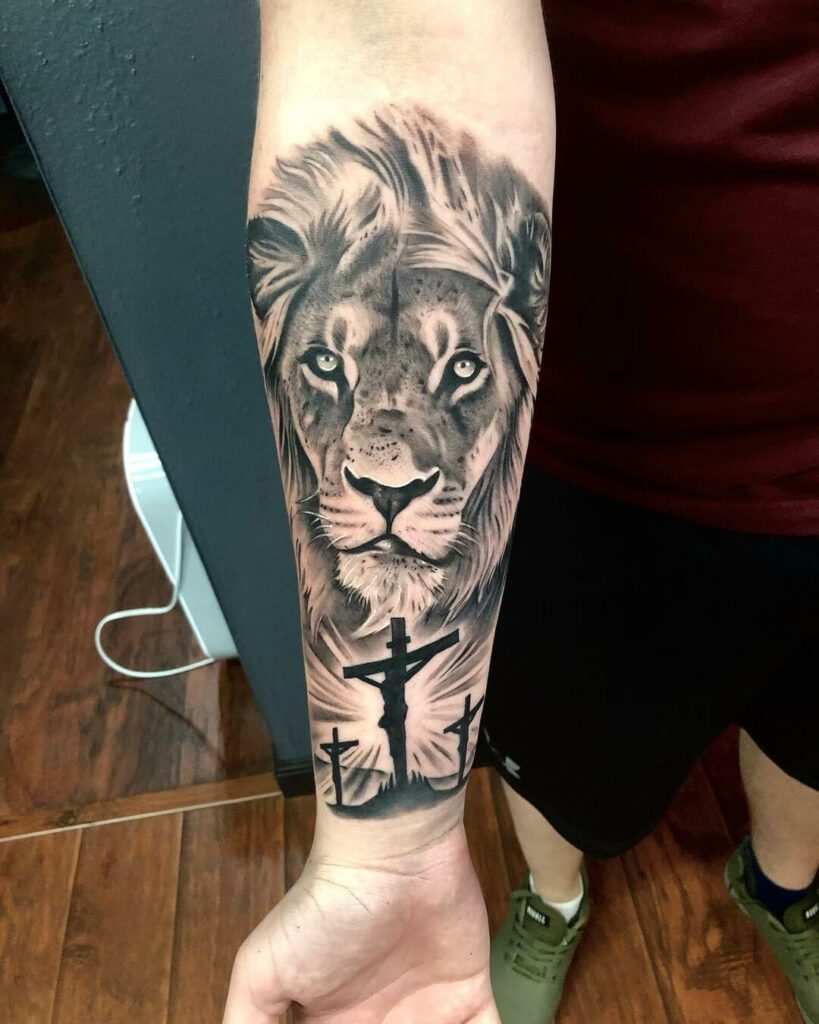 The rays of light coming out from where Christ died add a spiritual and divine touch to the tattoo. This lion tattoo design is perfect to showcase the strength and courage of the king of the jungle along with the faith in Christ. It is a great idea to get inked if you want to pay homage to these two powerful symbols.
This is a wonderful art style that can be inked on the inner or upper arm, and it is suitable for both men and women. The large and detailed design makes it a perfect choice for a full sleeve lion tattoo. The lion's fierceness and Christ's power together make this tattoo a true masterpiece.
Lion shaped like a cross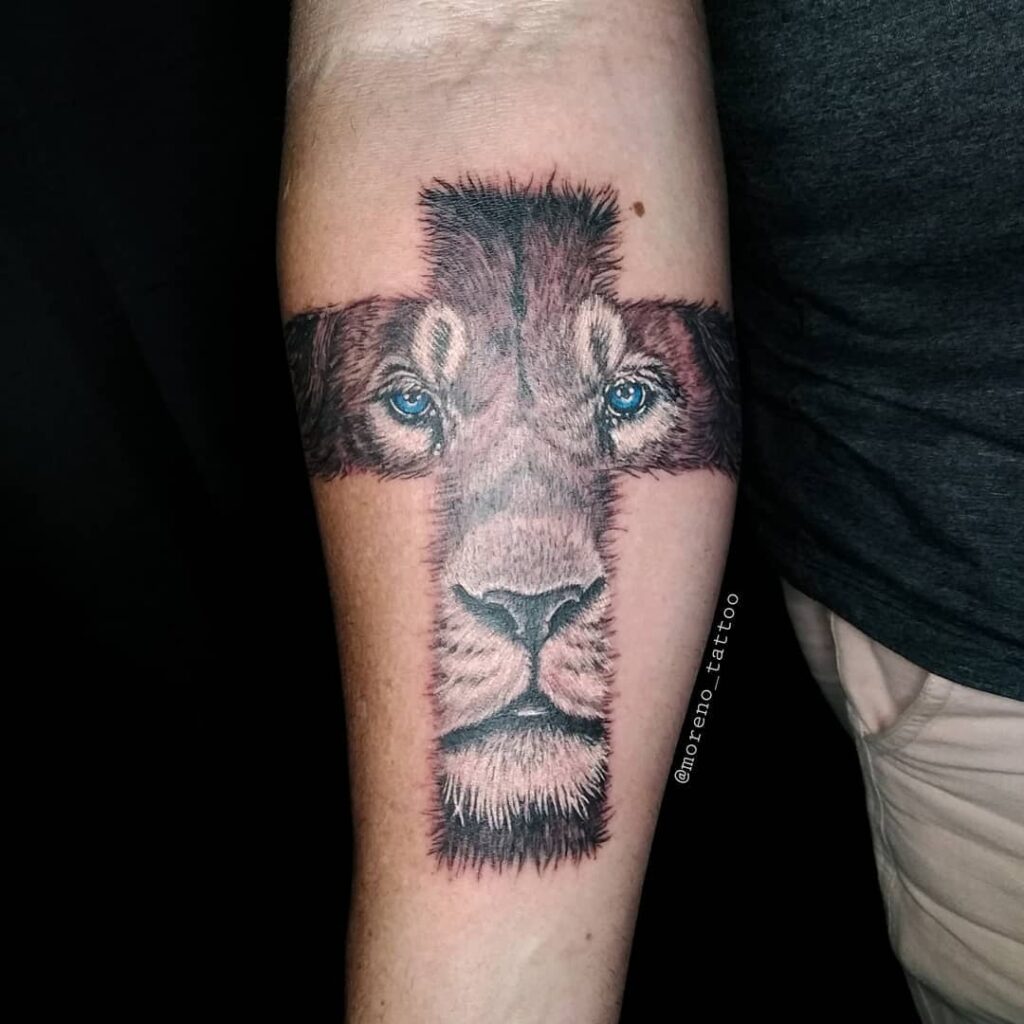 This lion tattoo design is truly unique, as it takes the form of a cross while also depicting a powerful-looking lion. The intricate details of the lion's fur at the edge of the cross make for a beautiful design. This tattoo is a great option for those who want to incorporate their religion into their ink while also adding their personal touch. The stunning blue and piercing eyes of the lion and its majestic mane make the design even more appealing.
This lion and cross tattoo is versatile and can be worn as a full sleeve tattoo or a lion forearm tattoo. It can also be sized to fit perfectly as a lion back tattoo. The lion's fur peeping out from the cross is incredibly realistic and makes the tattoo stand out. This is a truly unique lion tattoo design that is sure to impress all who see it.
Half cross Lion of Judah Tattoo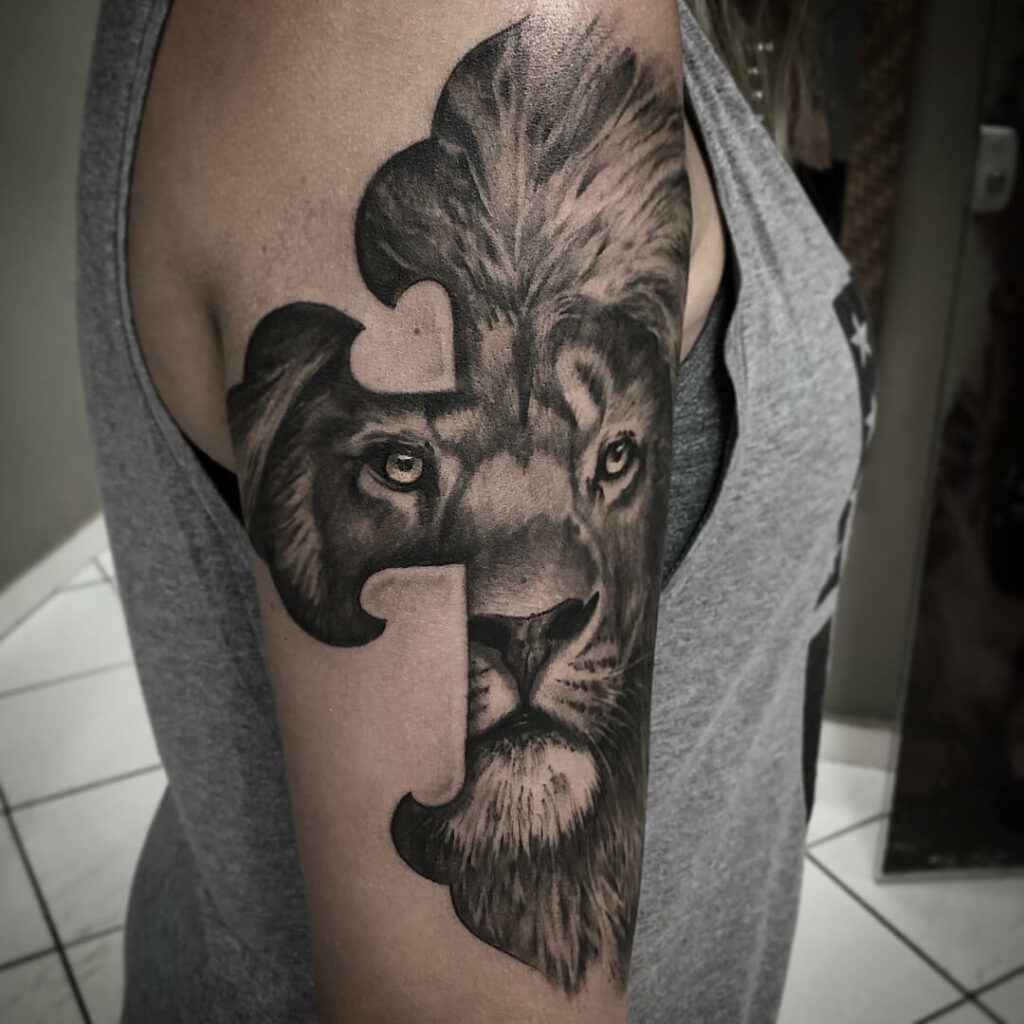 This lion tattoo design is truly awe-inspiring, with the ferocious-looking lion appearing half-constrained by a cross. The lion's expression is serious and intense, and the hidden parts of the animal behind the cross only add to its mystique. This design could very well be representing the Lion of Judah.
For those unfamiliar, the Lion of Judah is an emblem with deep Jewish historical and cultural significance that has long been associated with the Israelite tribe of Judah, a group of descendants of Jacob's fourth son, as described in the Torah. This striking lion tattoo design would look great as a shoulder tattoo, and it is one of those designs that can also work well on the arms and legs. It can even be tailored to your preferences, resulting in a unique and stunning lion sleeve tattoo.
Lion looking through a Cross Tattoo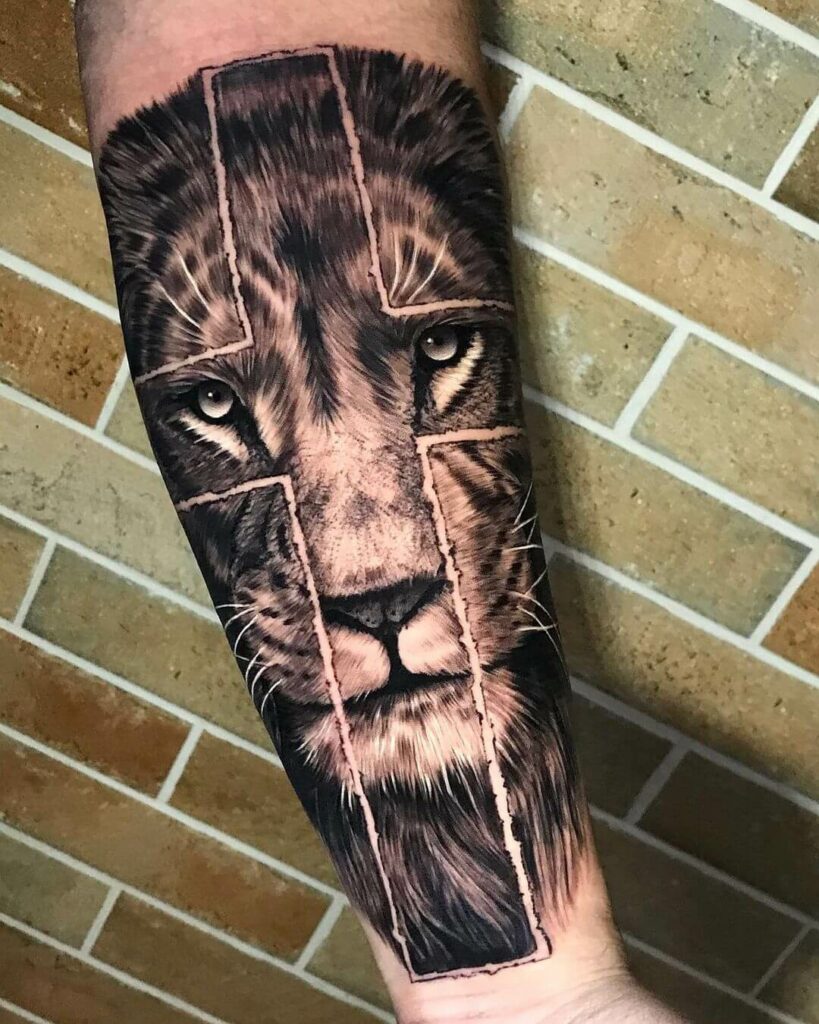 This lion and cross tattoo is a wonderful combination of two powerful symbols – the lion and the cross. The tattoo design portrays the lion's whole face, exhibiting strength and power. The cross is superimposed on the lion's face, extending from top to bottom and side to side, creating a magnificent tattoo design.
The lion is a symbol of bravery, courage, and leadership, and the cross is an emblem of sacrifice, love, and devotion. This tattoo design is an excellent representation of these two concepts, creating a powerful image of strength and sacrifice.
This is an excellent tattoo design for those who want to display their love for their faith and their respect for the lion as a symbol of strength and courage. It is a great option for a lion arm tattoo or a lion back tattoo, and it is sure to grab the attention of everyone who sees it.
Coloured Lion Cross Tattoo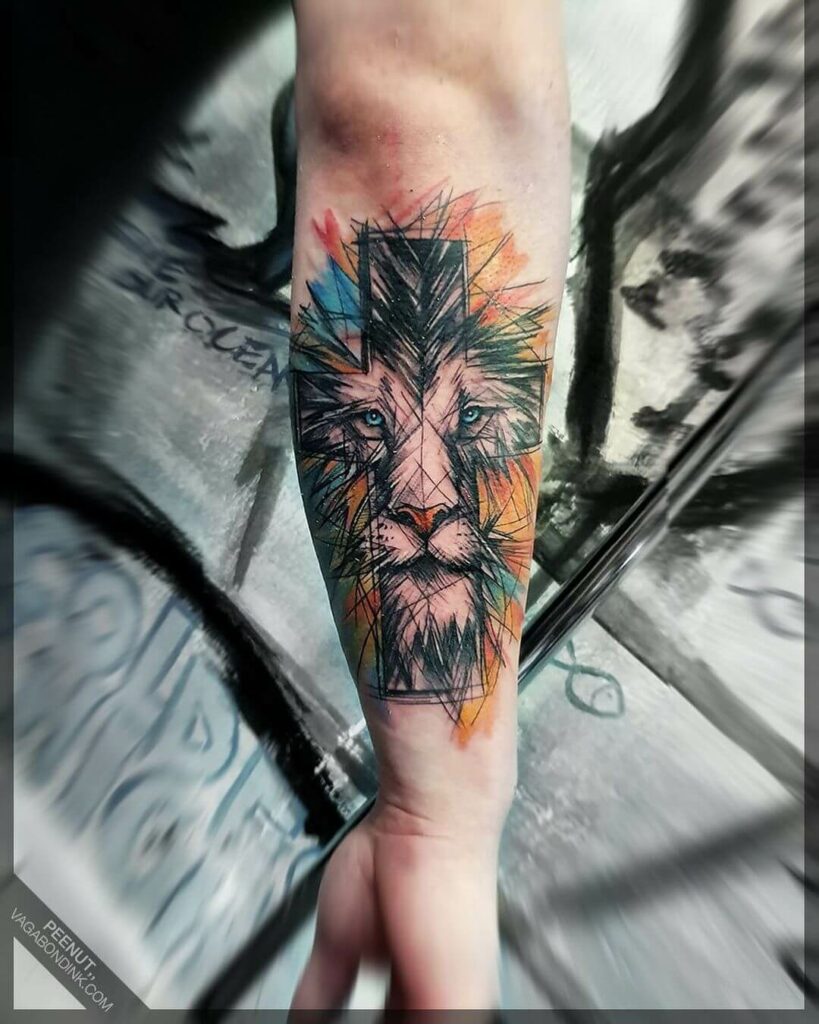 This lion tattoo design is an absolute stunner that portrays the strength and power of the king of the jungle. The lion's face is inked within a cross symbol that makes it look very regal and royal. The lion's eyes are captivating and intense, making the design even more stunning. The lion's mane is the standout feature of this tattoo, with its beautiful blend of colours like orange, blue, and green.
If you are looking for a lion tattoo that is both fierce and beautiful, this design is a great choice. This design will look fantastic as a lion chest tattoo or as a tribal lion tattoo. It celebrates the rich heritage of the lion king and is perfect for anyone looking to pay homage to their love for the jungle. The intricate detailing in this design makes it one of the best lion tattoo ideas out there, and you can get it customized according to your preferences.
Lion and Cross with Patterns
This lion tattoo design is a true masterpiece with a unique touch of geometric art. The tattoo portrays a majestic lion inside a cross shape that is surrounded by intricate patterns of flowers, shapes, and lines. This is one of those tattoo ideas that showcase the ferocity of the lion's eyes that are beautifully captured in this design.
The combination of geometric shapes and the lion's face gives this tattoo a modern, trendy look, making it a popular choice among tattoo enthusiasts. The patterns around the geometric lion tattoo are thoughtfully designed, and they could represent the other animals over which the lion reigns supreme. The attention to detail and the use of multiple colors make this design stand out from the rest, and it will undoubtedly look stunning as a lion forearm tattoo or a lion chest tattoo.
Lion and Cross Realistic Tattoo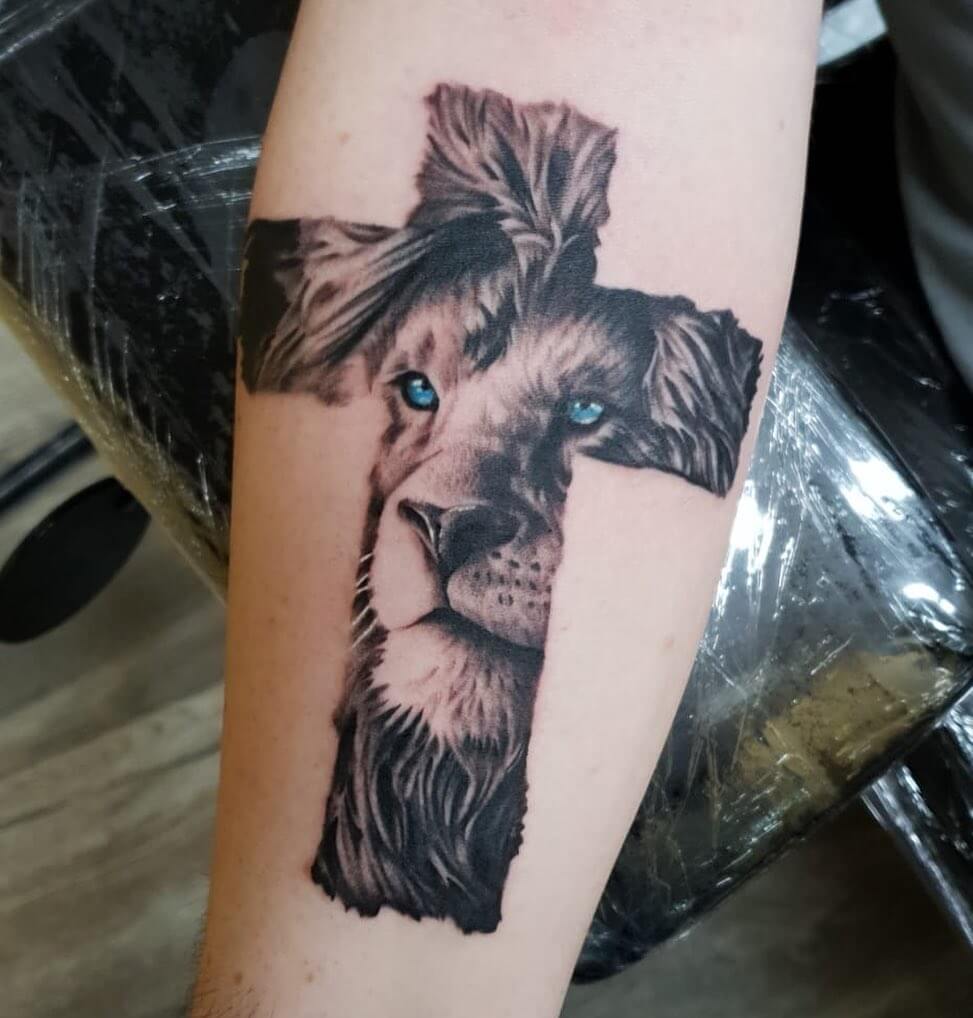 This lioness tattoo design exudes strength and ferocity with its intense red eyes and open mouth. The small cross around the lion's eye adds a touch of symbolism to the tattoo, reflecting the importance of faith and courage in one's life.
Lioness tattoos have become a popular symbol of female empowerment and courage. The lioness, known for its hunting prowess and protective nature, is a perfect representation of strength and ferocity. This roaring lion tattoo can be a great choice for those who want a bold and powerful design that reflects their inner strength.
With its smaller size, this female lion tattoo can be a great option for a wrist tattoo, especially when combined with a cross tattoo design. This tattoo is perfect for those who want to
Angry Lion with Cross Eye Tattoo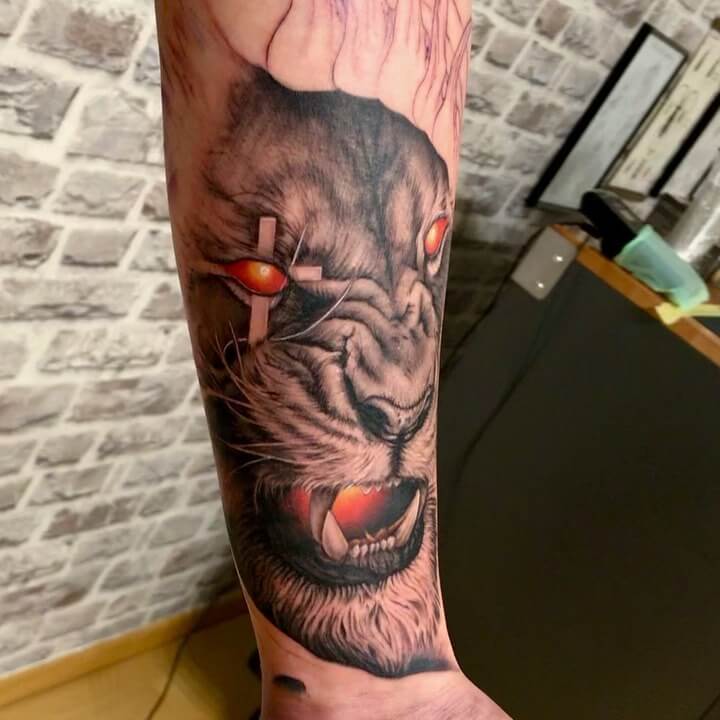 This stunning female lion tattoo showcases the powerful and fierce nature of lions with its aggressive and angry expression. The lioness's eyes and mouth are inked in red, adding to the ferocity of the design, and a small cross symbol on the lion's eye accentuates its power. The cross and lioness motif is symbolic of the strength and courage that these majestic animals embody.
The roaring lion tattoo is a timeless classic that looks great on any part of the body, and this female lion tattoo is no exception. With its intricate details and realistic depiction, this tattoo is perfect for anyone who wants to showcase their love for these amazing creatures. It would make a great lion tattoo for women who want to embody strength and power in their tattoo designs.
If you're looking for a smaller tattoo design, a lion tattoo on wrist would be perfect. The cross and lion design of this tattoo can be easily scaled down to fit on your wrist, making it a great option for those who want a subtle yet meaningful tattoo.
King Lion with Cross Tattoo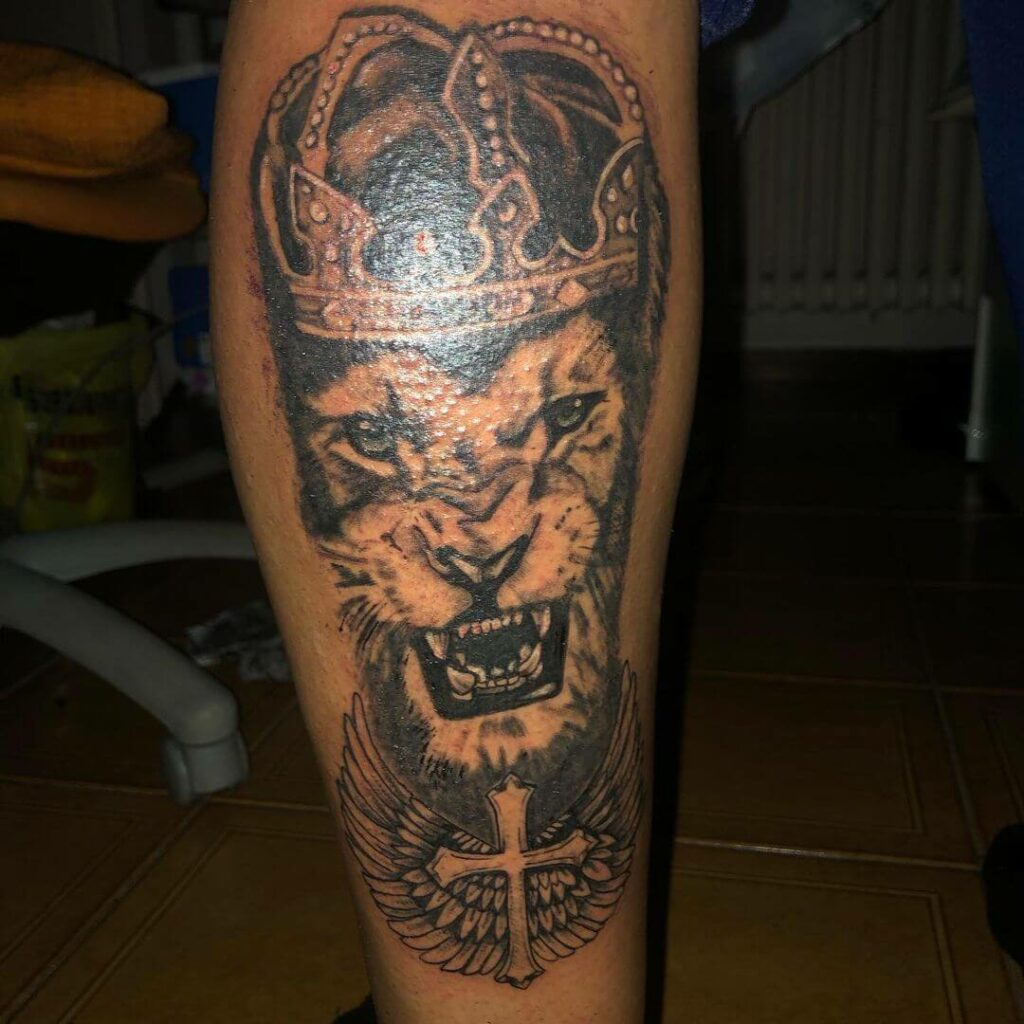 The lion tattoo design showcases a powerful and majestic roaring lion adorned with a crown on its head, symbolizing the regal status of this king of the jungle. A cross tattoo design underneath the lion and its wings give it a more angelic look. The pride and strength of the lion are depicted in this tattoo, as they are a symbol of courage and leadership.
The winged lion is a popular symbol in many cultures and religions, such as Christianity and ancient Persia, where it is regarded as a protector and a symbol of royalty. The lion tattoo can also represent the zodiac sign of Leo, which is associated with traits like strength, courage, and leadership.
This is a small but powerful tattoo design that can be placed anywhere on the body, from the arm to the back or the chest. It's a great choice for anyone who wants to showcase their strength, courage, and regal bearing.
Majestic Lion With Cross Tattoo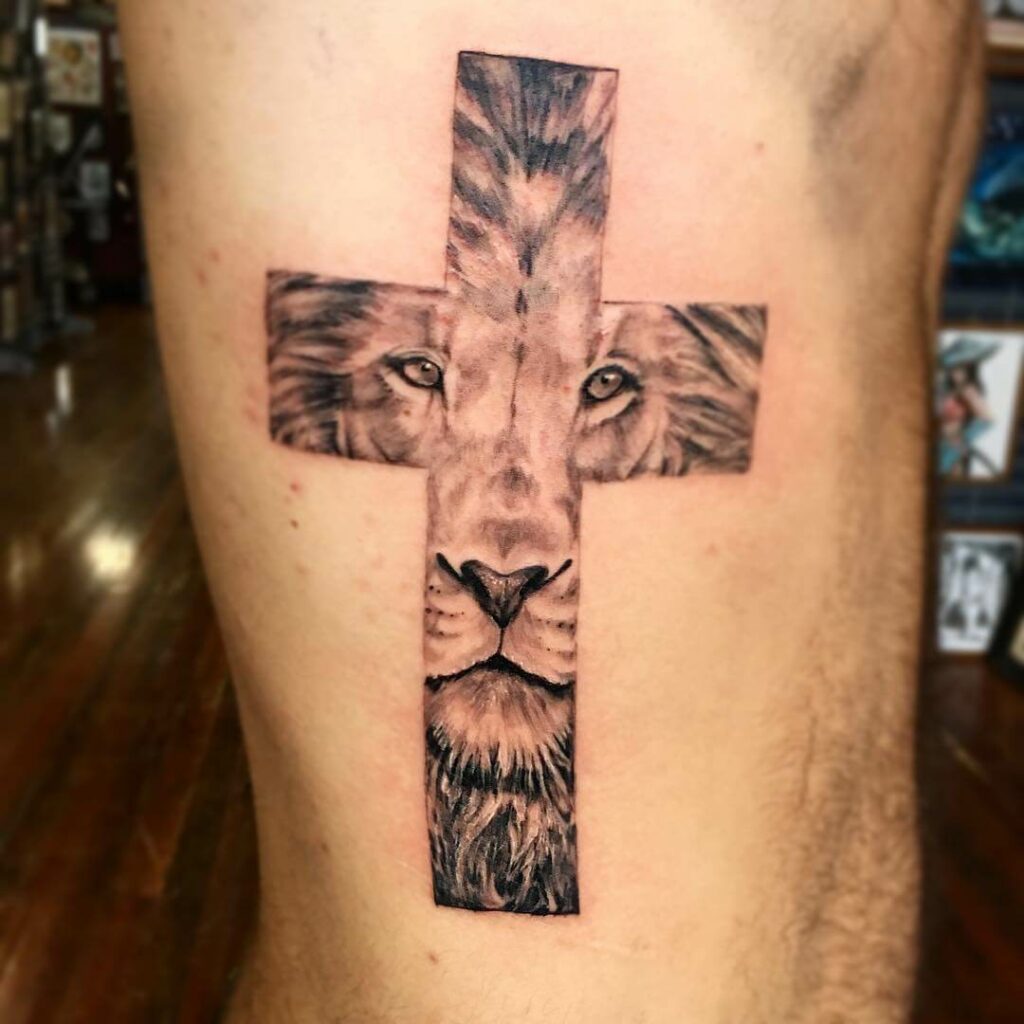 This is a stunning lion tattoo design that showcases a majestic lion with a large cross that extends from its head to its eye. Underneath the lion is an image of Christ being crucified, symbolizing the lion as a protector. The lion's mane is depicted in a fiery manner, adding to its regal appearance. The shading on the tattoo is beautifully done, giving it a very realistic and tribal feel.
This lion tattoo design exudes both power and serenity, making it a unique piece of art. The lion is portrayed as a divine figure, appearing to be god-like in the tattoo, and reflecting the intense emotions associated with faith and religion.
Feature image from Pinterest – Want your tattoo to look brighter? Try "Tattoo Balm"