Hey there! Are you on the hunt for a tattoo that showcases your fierce and powerful spirit? Look no further! Check out these awesome lion and lioness tattoo ideas that will show off your strength and cleverness to the world.
If you want to display your regal nature and family lineage, a geometric lion tattoo is a great choice. Meanwhile, a gray lioness tattoo is perfect for those who value intelligence and cleverness. In fact, the lioness is often seen as the queen of the jungle, making it a popular choice for women.
As we all know, the lion is the king of the jungle, so a lion tattoo is perfect for those who want to display their fearless and courageous attitude. On the other hand, a lioness tattoo symbolizes a counteractive and shrewd personality. Typically, men opt for lion tattoos, while women prefer lioness tattoos, but getting a matching lion and lioness tattoo as a power couple is a great way to showcase your bravery and intelligence as a team.
In fact, the lion and lioness are often viewed as a power couple, with the female lioness as the matriarch of the family and the male lion as the king. The child of this power couple can even get a cute cub tattoo to show off the family's strength and dominance. Check out our list of the best lion and lioness tattoo ideas to find the perfect design for you!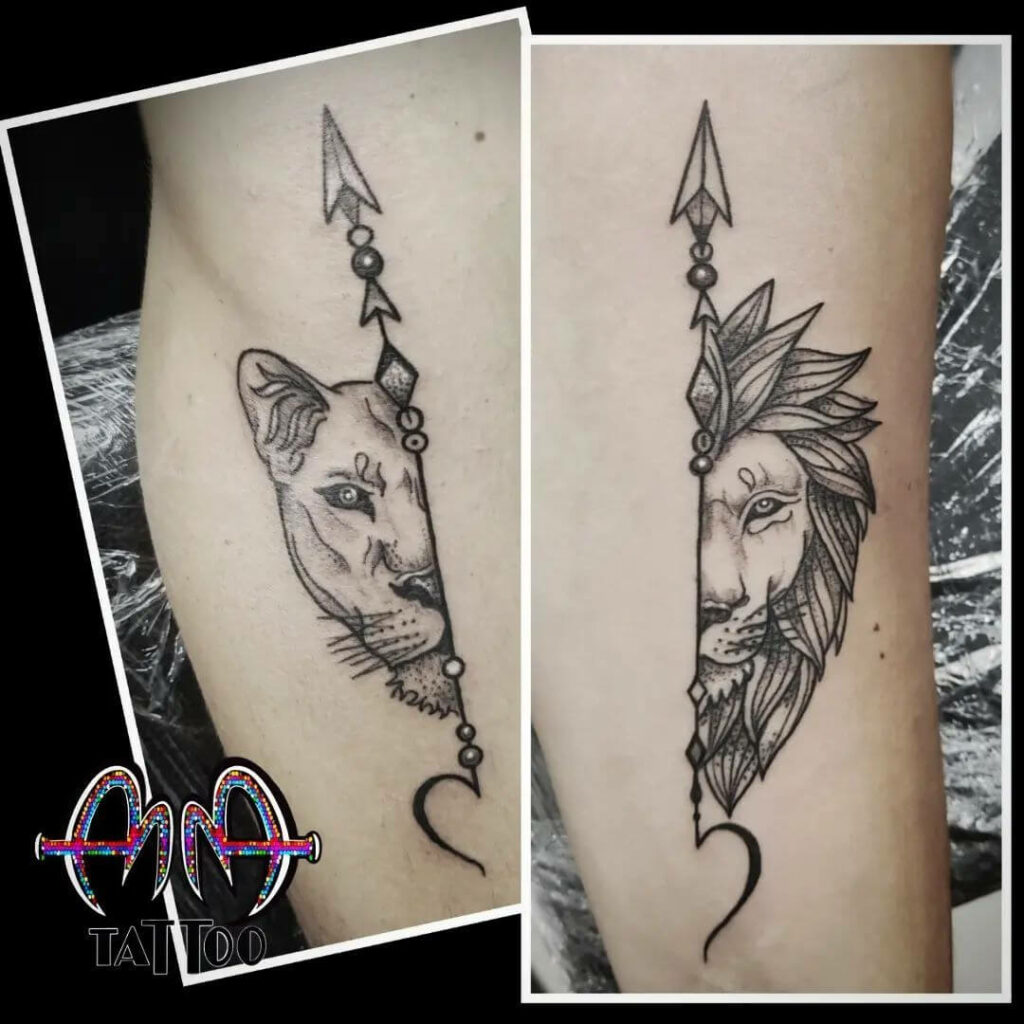 Gray Shading Matching Lion And Lioness Tattoo Ideas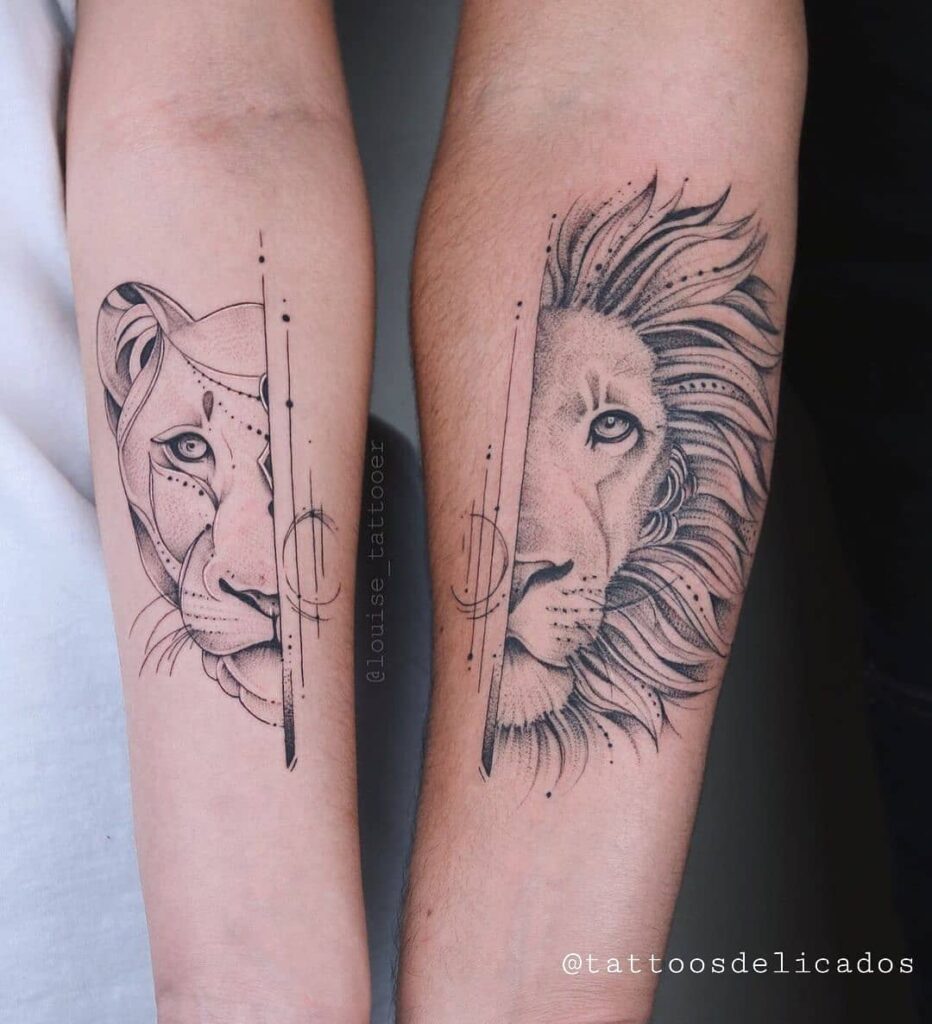 The one on the man's hand is truly a work of art created by a skilled tattoo artist. It's a lion tattoo, which is also known as a Leo tattoo, and it's a popular choice for many people. These types of tattoos usually represent strength and power and are often associated with a crown, signifying royalty and dominance.
Now, the lioness tattoo on the woman's hand is equally stunning! This one is done in gray shading with black ink, giving it a unique and beautiful look. Lioness tattoos, just like the male lion, represent strength and power, but they also have an added layer of meaning. They symbolize the fierce and protective nature of a mother or wife, making it a popular choice for women.
People often get lion tattoos for various reasons. Some love the symbolism of strength and power, while others are drawn to the lion's piercing gaze and captivating eyes. Sometimes, people even use the tattoo as a metaphor for the lion's crown, symbolizing their own inner strength and power.
So, whether you want to show your strength and power or honor the importance of family, a lion or lioness tattoo could be the perfect choice for you. Just make sure to find a skilled artist who can bring your vision to life!
Realistic Brave Lion Tattoos For Men
In the picture, you can see a brave and majestic lion gazing intently at his surroundings. It's a creative and meaningful design that can represent a lot of different things depending on where you place it.
If you're thinking about getting this tattoo on your hands, it could mean that you're someone who pays close attention to the world around you. Placing the tattoo on your shoulder can signify that you have an added responsibility or burden to carry, while putting it on your arm with a larger design can give you a sense of added strength.
Some people also choose to add vibrant colors to their lion tattoos, adding a deeper layer of meaning and symbolism to their lives. The black ink used in this tattoo adds a sense of seriousness and larger-than-life attitude, making it a powerful and impactful design.
Overall, this lion tattoo is a great choice for anyone looking to showcase their strength, bravery, and courage. So why not get in touch with a skilled tattoo artist and see how they can bring this incredible design to life for you?
Married Love Lion And Lioness Tattoo Ideas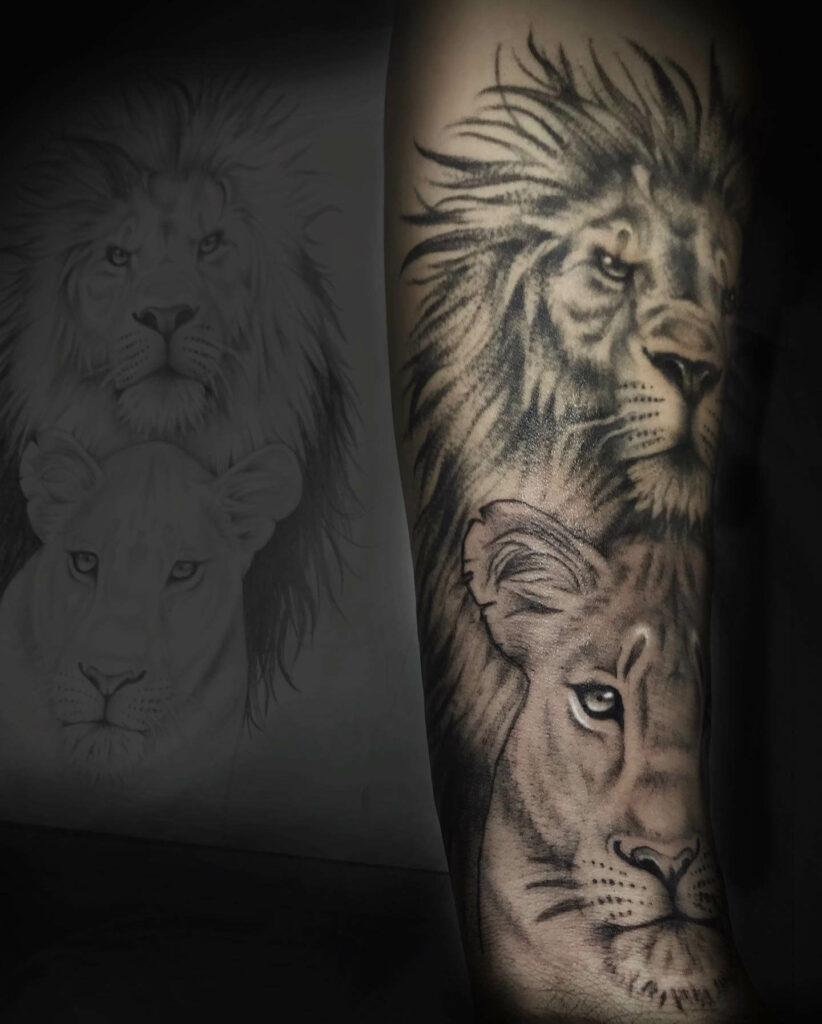 If you're looking for a couple's tattoo idea that symbolizes love, loyalty, and mutual respect, the lion and lioness tattoo might be just what you need. This design features a regal lion with a solemn expression and a lioness with a kind and forgiving look, representing the coordination and strength of the animal kingdom's king and queen.
When it comes to placement, the arm is a great spot for this tattoo, but you can also get it inked on any part of your body that you feel comfortable with. The key is to find a skilled and experienced tattoo artist who can bring this beautiful design to life.
As a symbol of mutual understanding and eternal love, this tattoo idea is perfect for couples who want to create a special bond and invisible angular lines between each other. Whether you're a man or a woman, this couple-friendly tattoo design is a beautiful way to showcase your commitment to your partner. Just be sure to take the time to consider the meaning behind the tattoo and communicate openly with your partner before making this permanent decision.
Mother With Cub Sketched Gorgeous Lioness Tattoos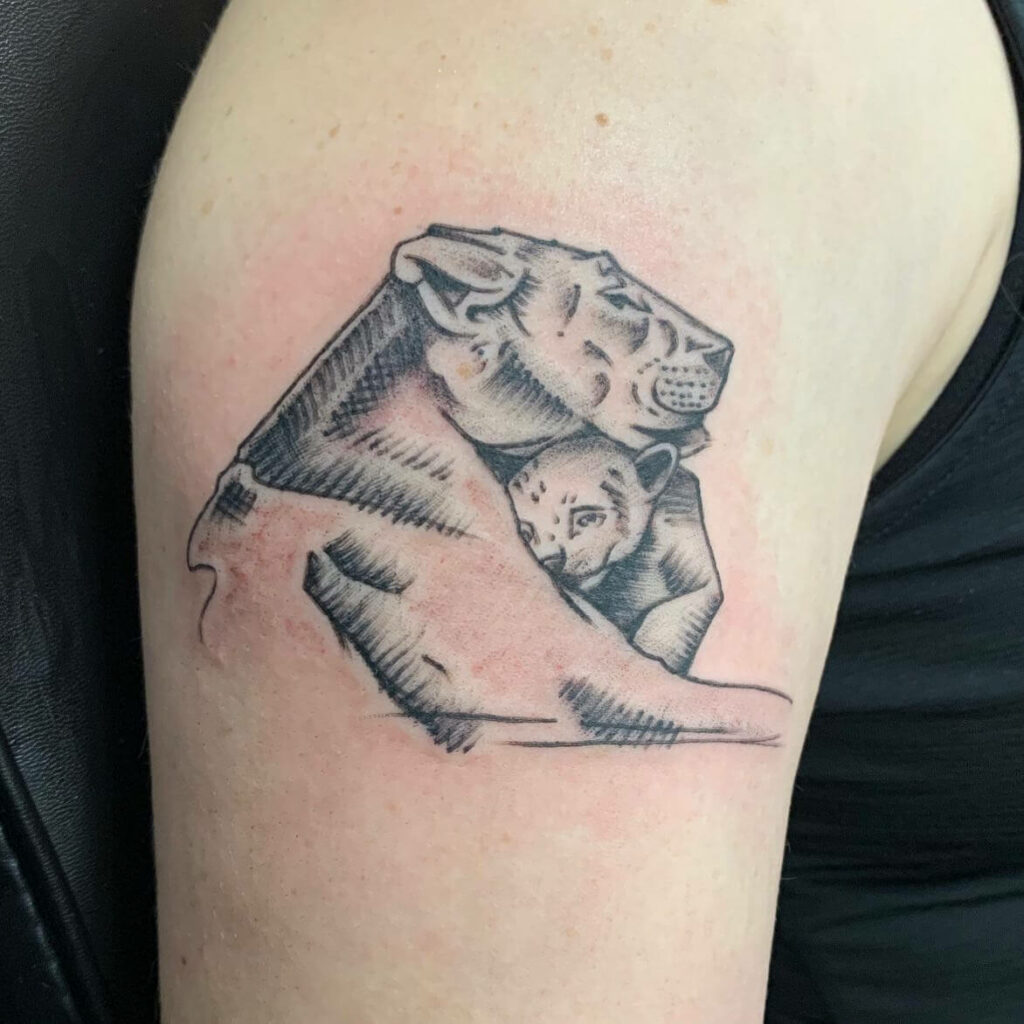 If you're a mother looking for a meaningful tattoo that celebrates the bond between you and your child, the lioness tattoo might be just what you're looking for. This design features a fierce and responsible lioness taking care of her cub, symbolizing the love and protection that mothers provide.
When it comes to placement, the hand is a popular and practical option for this tattoo, as it allows you to keep the design close to your heart and easily visible to your child. Of course, you can also choose to keep the tattoo covered if you prefer.
Lioness tattoos are a great way for mothers to showcase their love and affection for their children, but they're not just for women – men can rock this design too! The sketched style of these tattoos creates a simple yet stylish look, and the protective stance of the lioness is sure to make your child feel safe and loved.
Just remember, getting a tattoo is a personal choice and should be thoughtfully considered. Be sure to choose a reputable and experienced tattoo artist who can bring your design to life in a way that is safe, hygienic, and true to your vision.
Light Black Ink Flowery Mother Lioness With Cub Tattoo Ideas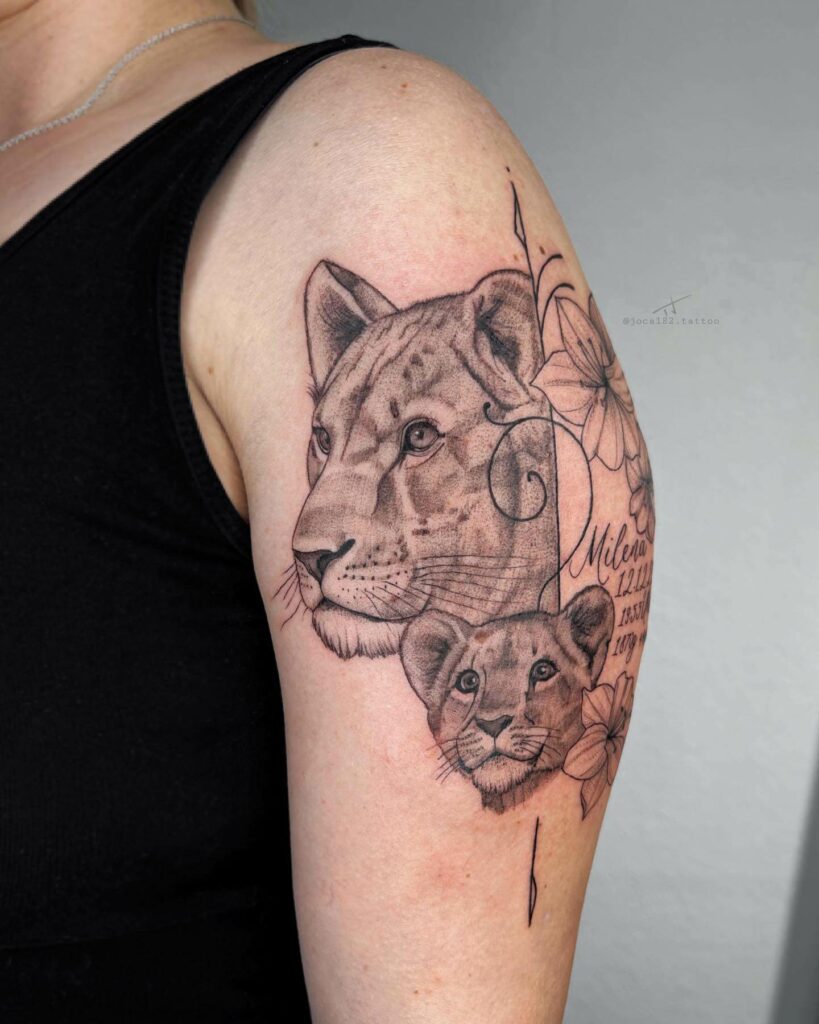 This design features a passionate mother lioness who is looking after her cub with a great sense of authority and worry, showcasing the fierce love and protection that parents provide for their children.
Although these lioness tattoos are often targeted towards mothers, fathers can also appreciate and rock this design. The tattoo itself portrays a powerful image of a mother lioness returning from hunting after a few years, as the urge of the cub to be with their mother becomes stronger. Mothers who often get these tattoos done have experienced similar situations, which is why they often ink them on their hands as a constant reminder of their children, even when they're away from them.
The black and white complexion of this design adds depth and emotion to the image, reflecting the mood of the natural world surrounding the lioness and her cub. If you're considering getting this tattoo, be sure to choose a skilled and experienced artist who can bring your vision to life in a way that is safe, hygienic, and true to your personal style.
Larger Design Blue-Eyed Crowned Lion Tattoo Ideas
This majestic tattoo features a crowned lion roaring like a king, which symbolizes vigor and respect through someone.
The forearm is a great location to showcase this larger design, as it provides a bold and eye-catching display. And the best part? This tattoo is suitable for both men and women! It's a popular choice for people who have immense respect for themselves, as the lion represents power and confidence. Ambitious and successful individuals also choose this design as it's a symbol of their determination and perseverance.
The blue eyes of the lion and its fierce roar signify its intense focus and concentration on its surroundings, which makes it a perfect choice for people who possess these traits. If you're looking for a tattoo that represents your inner strength and focus, consider getting a blue-eyed lion tattoo! Just be sure to choose a reputable and skilled tattoo artist to ensure that your design is created safely and accurately.
Left Arm Fierce Lion Tattoo Idea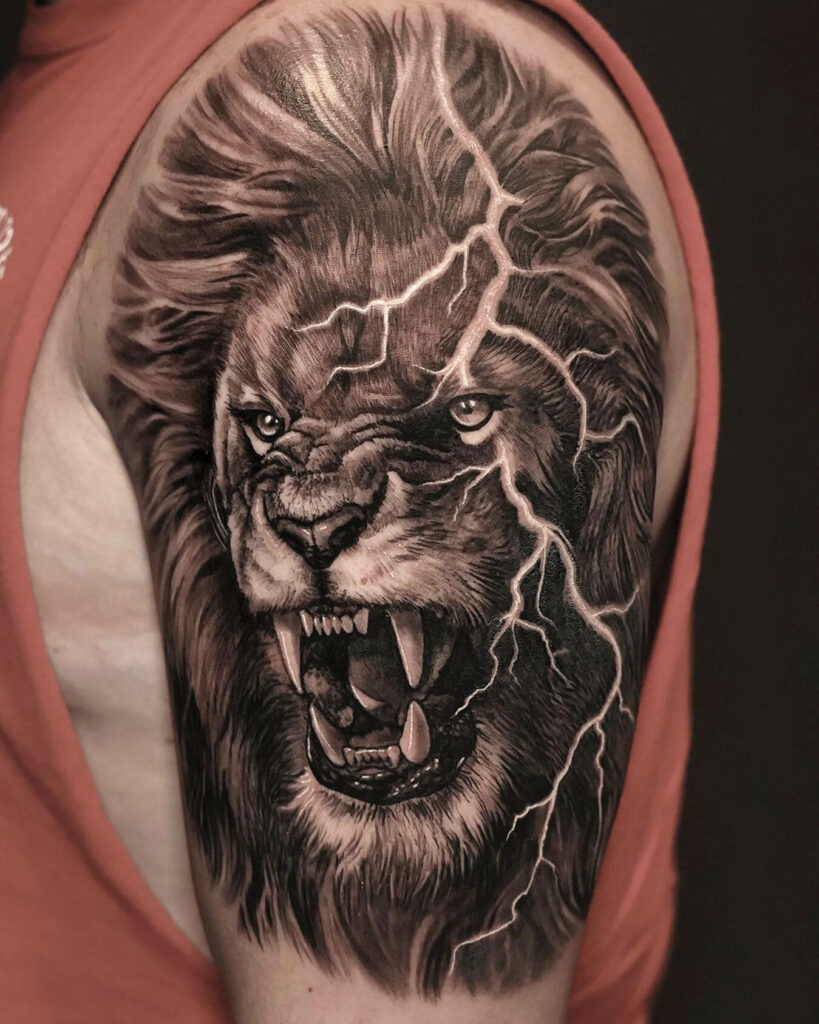 This lion tattoo is a symbol of a fierce and powerful lion who is displaying its strength and animalistic instinct. It's a popular choice among men, who often choose to get it inked on their arms.
This tattoo is all about showcasing courage and bravery in both your private and public life. If you're someone who's facing a lot of challenges and fighting against them with determination, then this tattoo could be the perfect way to celebrate your resilience. People with a bold and strong personality also often opt for this type of tattoo as it's a great way to showcase their personality traits.
Upper Back Black Inked Lion And Lioness Family Tattoo Ideas
This tattoo is a perfect embodiment of love, affection, and unity among the family members. The best spot for this tattoo is the upper back, but you can also get it inked on your shoulders and neck. Mostly women are seen sporting this tattoo, but men can also wear it as a symbol of love for their family. The essence of this tattoo lies in portraying a tight-knit bond among family members, providing them with a sense of protection and security. So, if you are looking for a unique way to express your love for your family, this family tattoo is the way to go.
Floral-Themed Front Right Arm Lioness Tattoo Idea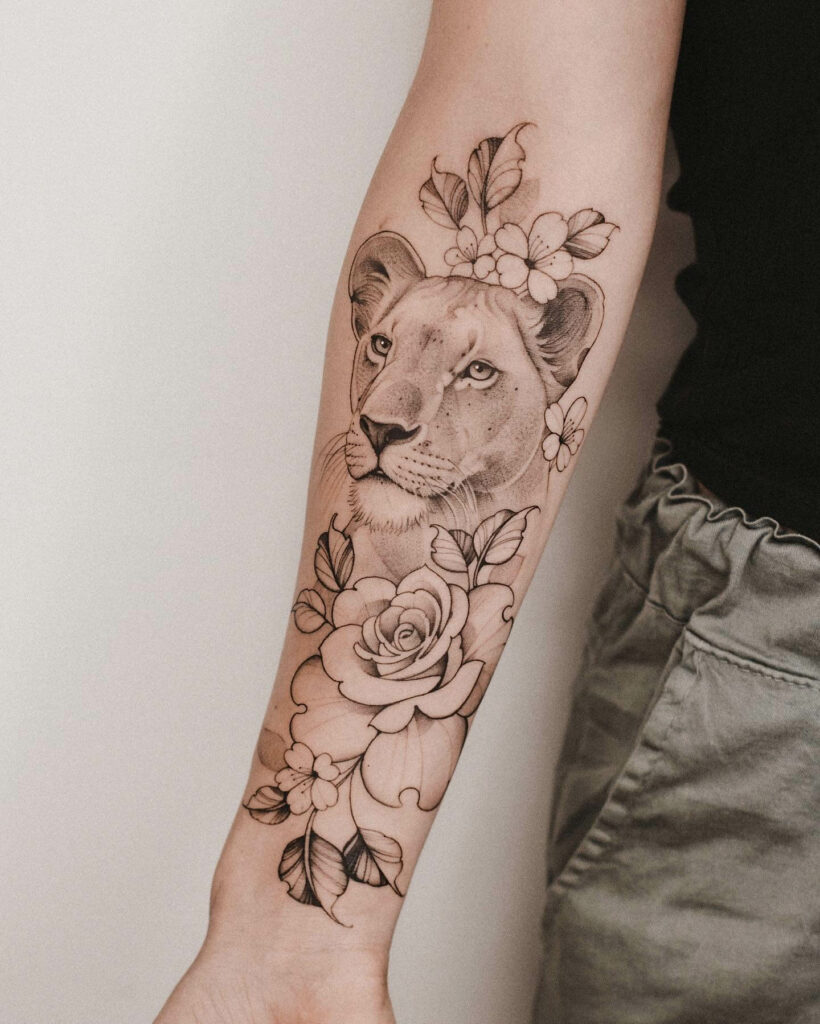 This lioness tattoo is an adorable piece of art featuring a mother lioness adorned with beautiful florals. It's designed to be placed on the right front arm, adding a touch of elegance to your body art. The floral accents on this tattoo signify the nurturing and gentle nature of motherhood. This tattoo is typically targeted towards mothers who want to celebrate the beauty and simplicity of motherhood. Women often get this tattoo done on their bodies to express their maternal love and affection towards their children.
Colorful Lion and Lioness With Cubs Tattoo Ideas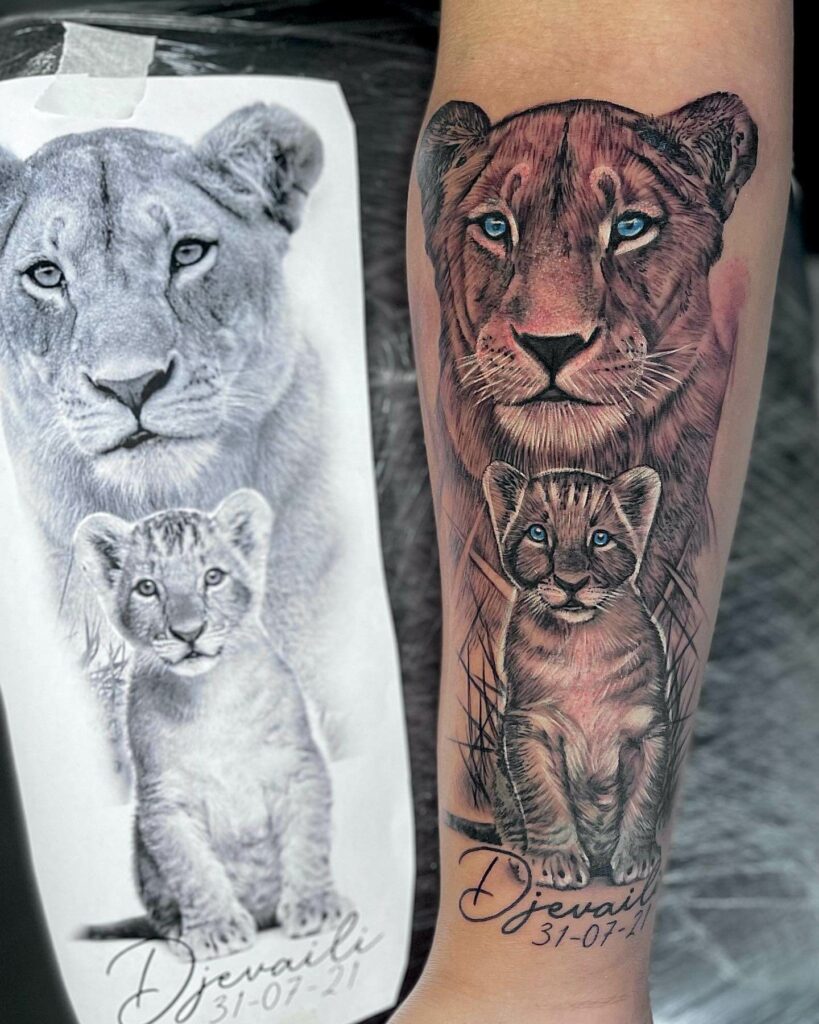 This particular design is a beautiful representation of the importance of family time. It showcases a black and white image of a lion and lioness, surrounded by their playful cubs in vibrant colors. This tattoo can be placed on the hand, making it easily visible and an excellent way to display your love for your family. Alternatively, it can be inked in a location that can be hidden beneath clothing, providing a more discreet option.
Family tattoos are a symbol of togetherness and unity, and this design is perfect for those who cherish spending quality time with their loved ones. The colorful cubs signify the ups and downs that every family goes through, but at the end of the day, they are always together. This tattoo is an excellent way to express your deep connection to your family.
In the world of lion and lioness tattoos, there are countless options to choose from, ranging from fierce and powerful to cute and playful. Whether you're looking for a small, minimalist design or a larger, more elaborate piece, there is something for everyone. A lion and lioness tattoo is often associated with traits like responsibility, courage, and a fighting spirit, making it a popular choice for those who embody these characteristics.
Feature Image from Pinterest – Want your tattoo to look brighter? Try "Tattoo Balm"
Last reviewed and updated on February 16, 2023