Stuck on choosing the perfect tarot tattoo? The Lovers card is a top pick and for good reason. It's all about balance, passion, and those big life choices. Whether you're hunting for 'the one' or just vibing with your own journey to self-awareness, this tattoo has you covered. In our article, you'll explore the rich symbolism and personal stories behind these inked masterpieces. You'll also get the lowdown on placement, pain factors, and cost. Trust us, by the end, you'll be booking your tattoo appointment faster than you can say 'Major Arcana.'
Lovers From 'The Nightmare Before Christmas' Tarot Card Tattoo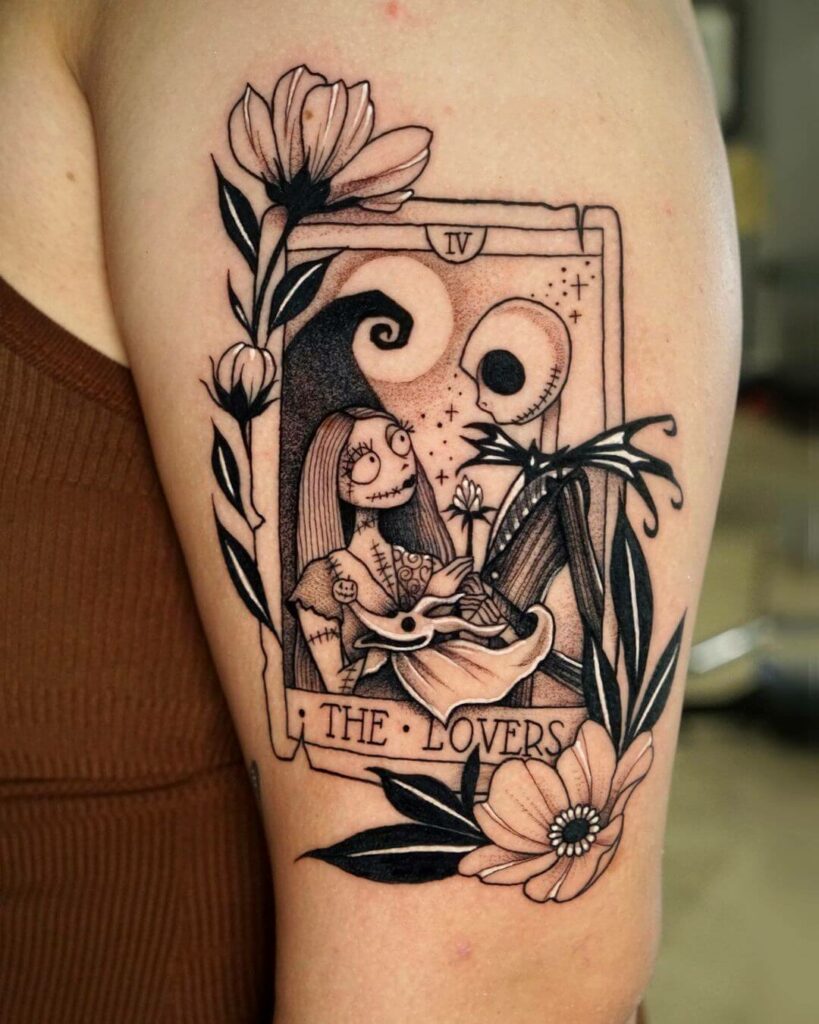 The beloved Tim Burton's 'The Nightmare Before Christmas' has given us all a beautiful relationship to look up to. The bond between Jack Skellington and Sally is one of the most beautiful among that of other fictional couples. This tattoo is a stunning crossover between fortune-telling and animation. However, the tattoo is so intricate and unconventional that you'd definitely need an artist with skills to get this inked.
The Lovers Tarot Card Thigh Tattoo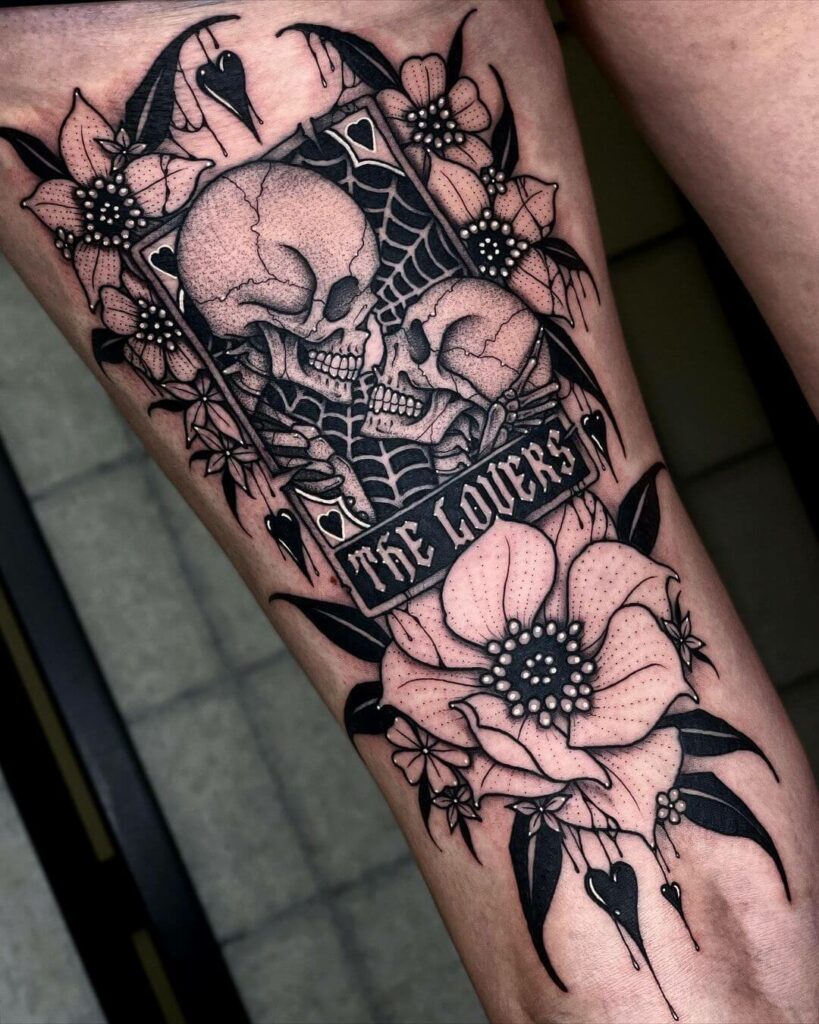 Adding skeletons to a Lovers card tattoo is an old tradition that has been around for quite some time. However, this tattoo has a unique Halloween-y vibe that sets it apart from other tattoos. The use of white on black ink in this tattoo is just as mesmerizing as the ink-dripping effect. This tattoo can be resized to fit anywhere from a sleeve tattoo to a calf tattoo. So why not give it a try?
L'amoureux Tarot Card Tattoo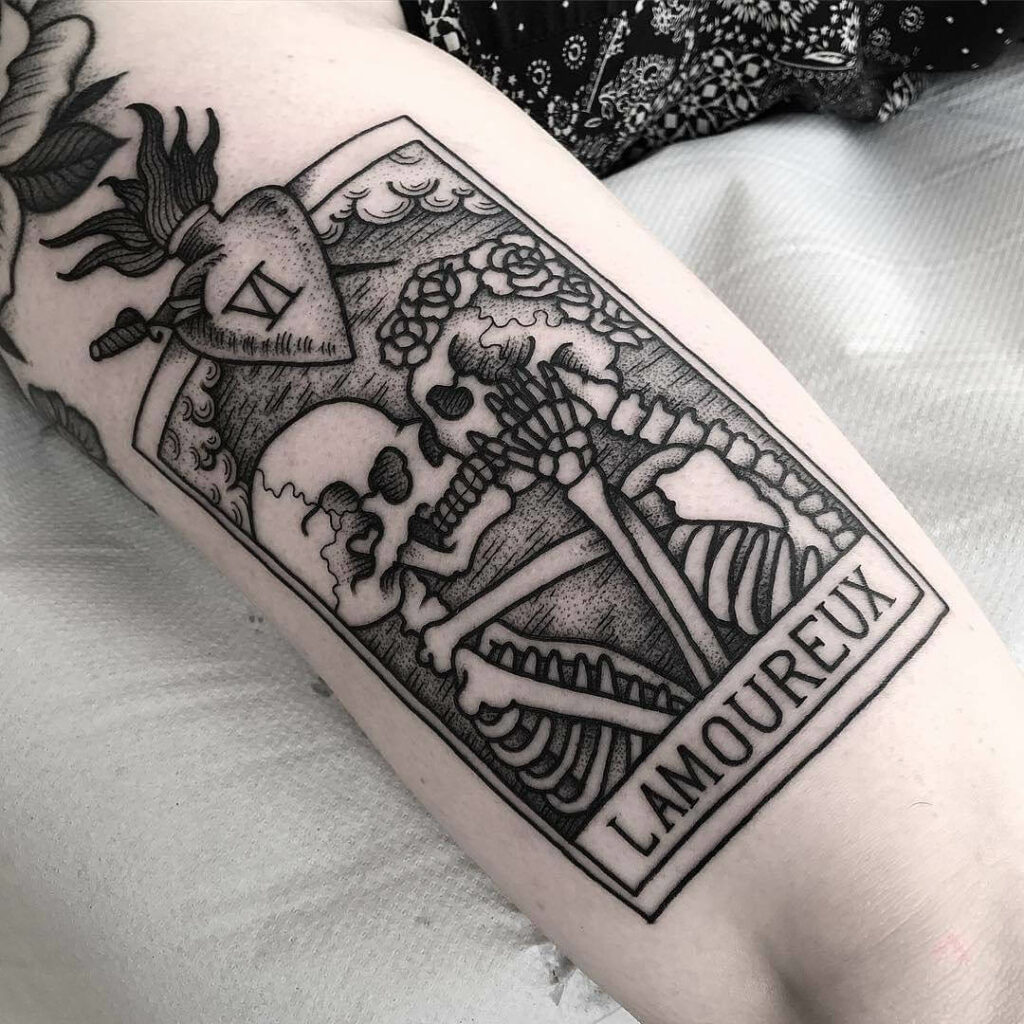 The word "L'amoureux" is French for "the lover" or "the loving one". This tarot card tattoo is a symbol of soul-to-soul connections and deep, meaningful relationships. The two skeletons kissing each other give the tattoo an eerie and mysterious tone. This grayscale tattoo is a beautiful piece that requires an experienced artist's hands to bring it to life. Finding an artist who knows how to do their job well is crucial for this piece to be executed perfectly.
Los Enamorados Tarot Card Tattoo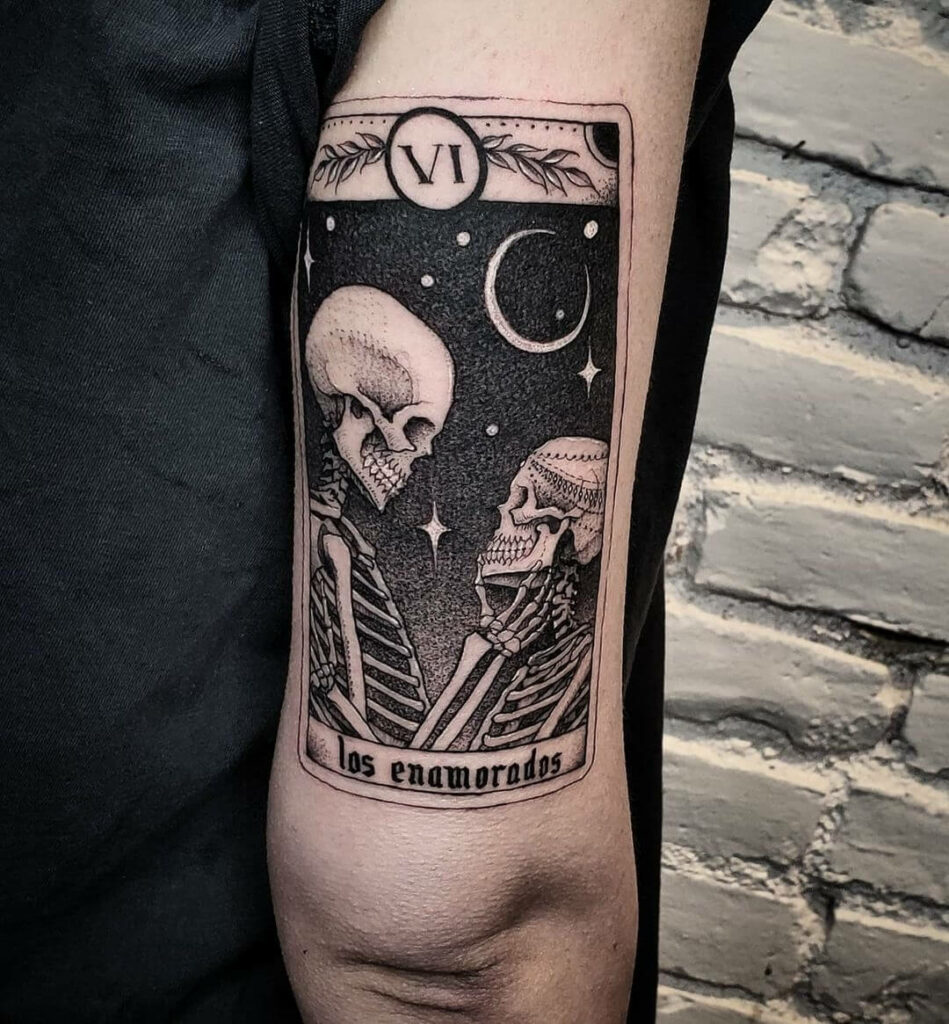 If you're looking for a tattoo that symbolizes your love and passion beyond death, we have just the thing for you. Our tattoo features skeletons that represent the immortality of love and passion. This meaningful piece is perfect for those who believe in love that extends to infinity and beyond. With the help of our skilled artists, you can be sure that your tattoo will be a beautiful and meaningful addition to your skin.
Lovers From 'The Addams Family' Tarot Card Tattoo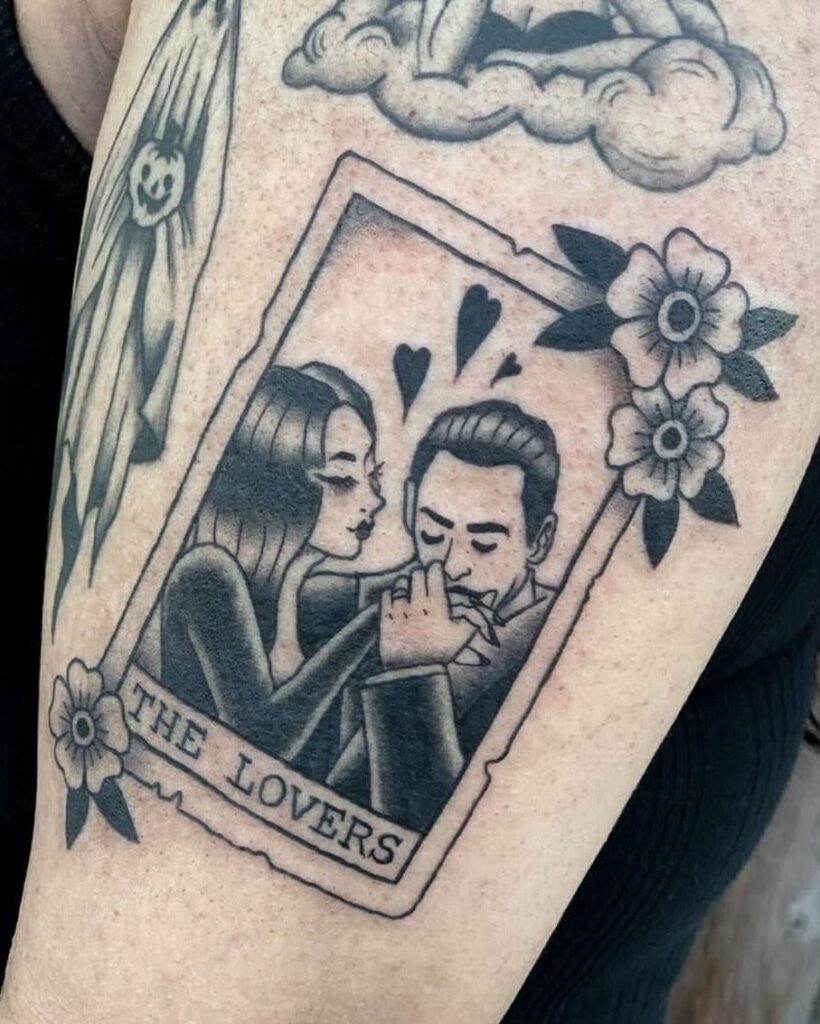 Morticia and Gomez Addams from the 1991 film 'The Addams Family' are the stars of this tattoo. Their unique weirdness and their love for each other make them an incredible couple. Gomez admires his wife and finds her to be the prettiest in the world. This tattoo captures that essence really well. If you're looking for an iconic scene inked as a tarot card tattoo, this is it!
Indian Lovers Themed Tarot Card Tattoo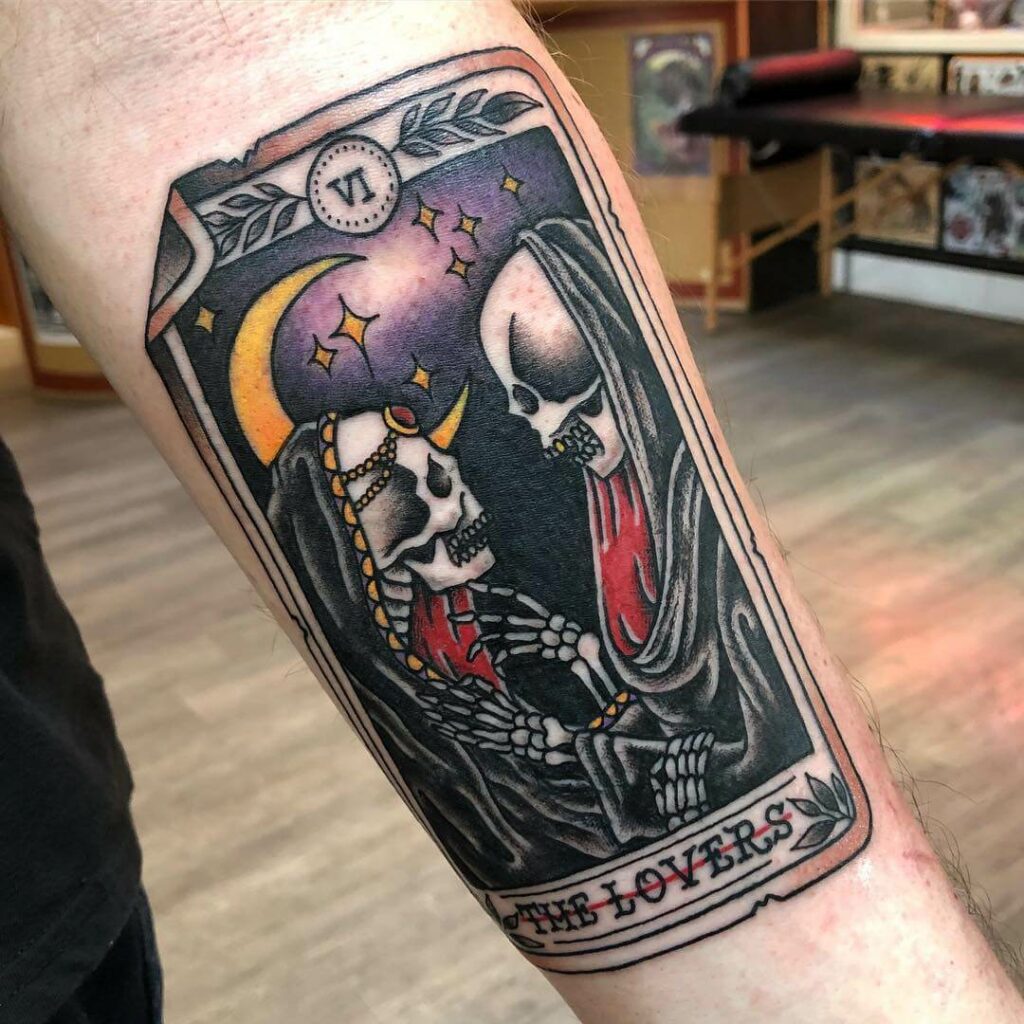 In India, when two people get married, they are believed to become lovers for the next six lives (seven including the first one) after they die and reincarnate. The bond of a married couple in India is believed to be holy and everlasting. If you want to flaunt the eternal love you have for your lover or your lover and you have for each other, getting inked is a great way to do it!
'Howl's Moving Castle' Lovers Card Tattoo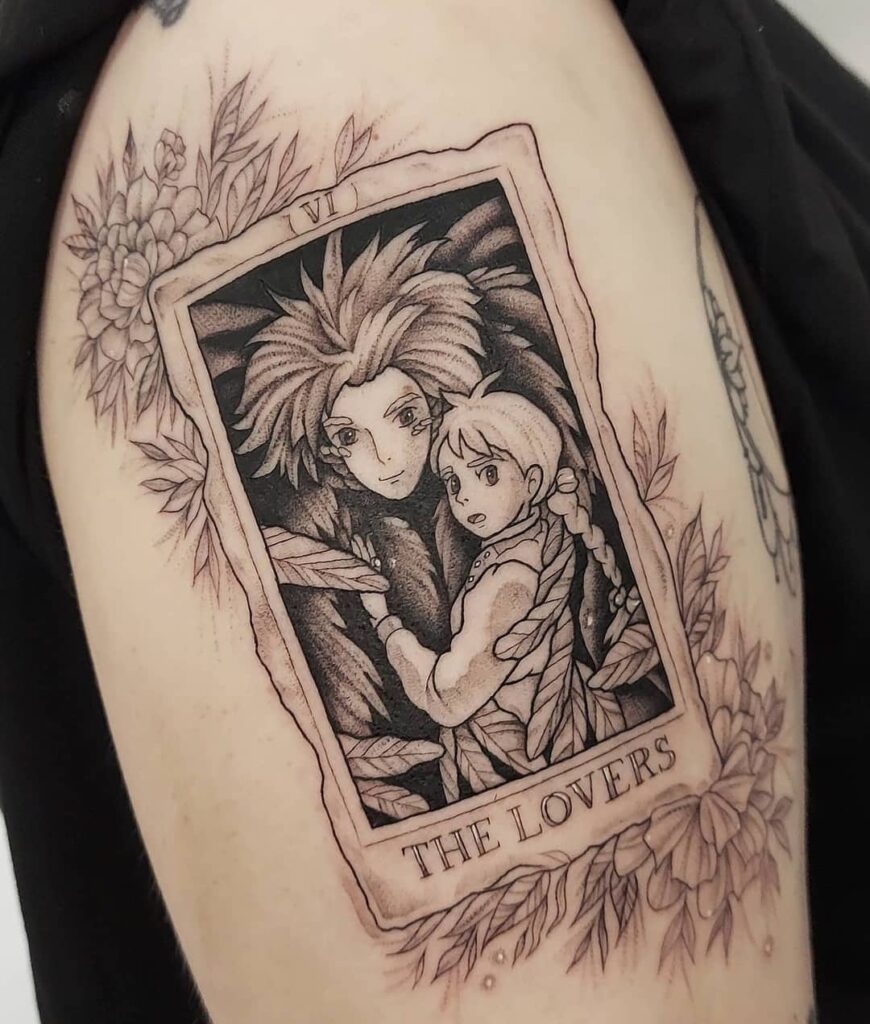 The 2004 Studio Ghibli movie 'Howl's Moving Castle' has captured the hearts of many with its portrayal of the bond between Howl and Sophie. This tattoo featuring Howl and Sophie is something that anyone who loves anime and believes in tarot reading can get inked. While getting this arm piece inked on your skin might be a painful experience, we promise that the end result will be worth the pain.
Inuyasha And Kagome Tarot Card Tattoo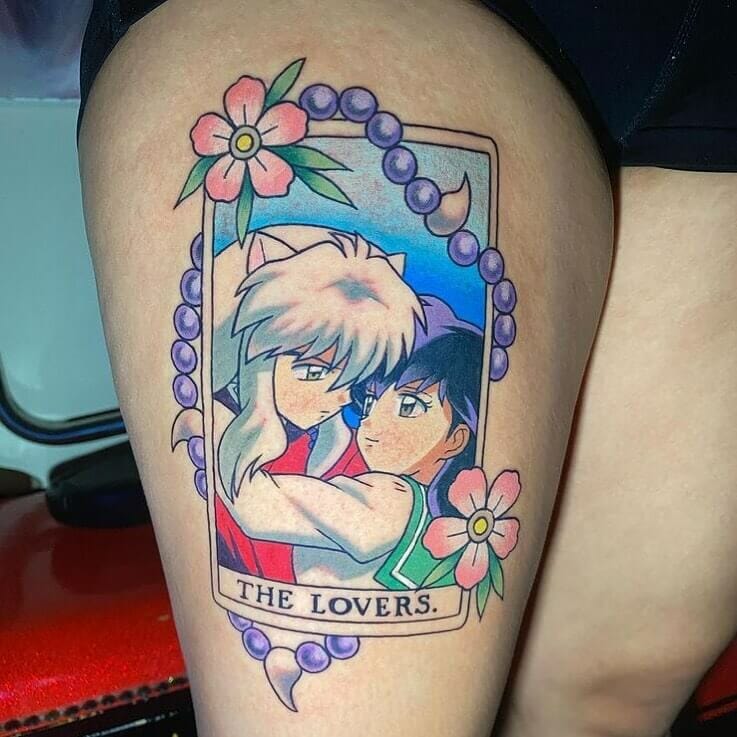 The Japanese manga series 'Inuyasha' has captured the hearts of many with its beautiful love story of a human-dog demon (Inuyasha) and a girl (Kagome). This tattoo is an excellent blend of tarot and manga. The tattoo artist can customise this piece of art by incorporating other anime or manga couples in the tattoo. With some money and patience, anyone of any age or gender can totally rock this tattoo.
The Lesbian Lovers Card Tattoo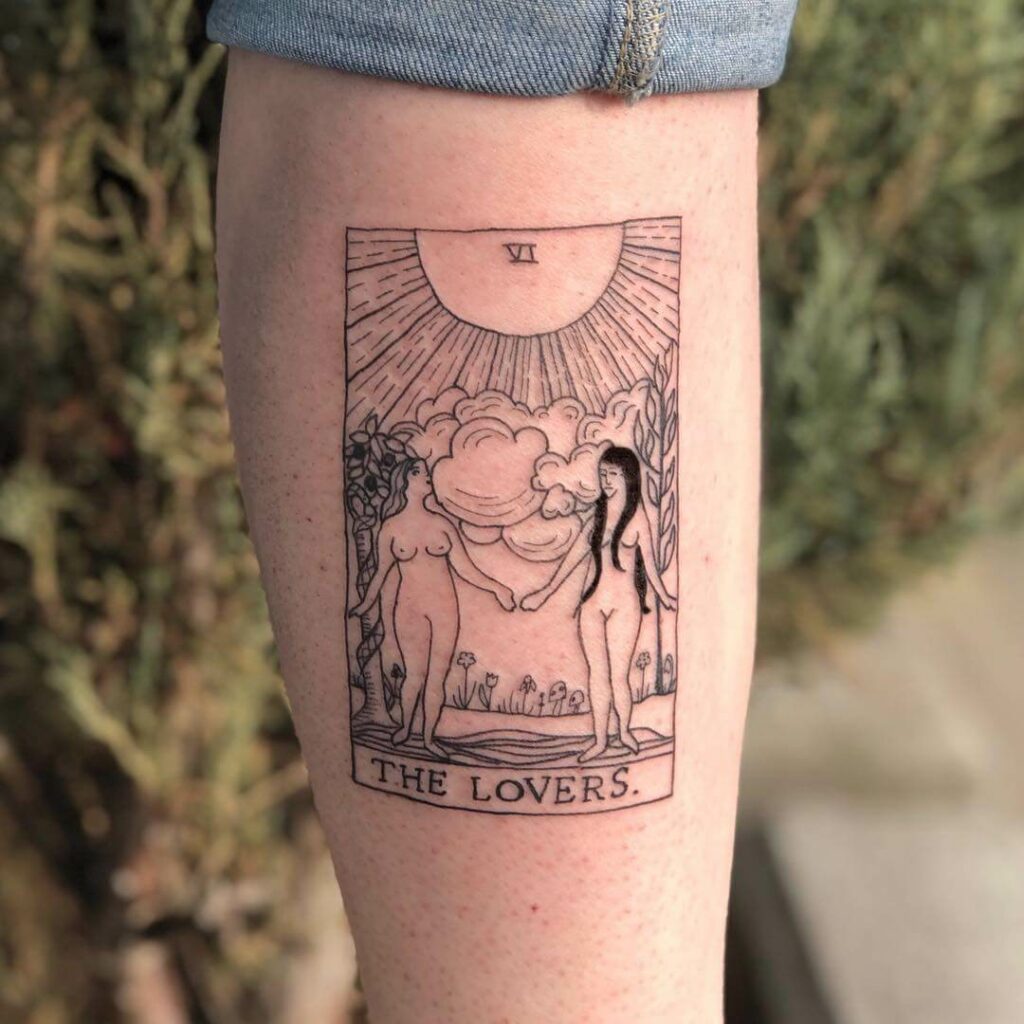 The Conventional Lovers card is a tattoo that showcases a man and woman standing naked in the Garden of Eden. It is nothing but the imagery of Adam and Eve. However, with changing times and people having the courage to explore their sexual orientation, this tattoo has become an inspiration for many. It portrays the fact that love is love, and every couple deserves equal rights. If you support the queer community, you may want to consider getting this inked.
Sun And Moon Lovers Card Tattoo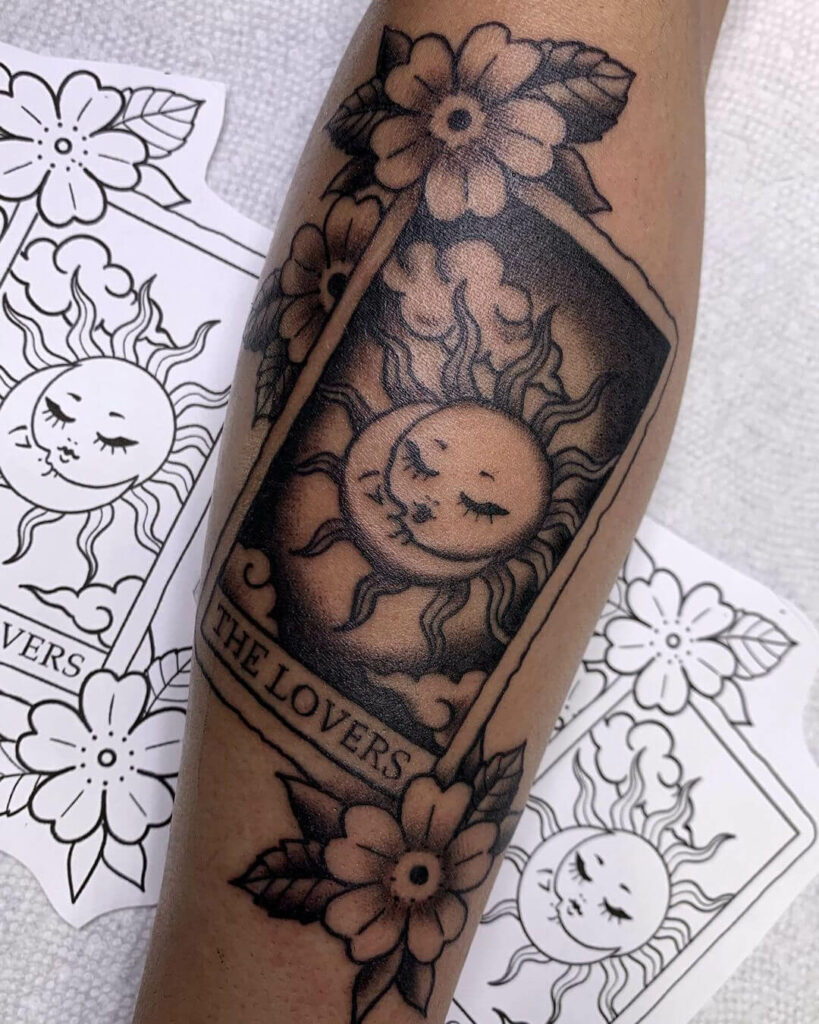 The sun and moon in this tattoo represent feminine and masculine energies, respectively. The incorporation of the star and the natural satellite gives this tattoo a universal vibe. It showcases the power of love. It tells us that love is the ultimate truth of life. The usage of the floral pattern in this tattoo adds up to its aesthetics really well.
Tarot Card Lover On Rib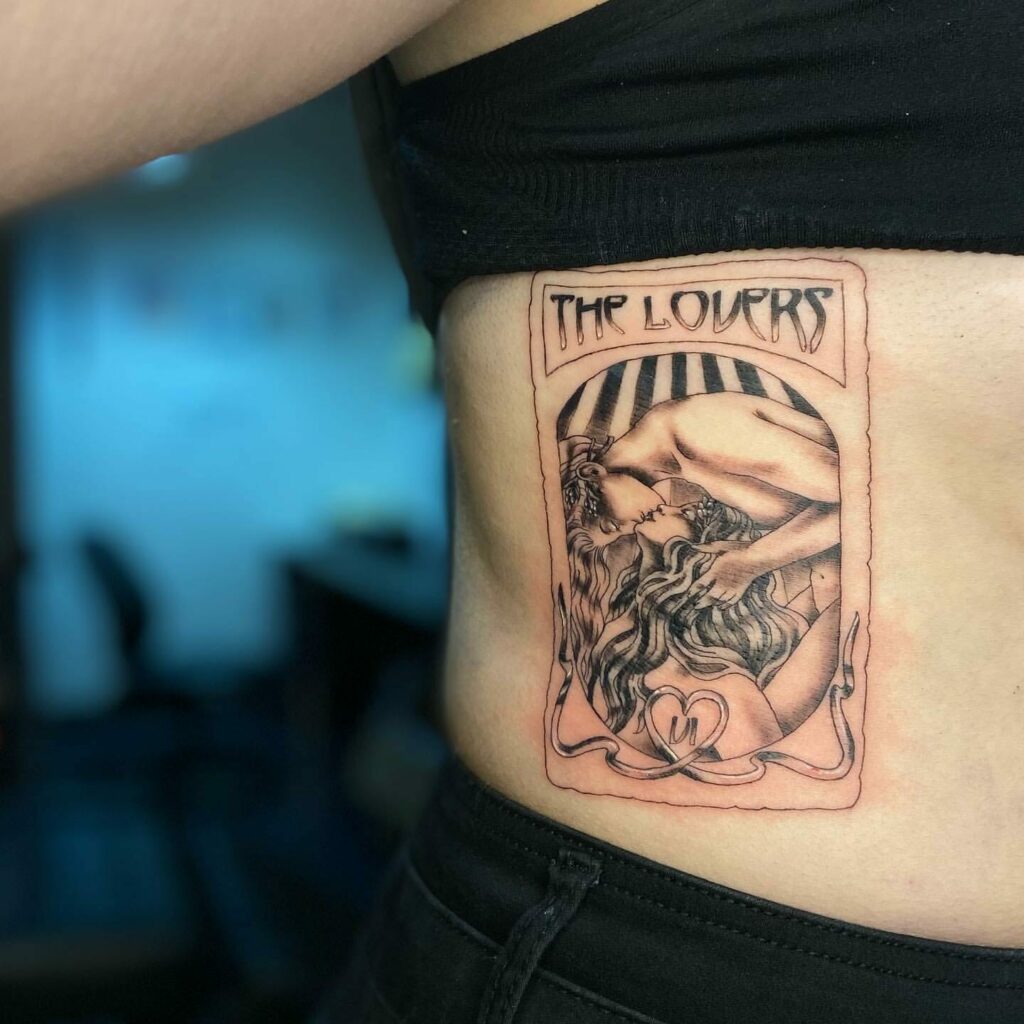 This tattoo features a tarot card theme focused on love, placed on the ribcage, a location often chosen for more intimate or personal designs. This artwork might showcase iconic symbols from the Lover's card in a tarot deck, such as a couple, an angel, or a heart. The rib placement makes this tattoo both secretive and revealing, resonating with the complexities and vulnerabilities that come with love.
Two Skull On Tarot Card
In this design, two skulls are featured on a tarot card, likely evoking themes of mortality, destiny, or duality. The skulls could be facing each other or set apart, but their joint presence brings a nuanced view on the cycle of life and death, perhaps emphasizing that even in the face of mortality, connections endure.
Skeleton And Girl Tarot Card Design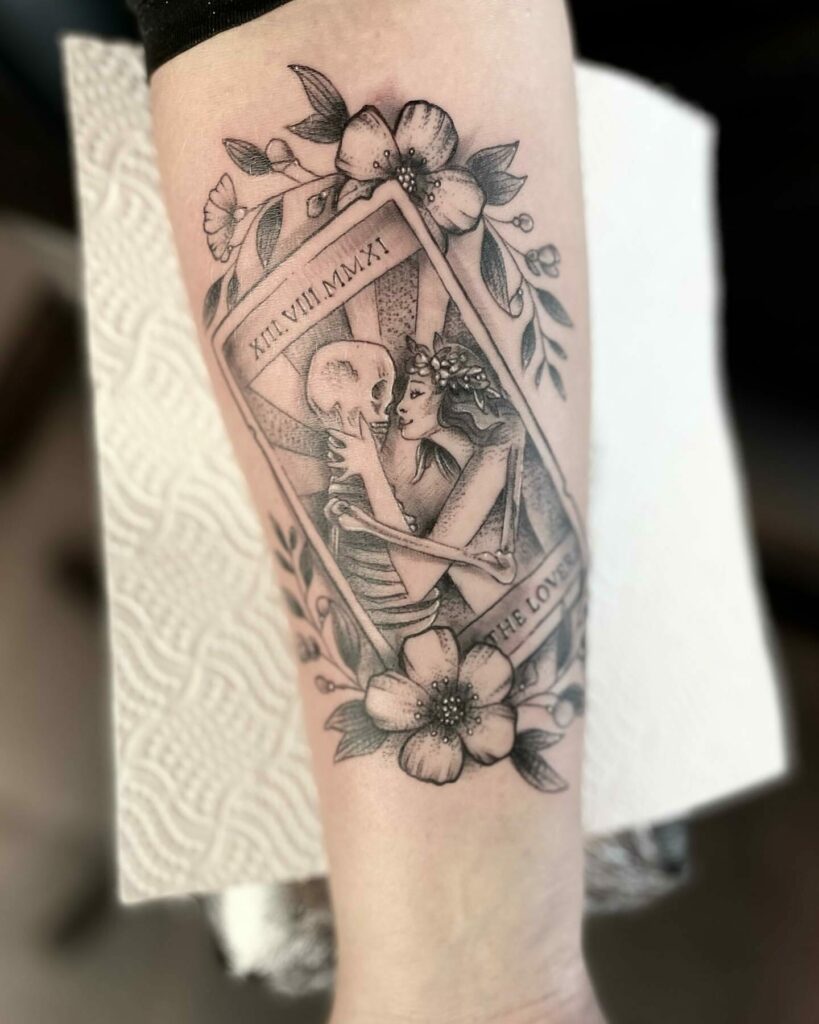 Merging the realms of the living and the dead, this design displays a girl and a skeleton, often in a meaningful interaction. The juxtaposition serves as a powerful visual metaphor for the transient nature of life and the everlasting impact of relationships or choices.
Two Skeleton Embracing Tarot Card Design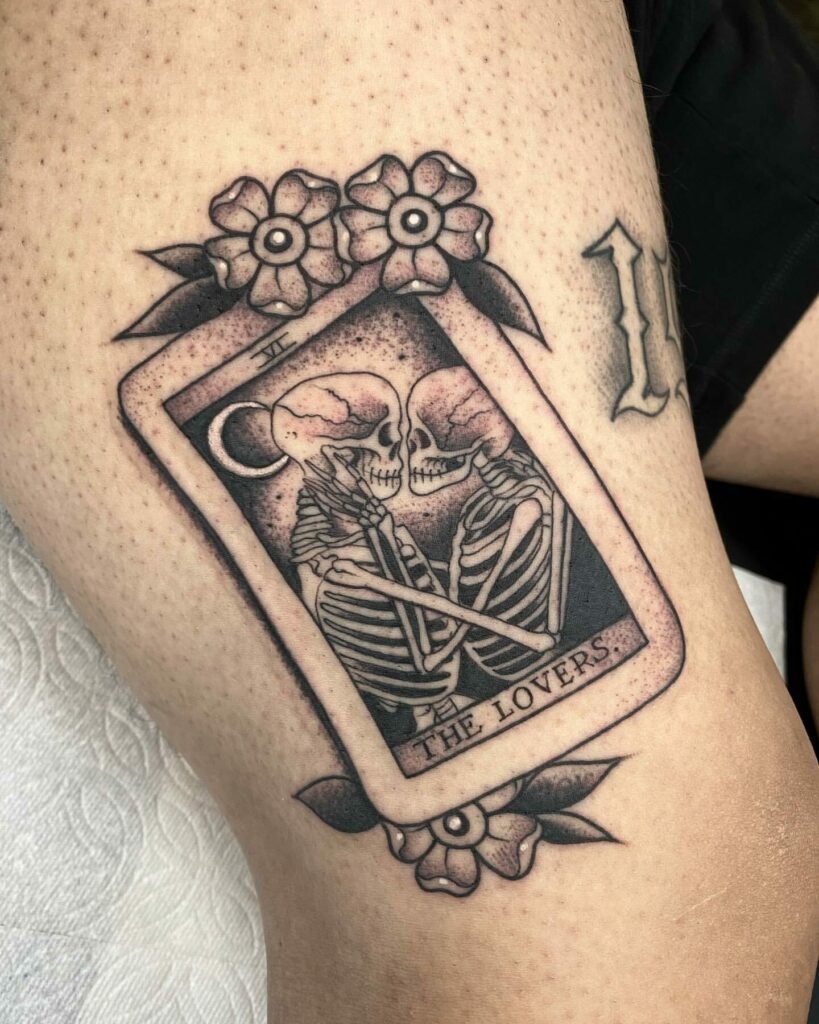 This tattoo portrays two skeletons in a loving embrace, framed within a tarot card. This could symbolize eternal love that transcends the physical realm, or perhaps the acceptance of mortality as a natural part of life and love.
Skeleton Kissing Under The Sunset Tarot Card Design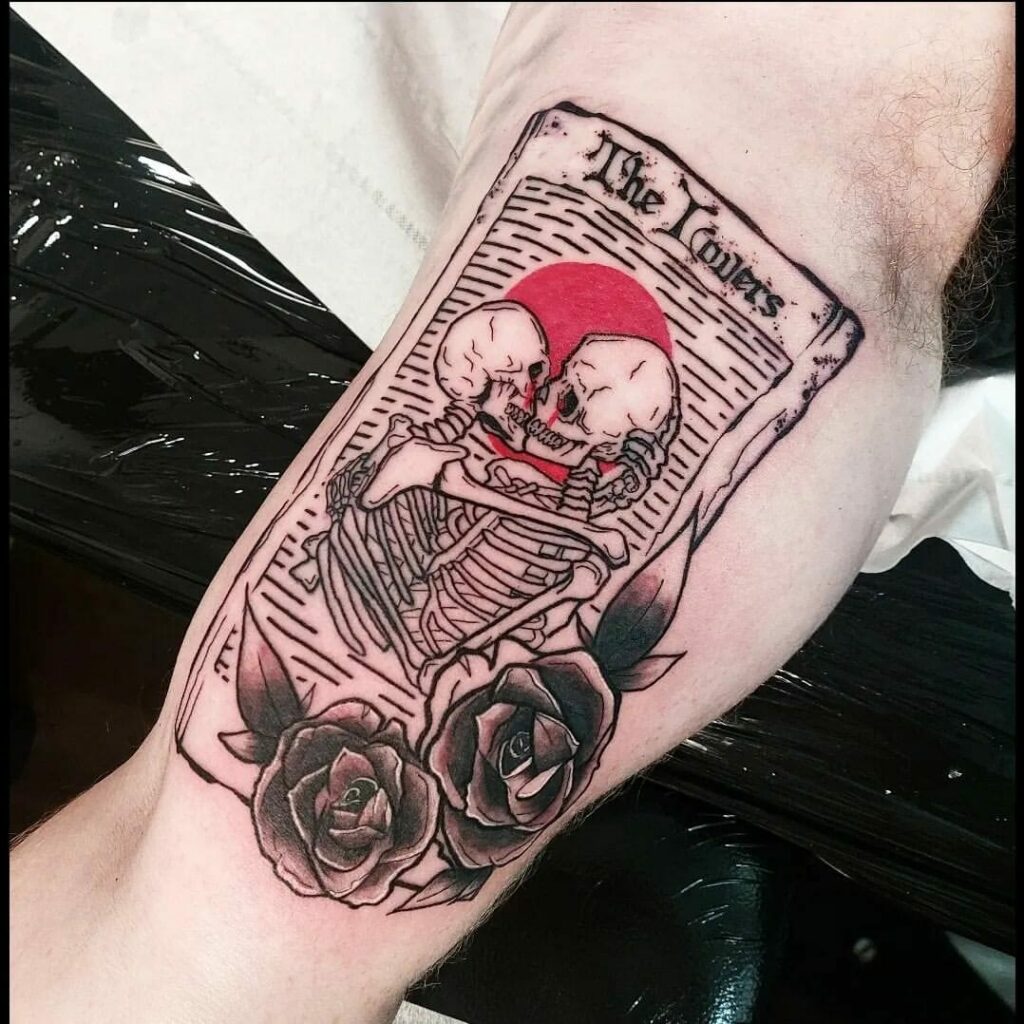 Unlike the other designs focusing primarily on death, this one adds a romantic twilight setting. The sunset could symbolize the fleeting nature of time, enhancing the poignancy of the skeleton couple sharing a kiss.
Tarot Card Lovers Design On Leg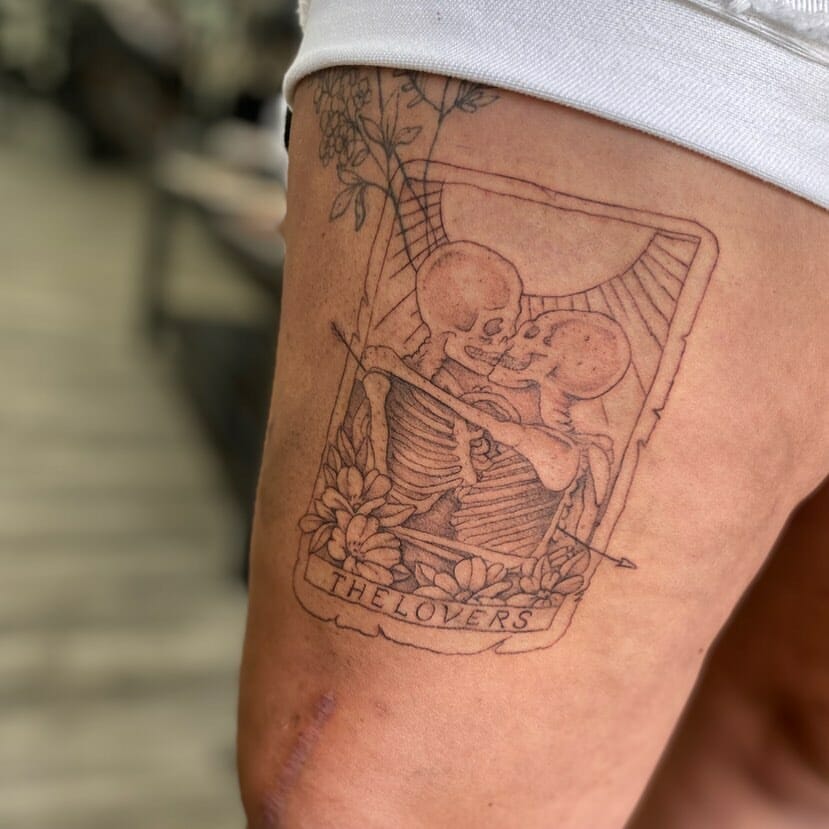 Positioned on the leg, this tattoo offers a more visible declaration of one's interest in both love and tarot. It could feature the traditional imagery of the Lovers card or incorporate personal touches that make the artwork unique to the individual.
Dark Shaded Tarot Card Lover Tattoo On Leg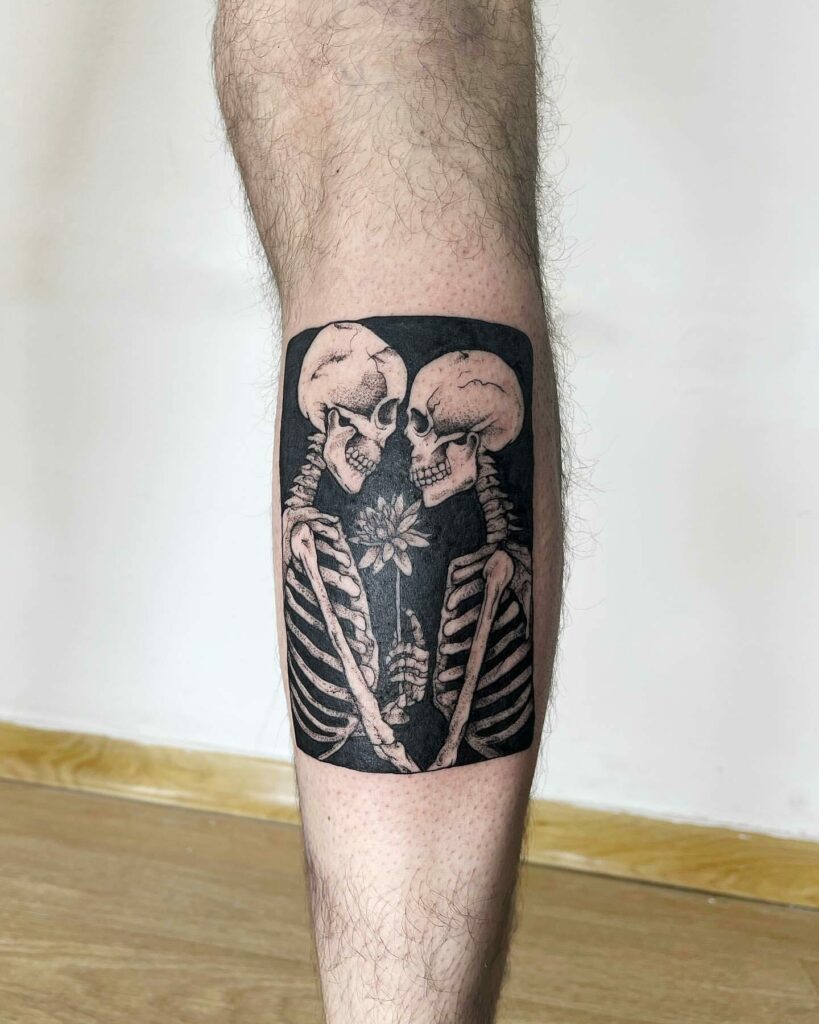 This leg tattoo sets itself apart with its dark shading techniques. The monochromatic or dark palette adds a sense of depth and gravity, lending an air of solemnity or intensity to the concept of love as depicted through tarot.
Girl Hugging A Skeleton Tarot Card Design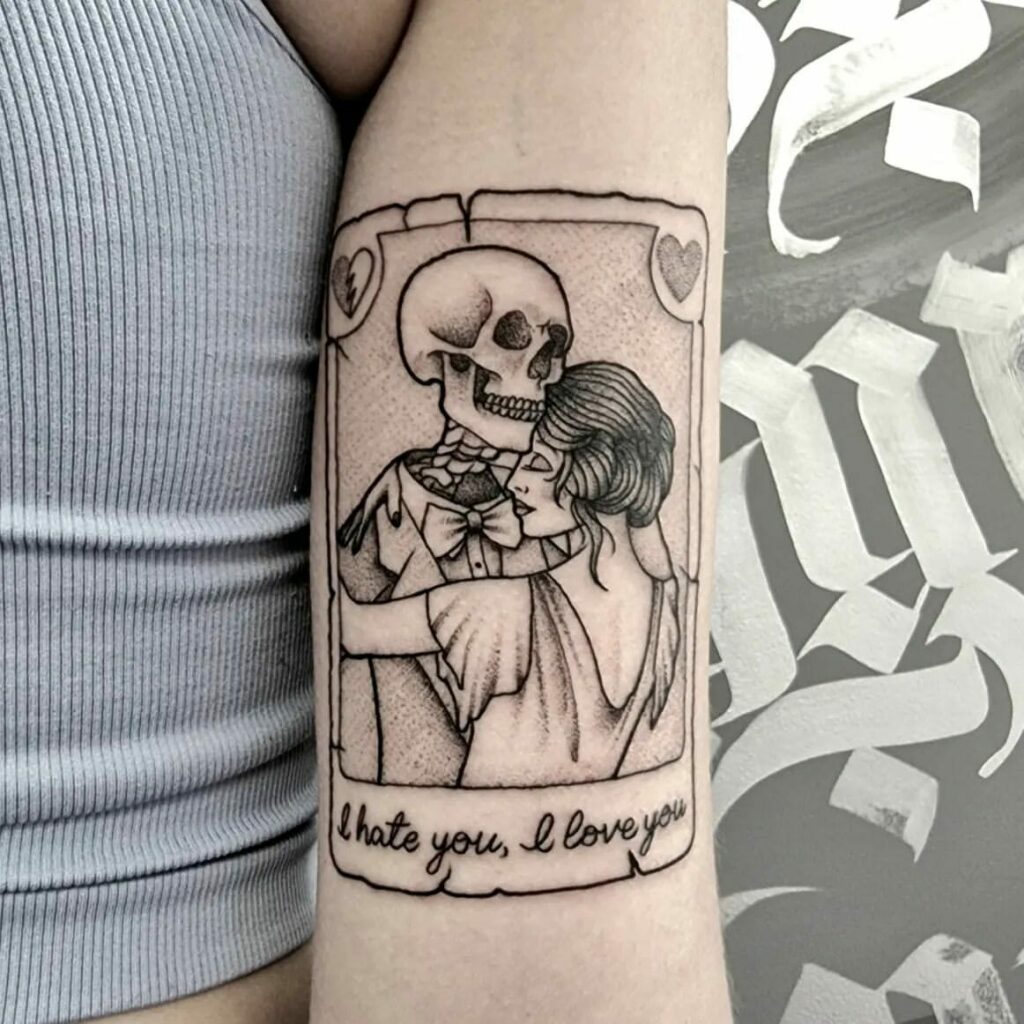 This design captures a heartfelt moment between a girl and a skeleton. The hugging pose could signify a deep connection or acceptance, showing that love can conquer even the most daunting barriers, such as death.
'Til Death' Theme Tarot Card Tattoo On Hip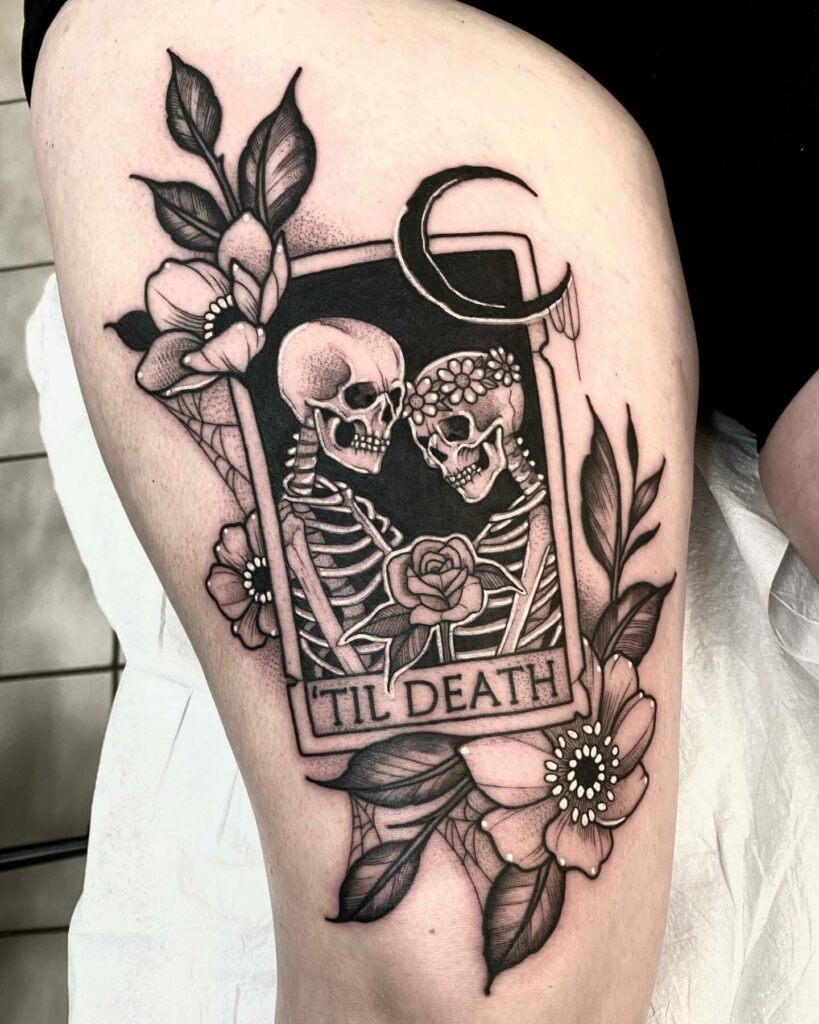 With the phrase "Til Death," this hip tattoo focuses on the commitment and permanence of love, using tarot imagery to reinforce the idea that love is a lifelong journey, possibly even transcending this life.
Lovers Theme Tarot Card On Arm
This arm tattoo takes the universally recognized "Lovers" tarot card and brings it to a location that's easily seen, possibly signifying that the wearer is open about their beliefs in love and destiny.
Lovers Theme Tarot Card On Leg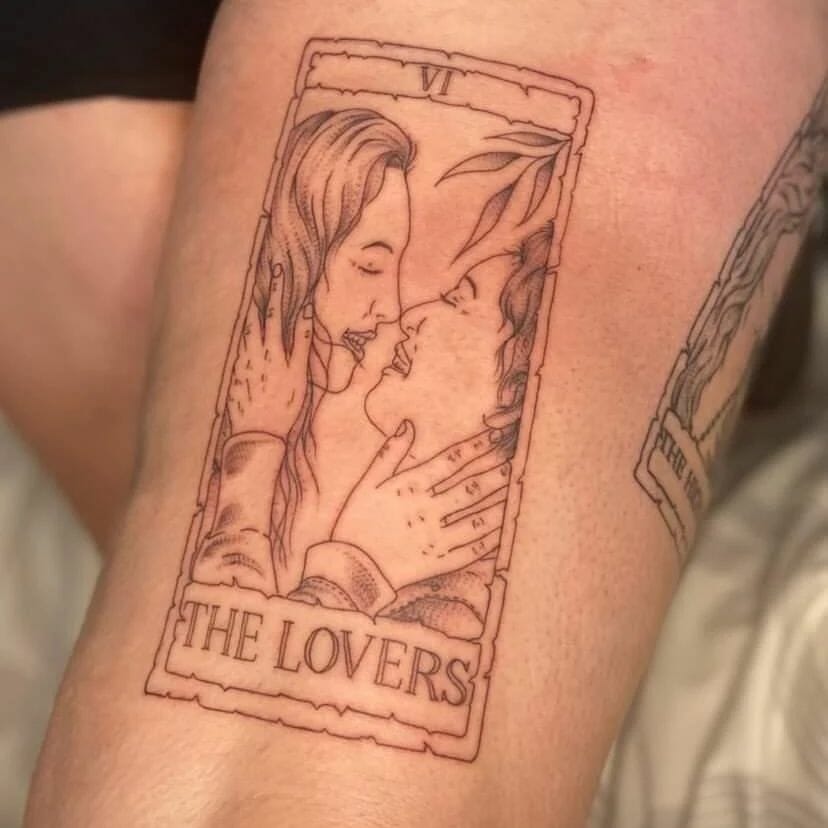 Similar to its arm counterpart, this tattoo may be for someone who likes the visibility of their artwork but prefers it on the leg, offering a bit more discretion compared to the arm placement.
Girl And Skeleton Tarot Card On Arm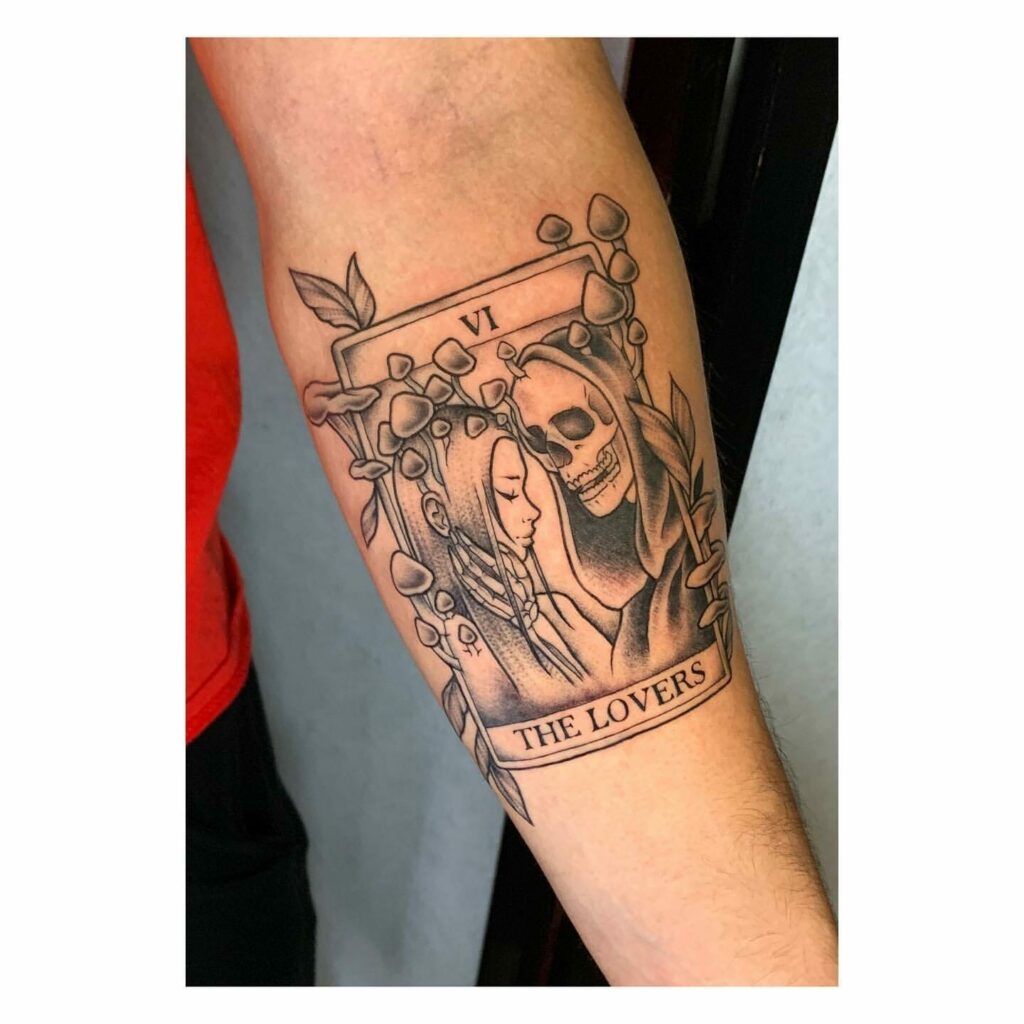 Displayed on the arm, this design of a girl and a skeleton possibly appeals to those who are drawn to the mystic and romantic aspects of life and death. It's a striking visual conversation starter that explores deep existential themes.
Bride And Groom Tarot Card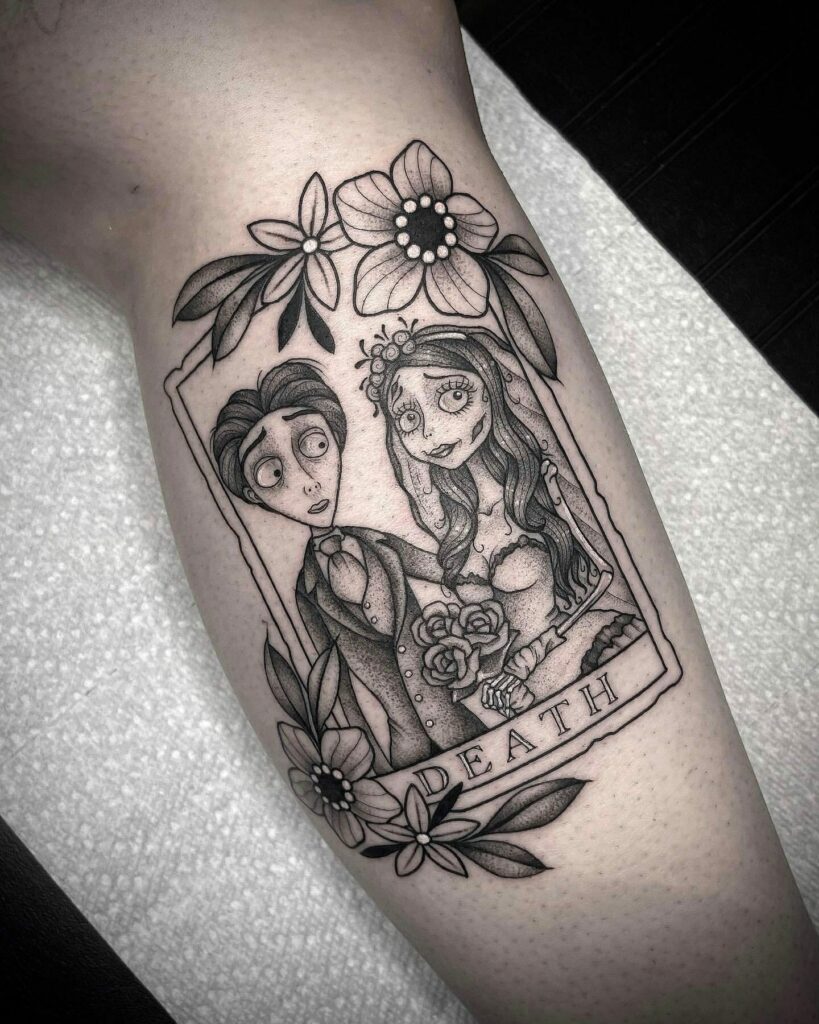 Evoking the formal commitment of marriage, this tattoo captures the bride and groom within the confines of a tarot card. It could be a personal testament to one's views on marriage as a sacred, lifelong commitment, layered with mystical overtones from the tarot theme.
Two Skull On Tarot Card Design On Leg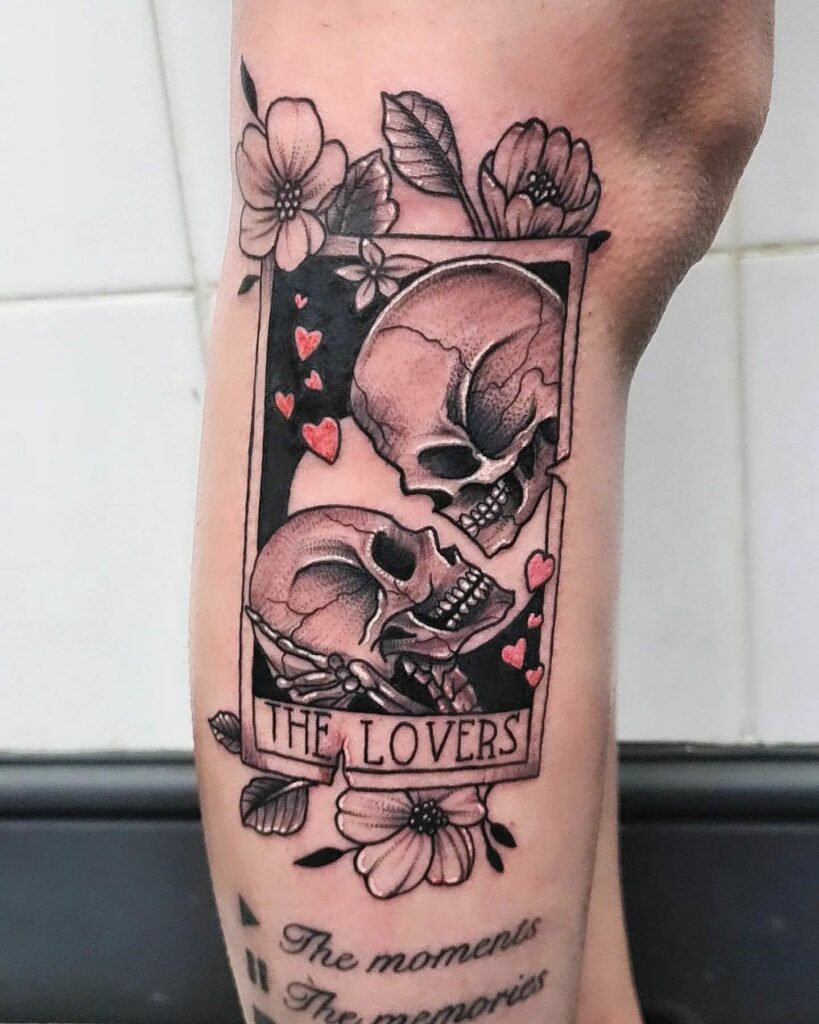 Featuring two skulls set against the mystical backdrop of a tarot card, this leg tattoo explores themes of duality and mortality. The placement on the leg offers a balanced mix of visibility and discretion, making it an ideal choice for those who see life and death as intertwined but don't necessarily want to wear that belief on their sleeve.
Nightmare Before Christmas Inspired Tarot Card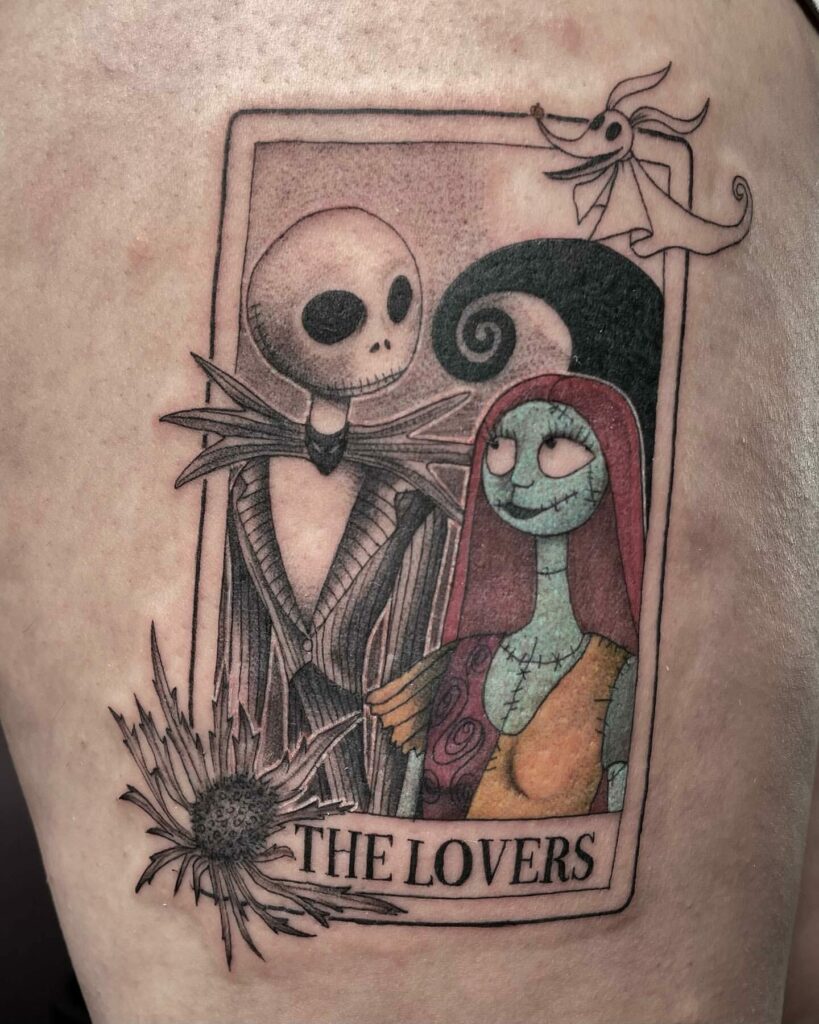 This tattoo marries the whimsical, gothic charm of Tim Burton's "Nightmare Before Christmas" with the mysticism of tarot cards. The design likely features beloved characters like Jack Skellington and Sally, perhaps even reimagining them as figures from the tarot, offering a unique blend of pop culture and ancient divination.
Lovers Tarot Card Sleeve Tattoo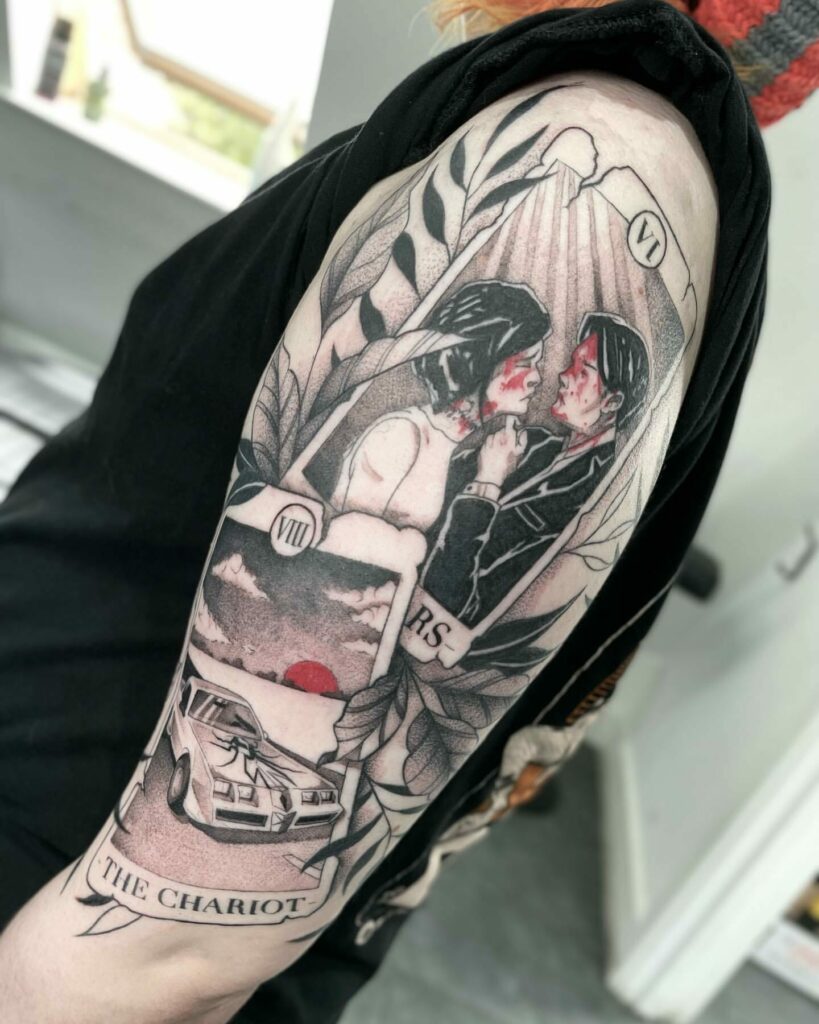 Covering the arm in a sleeve format, this tattoo is a grand and visible tribute to the concept of love as represented in tarot. With more real estate on the arm, intricate details and additional elements can be added, creating a rich tapestry that weaves together personal and universal interpretations of love.
Lovers Under The Moon Tarot Card On Leg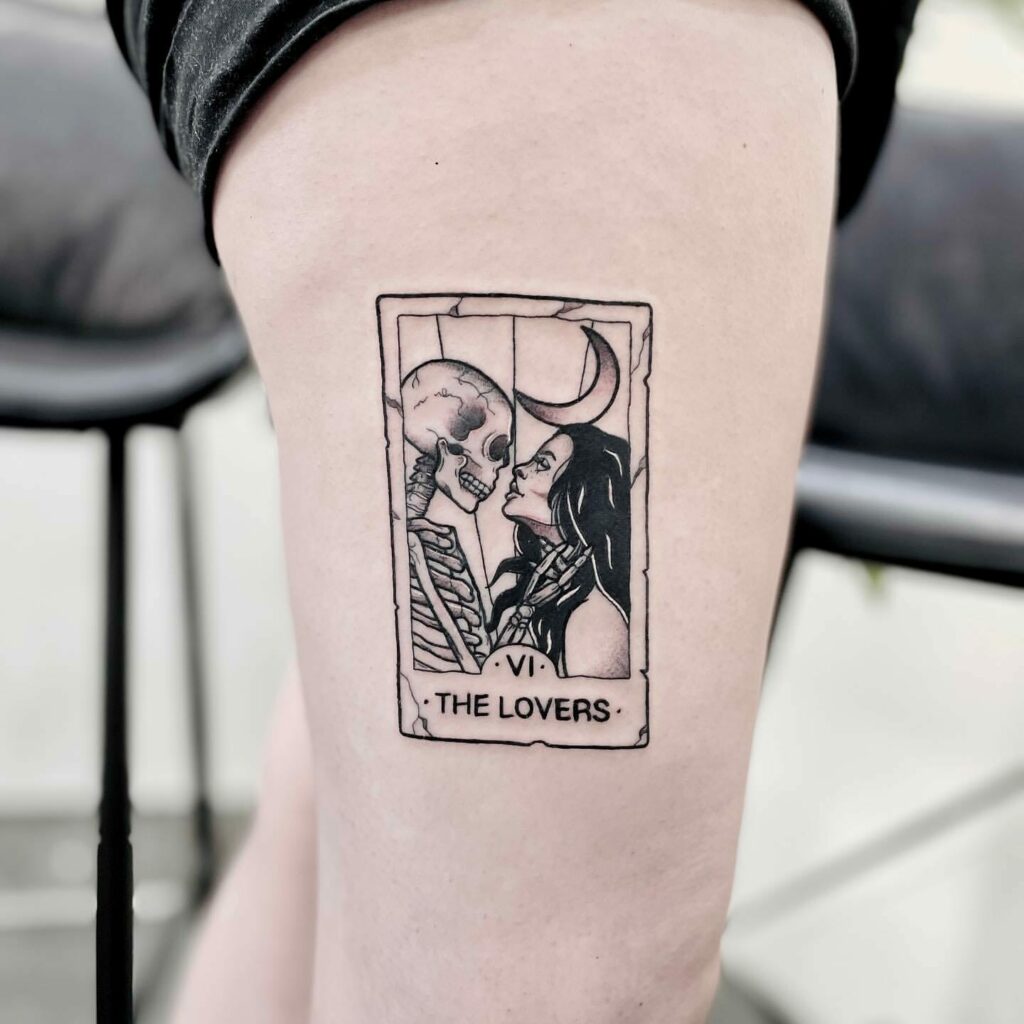 Placed on the leg, this tattoo captures a romantic scene set under the moon, all framed within the context of a tarot card. The moon often symbolizes intuition, emotion, and the unconscious, which adds another layer of depth to the lovers depicted, possibly suggesting a love that is both passionate and deeply intuitive.
Multiple Tarot Card On Leg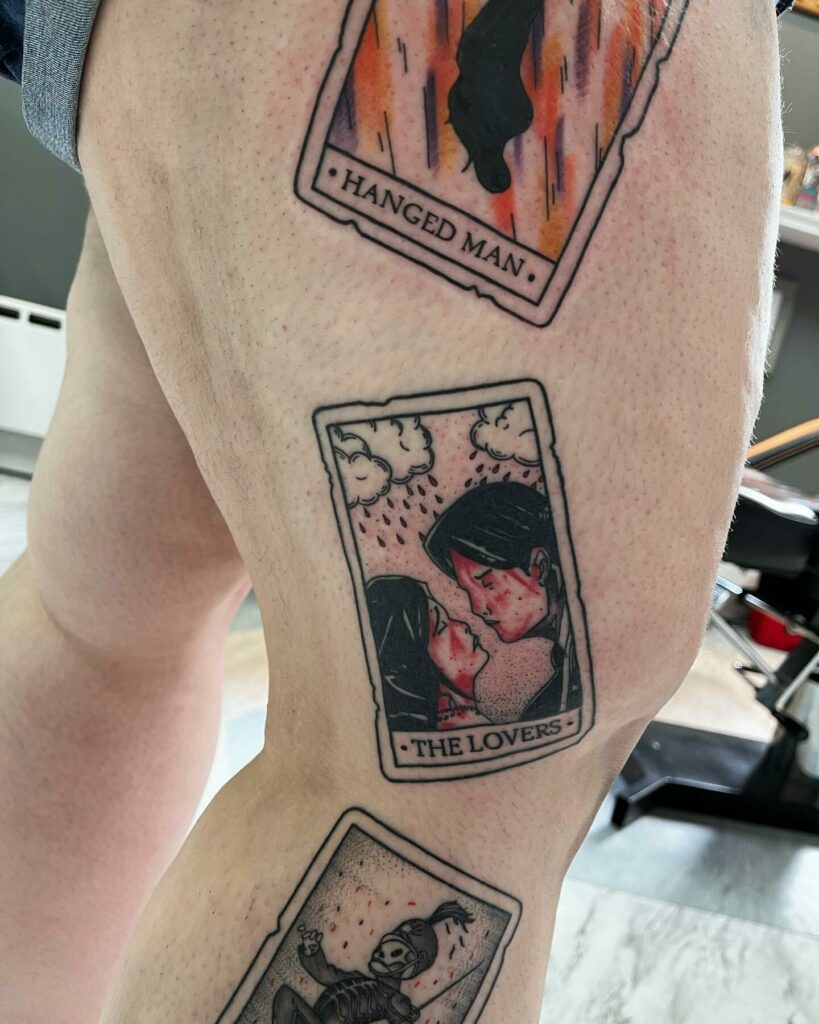 This leg tattoo features an array of tarot cards, possibly representing different facets of the wearer's life or beliefs. The ensemble can provide a holistic view of the individual's journey, akin to a full tarot spread, each card adding a chapter to a complex, unfolding narrative.
Skeleton Kissing Tarot Card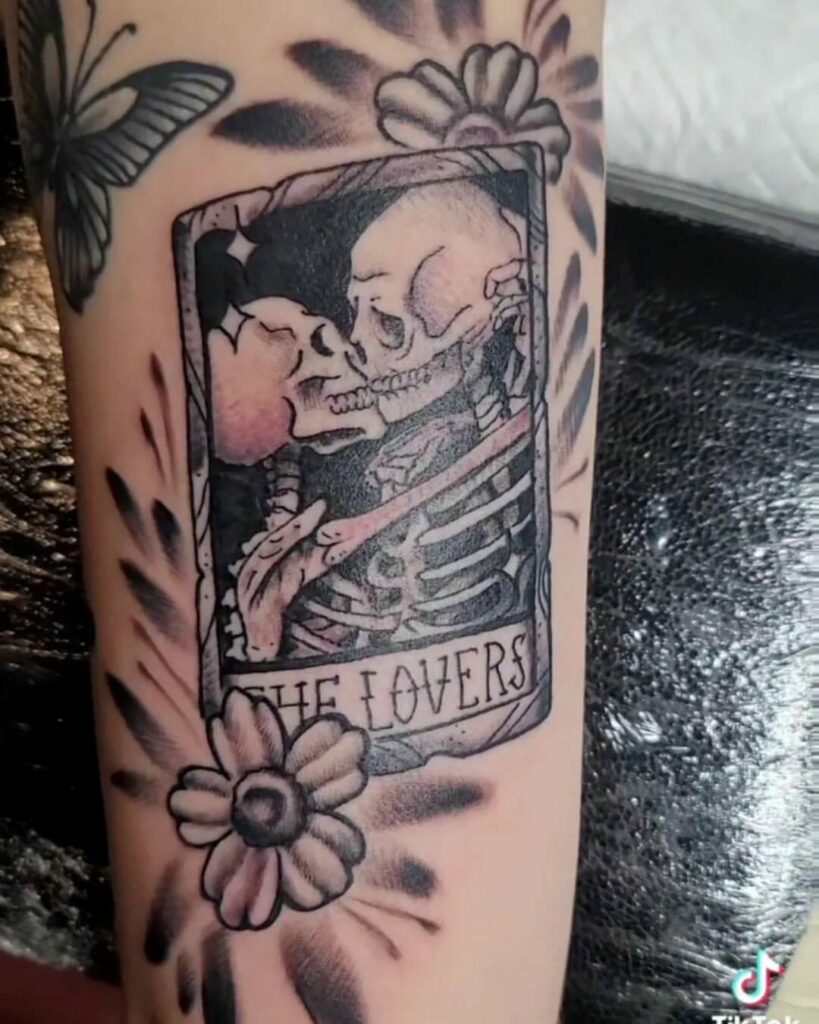 This tattoo design portrays the poignant moment of a skeleton kissing—perhaps a human figure or another skeleton—within the frame of a tarot card. The depiction captures the enduring nature of love, even in the face of mortality, serving as a hauntingly beautiful reminder of love's eternal flame.
Tarot Card With Spider Web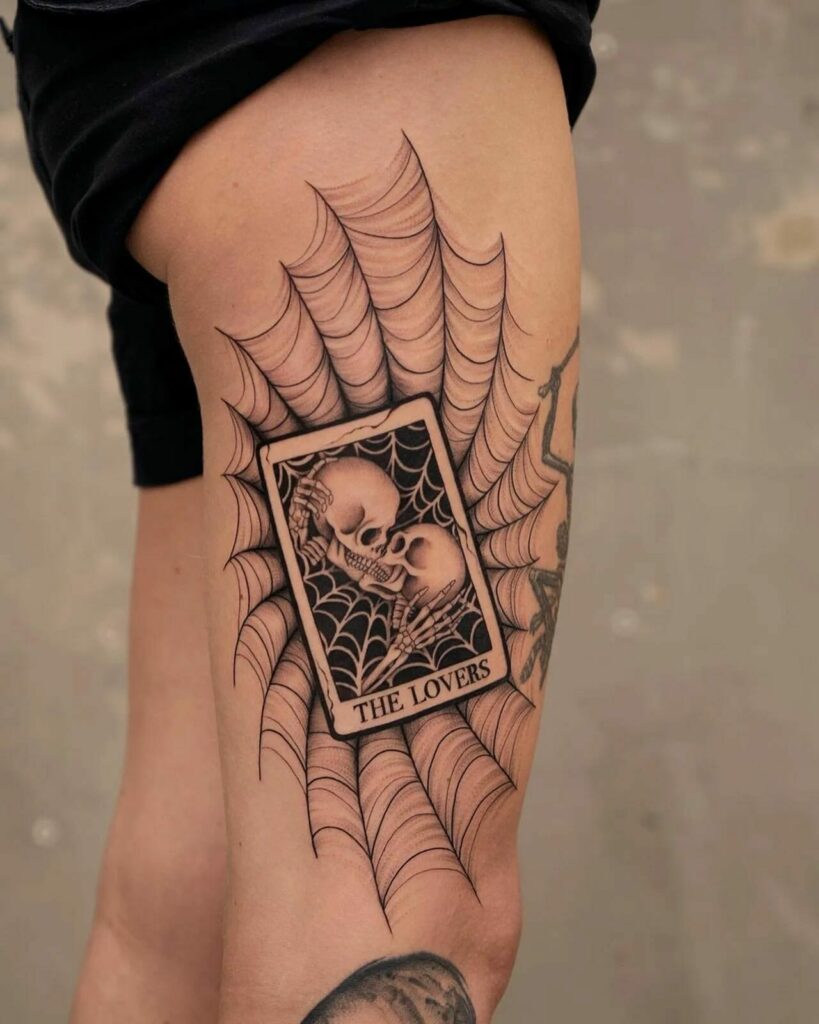 The addition of a spider web in this tarot card tattoo adds dimensions of complexity and fate. In many cultures, spider webs symbolize destiny, making this an apt combination for those who believe that life's significant events and relationships are interconnected in a cosmic web.
Black And Gray Lovers Tarot Card Theme On Leg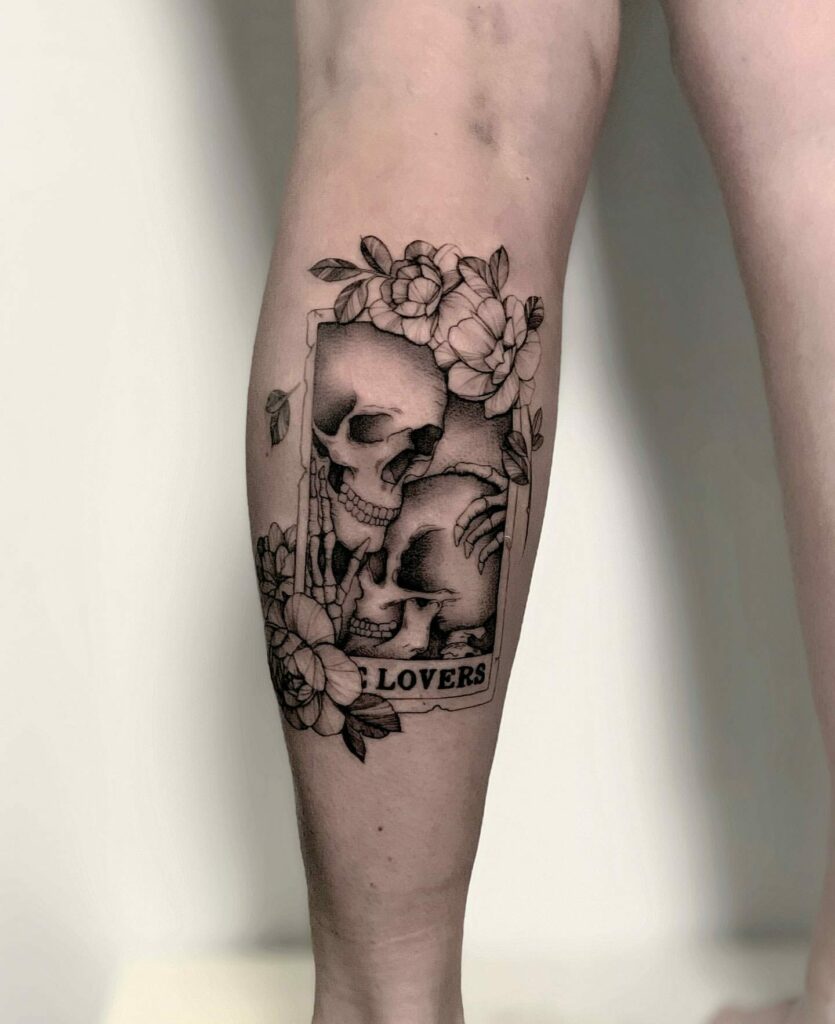 Executed in shades of black and gray, this leg tattoo offers a muted yet impactful take on the Lovers tarot card theme. The monochromatic scheme provides a sense of gravity and timelessness, emphasizing the deep, enduring nature of love without the need for vibrant colors.
'Til Death' Tarot Card With Flowers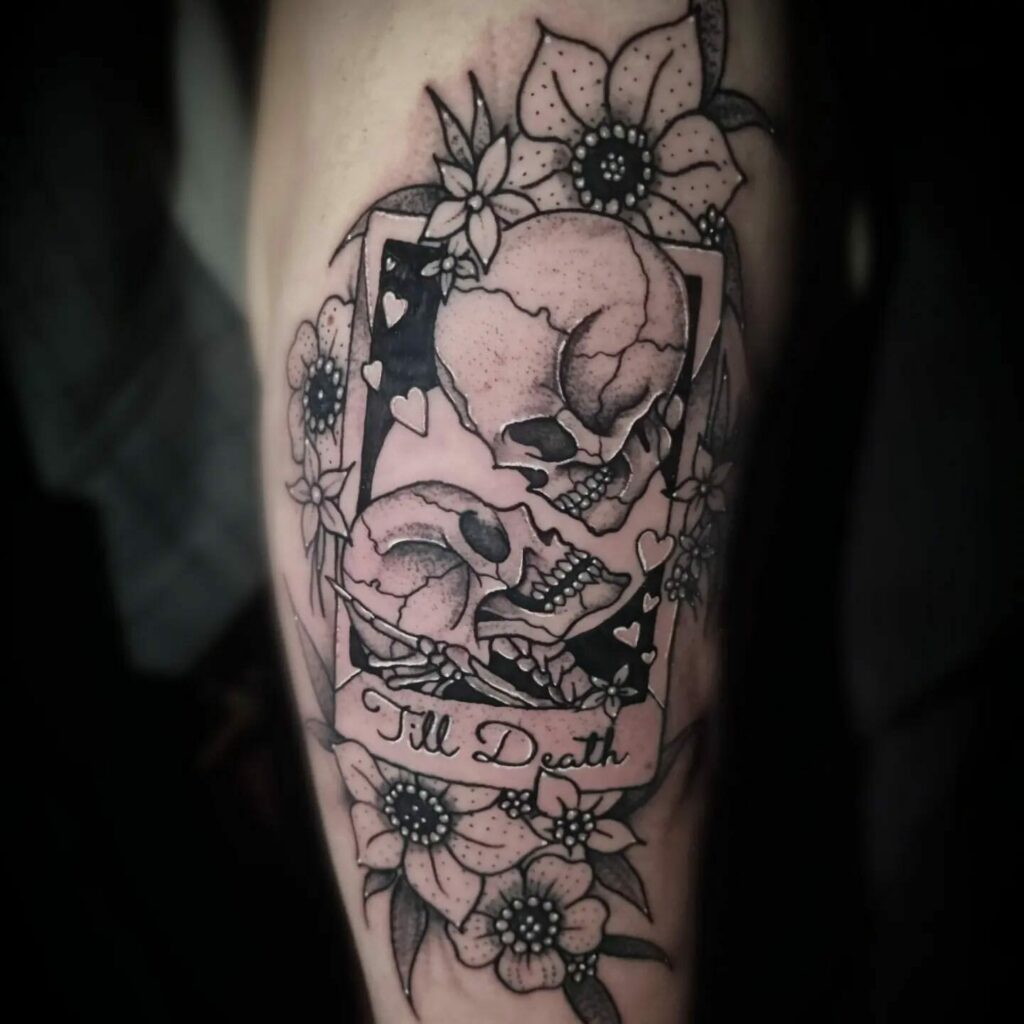 The phrase "'Til Death" is emboldened by the inclusion of flowers, likely signifying the beauty and fragility of life and love. Set within a tarot card frame, this tattoo explores the lifelong commitment of love, while the flowers add a touch of ephemeral beauty, contrasting and complementing the permanence of death.
Lovers Tarot Card On Arm With Roses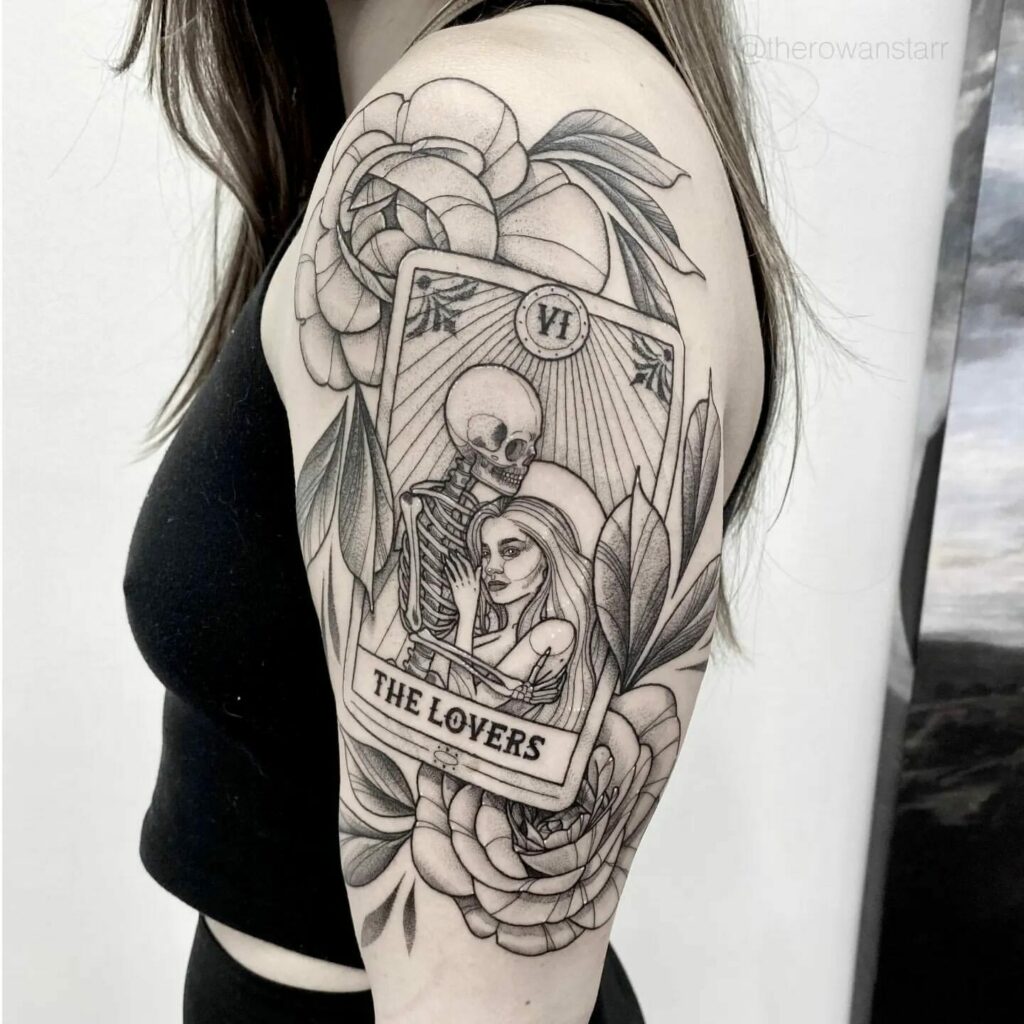 Positioned on the arm and adorned with roses, this tattoo design combines the universal symbolism of love from both the tarot and the flower world. Roses are classic symbols of love and passion, adding an extra layer of romanticism to the already profound imagery of the Lovers tarot card, making it a bold statement piece on the arm.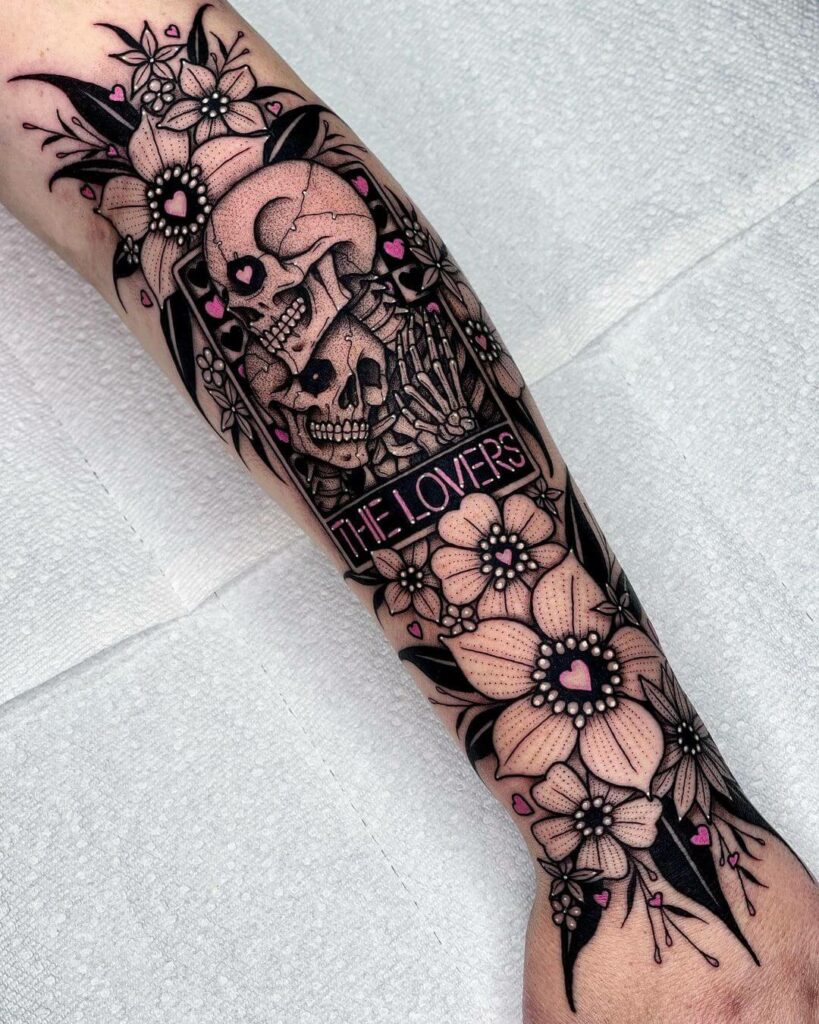 Tarot card tattoos are believed to bring good fortune to their respective owners. And this particular Major Arcana card tattoo is said to be a guide for your romantic life. If you liked going through the list of tattoos we made for you, we hope it has been helpful enough for you to decide which one you want for yourself. You can get one customised by your artist as well. But since a permanent piece of body art is difficult to remove, you must be sure and careful about your choice. But we can assure you that all in all, a Lovers card tattoo would look good on anyone irrespective of their gender, age and race.
What Is The Meaning Of A Lovers Tarot Card Tattoo?
Ah, the Lovers Tarot Card tattoo! This design is all about choice, relationships, and yes—love. But it's more than just a simple heart doodle. The Lovers card often features a couple, sometimes even an angel or a fruit-bearing tree, highlighting the mix of human and divine in love. It could represent a crossroads in your life, like a big decision related to your relationships or even your own personal values. Getting this tattoo can be a way to wear your heart on your sleeve—literally—or remind yourself of the choices that shape your love life.
Conclusion
Getting a tattoo is a big decision that requires careful consideration. Before getting a tattoo, it's important to consider your lifestyle and how the tattoo may impact it. For example, a visible tattoo may not be appropriate if you have a job requiring you to wear formal clothing. You should also think about the pain involved in getting a tattoo as it will hurt. It's important to stay hydrated before getting a tattoo and avoid dehydrating yourself. You should also get a good night's sleep, don't drink the night before, stay hydrated, and eat something before arriving at the tattoo studio. You should also know what you want and plan your schedule. Don't be afraid to walk away if you're not comfortable with the artist or the studio. You should also know how and when to tip. The cost of getting a tattoo varies depending on the size and complexity of the design, as well as the location of the tattoo studio. There are potential negative side effects or risks associated with getting a tattoo such as infection, allergic reactions, keloids, granulomas, and MRI complications.
When it comes to where the tattoo should be placed, for your first tattoo, consider getting it placed in a location that has more flesh and is not tender. This means an area that is not right on bone and that is not sensitive. For example, a tattoo on your foot may be more painful than a tattoo on your calf because a foot tattoo will be hitting bone more directly.
Feature Image Photo By ntd_tattoo on Instagram
Last reviewed and updated on September 27, 2023