Are you looking for the perfect Lovers tarot card tattoo but can't decide what to get? Look no further!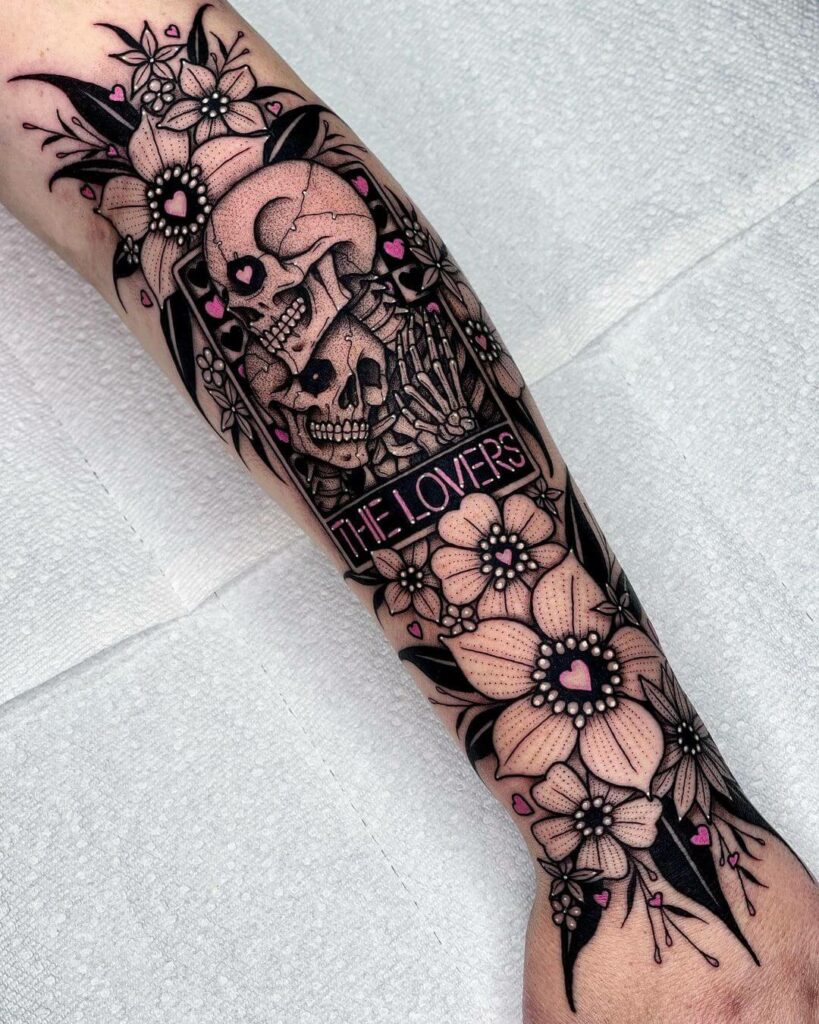 Tarot tattoos are becoming more and more popular every day. Many people who believe in this particular type of cartomancy choose to get this kind of tattoo inked. And if you're wondering why you need a Lovers card tattoo, keep reading.
Some common tattoos based on tarot cards include the Fool, the Hanged Man, the High Priestess, the Moon, the Magician, the Tower, and the Wheel of Fortune tattoos. But the most popular one after the Fool tarot card tattoo is the Lovers card tattoo. The Lovers card is the sixth trump or Major Arcana card in the traditional deck of tarot cards. Every Lovers card tattoo has a unique story, symbolism, imagery and meaning that vary with its owner. Your tarot card tattoo would signify different things based on its position and placement, similar to what happens in real cartomancy. The Lovers card can have different meanings in different aspects. But generally, it represents equilibrium, harmony, passion and love. Getting this kind of tattoo signifies that the owner has faith in their own intuition and is on their journey to self-awareness while trying to find balance within themselves. A Lovers card tattoo provides the one wearing it with the power of facing life's dilemmas. Getting this tattoo inked portrays that the person owning it has hope of finding love and probably their soulmate. This tattoo could also mean that the bearer is in search of intense romance and/or sexual pleasure. People who have found their partners and have faith in destiny often get the Lovers card tattooed on themselves. Thus, the various meanings of this particular type of tattoo give you a variety of designs to choose from. But you should always choose and place your tattoo according to your budget, your ability to endure pain and whether you need it hidden under certain circumstances. Tattoos featuring tarot cards can be of any shape, size and color. Whether as a sleeve tattoo or a full back piece; a Lovers card tattoo would always be a super cool option to go for. And we've got you covered with some of the best Lovers tarot card tattoos that you won't be able to resist.
Lovers From 'The Nightmare Before Christmas' Tarot Card Tattoo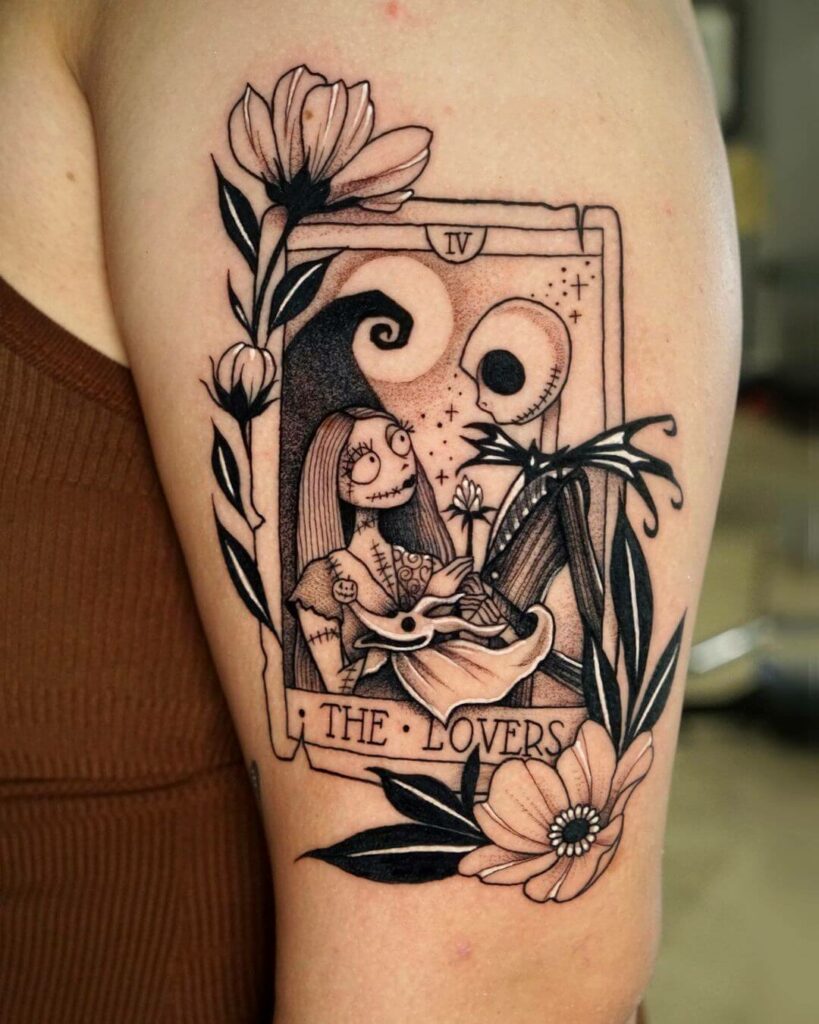 The beloved Tim Burton's 'The Nightmare Before Christmas' has given us all a beautiful relationship to look up to. The bond between Jack Skellington and Sally is one of the most beautiful among that of other fictional couples. This tattoo is a stunning crossover between fortune-telling and animation. However, the tattoo is so intricate and unconventional that you'd definitely need an artist with skills to get this inked.
The Lovers Tarot Card Thigh Tattoo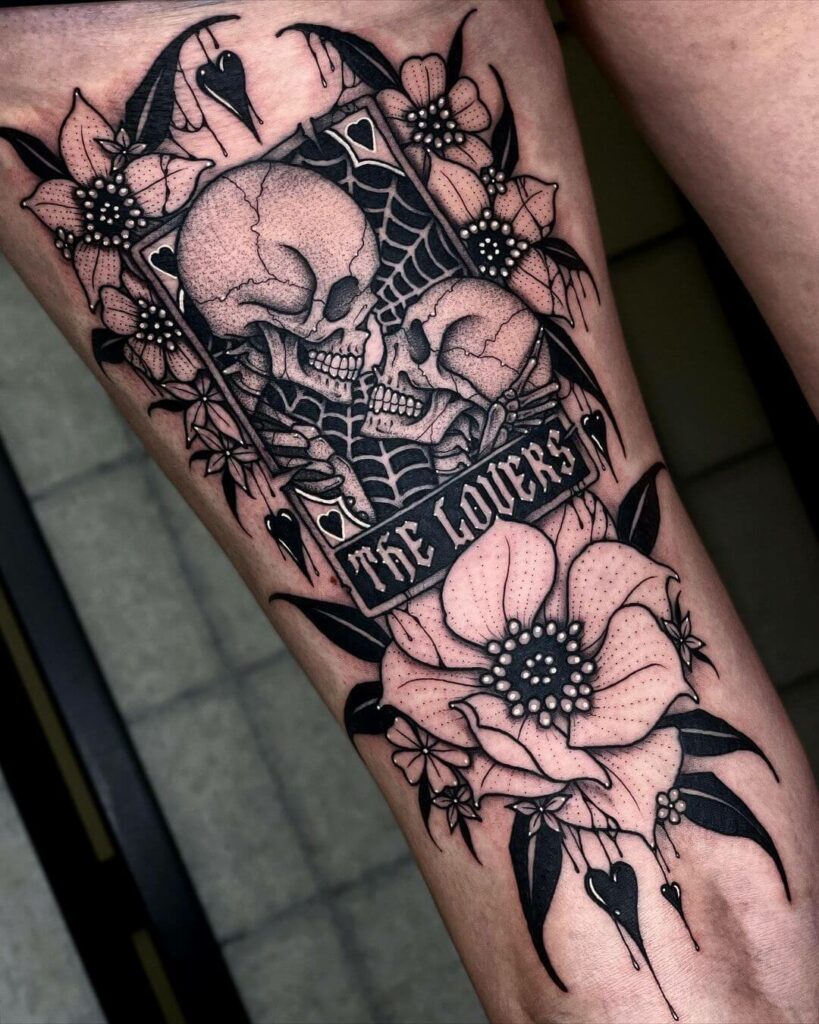 Adding skeletons to a Lovers card tattoo is an old tradition that has been around for quite some time. However, this tattoo has a unique Halloween-y vibe that sets it apart from other tattoos. The use of white on black ink in this tattoo is just as mesmerizing as the ink-dripping effect. This tattoo can be resized to fit anywhere from a sleeve tattoo to a calf tattoo. So why not give it a try?
L'amoureux Tarot Card Tattoo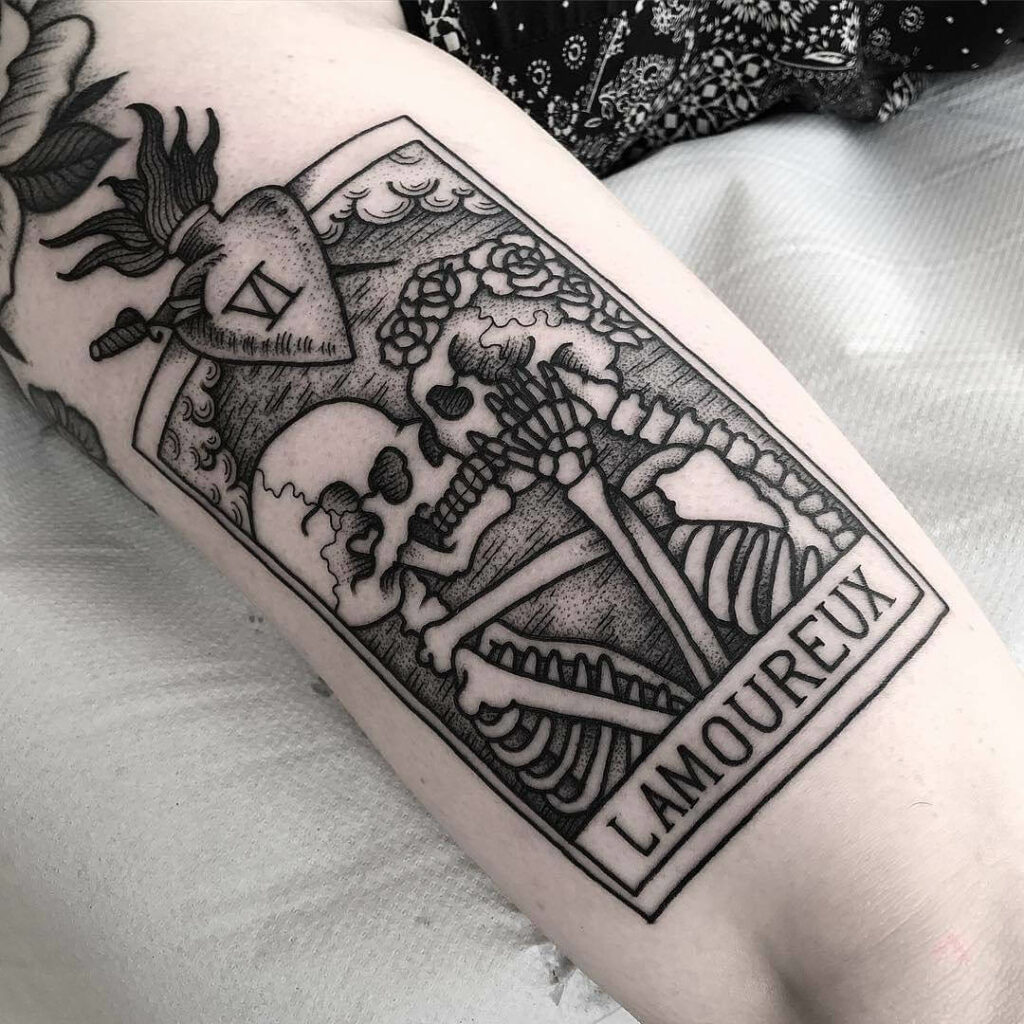 The word "L'amoureux" is French for "the lover" or "the loving one". This tarot card tattoo is a symbol of soul-to-soul connections and deep, meaningful relationships. The two skeletons kissing each other give the tattoo an eerie and mysterious tone. This grayscale tattoo is a beautiful piece that requires an experienced artist's hands to bring it to life. Finding an artist who knows how to do their job well is crucial for this piece to be executed perfectly.
Los Enamorados Tarot Card Tattoo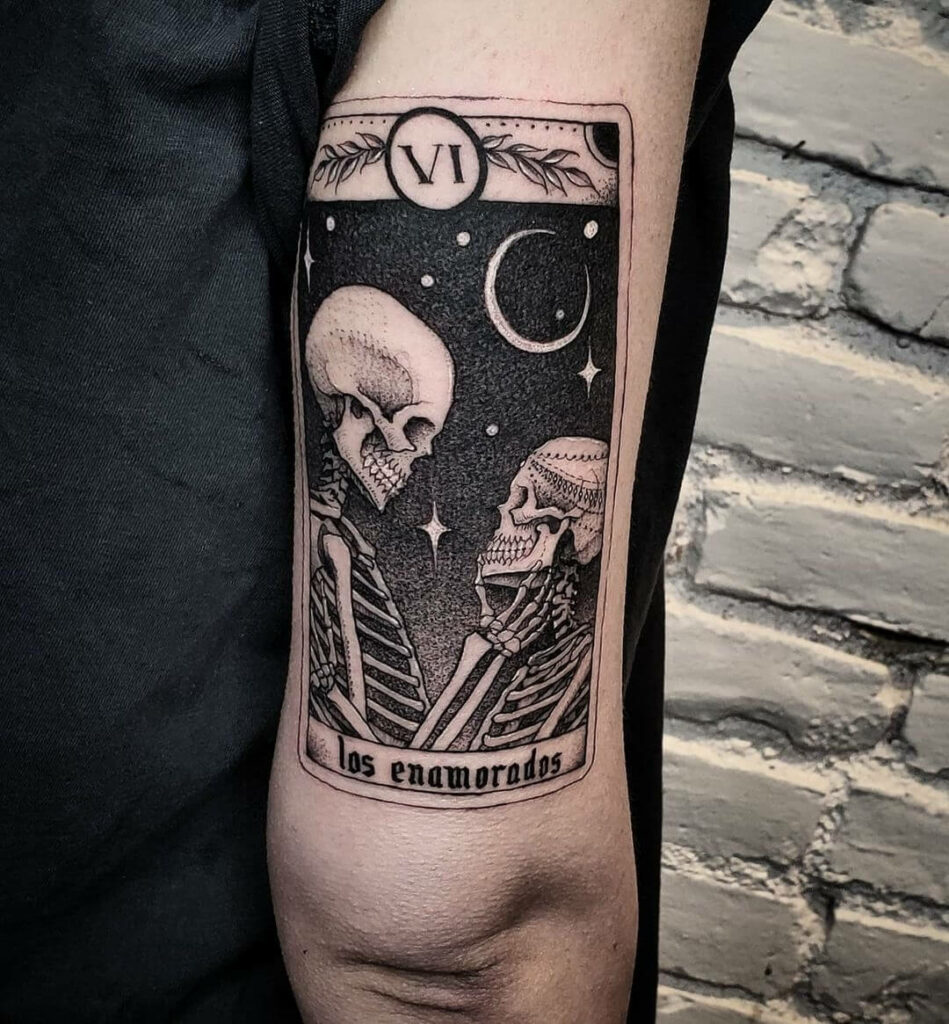 If you're looking for a tattoo that symbolizes your love and passion beyond death, we have just the thing for you. Our tattoo features skeletons that represent the immortality of love and passion. This meaningful piece is perfect for those who believe in love that extends to infinity and beyond. With the help of our skilled artists, you can be sure that your tattoo will be a beautiful and meaningful addition to your skin.
Lovers From 'The Addams Family' Tarot Card Tattoo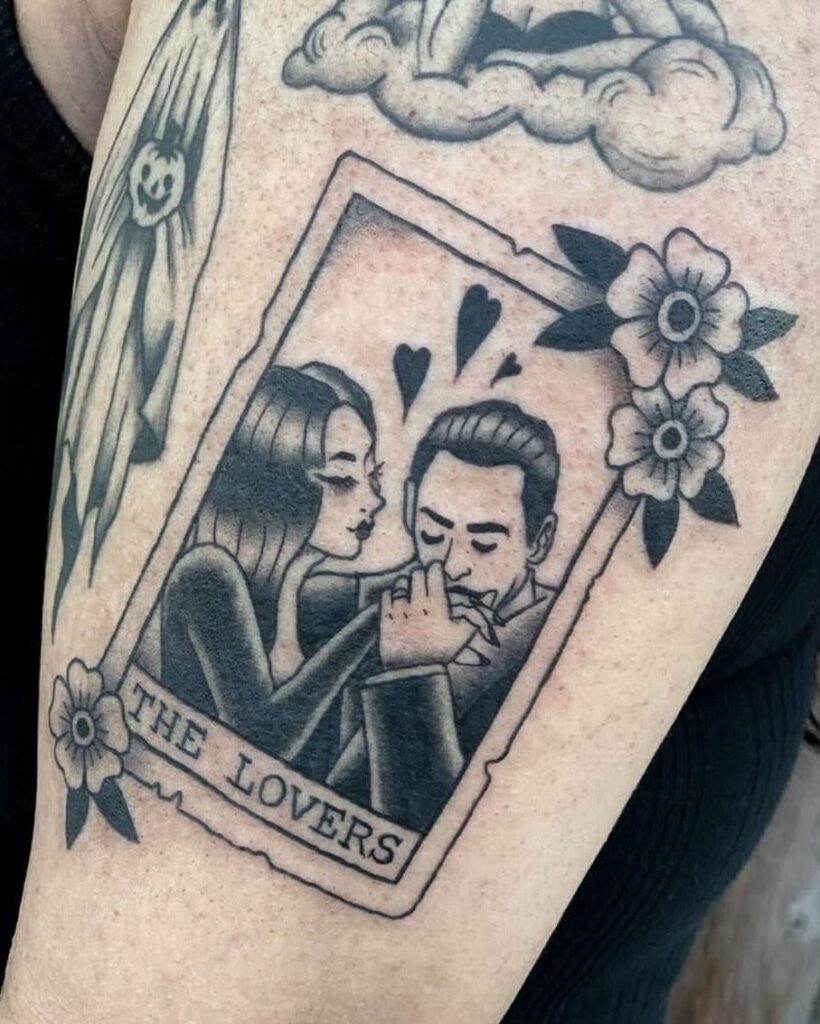 Morticia and Gomez Addams from the 1991 film 'The Addams Family' are the stars of this tattoo. Their unique weirdness and their love for each other make them an incredible couple. Gomez admires his wife and finds her to be the prettiest in the world. This tattoo captures that essence really well. If you're looking for an iconic scene inked as a tarot card tattoo, this is it!
Indian Lovers Themed Tarot Card Tattoo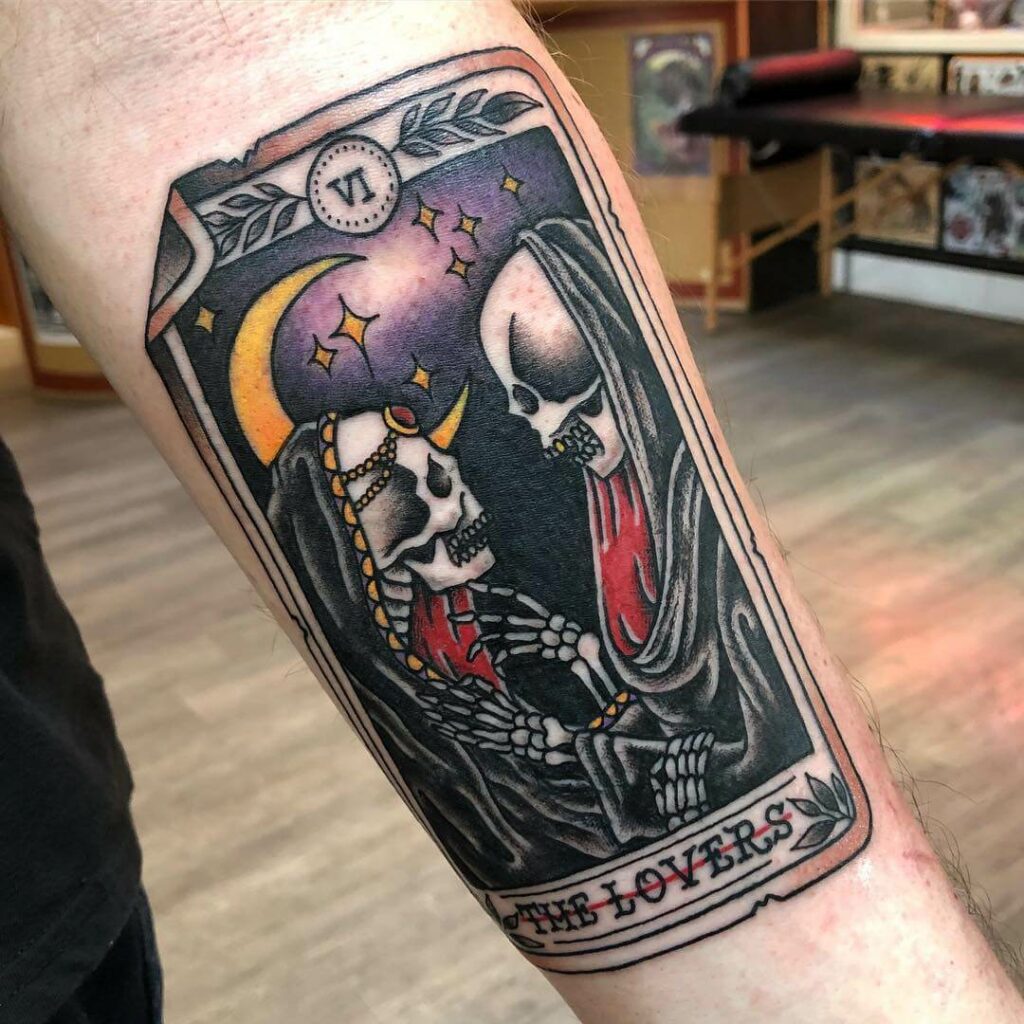 In India, when two people get married, they are believed to become lovers for the next six lives (seven including the first one) after they die and reincarnate. The bond of a married couple in India is believed to be holy and everlasting. If you want to flaunt the eternal love you have for your lover or your lover and you have for each other, getting inked is a great way to do it!
'Howl's Moving Castle' Lovers Card Tattoo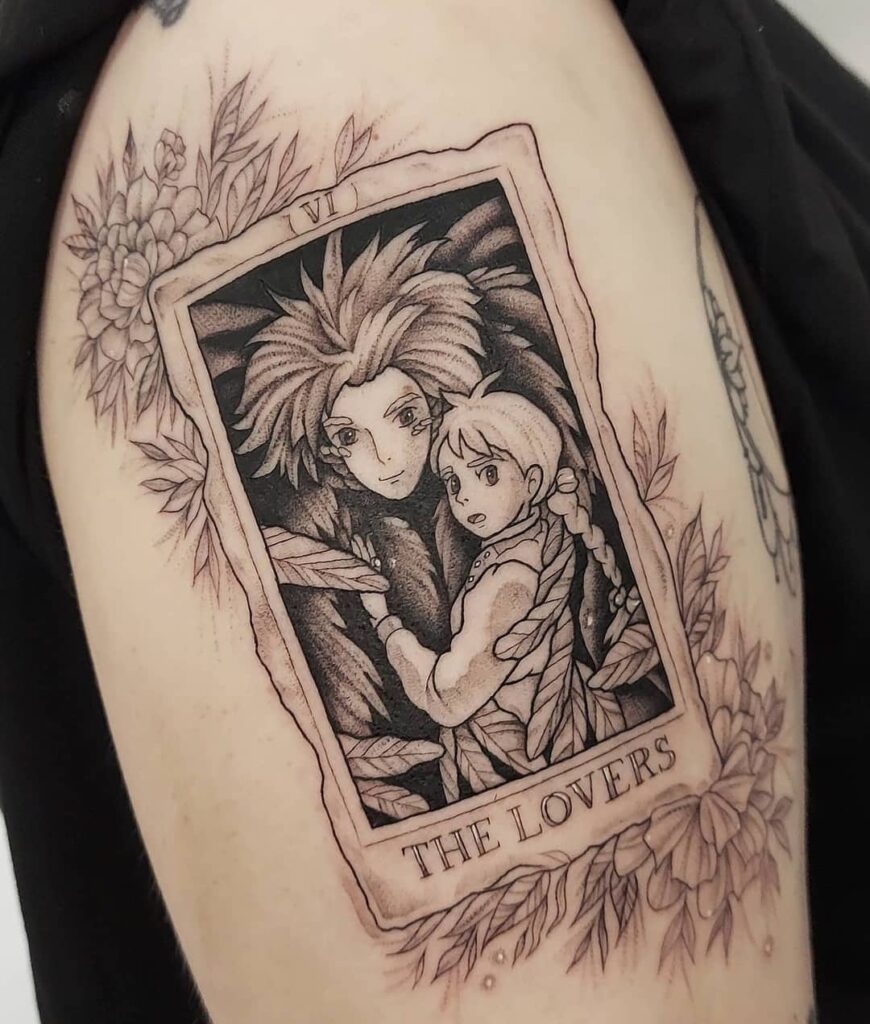 The 2004 Studio Ghibli movie 'Howl's Moving Castle' has captured the hearts of many with its portrayal of the bond between Howl and Sophie. This tattoo featuring Howl and Sophie is something that anyone who loves anime and believes in tarot reading can get inked. While getting this arm piece inked on your skin might be a painful experience, we promise that the end result will be worth the pain.
Inuyasha And Kagome Tarot Card Tattoo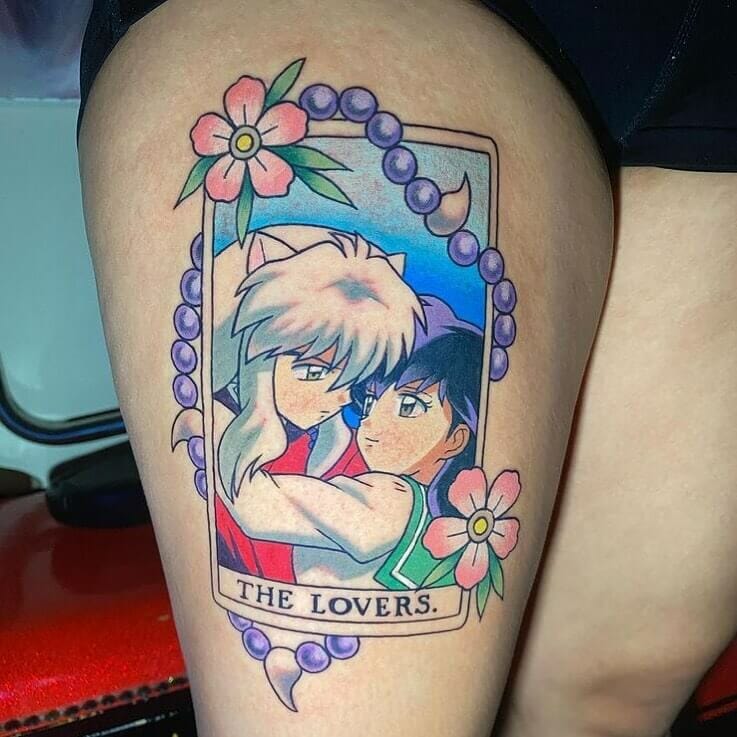 The Japanese manga series 'Inuyasha' has captured the hearts of many with its beautiful love story of a human-dog demon (Inuyasha) and a girl (Kagome). This tattoo is an excellent blend of tarot and manga. The tattoo artist can customise this piece of art by incorporating other anime or manga couples in the tattoo. With some money and patience, anyone of any age or gender can totally rock this tattoo.
The Lesbian Lovers Card Tattoo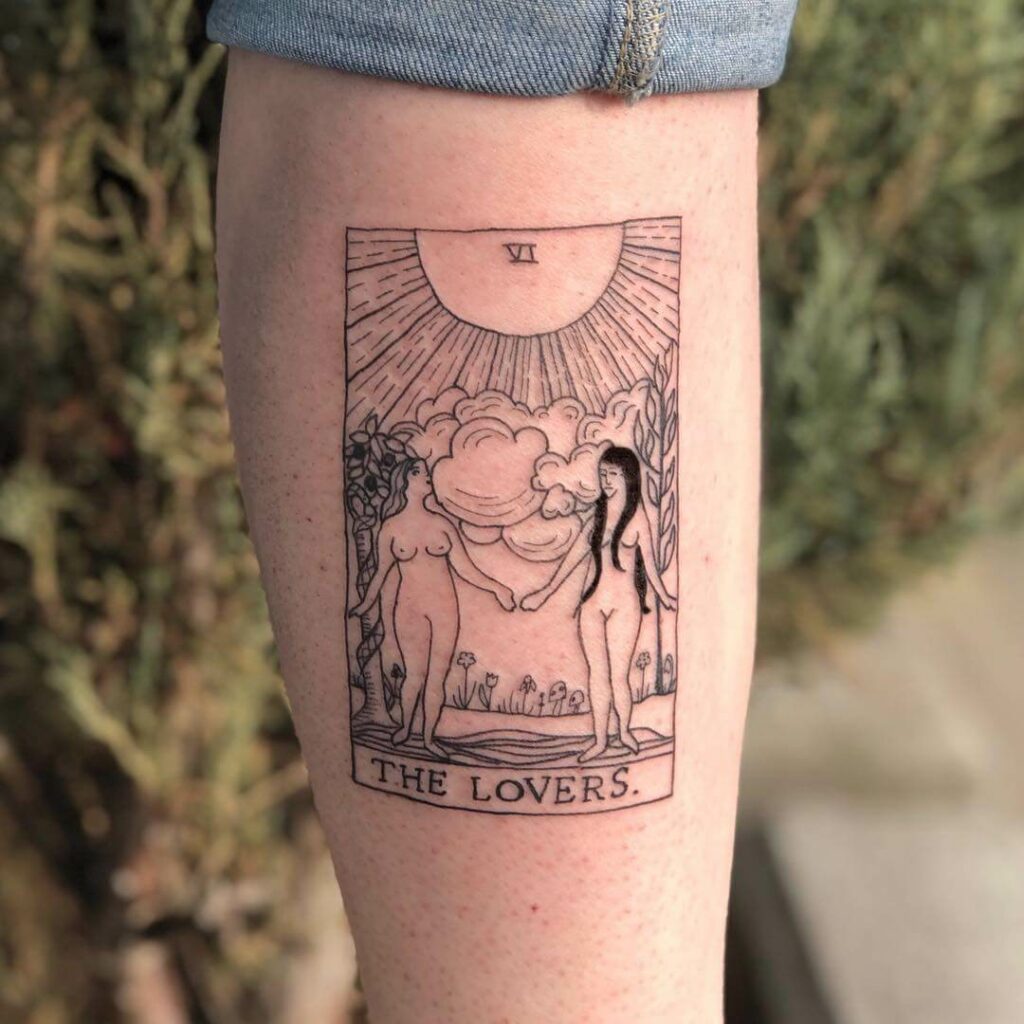 The Conventional Lovers card is a tattoo that showcases a man and woman standing naked in the Garden of Eden. It is nothing but the imagery of Adam and Eve. However, with changing times and people having the courage to explore their sexual orientation, this tattoo has become an inspiration for many. It portrays the fact that love is love, and every couple deserves equal rights. If you support the queer community, you may want to consider getting this inked.
Sun And Moon Lovers Card Tattoo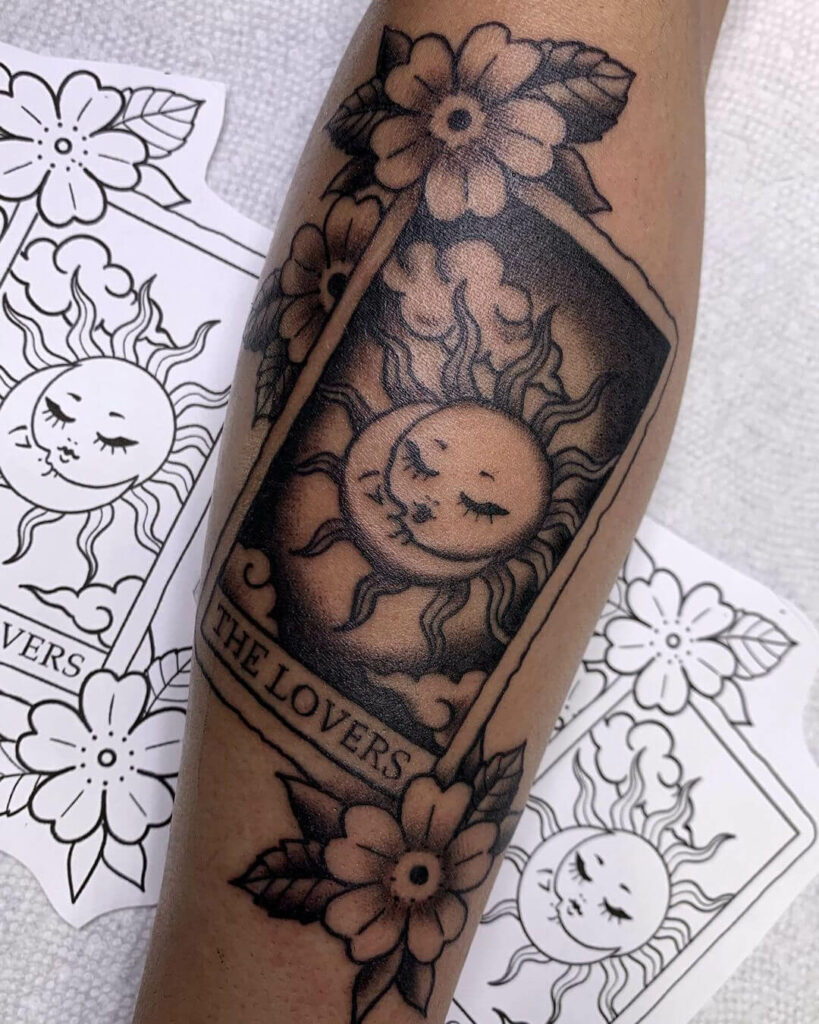 The sun and moon in this tattoo represent feminine and masculine energies, respectively. The incorporation of the star and the natural satellite gives this tattoo a universal vibe. It showcases the power of love. It tells us that love is the ultimate truth of life. The usage of the floral pattern in this tattoo adds up to its aesthetics really well.
Tarot card tattoos are believed to bring good fortune to their respective owners. And this particular Major Arcana card tattoo is said to be a guide for your romantic life. If you liked going through the list of tattoos we made for you, we hope it has been helpful enough for you to decide which one you want for yourself. You can get one customised by your artist as well. But since a permanent piece of body art is difficult to remove, you must be sure and careful about your choice. But we can assure you that all in all, a Lovers card tattoo would look good on anyone irrespective of their gender, age and race.
Conclusion
Getting a tattoo is a big decision that requires careful consideration. Before getting a tattoo, it's important to consider your lifestyle and how the tattoo may impact it. For example, a visible tattoo may not be appropriate if you have a job requiring you to wear formal clothing. You should also think about the pain involved in getting a tattoo as it will hurt. It's important to stay hydrated before getting a tattoo and avoid dehydrating yourself. You should also get a good night's sleep, don't drink the night before, stay hydrated, and eat something before arriving at the tattoo studio. You should also know what you want and plan your schedule. Don't be afraid to walk away if you're not comfortable with the artist or the studio. You should also know how and when to tip. The cost of getting a tattoo varies depending on the size and complexity of the design, as well as the location of the tattoo studio. There are potential negative side effects or risks associated with getting a tattoo such as infection, allergic reactions, keloids, granulomas, and MRI complications.
When it comes to where the tattoo should be placed, for your first tattoo, consider getting it placed in a location that has more flesh and is not tender. This means an area that is not right on bone and that is not sensitive. For example, a tattoo on your foot may be more painful than a tattoo on your calf because a foot tattoo will be hitting bone more directly3.
Feature image from Pinterest
Need More Inspiration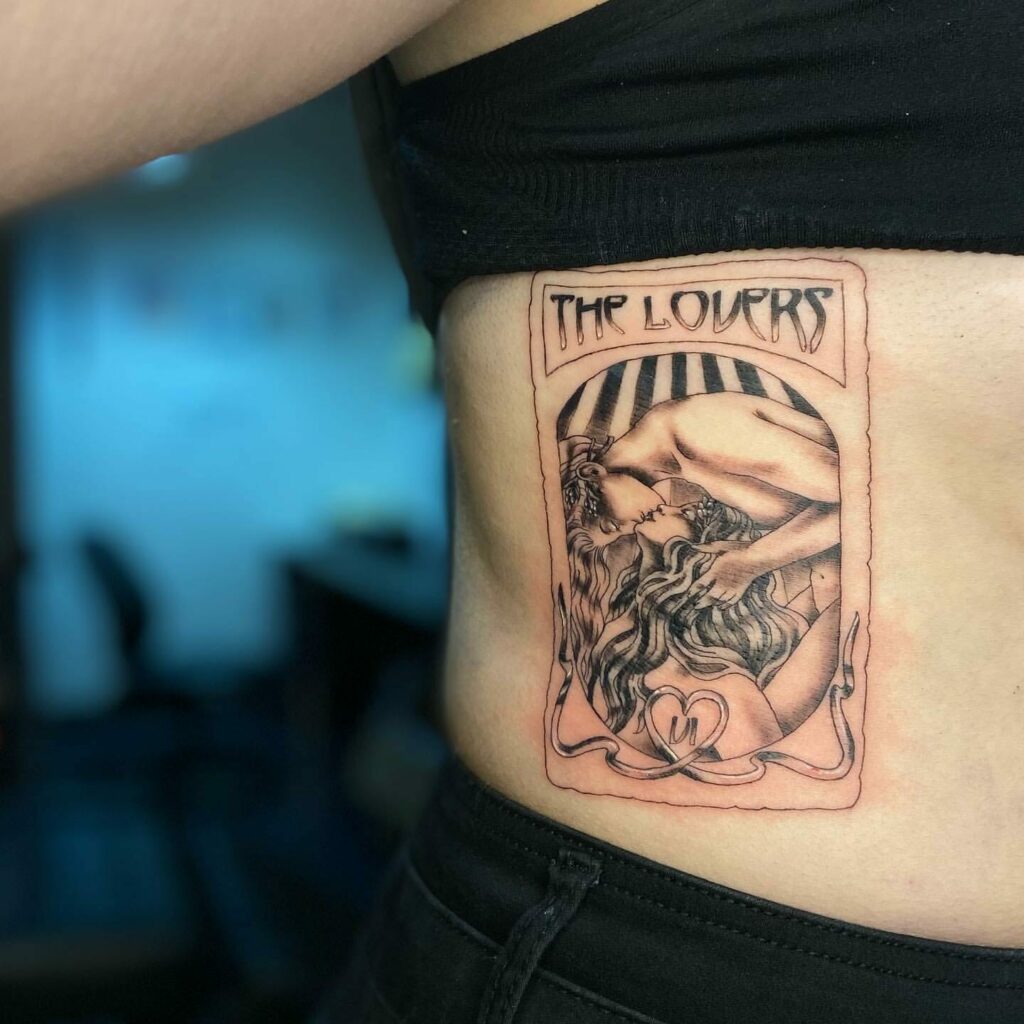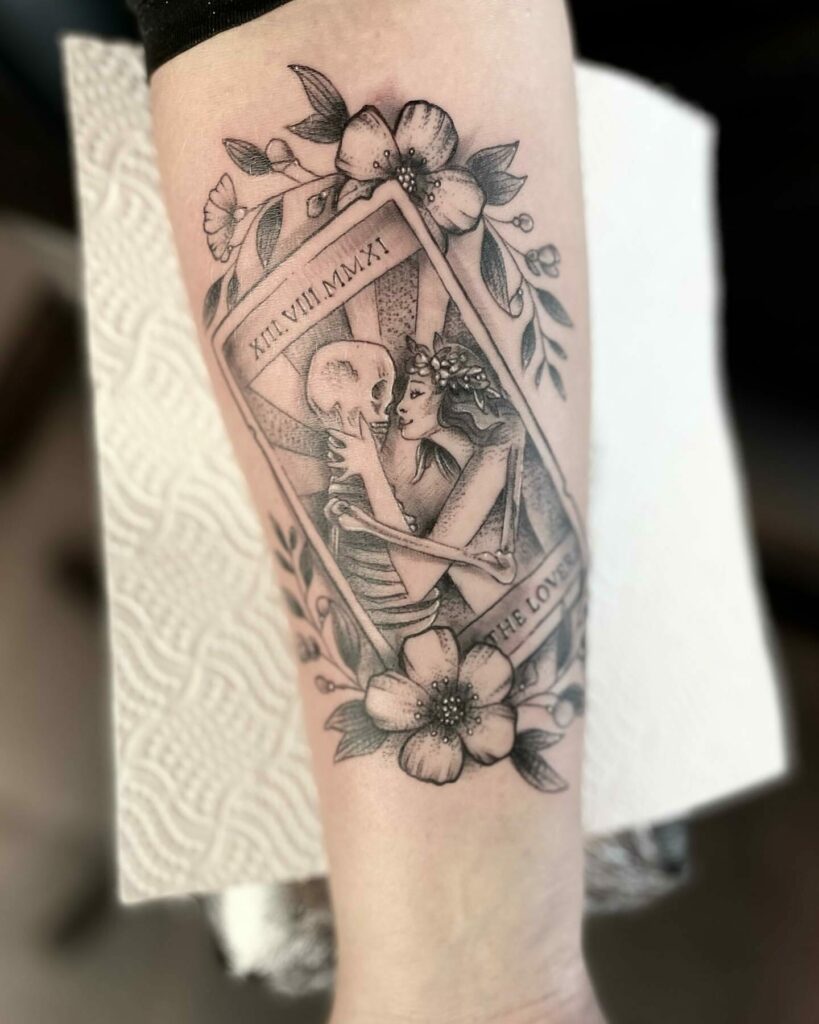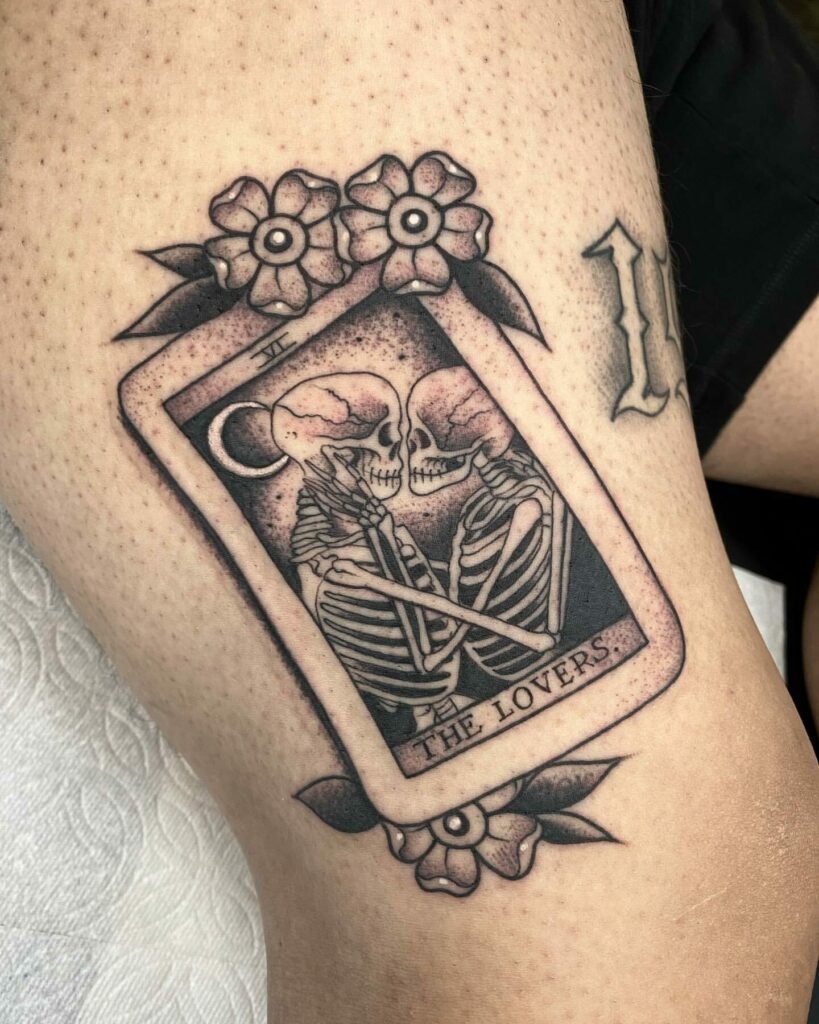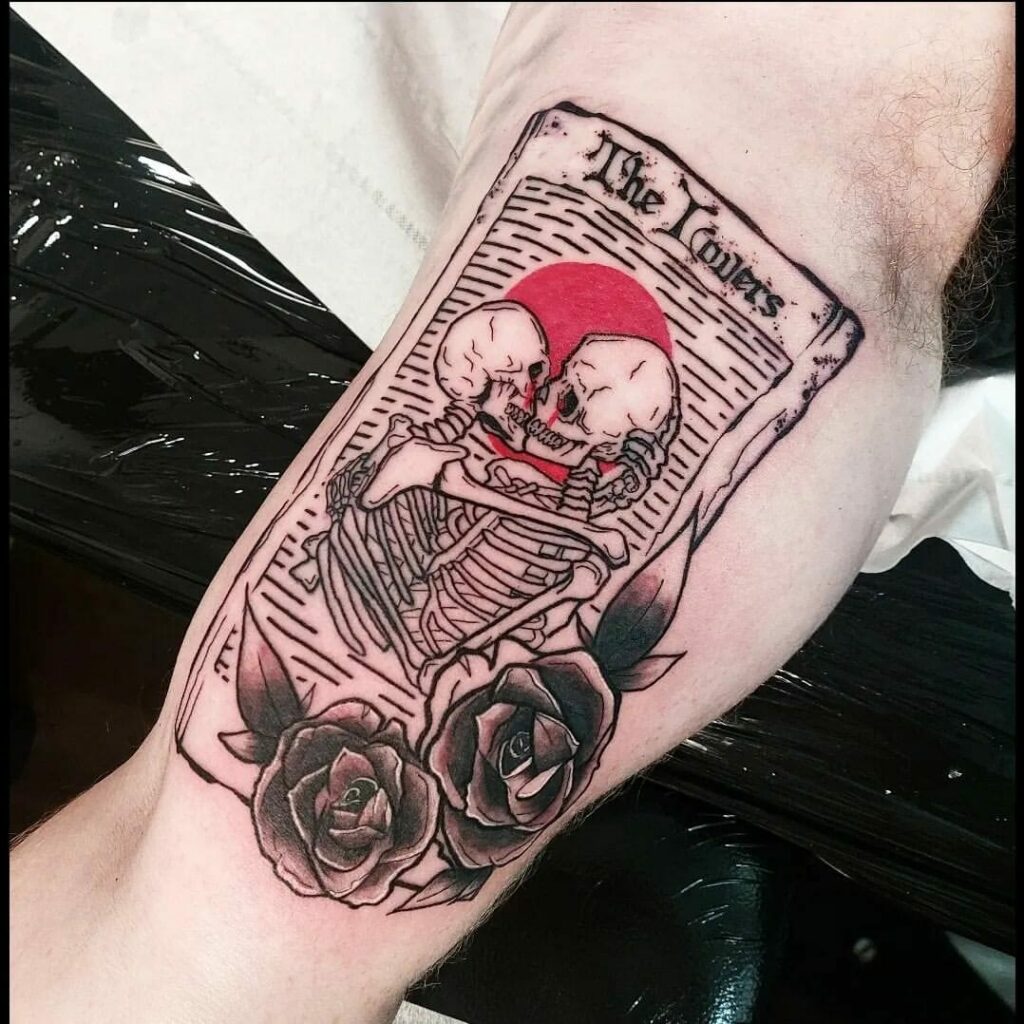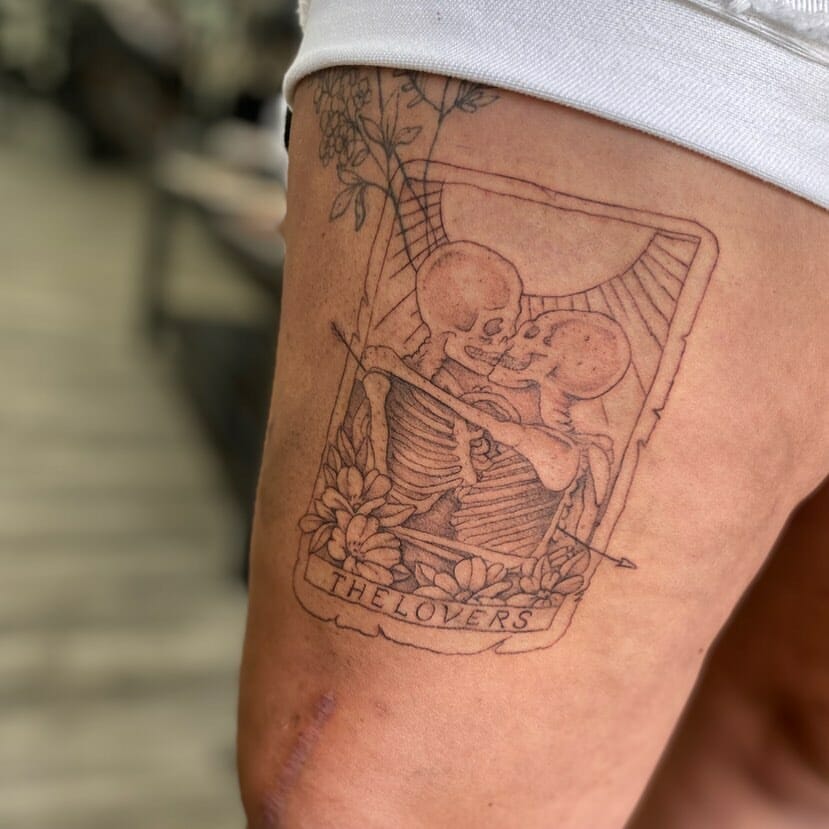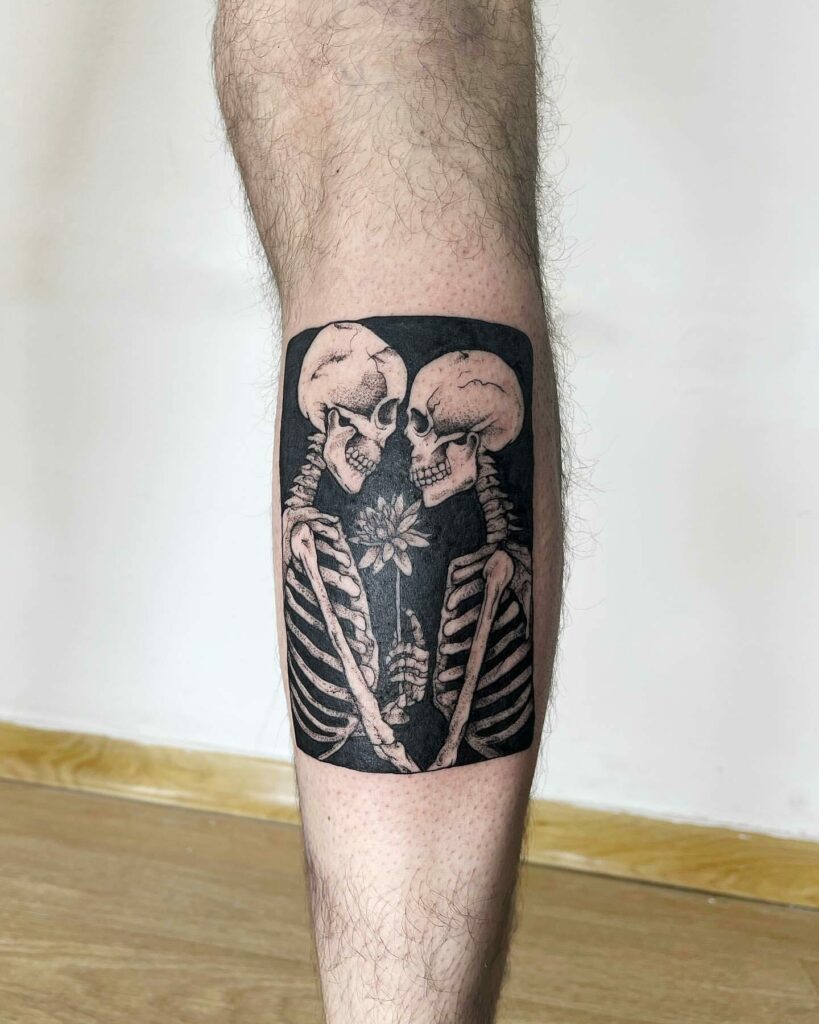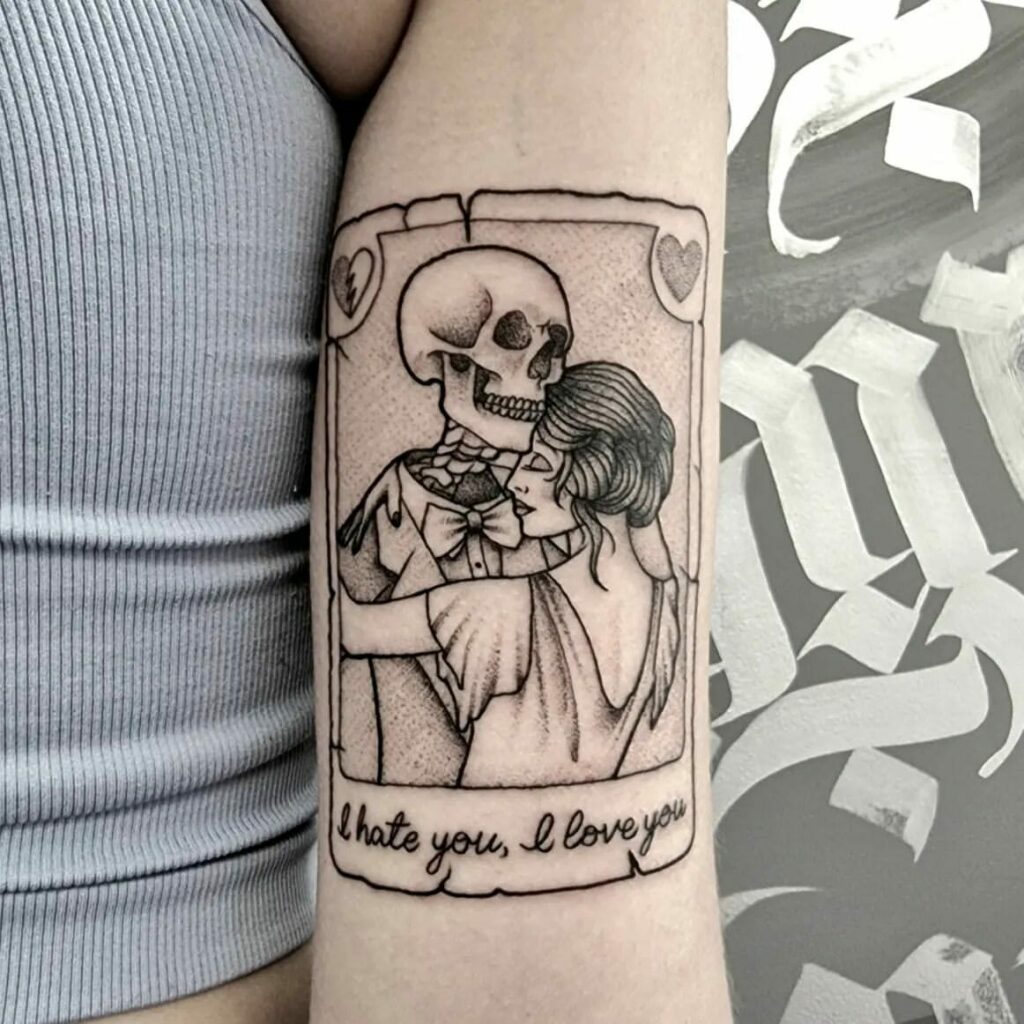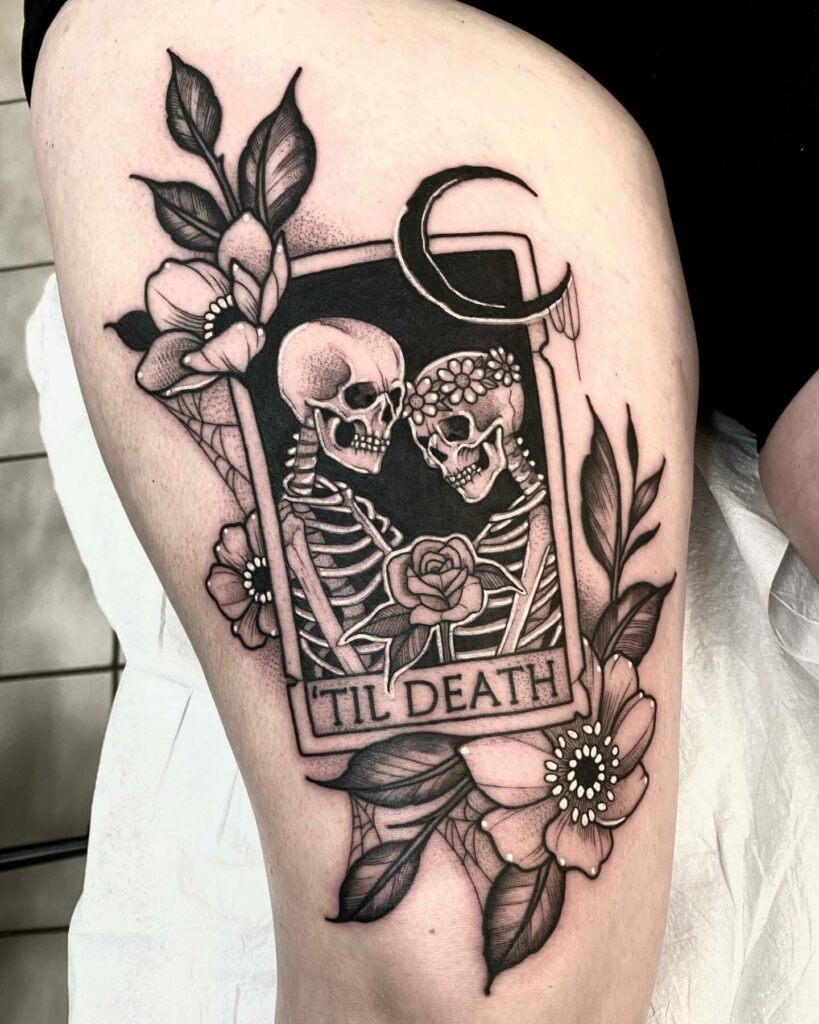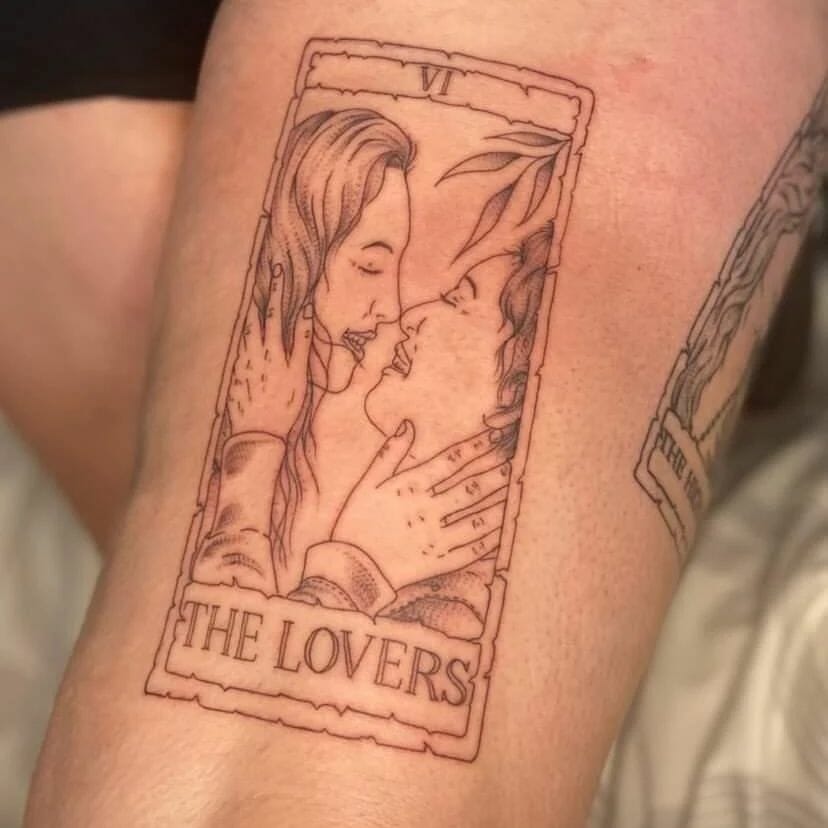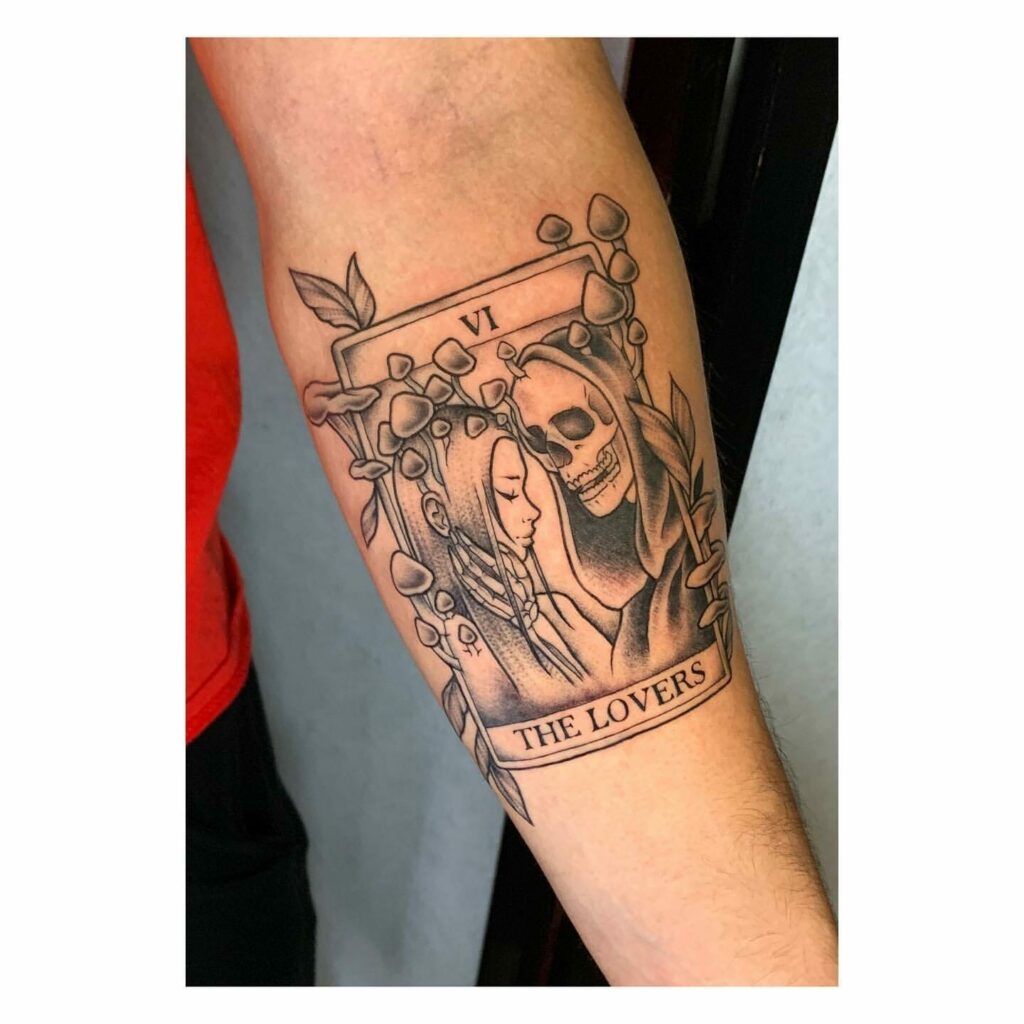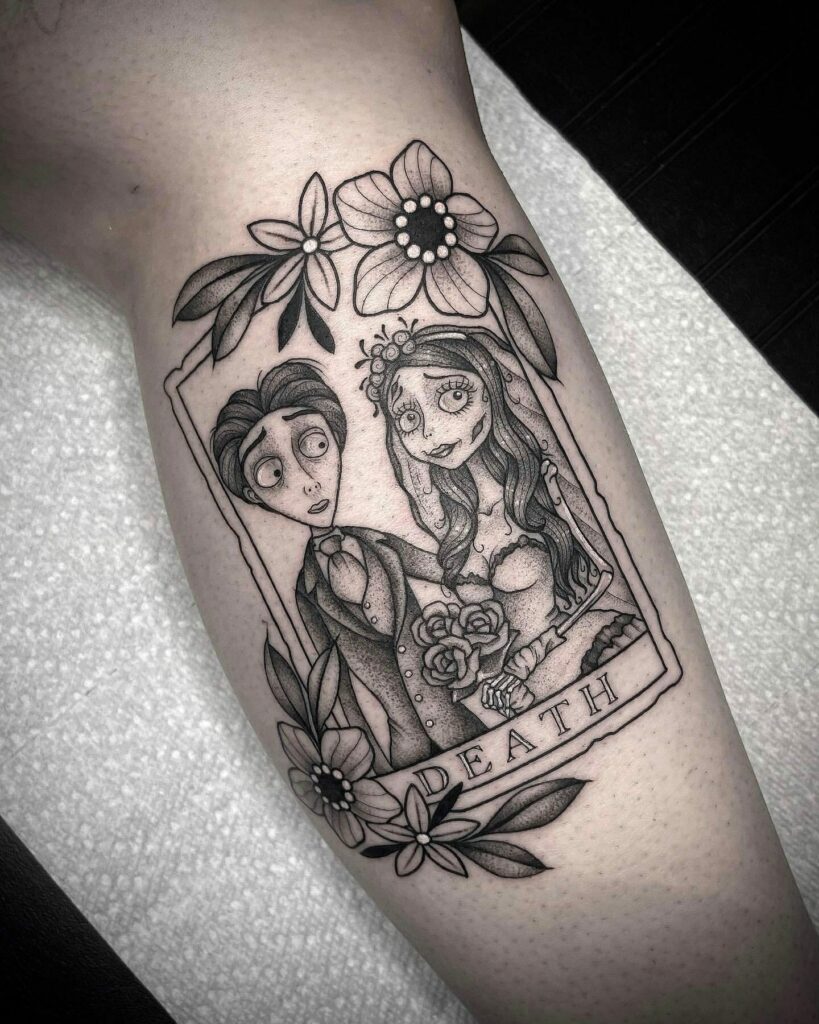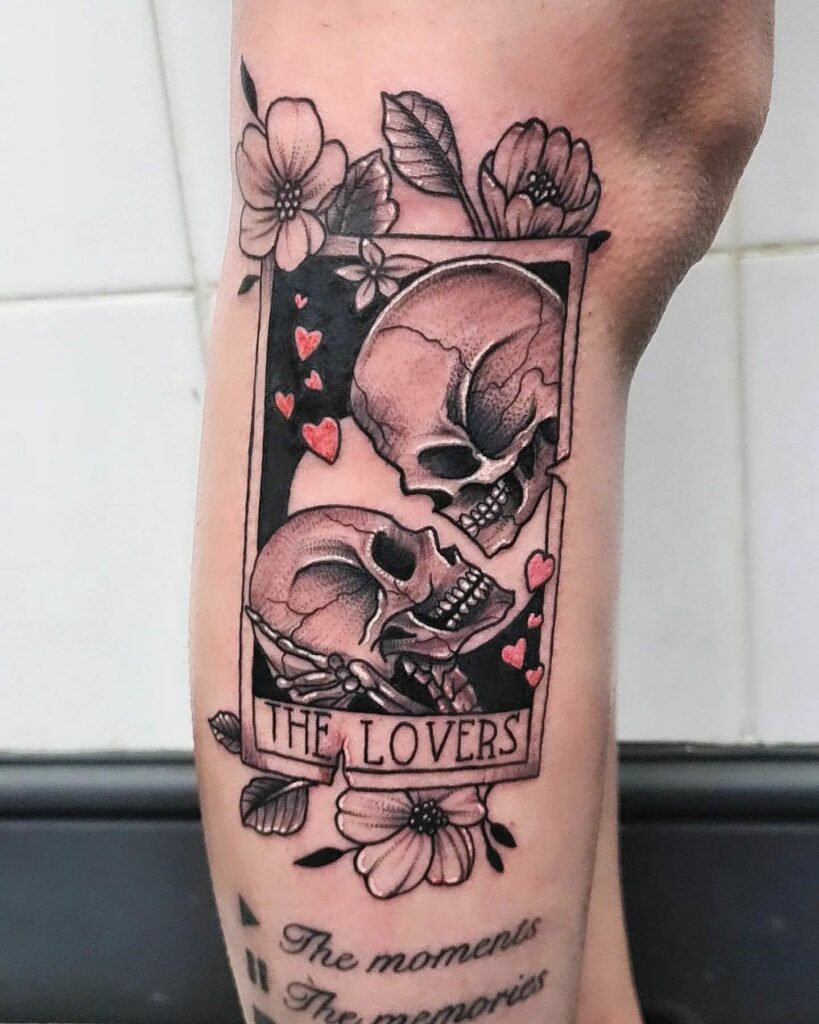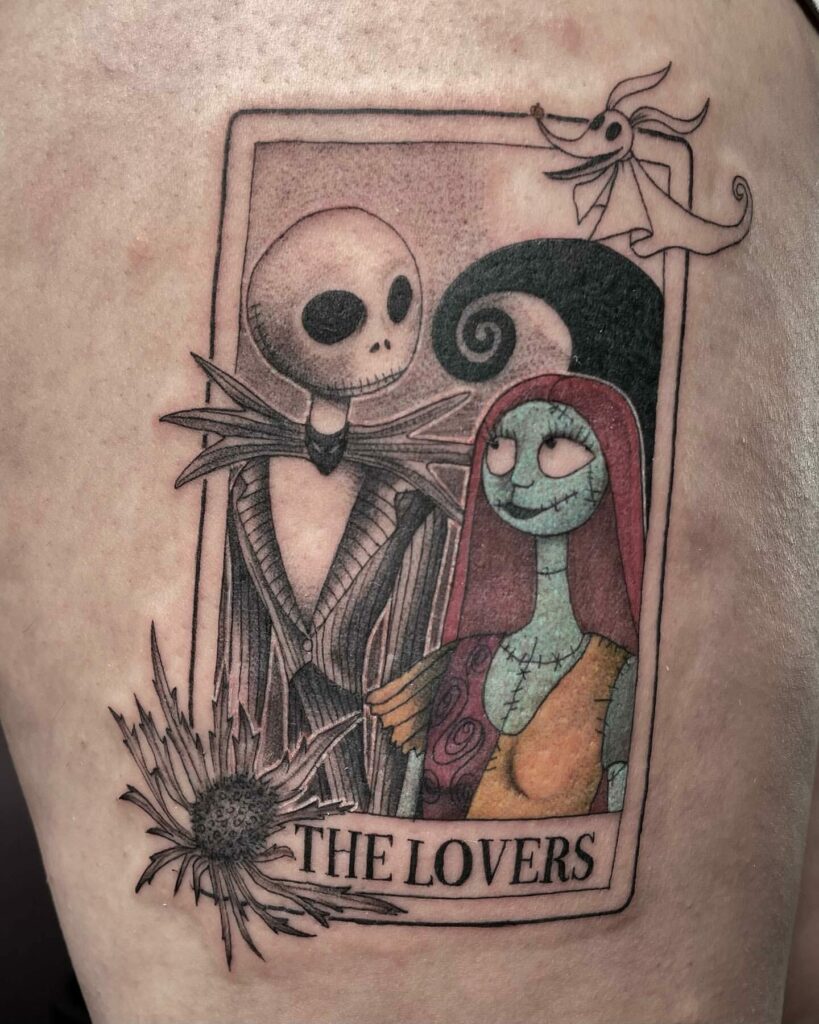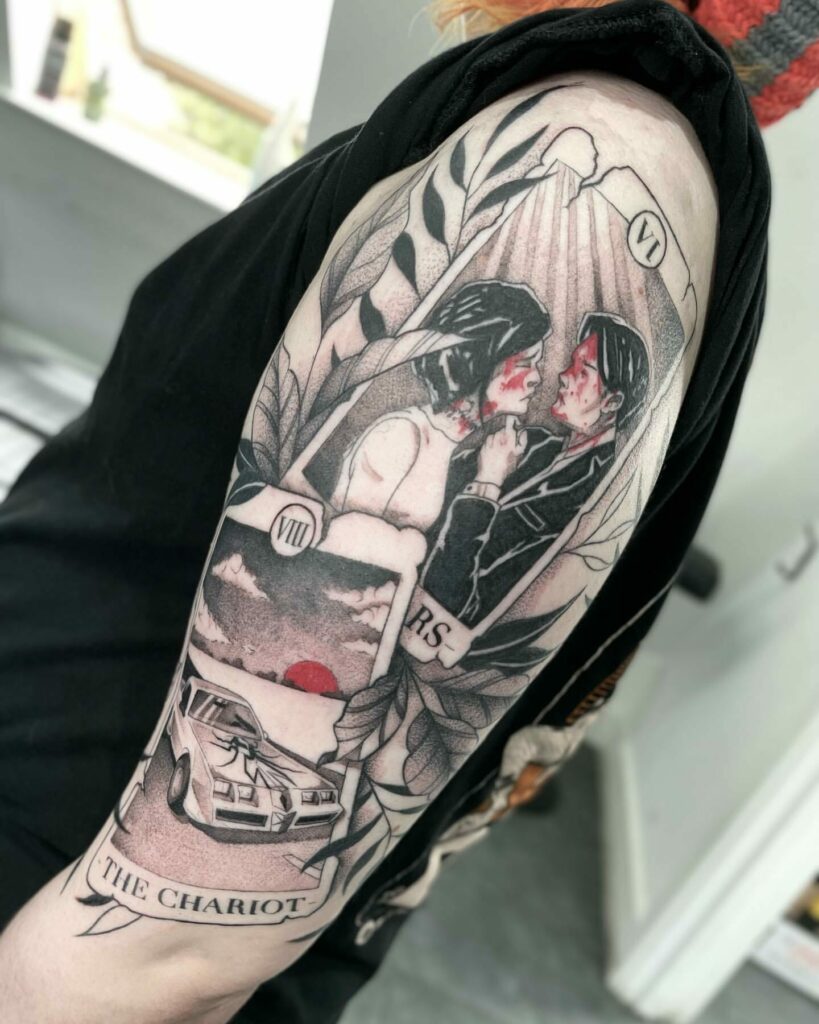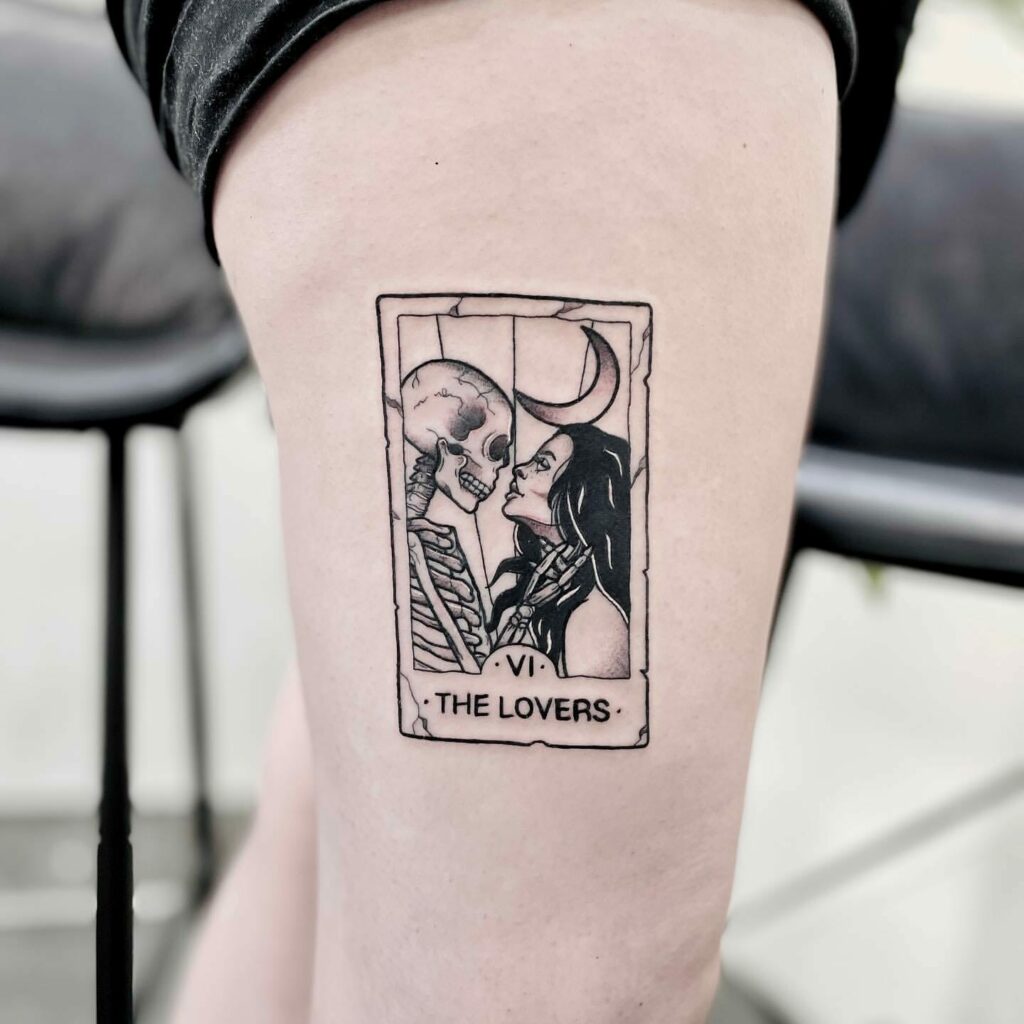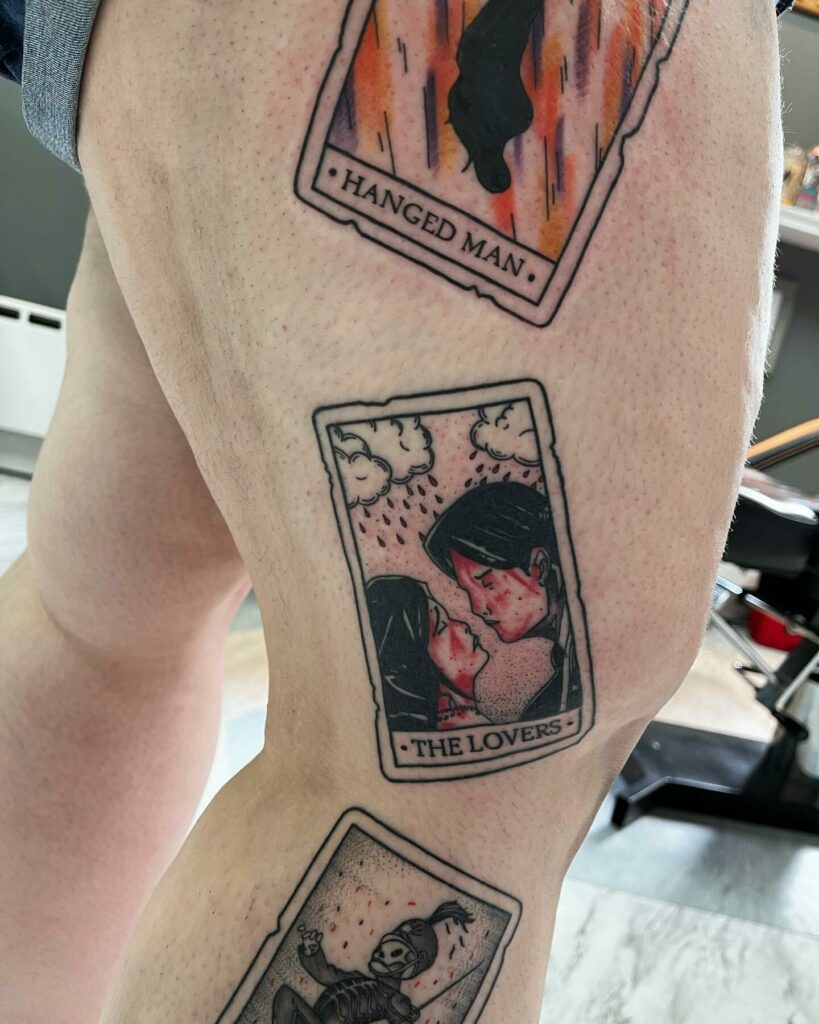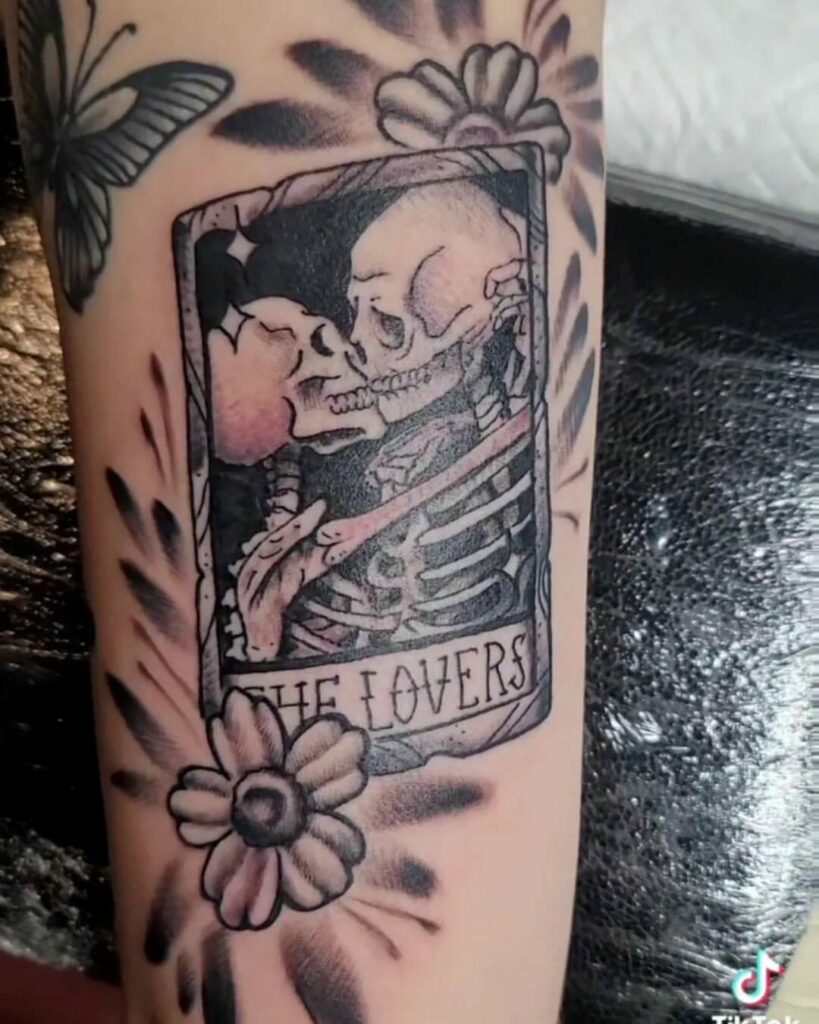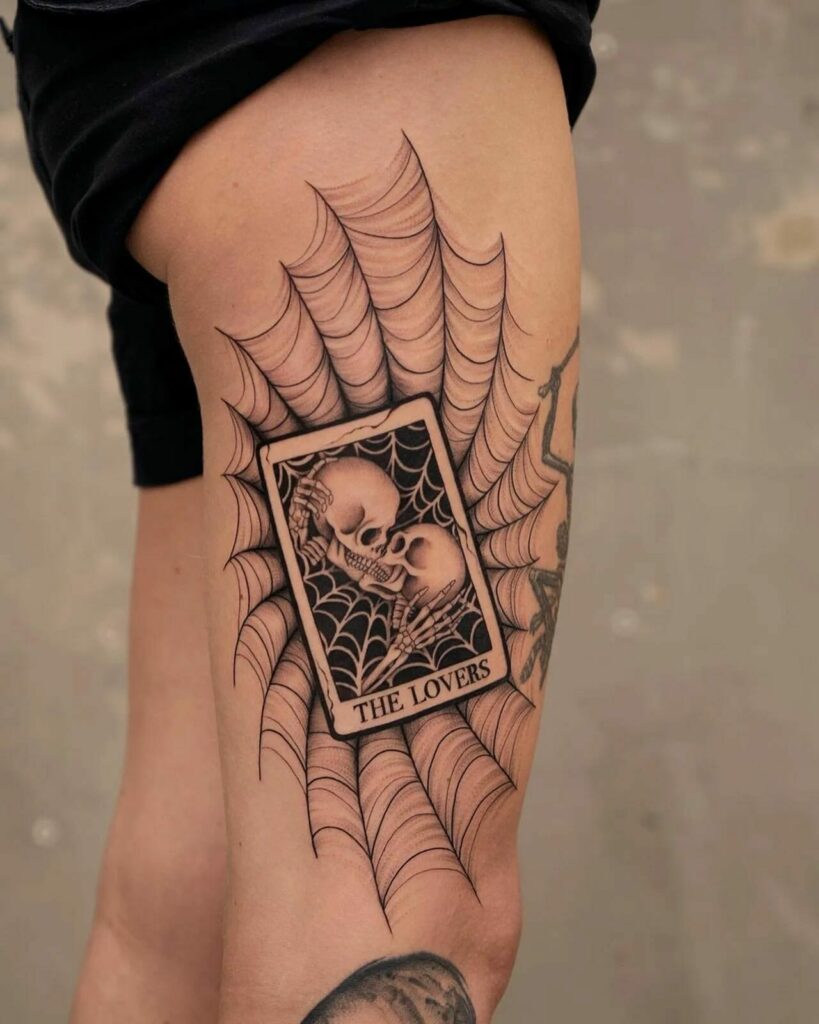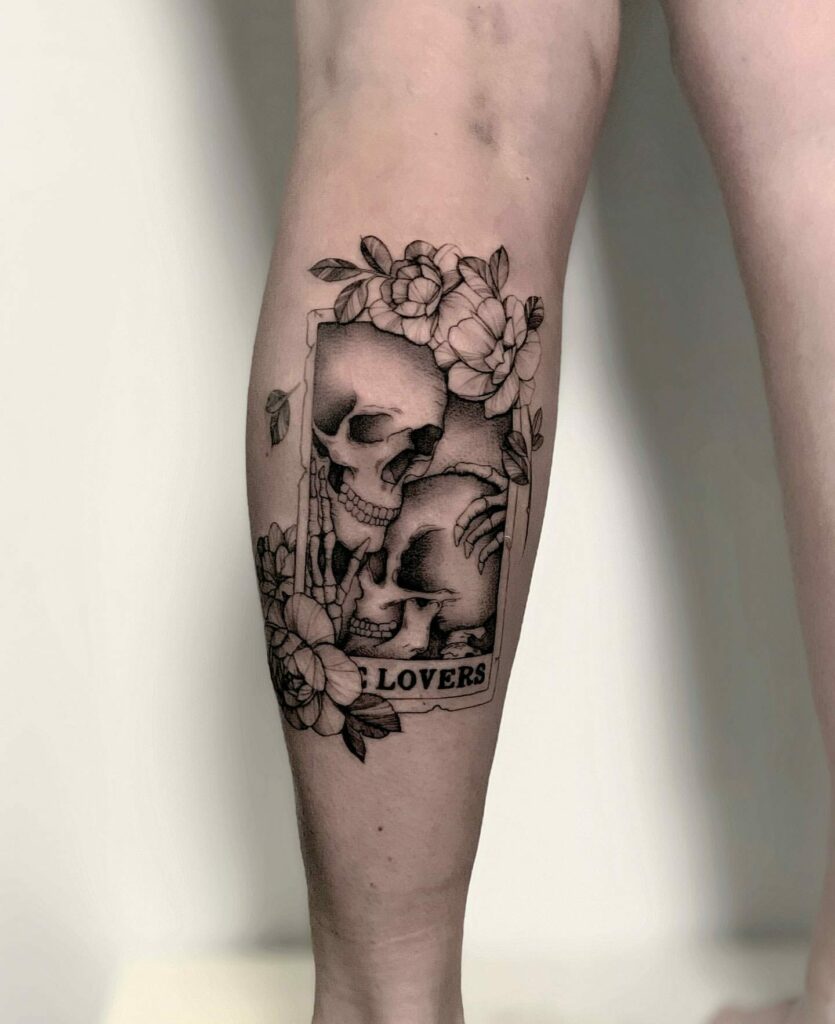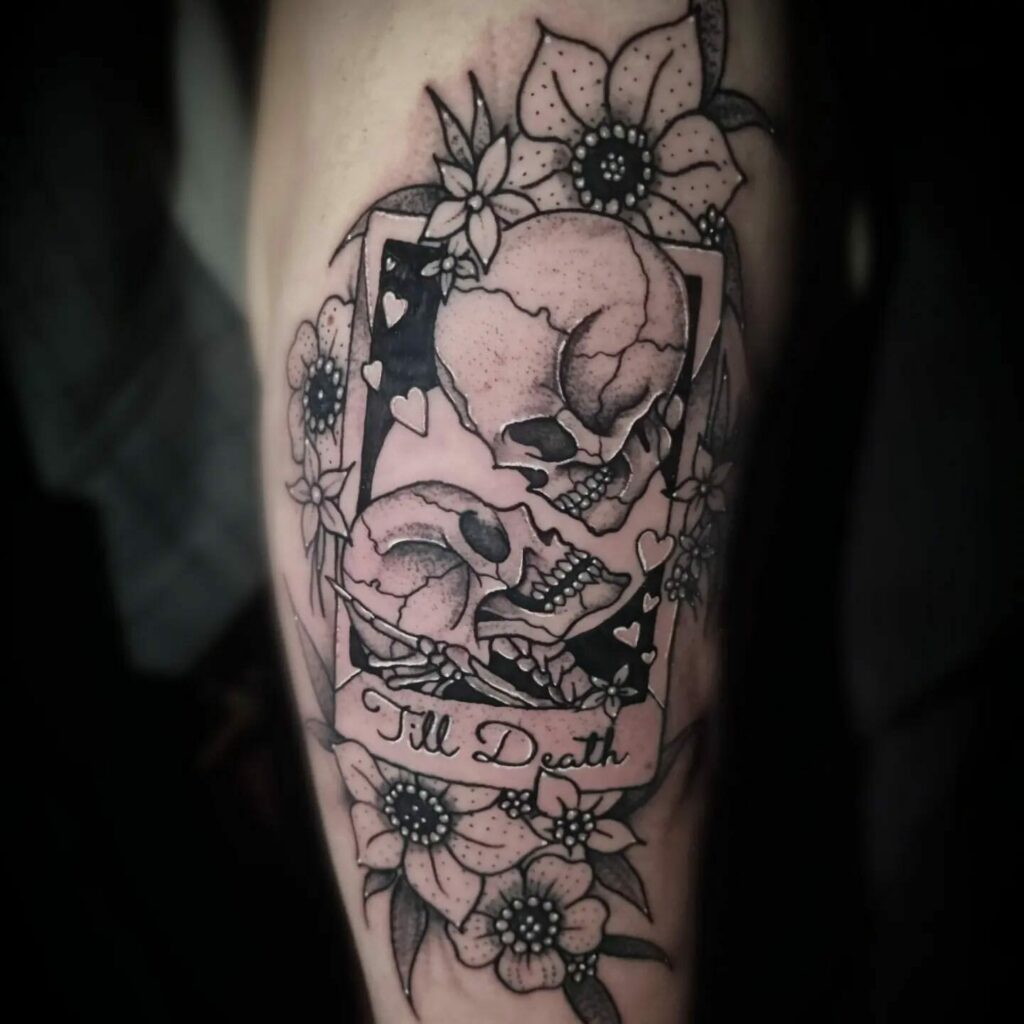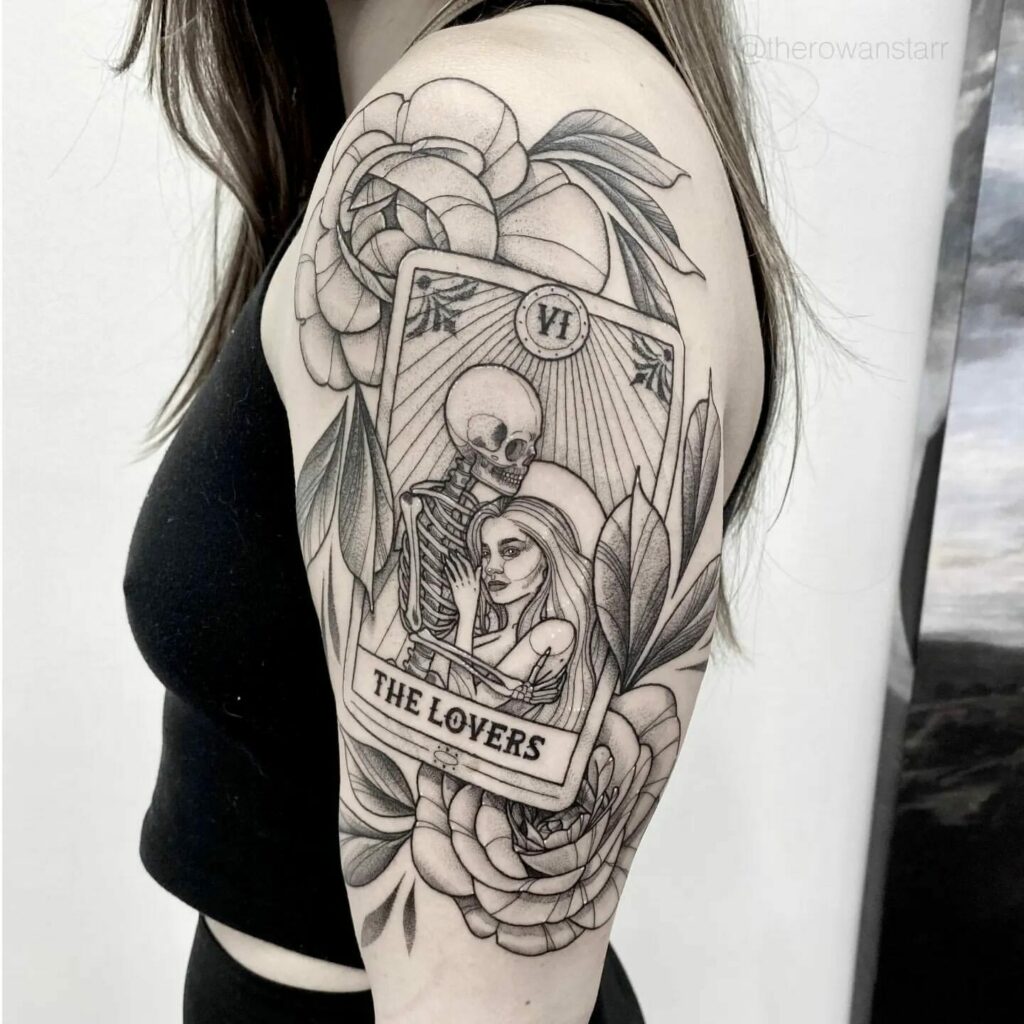 What is the meaning of the lovers tarot card tattoo?u003cbru003e
The Lovers tarot card tattoo is a popular choice among many people, as it symbolizes the energy and connection of two people in a romantic relationship. The card also represents choices, decisions and responsibility in love, relationships, ethics and morality. This tattoo can be seen as a reminder for couples to make good decisions that will lead to lasting and fulfilling relationships. Additionally, it can also be seen as a representation of growth and understanding of oneself and others. The Lovers card can also represent the union between mind and body, as well as the importance of balance in life. This tattoo is often seen on couples who are deeply in love, or those that have been together for a long time. The Lovers tarot card tattoo is a beautiful and meaningful representation of love, commitment and connection.
What is the history of the lovers tarot card tattoo?u003cbru003e
The Lovers tarot card has been a part of cartomancy since the 15th century, when it was first included in the traditional Tarocchi decks. The card is often associated with Cupid, the Roman god of love and desire, and is seen as a representation of harmony, love and balance between two individuals. In some decks, the card is also associated with Adam and Eve as a symbol of their union. This symbol has been seen throughout history in various cultures, often being used as a representation of love and commitment between two people. The Lovers tarot card tattoo has become increasingly popular in recent years, and many people choose this design to show their dedication to their partner.
How popular is the lovers tarot card tattoo?u003cbru003e
The Lovers tarot card tattoo is becoming increasingly popular, as many people are drawn to the beautiful meanings associated with this design. This tattoo is a great way to commemorate a lasting and meaningful relationship, or to show commitment between two people. As it has become more mainstream in recent years, many websites and social media outlets have embraced the Lovers tarot card tattoo as a representation of love and union. It has become so popular that many couples are now choosing to get matching tattoos of this design, as a symbol of their eternal bond. This tattoo is one that will always have special meaning for those who choose to wear it, making it an everlasting reminder of love and connection.
What are some of the best lover's tarot card tattoo designs?u003cbru003e
There are many beautiful designs for the Lovers tarot card tattoo, and it is up to the wearer to choose which one best suits their style. The traditional design of this card typically portrays two people standing in front of a tree, with an angel hovering over them. Other popular designs include flowers, cupids and stars, as well as intricate patterns and mandalas. Some people also choose to add their own personal touches, such as names or dates, to further customize the design. No matter what design is chosen, this tattoo will always be a beautiful reminder of love and connection between two people.