Looking for some great Aquarius tattoo ideas? Look no further than this article!
If you have an interest in horoscopes, getting an Aquarius tattoo might be just the thing for you. Aquarius is an air sign that's known for being progressive, humanitarian, and rebellious. If these qualities resonate with you, then an Aquarius tattoo can be a great way to show the world a little bit of who you are.
Horoscope tattoos can be very personal, and for Aquarius men, tattoos can be a way to express their charisma, rebellious nature, and outgoing personality. Whether you're looking for a small tattoo or a larger piece, we've compiled a list of some of the best Aquarius tattoo designs to inspire you for your next tattoo session. So keep reading to discover some amazing Aquarius tattoo ideas!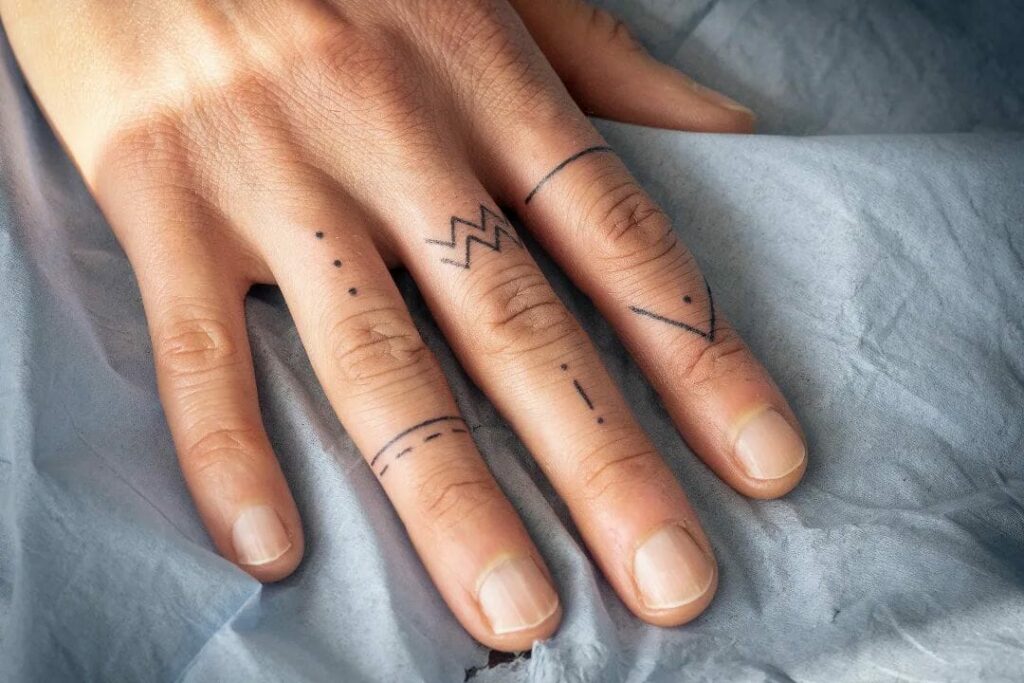 Aquarius God Tattoo Idea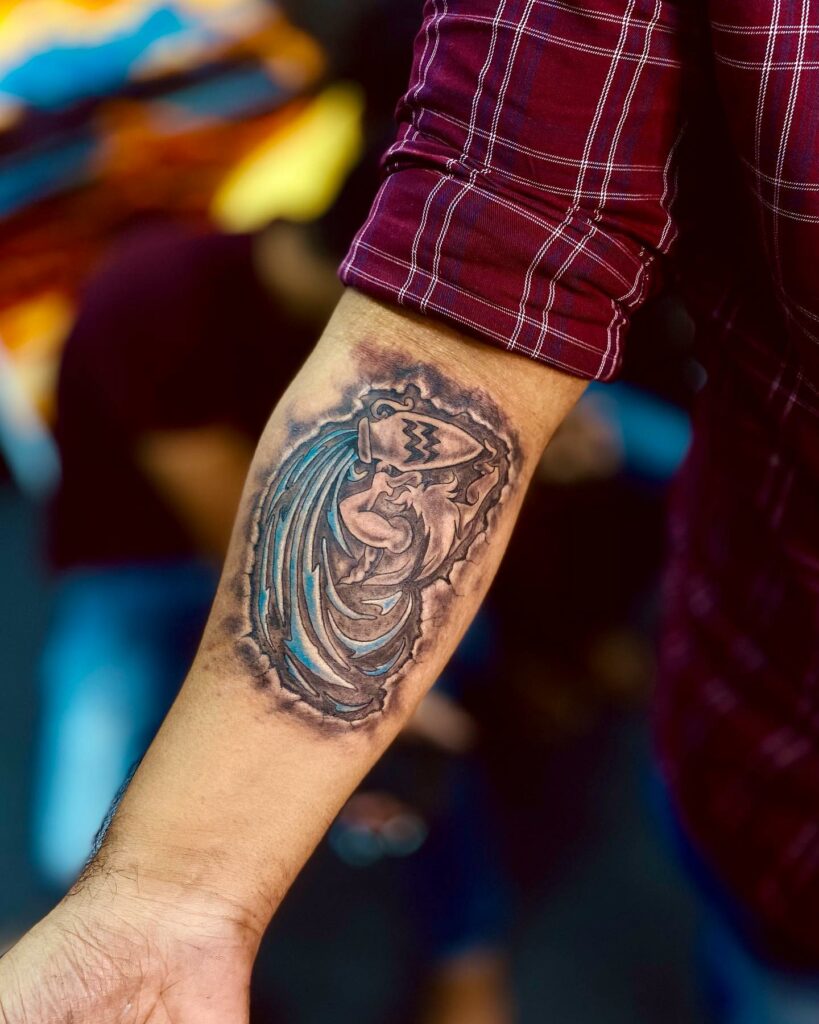 This tattoo depicts the god pouring water and is beautifully executed in black and blue colors. The blue hue on the water gives the tattoo a realistic feel that is sure to grab everyone's attention.
The dark background of the tattoo serves as an excellent contrast to the blue water and creates a dramatic effect that makes the design stand out. The shading on the tattoo is carefully done to create the illusion of real water, and the Aquarius symbol on the pot adds a touch of symbolism to the tattoo.
What makes this tattoo unique is its subtle and aesthetic nature that makes it a perfect fit for any part of your body. So, if you're looking for a water symbol tattoo that's both meaningful and visually stunning, this Aquarius god tattoo might just be the one for you!
Aquarius God Pouring Water Tattoo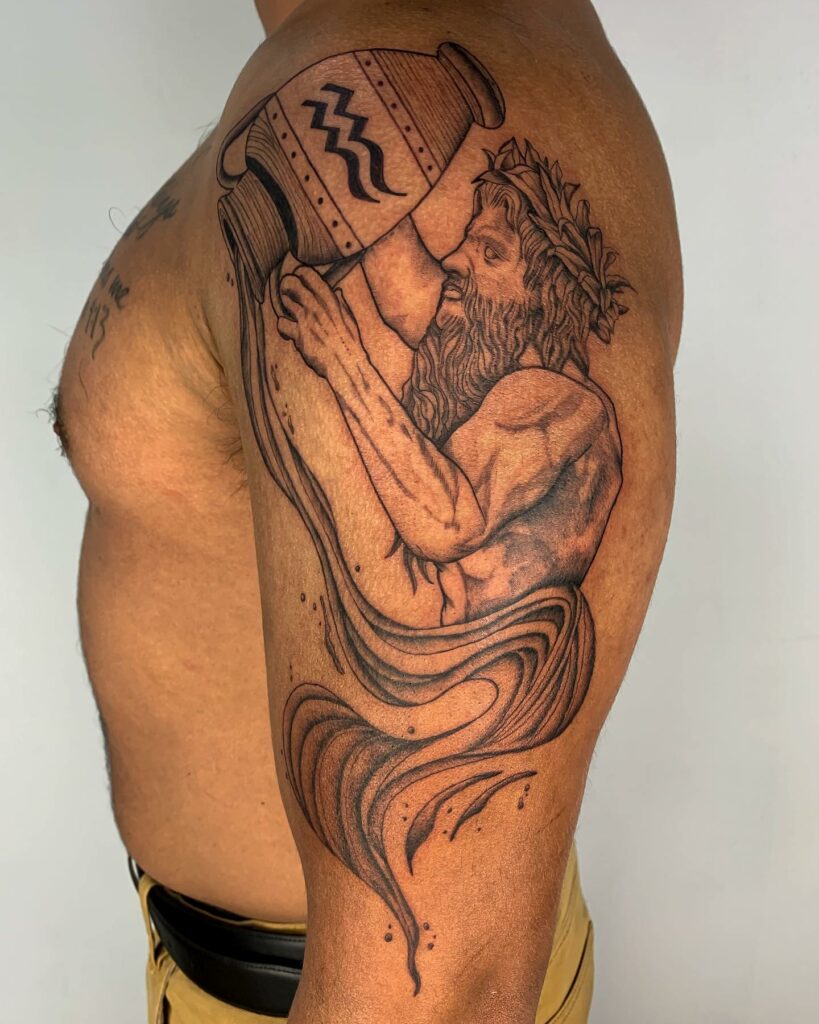 Aquarius is an intriguing sign that many horoscope enthusiasts admire. If you're looking for a tattoo idea related to Aquarius, consider this stunning design. The tattoo showcases the Aquarius God in a beautiful outline, created with intricate fine ink lines that make this sleeve tattoo look regal.
Men born under the Aquarius sign are known for their charming nature, making this tattoo an ideal way to express their outward personality. The tattoo features the Aquarius God holding a pot from which water is flowing. The exquisite detailing of the tattoo adds to its uniqueness and beauty.
While the tattoo is already breathtaking with just black ink, you can always customize it to suit your style by adding colors or your preferred embellishments. The Aquarius tattoo is an excellent choice for anyone looking for a tattoo that reflects their horoscope or love for astrology.
Animated Aquarius Constellation Tattoo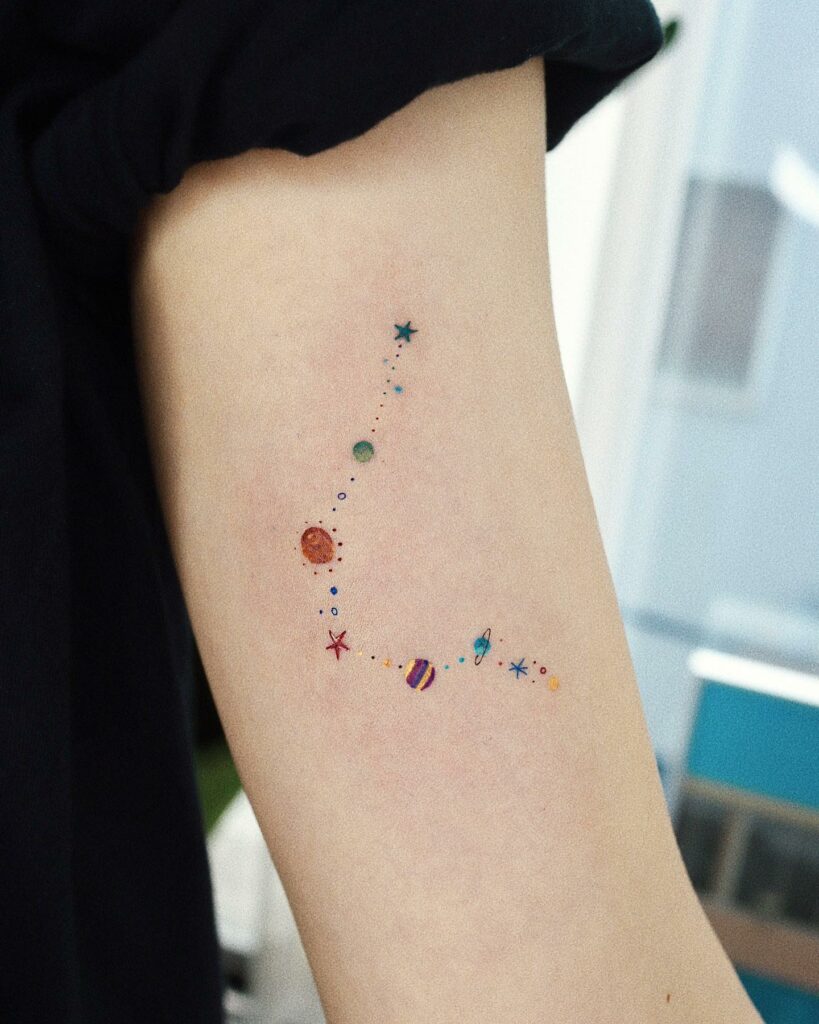 If you're on the lookout for a tattoo design that's both cute and meaningful, then this Aquarius tattoo idea might be perfect for you. Aquarius tattoos can have many interpretations, but this design aims to showcase your playful and fun-loving side. This small tattoo is sure to make a big impact.
The tattoo features a constellation of stars, but with a creative twist. The stars have been replaced by adorable animated characters, and there are also colorful stars and planets in the mix. The symbols are connected with dotted lines, which adds to the overall charm of the design. The colors in the characters make the tattoo pop against the skin. If you decide to get this tattoo, you can customize the symbols to reflect your unique interests and preferences.
Pouring Water Aquarius Tattoo Design
Aquarius tattoos are a popular choice for those looking to showcase their zodiac sign with a unique design. This tattoo idea we're sharing today is truly one-of-a-kind! Rather than the typical water-pouring tattoo, this design features a diamond-shaped figure that appears like a mirror with an arrow piercing through it. On the lower sides of the tattoo, the Aquarius symbol is featured. Inside the diamond, waves are perfectly depicted with black ink, and it appears as if they're being poured from a pot. The intricate detailing of the tattoo is what makes it stand out. While the entire tattoo has been done in black ink, you can always customize it by adding other colors that complement your skin tone.
Pisces x Aquarius Tattoo Art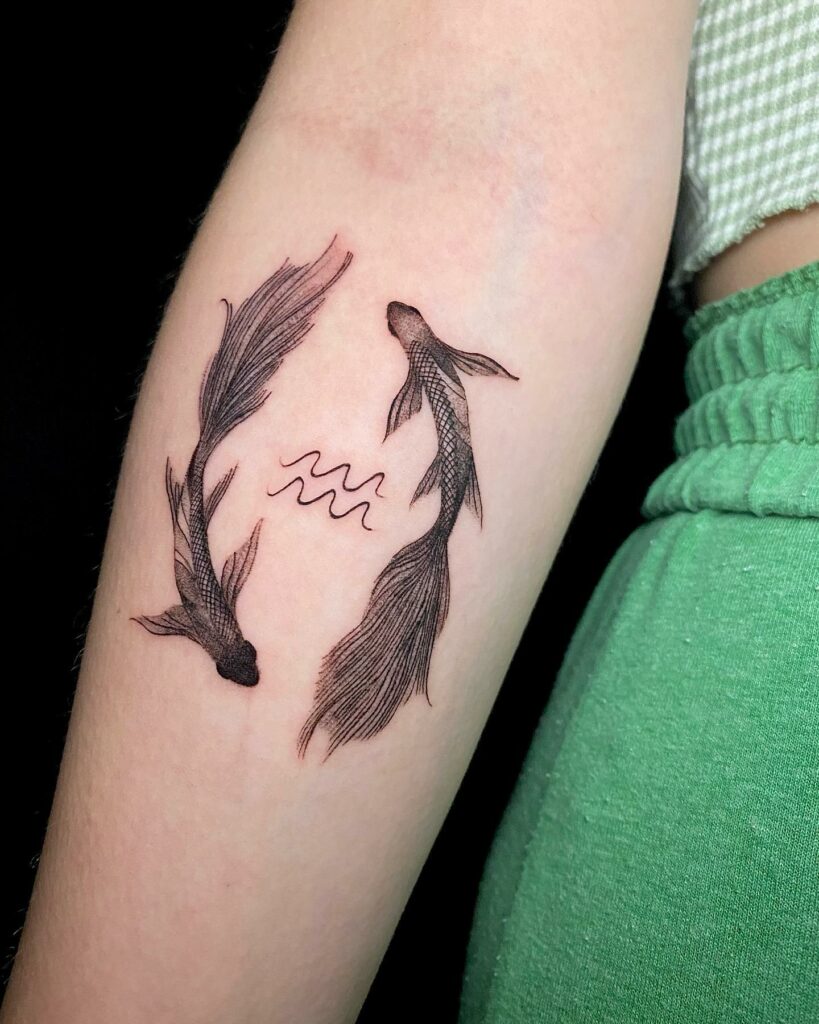 If you're looking for a unique way to express your love for someone with a Pisces zodiac sign, this tattoo idea might be just what you need. The combination of Pisces and Aquarius symbols creates an eye-catching tribal tattoo design that blends the water and air elements of the two signs. The Pisces symbol is represented by two fishes, which are beautifully crafted to look realistic, with intricate details that make them stand out. The Aquarius symbol is placed in the center of the design, creating a focal point for the tattoo.
This tattoo is perfect for those who identify with the sensitive and emotional qualities of Pisces, as well as the intellectual and aloof traits of Aquarius. The tribal style adds to the appeal of the tattoo, with its bold lines and striking appearance. You can choose to have this tattoo in any color that you prefer, allowing you to customize it to match your personal style. Whether you choose to have it inked on your wrist, leg, or back, this Pisces-Aquarius tattoo is sure to turn heads and make a statement.
Aquarius Pot Water Pouring Tattoo
Look no further than this stunning water bearer tattoo! A playful spin on the classic water pouring tattoo, this animated design is a hit among many Aquarius men seeking a whimsical, yet masculine look.
The tattoo features an intricately detailed pot pouring water, complete with the Aquarius zodiac symbol. Although a simple outline design, the tattoo artist can add vibrant colors to make it more realistic and personalized to your liking. This tattoo can be placed on various body parts such as your back, chest, or arm, and will pair well with any outfit. So, why wait? Get inked with this adorable water bearer tattoo and show off your love for the Aquarius sign!
Aquarius God Full Sleeve Tattoo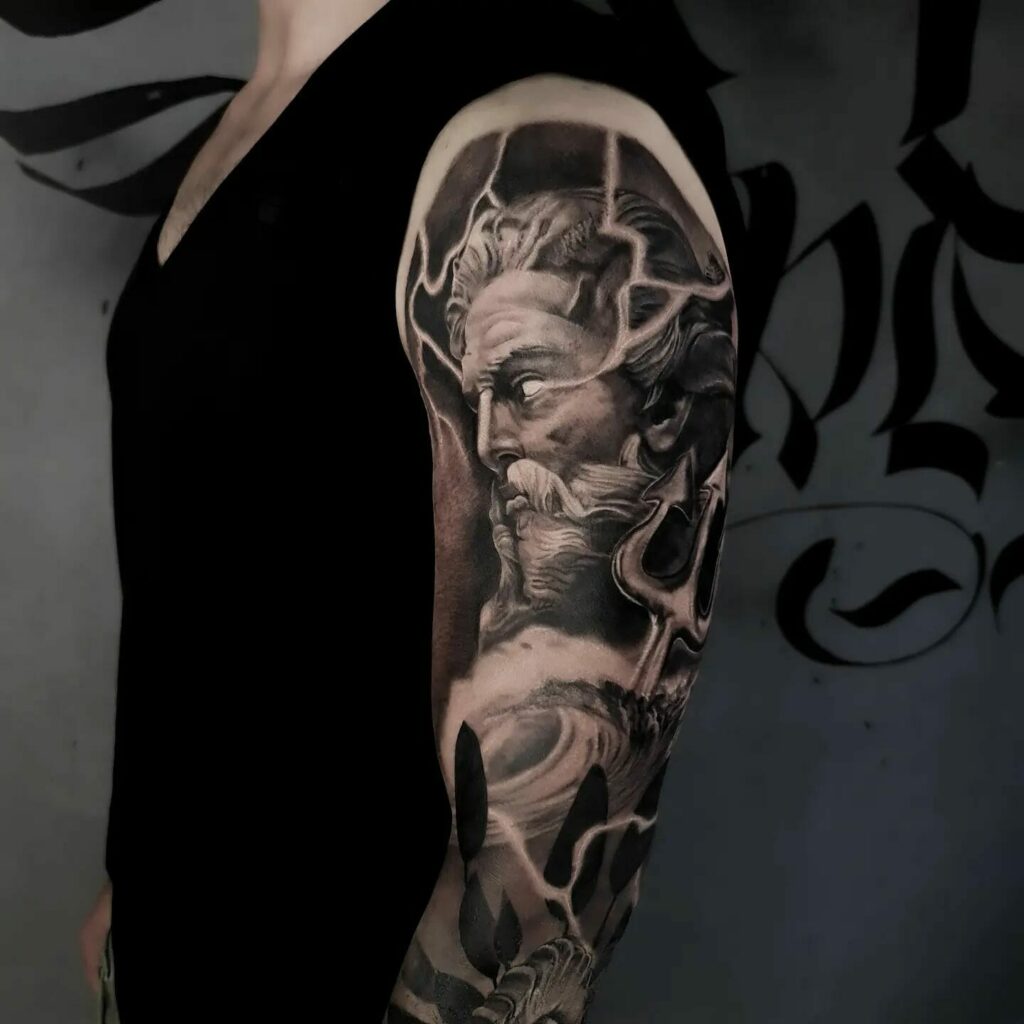 If you're a man looking for unique Aquarius tattoo ideas, look no further than this hyper-realistic full-sleeve tattoo. This design is one of the most stunning options available, featuring an incredibly detailed depiction of the Aquarius God. The tattoo artist has expertly utilized light and shadow to give the tattoo a lifelike, 3D appearance that is sure to impress. With this striking design covering your entire arm, you'll exude confidence and intelligence. Whether you choose to get this tattoo on your neck or shoulder, the precision and skill of the artist will ensure that the final result looks absolutely magnificent.
Aquarius Constellation Colorful Tattoo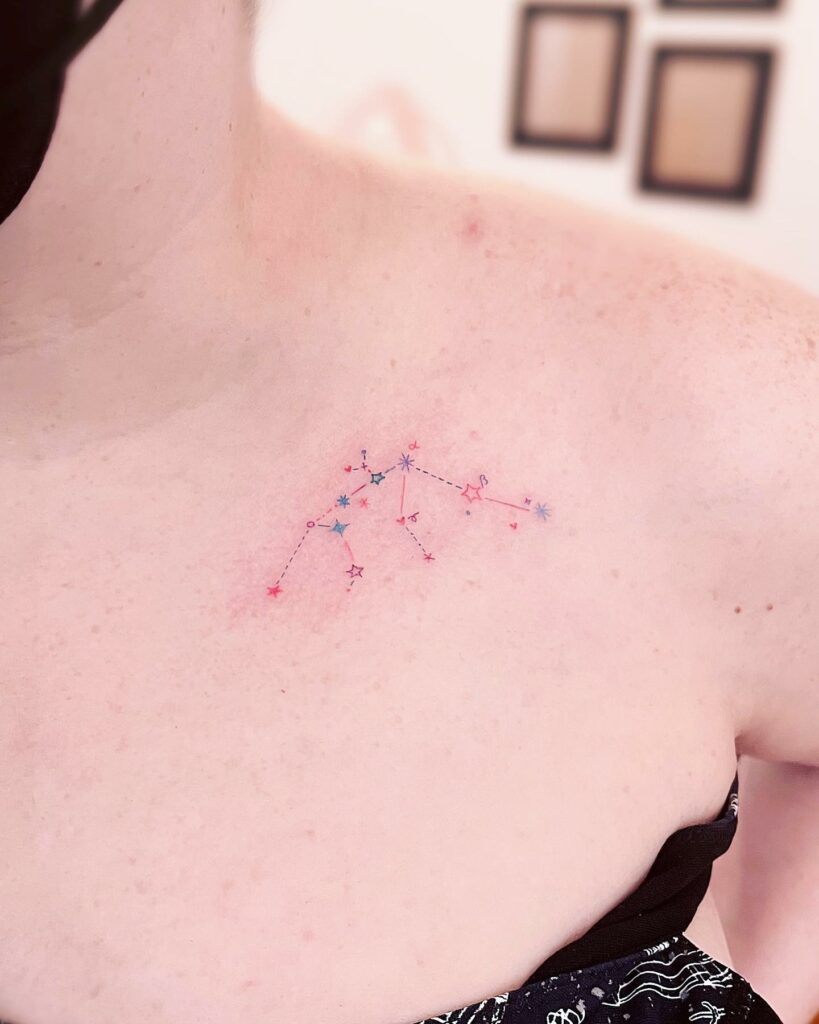 The tattoo is made up of shades of pinks and blues, with small stars and shapes bringing the entire piece together. To achieve the perfect look, it is important to use ink with a fine tip.
But the best part of this tattoo is the flexibility it offers. You can change up the coloring to suit your preferences – blues or greens could be a perfect choice. The mix of colors creates a beautiful balance and truly showcases the wearer's fun and vibrant personality. Plus, the tattoo's unique design means it will look stunning with any outfit. Whether you choose to get it on your hands, chest, or thigh, this tattoo is sure to turn heads!
Hyper-Realistic Aquarius God Tattoo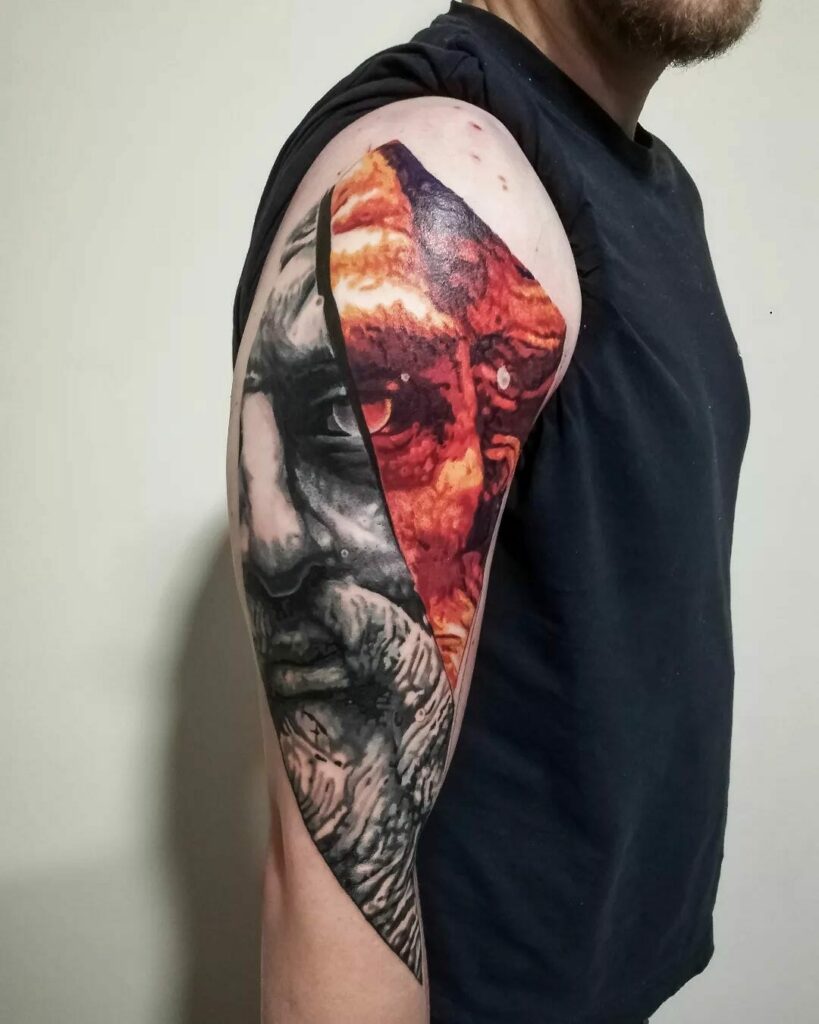 Looking for a unique Aquarius tattoo that showcases your bold personality? Look no further than this stunning black and red sleeve tattoo featuring the face of the Aquarius god. The tattoo artist has used intricate detailing to achieve a hyper-realistic look. Half of the tattoo is made with black ink while the other half features red ink, giving it a truly unique and special look. Keep in mind that a tattoo like this will take multiple sessions to complete, but the final result is nothing short of phenomenal. Show off your outward nature and bold personality as an Aquarius man with this eye-catching tattoo. This design can be inked on your back, legs, or any other body part with enough surface area.
Stars Male Meaningful Aquarius Tattoo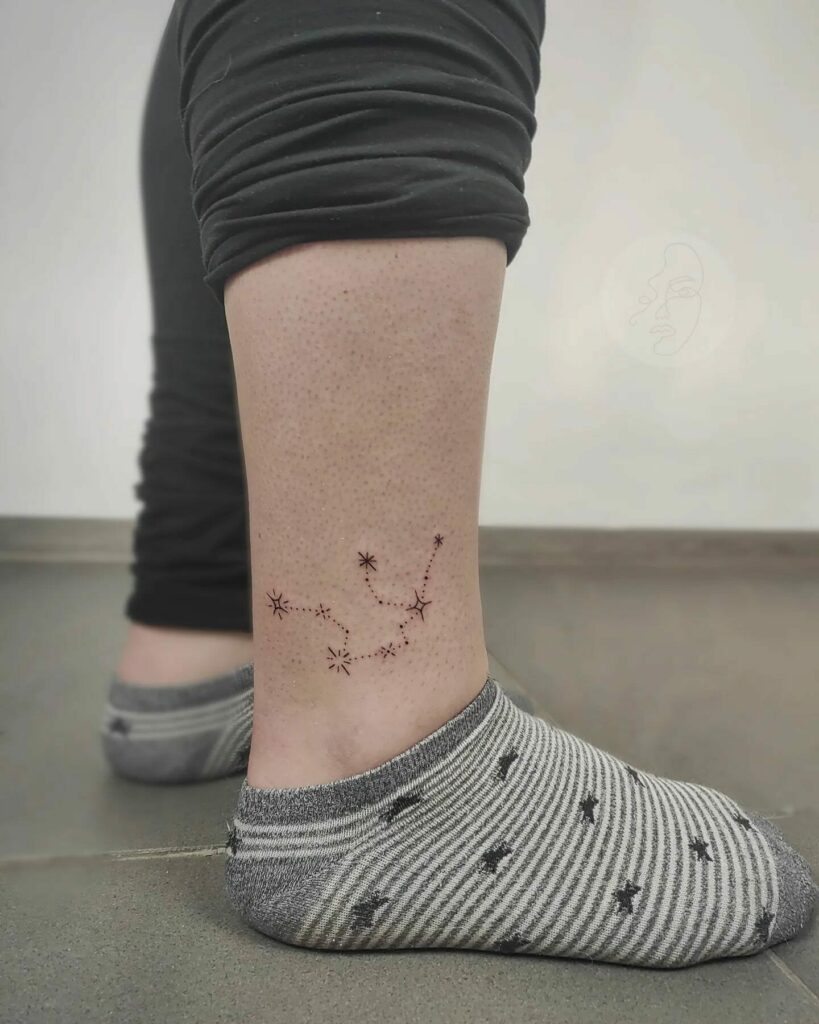 Made with black ink, this tattoo is perfect for those who prefer a more reserved look, but feel free to customize it with colors like red or blue to make it your own. The stars and connecting dotted lines in this tattoo give it a perfect look, and it can be placed on your wrist, chest, or thighs. It's an excellent choice for Aquarians who are more reserved in nature and want to show off their sign in a subtle way. Plus, it pairs well with any outfit. Whether you choose a bold or subtle Aquarius tattoo, it's a fantastic way to display your identity and personality.
feature image from Pinterest – Want your tattoo to look brighter? Try "Tattoo Balm"