Gentlemen, are you in search of a striking Phoenix tattoo to embody your unique spirit? Look no further! Our collection of Male Rebirth Phoenix tattoo ideas has exactly what you're seeking.
Phoenix tattoos have long been a beloved choice among ink enthusiasts, with the mythical bird featuring prominently in various cultures worldwide. The most recognized version hails from Greek mythology, where the phoenix symbolizes life, death, and rebirth. This immortal creature is said to rise from its own ashes, signifying new life and a fresh start.
In Chinese mythology, a similar bird called Fenghuang represents prosperity, grace, and virtue. The phoenix's association with fire further emphasizes its immense power. With so many styles and interpretations to choose from, you're sure to find a bold, masculine phoenix tattoo that speaks to you. Dive into our collection of remarkable phoenix tattoo ideas and discover the perfect design to represent your personal journey of rebirth!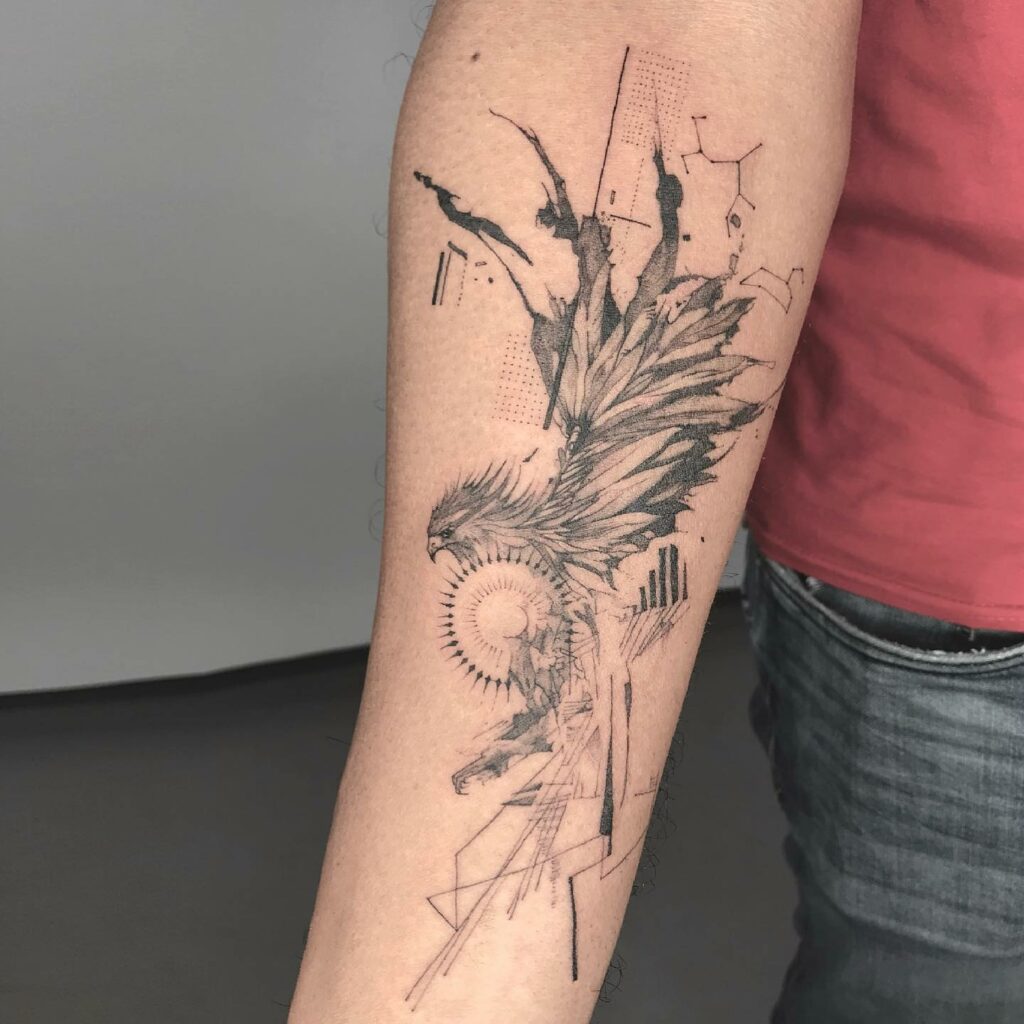 Minimalistic Small Phoenix Tattoo Ideas for You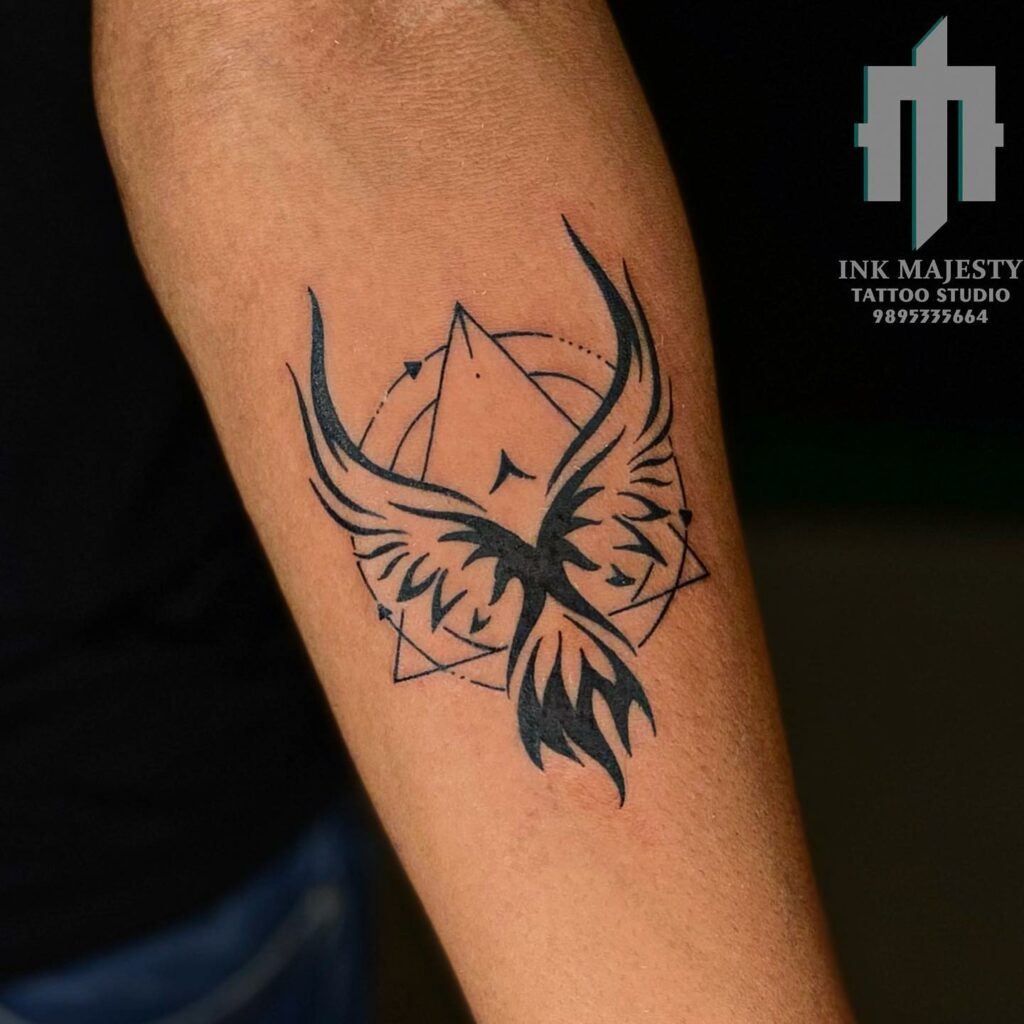 Minimalistic tattoo designs are all the rage these days! Not only do they look neat and tidy, but they also take up less space on your body. This stunning minimalist phoenix tattoo is not just visually appealing, but it also holds a beautiful meaning. It's a symbol of rejuvenation and rebirth, perfect for anyone starting a new chapter in their life. If you're new to getting tattoos, this design is perfect for you as it's small and less painful than larger tattoos. This tattoo has a tribal style, but you can customize it to fit your unique personality and preferences. Simply ask your tattoo artist to come up with a design that suits you best!
Fantastic Watercolour Phoenix Tattoo Designs for Men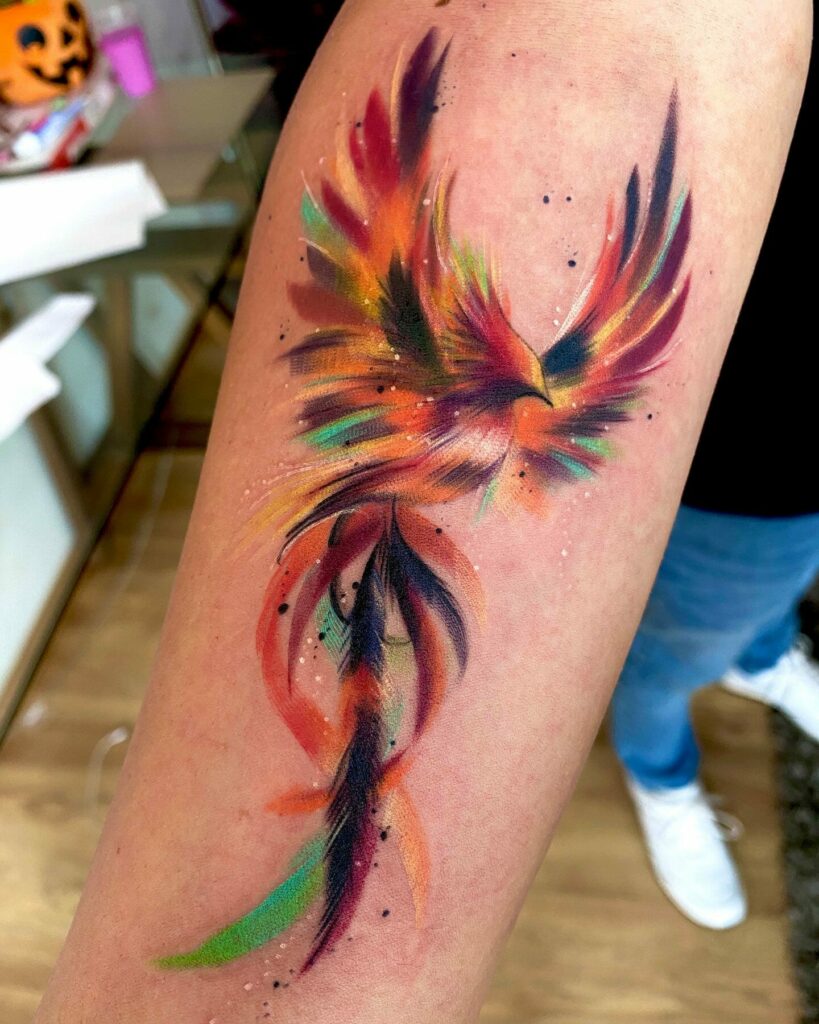 Watercolour tattoos are a popular choice for those who love unique and stunning artwork. This particular tattoo features an abstract design that's closely related to the phoenix. The colourful feathers of the bird are meticulously blended with watercolour shades that make this tattoo visually appealing. The phoenix in this tattoo represents new beginnings and is perfect for anyone who wants to symbolize their resilience and ability to rise above challenges. This tattoo is typically done on the forearm, but it can also be placed on other body parts. If you're looking for a tattoo that's both beautiful and meaningful, a watercolour phoenix tattoo might be the perfect choice for you.
Amazing Phoenix Chest Tattoo Ideas for Men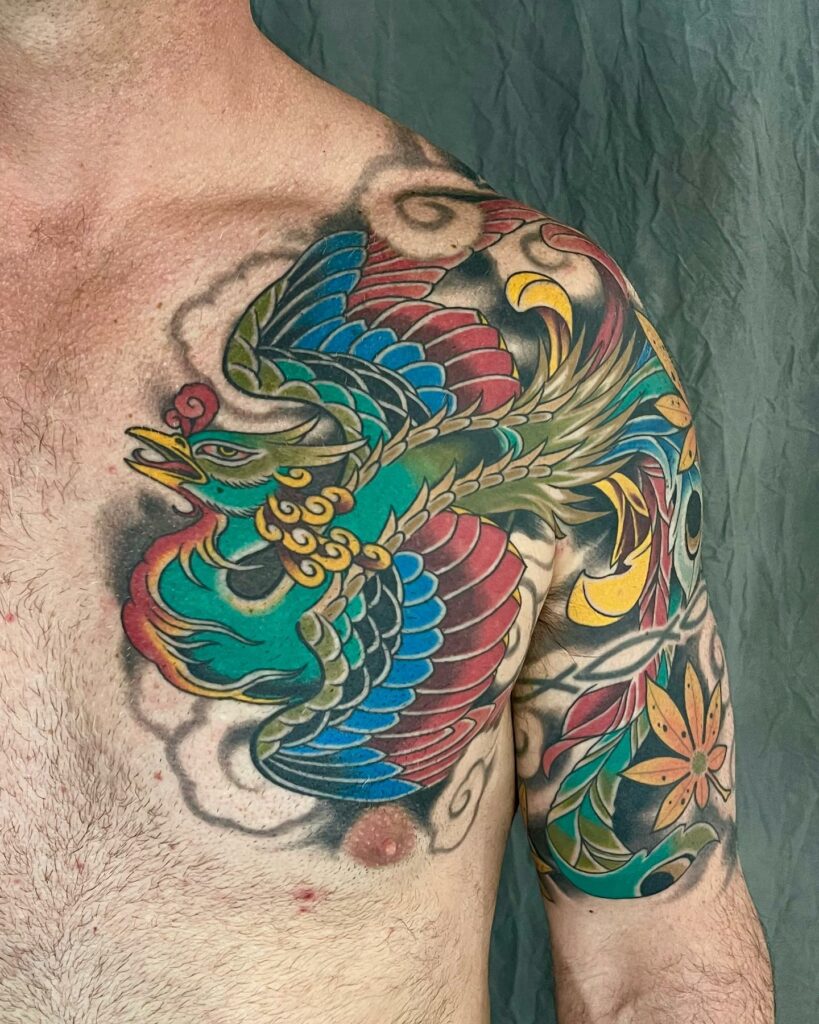 Chest tattoos are a popular choice for men who want to showcase their love for beautiful art. This Japanese phoenix tattoo is a stunning example that is sure to turn heads. The colours used in the tattoo are truly mesmerizing and the design spreads across the chest and onto the upper arm. It's an excellent option for those who want to show off their love for rebirth and renewal. This phoenix tattoo is a perfect representation of the mythological bird that rises from the ashes. If you're looking to get a similar tattoo, you can opt for a design that suits your preferences. The talented artist can help you create a unique tattoo that you'll love for years to come.
Stunning Male Rebirth Phoenix Tattoo Forearm Ideas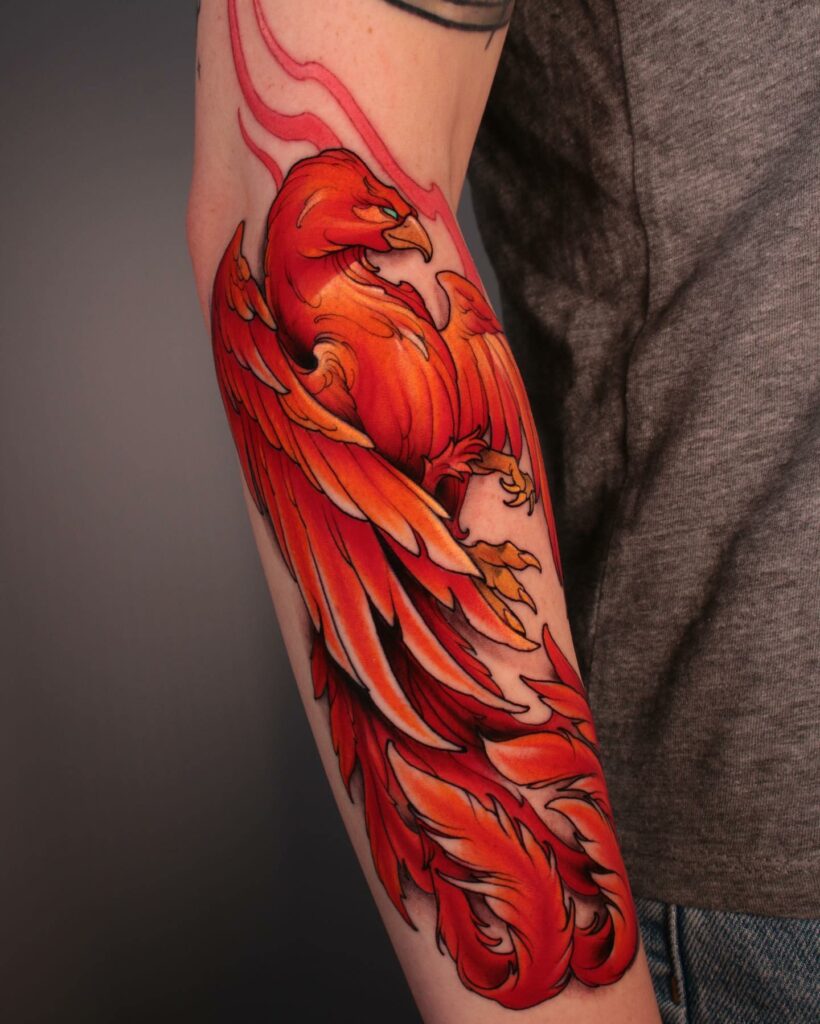 Forearm tattoos are a great way to express your style and make a statement. This phoenix tattoo is a perfect choice for those seeking a powerful symbol of rebirth and renewal. The neo-traditional style of the tattoo makes use of bold lines and vibrant colors, with eye-catching yellow and orange tones that bring the design to life. The blue-eyed phoenix in the image is striking, but you can always ask your tattoo artist to create a custom design with yellow eyes or other colors that suit your taste. With its meaningful symbolism and beautiful design, this Phoenix tattoo will make a fantastic addition to your body art collection.
Amazing Black and Grey Cool Phoenix Tattoo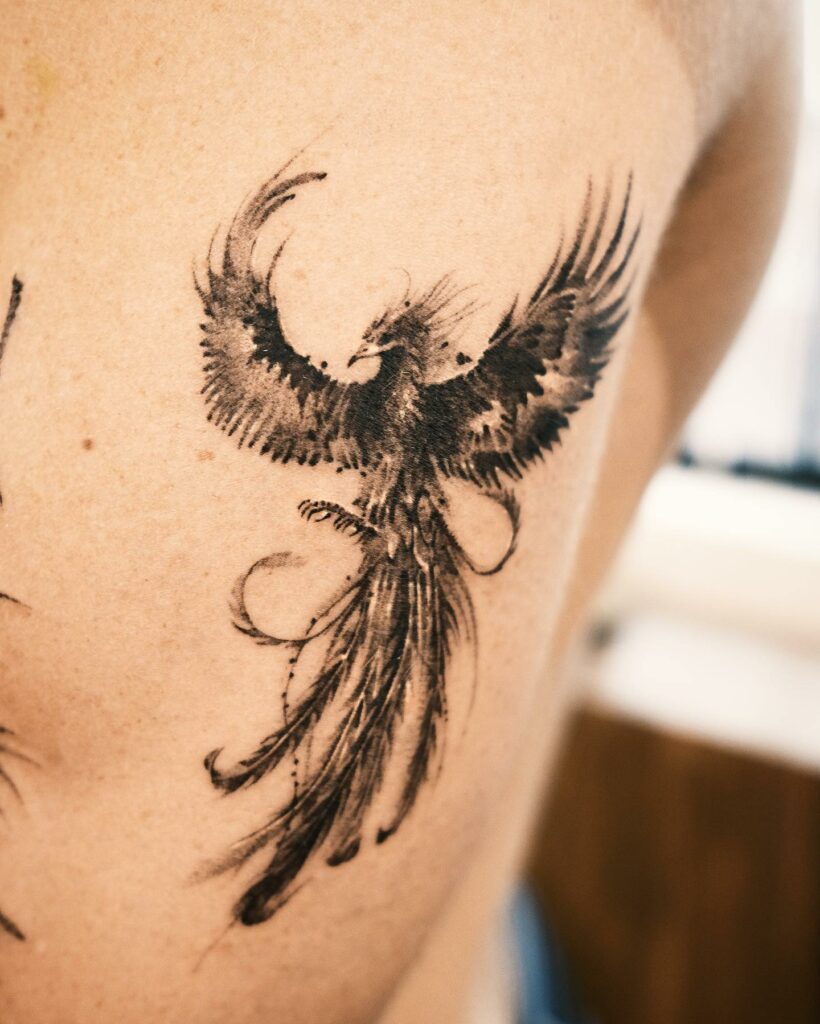 Black and grey tattoos are timeless and always a great choice. They give a classic and elegant look that stands out on any skin tone. If you're looking for a beautiful, detailed tattoo of a rising phoenix, then this design is perfect for you. It's an excellent option for those who prefer to stick with black ink tattoos and want to avoid bright colours. The stunning contrast of black and grey in this tattoo is breathtaking, making it a real standout piece. It's not a large design, but if you want a bigger tattoo, your tattoo artist can create a custom design for you. This tattoo looks great on your neck, arm or forearm, and is sure to turn heads wherever you go.
Incredible Neo-Japanese Phoenix Back Tattoo
Japanese tattoos have become a popular choice for people who love the bold use of colors and intricate details in their tattoos. This neo-Japanese full-back tattoo is a stunning example of this style. The vibrant, bold colors used in this tattoo make it stand out and demand attention. The phoenix bird is prominently displayed in the center, and you can see that the details on the feathers are intricate and beautifully done. The neo-Japanese style means that the colors used are bold and saturated, making this tattoo a true work of art. If you prefer a smaller tattoo, you can still have a phoenix tattooed in the center of your back or choose a different part of your body to display this majestic bird.
Beautiful Rising Phoenix Harry Potter Tattoo Ideas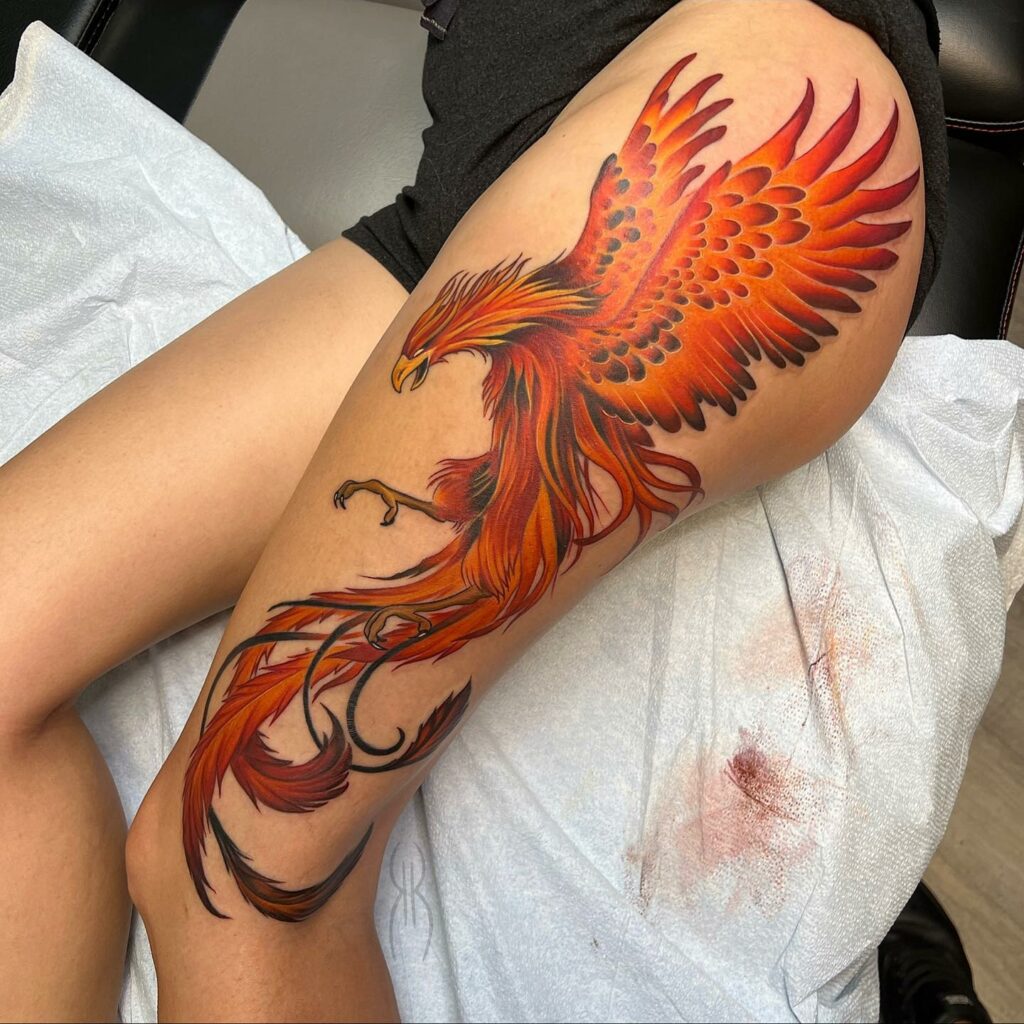 If you are a fan of Harry Potter or looking for a tattoo that symbolizes rebirth, then this phoenix tattoo is just the thing for you. This colorful tattoo design features a stunning bird with yellow and orange feathers that represent the power of rebirth and new beginnings. Whether you want to relive your favorite moments from Harry Potter or simply want to express your own rebirth and transformation, this tattoo is the perfect choice. You can get this tattoo on your thigh, arm, or back and it will look stunning and eye-catching.
Amazing Black Ink Phoenix Arm Tattoo Ideas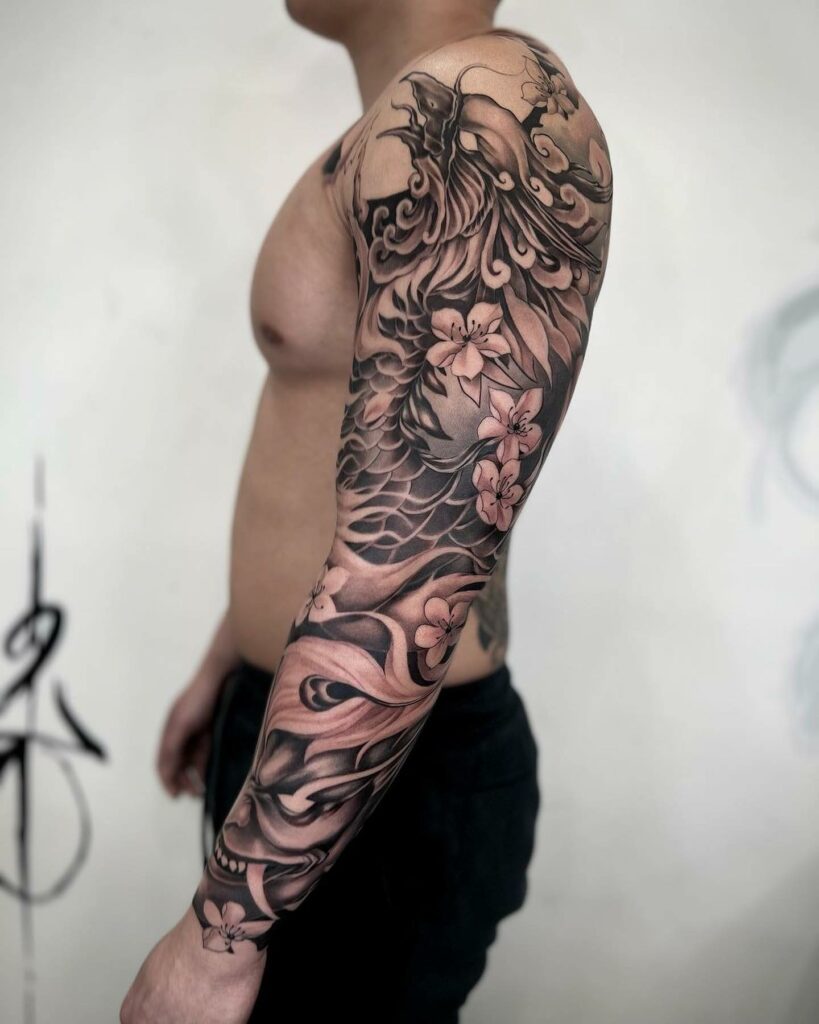 Black ink tattoos never go out of style and they have a special place in the hearts of many tattoo enthusiasts. This Japanese-style phoenix tattoo is a masterpiece that covers the entire arm. It's a male rebirth tattoo that symbolizes the triumph of life over death. The tattoo has a lot of intricate details that make it stand out. You can also customize the design to include other elements that represent something important to you. For example, a dragon and phoenix tattoo in the same style symbolizes perfect harmony, as the dragon and phoenix are symbols of Yin and Yang in Chinese culture. This is a great choice for anyone looking for an awesome Japanese phoenix tattoo idea that showcases the beauty of black ink tattoos.
Amazing Upper Arm Phoenix Tattoos for Men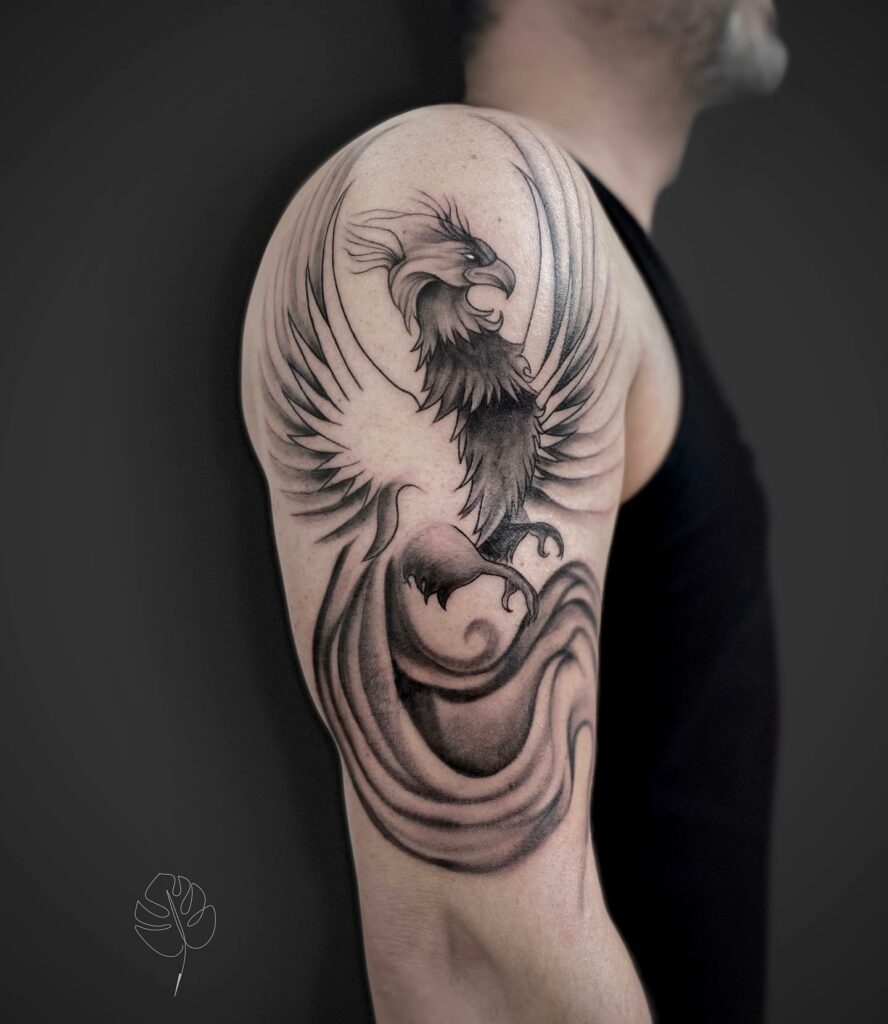 The Phoenix wing tattoos are a perfect way to signify a fresh start and new beginnings. It is a great choice for anyone who is embarking on a new chapter in their life. This tattoo design is simple yet elegant, with amazing details that give it a unique appeal. Even though this particular tattoo is done in black and grey, you can always choose to add a splash of color to make it stand out even more. This tattoo is not only a symbol of hope and rebirth but also represents prosperity. So, get yourself inked with this tattoo and let the world witness your new journey!
Fantastic Rising Phoenix Thigh Tattoo Ideas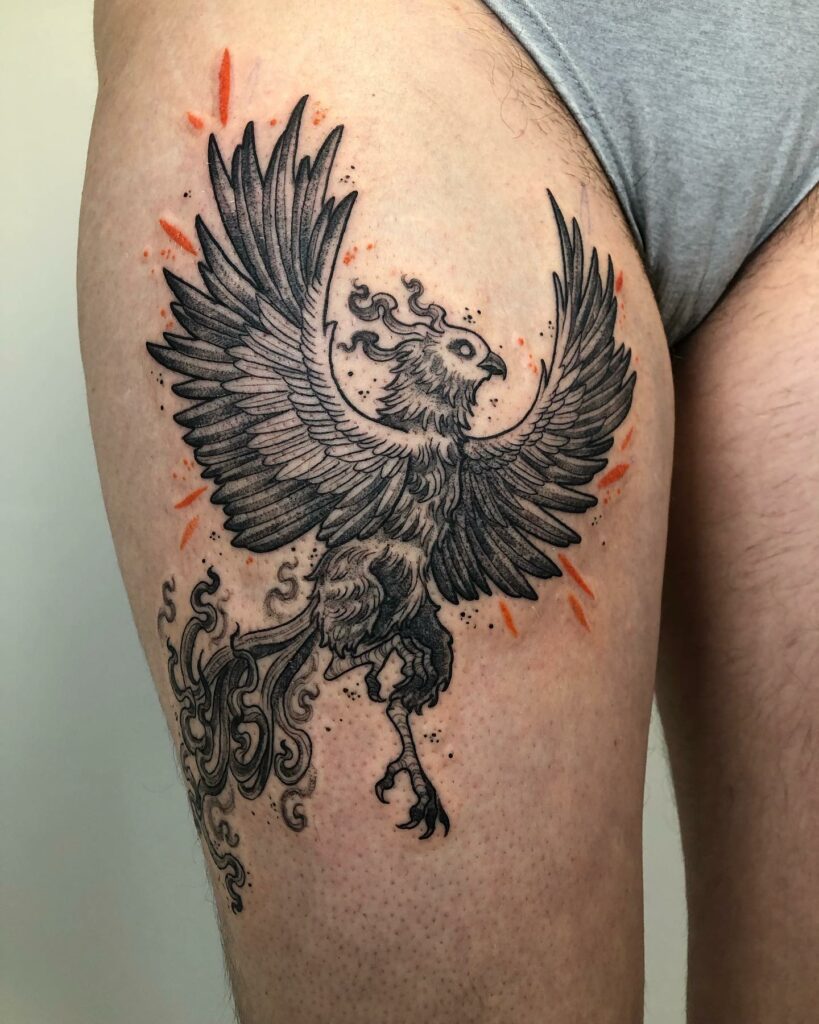 Thigh tattoos are always a popular choice, especially if you love to flaunt your legs on social media. If you're looking for a tattoo design that's both stylish and meaningful, then this phoenix tattoo is perfect for you! The tattoo is predominantly done in black and grey, but is accented with pops of fiery colours to represent the flames that the phoenix is rising from. The phoenix is a powerful symbol of rebirth and renewal, making it a great choice if you're looking for a fresh start in life. This tattoo can be inked anywhere on your body, but it will look particularly stunning on your thigh or arm. And if you're looking for a more colourful design, don't hesitate to work with your artist to create a unique and personalized tattoo that suits your style and personality.
feature image from Pinterest