Welcome to the world of neck tattoos, where you can wear your art in one of the boldest ways possible. The neck is a sensitive area, which makes it a unique canvas for your body art. However, it's not for the faint-hearted, as neck tattoos are a lifetime commitment that cannot be easily hidden. Once associated with gangsters and the criminal underworld, neck tattoos have come a long way and are now considered a symbol of boldness and self-expression. With celebrities like Justin Bieber and Post Malone sporting neck tattoos, they have become even more popular. If you're up for the challenge, take a look at some interesting male throat tattoo ideas that we have for you.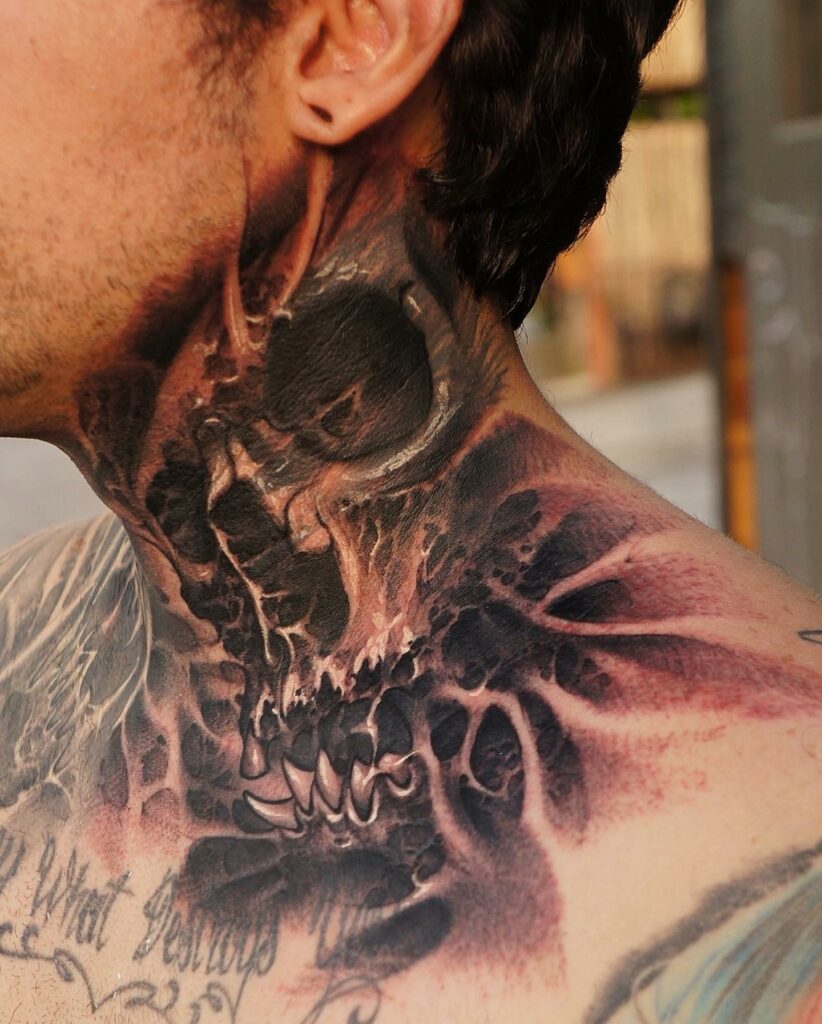 Full Neck Tattoos For Men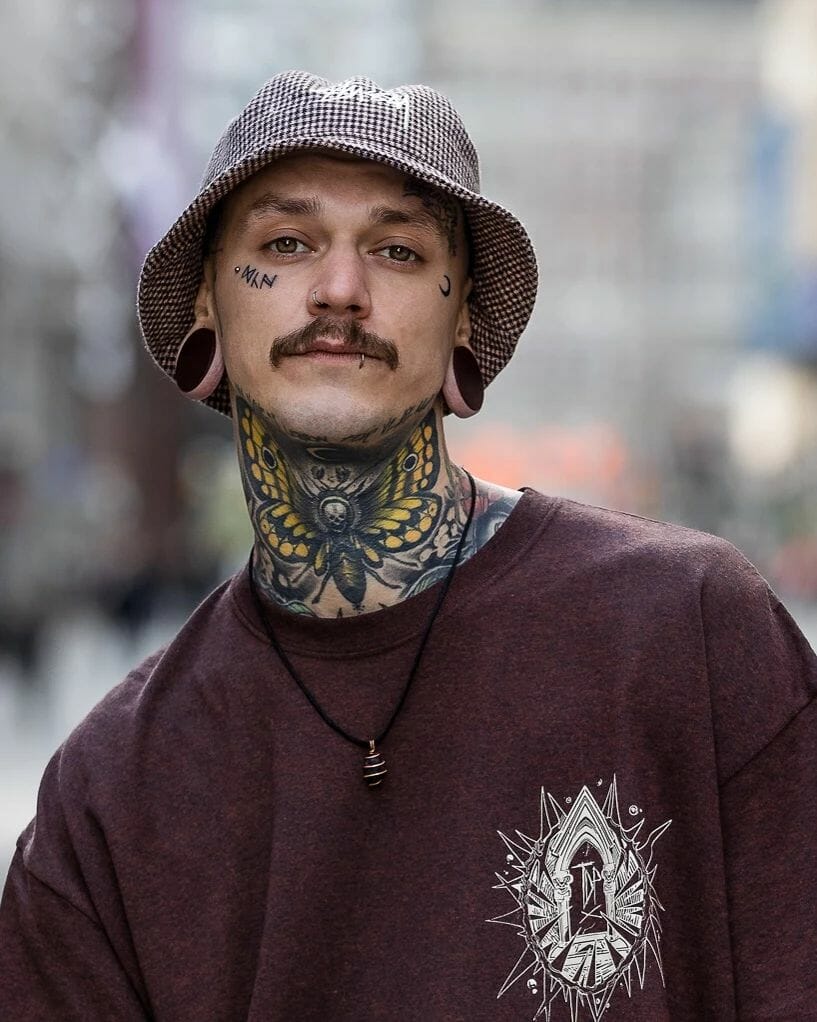 This intricate and colorful tattoo design in the shape of an insect is definitely an eye-catcher! Insects and spiders have become increasingly popular tattoo choices among the younger crowd due to their fascinating symmetry and dark appeal. The full neck placement of this design is certainly bold, but it's important to keep in mind that tattoos in this area can be more painful than other parts of the body. If you're considering a neck tattoo, it's essential to do your research and weigh the pros and cons before committing. Remember, a neck tattoo will always be visible and can't be easily covered up, so make sure it's something you'll be happy with for the long term. If you do decide to go for it, a unique design like this insect tattoo can be a great choice for making a statement!
Floral Neck Tattoo Designs For Men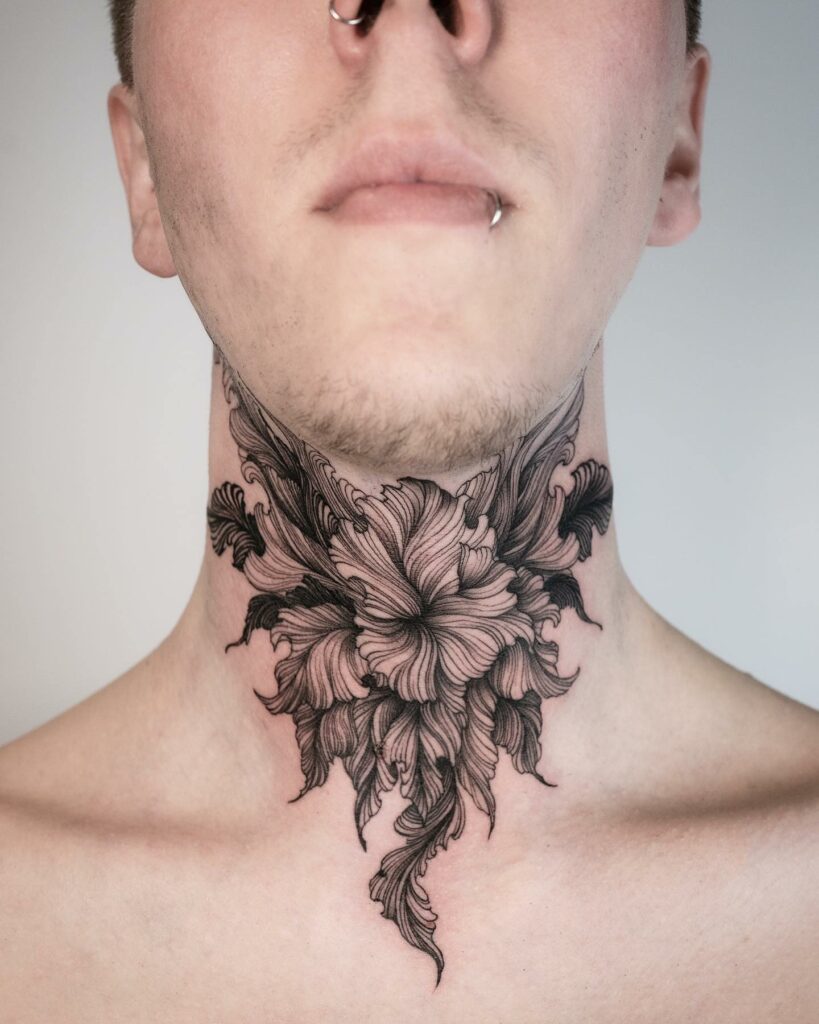 Flowers have always been a timeless and versatile choice for tattoos, and the one shown in the image above is a great example of a simple yet impactful floral design. The tattoo artist has used clean lines and varying shades of black ink to create an eye-catching flower tattoo on the neck of the individual. This type of design makes a bold statement and adds a touch of elegance to any outfit. If you're looking for inspiration for your next floral neck tattoo, you can try a variety of different flowers, such as roses or sunflowers, and customize the design to make it truly unique to you. Whatever design you choose, a floral tattoo is a beautiful way to express yourself through body art.
Eagle Neck Tattoo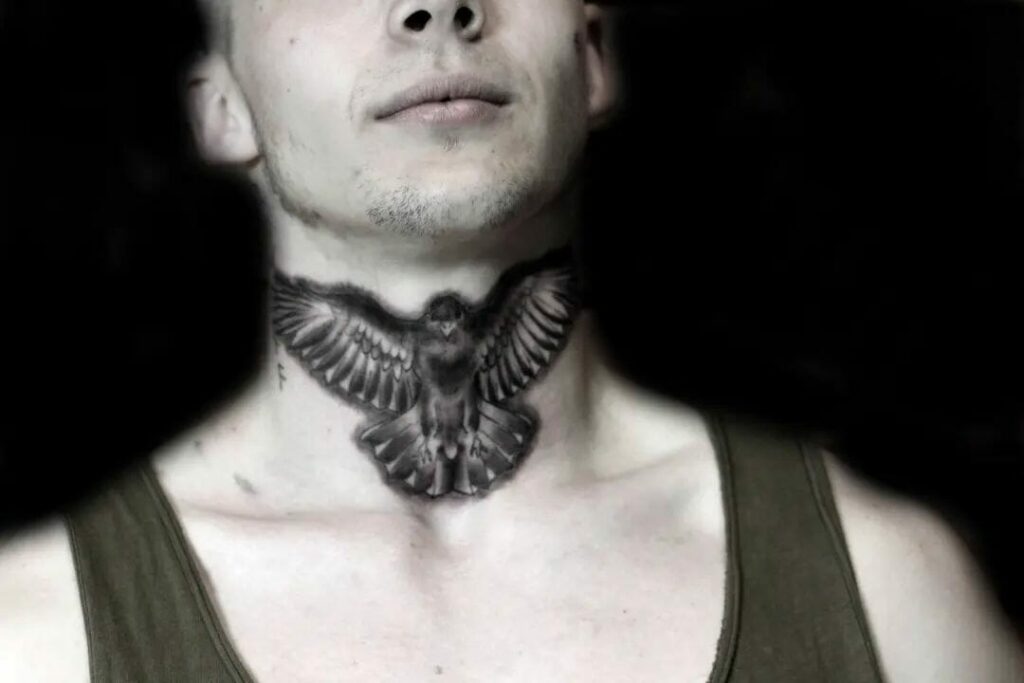 The majestic eagle has always been a symbol of strength and independence. And this beautiful neck tattoo design exemplifies those characteristics perfectly. The skilled tattoo artist has expertly captured the eagle's soaring wings in intricate detail, with the use of bold black lines. Placed on the neck, this eagle tattoo design commands attention and respect, while also being a symbol of freedom and courage. If you're looking for similar ideas for your next tattoo, wing tattoos are also a popular choice, often representing guardian angels or spiritual protection. The beauty and power of eagles make them an enduring inspiration for tattoo art.
Back Neck Tattoos For Men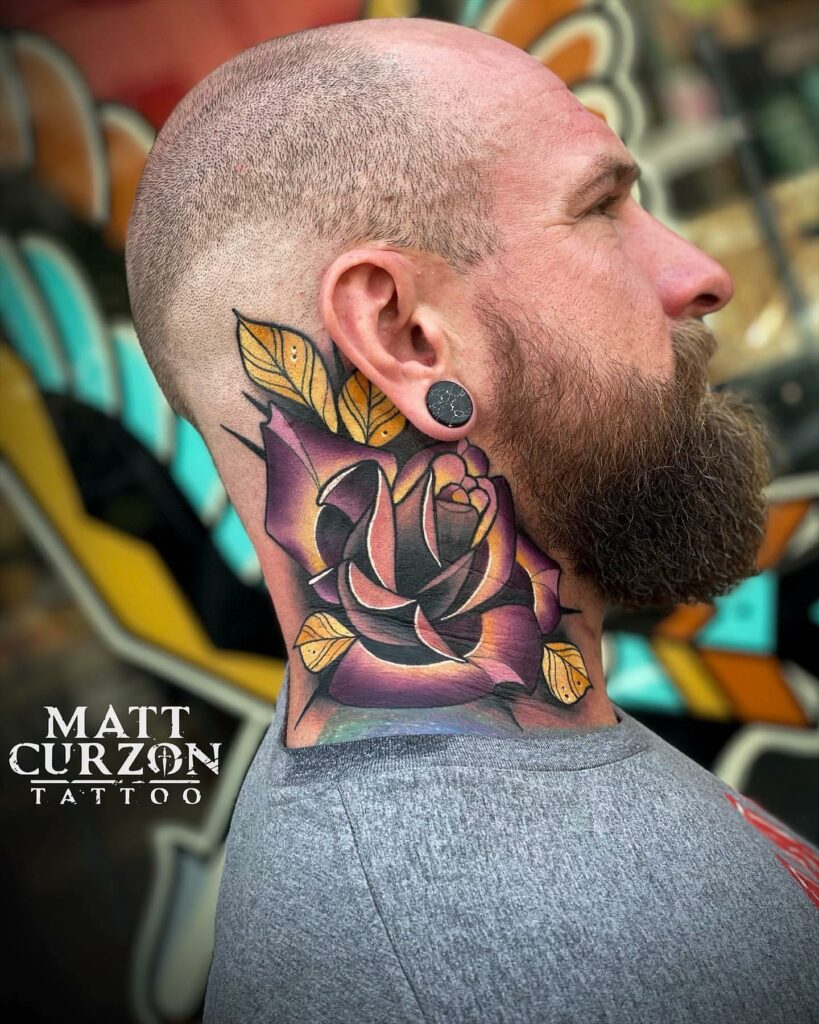 Back neck tattoos have become increasingly popular, and it's not hard to see why! In this stunning image, the tattoo artist has skillfully inked a beautiful moth design on the back of the neck. But before you take the plunge, it's important to remember that getting a tattoo on this delicate area can be quite painful due to the thin skin. However, if you think you can handle it, a back neck tattoo can be a bold and stylish statement piece. Just be sure to choose a design that is meaningful to you and that you will be happy with for years to come.
Side Neck Tattoos
Side neck tattoos can be a great choice if you're looking for a more subtle design. In the image above, the tattoo artist has beautifully crafted two feathers on the neck of the individual. Feathers are a popular choice for tattoos as they symbolize strength and honor. Neck tattoos are considered the most badass tattoos, so any design you choose will look great when done properly. If you're a first-timer, this feather tattoo is a great suggestion. Additionally, you can try out other feather tattoos like dream catchers, which are a popular symbol in Native American cultures and represent life. Keep in mind that neck tattoos require a high pain tolerance as the skin in that area is thin, but it can be worth it for the beautiful result.
Lion Neck Tattoo Ideas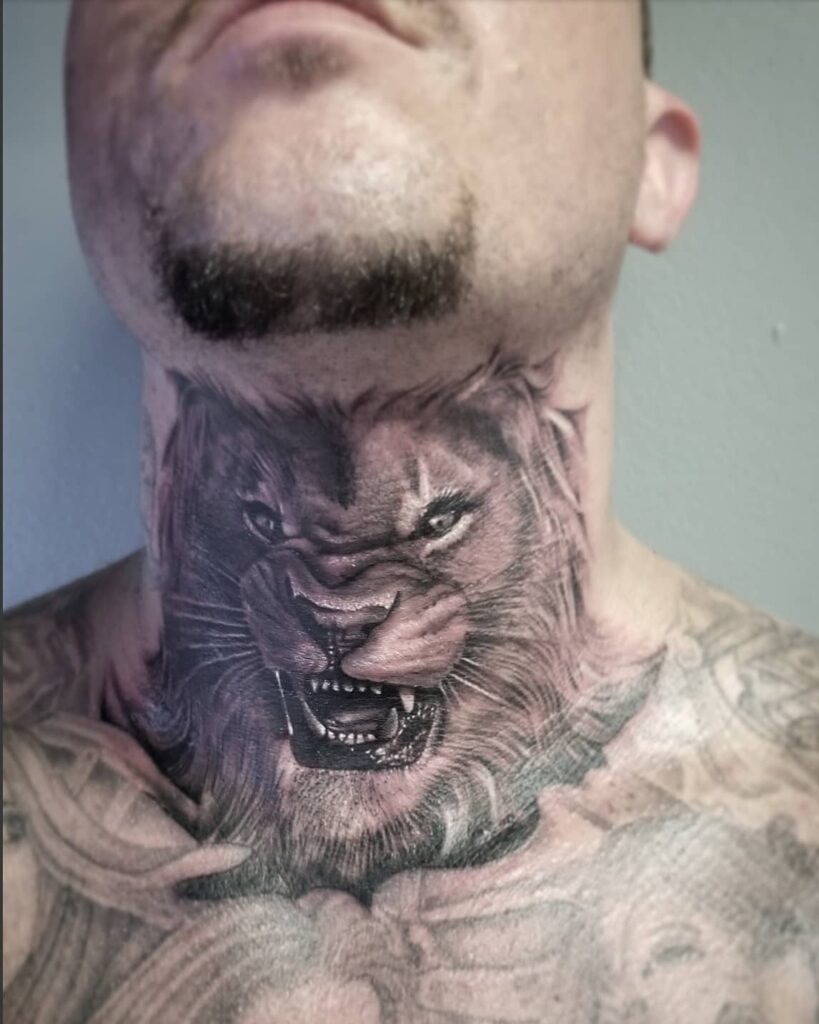 Lions have been known to symbolize courage and bravery for centuries, and their majestic image has become a popular choice for tattoos. The image above showcases a stunning lion neck tattoo, where the artist has used the lion's head as the focal point. The intricate details of the lion's sharp teeth and fierce expression are a true testament to the artist's skill and dedication. This type of full neck tattoo is a great way to make a bold statement, and you can draw inspiration from this design if you're considering a throat tattoo. Whether you choose to incorporate a lion into your tattoo or opt for a different design, make sure to work with a skilled artist who can bring your vision to life.
Angel Neck Tattoo Ideas For Men
Angel neck tattoos are a classic and popular choice for those who want to express their spirituality through ink. Angels are often seen as messengers of God, and this image of an angel with the scales of justice and large wings is a unique and powerful representation of truth and fairness. The artist has used a combination of gray and black ink to create a stunning design that is sure to catch people's attention. If you're looking for an angel neck tattoo, this design is a great inspiration. There are many variations of angel designs to choose from, so you're sure to find one that resonates with you.
Crown Neck Tattoo Ideas
If you're looking for a design that symbolizes self-control and glory, a crown tattoo may be the perfect fit for you. Crowns are a popular choice for neck tattoos as they can look great in both small and large designs. In this particular design, the artist has opted for a black crown, but the size and color can be personalized to suit your style. Bright colors can add vibrancy to the design. Crowns are a powerful symbol of new beginnings and overcoming hardships. So, if you want to show off your courage and determination, consider getting a crown neck tattoo.
Tribal Neck Tattoo Ideas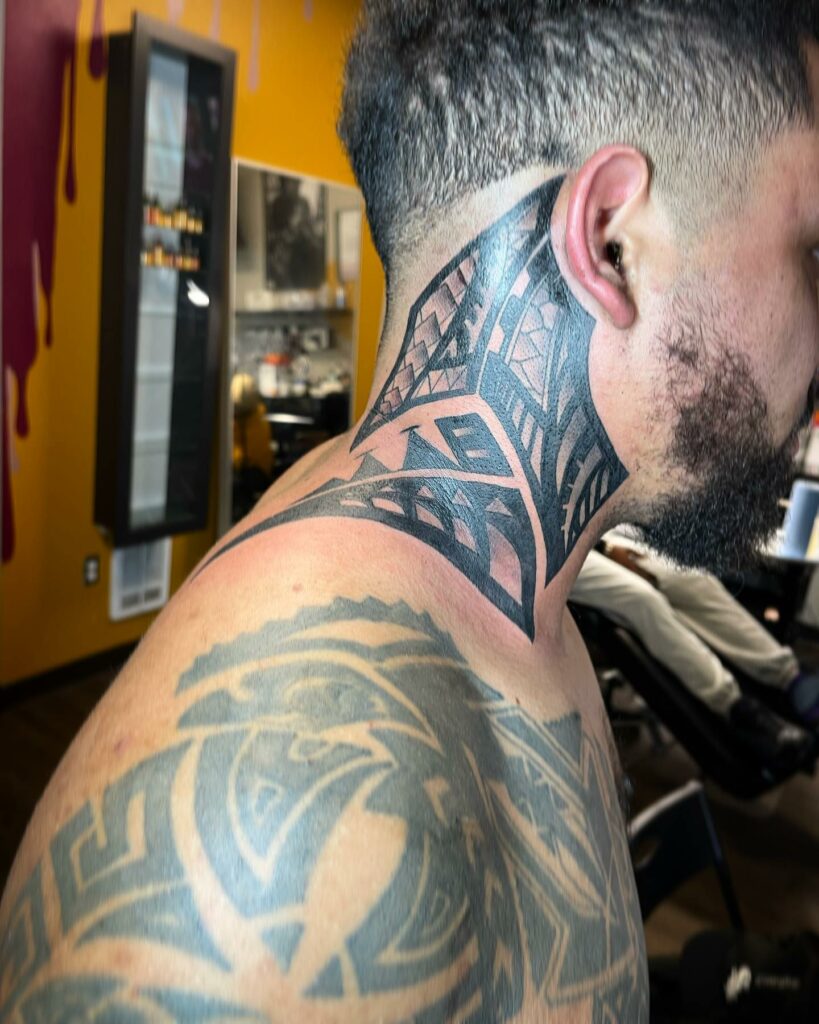 A tribal neck tattoo design can be a fantastic way to showcase and celebrate your culture and heritage. There are various tribal designs to choose from, and they differ across different cultures. Tribal neck tattoos reflect the accomplishments and glory of a culture and can serve as a powerful symbol of identity. In the above image, the person has a uniquely shaped tribal tattoo on the side of their neck. You can use this as inspiration for your own tribal neck tattoo, or create a completely new design that honors your heritage. Regardless of the design you choose, a tribal neck tattoo is an excellent way to pay tribute to your rich cultural roots.
Best Neck Tattoos For Men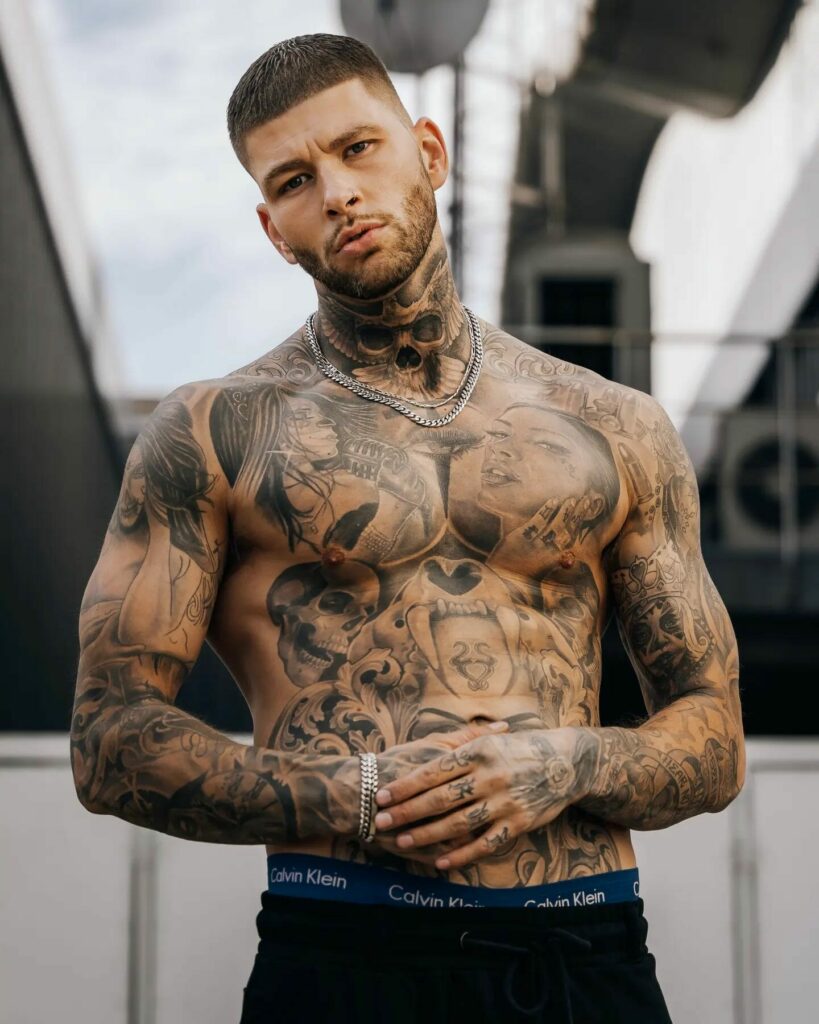 Skull tattoos are a timeless and versatile choice for neck tattoos. They can represent different meanings for different people, such as death, rebellion, rebirth, or celebration of life. This design is especially popular among men. The artist in this picture has done a fantastic job creating a skull tattoo that is both bold and detailed, without causing any irritation to the skin.
However, before deciding on a neck tattoo, it's important to understand the potential risks, such as infection, and the level of pain involved. The neck area is highly sensitive, and the pain level increases the higher you go on the neck. If you have a low tolerance for pain, you may want to consider other body parts for your tattoo.
That being said, neck tattoos can be a cool and unique form of body art, and it's crucial to choose a skilled and experienced artist to ensure a safe and successful procedure. So, if you're up for the challenge and ready to commit to a neck tattoo, a skull design like this one could be a great choice.
feature image from Pinterest – Want your tattoo to look brighter? Try "Tattoo Balm"