Hey there, tattoo enthusiasts! Are you in search of a tattoo that's not only beautiful but also a stunning display of modern art? Then look no further than the mesmerizing world of marble tattoos!
With swirling patterns and a vibrant range of colors, marble glass balls have inspired many people to incorporate this design into their tattoos. From afar, these tattoos look like they were hand-painted and are sure to turn heads wherever you go.
If you're a fan of classical art and sculpture, you might also want to consider marble tattoos of sculptures. Italian artist Fabio Viale is famous for creating contemporary sculptures that exude a strong personality and are a favorite among those who love art history.
Whether you prefer a more modern or classical approach, there's a marble tattoo design that's perfect for you. In this article, we've gathered some of the most beautiful and creative marble tattoo ideas to inspire your next ink adventure. So, sit back, relax, and let's dive into the stunning world of marble tattoos!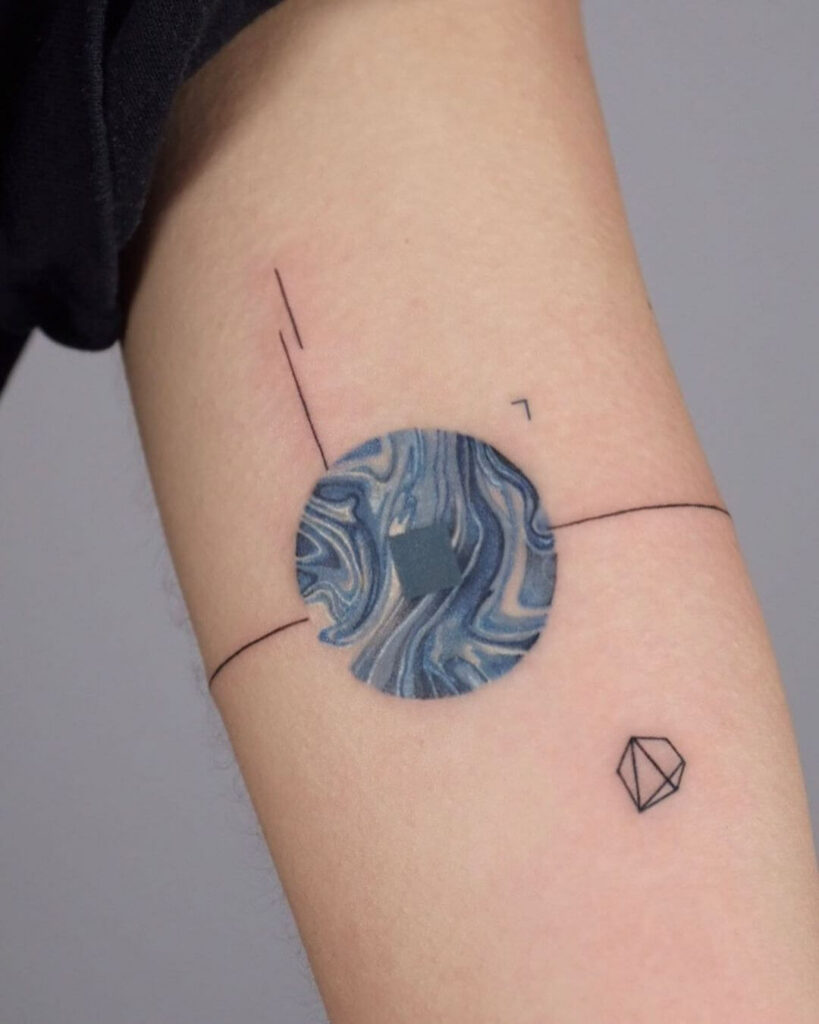 Beautiful Marble Tattoo Designs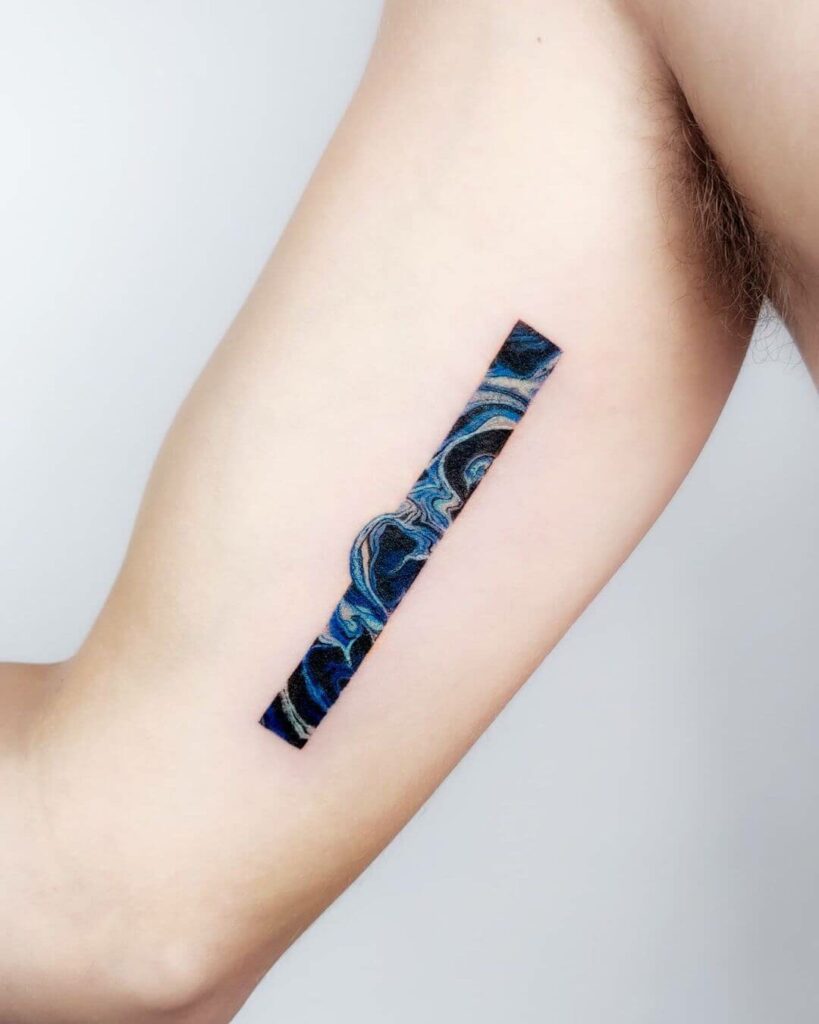 Glass ball tattoos are a stunning and unique way to experiment with colors and contemporary art. This type of tattoo can feature various motifs inside the glass ball, including landscapes, animals, or even entire scenes. The glass ball is typically inked in a crystal-clear, glossy effect, while the motifs inside are bright and colorful. The healing process may take some time, but the final result is a timeless piece of art that you'll love. So, if you're looking to add some creativity to your tattoo collection, consider a glass ball design!
Elaborate Marble Tattoo Designs For Your Back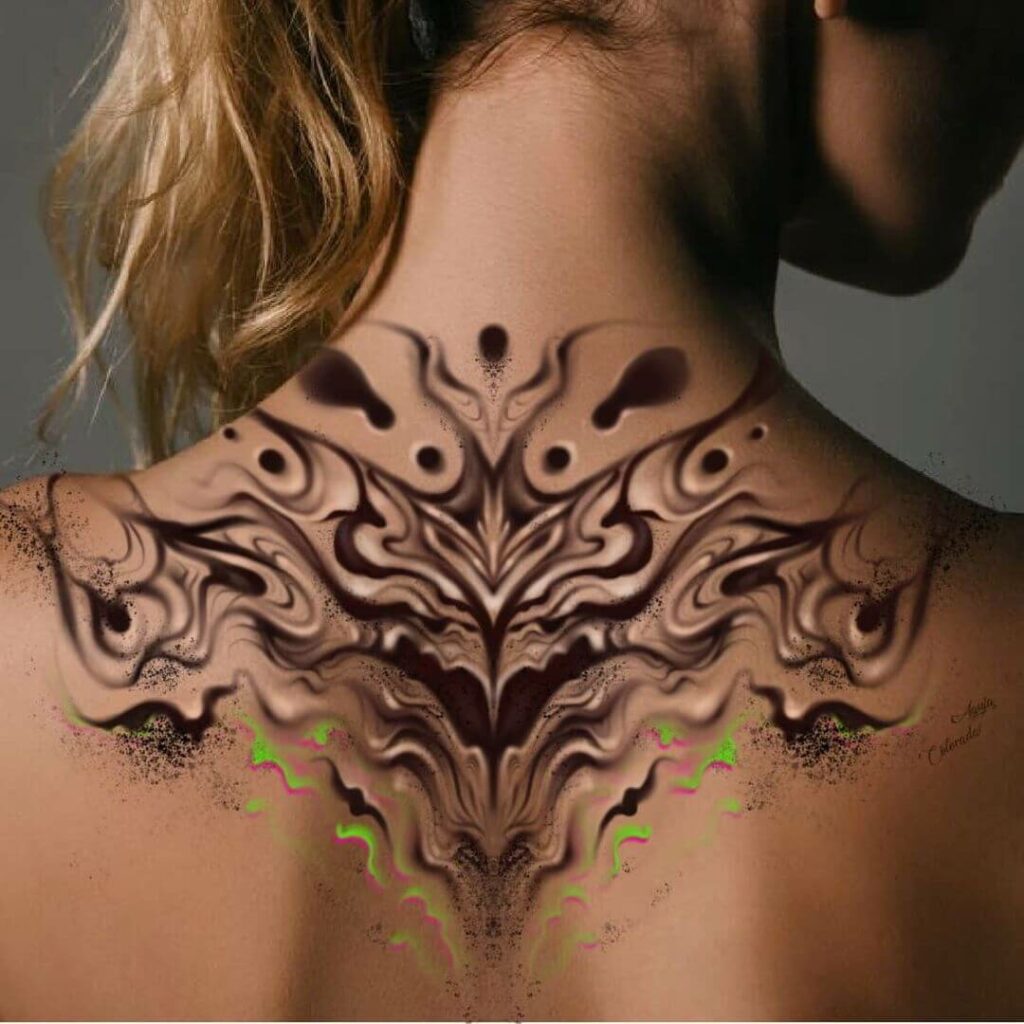 Marble tattoos are a popular way to create intricate and unique designs that can cover your entire back. This style uses curved lines to create a flowing, organic look that resembles the intricate patterns of marble. These tattoos are beautiful and eye-catching, but they do require extra care during the healing process. To avoid scabbing, it's important to keep the tattoo clean and well-moisturized. Applying ointment after washing can help the healing process and ensure your tattoo stays looking its best.
Stunning Ideas For A Marble Tattoo Sleeve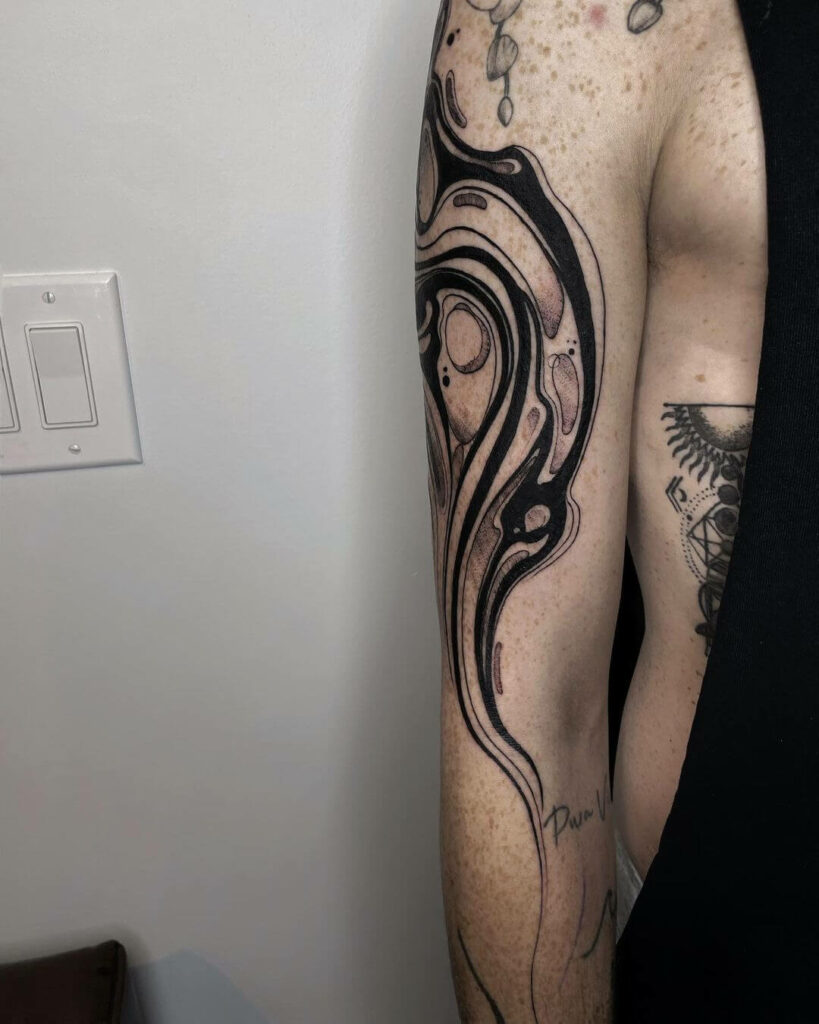 Getting a full sleeve tattoo is a fantastic way to make a bold statement with your ink. An arm sleeve tattoo provides ample space for the artist to create a masterpiece of their own. With a marble pattern tattoo design, you can have a truly unique and flexible set of motifs to showcase on your arm. The beauty of this design is that it can be made to look intricate and elaborate, yet simple at the same time. The marble pattern tattoo design can be tailored to your liking and can come in any color or style that you prefer.
Unique Armband Tattoo With A Marble Glass Design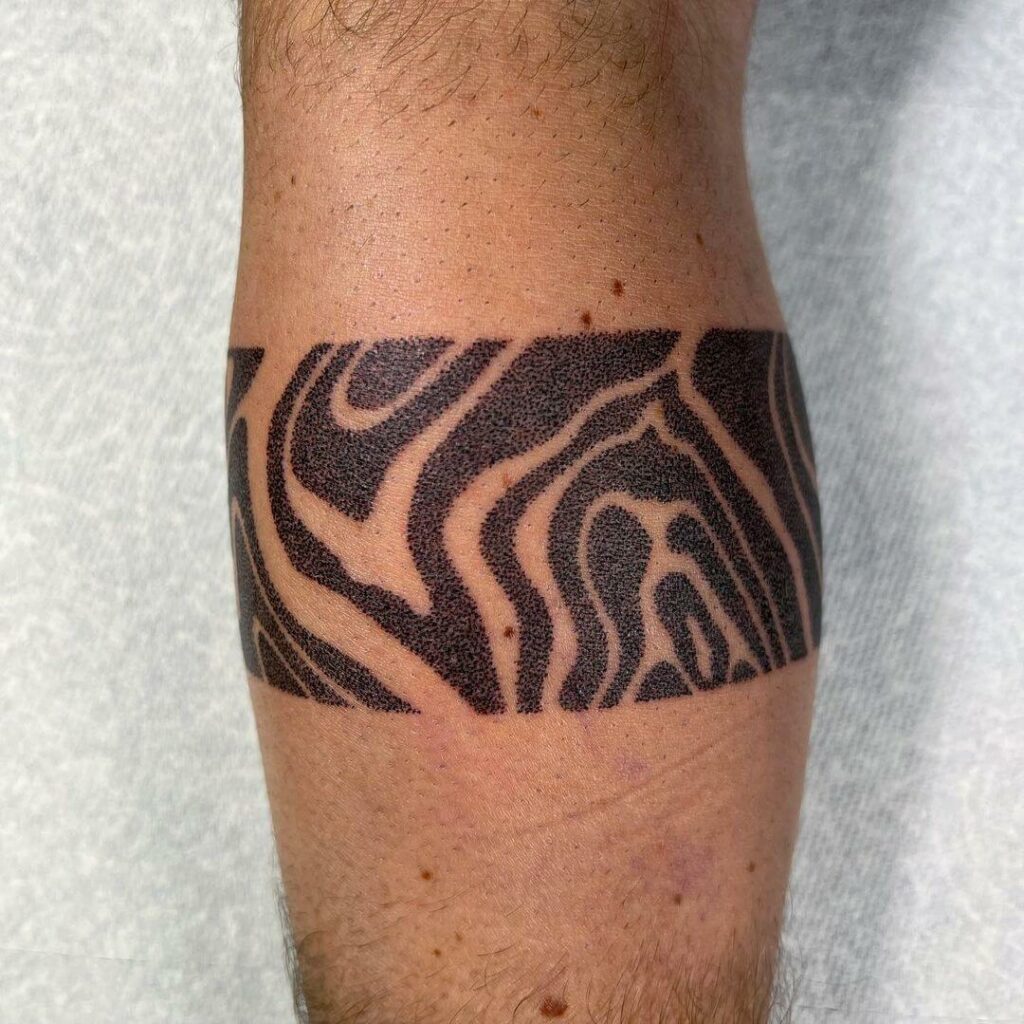 Armband tattoos can be a stunning and unique way to adorn your arm. A marble glass ball tattoo design can be an excellent choice for an armband tattoo, as it creates a distinctive look that can be eye-catching and visually appealing. Keep in mind that armband tattoos can take longer to heal than other tattoo styles, so be sure to follow proper aftercare instructions to ensure the best results.
Lovely Marble Vase Tattoo With Flower Motif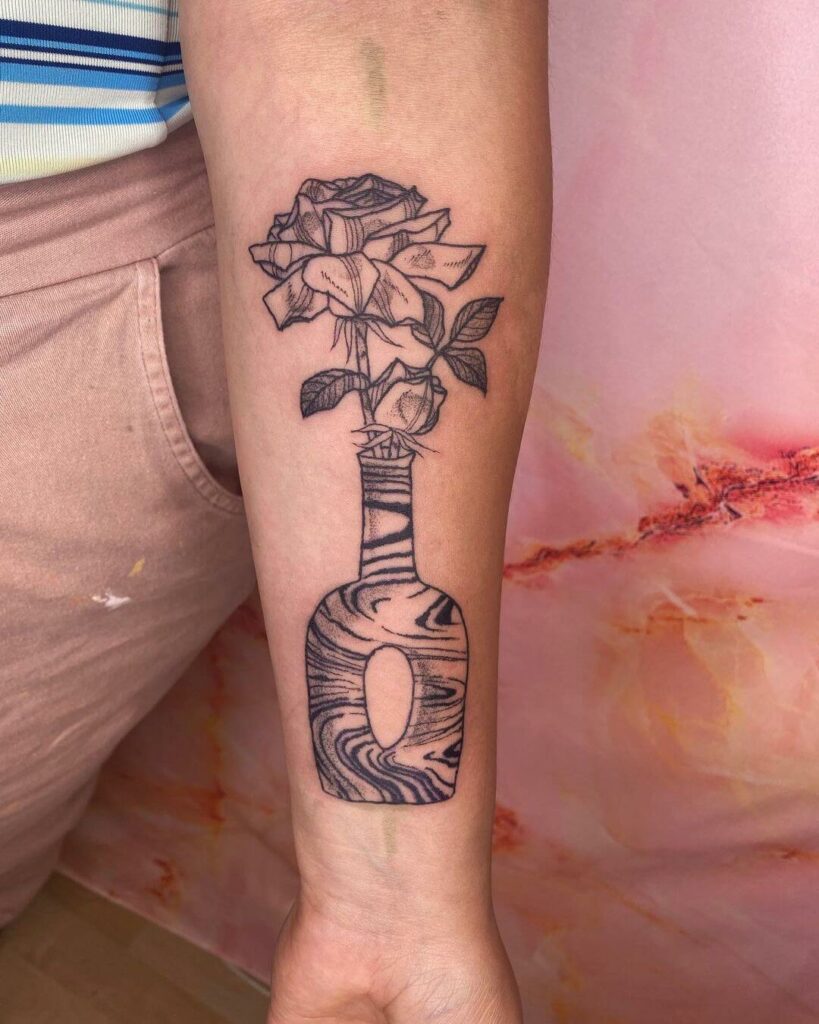 Marble tattoos have become increasingly popular in recent years and one of the most stunning designs is the flower vase made of a marble-like structure. Adding your favorite flowers to the design can add a personal touch to the tattoo and make it more meaningful. Flowers have long been used as symbols for various emotions and events like love, passion, and wonder. Calla lily tattoos, in particular, have become a popular choice among tattoo enthusiasts due to their unique and elegant appearance. We've gathered some stunning images of calla lily tattoos for you to get inspired and create a beautiful marble tattoo of your own.
Vividly Colourful Marble Tattoo Designs
Marble glass balls are known for their mesmerizing, swirling patterns and a diverse range of colours that can be seen within them. If you want your tattoo to showcase the true beauty of these colours, then it's important to work with your tattoo artist to choose a vivid and vibrant colour palette for your marble tattoo. This will ensure that your tattoo captures the eye-catching, dynamic nature of marble glass balls and looks absolutely stunning on your skin!
Marble Motif Tattoo Based On Abstract Art
Tattoo artists are known for their creativity and their ability to turn anything into beautiful art. One great example is the image above, where the tattoo artist has combined a marble design with a tiger. This unique tattoo showcases the artist's imagination and skill, creating a beautiful piece of art that is sure to turn heads. Whether it's a traditional design or something more unconventional, tattoo artists have the ability to turn any idea into a stunning tattoo.
Amazing Blackwork Tattoo With Classical Marble Sculptures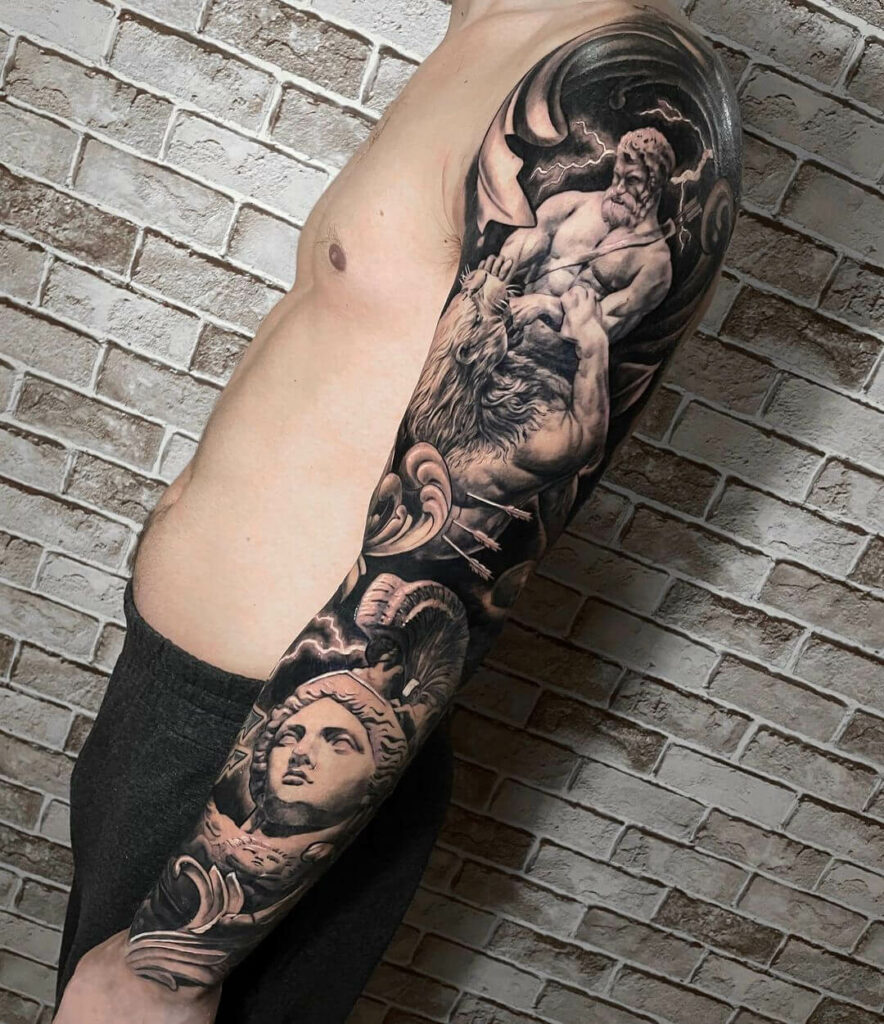 Blackwork tattoos are a unique and striking form of tattooing that uses black ink to create a bold, graphic design. The design is achieved by strategically leaving certain parts of the skin untouched to create contrast with the blackened skin. If you're looking for a blackwork tattoo that incorporates classical marble sculptures or statues, it's important to find an artist who specializes in this style. You can ask for recommendations from friends or search for local artists who have a strong portfolio in blackwork tattooing. To get some inspiration, check out these amazing images of blackwork tattoos.
Unconventional Marble Sculpture Tattoo Ideas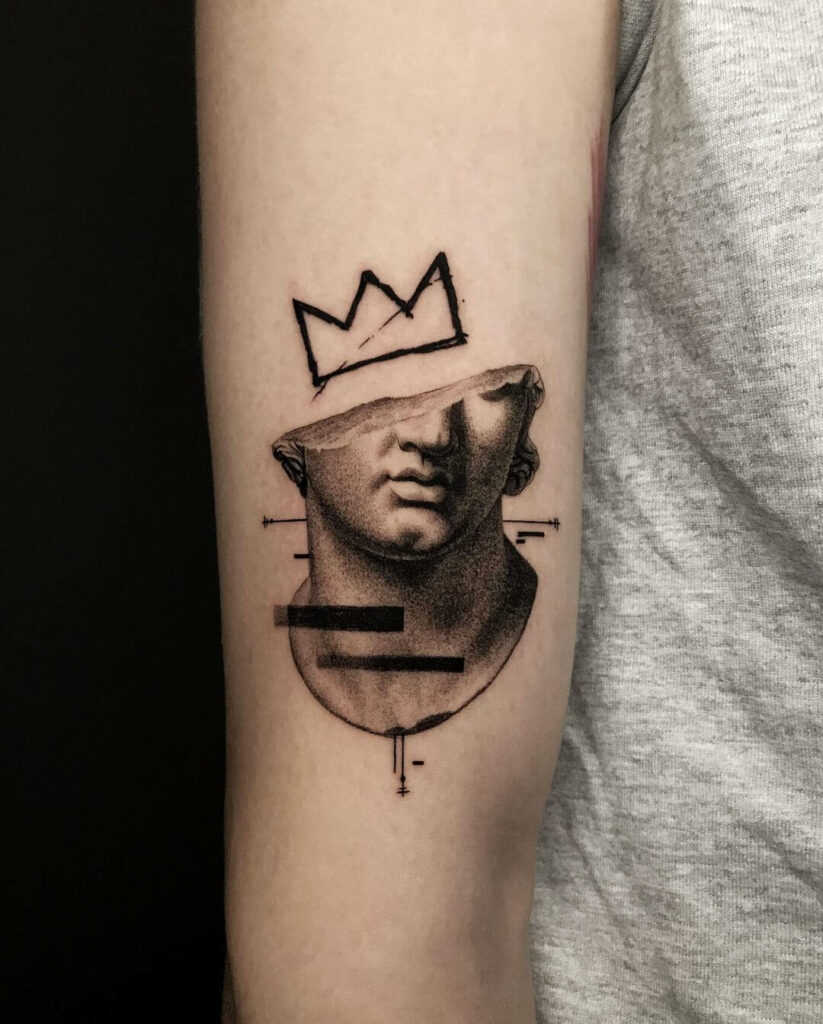 Are you searching for a unique tattoo design? Consider getting an abstract sculpture or statue tattoo like the one shown above for an unconventional take on the traditional design. If you're feeling creative, you can also ask your tattoo artist to add their own imaginative interpretation to the marble statue or sculpture design. Another source of inspiration is Italian artist Fabio Viale, who is well-known for his contemporary approach to sculpture. For a more classical style, consider looking at the works of artist Giovanni da Modena, whose paintings depict beautiful and intricate designs.
Marble Sculpture Tattoos That Are Easy To Place Anywhere
Are you worried about finding the perfect spot to place your marble sculpture tattoo? Fear not, as these tattoos can be adjusted to fit any size or location on your body! In fact, many people opt for smaller versions of these tattoos on their chest or back. The contrast of darker and lighter shades can make for a stunning effect once the tattoo has healed. If you're looking for inspiration, consider checking out the works of Italian artist Fabio Viale, whose imaginative sculpture designs are world-renowned. An Aphrodite marble tattoo or a marble veil tattoo are just a couple of the many options available to you. With so many possibilities, there's no reason not to explore the world of marble tattoos and find the perfect design to express your unique style and personality.
Feature image from Pinterest – Want your tattoo to look brighter? Try "Tattoo Balm"
Last reviewed and updated on April 29, 2023