Hey there! Are you a fan of anime and looking for some cool tattoo ideas to match with your partner? Look no further! Anime is a popular form of entertainment in Japanese culture and has gained a worldwide following. It's no wonder that anime tattoos have become a favorite among fans. From Naruto to Kira, there are so many iconic characters to choose from. Did you know that the first-ever anime can be traced back to 1961? Since then, anime has continued to evolve and captivate audiences with its unique storylines and art designs. As an anime fan, it's easy to connect with other fans through your shared interest in the genre, and anime tattoos are a great way to pay tribute to your favorite characters. So, let's dive into some awesome matching anime tattoo ideas for you and your crew!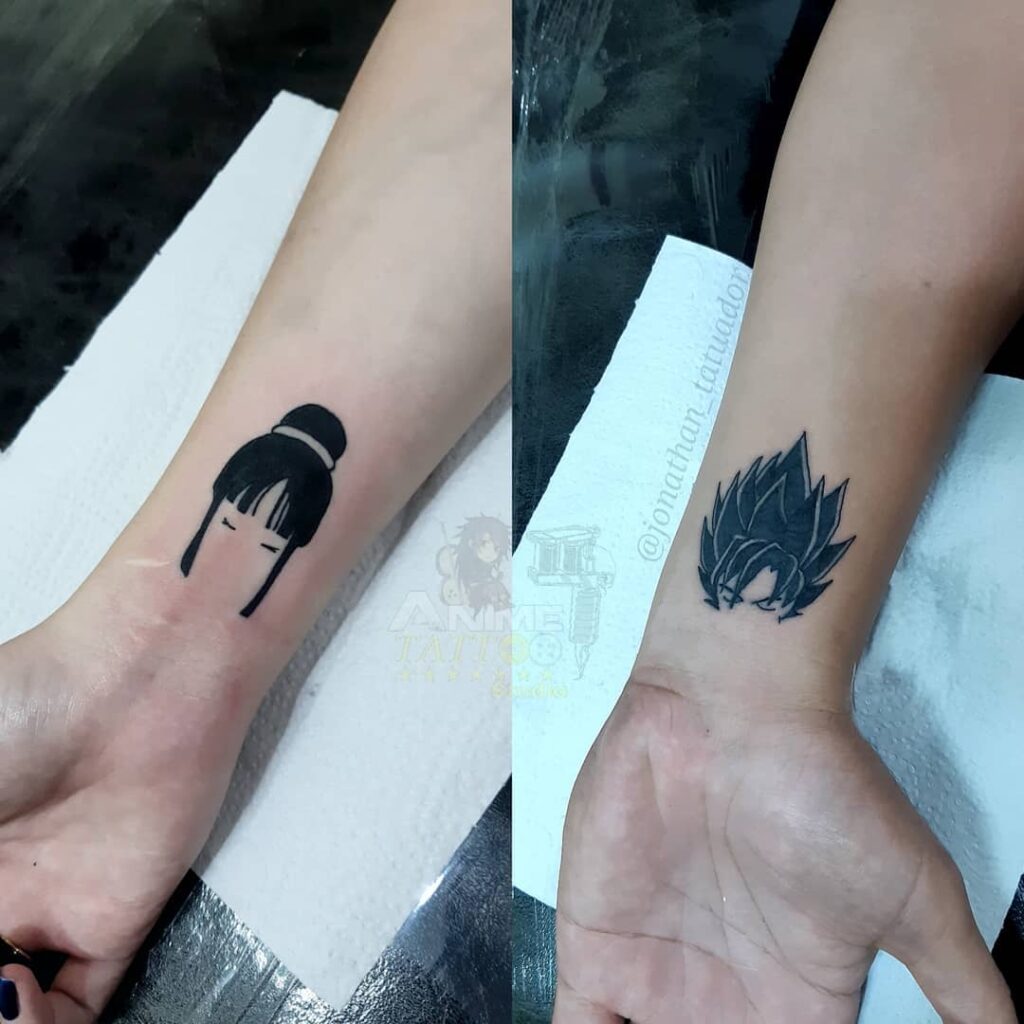 Colorful Naruto Hinata Matching Anime Tattoo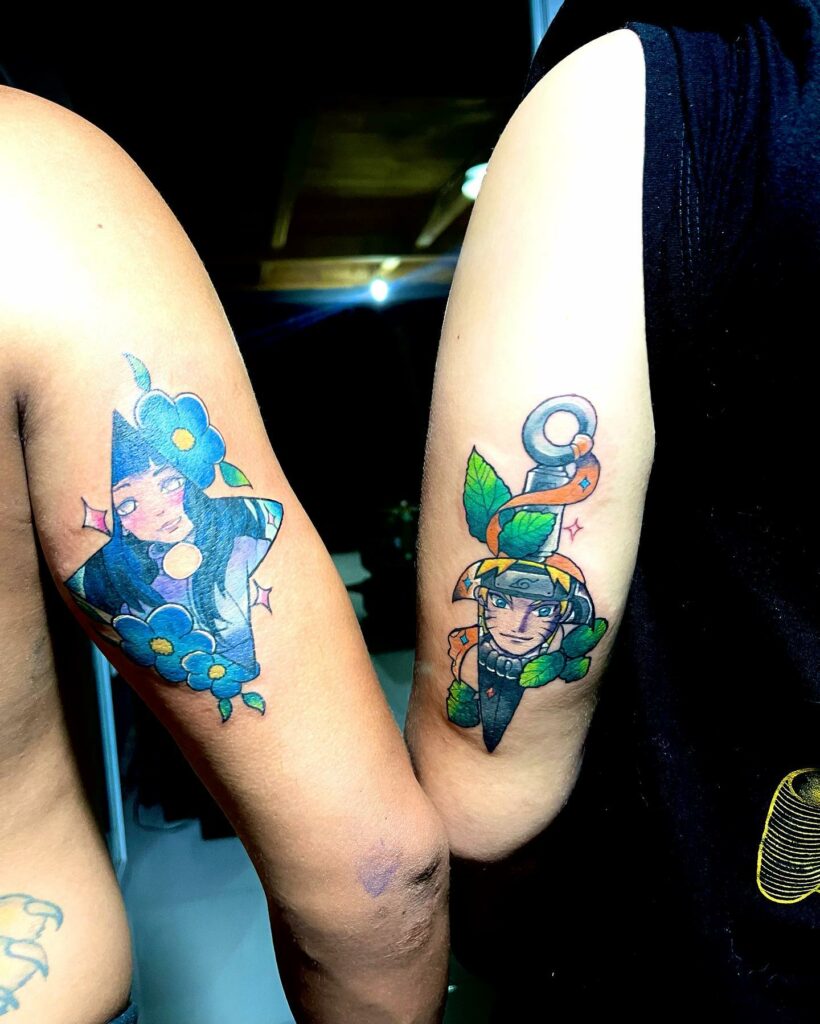 Naruto and Hinata's love story is one of the most iconic romances in anime history. Naruto, the powerful ninja with a heart of gold, and Hinata, the shy and sweet ninja with powerful abilities, make a perfect couple in the popular anime series "Naruto." Fans of the series love this couple and often "ship" them hard. This Naruto and Hinata tattoo is a perfect tribute to this love story. The tattoo features Hinata's Byakugan, a signature power of hers, which has been expertly drawn with white ink in her eyes. Naruto's blue eyes are also on full display, looking as bright and catchy as they do in the anime. Naruto's face has been drawn inside a kunai, a weapon that is popularly associated with ninjas. This tattoo is inked on the hand, but it can also be done on other parts of the body depending on your preference.
Dragon Ball Z tattoo
If you are a fan of the famous anime series 'Dragon Ball Z', then you must know the two famous characters, Goku and Vegeta. They are not just famous for their rivalry but also for their deep friendship. This anime tattoo holds a special meaning behind it. The tattoo is placed on the calf of the bearer and shows both characters walking away while fist-bumping each other. It represents the bond of true friendship between the two characters. This is a colored tattoo and is a perfect choice for those who want to show their love for their best friend. So, if you also have a best friend with whom you share a deep connection, then this matching anime tattoo will be perfect for you.
Fairy Tale Matching anime Tattoo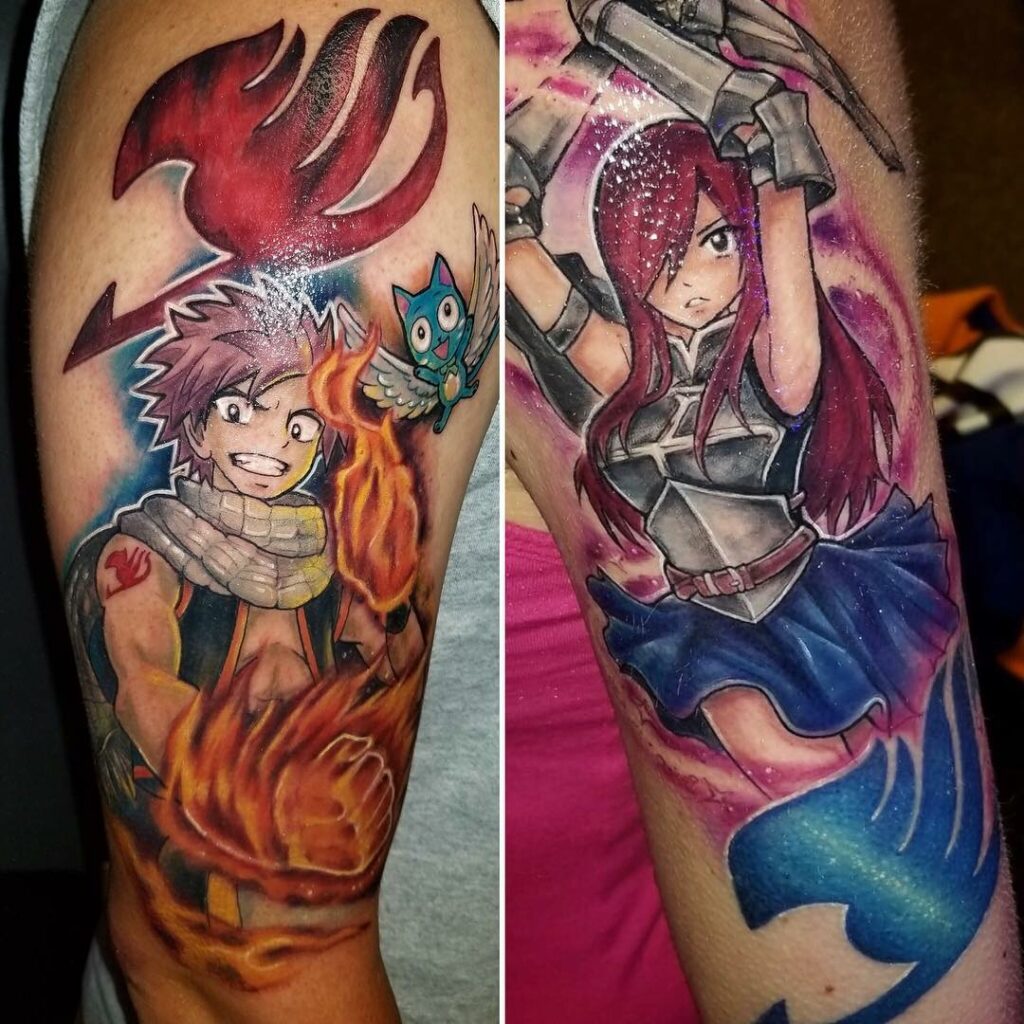 It features two iconic characters, Natsu and Erza, from the anime series 'Fairy Tale'. Natsu is the main character of the series, and Erza is like a big sister to him. Their bond is pure and strong, which makes this tattoo a great choice for anyone who wants to represent the power of sibling love. The eyes of both characters are the highlight of this tattoo, filled with complex emotions that make it truly stunning. Since this tattoo requires intricate details, we strongly recommend that you choose an experienced tattoo artist to ensure the best possible outcome. If you're a fan of this magical fantasy series, this tattoo is the perfect way to show off your love for it!
Cute Matching Anime Couple Tattoos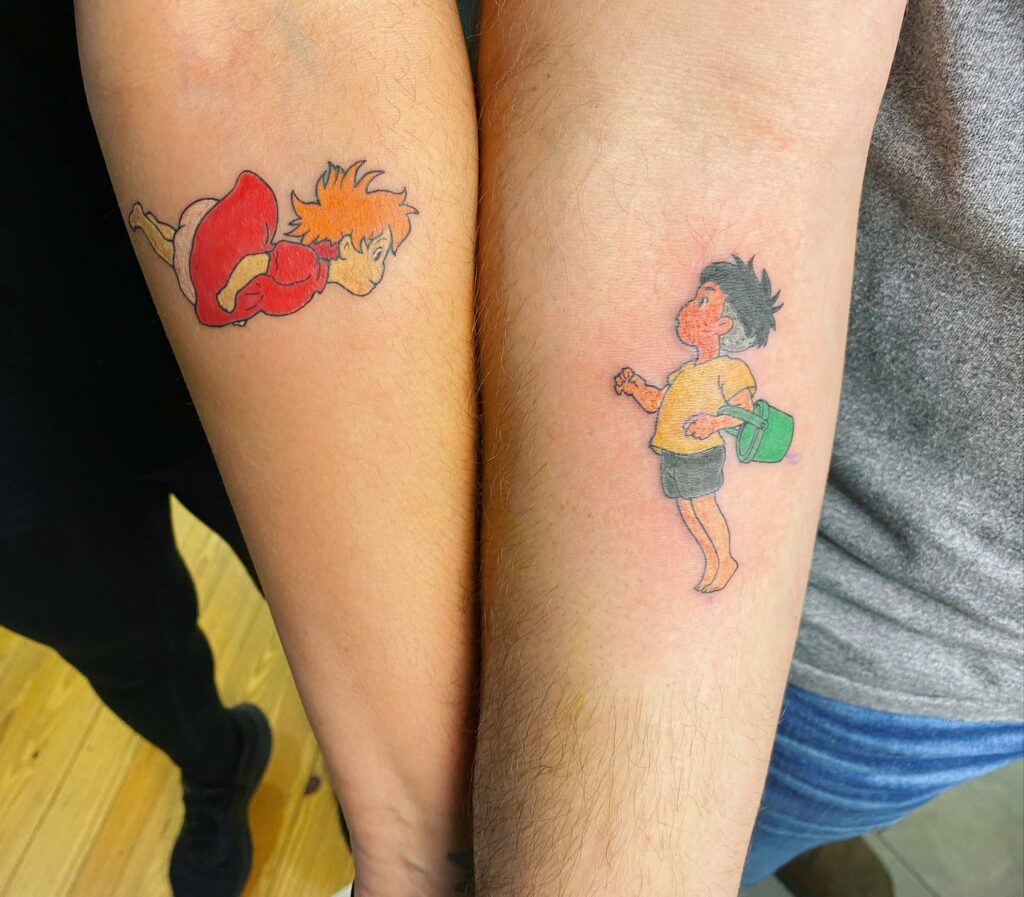 This enchanting anime tattoo is inspired by the movie 'Ponyo'. The girl character in the tattoo is named Ponyo and the boy is called Sosuke. The lively and colorful anime tattoo is small and located on the hands of the tattoo bearer. The tattoo expert carefully crafted this piece to stay true to the authentic representation of the anime. The tattoo perfectly captures the chemistry between the two characters, as Ponyo is shown flying while Sosuke waits for her. This unique art style is perfect for those who love anime movies and are looking for a meaningful tattoo idea. To ensure that you get the best possible tattoo, we suggest choosing an experienced tattoo artist who can create intricate details like these with perfection.
Akatsuki Anime Tattoo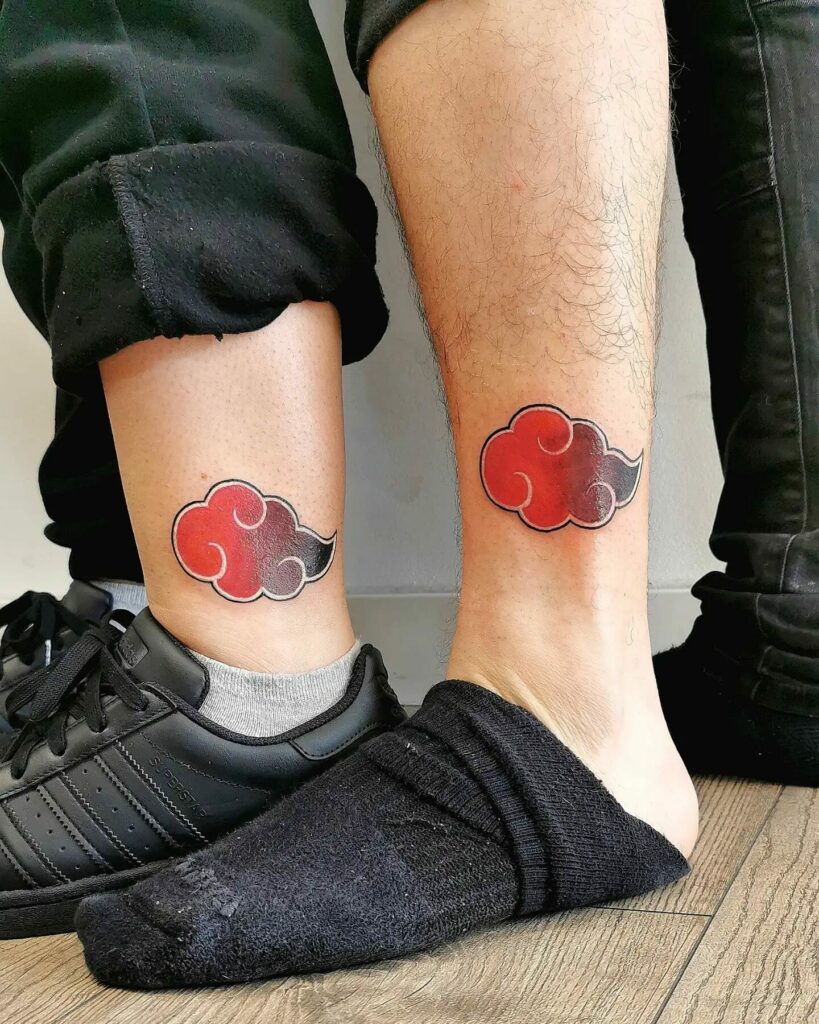 Are you a big fan of Naruto anime series and especially the Akatsuki villain group? Then this simple anime tattoo inspired by Akatsuki is just perfect for you! The design is a must-have for any Naruto fan as it showcases the deeper personal meaning of the characters behind it. This tattoo design is highly sought after and considered one of the most popular anime tattoo ideas. It's perfect for those who are looking for a badass and meaningful anime tattoo. As a tattoo expert, I highly recommend this small matching tattoo, and I'm sure you'll love it too!
Matching Anime Tattoos For Couples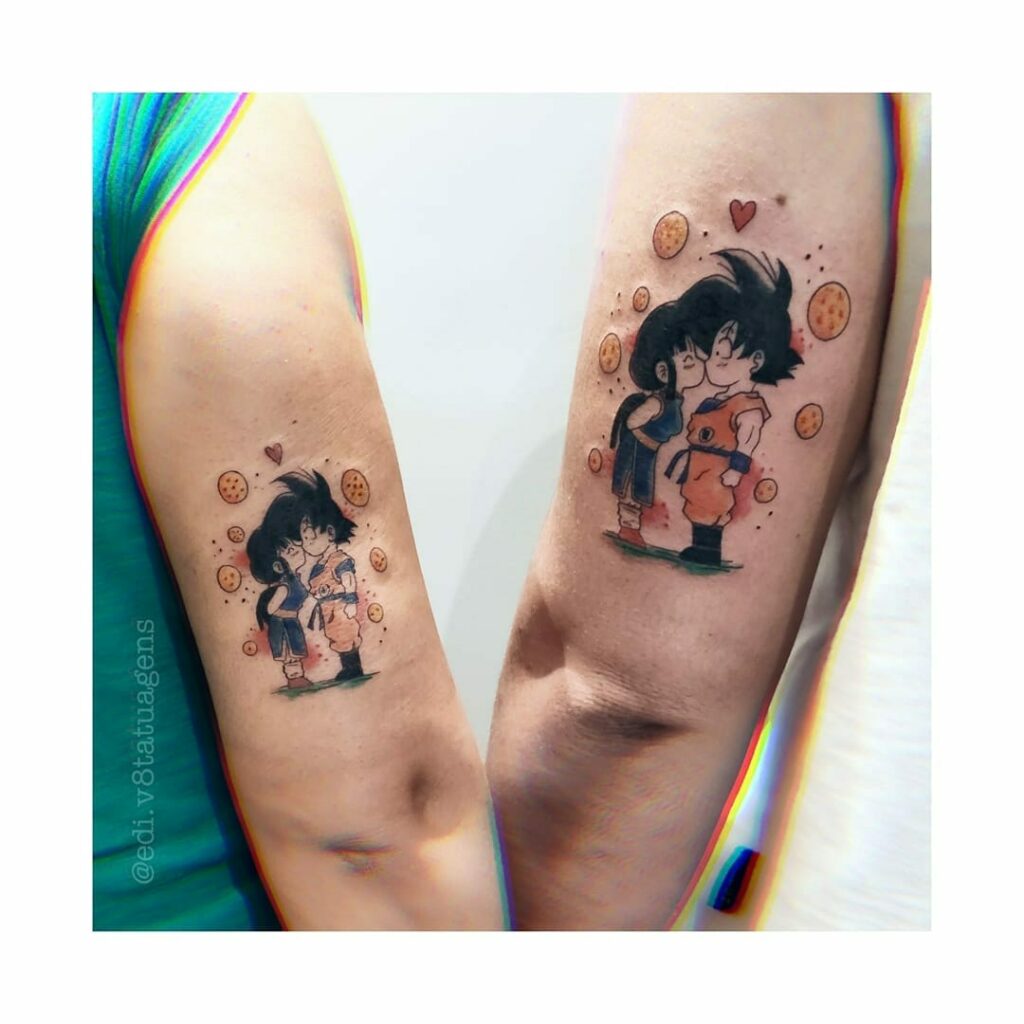 This delightful anime tattoo is a perfect representation of the bond between Goku and his wife Chichi from the legendary anime series 'Dragon Ball Z'. This tattoo design not only depicts the love between the two characters, but also serves as a reminder that understanding, care, and an open-mind are the pillars of a healthy relationship. This colorful anime tattoo is placed on the hand and features Goku and Chichi sharing a sweet kiss while dragon balls fly around them, making it a truly romantic piece of body art. If you're a fan of Dragon Ball Z and love this power couple, then we highly recommend this gorgeous tattoo idea to show your affection and devotion to your significant other.
Inuyasha Couple Tattoo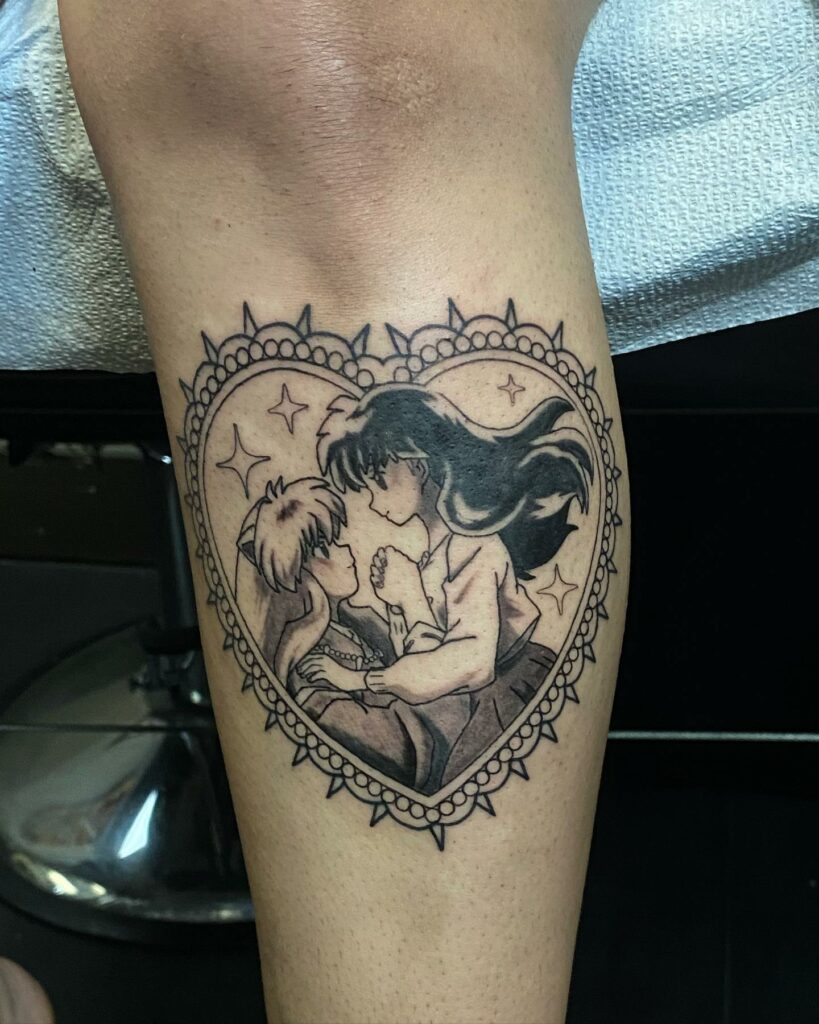 Are you a fan of classic anime? If so, you might want to consider getting an InuYasha tattoo! InuYasha is the protagonist of the anime series with the same name, and this tattoo showcases the chemistry between the characters in a perfect way. While the image shows only one person getting the tattoo, it could make a great couple tattoo idea, with both characters or just one character on each of your bodies. This tattoo is a faithful recreation of the manga version, with every detail expertly tattooed. If you're familiar with the anime or manga, you'll definitely recognize and appreciate the attention to detail.
Nezuko And Lemilion Anime Tattoos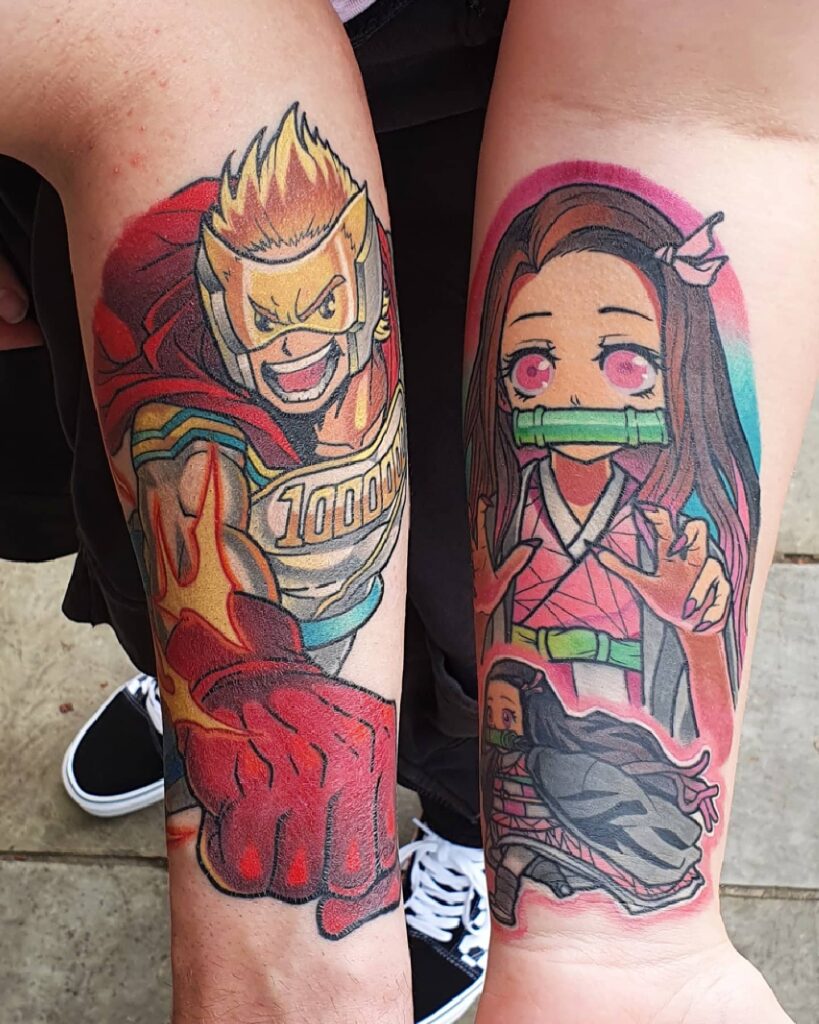 Are you a fan of My Hero Academia and Demon Slayer? If so, you'll love these colorful and stunning anime tattoos featuring Mirio Togata (aka Lemilion) from My Hero Academia and Nezuko from Demon Slayer. These tattoos showcase the artist's skill in creating amazing, eye-catching designs.
If you and your partner are looking to get matching tattoos but love different characters, don't worry, we've got you covered. Just choose a similar theme, and you can still twin even if the tattoos aren't from the same anime. So, what are you waiting for? Go ahead and find your perfect match!
Ace And Luffy Anime Tattoos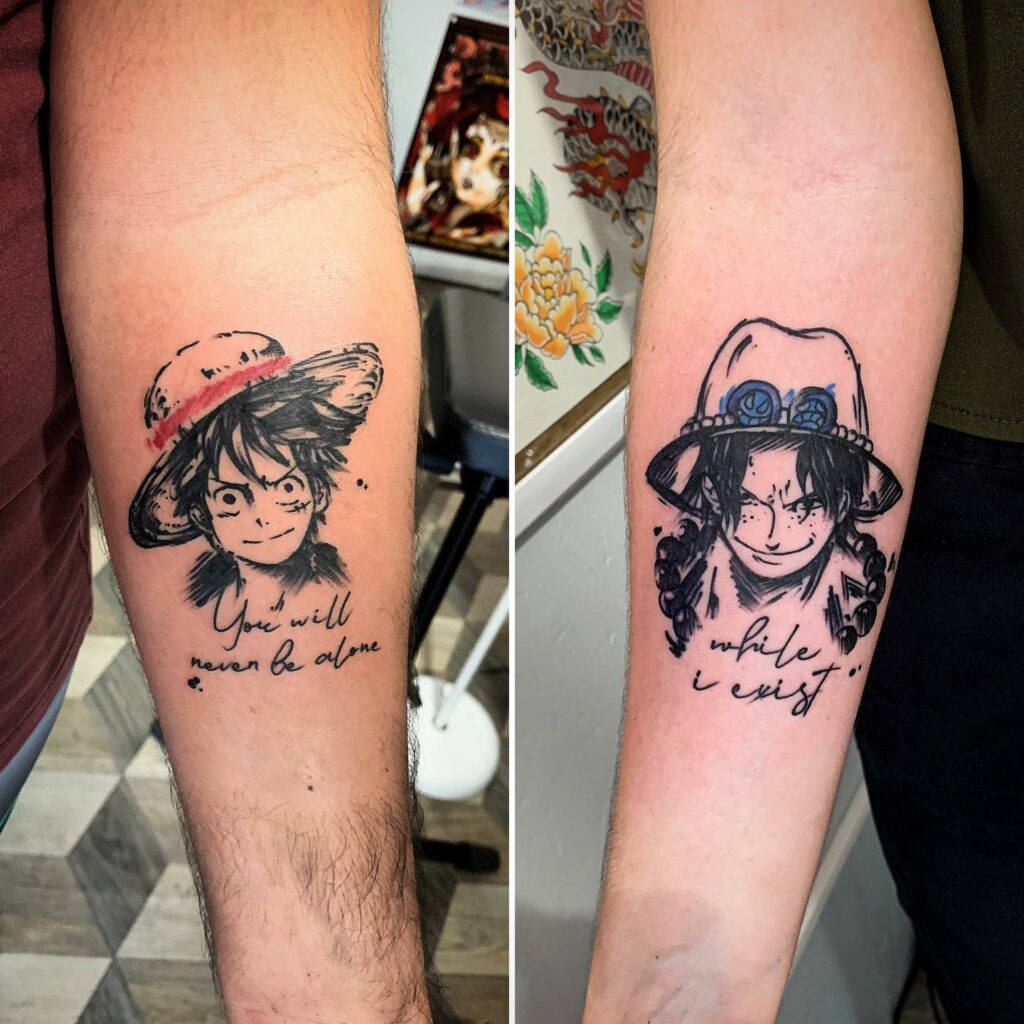 If you're a huge fan of the anime series 'One Piece', then you'll definitely love this anime tattoo idea. These amazing tattoos feature two of the most iconic characters from the series, who share an incredible bond of brotherhood. With their strong chemistry and epic adventures, these characters embody the true power of friendship, and this tattoo perfectly captures that spirit. It's a great way to celebrate the special bond between you and your best friend. So, why not get inked with these awesome anime tattoos and show off your love for this amazing series?
Giyu And Shinobu Anime Tattoos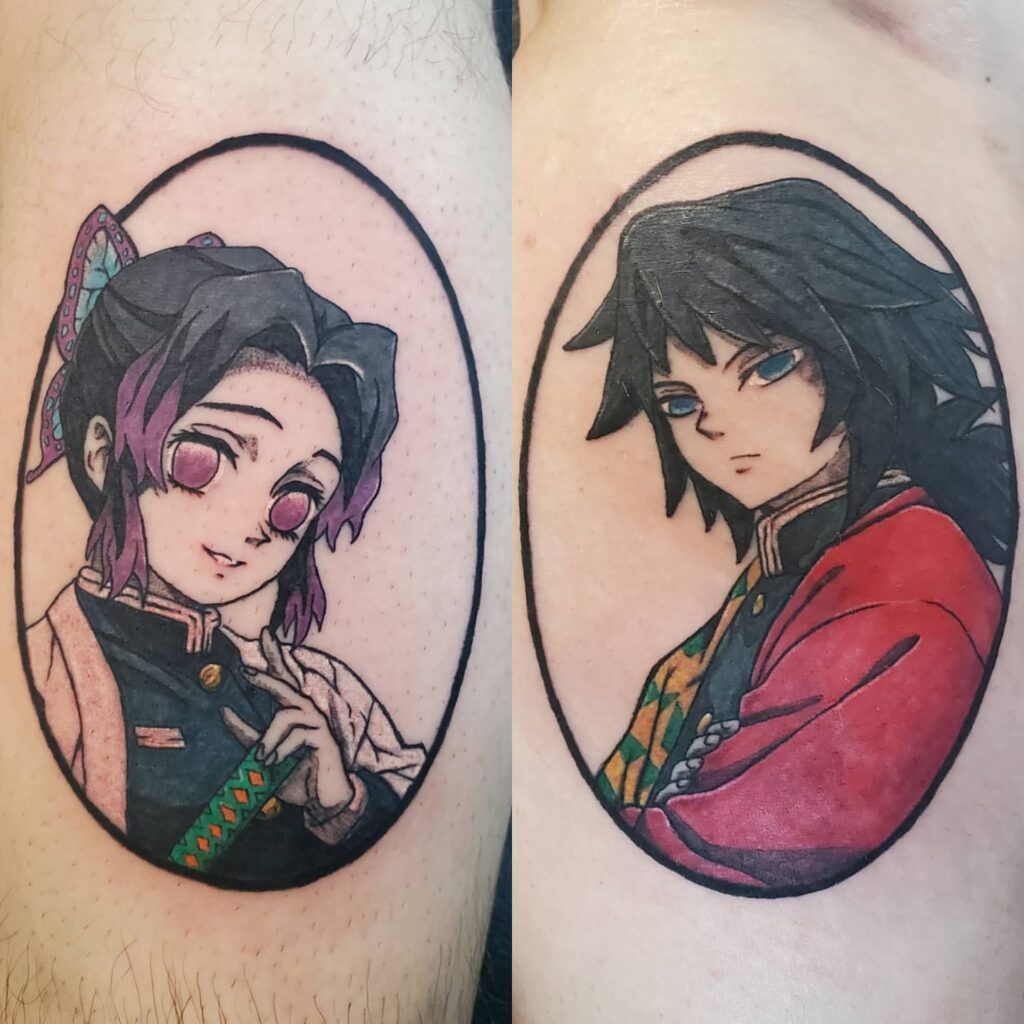 Looking for a unique way to showcase your love for the 'Demon Slayer' series? Look no further than these stunning tattoos featuring the two Hashiras, Giyu and Shinobu! These tattoos perfectly capture the grace and power of the characters, right down to their distinctive eye colors. If you and your significant other are fans of the series, these tattoos are a great way to express your shared love of the show. And if you're still searching for more inspiration, don't forget to check out social media sites like Instagram and Pinterest for even more amazing anime tattoo ideas!
Still looking for inspiration, then checkout this blog post about small dragon tattoos
feature image from Pinterest