Are you looking for inspiration for your next matching tattoo? If you're drawn to celestial symbolism, then a sun and moon matching tattoo might be perfect for you!
Matching tattoos have been gaining popularity, and sun and moon tattoos are at the forefront of this trend. These two opposing elements of nature hold great significance, making them a powerful choice for body art.
The sun represents strength, renewal, and the power to overcome darkness, while the moon represents change, growth, and the light in the darkness. If you're searching for the best matching sun and moon tattoo ideas, look no further! We've put together a list of options for you to choose from, so you can find the perfect design to express your personal style and symbolism.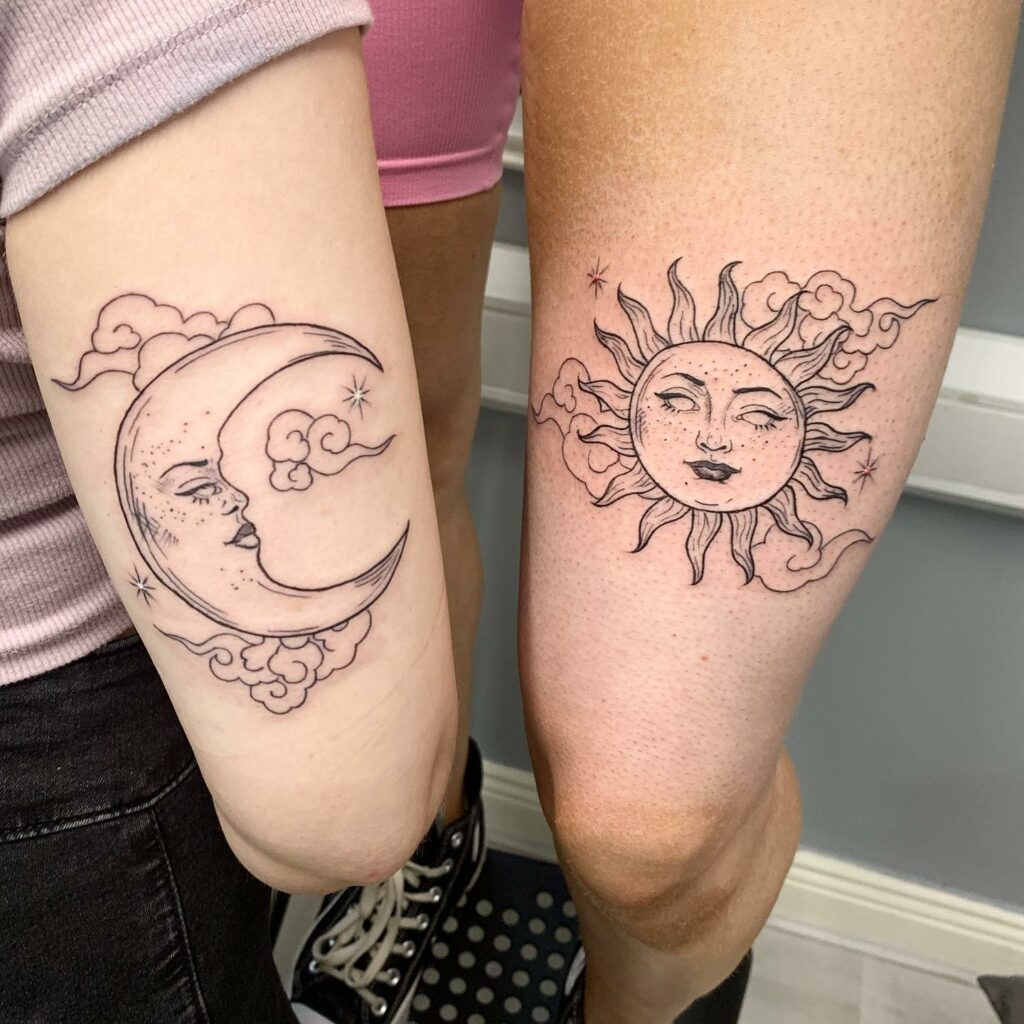 Hand Holding Sun And Moon Matching Tattoo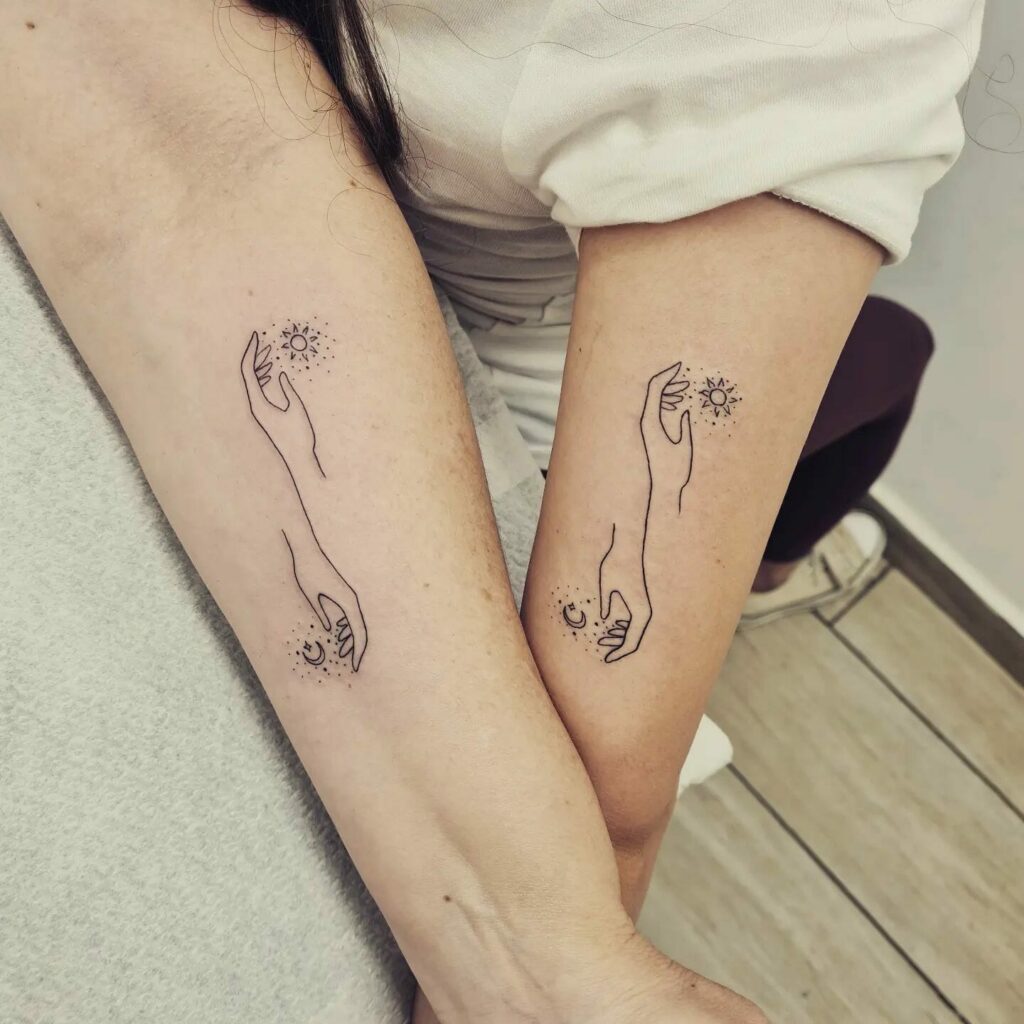 Looking for a unique matching tattoo design for you and your significant other? Consider the hand holding Sun and Moon tattoo, which represents the complementary masculine and feminine energies. This design features two hands in black ink, drawn with fine lines that appear connected, with one hand holding the sun and the other the moon. The result is a subtle and aesthetic tattoo that appeals to those who love moon tattoos. The artist uses thin needles to achieve the perfect look of this sweet matching tattoo. The tattoo represents harmony, unity, and balance, and is a great way to show commitment to your partner. Plus, it looks amazing on the skin and is a beautiful addition to any tattoo collection.
Minimalistic Two Opposing Powers Tattoo
Minimalist tattoos are becoming increasingly popular due to their simplicity and elegance. Among these designs, the minimalistic Sun and Moon tattoo is a standout choice. This design represents both masculine and feminine energies through the use of black lines and negative space. The sun is depicted as an outline with thin rays extending outwards, while the crescent moon is boldly inked. Despite its simplicity, this tattoo is striking and looks beautiful on the skin. Couples who want to symbolize their opposite yet complementary energies can opt for this minimalistic design.
Sun x Crescent Moon Tattoo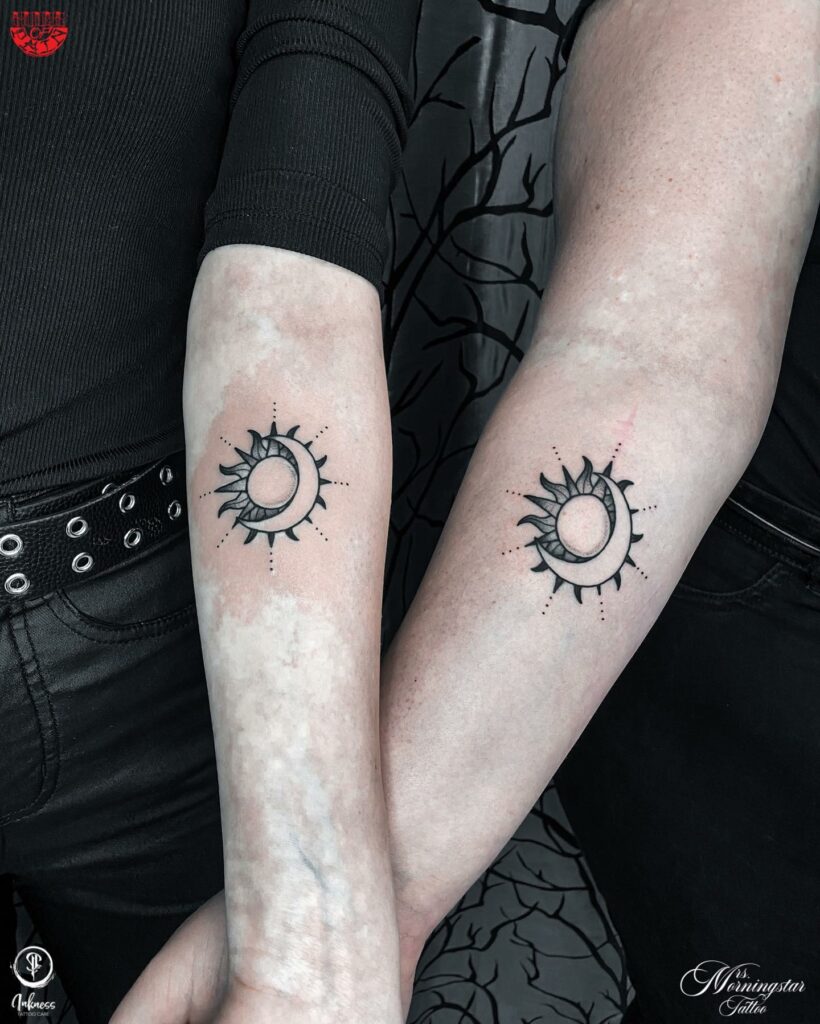 The sun and the moon have long been symbolic of opposing yet complementary forces in nature and within ourselves. Sun and moon tattoos are timeless classics that have universal appeal, regardless of age, background, or sexual orientation. They represent acceptance of the contradictions and complexity of human nature. This matching tattoo design features intricate black ink detailing of the sun's rays and is versatile enough to be placed anywhere on the body. It's a great choice for those who are new to tattooing or looking for a minimal yet meaningful design. While photos may not do it justice, this tattoo carries a beautiful message worth wearing.
Anchor Sun And Moon Tattoo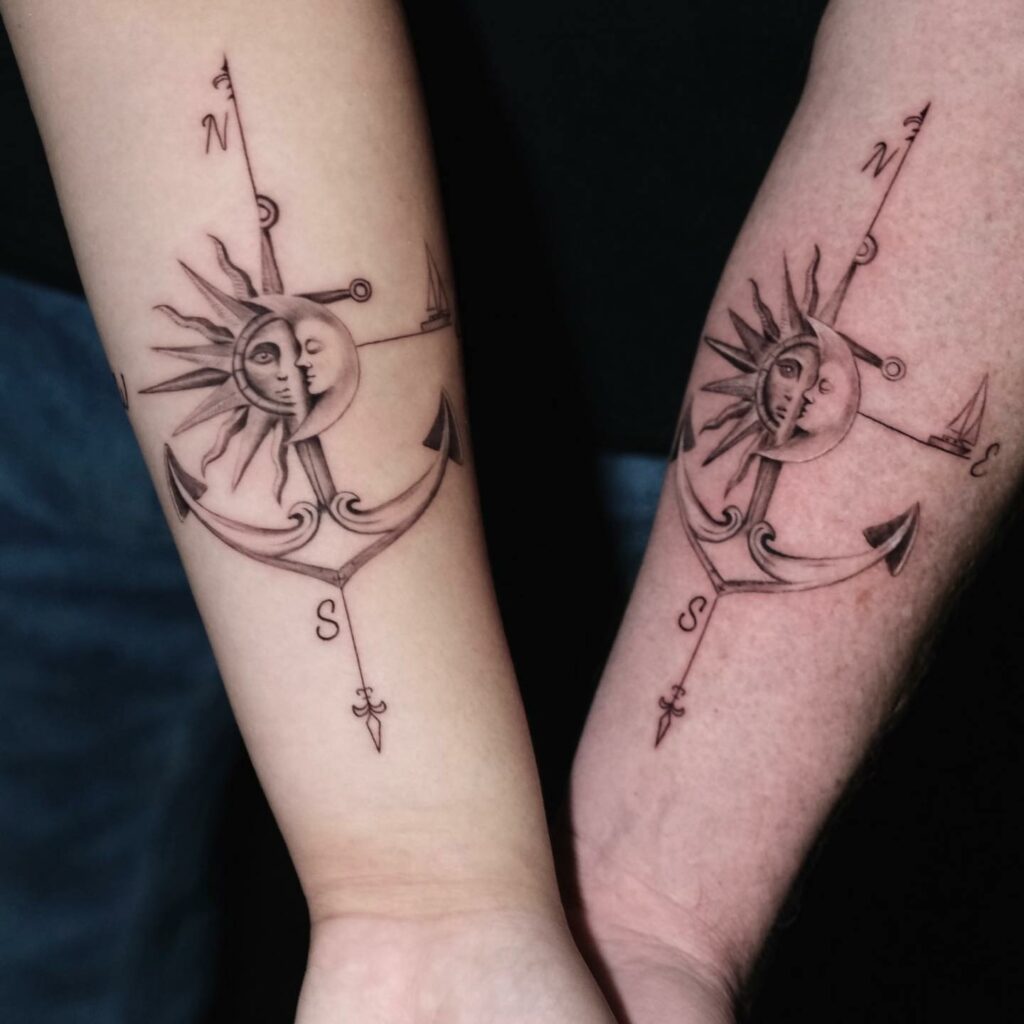 Many individuals who want to honor their family and commitment to faith often choose to get an anchor tattooed on their body as a reminder of their devotion to hope and salvation. Anchors have been historically viewed as a symbol of redemption and have since become a popular tattoo choice, particularly in Christianity. In this anchor tattoo design, the artist has masterfully created an intricate image featuring a sun, moon, and compass, along with the anchor. The sun's eyes and the moon's closed eyes convey a sense of focusing on the brighter side of life and avoiding negativity. The weight of the anchor also helps to anchor this concept firmly in place. This is a tattoo with a great deal of depth and meaning. For those looking for a unique design, consider combining the sun, moon, and anchor for a beautiful, multi-layered tattoo.
Best Friends Moon And Sun Tattoo Matching
Sun and moon tattoos are versatile and can represent a variety of meanings. Astrologically, they symbolize both masculine and feminine energies. These tattoos are also popular among best friends, as matching tattoos are a testament to the strong bond they share. To maintain the minimalist look of this design, the artist pays close attention to detail when crafting it. The tattoo can be created using fine black lines and placed on the upper arm to give it a unique touch that reflects the wearer's personality. This beautiful tattoo design represents harmony, balance, and wholeness by combining the opposing forces of the sun and the moon. It is a wonderful choice for best friends who wish to express their bond with a permanent and meaningful symbol.
Simple Outline Matching Sun And Moon Tattoo
Sun and moon tattoos have a special significance that attracts many people. Artists draw inspiration from these celestial bodies, and they are used as symbols of creativity, ingenuity, and spirituality. The matching sun and moon tattoo is a classic and simple design that is perfect for couples. These tattoos are popular because they symbolize harmony, balance, and completeness, which are essential elements of a healthy relationship. The artist carefully crafted the matching sun and moon tattoos, which can be worn by the couple on their arms. The design is both unique and contemporary and is an excellent choice for couples who want to express their love through body art.
Half Sun And Half Moon Tattoo With Friend
Half-sun and half-moon tattoos are a cute twist on the classic yin-yang tattoo. They are beloved for their representation of the opposing forces that exist in our universe and within ourselves. These traditional tattoos are popular among all cultures, genders, and geographies, and the sun and moon are beautifully intertwined in stunning detail. The perfectly drawn faces on the half-sun and half-moon tattoos give off a calming vibe. This tattoo is perfect for those who seek a therapeutic, peaceful outlet. Couples in mature, calm relationships may find that this tattoo represents their harmonious nature. The sun and moon tattoo is a symbol of the dualistic nature of life and death, good and evil, femininity and masculinity.
Aesthetic Sun And Moon Matching Tattoo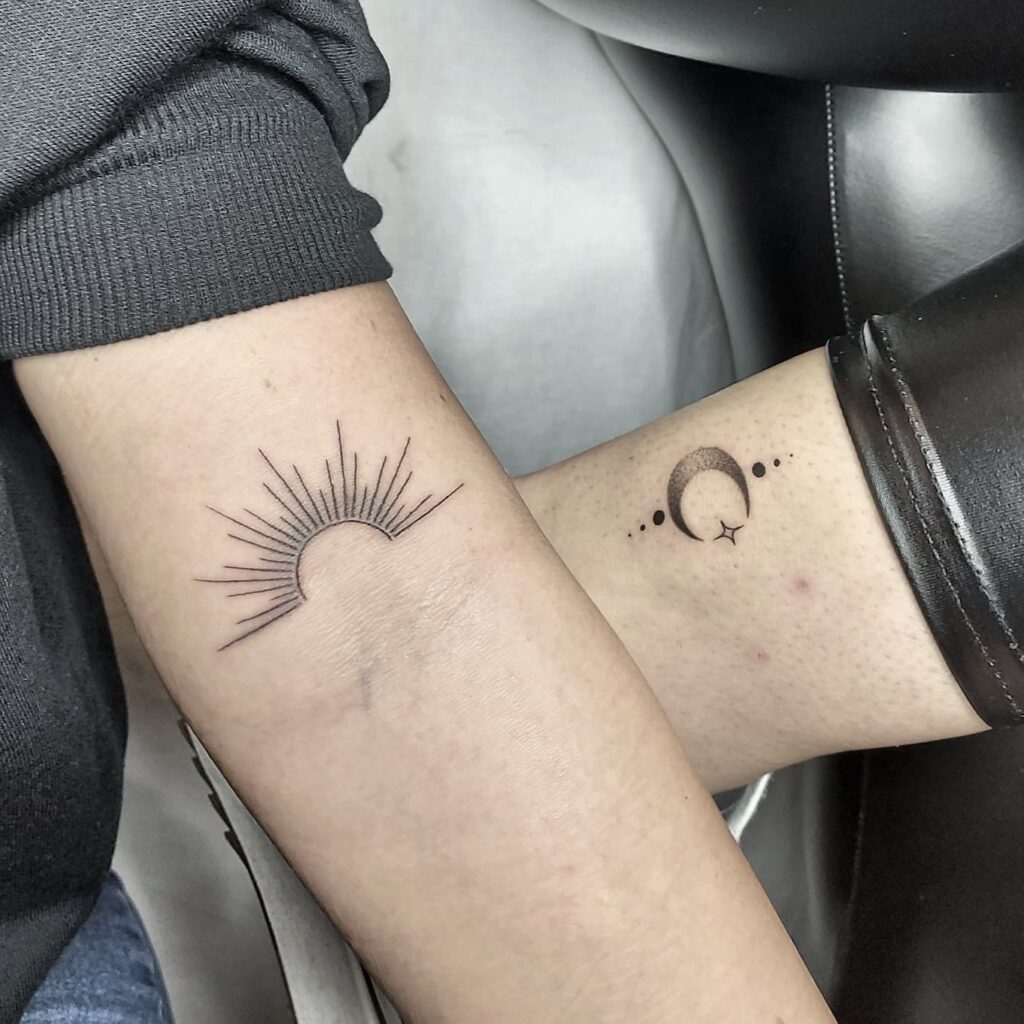 This minimalist design is a popular choice for couples and is perfect for those who appreciate clean lines and understated elegance. Each half of the tattoo features a beautifully crafted sun and moon design, with the crescent moon holding a small star. The black ink lines of the sun are sharp and precise, while the moon features delicate dot art that adds depth and texture. Whether you choose to place this tattoo on your hand or another visible area of your body, it is sure to make a stunning statement. And the best part? This tattoo is versatile and can be inked on your legs or back, making it a great option for anyone who loves aesthetic body art.
Elegant Matching Couple Matching Sun And Moon tattoo
The union of the sun and moon in tattoos has deep significance for lovers and couples. The Sun represents masculinity, while the Moon symbolizes femininity. When the two combine, they create a perfect balance of opposing forces. Each has its unique attributes, and they complement each other, bringing harmony and wholeness.
A sun and moon tattoo on each partner's hand is a charming way to symbolize their union. It's a simple yet powerful design that signifies the connection between two people who are different but complement each other perfectly. This design is also a popular choice for best friends who want to commemorate their bond. It's essential to choose a professional tattoo artist to ensure that the tattoo is executed flawlessly.
Arrow X Sun And Moon Tattoo
Matching tattoos are a beautiful way to symbolize a special connection with someone in your life. One popular design is the Arrow x Sun and Moon tattoo, which has evolved into a traditional tribal sun tattoo. The tattoo is usually inked with black ink, creating a clean and simple design. The artist pays close attention to details such as the tail section of the arrow, the Sun and Moon detailing, and small circular dots on either side.
The tattoo is best placed on the palm, ensuring the right size and placement. This tattoo design represents the journey of life, making it a meaningful choice for couples or friends. The subtle nature of the tattoo ensures it will look fantastic with any aesthetic. To achieve the perfect look, it is important to select a professional tattoo artist who uses a thin needle.
Choosing to get matching tattoos is a significant decision, and the sun and moon tattoo is a popular choice for couples. The bond between two people is represented by the Sun and Moon, and there are many beautiful sun and moon tattoo ideas to choose from. This tattoo is a great way to showcase the strength of your connection with your loved one.
feature image from Pinterest – Want your tattoo to look brighter? Try "Tattoo Balm"