Hey there, tattoo fans! Are you on the lookout for a tattoo that exudes strength, courage, and focus? Look no further than the majestic Mexican eagle tattoo! With its rich history and cultural significance, this design is a favorite among tattoo lovers worldwide.
Combining the iconic eagle with a touch of Mexican flair, such as the Mexican flag, creates a stunning and meaningful tattoo that honors both your heritage and your spirit. Mexican eagle tattoos represent independence, patriotism, and honor for Mexican culture, making them a fantastic addition to any tattoo collection.
There are countless eagle tattoo designs from Mexico to choose from, including Mexican eagle tribal tattoos, Mexican eagle and American eagle tattoos, and Mexican flag eagle tattoos. As a symbol of industriousness and resilience, the Mexican eagle tattoo is often considered one of the ultimate manly ink ideas.
In this article, we've curated ten of the best Mexican eagle tattoo designs to inspire your next ink adventure. Whether you're of Mexican descent or simply appreciate the culture and history, these tattoos are sure to make a statement and show off your inner strength. So, let's dive into the world of Mexican eagle tattoo designs and find the perfect one for you!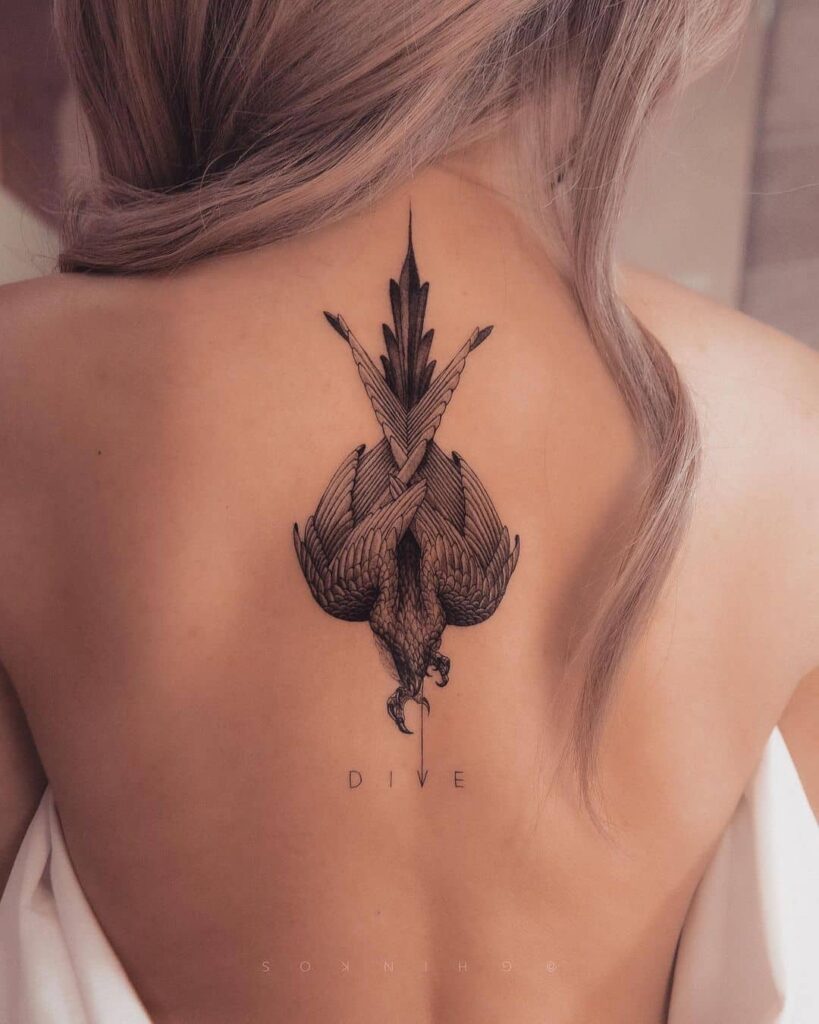 Mexican Aztec Tattoo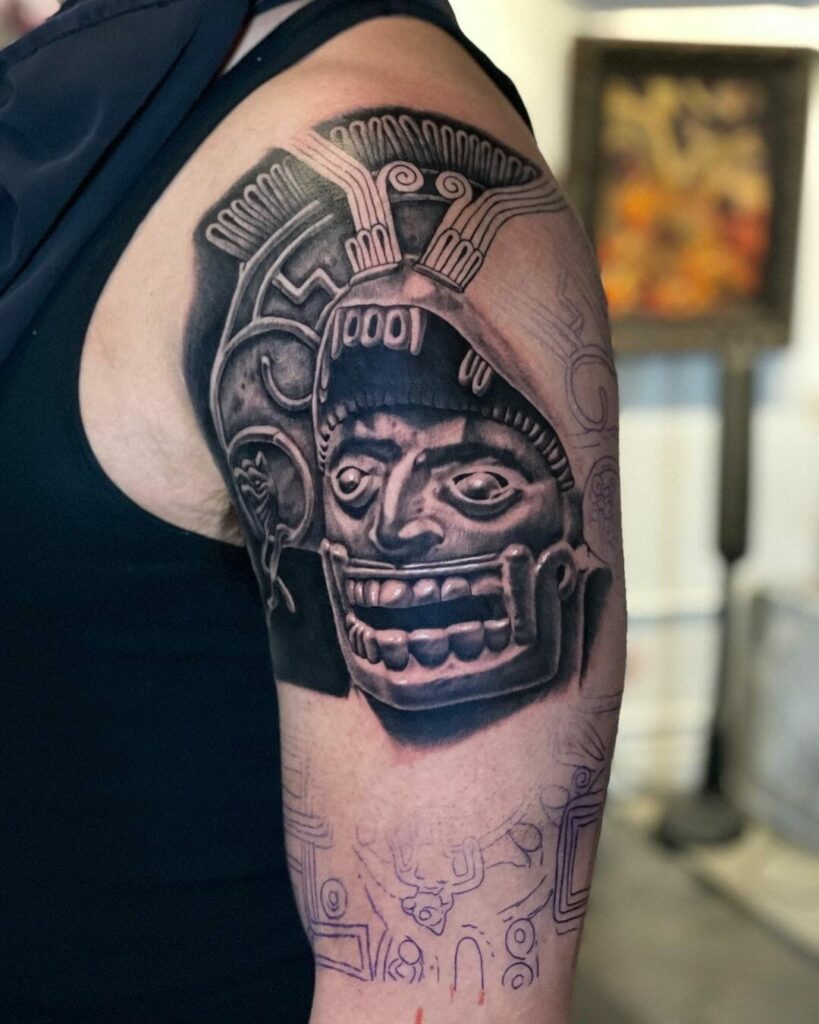 This Goethe Aztec tattoo design is a stunning addition to any tattoo collection! It features a pre-Hispanic image that symbolizes Mexican culture, making it a unique and meaningful choice. The intricate details and bold lines of the design make it a great option for those seeking a masculine tattoo. The upper arms are a popular location for this tattoo, as seen in the image above. Consider this Goethe Aztec tattoo for a powerful and meaningful addition to your body art.
Inspirational Mexican tattoo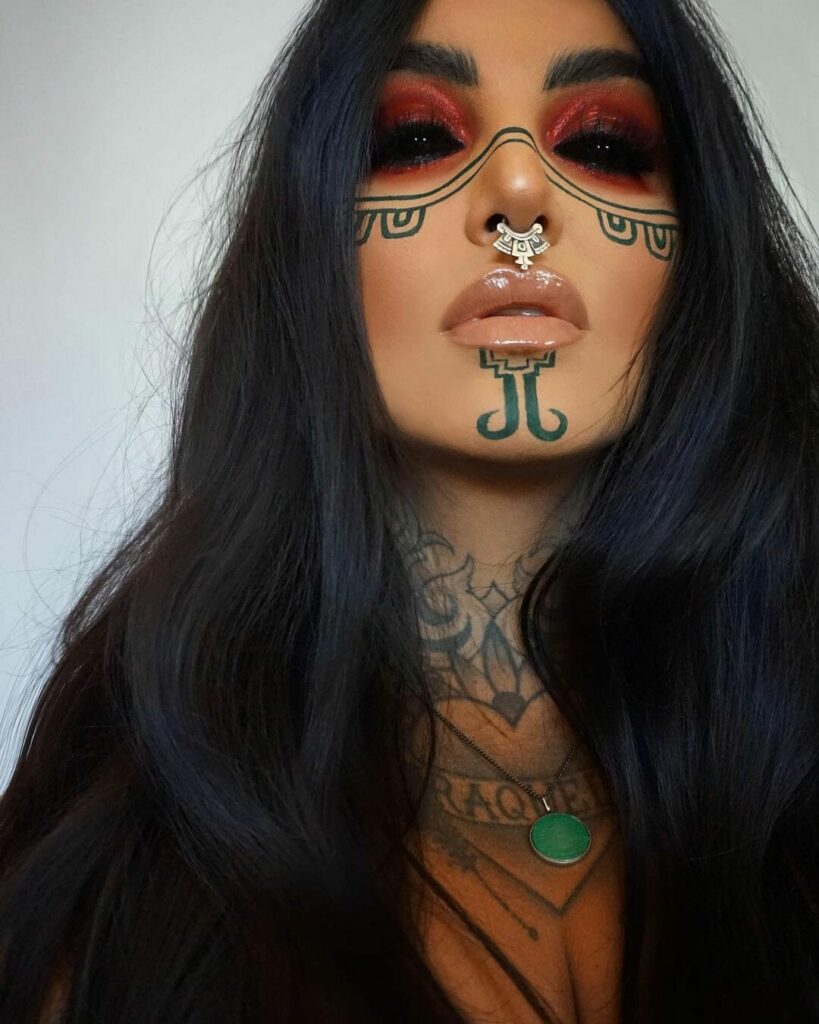 This breathtaking Aztec tattoo design is one of the most sought-after ideas for a Mexican-themed tattoo. Aztec tattoos are a wonderful way to connect with the rich cultural heritage of the Aztec people. In this particular design, the women are seen wearing traditional Aztec attire, complete with intricate tribal tattoos on their faces. The tattoo design also features a small, tasteful piece below the lower lip. If you prefer not to have facial ink, this design can also be adapted as a wrist sleeve or arm tattoo, ensuring that you can still show off your Aztec pride in a more subtle way.
Colorful Mexican Eagle Tattoo Designs
Looking for a small yet powerful Mexican eagle tattoo design? Look no further than this one! The eagle, with its fierce and aggressive look, is portrayed in colorful detail with black, white, and yellow hues. The placement on the forearm is perfect for those who want a tattoo that's not too flashy but still makes a statement. The eagle is a significant symbol in Mexican culture, representing strength, power, and freedom. This design captures the essence of the Mexican eagle and makes for a fantastic tattoo that reflects your personality.
Mexican Eagle And Flower Tattoo
This stunning eagle tattoo is a true work of art. The sharp details of the eagle's piercing eyes and powerful beak, along with the delicate petals of the purple flower, come together seamlessly to create a beautifully balanced design that looks incredible on the arm. The eagle's wings spread wide in a display of strength and majesty, while the flower adds a touch of femininity and elegance. This fusion of strong and soft elements makes for a truly one-of-a-kind tattoo that is sure to turn heads. If you're looking for a tattoo that blends unique styles into a cohesive design, this is definitely the one for you.
Mexican Eagle Flying Down Tattoo Designs
This eagle tattoo is a perfect way to showcase your strength and courage. The Mexican eagle tattoo on the forearm is a popular design for men who want to represent their bold personality. The eagle is captured in flight, with wings spread wide, ready to strike its prey. The details of the eagle's feathers and talons are precisely etched, making it look almost lifelike. The subtle touch of light red shading on the edges of the wings and tails adds depth and dimension to the design. If you want a bold and striking tattoo that represents your unwavering strength, this Mexican eagle tattoo is the perfect choice.
Majestic Mexican Eagle Tattoo Designs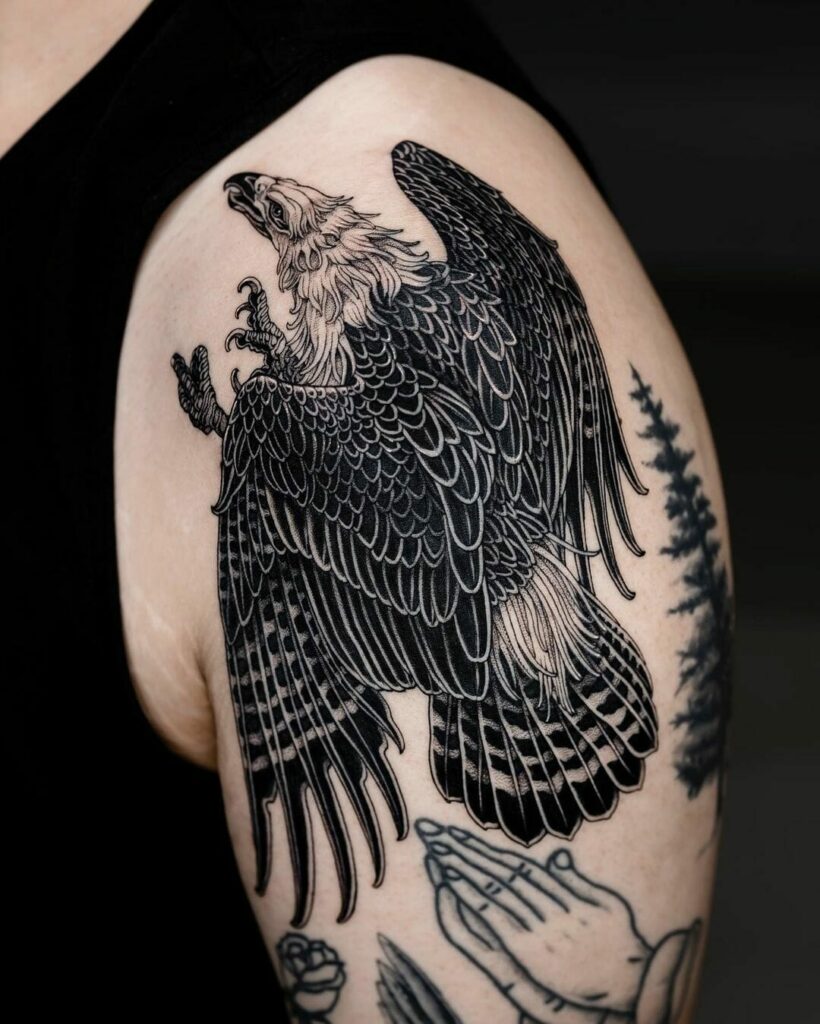 This majestic eagle is expertly rendered in rich black ink, with each feather outlined in crisp white lines for added definition and depth. The attention to detail is simply breathtaking, and the result is a tattoo that truly captures the power and majesty of this iconic bird. Whether you choose to ink it on your biceps, shoulder, or another location, this eagle tattoo is sure to make a bold and unforgettable statement. It's no wonder that this type of design is a popular choice among men who are looking for a tattoo that's both strong and memorable.
Mountain Eagle Tattoo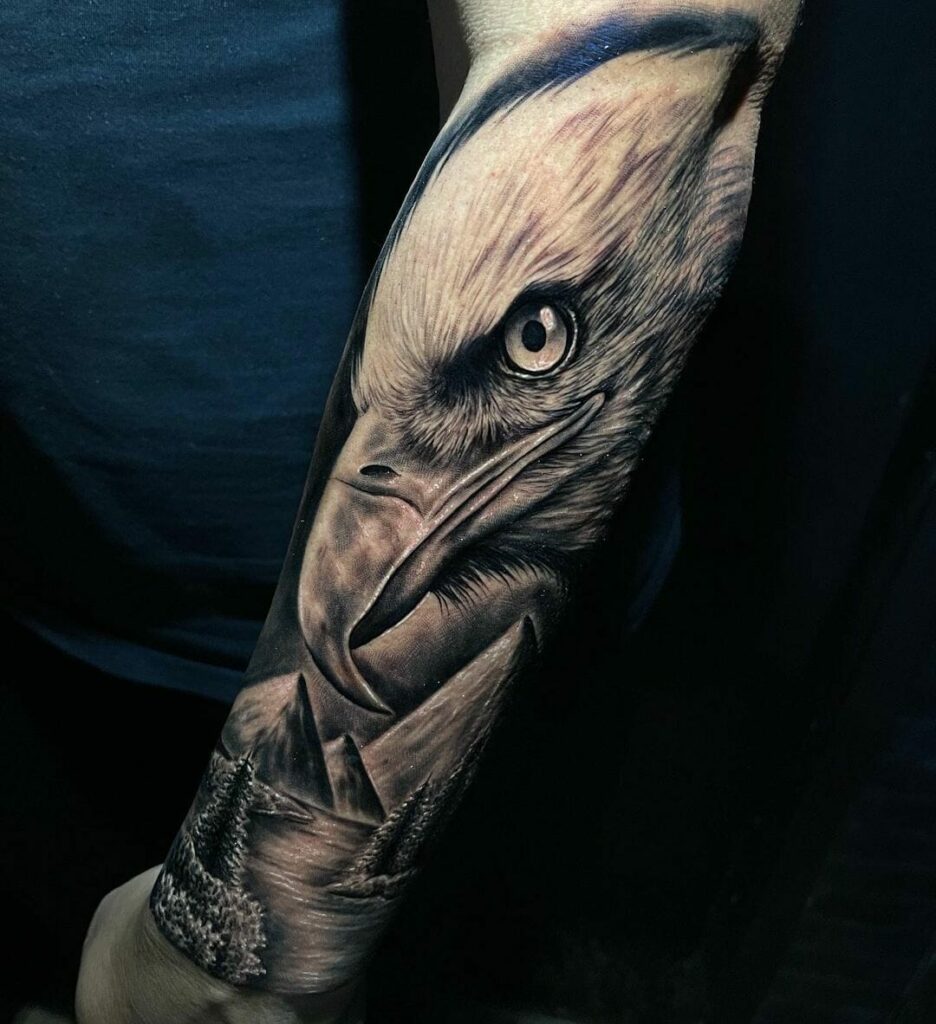 When it comes to realistic eagle tattoos, this Mexican American eagle tattoo is sure to turn heads. The tattoo features a close-up of the eagle's head, with exquisite attention to detail on the eyes and beak. The mountainous terrain and flowing river in the background provide a beautiful setting for the eagle, making it look right at home in its natural environment. This tattoo is a great choice if you prefer minimal black shading and grey and white ink lines. With its focus on the eagle's head, this tattoo design would make a perfect chest piece. So, if you want a breathtaking eagle tattoo that showcases both the bird and its natural surroundings, look no further than this amazing design.
Traditional American Eagle Tattoo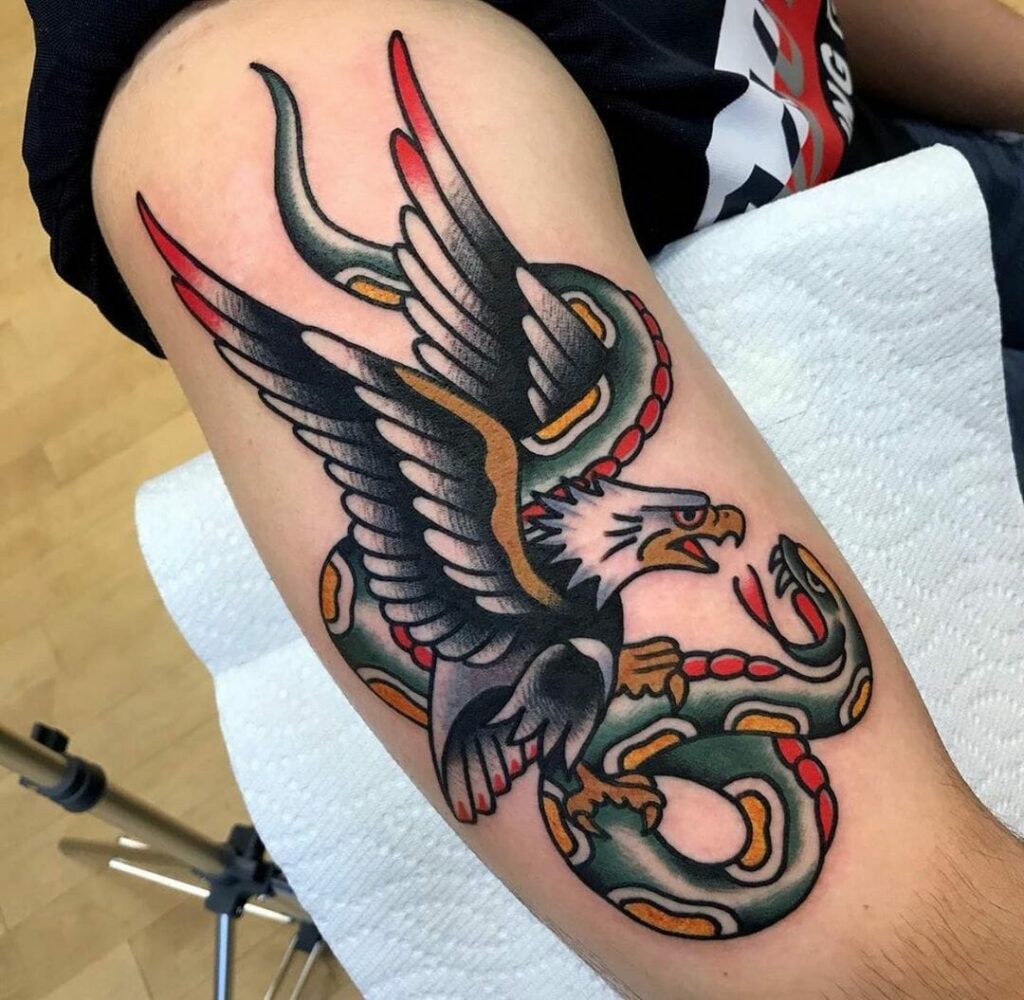 For those looking to add a bit of American flair to their eagle tattoo design, this traditional American eagle tattoo is the perfect choice. The tattoo showcases the eagle in action, grasping a snake in its talons, demonstrating its dominance and strength. The eagle is inked in classic black and grey, with a brown beak and talons, while the snake is depicted in vivid green with red and yellow spots. This tattoo is a great option for those who want a bold and fierce tattoo, capturing the epic battle between two powerful creatures. It would look great on the arm or any other part of the body that you want to showcase your patriotism.
American Eagle Fine Line Tattoo Design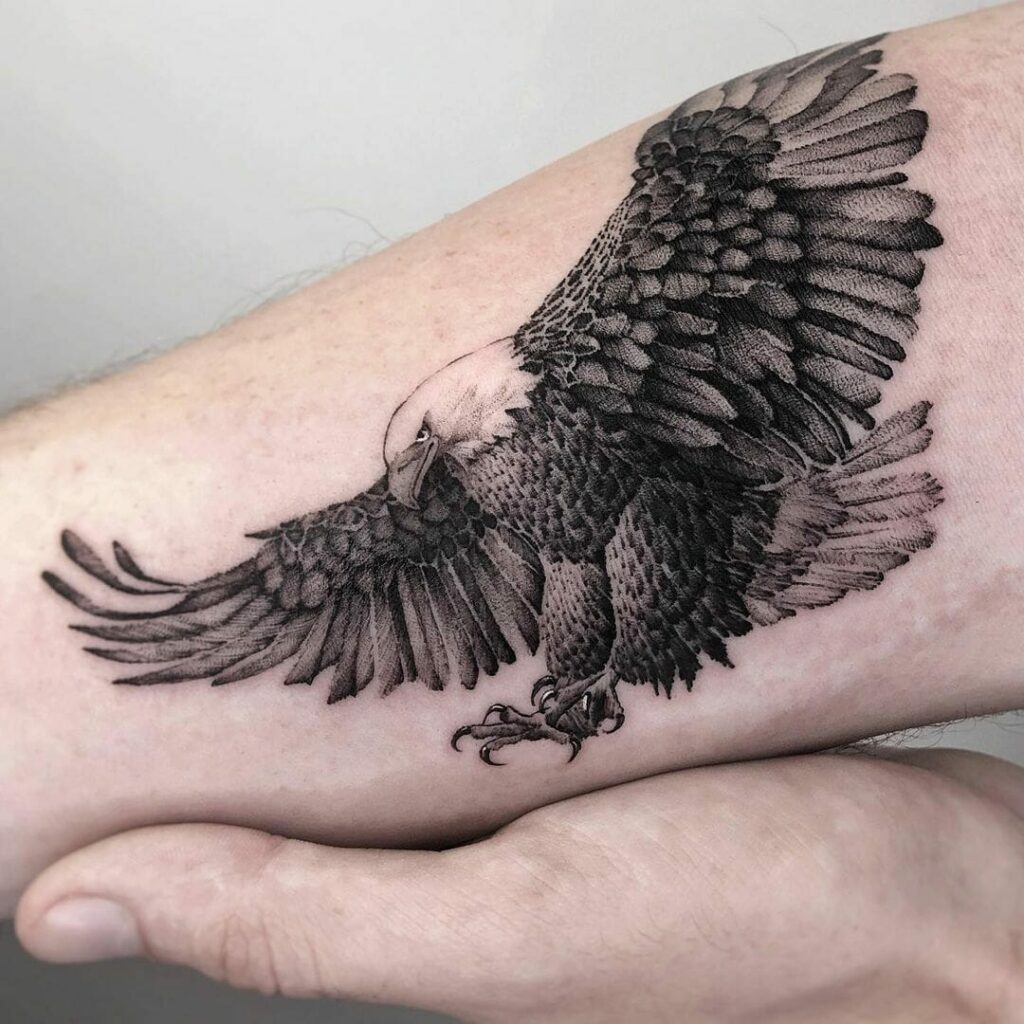 The artistry in this eagle tattoo design is truly exceptional! The eagle is portrayed with wings outspread and drawn in fine black lines, while the head is depicted in plain white ink. The eagle is a symbol of strength and power, and this tattoo captures its essence with precision and clarity. From the feathers to the claws, every detail of the eagle is perfectly captured, making this tattoo worth the investment of both time and money. If you're looking for an eagle tattoo in blackwork, this design is a must-see.
Simple Mexican Eagle Tattoo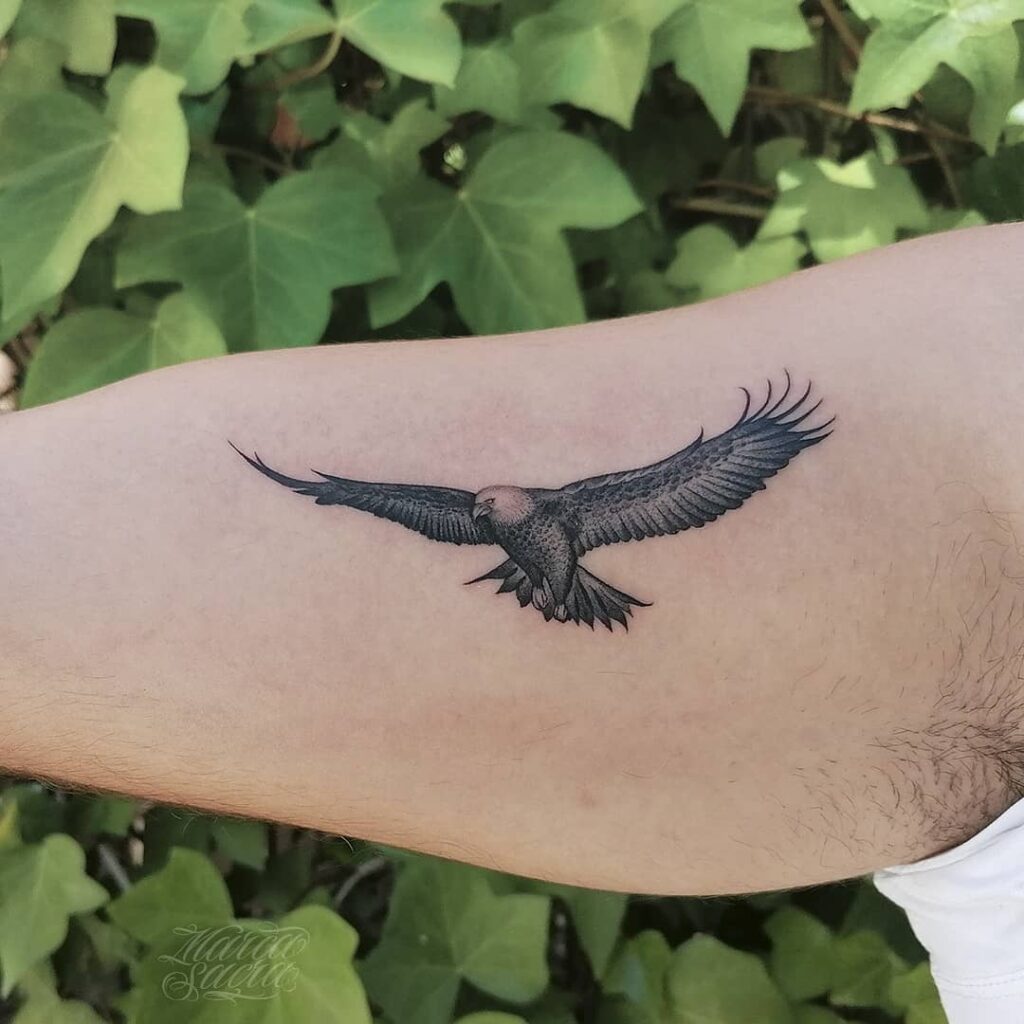 Eagle tattoos don't always have to be bold and intimidating. This particular design has a more delicate and understated look to it, perfect for those who prefer a more subtle style. The narrow wings and tail, done in minor dot work and black shading, give this eagle tattoo a graceful and elegant appearance. While it's a smaller design, it still manages to capture the majestic nature of the eagle. This tattoo is versatile and can be placed on various areas of the body, such as the leg or the arm, and is suitable for both men and women.
feature image from Pinterest – Want your tattoo to look brighter? Try "Tattoo Balm"