Hey there, fellow tattoo enthusiasts! Are you looking for a new design that has a deep meaning and looks gorgeous? Then a sunflower tattoo might be just what you need! Did you know that sunflowers have a fascinating history rooted in mythology? They were believed to have been water nymphs that turned into flowers to get the attention of the sun god, Apollo. That's where the name Helianthus Annus comes from – helios (sun) and anthos (flower). The bright yellow petals of the sunflower symbolize joy, happiness, and love, while the shape of the flower is symbolic of prolonged life, just like the sun.
Sunflower tattoos have a majestic aura that has fascinated artists and tattoo enthusiasts for centuries. They have a depth that makes them perfect for cultural festivals and weddings, and people associate them with warmth and hope. A small sunflower tattoo is perfect if you want to show off your sunny disposition or love for nature. It can be inked anywhere, from your neck to your ear, sleeve or hand. So, are you ready to take the plunge and get a sunflower tattoo? Check out our top 10 small sunflower tattoo designs to get inspired!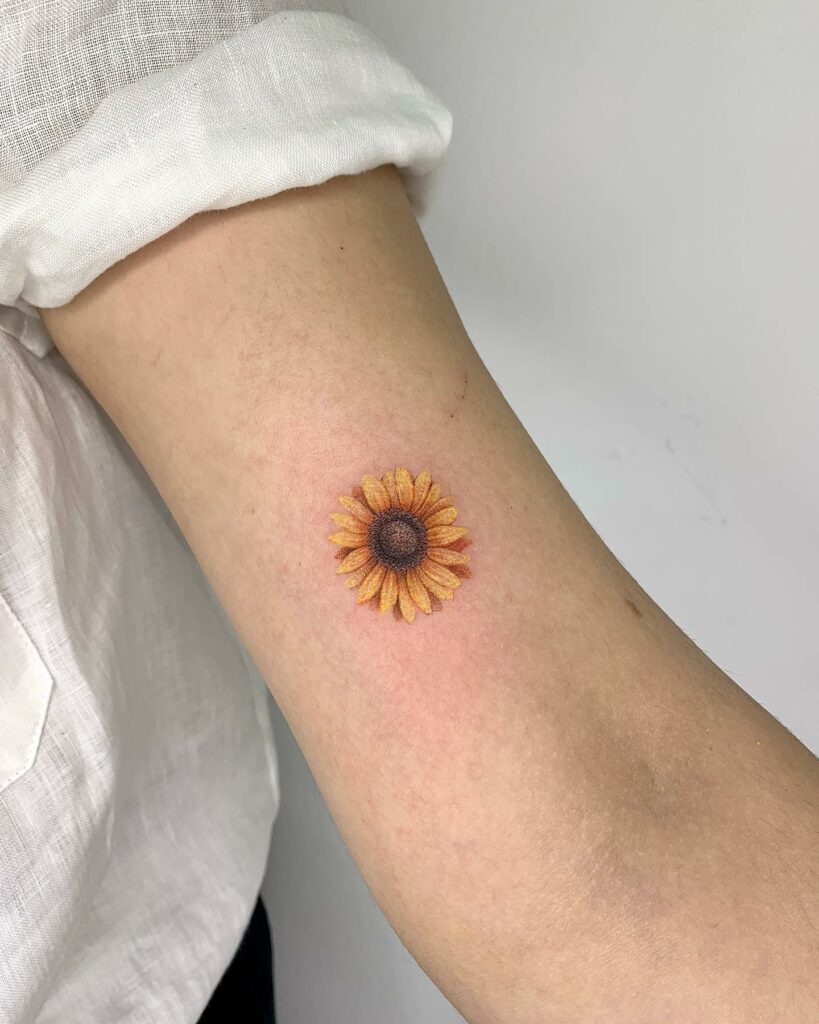 Cat, Rose, And Sunflower Tattoo Ideas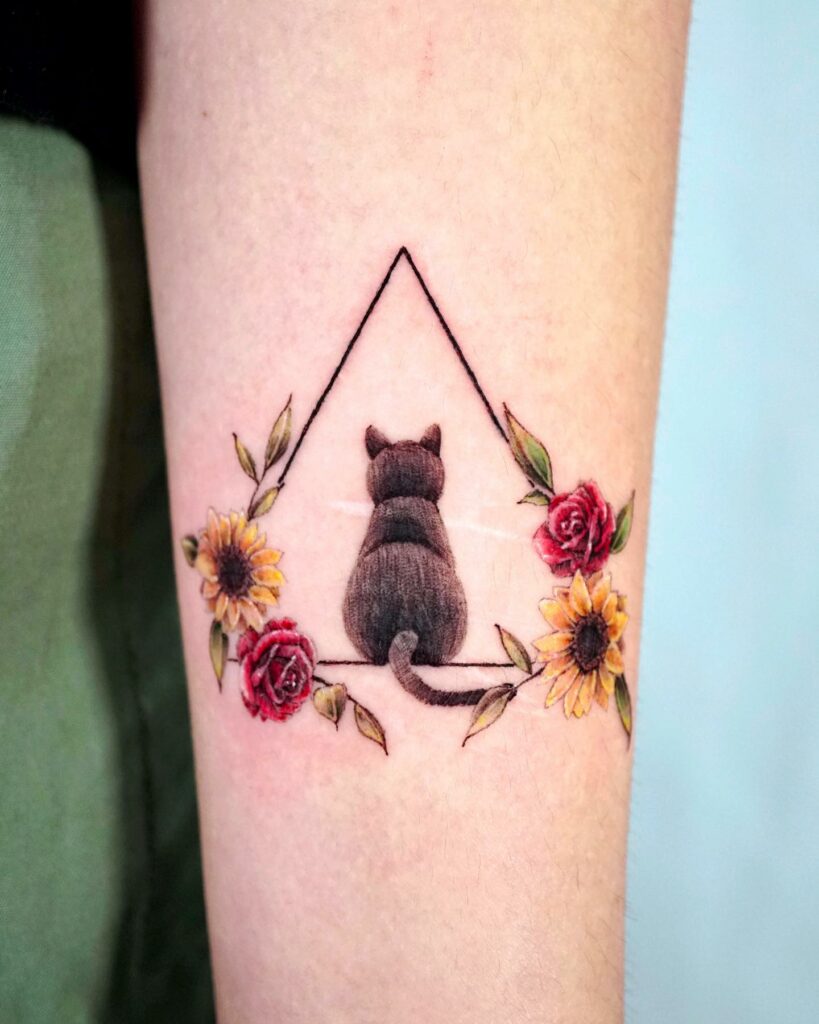 Sunflower tattoos have become a popular trend in recent years, especially when combined with floral decorations and pets in geometric shapes. This particular design features a cat sitting inside a triangle adorned with rose and sunflower tattoos, symbolizing longevity and happiness. It's a great option for pet lovers who want to showcase their bond with their furry friends. The unique style of the tattoo artist elevates the design, making it even more stunning. The tattoo can be inked on various body parts such as the hand, shoulder, arm, or back. The placement will depend on personal preference and the size of the tattoo.
Watercolour Sunflower Tattoo Ideas
For art lovers, this sunflower tattoo inspired by Van Gogh's famous painting is a must-ink design. It's a perfect tribute to the legendary artist and showcases the beauty of sunflowers in a watercolour style. Sunflowers symbolize love, warmth, and happiness, and this tattoo captures those emotions with its bright colours and elegant look.
Sunflowers have a unique shape that is visually appealing and perfect for a half sleeve tattoo. The tattoo artist has put a lot of effort into creating this beautiful design, making it an excellent choice for body art. The arm or forearm is an ideal location for this type of tattoo design. Whether you're an art lover or simply adore the beauty of sunflowers, this tattoo is sure to impress.
White Sunflower Tattoo Ideas
The small sunflower tattoo style is a perfect choice for you. This pretty tattoo features black and white sketched petals with a yellow center, creating a beautiful and minimalistic design. It's no surprise that this small flower is popular among all age groups, as it offers clean lines and a simple sunflower tattoo.
Sunflowers are known to symbolize hope and purity, and the white hue adds to its symbolism of purity. This white sunflower tattoo is a great choice for those who believe in hope and positivity. While the shoulder is a common placement for this tattoo, you can also place it on your shoulder blades or request it to be inked as a foot sunflower tattoo, wrist sunflower tattoo, or forearm sunflower tattoo.
Ankle Sunflower Tattoo Ideas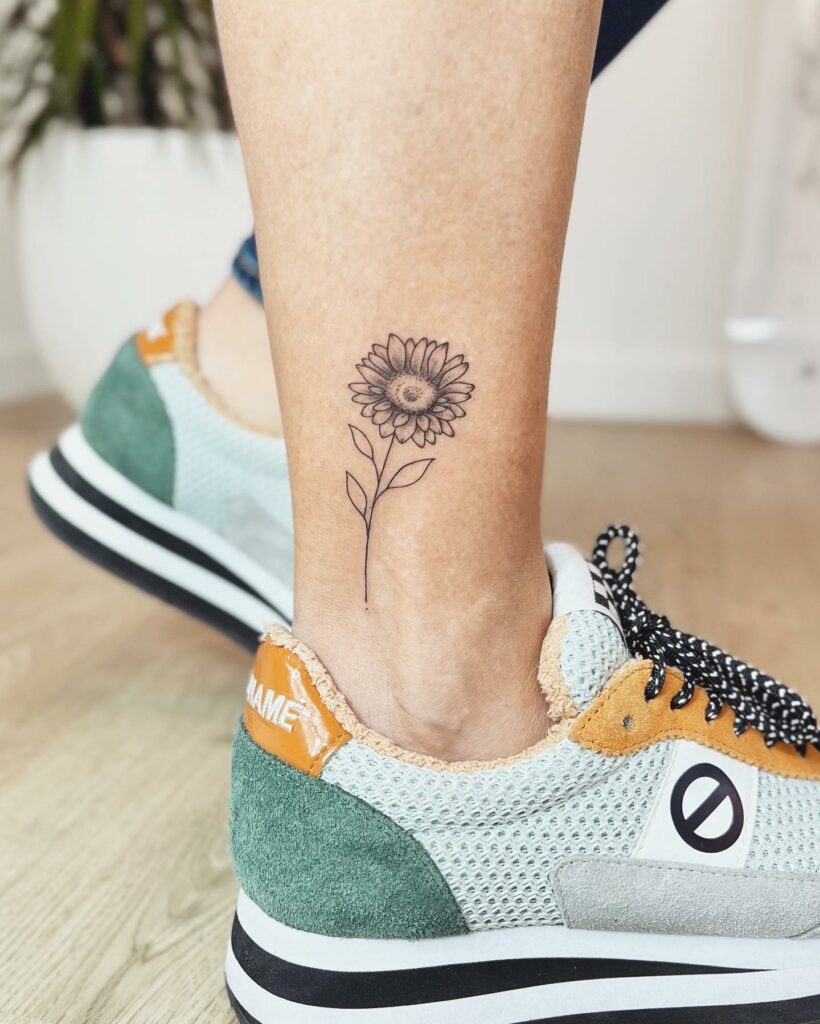 Ankle sunflower tattoos are a perfect choice for those who appreciate simplicity in life and the beauty of nature. These tattoos have a minimalist appearance that represents new beginnings and a fresh start. If you're looking for a tattoo that doesn't require too much commitment, then this style is perfect for you. The sunflower is drawn with fine lines, and the design can be complemented with a butterfly tattoo for added depth and meaning. While ankle sunflower tattoos are popular, you can also place this design on your ear or wrist for a unique look.
Matching Sunflower Tattoo Ideas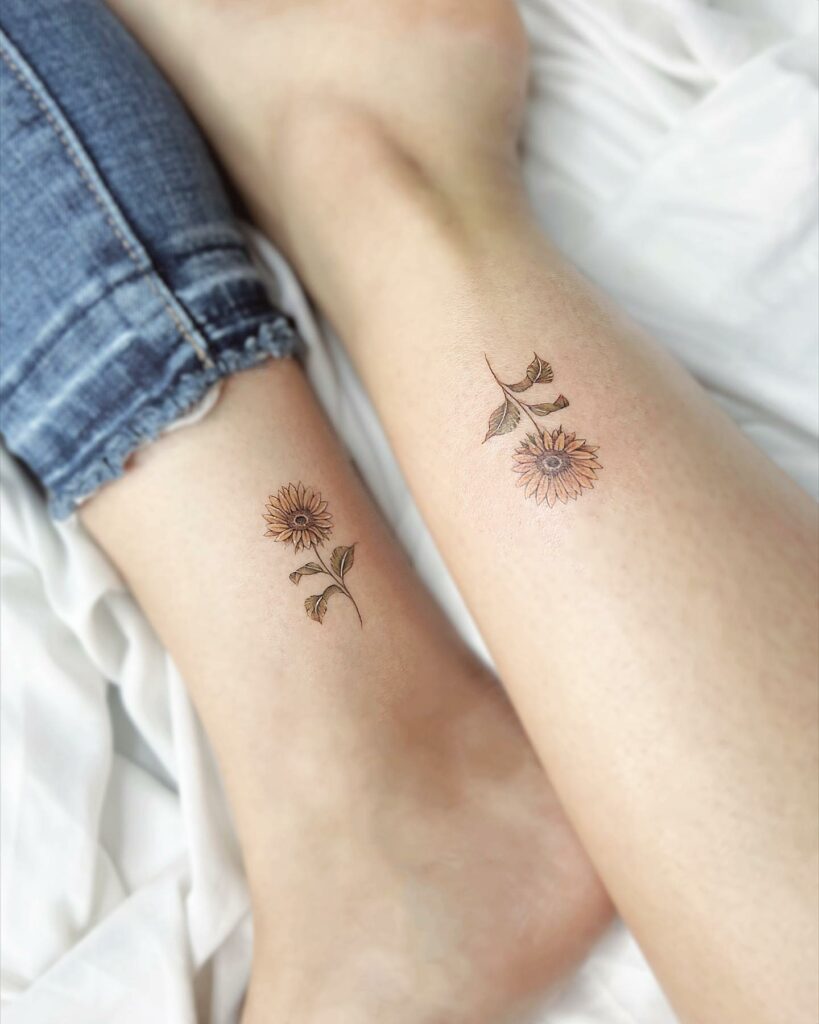 Matching small sunflower tattoos are a popular choice among those who want to symbolize their friendship, love, and care for each other. These tattoos have a cheerful and charming vibe that exudes positivity. The design of the sunflowers and the petals is identical in both tattoos, making them perfect for couples, best friends, or siblings who want to showcase their special bond. The sunflowers in these tattoos represent devotion and trust, making them even more meaningful.
As seen in the picture, both the tattoos are placed on the ankle, but they can also be inked on the lower leg or as part of a larger body art design.
Simple Sunflower Tattoo Ideas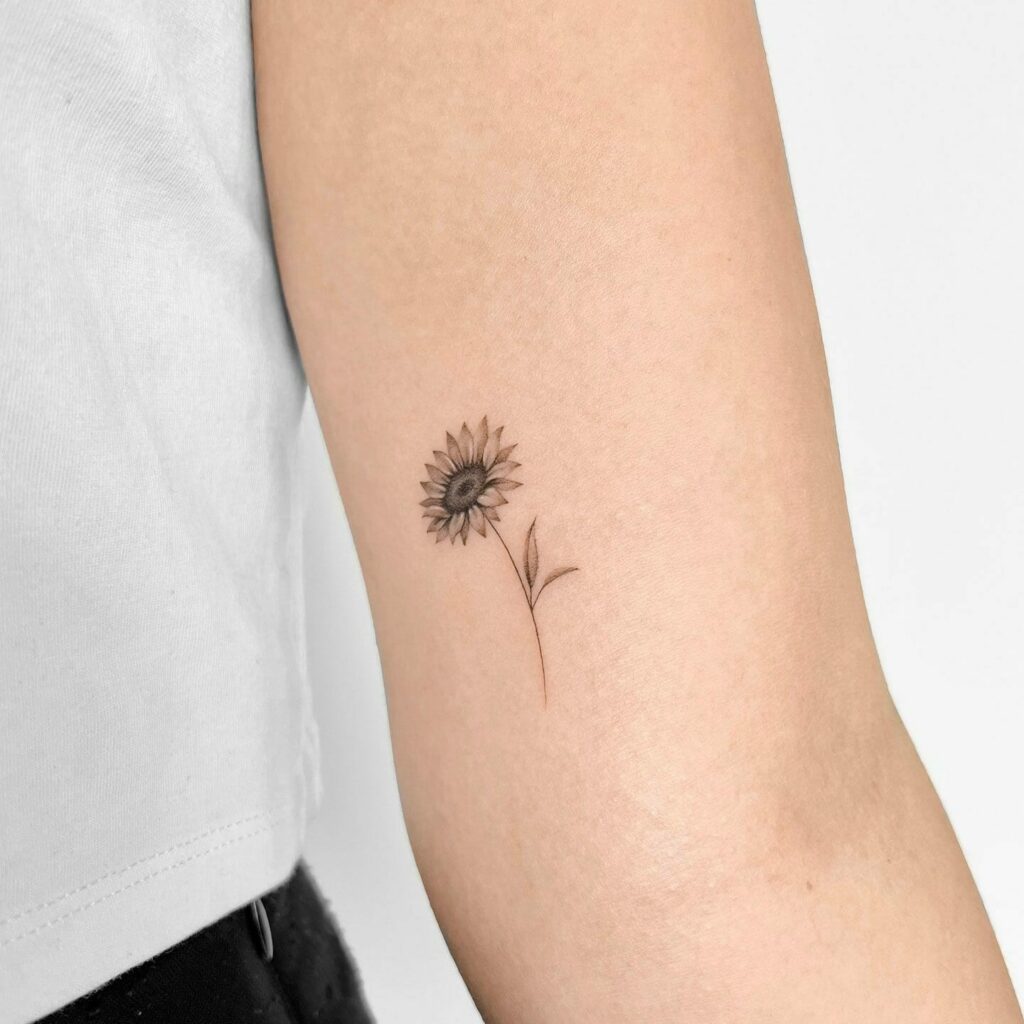 This small sunflower tattoo design is a great choice for those who appreciate simplicity and positivity. The tattoo features a single sunflower in black and white, which represents hope and happiness. The placement of this tattoo on the backside of the arm is discreet, making it an excellent option for those who want a small tattoo. However, it can also be inked as a mini small sunflower tattoo on the wrist. If you want to add more depth and meaning to the design, you can consider adding a butterfly tattoo to it.
Flower Tattoos And Sunflower Tattoo Ideas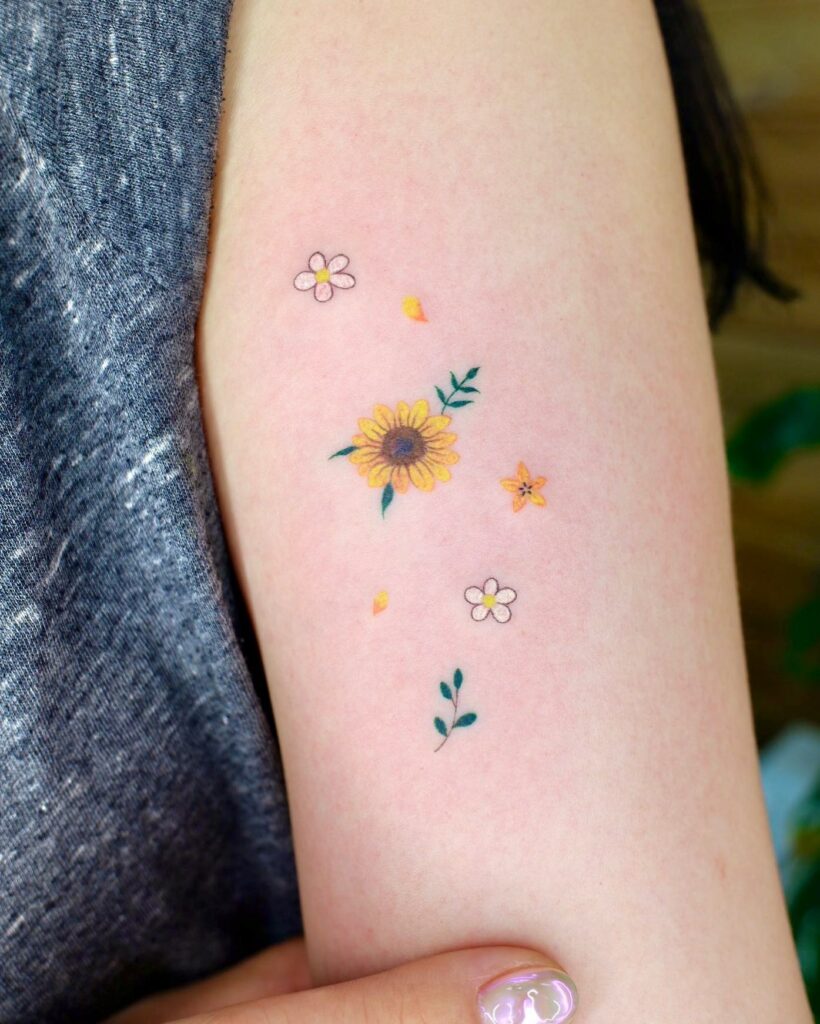 Floral tattoos are a delightful and charming addition to any body art collection. Each tiny flower is meticulously placed in an artistic arrangement, with the sunflower as the main focal point. This design exudes a sense of liveliness and vibrancy. What's great about floral tattoos is that you have the freedom to incorporate any flower of your choosing – be it a lily, lotus, orchid, daisy, and more. You can also experiment with various colors and add a touch of nature by including insects like bees or butterflies. These charming tattoos look fantastic on the shoulders, back neck, collar bone, arm, and ankle.
Wrist Mini Small Sunflower Tattoo Ideas
This sunflower tattoo design is a perfect blend of elegance and style. The sunflower, along with its branches and leaves, is inked to form a beautiful wristband, giving it a unique and sophisticated look. This concept is truly innovative, and some might even mistake it for a fancy sunflower watch.
If you are looking for other placement options, this design can also be inked on the ankle, neck, or as an armband tattoo. With its simple yet captivating design, this sunflower tattoo is perfect for anyone looking for a stylish and meaningful piece of body art.
Animated Character And Sunflower Tattoo Ideas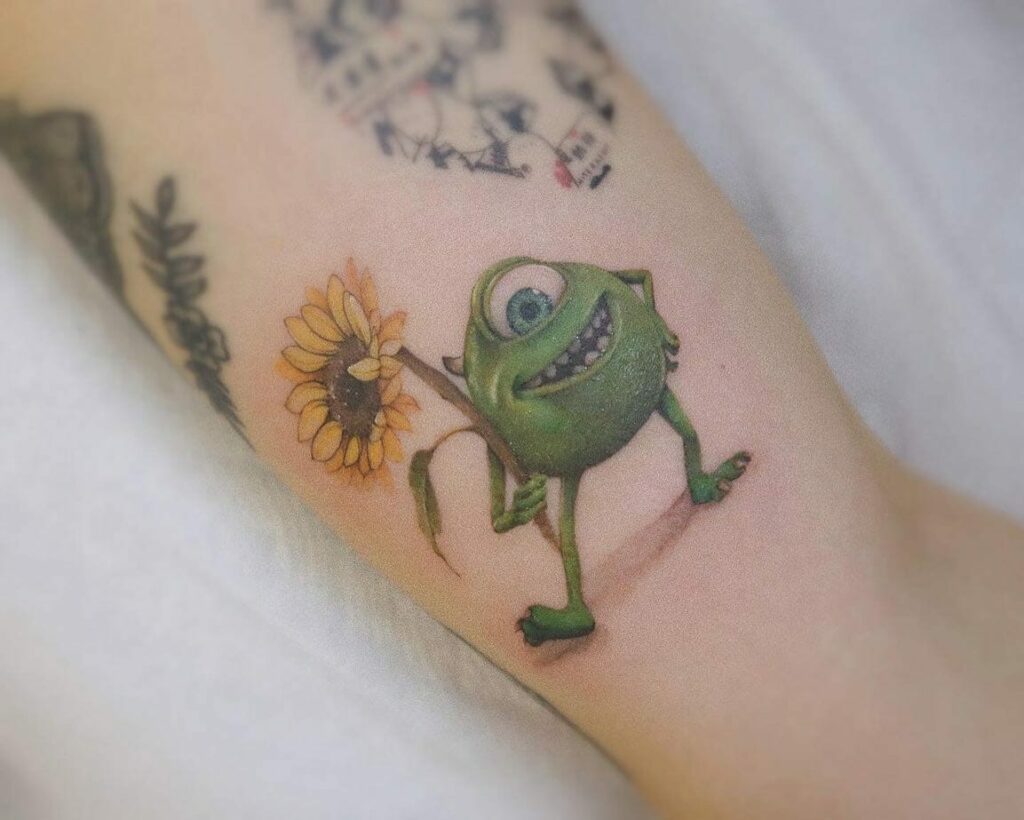 This tattoo design is perfect for those who love animation and movie characters. In this design, we see Mike Wazowski, the main character from 'Monster, Inc.' holding a sunflower, giving the tattoo a fun and welcoming vibe. The presentation of the tattoo is realistic, bringing the character to life on your skin.
If you love Disney or other animated movies, you can choose your favorite character to include in your sunflower tattoo. Adding a quirky character brings uniqueness to your design and makes it truly yours. This particular tattoo has been placed on the arm, but you can choose to place it on any part of your body that you like. This fun and playful tattoo design is sure to catch the eye of anyone who sees it.
Arm Sunflower Tattoo Ideas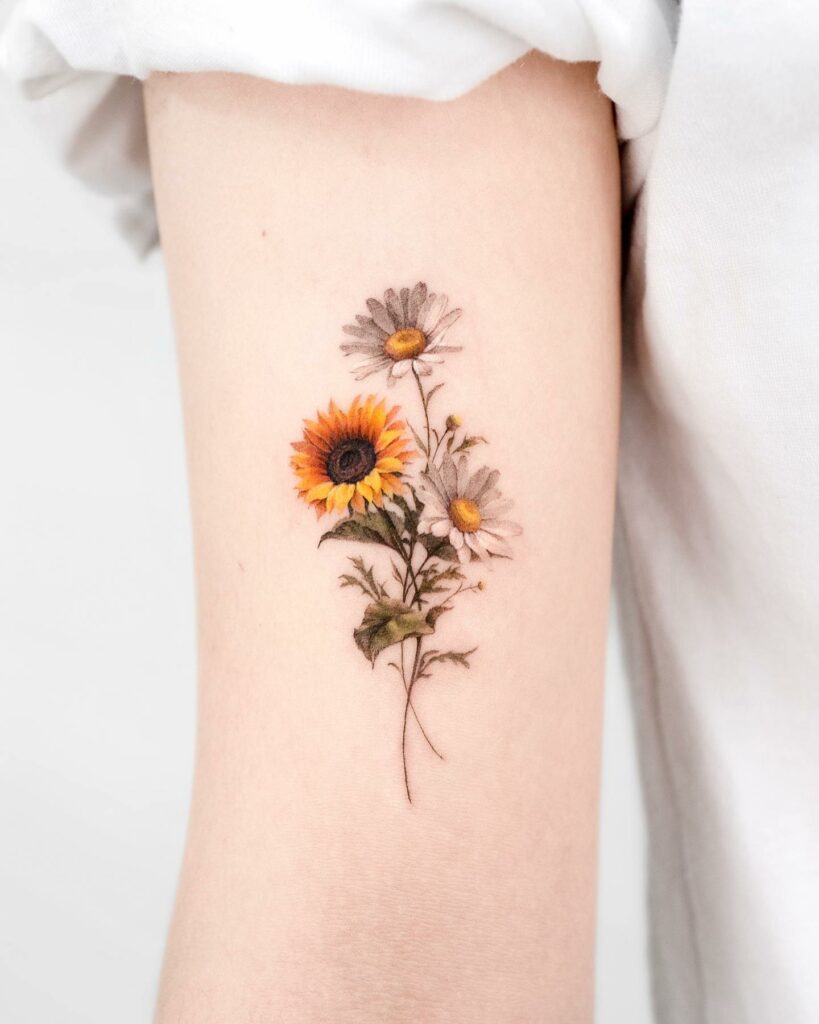 This stunning sunflower tattoo design features a single sunflower and two daisy flowers that create a mesmerizing colour combination. Both sunflowers and daisies are known to symbolize love, loyalty, and luck. In fact, these two flowers are often combined in tattoos to represent the special bond between a mother and child. This delicate and innocent design is perfect for anyone who wants to showcase their devotion and joy. The tattoo artist has executed the design with great care and attention to detail, resulting in a sublime look. While the tattoo is shown on the back of the arm, it can also be placed on other areas of the body, such as the shoulders, chest, behind the ear, or even below the knee. Sunflower tattoos are a popular choice because they convey positive messages about life and its many colourful possibilities. This design is versatile and appeals to people of all ages and genders. However, it is important to take proper care of your tattoo in order to preserve its healthy colour and appearance.
feature image from Pinterest – Want your tattoo to look brighter? Try "Tattoo Balm"
Last reviewed and updated on April 27, 2023