Ever find yourself entranced by the power of simplicity? The beauty of minimalism, with its pared-down design elements, its focus on only the essentials, has not only found its place in art and lifestyle, but also gracefully inked on skin. Born in the fertile artistic environment of the post-World War II period, minimalism's roots stretch back to the 60s and 70s, yet its influence remains strikingly relevant in today's pop culture.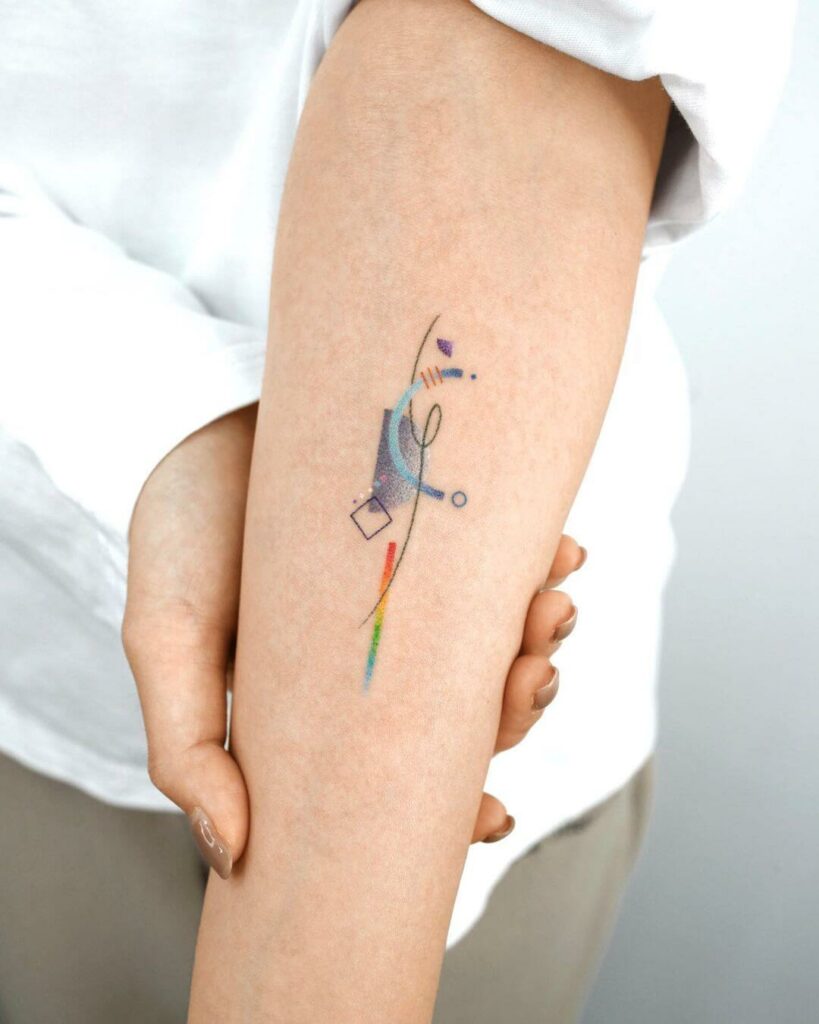 Imagine tattoos that whisper instead of shout, tattoos that tell a tale in a single line or a smattering of dots. Such is the allure of minimalistic tattoos, favored by those who appreciate subtlety over spectacle. Minimalist tattoo designs often employ delicate patterns, a restrained palette, and a clever use of negative space to create a unique, understated aesthetic. This approach speaks volumes about its wearer's individuality and world view, encapsulated within the smallest details, the gentlest curves, the softest shadows. So, whether you're a tattoo novice not quite ready for a grand statement, or a seasoned enthusiast looking to add a whispering echo to your body art symphony, we've curated an exclusive selection of the finest minimalist tattoo designs that truly capture the eloquent beauty of 'less is more'. Dive in and explore the quiet power of minimalism waiting to be etched onto your skin.
Ego Fighting Minimalist Tattoo
The 'Ego Fighting' minimalist tattoo presents just that scenario, transforming a complex concept into a visually striking tale of two figures locked in combat. This design uses strategic bursts of color to add depth and humor, making it an excellent choice for those seeking an infusion of fun into their ink art.
Van Gogh X Salvor Dali Paintings Crossover Minimalist Tattoo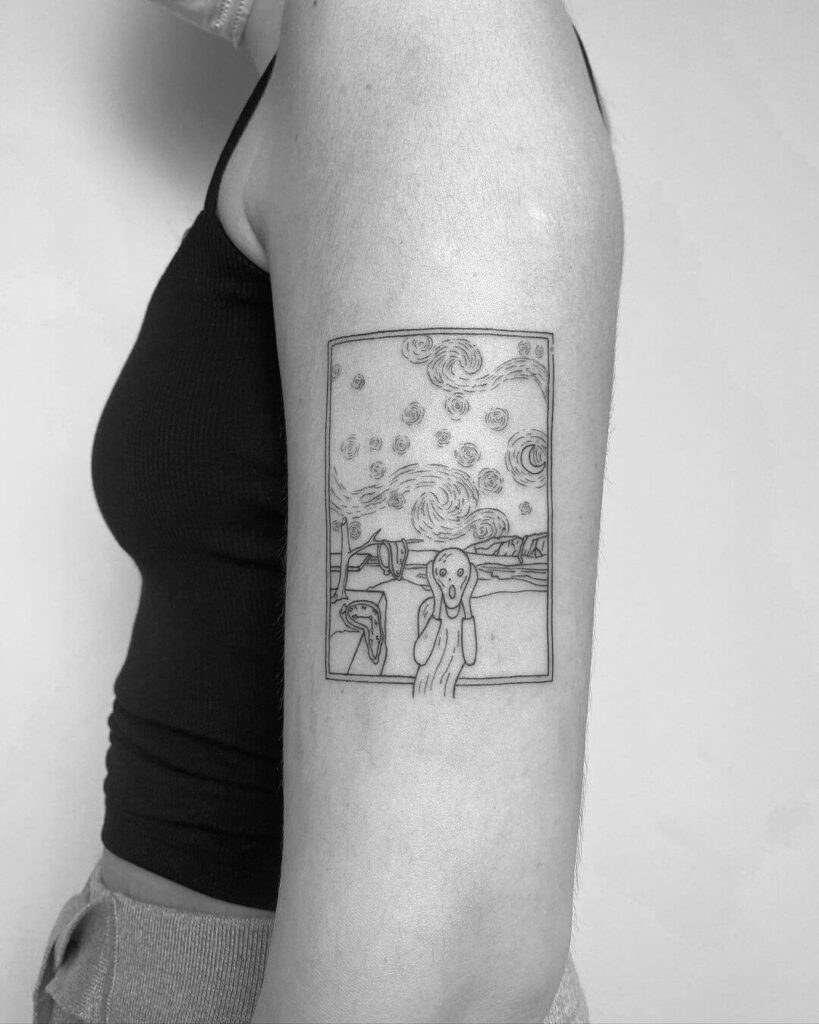 This fusion of iconic works, namely Dali's 'The Persistence of Memory' and Van Gogh's 'The Starry Night' and 'The Scream', blends distinctive styles into a fresh, monochromatic marvel. The resulting composition breaks the frame, creating an aura of inspired rebellion against conventional norms – a tribute that's sure to please any art lover.
Alligator Minimalist Tattoo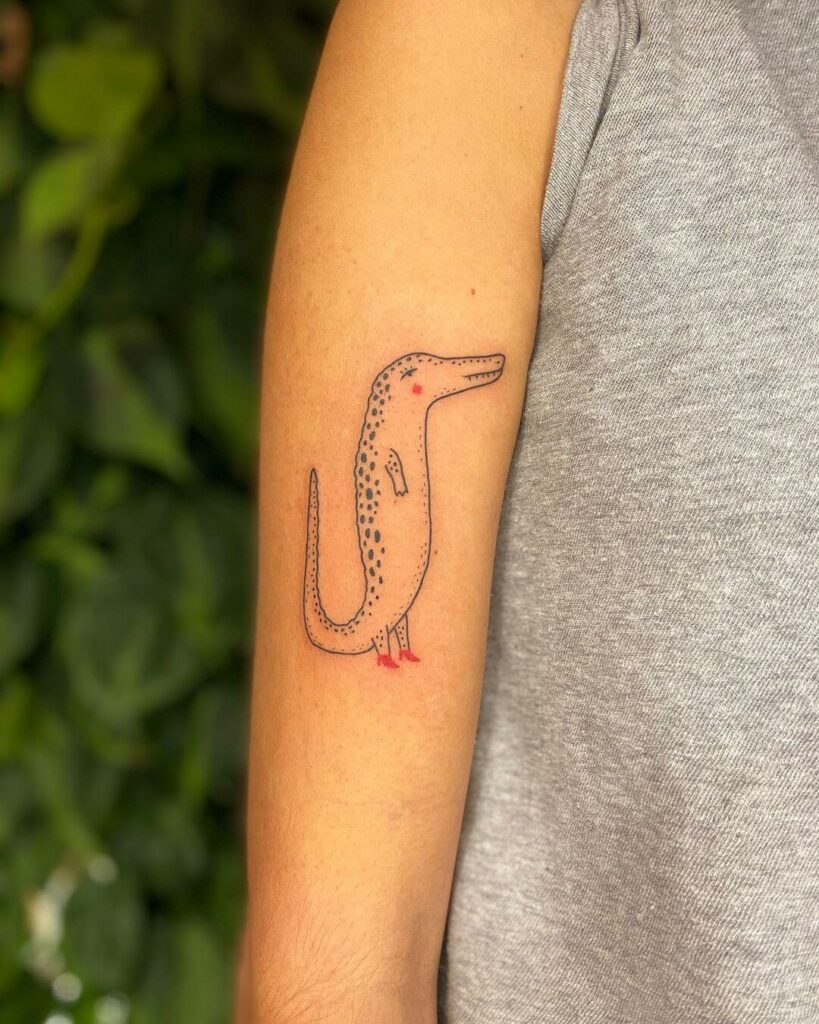 This whimsical design features a fashionably accessorized alligator, resplendent in bright red heels. The artist's deft use of line and color breathes life into the creature, from the black dots suggesting scales to the flirty eyelash details, offering a fanciful, eye-catching adornment for your skin.
The Girl and Flowers Minimalist Tattoo
The 'Girl and Flowers' tattoo captures a serene moment, featuring a girl in peaceful repose with her fragrant companions. Its minimalist style is enhanced by meticulous fine-line details, exuding a tranquil beauty that's perfect for nature lovers.
Elements Of Nature Minimalist Tattoo
Exploring elemental harmony is the 'Elements of Nature' minimalist tattoo, where geometric shapes house symbols of earth, air, fire, and water. The monochromatic, interconnected imagery creates a striking representation of nature's interplay, offering an artistically poignant nod to the natural world.
Zodiac Signs Minimalist Tattoo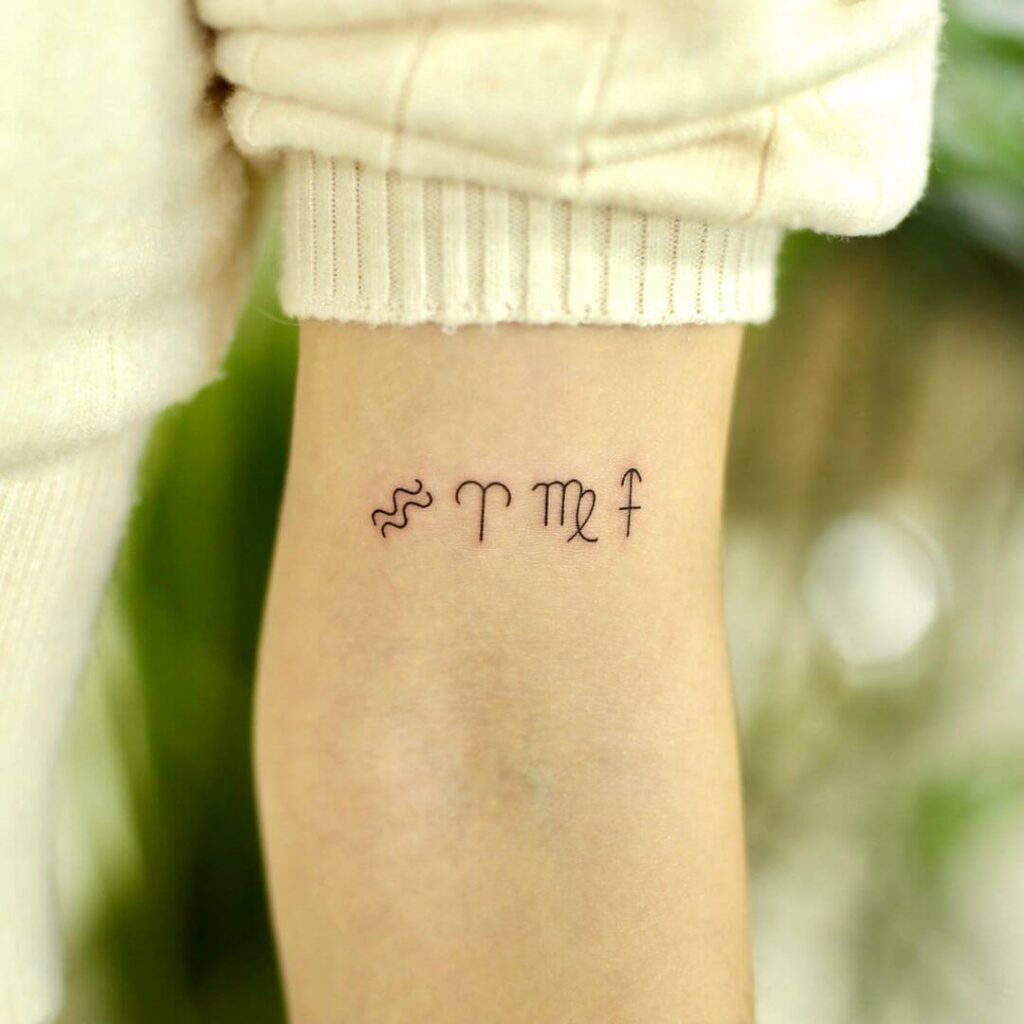 The 'Zodiac Signs' tattoo takes the mystical symbolism of the Zodiac and transforms it into minimalist magic. Representing four Zodiac signs – Aquarius, Aries, Scorpio, and Sagittarius – in their most basic symbols, this design offers a subtle yet profound statement for astrology enthusiasts.
Uncle Iroh Minimalist Tattoo
The Last Airbender' series might find the 'Uncle Iroh' minimalist tattoo irresistible. This character portrait, rendered in finely detailed line work, captures the essence of the wise and jovial tea lover, offering a delightful homage to a cherished character.
The Fox And The Girl Minimalist Tattoo
Creating an intriguing visual interplay, the 'Fox and Girl' minimalist tattoo features a vibrant fox overlapped with a monochromatic girl. This unique composition, drawn with a vibrant palette for the fox and stark lines for the girl, radiates a compelling, minimalist charm that's sure to turn heads.
The Lion And Lion Cub Minimalist Tattoo
For those looking for symbolism with a touch of raw emotion, consider the 'Lion and Lion Cub' tattoo. Its sketch-like depiction of a powerful lion and its cub, highlighted with striking blue ink, captures the essence of love and courage, offering a visually powerful tribute to these noble creatures.
The Semi-Colon Project Flower Minimalist Tattoo
Semi-Colon Project Flower' minimalist tattoo is more than a visual treat; it's a symbol of resilience and survival. This single-line flower, nestled beneath a poignant semi-colon, is a testament to the battles fought and won, making it a meaningful choice for those seeking a tattoo with a deeply personal significance.
Conclusion
In the inky tapestry of minimalist tattoos, each design we've explored holds a unique appeal, crafting a story of individual expression, passion, and resilience. Selecting a tattoo is a personal journey and one that requires careful consideration of not only the design but its placement. From wrist to shoulder, ankle to bicep, remember that some body areas might be more sensitive than others or exposed to more sunlight, which could affect your tattoo's longevity. The cost, on the other hand, varies based on complexity and the artist's expertise, but it's wise to remember that good art is worth every penny. As with any body modification, there's always a risk of allergic reactions or infections, so ensure your tattoo parlor is reputable, maintains excellent hygiene standards, and uses high-quality ink. Above all, a tattoo is an artistic expression of your story – a minimalist masterpiece woven into the canvas of your skin. It's an opportunity to narrate a part of you that words might fall short of. So, take your time, choose wisely, and step into this colorful realm of self-expression with confidence and joy.
Feature image from Pinterest