Greetings, ink enthusiasts and lovebirds alike! As the needle gently dances upon the skin, there is no testament of love quite like the permanence of matching tattoos. Let's explore a realm of minimalist couple tattoo ideas that will perfectly embody and illuminate the strength of your bond.
Express the profound depth of your love for the world to admire through these charming and subtle designs, designed for couples who wear their hearts on their sleeves, quite literally.
Whether you're making a statement or simply sharing an inside joke, couple tattoos are a trend that has tattoo artists worldwide buzzing with excitement. There's something irresistible about these endearing designs that echo a love story on the canvas of your skin.
Indeed, matching tattoos are an indelible declaration of unwavering commitment to your partner. Classics such as the majestic king and queen, the whimsical Disney couple designs, and many more continue to hold center stage. Love tattoos can be whimsical yet poignant, often hiding deeper meanings within their minimalist forms. If your partner holds a universe of meaning for you, then why not immortalize it in ink?
Consider a romantic journey to your local tattoo studio and surprise your beloved with these captivating minimalist designs. Of course, it's crucial to take your time, converse with your artist, and patiently await as they craft your unique mark of love. So, if you're in search of inspiration, we've got a curated list of unique and aesthetically pleasing couple tattoo ideas just for you. Let's embark on this artful adventure together!
Butterfly tattoo In Matching Ink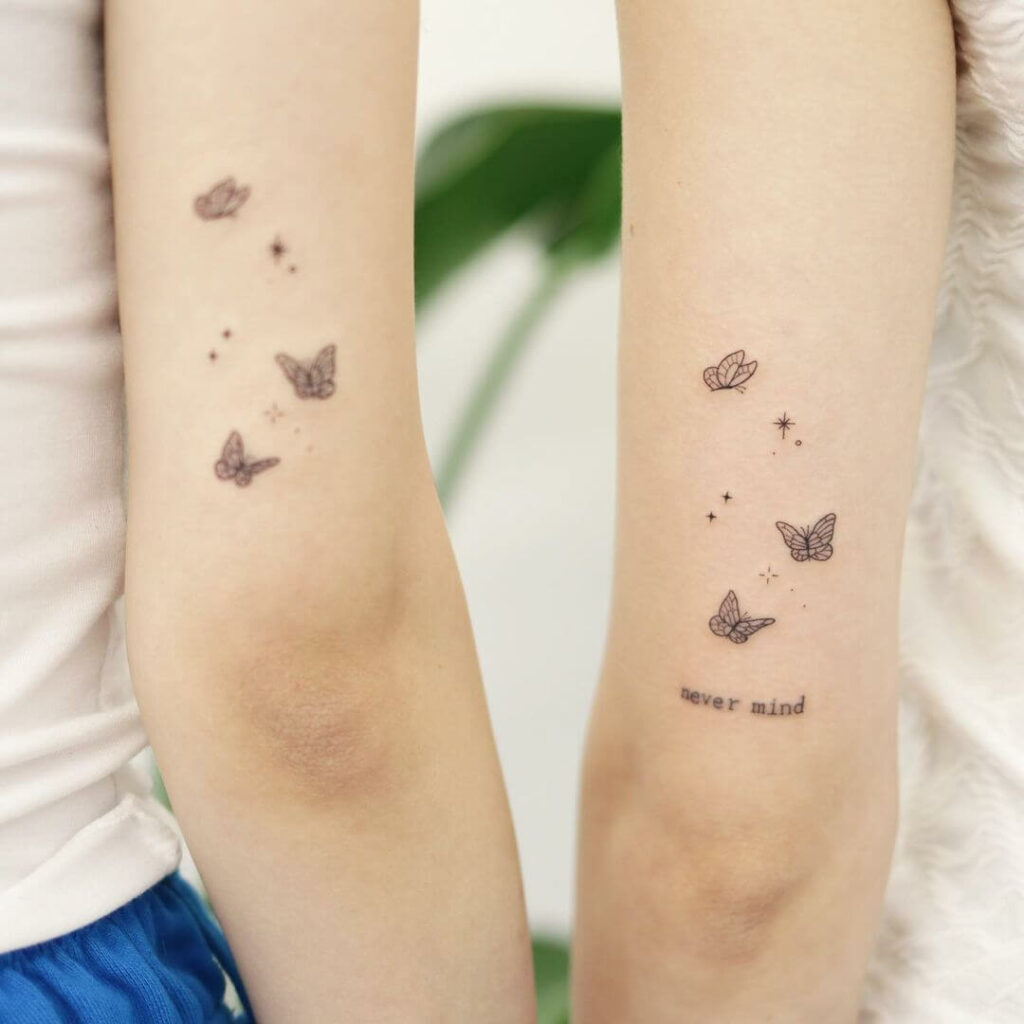 When it comes to marriage tattoos that have the world buzzing, few designs generate as much excitement as those featuring delicate butterflies. Picture this: dainty tattoos adorned with intricate floral patterns and ethereal butterflies gracefully etched upon a chosen canvas. Not only do these designs exude sophistication, but they also embody the essence of minimalism, making them a compelling choice for couples who prefer subtlety and elegance.
The allure of butterfly tattoos lies not only in their visual appeal but also in their potential to capture deeply cherished memories. Should you possess a fluttering memory entwined with a profound backstory, communicate your vision to the tattoo artist, and watch as they skillfully translate it into an everlasting mark of remembrance. Butterfly tattoos, in their classic form, have a timelessness that resonates with onlookers, inviting appreciation from all who catch a glimpse.
Colourful And Aesthetic Minimalist Couple Tattoo
Here's another unique concept for matching couple tattoos that seamlessly blends aesthetic appeal and symbolism. Consider the mesmerizing yin yang design, renowned for its ability to represent the delicate balance of opposing forces within the universe. By injecting your favorite colors into this tattoo idea, you infuse the design with a vibrant spark that captivates the eye.
These quirky yet minimalist designs are perfect for couples seeking an understated expression of their bond. For a rustic touch, you might even opt for a hand-poked technique, adding an authentic element to the celebration of your eternal connection. Unisex in nature, these colorful tattoos harmonize effortlessly with any attire, providing a touch of individuality that sets them apart. A hint of blue or green can work wonders, transforming an already remarkable tattoo into an extraordinary work of art.
Unique Date Couple Tattoo
Love is a celebration of special moments, and what better way to honor those cherished occasions than to etch them permanently into your skin? Imagine the profound gesture of engraving the most significant day of your shared journey as a couple, or perhaps the initials that bind your hearts together. By sporting this minimalist couple tattoo, with the date adorning your ring finger, you boldly declare your eternal bond to the world.
In this era of evolving traditions, forsaking traditional wedding rings in favor of a tattooed homage can become an act of trendsetting. Consider incorporating fonts such as Roman or those native to your heritage to lend a distinct and personal touch to these finger tattoos. Celebrate your love in a way that transcends convention, preserving that special day forever as a testament to your unwavering commitment.
Tiny Love Tattoo For Couples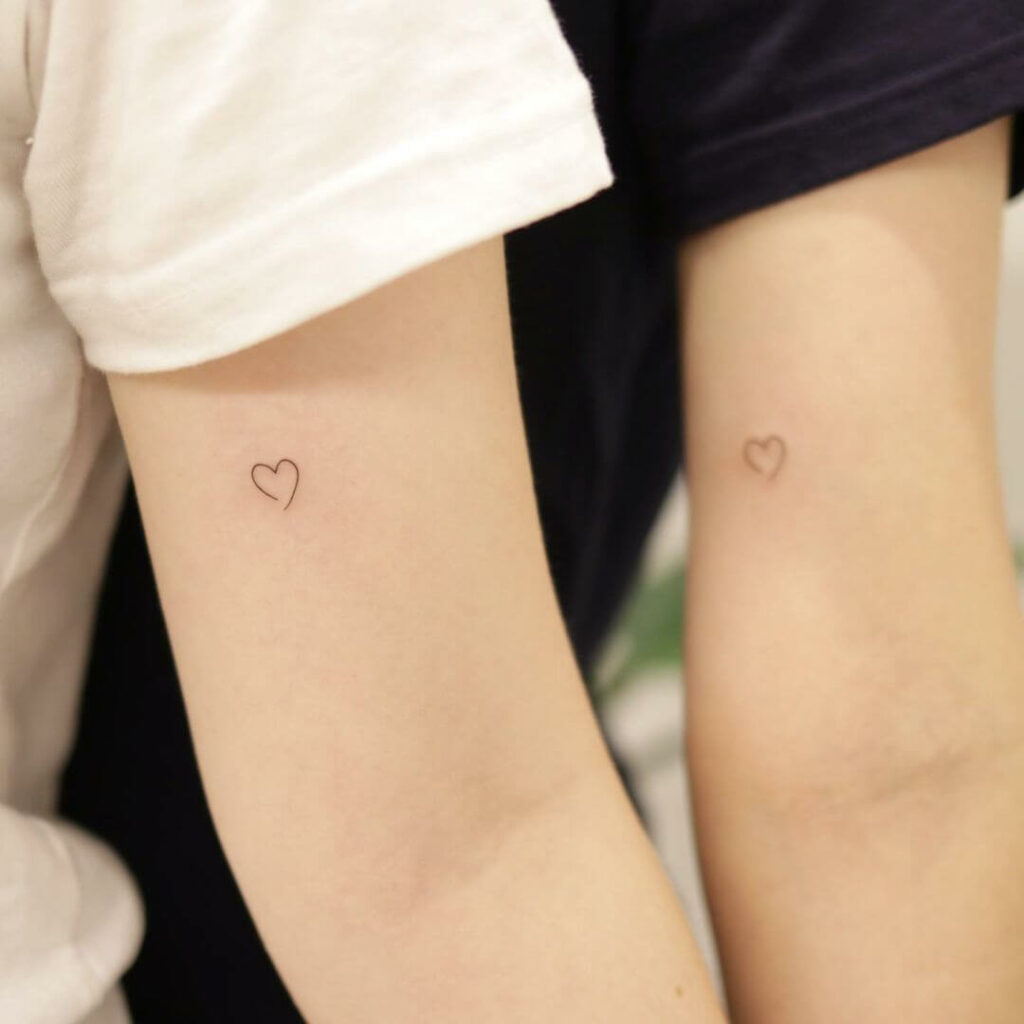 For many millennials, small and sexy couple tattoos have become the go-to choice, seamlessly blending art and fashion. These designs effortlessly complement the latest trends, making them a natural fit for couples looking to add an element of permanence to their relationship.
Customized husband and wife tattoos, created specifically for anniversaries, or crown tattoos to symbolize the regal nature of your union, exemplify the appeal of these diminutive matching couple tattoos. Not only do they strengthen the bond between partners, but they also serve as a continuous reminder of appreciation and devotion. During challenging times, these small tokens of affection can have a profound impact, nurturing the relationship and reinforcing the commitment you share.
Sun, Earth, And Moon Couple Tattoo Design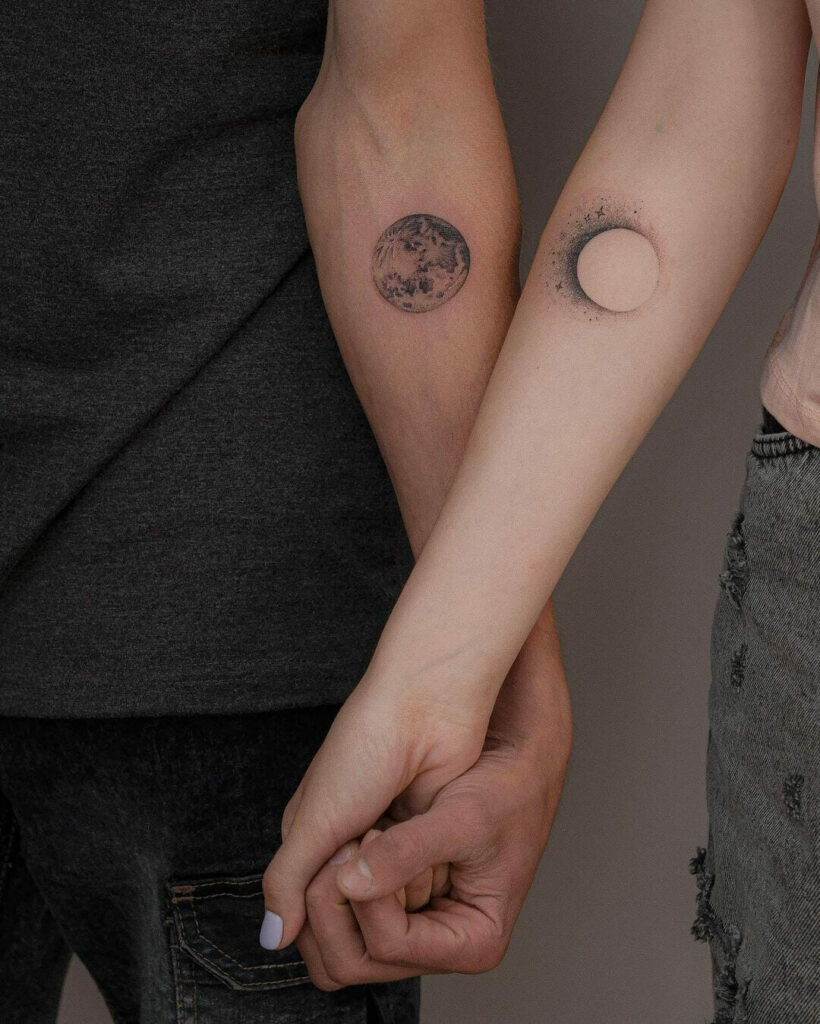 Matching couple tattoos offer an opportunity to explore various symbols, including stars and moon signs. For those who find solace in the belief of destiny and luck, moon tattoos or infinity symbols provide a captivating choice. These meaningful couple tattoos emanate positive energy, often serving as a harbinger of good fortune for the relationship they adorn.
With their minimalistic and endearing qualities, these celestial-themed designs are well-suited to capturing the essence of any bond. For book lovers and astrology enthusiasts, consider incorporating nerdy elements like comets and stars, transforming your tattoo into something truly special. These timeless designs promise to stand the test of time, just like the love they represent.
Funny Couple Tattoos With Penguins In It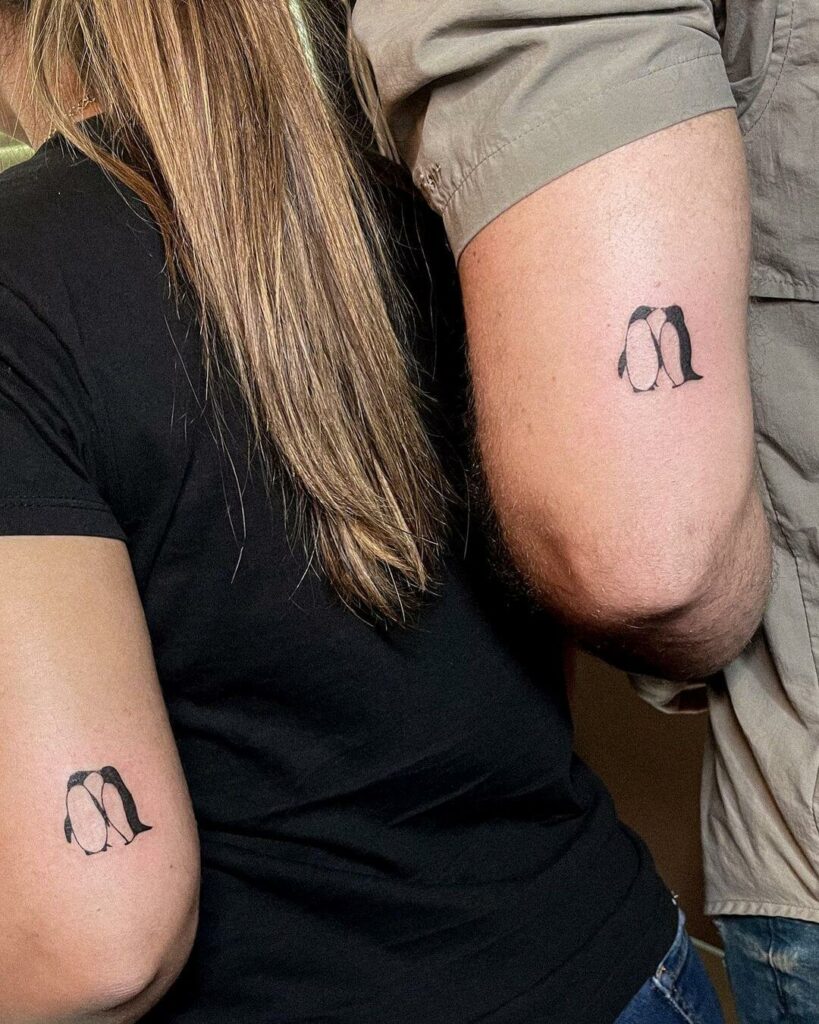 Couples tattoos need not be limited to sentimental or symbolic expressions. In fact, injecting humor into your inked journey can add an extra dimension to your relationship. After all, laughter and love often go hand in hand. If your partner fills your life with joy and mirth, a funny tattoo can serve as an endearing tribute to their role in keeping your spirits high.
Matching tattoos that radiate a unique energy will always hold a special place in your heart. Though these minimalist couple tattoo suggestions may not be overly extravagant, their significance is profound. Consider adorning your wrists with adorable depictions of baby penguins—a tribute to your partner's favorite animal. Not only will it evoke laughter, but it will also serve as a constant reminder of your love for one another. Rest assured, you'll never cease to cherish the decision to commemorate your bond with a lighthearted touch.
One-Of-A-Kind Married Couple Tattoo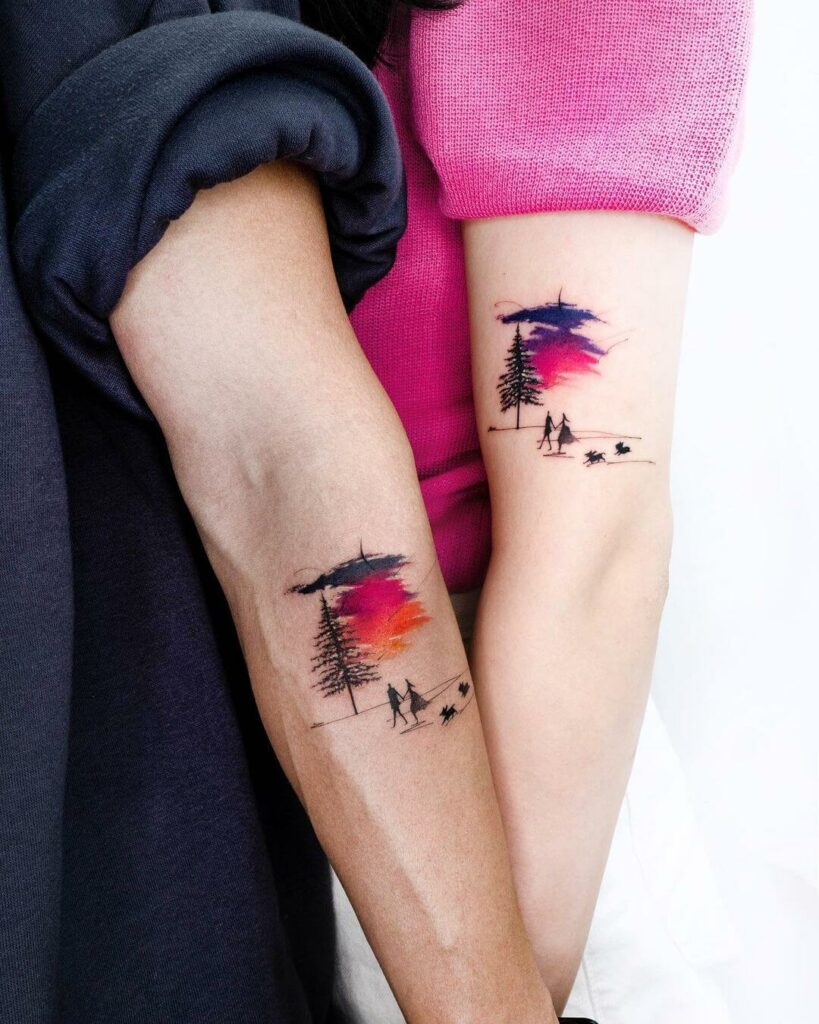 When it comes to matching couple tattoos, those worn by married couples often exude an undeniable charm. What better way to commemorate the vows taken than with a shared tattoo, a testament to the commitment made to spend a lifetime together? Whether you opt for gay couple tattoos or embrace royal attributes like the classic matching king and queen designs, these tattoos can serve as a thoughtful and enduring wedding gift.
From hand tattoos to couple finger tattoos, the memories of your union can be forever etched upon your hearts, providing a tangible connection to your marital journey. Crown tattoos, in particular, offer a regal touch, symbolizing the depth of your love. When you seal your commitment with a shared tattoo, you embark on a lifelong adventure, etching a chapter of your love story into the very fabric of your being.
Adorable Tattoo Concept That Can Double As Body Art
Matching tattoos that cover a significant expanse of skin can be transformative, morphing into breathtaking works of body art. Consider the impact of skull couple tattoos or other serious tattoo suggestions, which pay tribute to the daredevil nature of your relationship. These designs are not for the faint of heart; rather, they honor the resilience and fortitude required to navigate life's challenges together.
A relationship is akin to a roller coaster, and matching couple tattoos possess the power to soothe the knots that arise, fortifying the bond between partners. With the skillful application of dark ink and subtle gradations, a unique minimalist couple tattoo can convey an abstract line connecting you and your partner, altering the very essence of the game. Ponder this opportunity, and let your thoughts shape the design that will forever grace your skin.
Matching Couple Tattoo With Colourful Detailings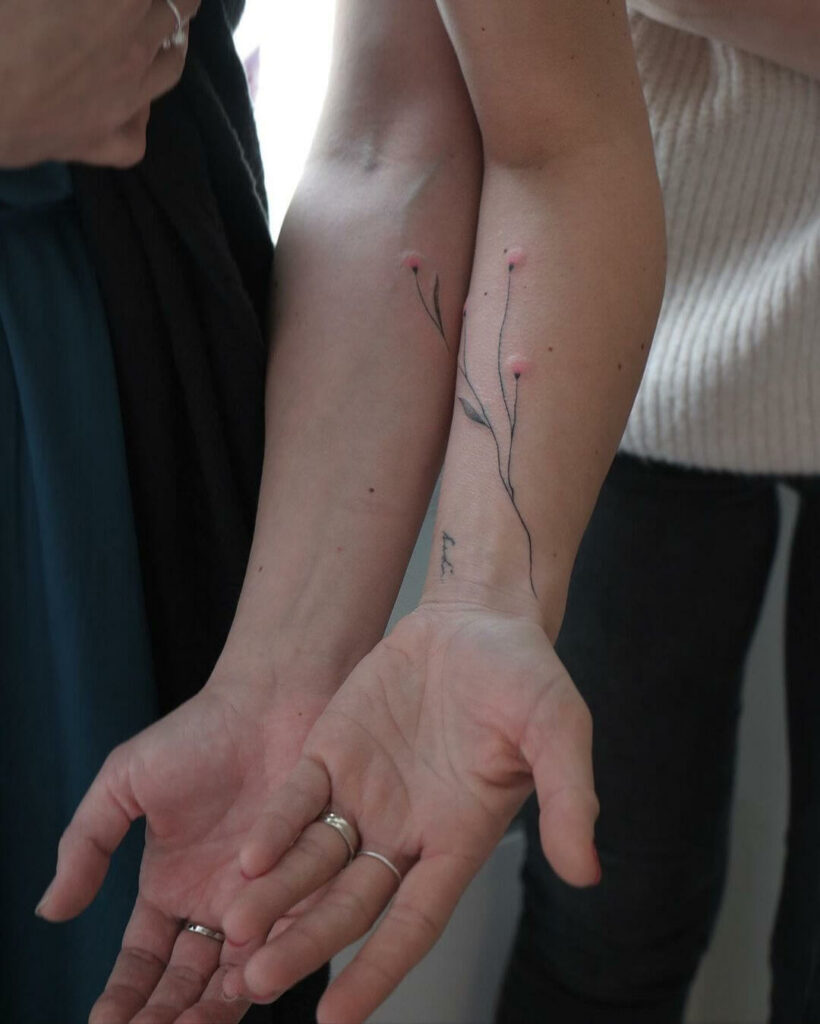 Matching tattoos come in all shapes, sizes, and styles, presenting an array of possibilities for couples seeking a shared symbol. From black tattoos embellished with small, pink floral details to key tattoos and quote tattoos tailored to your tastes, the options are as diverse as your imaginations. Quote tattoos, in particular, possess an enchanting ability to make one feel extraordinary, offering a platform to inscribe verses or poems close to your heart.
Enhance the beauty of your tattoo by incorporating your favorite colors into floral designs or intricate shapes. If your partner revels in nature's embrace, consider highlighting their cherished flower or other elements by immortalizing them upon your skin. Such a gesture not only underscores the importance of their opinions but also deepens their love for you. As a visual representation of your bond, these matching couple tattoos will inspire awe and leave a lasting impression.
Matching Couple Tattoos With Abstract Lines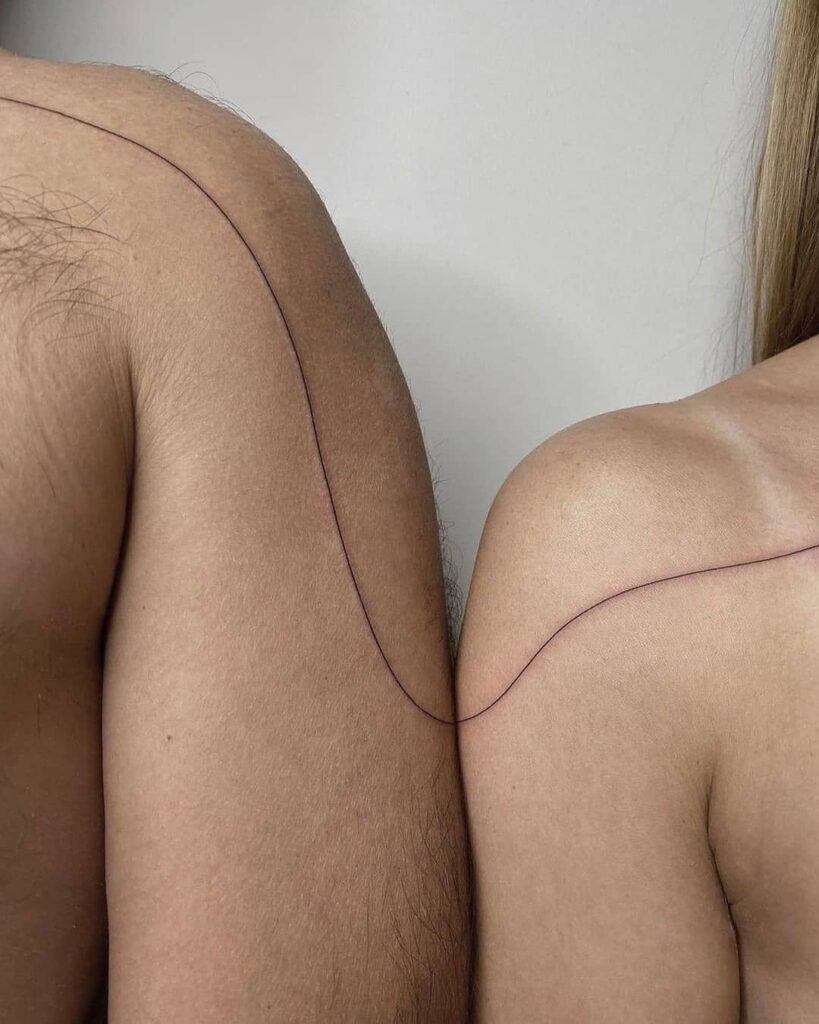 When it comes to tattoos for couples, the possibilities are limitless. From animals and birds to flowers and superheroes, the breadth of options allows for true artistic exploration. But amidst this sea of choices, the beauty of a single, coordinated line tattoo emerges as a magical concept. Abstract tattooing, when executed in matching colors, captivates the gaze and ignites the imagination.
Couples tattoos continue to enjoy widespread popularity, and once you embark on this journey, there's no turning back. Any idea that sparked a bond during your initial dating phase can be transformed into a captivating tattoo for couples. Fill the canvas and transform your arm into a captivating tapestry, akin to a tattoo sleeve. Let your thoughts guide the design, crafting an abstraction that symbolizes your unwavering connection.
In the realm of matching couple tattoos, the possibilities truly know no bounds. These inked declarations of love embody the diversity and depth of relationships, while simultaneously serving as artistic expressions of individuality. So, let your love manifest itself in ink, capturing the eternal bond that binds you both. The art of tattooing knows no limits when it comes to immortalizing the unique story you share.
Conclusion
In the enchanting world of matching couple tattoos, the realm of possibilities is as vast as the love that binds two souls together. Whether you opt for delicate butterfly designs, vibrant yin yang symbols, or heartfelt date commemorations, these inked testaments to love will forever grace your skin with meaning and artistry. When considering placement, let your personal style and connection guide you, be it on the ring finger, wrists, or other areas that hold significance. It's important to note that tattoo costs vary based on factors such as size, intricacy, and the expertise of the artist. While tattoos can be a beautiful expression, it's essential to be aware of potential risks, including allergic reactions, infection, and scarring. Therefore, always choose a reputable tattoo artist, follow proper aftercare procedures, and consult with a professional if you have any health concerns. With the right approach and informed decision-making, these captivating tattoos can become lifelong symbols of love, forever etched in both your hearts and on your skin.
Feature image from Pinterest