If you're a fan of tattoos and floral designs, then you can't go wrong with a daisy tattoo. These beautiful flowers have deep symbolism and meaning in cultures around the world, making them a popular choice among tattoo enthusiasts. Daisies are associated with new beginnings and motherhood, making them a great choice for anyone starting a new chapter in their life. Even celebrities like Selena Gomez, Post Malone, and Jennifer Lopez have embraced the trend. In this article, we'll show you some amazing minimalist daisy tattoo designs that are sure to inspire your next ink.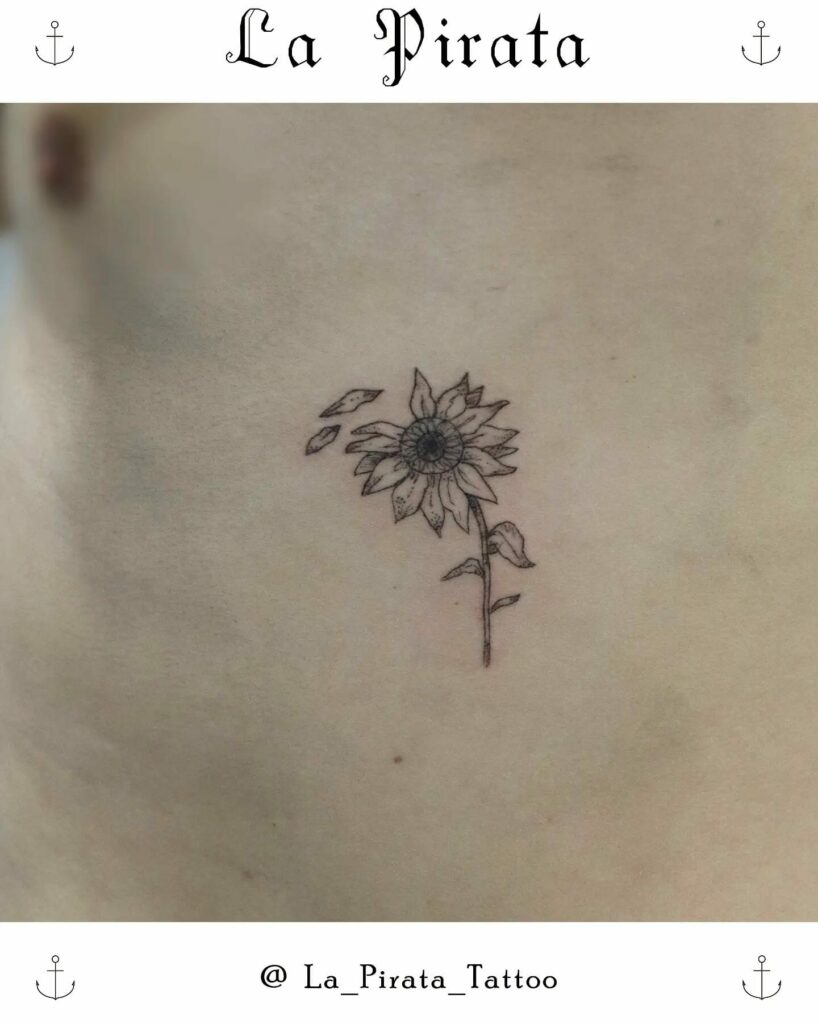 Simple Daisy Tattoo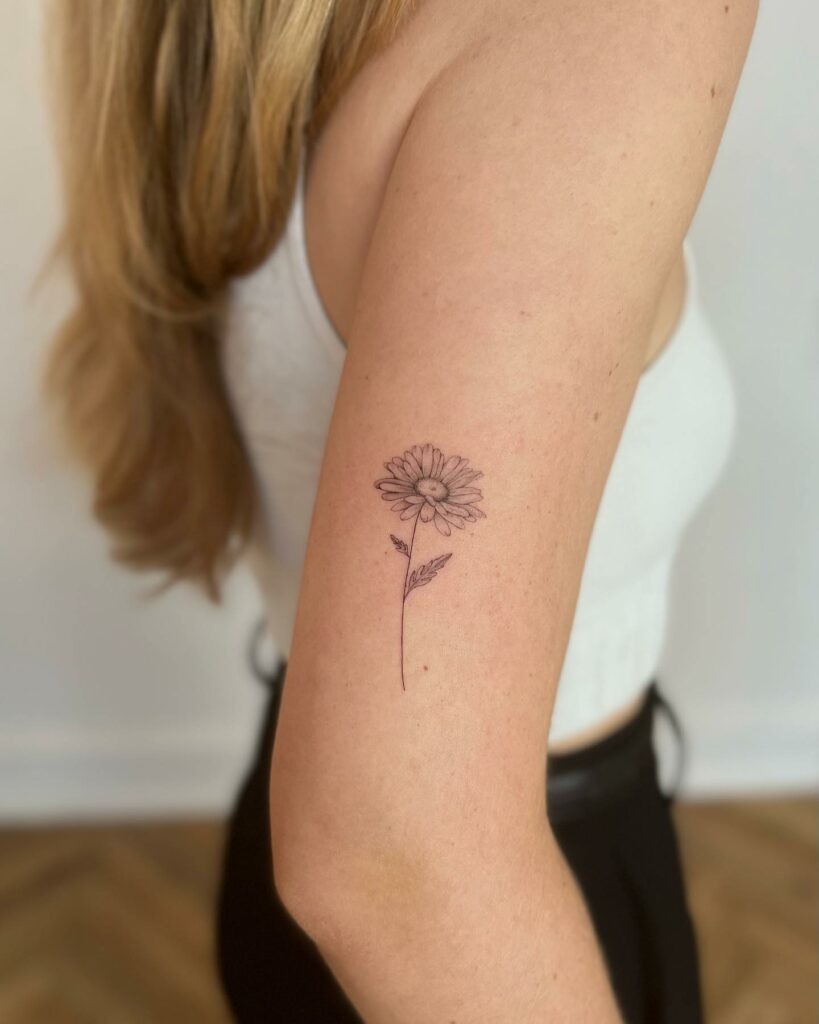 In this image, we see a lovely daisy tattoo design that is etched on the back of the forearm, and it's a perfect example of minimalistic art. The artist has masterfully used black ink to create a beautiful rendition of the delicate petals and leaves of the flower, highlighting its natural beauty. Daisy tattoos are a popular choice for those looking for a simple yet meaningful design, and they can be placed on various parts of the body, such as the neck, arms, shoulder, and even fingers. This design is a great option for first-timers, as it's easy to create and involves less pain. So, if you're looking for a cute and minimalist tattoo, this one could be the perfect fit for you!
White Daisy Tattoo
Did you know that the daisy flower has a fascinating history that spans across cultures and time periods? The Vikings, for example, trained in fields of daisy flowers for their fresh and sweet smell that provided them with motivation for their daily warfare training. This flower has since been used to symbolize different meanings in various cultures.
The image above showcases a simple yet elegant daisy tattoo design placed on the shoulder of the individual. The artist used white ink to color the petals of the daisy and yellow ink to highlight the center of the flower. This minimalist style of tattooing is becoming increasingly popular among tattoo enthusiasts. It's not only less painful but also less expensive and can be completed in a relatively shorter amount of time. If you're looking for a unique couple's tattoo, this design may be a great option for you as it beautifully blends the colors of yellow and white, representing happiness and peace, respectively.
Creative Daisy Tattoo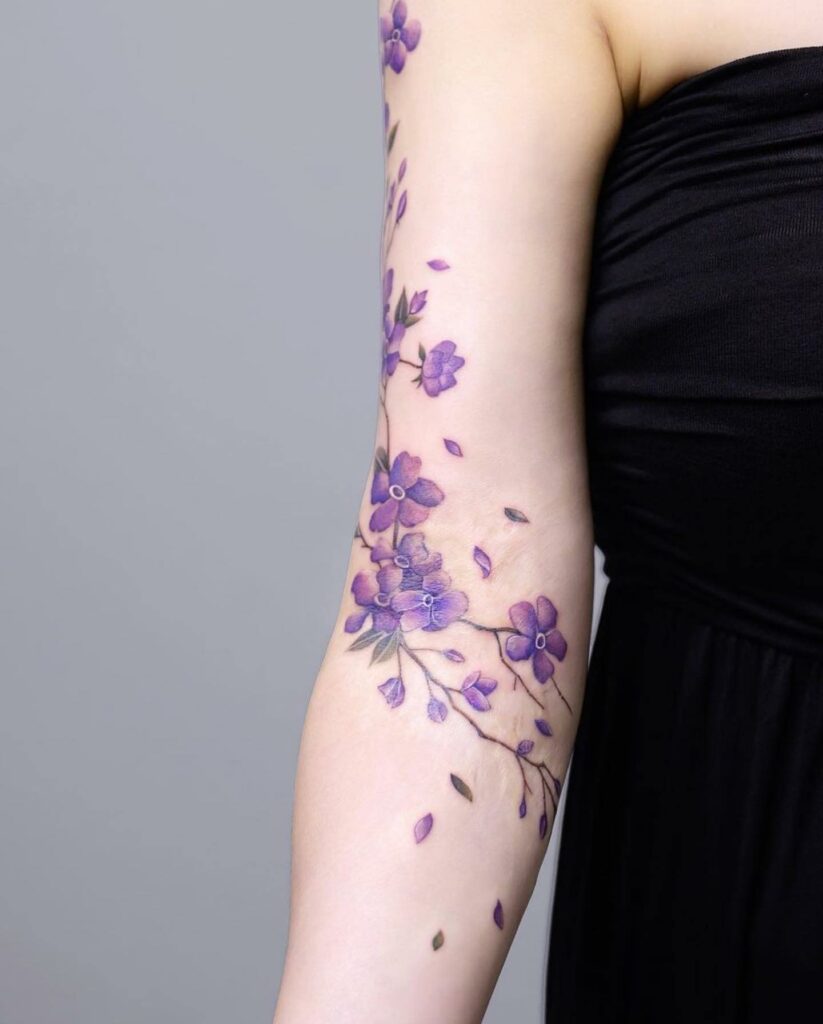 In the above image, we can see a creative and unique twist on the classic daisy tattoo design. The petals of the flower appear to be falling, symbolizing grace and youthfulness. Instead of the traditional white color for the petals, the artist has used a bright and vibrant orange, complemented by yellow and green. The placement of the tattoo on the foot is also noteworthy, as it adds to the delicacy and charm of the design. If you're looking for a colorful and minimalist daisy tattoo design, this one is definitely worth considering!
Black and White Daisy Tattoo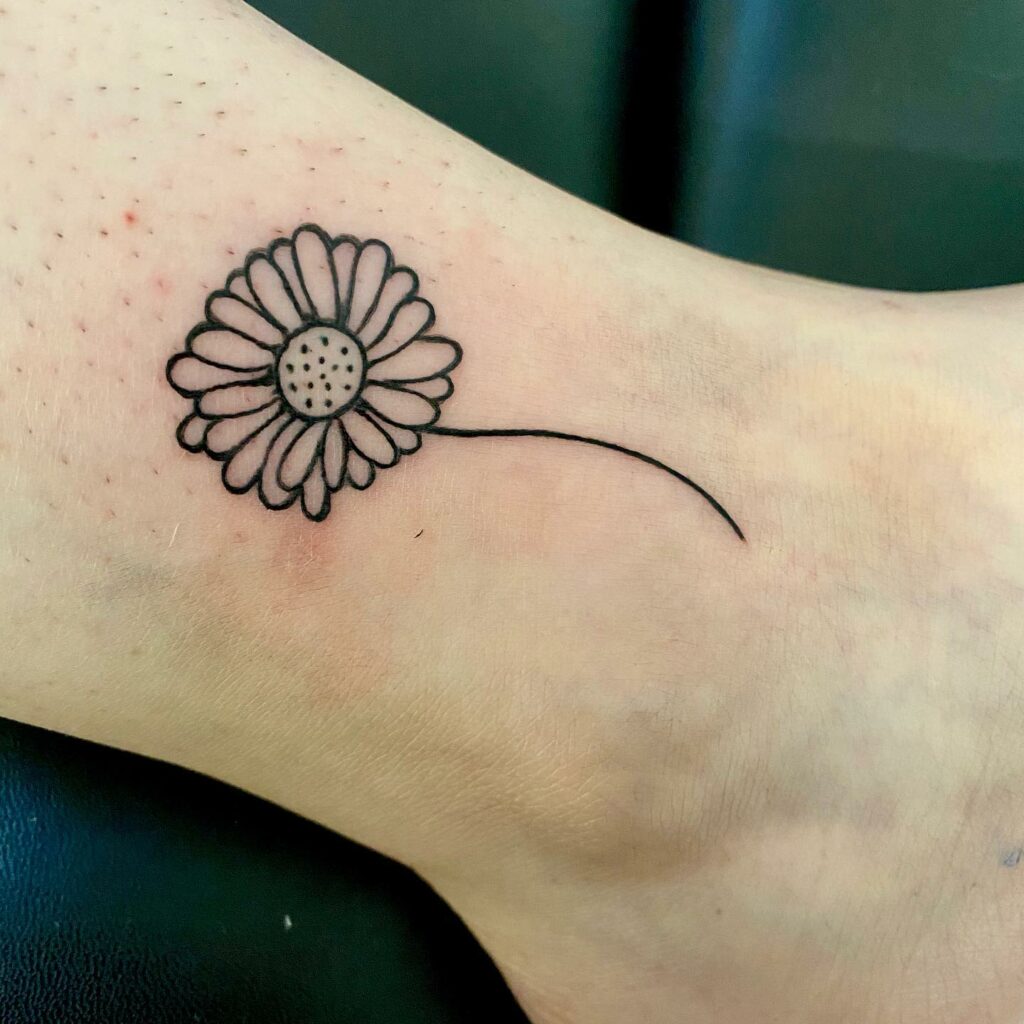 The daisy flower is a beautiful representation of femininity, passion, and friendship. This is especially true for women, as it symbolizes all of these qualities perfectly. The tattoo featured above is a simple and adorable daisy design that exudes a sense of innocence and purity. If you prefer smaller and more subtle tattoos, then this design is perfect for you. The artist has expertly used black ink to create the outlines of the flower, which contrasts beautifully with the wearer's skin tone. These minimalist tattoos are especially popular on the ankle, wrist, finger, and shoulder. So, if you're looking for a sweet and subtle way to showcase your feminine side, then this daisy tattoo is an excellent choice!
Yin Yang Daisy Tattoo
The Yin Yang symbol is a powerful representation of balance in Chinese culture, symbolizing the coexistence of opposing forces. In the world of tattoos, incorporating this symbol into a daisy design is a unique and fascinating way to express your personality. The above image depicts a simple daisy tattoo, with the Yin Yang symbol placed at the center of the flower. This design can have a variety of meanings, from representing balance and harmony to duality and contrast.
If you are looking for a meaningful and personalized tattoo design, this daisy and Yin Yang combination can be a perfect choice. This tattoo design can be easily modified to fit your desired size, but it is typically small to medium in size. You can also consider placing it on areas such as your wrist, shoulder, ankle, or behind your ear, which are popular locations for minimalist tattoos. With its simple yet powerful message, this daisy Yin Yang tattoo is sure to make a lasting impression.
Daisy Water Color Tattoo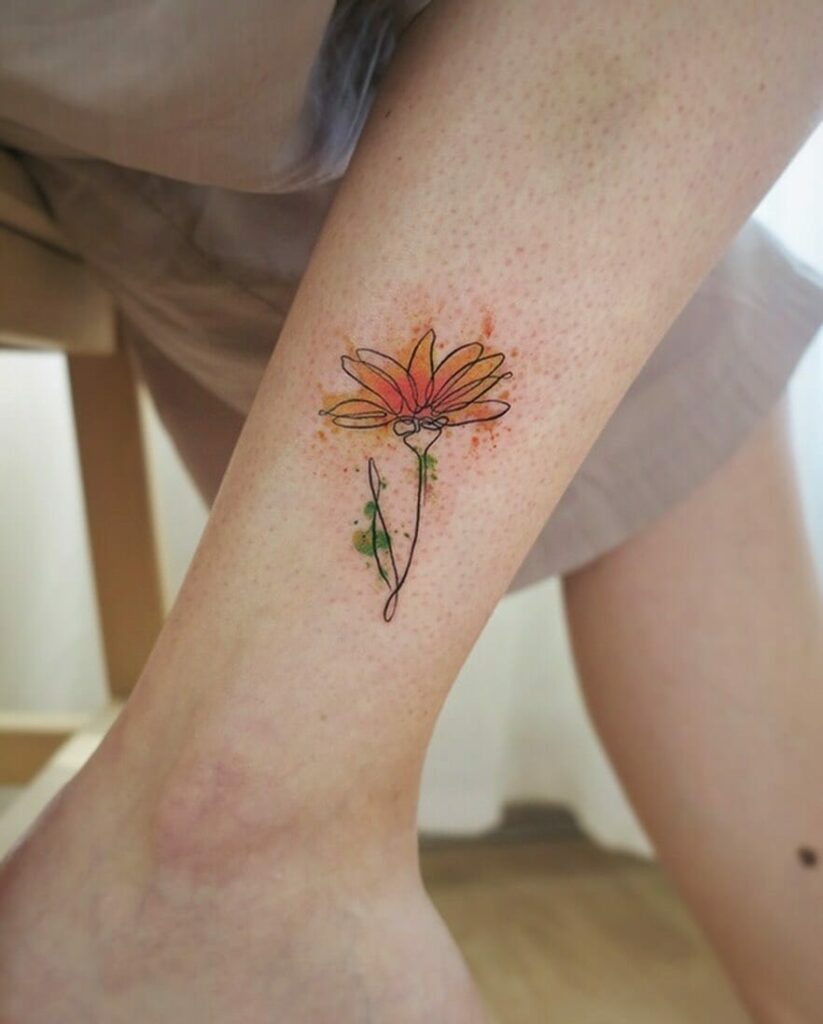 Watercolor tattoos have become increasingly popular in recent years due to their lively and colorful appearance. However, before getting one, there are a few things to keep in mind. For instance, they tend to fade faster than traditional tattoos, requiring frequent touch-ups. Additionally, selecting high-quality ink is crucial to avoid skin irritation.
Take a look at this charming daisy watercolor tattoo. In this design, the artist used a blend of vibrant orange and green hues with black outlines to create a stunning composition. Watercolor tattoos are eye-catching and perfect for those seeking a unique and lively tattoo. If you appreciate colorful artwork, you should definitely consider adding this one to your collection.
Elegant Minimalist Daisy Tattoo
Flower tattoos have been a timeless classic for their representation of youthfulness, love, and good fortune. They can also serve as a beautiful tribute to loved ones, alive or passed on. In the image above, the artist added two additional flowers to complement the daisy tattoo. Placed together, they form a band-like appearance that wraps around the arm, enhancing the overall design. The artist has chosen to use black ink only, but you can customize it by incorporating colors that speak to you. Adding color can bring life and vibrancy to your tattoo, making it stand out from afar.
Blue Daisy Tattoo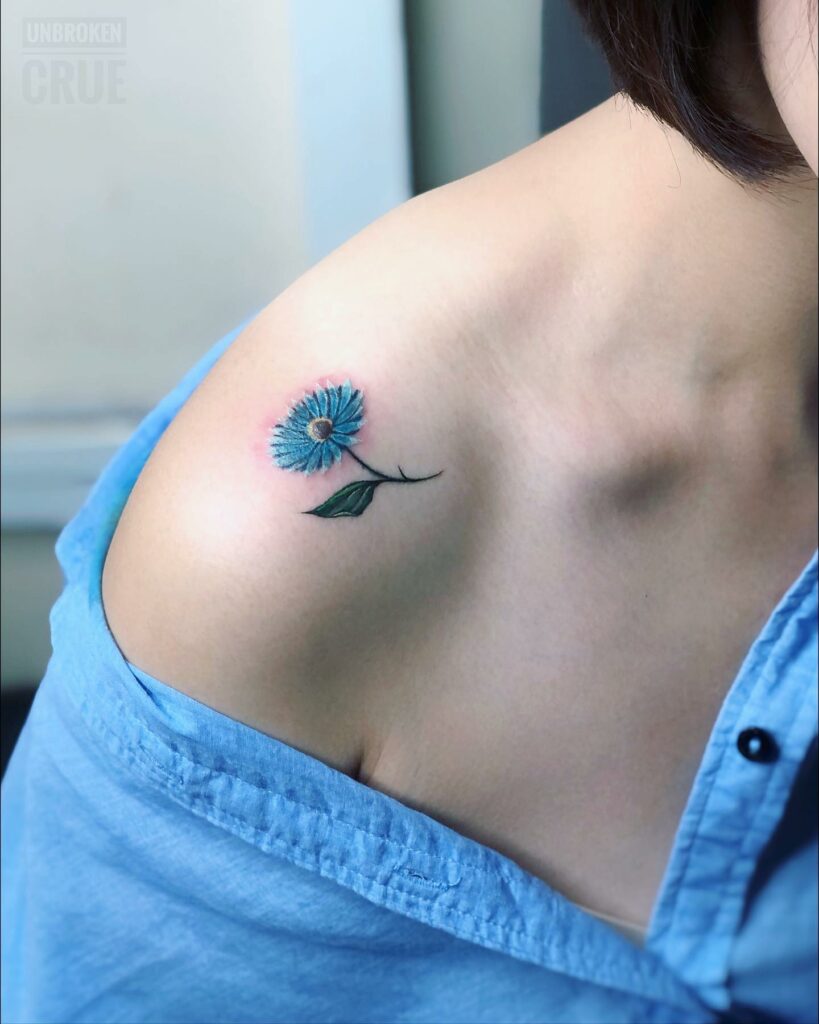 Daisy tattoos are a great way to express oneself, and different colors can be used to portray unique personality traits. White daisy tattoos indicate the wearer's pure and religious nature, while blue daisies signify sensitivity and emotionality. These tattoos are also popular among men who want to showcase their emotional side.
In the above image, a stunning blue color has been used to create a small daisy tattoo on the individual's shoulder. The artist has skillfully added green highlights to the leaf and stem to add depth and elegance to the design. A shoulder placement is a perfect spot for this kind of minimalistic yet expressive tattoo.
Yellow Daisy Tattoo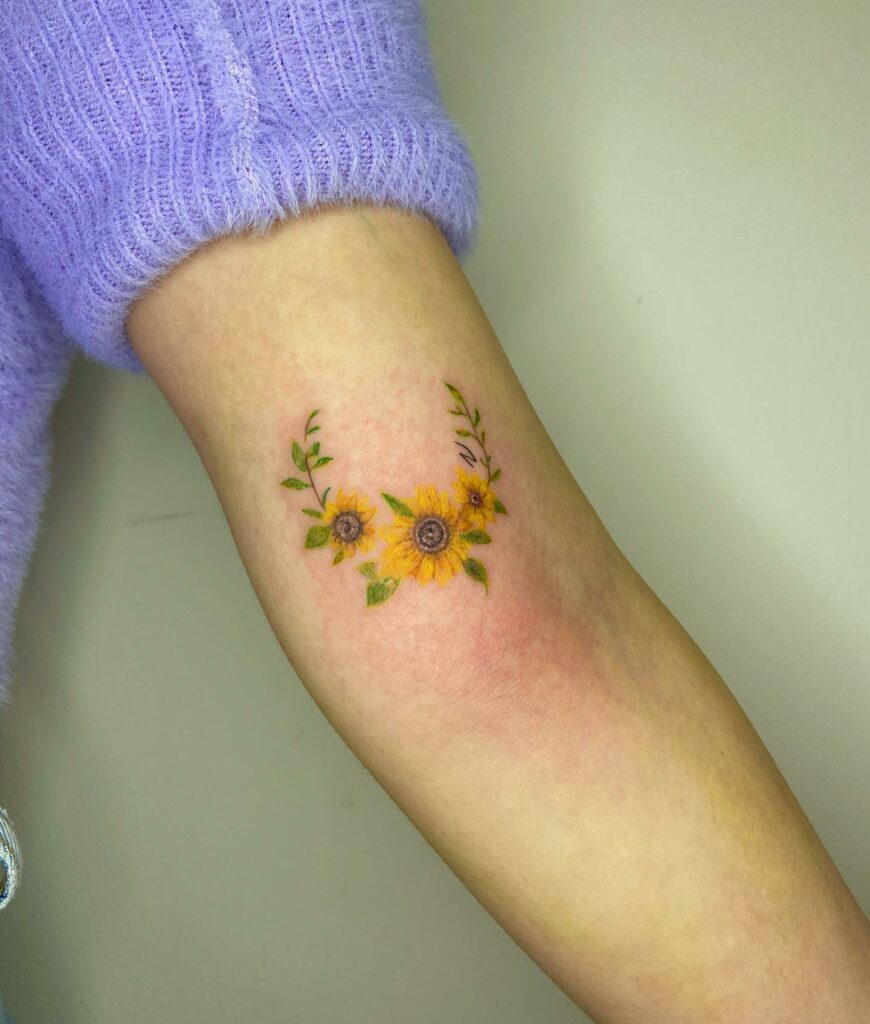 Looking for ways to commemorate your strong bond with your best friend? Consider getting matching yellow daisy tattoos! These charming tattoos are the ultimate symbol of friendship and happiness. Yellow is a bright, joyful color that represents positive energy, creativity, and intelligence, making it an ideal choice for this type of tattoo. If you identify with these qualities and want to showcase your love for your bestie, a yellow daisy tattoo is the perfect choice for you both!
Lettering Daisy Flower Tattoo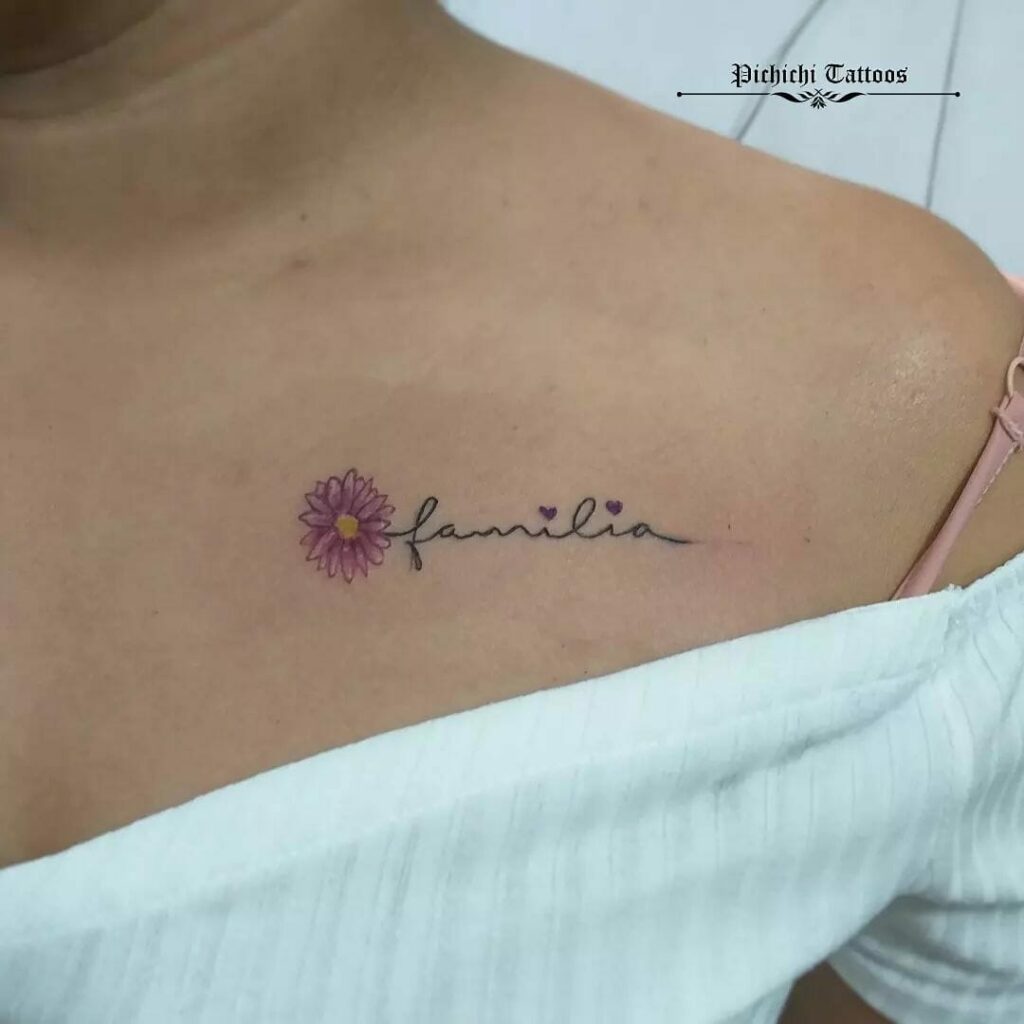 In this captivating image, we see a beautiful pink daisy tattoo with the word 'familia' inscribed next to it, which means family in Spanish. This design conveys the woman's immense love and respect for her family. Pink daisy tattoos are a symbol of tenderness, love, and romance. If you have someone in your life who holds a special place in your heart, getting such a tattoo can be a great way to express your affection for them. You can personalize it by adding a favorite word of your choice to make it even more special.
The cost of small, minimalist tattoos such as these typically range from $50-80. However, the price may vary depending on factors such as the ink used and the tattoo parlor. The best places to get inked with these designs are on your wrist, fingers, ankle, neck, thigh, chest, and shoulder. Choose your preferred spot, and let your love for your loved ones be eternalized in a gorgeous daisy tattoo.
Still looking for inspiration, then checkout this blog post about butterfly tattoo with flowers
feature image from Pinterest – Want your tattoo to look brighter? Try "Tattoo Balm"
Last reviewed and updated on June 7, 2023