Hey there! Do you still love dinosaurs even though they've been extinct for ages? If so, a minimalist dinosaur tattoo might be perfect for you!
Dinosaurs may have ruled the world millions of years ago, but they still capture our imaginations today. With a dinosaur tattoo, you can bring back the awe and wonder of these incredible creatures.
Whether you prefer permanent tattoos or temporary ones, dinosaur tattoos can make you ecstatic! From the fierce T-Rex to the speedy Velociraptor, there are plenty of dinosaur designs to choose from.
If you want a tattoo that symbolizes strength and power, a dinosaur tattoo is a great choice. And if you're looking for something more subtle, a simple outline of a dinosaur or a dinosaur skull can make a cool and stylish tattoo.
But remember, a tattoo only holds meaning if it resonates with you personally. That's why we've put together a list of different dinosaur tattoo designs to help you find one that feels right for you. Get ready to bring these ancient creatures back to life with a dinosaur tattoo!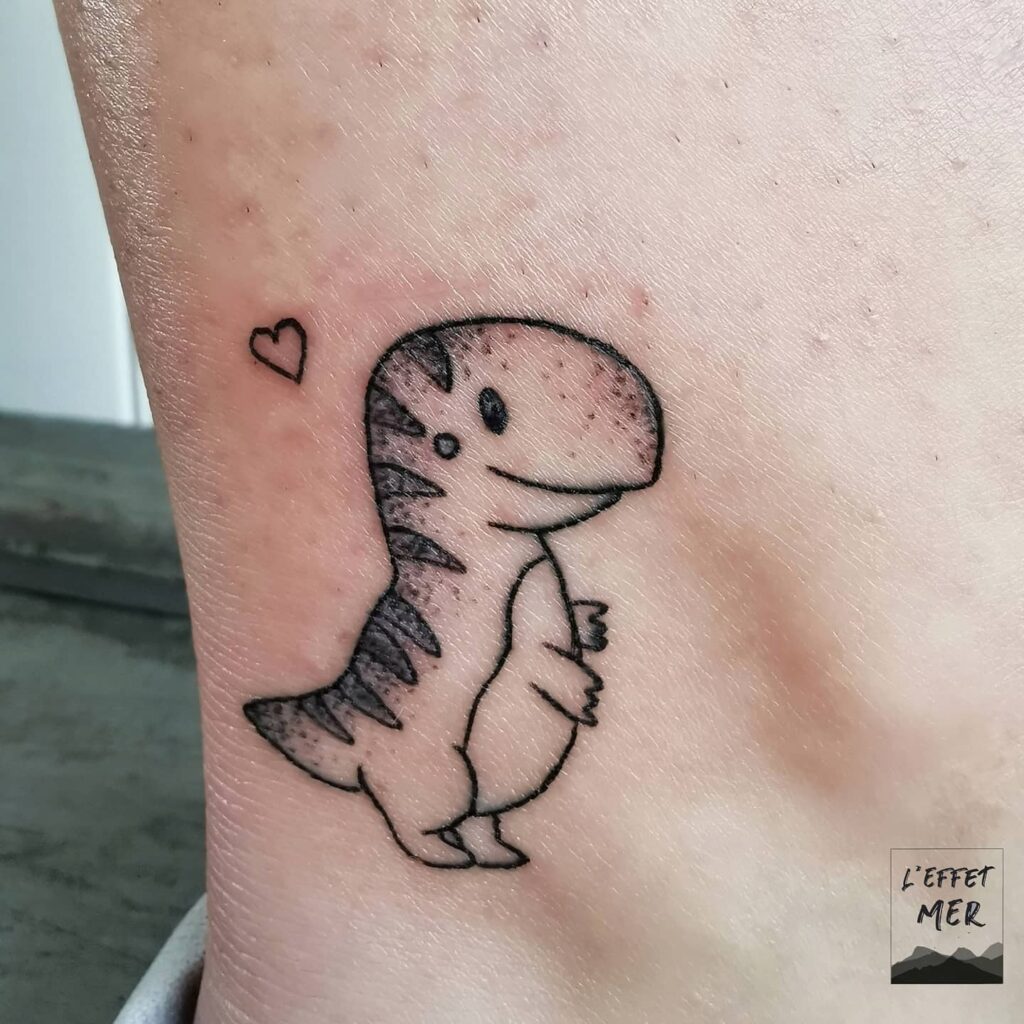 Cute Single Line Minimalist Dinosaur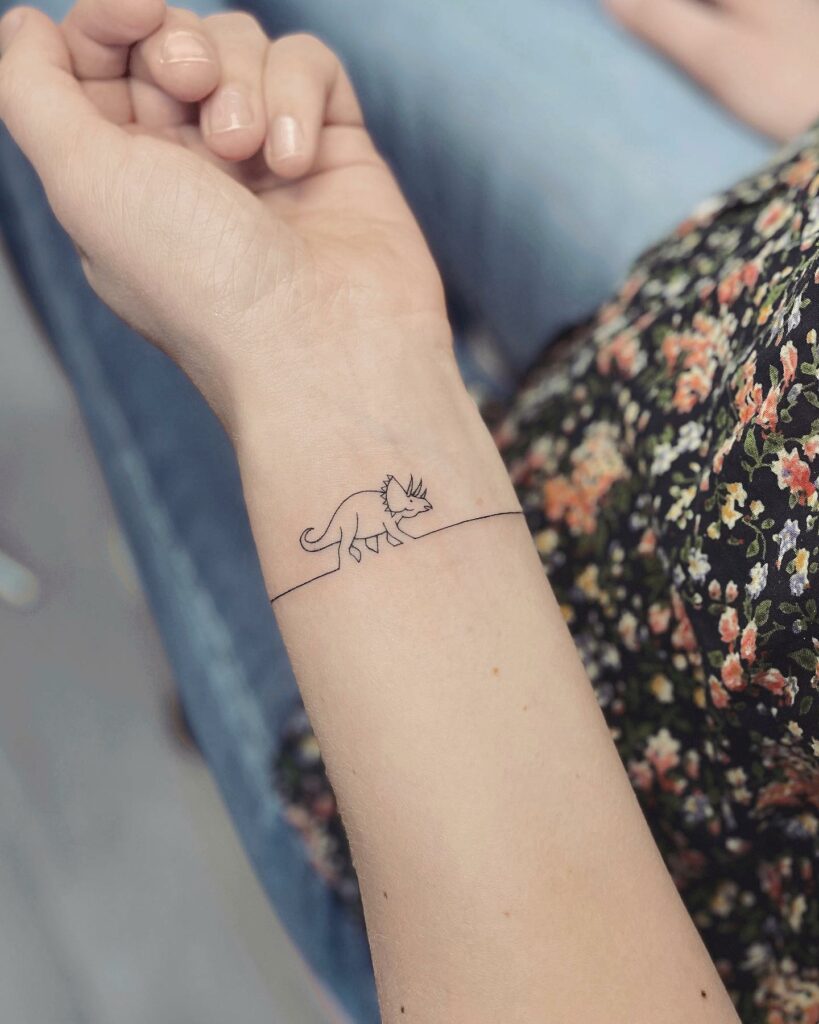 If you're looking for a tattoo that's both trendy and unique, you can't go wrong with a minimalist dinosaur design. Even a huge creature like a Triceratops can be transformed into a chic and eye-catching tattoo that you'll love showing off.
This type of dinosaur tattoo is perfect for the wrist or ankle, and the simple line design is both sleek and elegant. Although the Triceratops has three prominent horns on its face, this design manages to be one of the cutest creatures you'll ever see.
If you want to explore other options for minimalist dinosaur tattoos, consider searching for a T-Rex or other dino designs. There are plenty of similar options out there, all of which will make for an adorable and understated tattoo that you'll cherish for years to come.
Dinosaur Skull Shoulder Tattoo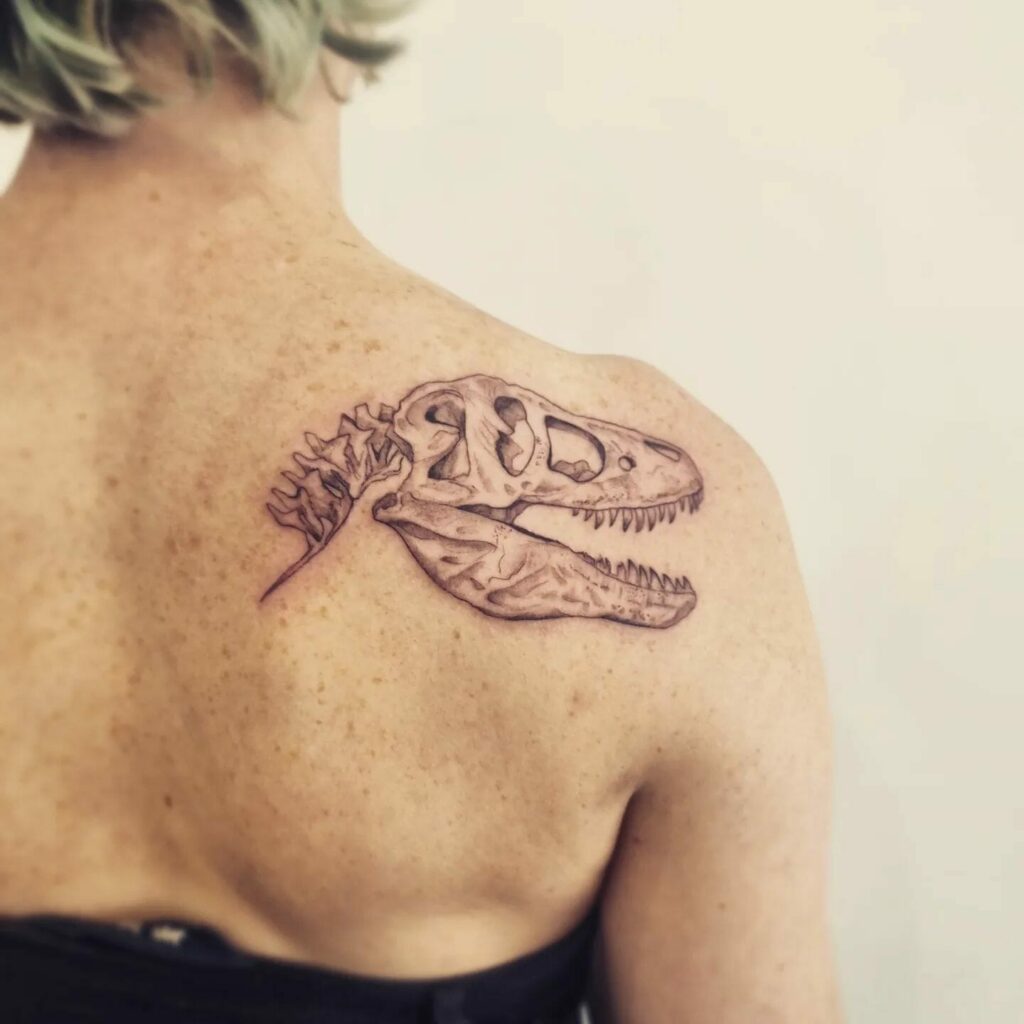 Are you looking for a unique tattoo design for your shoulder? If you love skull tattoos, why not consider a dinosaur skull tattoo? Dinosaur skulls represent power, majesty, and strength, and will make a statement on your shoulder.
The intricate details and shading of this tattoo design will amaze your friends, making it a great conversation starter. A Tyrannosaurus Rex skull tattoo on your shoulder is sure to leave an impression. You can show off this majestic tattoo by wearing a halter neck dress or top.
If you're not sure about the shoulder placement, you can try different areas to see what works best for you. And if you're not ready for a permanent tattoo, temporary dinosaur skull tattoos are also an option. So, go ahead and let your creativity flow, and get your unique dinosaur skull tattoo today!
Happy Dinosaur Orange Tattoo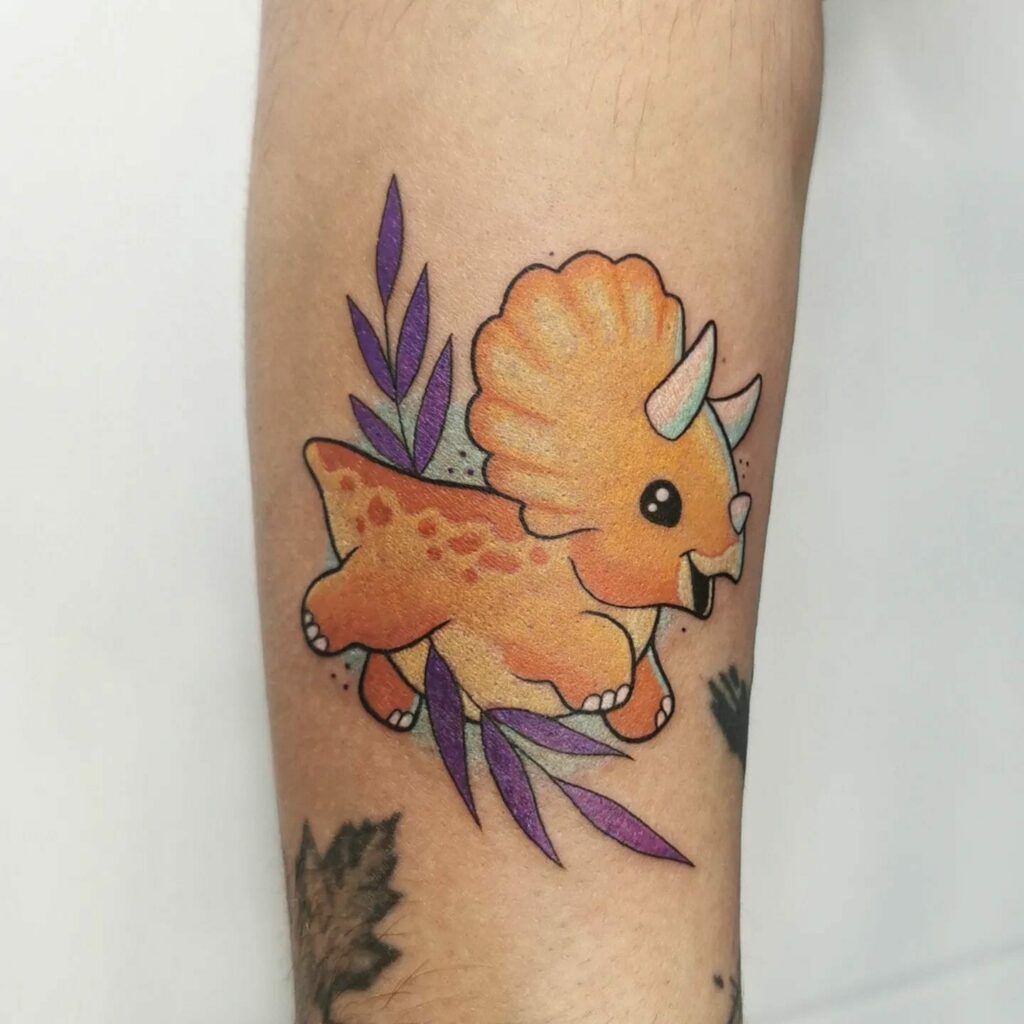 Looking for a fun and playful dinosaur tattoo? Look no further! This design is sure to bring a smile to your face. While most people think of dinosaurs as fierce and scary creatures, this cartoon Triceratops is anything but. The bright orange color and happy expression make it a cheerful addition to any collection.
If you're looking to surprise a friend or loved one who's a dinosaur enthusiast, consider getting this design as a temporary tattoo. It's sure to bring a smile to their face and make a great conversation starter.
The design itself is simple yet eye-catching, with the bold color and playful expression making it stand out. It's a great choice for anyone who wants a fun and lighthearted tattoo that still pays homage to the incredible creatures that once roamed the earth.
Dinosaur And Asteroid Minimalist Tattoo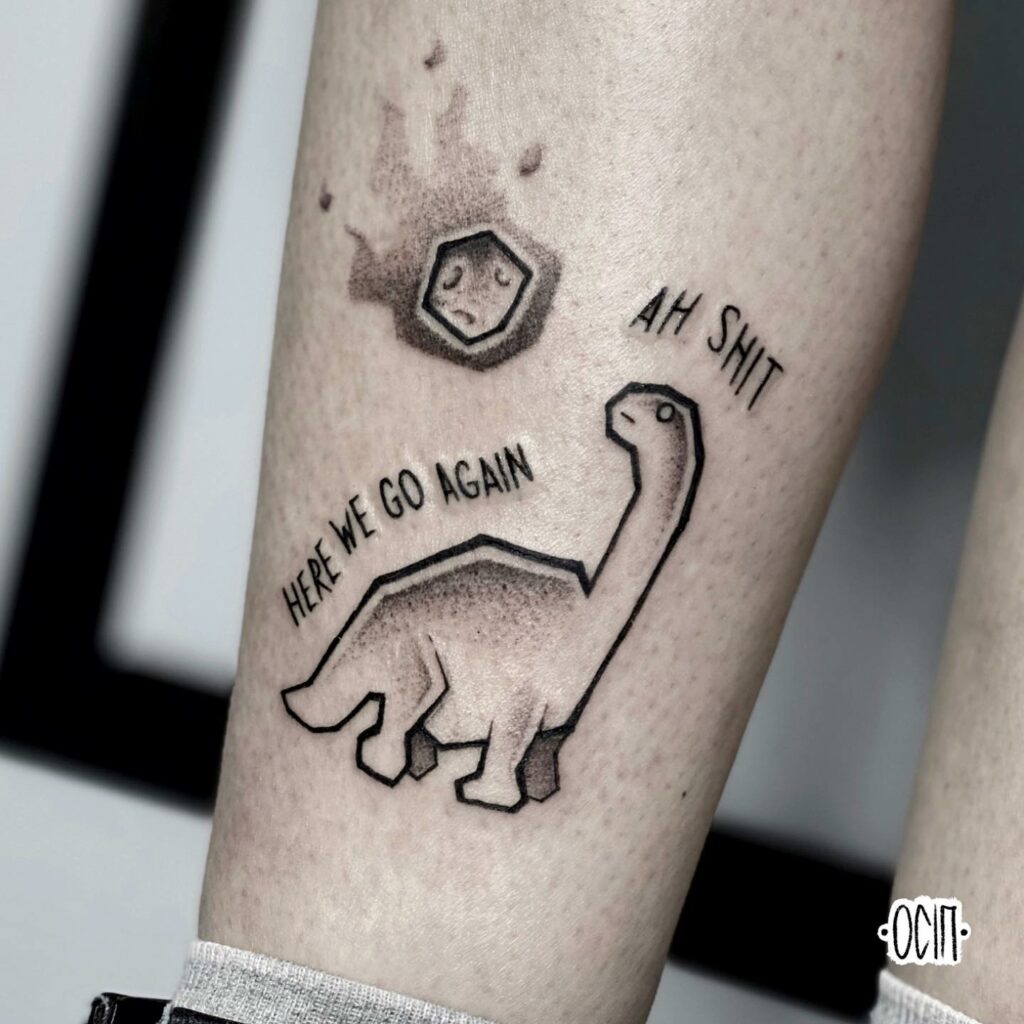 Looking for a dinosaur tattoo that's both clever and simple? Check out this one with a unique take on the history of the Cretaceous period. The tattoo features a dinosaur gazing up at an asteroid in pure despair, with the words "Ah Shit! Here we go again!" above it. This tattoo is the perfect choice for someone who wants a humorous take on a prehistoric theme. The design has been kept minimalistic with an excellent play of light and shadow. Although the dinosaur isn't highly detailed, the smart shading techniques add a wholesome effect to the tattoo. This tattoo can be placed on different body parts like the calf, and you can also ask your tattoo artist for placement suggestions.
Dinosaur Trio 3D Tattoo
This dinosaur tattoo set is going to blow your mind! It features three adorable dinosaurs – a Stegosaurus, a Triceratops, and a Diplodocus – and gives off a 3D effect that will make your friends do a double-take. These minimalist designs are perfect for those who want to make a statement without going over the top.
The red and blue double outline adds an interesting blurry effect that will definitely make this tattoo stand out. The precision and attention to detail that went into creating these designs is impressive. You can even try them out first as temporary tattoos to see how they look on your skin before making them permanent.
When it comes to finding the perfect dinosaur tattoo, be sure to take your time and look for the right one that resonates with you. With so many options available online, you can filter and browse through the variety of designs until you find the perfect fit for you. Remember, a well-chosen dinosaur tattoo will be a cherished and memorable addition to your body art collection!
Dino Tribe Set Of Six Tattoo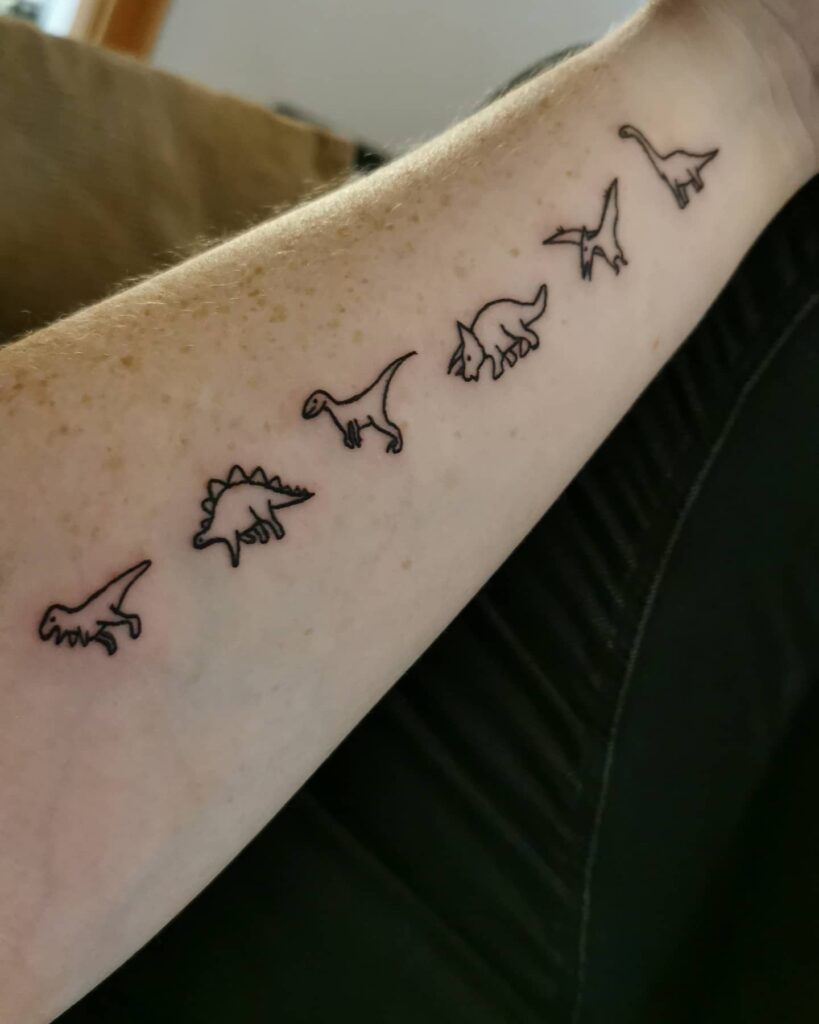 If you're a fan of Jurassic Park, you're going to love this next dinosaur tattoo. This design features a group of five dinosaurs – a T Rex, Stegosaurus, Triceratops, Diplodocus, and Pterodactyl – all joyfully hopping towards something ahead of them. This is a really fun and playful design that's perfect for anyone who loves these prehistoric creatures.
The best part about this dinosaur tattoo is that it comes as a set, which means you get six tattoos in total. That's right, six tattoos for the price of one! And if you're not sure about how it will look, you can always try a temporary tattoo first. Look for a reputable company that uses eco-friendly materials to make their temporary tattoos, and be sure to check their packaging and shipping options, as well as their returns policy.
When it comes to placement, this dinosaur tattoo design would look great on your arm. The outline style is simple but eye-catching, and the vibrant colors make the design pop. And if you're not sure about placement, don't worry! Your tattoo artist will be more than happy to offer suggestions based on your preferences and body type. So what are you waiting for? Let's bring some prehistoric fun to your body art!
Dino On The Go Minimalist Tattoo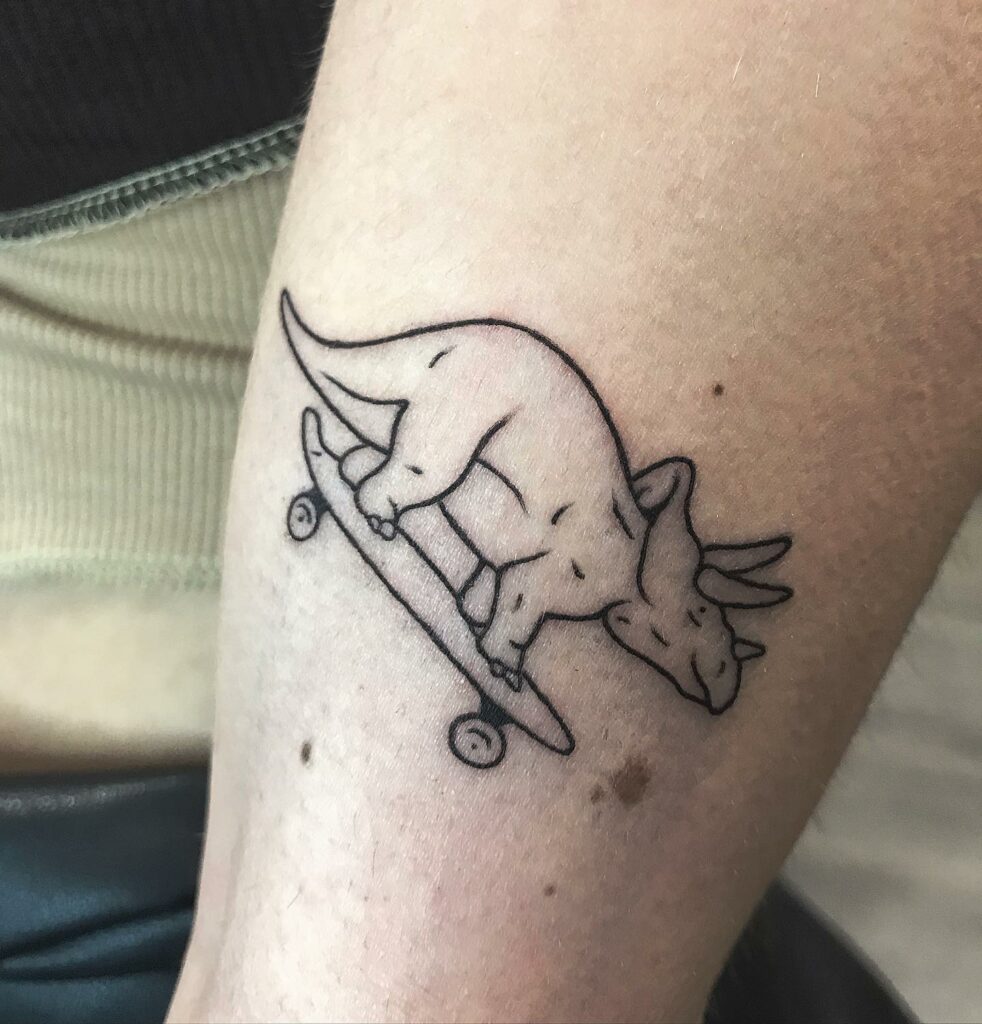 This particular tattoo features a Triceratops character riding a skateboard, exuding a fun and playful vibe. Despite its minimalist design, the tattoo has a lot of personality and creativity, making it a great option for anyone looking for something different.
This dinosaur tattoo is versatile and can be placed on any visible body part, making it perfect for those who want to show off their ink. It's also small, which means it won't take up too much space on your skin. The best part? The Happysaurus character's actions and expressions can be interpreted in many different ways, leaving plenty of room for personalization and imagination.
If you're interested in getting a dinosaur tattoo, consider looking for inspiration online. There are many other quirky dinosaur tattoo ideas out there, and you might find something that's perfect for you. Additionally, many tattoo artists can offer their own unique take on this design, so don't be afraid to bring your own ideas to the table.
Allosaurus Leg Tattoo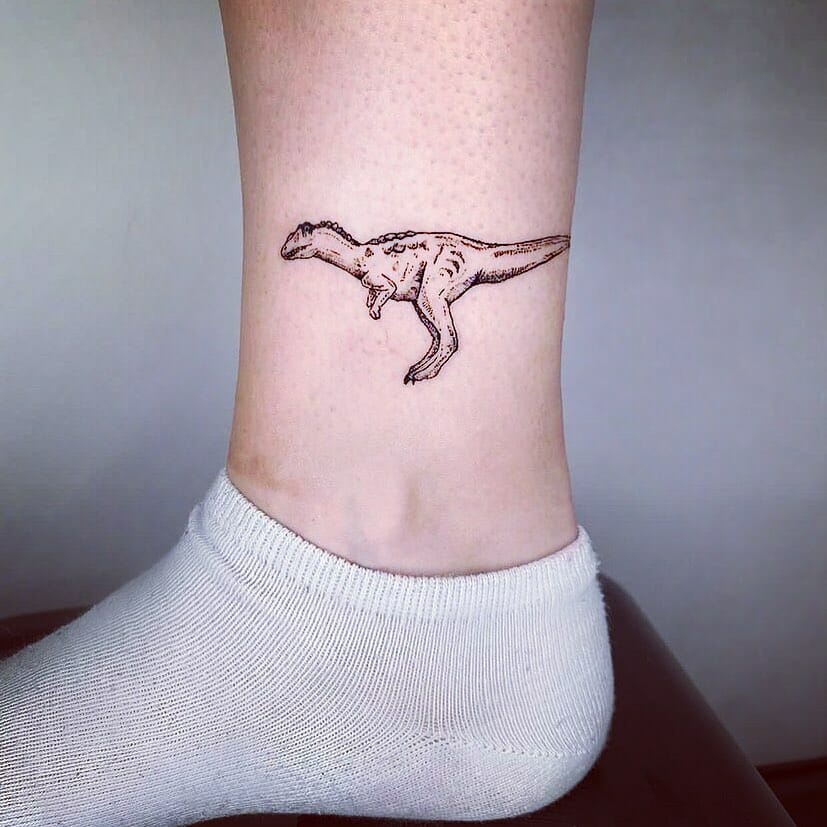 Are you looking for a unique yet small dinosaur tattoo design? Then, a mini allosaurus tattoo might just be what you need! This design might be tiny, but it's incredibly detailed and well-crafted, making it look great on your skin. Although getting this tattoo on your ankle might be painful, it's a fun and exciting addition to your body once it's done. The skilled tattoo artist will be able to bring out the excellent texture and detailing of the dinosaur tattoo that you'll surely love. Moreover, you can experiment with the placement of this tattoo since its small size makes it versatile and easy to put on different body parts.
Dinosaur Outline Tattoo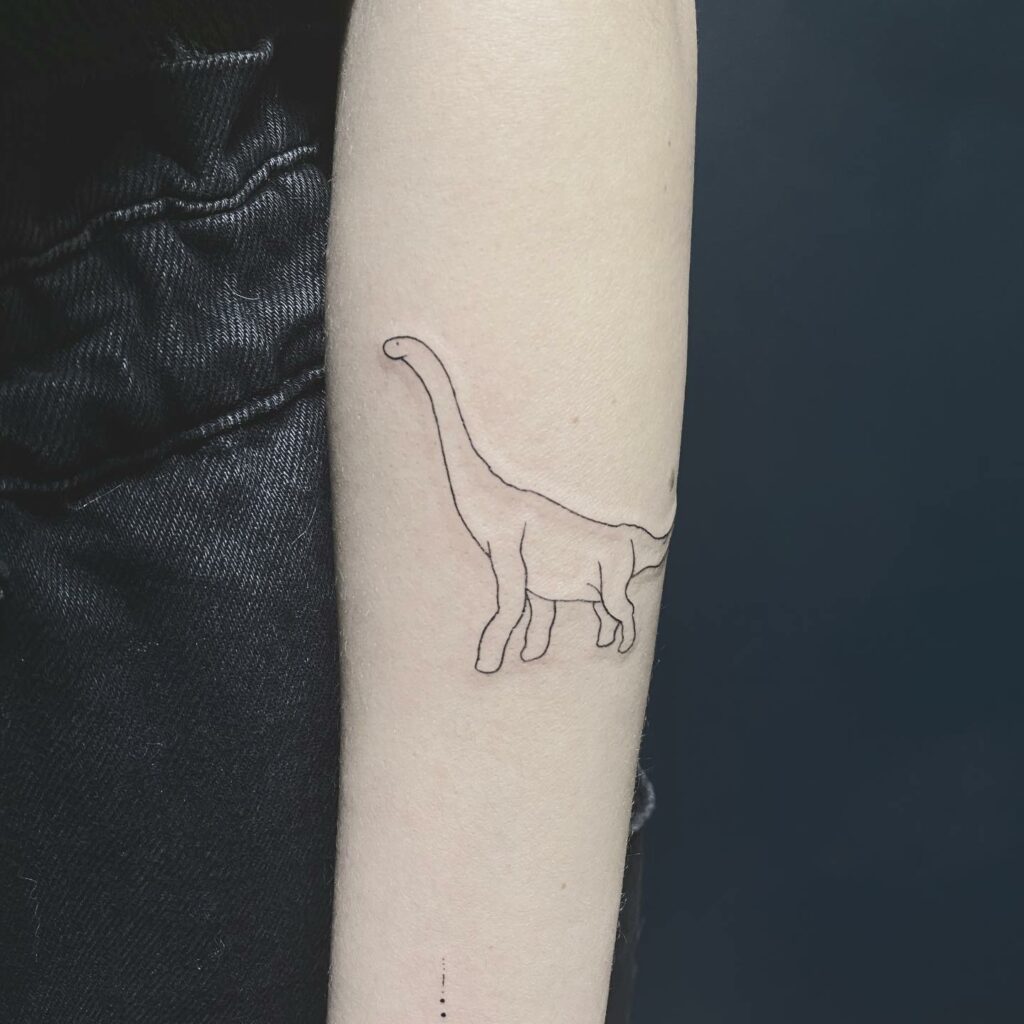 Dinosaurs are always a classic choice for a tattoo, and the outline style is a great way to make a statement without much fuss. This particular design is simple and cool, and perfect for those who prefer minimalist tattoos.
If you're a fan of other dinosaurs, you can try this outline style with a velociraptor, tyrannosaurus, triceratops, or any other species you like. The lack of detailing is intentional, giving the tattoo a sleek and clean look. The slightly shaky outline adds to the character and uniqueness of the design.
While this dinosaur tattoo is easy to execute, it can still make a significant impact. The best part is that you can customize the design according to your preferences and get it done in a jiffy.
Floating Dinosaur With A Balloon Tattoo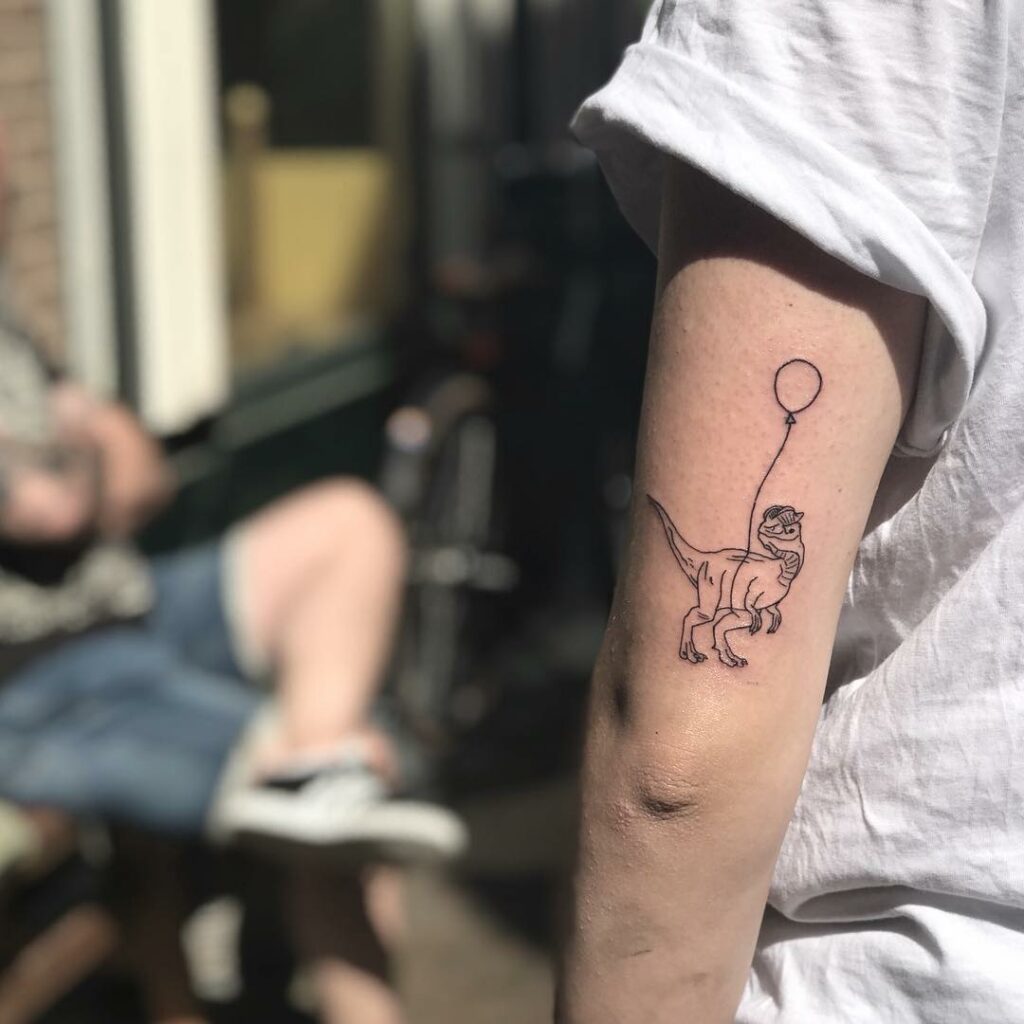 This tattoo showcases a powerful T Rex with a balloon tied to its belly, taking it off the ground. You could also try this with other dinosaurs, like a Triceratops, where your favorite prehistoric creature can take a break from hunting and take a hot air balloon ride.
If you're not sure about getting a permanent tattoo, you can opt for a temporary one as a fun alternative. In the UK, you can find these outline minimalist dinosaur tattoos in a local shop, and if you have a referral or discount code, you can even get them for an affordable price.
So, whether you're a dinosaur enthusiast or just love fun and quirky tattoos, this floating dinosaur tattoo is sure to be an emblem of your admiration for these magnificent creatures. Let your imagination run wild and have some fun with your next tattoo idea!
feature image from Pinterest – Want your tattoo to look brighter? Try "Tattoo Balm"